The California Central Coast is one of the most scenic destinations in the United States, and a California Central Coast road trip should be on every family's bucket list.
Why? Because this portion of the state is a temperate, year-round destination and there are actually lots of fun things to do along the Central Coast.
The California Central Coast is a great destination to enjoy quiet beaches, wildlife viewing, hiking, kayaking, small town charm, and lots of stunning scenery. I grew up with the Central Coast right in my backyard (805 represent!) and have never grown tired of the views and outdoorsy things to do.
Recently, my family rented a Roadsurfer Camper Van and hit the road to explore this amazing stretch of California coastline. Van life allowed us to stay mobile and comfortable at the same time, and this mode of travel is definitely becoming my favorite way to road trip.
Here is my guide to exploring the California Central Coast, from Ventura County to Monterey, with plenty of things to do along the way. Use this road trip itinerary to plan you own family adventure.
California Central Coast- Things to do & an Epic Road Trip Itinerary
Where is the California Central Coast?
The exact location of the beginning of the California Central Coast has certainly been debated over the years, but Central Coast Tourism refers to the region beginning in Ventura County in the south and extending up to Santa Cruz in the north as the "Central Coast".
It is a diverse region. The beaches in the south are similar to classic Southern California beach destinations in LA, Orange County, and San Diego. But once you drive north of Santa Barbara County, the weather gets cooler along the water and shoreline is more moody and dramatic.
Big Sur is part of the Central Coast, and a drive through this region offers some of the most breathtaking scenery on the planet.
Finally, after winding your way through Big Sur, you will reach that towns that sit on Monterey Bay, like Monterey and Santa Cruz. They have their own personalities and plenty of great attractions.
What is the Best Way to Explore the California Central Coast?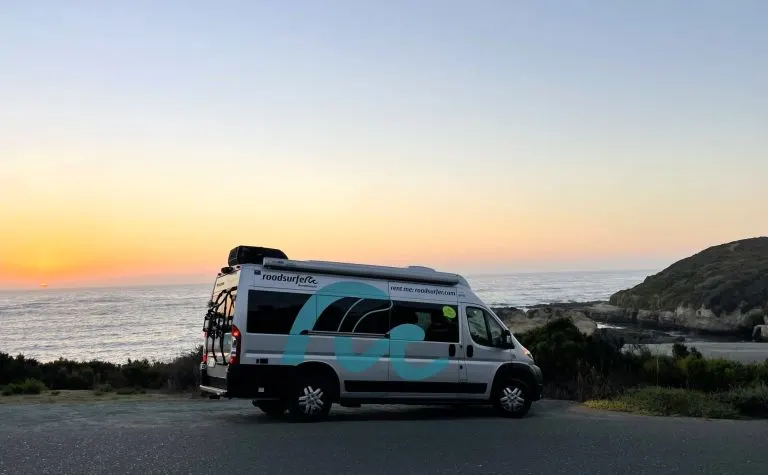 I have road tripped along the California coast many times, but recently my family of four elevated our "roadtrippin' game" by renting a Roadsurfer Camper Van so that we could explore the coast with comfort and ease.
We found the Road House XL Camper Van to be the perfect family road trip vehicle because it didn't limit where we could go, like a larger RV would. Plus we had a bathroom we could use at all times, a place to quickly change in and out of beach gear comfortably, and a place to rest with ocean breezes and crashing waves lulling us to sleep.
Renting a camper van can also be a cost saver since you won't have to pay for a car rental and an expensive beachfront hotel every night- a Roadsurfer Camper Van is both!
Roadsurfer currently allows drop offs in San Francisco, so you can begin your journey in Los Angeles and end in San Francisco and not have to retrace your path!
Use this California Central Coast road trip itinerary to plan your own dream vacation. I have broken the itinerary down to five stops, but it can easily be stretched into 7-day,10-day, or even two week road trip given all the activity options I have highlighted in each destination.
If you are new to camper van or RV living, here are 99 tips to help you on your way.
California Central Coast Road Trip Stop 1: Ventura County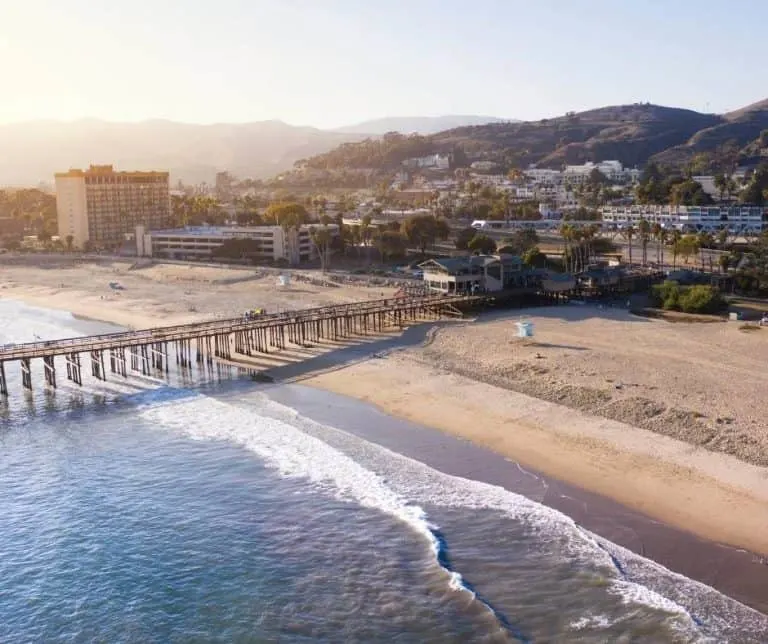 I grew up in Ventura County, so this region will always have a big chunk of my heart. It isn't as heavily touristed as Santa Barbara to the north or LA to the south, but there are certainly some spots here that are worth your time.
You can choose to spend the night in Malibu at Point Mugu or camp further north up at McGrath State Beach or Emma Wood State Beach in Ventura. Just be sure to make your reservations well in advance! If you are more of a hotel person, Zachary Dunes on Mandalay Beach is the best family resort in the area.
Point Mugu State Park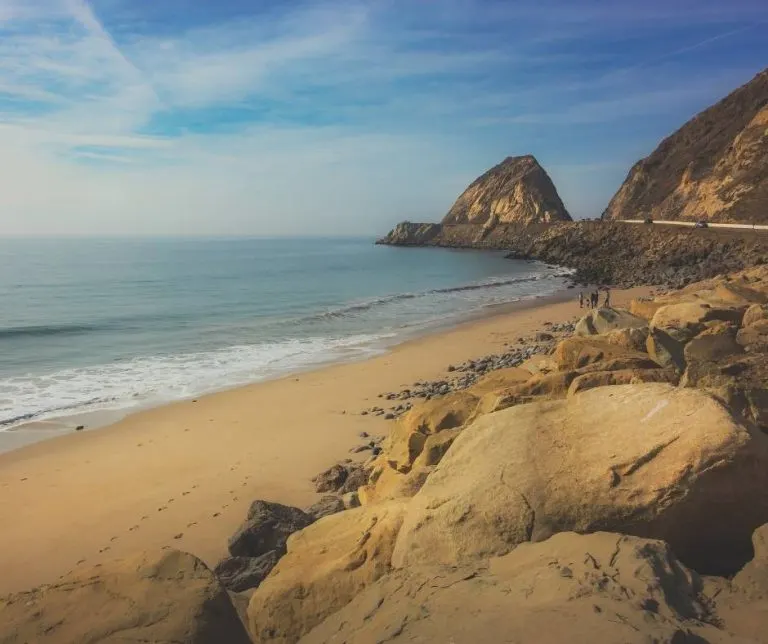 Malibu has become well known as the coastal home of the rich and famous. Driving along this stretch of beachfront, it isn't hard to figure out why celebrities want to live here- it's gorgeous!
Point Mugu State Park sits just north of Malibu. You can camp here which means you can share a slice of beachfront living with the Leonardo Di Caprios and Jennifer Anistons of the world. There are also 60 miles of hiking trails to enjoy and three beaches- Point Mugu Beach, Thornhill Broome Beach, and Sycamore Cove Beach– to explore.
Channel Islands National Park Visitor Center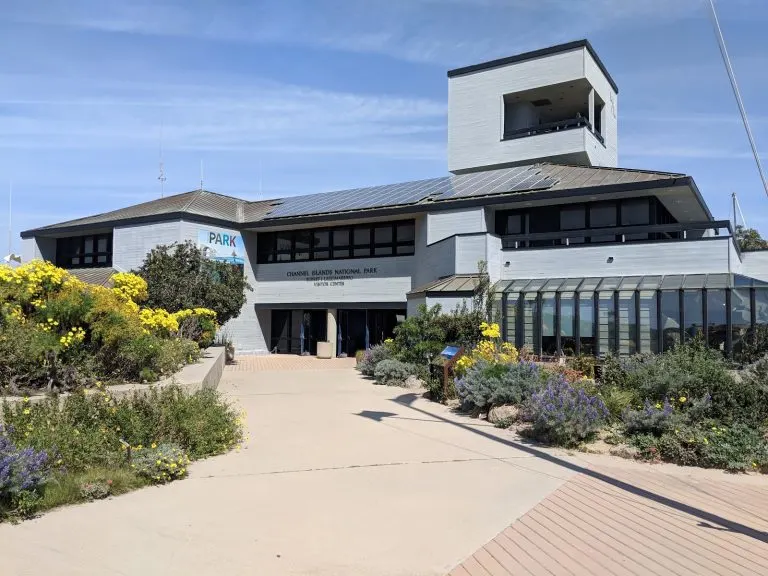 Another spot worthy of a pit stop on your California Central Coast road trip is the Channel Islands National Park Visitor Center in Ventura. It has nice exhibits about each island in the park, as well as a display which showcases the native aquatic life. There is also a short, 25-minute movie which gives you a nice overview of the national park.
If you want to visit one of the Channel Islands, you will need to take a boat trip with Island Packers. Most of these excursions are all-day affairs, or require an overnight stay at a primitive campground.
Visiting these remote islands is certainly an experience you won't forget, but in order to do it you will need to add at least one additional day to your California Central Coast road trip itinerary.
If you are short on time, you might want to consider a 3.5-hour whale watching trip off the coast of Anacapa Island, especially during the winter and spring when gray whales are migrating through the area.
California Central Coast Road Trip Stop 2: Santa Barbara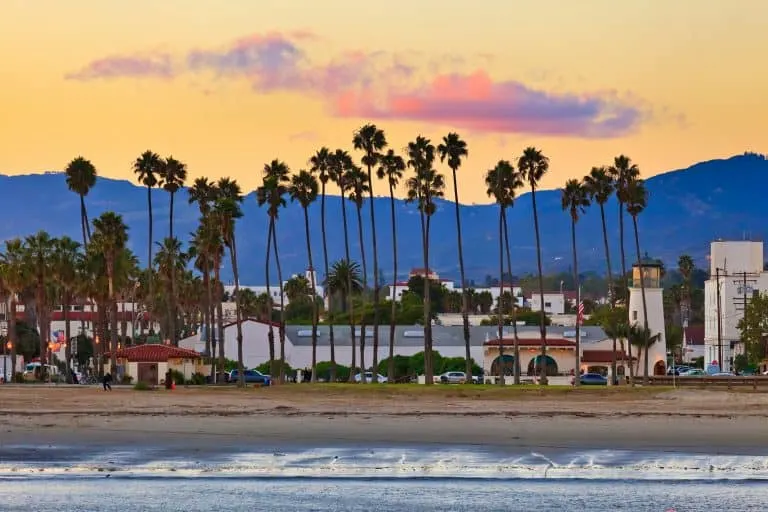 Santa Barbara, known as America's Riviera, is renowned for its palm-tree lined beaches, towering Santa Ynez mountains, and Mediterranean and Spanish-revival architecture. It is one of my favorite places to visit in California, partly because it is just drop-dead gorgeous and partly because of its casual-yet-sophisticated vibe.
If you are embracing van life and looking for a great place to camp while in Santa Barbara, El Capitan and Refugio State Beaches are great options, as is Carpenteria State Beach just to the south.
These beach campgrounds fill up quickly, so if you are looking for more of a last minute option, check out Hipcamp, which allows you to camp on private property. I can personally recommend this spot which is not far from UC Santa Barbara.
If you prefer hotels, we love the location, location, location of the Hilton Santa Barbara Beachfront Resort as well as the historic vibe and architecture of the Mar Monte Hotel which sits across the street from the East Beach playground.
There is lots of fun to be had in Santa Barbara, and we cover it extensively in our Things to do in Santa Barbara article, but here are a few "choose your own adventure" options to help you plan how to spend your day in Santa Barbara.
Bike Along the Shore, Then Celebrate with Wine Tasting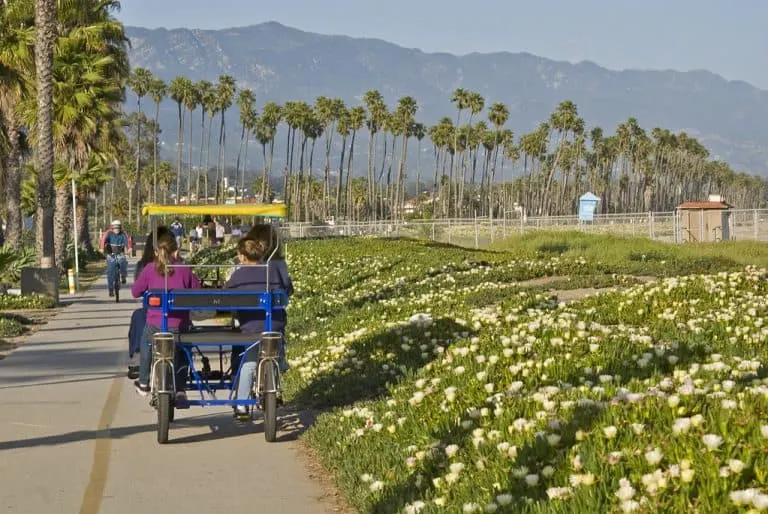 The palm-tree lined bike trail that runs along the Santa Barbara shoreline at Cabrillo Blvd is truly the perfect place to rent a surrey and bike together as a family, taking in all the glorious scenery. Wheel Fun Rentals at the Hilton Santa Barbara Beachfront Resort has a wide variety of bike options including surreys, bikes with toddler seats, and bicycles built for two.
After you get some exercise, celebrate with some time on the Urban Wine Trail. There are several tasting rooms just steps from the ocean, and most have snacks and juice for the kids.
Spend a Couple Hours at the Santa Barbara Zoo and East Beach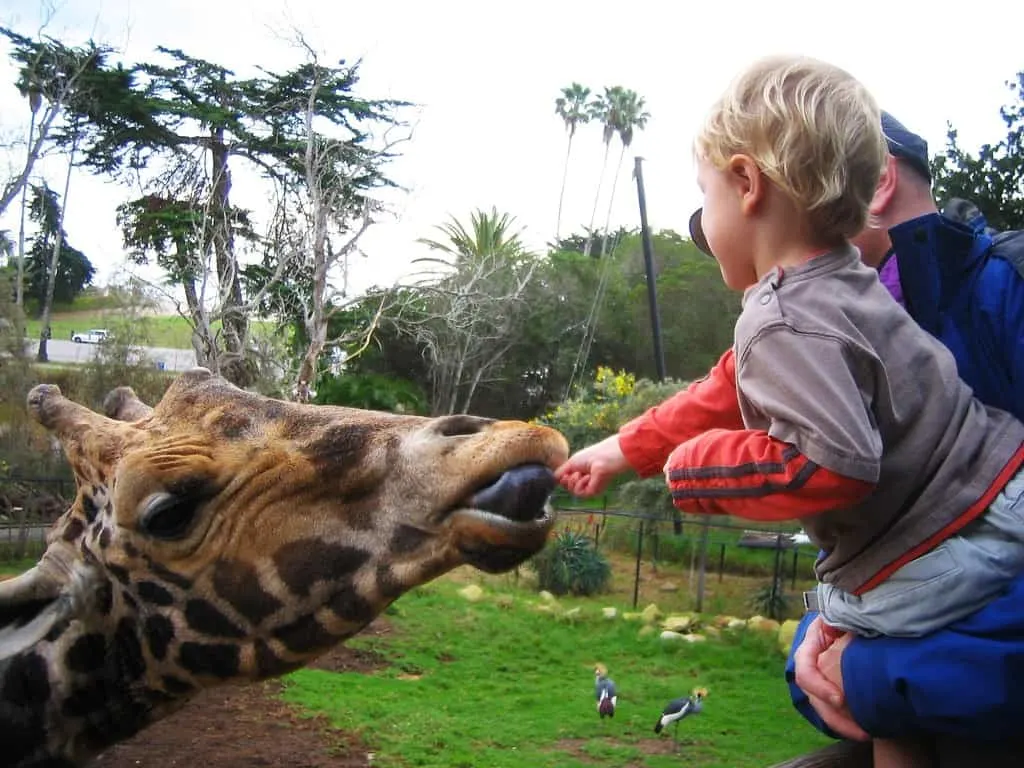 I have a special place in my heart for the Santa Barbara Zoo. It is just so beautiful and charming, and the giraffes have a magnificent ocean view- I mean, come on! Make time to feed the giraffes and visit the Australian Walkabout where you can see kangaroos, wallabies, and emus up close.
After a couple hours at the zoo, walk down the hill to enjoy some time in the sand and surf at East Beach. This beach has sand volleyball courts as well as a fun playground for the kids. It stretches for a little over 1.5 miles, so you are sure to find a lovely section of sand to spread out on.
Celebrate Santa Barbara History at the Mission, Courthouse, and Wharf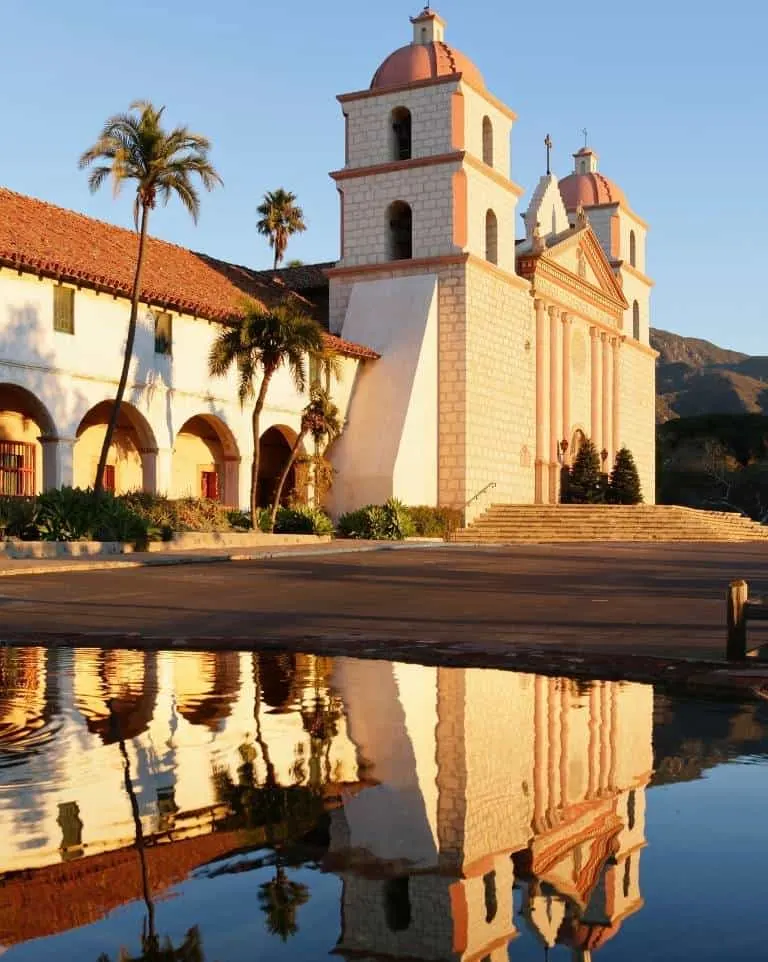 Santa Barbara is city filled with rich history, beginning at the "Queen of Missions", Mission Santa Barbara which was built in 1786. Take a tour or just stop to take pictures in front of this gorgeous piece of Spanish Franciscan history.
Just a block off State Street, a popular shopping and dining destination, you will find the Santa Barbara County Courthouse. Built in 1929, this National Historic Place and State Historic Landmark is a popular place to take family photos because the grounds and building make for a lovely backdrop.
You may even want to book a Flytographer to take photos of your family on your epic California Central Coast road trip. Trekaroo has used Flytographers to capture precious family moments on our own vacations, and we are proud to be an affiliate of this awesome company.

Finally, celebrate Santa Barbara's nautical history at Stearns Wharf which has survived storms, fires, and earthquakes over the past 140 years. The wharf is home to shops and restaurants as well as the Santa Barbara Museum of Natural History Sea Center.
This small museum gives visitors numerous hands-on opportunities to interact with local sea life. Kids love the Wet Deck where they can use nets and sand-trolling pullies to catch and identify crabs, microscopic animal life, and more!
California Central Coast Road Trip Stop 3: San Louis Obispo County
The section of California Central Coast is one of my favorites because of all the wildlife viewing opportunties. It is also home to a number of coastal hamlets which all have their own charm and vibe.
Pismo Beach and Montaña de Oro State Park are my favorite camping spots along this section of coastline. Camp Arroyo Grande is a good option if all the beachfront campgrounds have been booked up.
Vespera Resort on Pismo Beach is a nice hotel option with a prime location in Southern SLO County. My family also loves Avila Lighthouse Suites in Avila Beach and several of the small inns that line Moonstone Beach further north in Cambria.
Pismo Beach and Avila Beach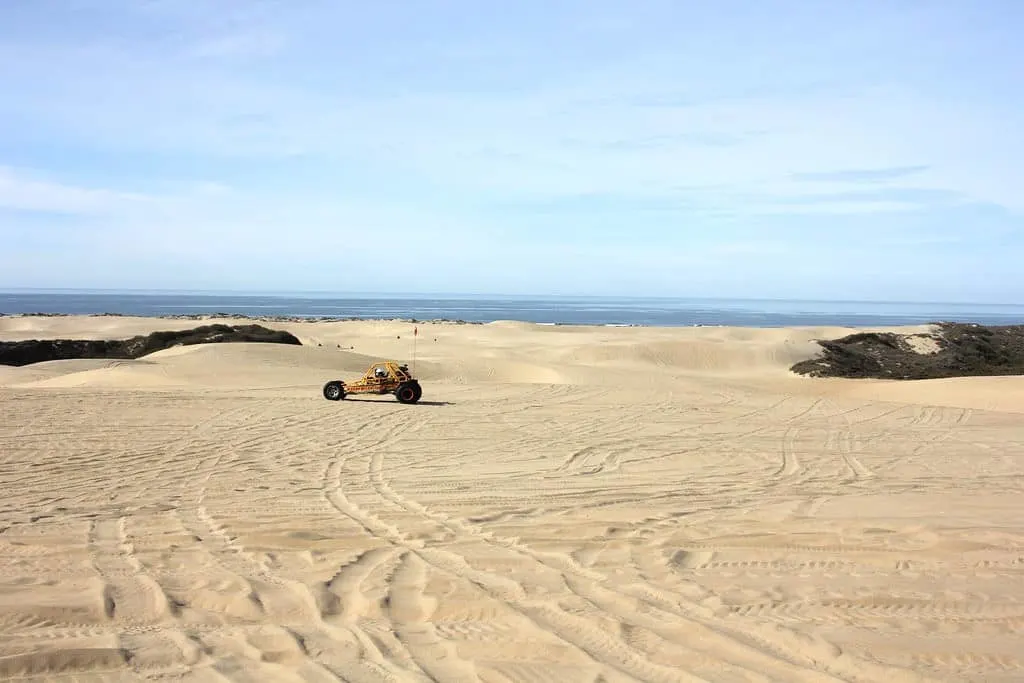 Pismo Beach and Avila Beach are two touristy Central Coast beach towns that have attracted families escaping the sweltering summer heat of the Central Valley for generations.
Pismo Beach is the larger of the two towns. It was once the biggest clamming destination along the coast, but clam diggers nearly plucked those tasty critters to extinction. Today, Pismo Beach is a great place to stroll seaside shops, walk the pier, play at the beachfront playground, or take a dip in the chilly water.
Pismo Beach is home to one of the only stretches of sand in California you are legally allowed to drive on. Oceano Dunes SVRA is a popular place to drive off-road vehicles on the sand dunes. You can rent ATVs or dune buggies from a few different locations around town enjoy a fun day cruising on the large dunes.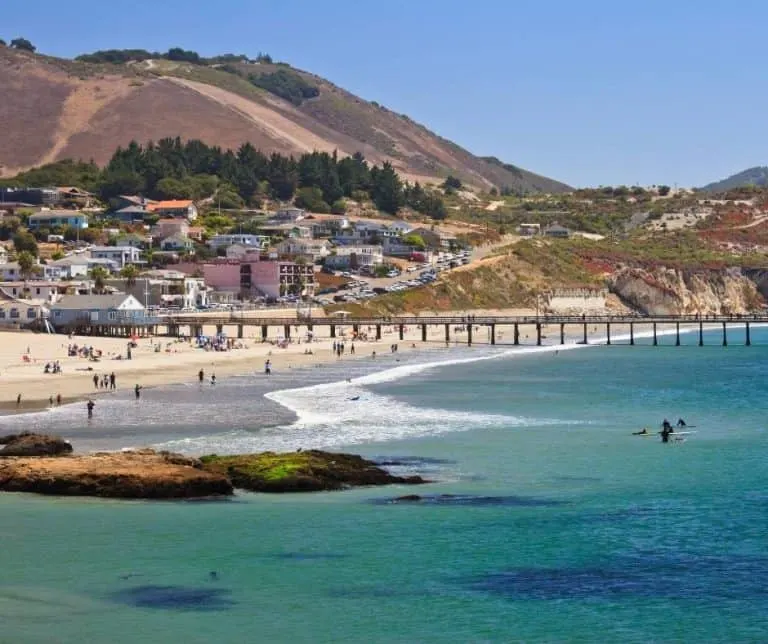 Avila Beach is just a few miles up the road from Pismo Beach. It has a pier, cute shops, and lots of beach to enjoy, but on a smaller scale. It does have its own micro-climate and tends to be warmer and sunnier than Pismo Beach.
Montaña de Oro State Park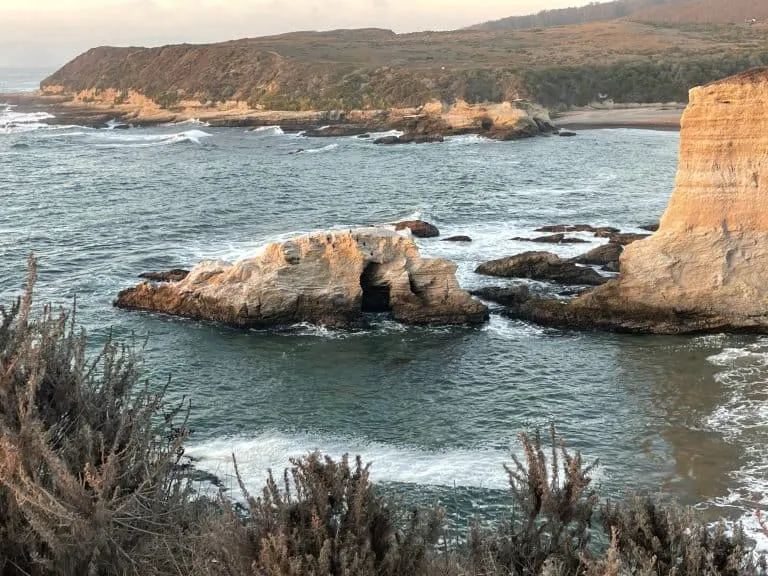 One of my favorite California state parks that seems to be off the radar of many traveling up and down the California Central Coast is Montaña de Oro State Park. This dramatic stretch of coastline is in Los Osos, a small town just south of Morro Bay.
The park is named for its "mountains of gold", referring to the coastal bluffs that are covered in wildflowers, like the California poppy, during the spring. Montaña de Oro is a great place to witness the geologic ramifications of geotectonic action (aka: earthquakes), with tilted and exposed million-year-old rock formations and sea beds.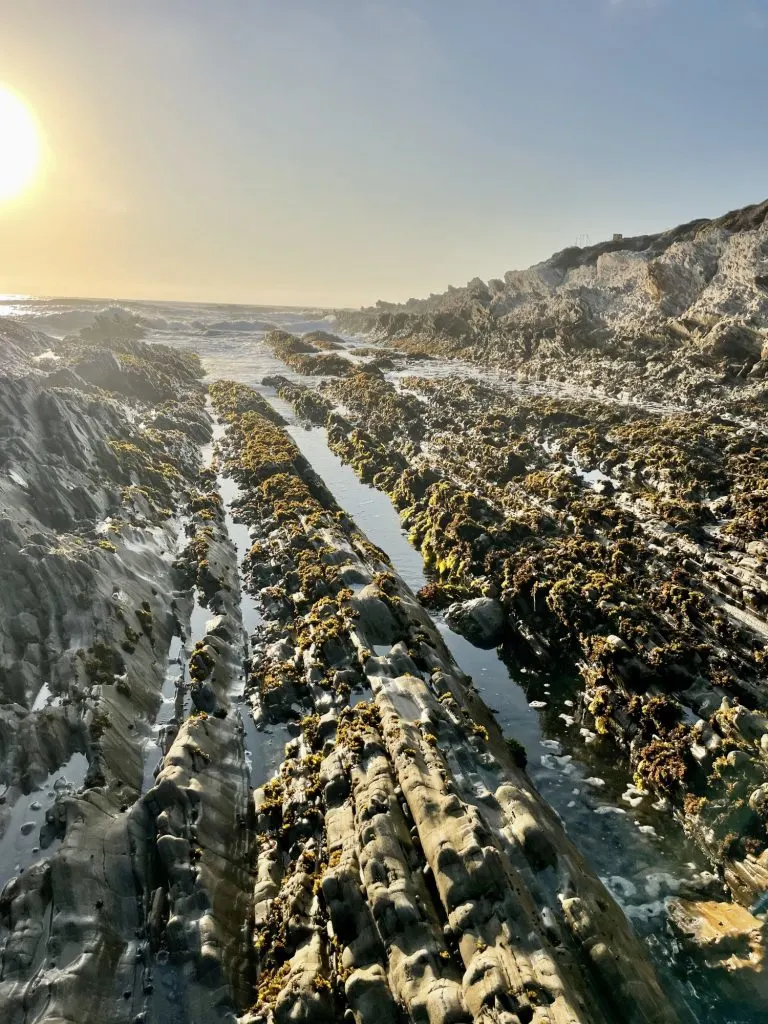 I highly recommend walking the Bluff Trail, an easy 3.4-mile out-and-back trail that hugs the coast. Take time to admire the views (and look for sea otters, they are out there!) but also be sure to take a spur path or two down to the water to explore the tide pools. Check the tide charts before you go and aim for a low tide visit.
Morro Bay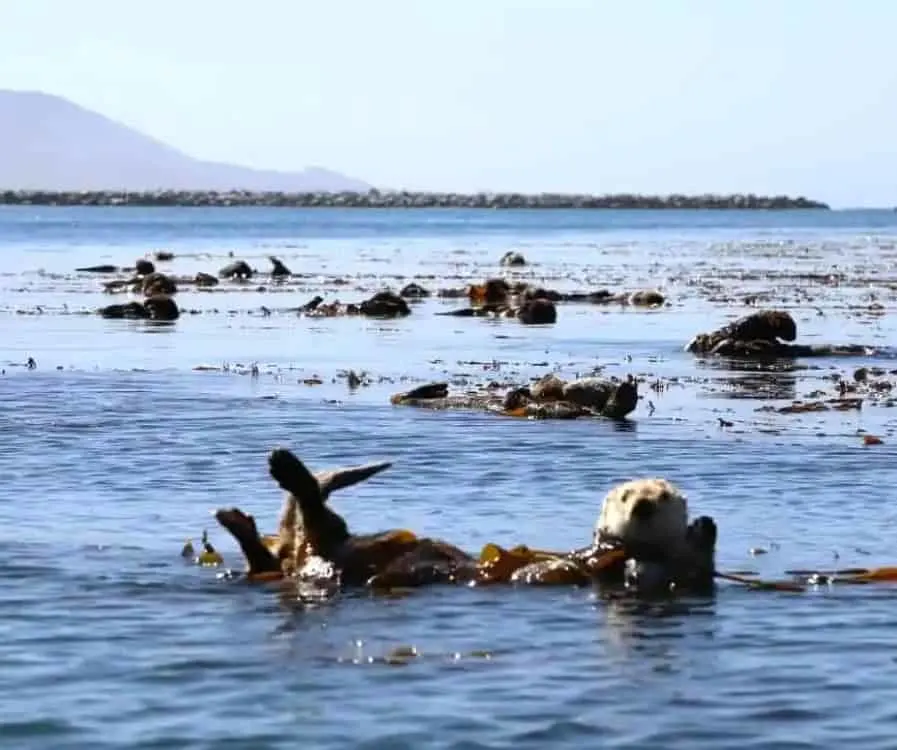 Morro Bay is a cute little seaside town that is an ideal destination for escaping the heat of summer while enjoying lots of outdoor fun. When it is over 100 degrees just a few miles inland, Morro Bay is typically refreshingly cool in the high 60s and low 70s.
The most iconic landmark in Morro Bay is surely Morro Rock, a volcanic plug that juts out nearly 600 feet out of the water. There is a population of around 40-60 sea otters that live in the Morro Bay Estuary, and the trail on the bay side of the Rock is a good place to try to spot them.
Here are the best places to see sea otters in California.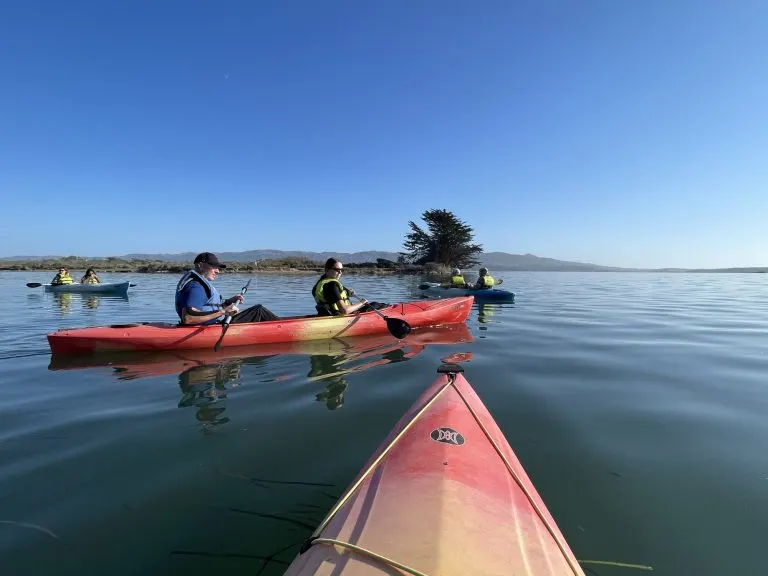 Better yet, book a kayaking tour with Central Coast Outdoors. They know exactly where these furry critters like to hang out, and will give you lots of great information along the way. They will direct you over to a popular harbor seal hangout, an oyster farm, and the stunning Morro Bay sand dunes. Some tours even involve a sunset paddle with wine!
Looking for more to do in Morro Bay? Be sure to read our Morro Bay guide.
San Simeon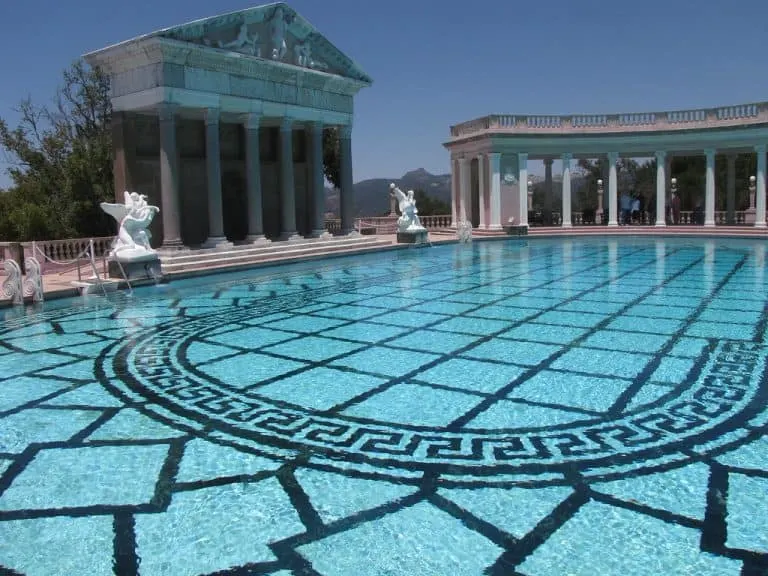 San Simeon is known for two big attractions- Hearst Castle and elephant seals. Both should be a priority on your California Central Coast road trip.
Hearst Castle is located high atop a hill. The extravagant castle belonged to famed publishing tycoon William Randolf Hearst and played host to countless celebrities during the 1920s and 30s.
The only way to visit the 68,500 square-foot house filled with opulence is on a tour ran by California State Parks. There are several different tour options which focus on different portions of the property. It is impossible to see and do it all in one visit!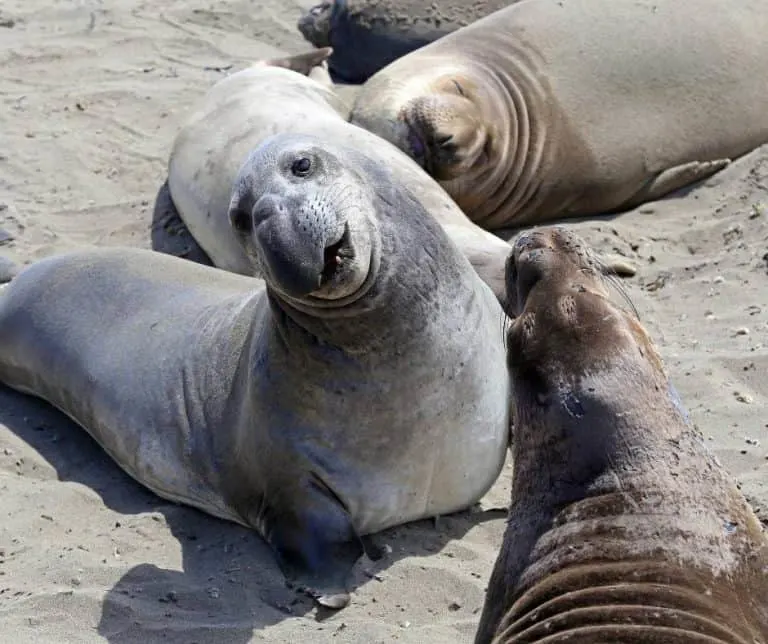 The other spot you won't want to miss while in San Simeon is the Piedras Blancas Elephant Seal Rookery which is just north of town on Hwy 1. There is a large parking lot just off the highway. Look for signs in the parking lot which will tell you go left or right to view the elephant seals. They are wild animals so they do tend to move around the beach.
If you visit at different times of year you will encounter different groups of elephant seals. The big males arrive for the season in late November. By December, the rookery is quite rawkus. Late January is the best time to go to see lots and lots of little babies. February and the fall are when the males tend to be most boisterous (and highly entertaining).
No matter the time of year, the elephant seals are mesmerizing to watch, so be sure to carve out a couple hours to be entertained. There are often docents available to answer your questions and sell some cute elephant seal gear- I'm partial to the socks.
California Central Coast Road Trip Stop 4: Big Sur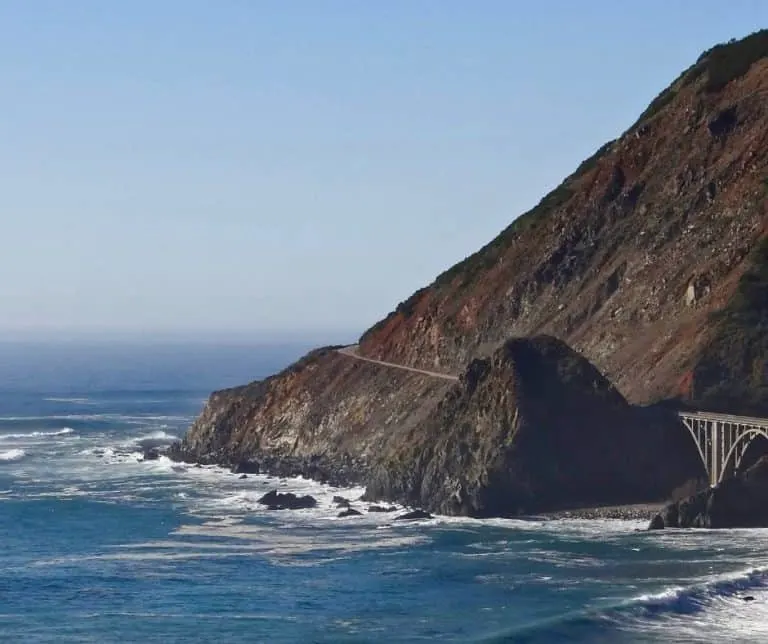 Big Sur has long been known as one of the premier road trip destinations in the world. Highway 1 is a marvel of engineering, with some of the most impressive ocean views you will ever experience.
The "Big Sur" stretch of Highway 1 begins just north of San Simeon by Ragged Point and continues until you find yourself in the Carmel-by-the-Sea.
This drive NEVER gets old. It is only about 75 miles in length, but will take up most of your day because it can be slow and winding, plus there are lots of turnouts where you will want to stop and admire the view.
There aren't a ton of places to stay along this remote stretch of highway, so many people stay at the beginning of either side of the drive. But if you can snag a campsite at Pfeiffer Big Sur State Park, Big Sur Campground and Cabins,and Riverside Campground & Cabins, they are nice, family-focused options with cabins for you non-campers. They do book up many months in advance, however.
Pfeiffer Beach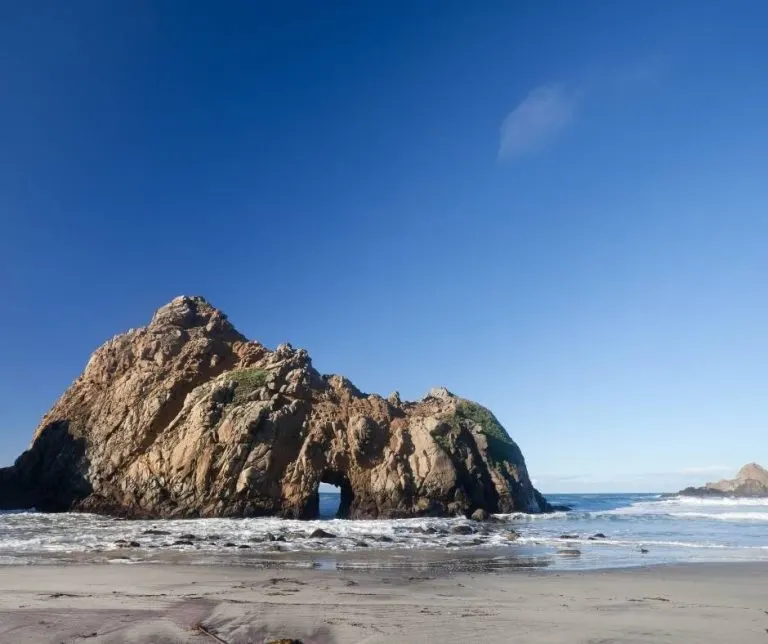 Pfeiffer Beach is one of the most photographed spots along Big Sur thanks to the famous Pfeiffer Keyhole Rock sitting in the water with its picture-perfect arch.
The turnoff onto Sycamore Canyon Road, which leads down to the beach, can be hard to see. It is in between the Big Sur Ranger Station and the Post Office.
In addition to the rock arch, this beach is known for its purple sand created from manganese garnet rocks in the cliffs on the north end of the beach. There are also tide pools in this area which are fun to explore at low tide.
Julia Pfeiffer Burns State Park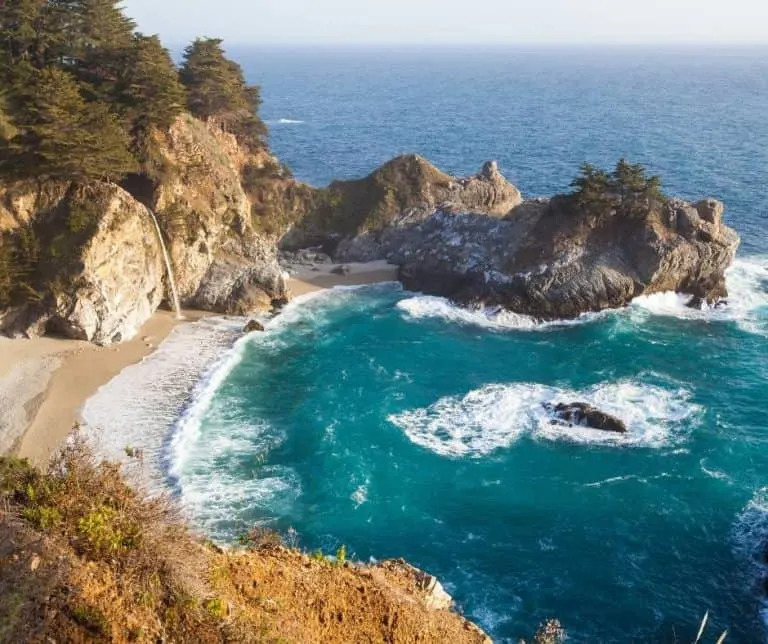 Julia Pfeiffer Burns State Park is home to McWay Falls, a waterfall that cascades 80 feet over a forested cliff onto a deserted beach, creating one of the most magical scenes you will ever lay eyes on.
It is a short walk (less than a mile round trip) from the parking lot to the overlook where you can admire the falls. This stunning scene is a relatively new one; the beach was created by a landslide in 1983.
While you can't make it down to McWay Cove where the waterfall hits the sand, you can hike to Partington Cove and enjoy time at the water.
The trail begins at a green gate along the Partington Cove turnout on Highway 1. There is a small, rocky beach. Continue on the south fork of the trail to go through a tunnel which leads to an overlook that was once a ship dock.
Andrew Molera State Park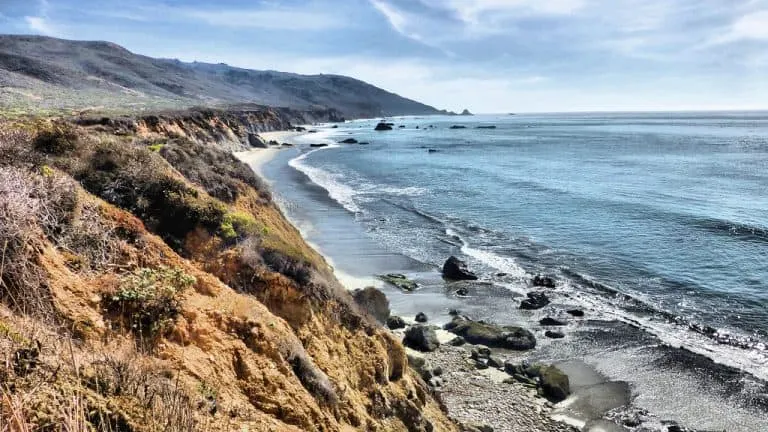 If you are looking to do some hiking in Big Sur, Andrew Molera is a great place to do it. The Bluffs Trail, Panorama Trail, and the Ridge Trail connect to make the 8.8-mile Andrew Molera Loop.
If you are shorter on time, you can take the 1.7-mile Bluffs Trail which follows the coastline. At the end of the trail there is a spur trail which leads to Molera Beach.
Bixby Creek Bridge and Calla Lily Valley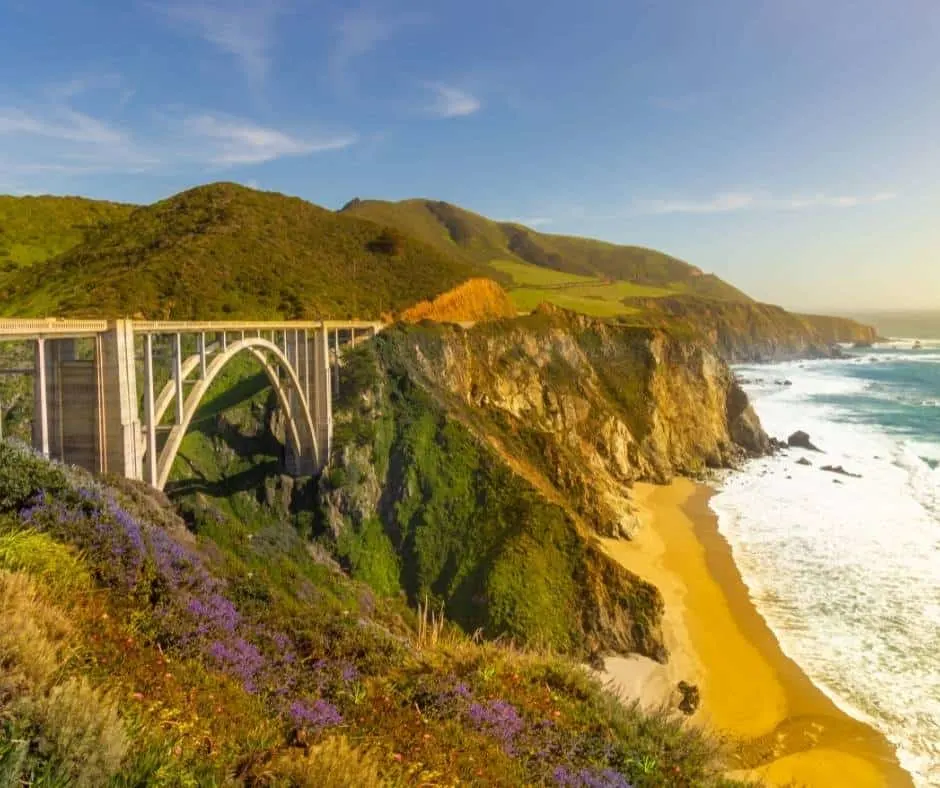 There are so many pit stops to be made along Big Sur Highway 1, but these next two are a couple you definitely don't want to miss.
Be sure to stop and get a photo of the Bixby Creek Bridge which is north of Andrew Molera State Park. This bridge is one of the highest single-span arch bridges in the world. It was completed in 1932 and sits 260 feet above Bixby Creek.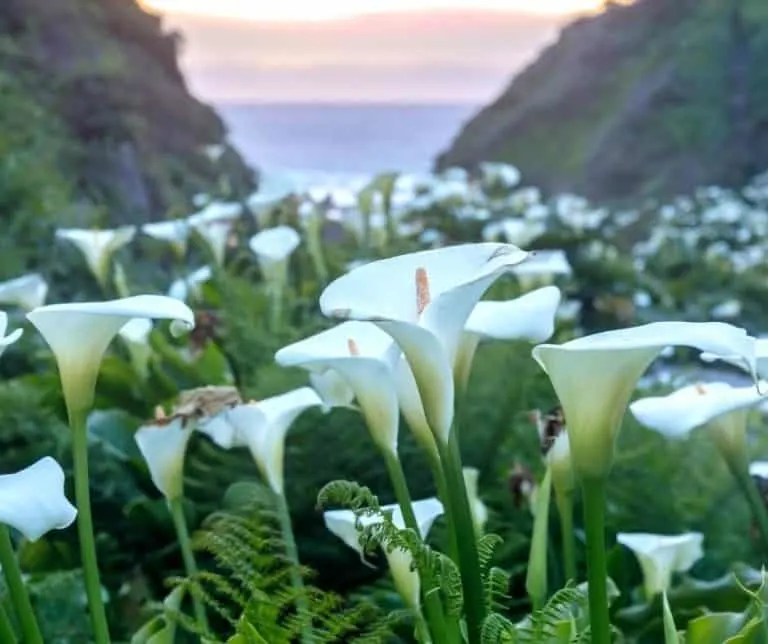 A few miles north of Bixby Creek Bridge is Garrapata State Park. If you plan your California Central Coast road trip for anytime between late January and April, you will want to head there to visit Calla Lily Valley.
During wildflower season this small valley is filled with thousands of calla lilies hugging a creek which overlooks the ocean. It is spectacular.
Head to Gate 19 in Garrapata State Park (near mile marker 63). There is a small, almost hidden gate which leads you to a short hike through wildflowers until you reach the valley filled with thousands of gorgeous lilies.
If you visit outside of lily season, Garrapata Beach is still worth a stop.
California Central Coast Road Trip Stop 5: Monterey Bay Region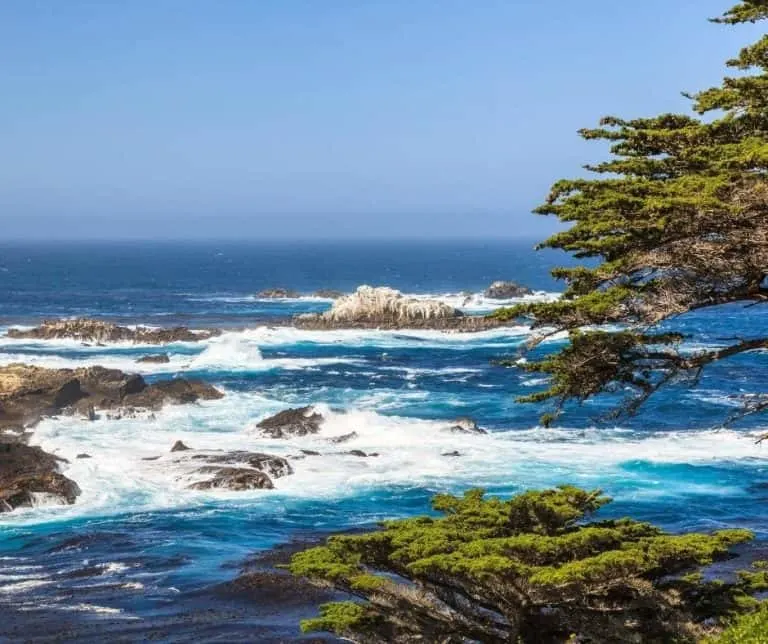 Your final destination on your epic Central Coast California road trip is the Monterey Bay area, home to Carmel-by-the-Sea, Monterey, and Santa Cruz. Each of these stops have something unique to offer, and it is easy to spend an entire week just exploring this region.
There are so many amazing places to stay in around the bay. Carmel-by-River RV Park is a nice option for campers in the southern portion of the region. Henry Cowell Redwoods State Park is a lovely, forested option closer to Santa Cruz.
There are lots of nice hotels in the area. Some of my favorites include Hyatt Carmel Highlands, Portola Hotel & Spa in Monterey, and Dream Inn, Santa Cruz's only beachfront hotel.
Carmel-by-the-Sea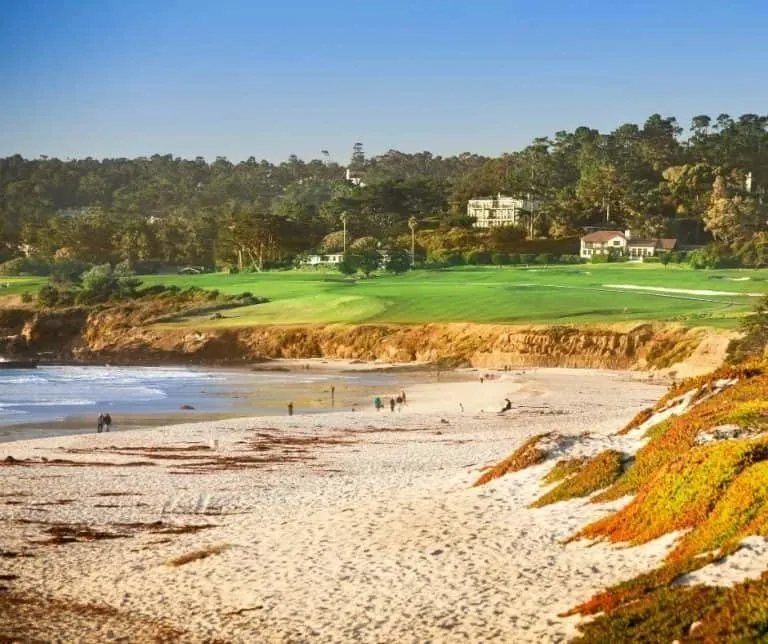 Carmel-by-the-Sea is a charming village known for its upscale and dog-friendly atmosphere. It is one of those places where you just want to stroll, drink wine, and absorb the atmosphere. Mission San Carlos Borromeo del Rio is located here, and the world-famous 17-Mile Drive and Pebble Beach are just up the road.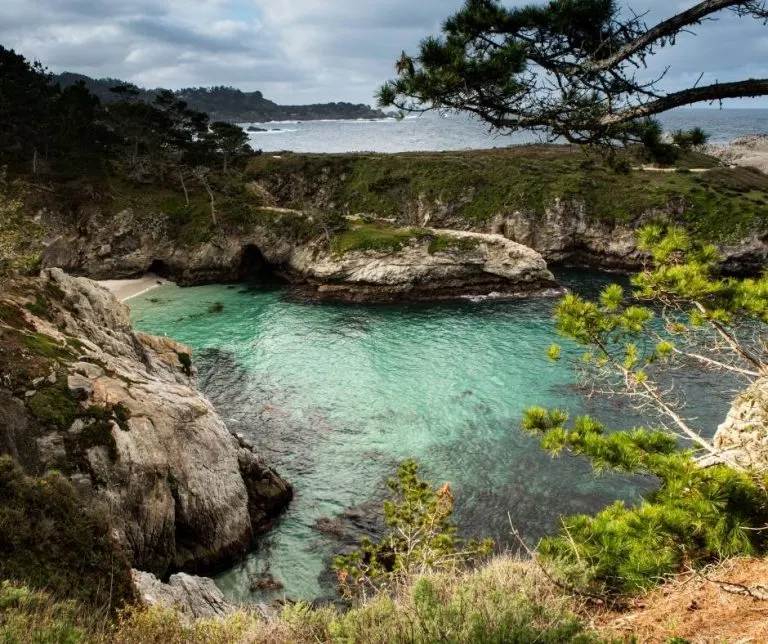 Just south of town is Point Lobos State Marine Reserve, a meeting of turquoise waters, craggy cliffs, and sculptural cypress trees. Considered by many to be the "crown jewel" of California's State Park system, Point Lobos is a wonderful place for hiking, wildlife viewing, and enjoying the stop-you-in-your-tracks-scenery of the Central California coastline.
The North Shore trail leads hikers though the forest to ocean cliffs with panoramic views. Bluefin Cove and Whalers Cove are prime spots for viewing seals laying on the tiny beaches below. A hike south to China Cove is a wonderful option for beachfront rock scrambling and admiration of the aquamarine waters.
Monterey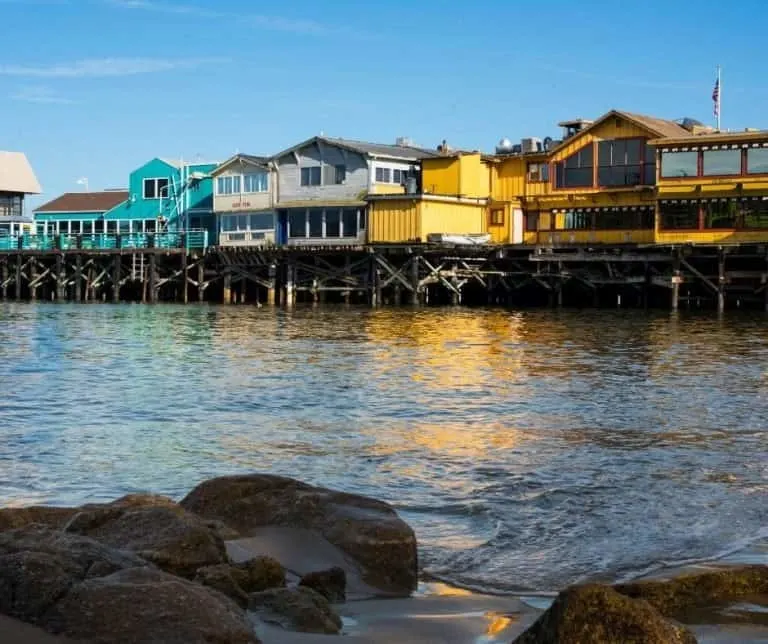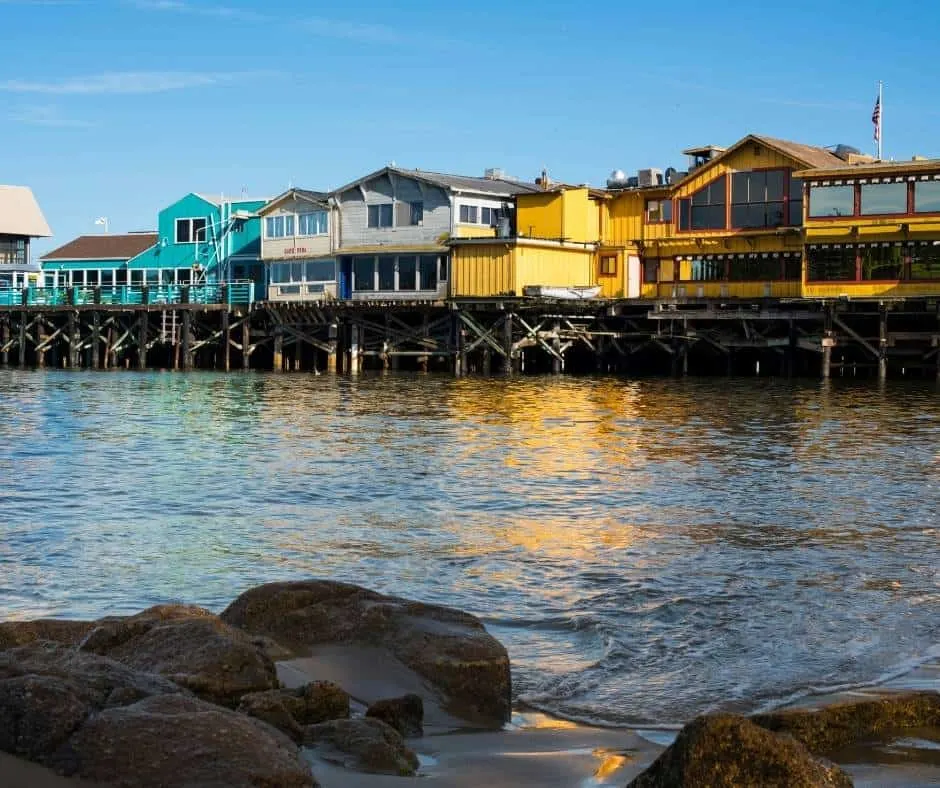 Monterey is one of the best family destinations in California for so many reasons. First, you have the Monterey Bay Aquarium, one of the premier aquariums in the country and certainly the best on the West Coast.
There is also great whale watching, lots of sea lion and sea otter viewing, and terrific clam chowder bread bowls to be had at Fisherman's Wharf.
And kids of all ages fall in love with Dennis the Menace Playground which has several play structures, a suspension bridge, climbing wall, hedge maze, slides, tunnels, and steam engine to climb on.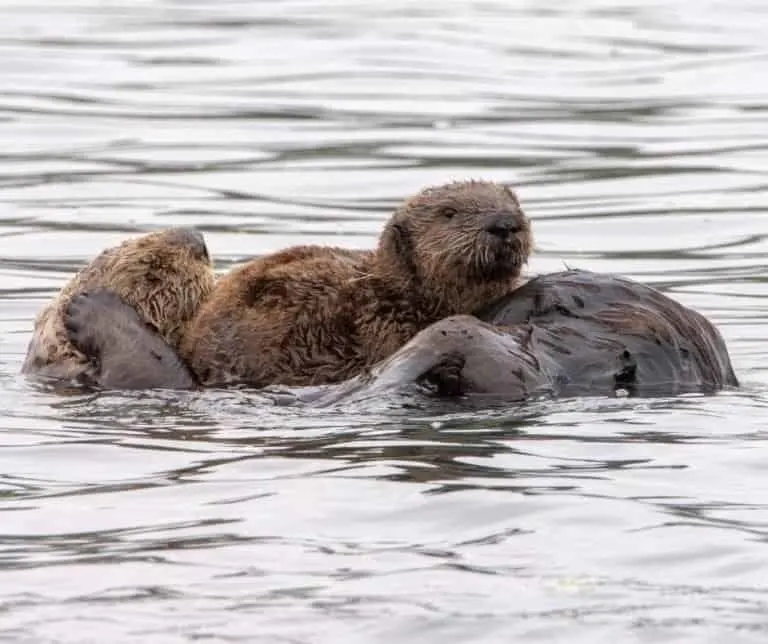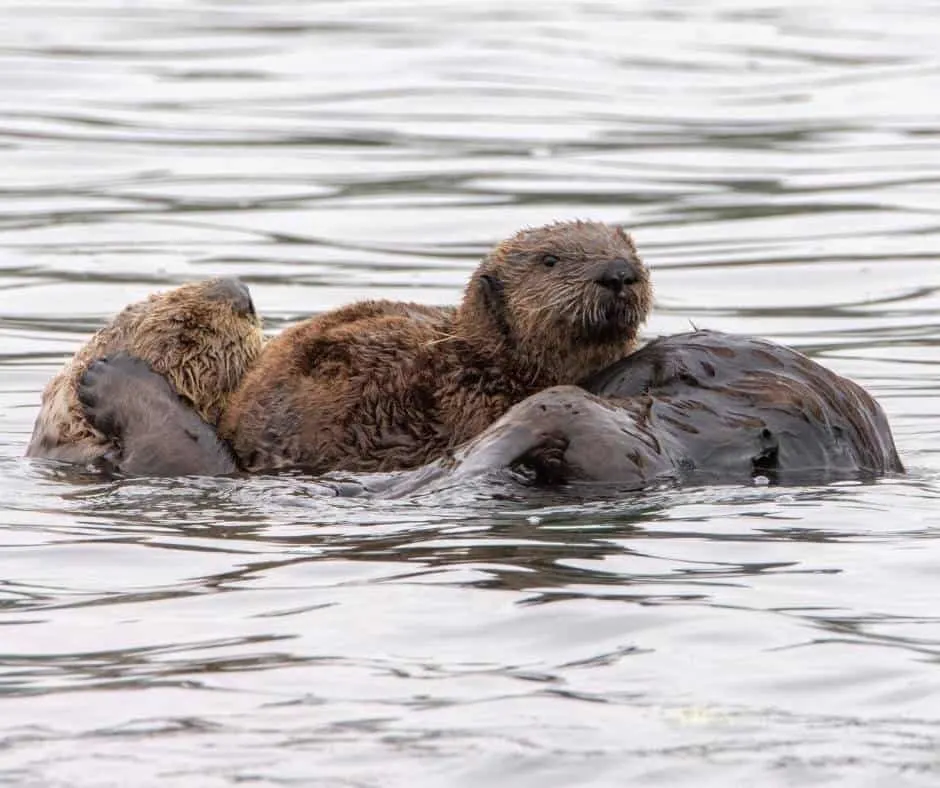 Just northeast of Monterey lies Elkhorn Slough, a tidal slough and estuary. The unique combination of fresh and salt water provides for one of the most diverse slices of flora and fauna.
The best way to experience the slough is on a kayak tour. Kayakers can expect to spot lots of sea lions, seals, sea otters, and plenty of baby animals in the spring. This spot offers one of the premier wildlife viewing experiences in the country.
Discover all that Monterey has to offer in our guide to a Monterey family vacation.
Santa Cruz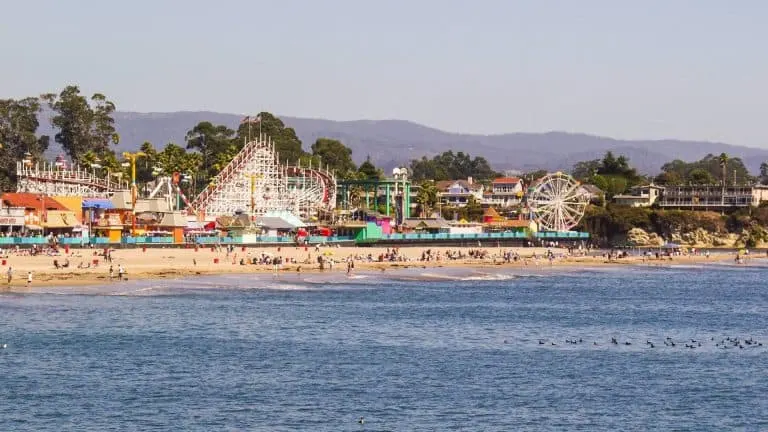 Your final stop on your Central Coast California road trip should be Santa Cruz, home to the classic Santa Cruz Beach Boardwalk. Santa Cruz, CA looks a lot like a Beach Boys tune come to life- there's a thriving surf culture, ample space for beach volleyball and sandcastle building, and an oceanfront amusement park.
There are several great things to do in Santa Cruz, but the one thing that can't be missed is a ride on the Giant Dipper. This classic wooden rollercoaster that has been thrilling riders since 1924. There are several other fun rides, games, and even mini golf to enjoy as well.
If you would like to see one of the southernmost stands of old-growth redwoods in the state, head to Henry Cowell Redwoods State Park in the Santa Cruz mountains. This 40-acre grove will make you feel like an ant, and lead you to ponder what these ancient trees have wtinessed over the centuries.
Disclosure: The author was given a complimentary Roadsurfer Camper Van for the purposes of an unbiased review. No other compensation was received and all opinions are her own.