Texans flee to Colorado to bask in the cool mountain air in the summer, play in the snow in the winter, and enjoy the views of majestic mountains year round. Sometimes it can be daunting to plan a Texas to Colorado road trip because it takes so long to get out the state. We're here to say it can be done and you're family will love this adventure!
This Texas to Colorado Road Trip Itinerary is a 37-hour loop beginning and ending in Austin, Texas. The only repeat stretch is between Lubbock and Austin.
It's a pretty similar drive time from San Antonio and Dallas, and closer to 40 hours from Houston. The route includes lots of great stops in the southern half of Colorado, plus time in Santa Fe, New Mexico and the main attractions of northwest Texas.
If you live anywhere along this route, you can still use this road trip itinerary. A Colorado to Texas road trip is a fun Spring Break vacation.
Texas to Colorado Road Trip Itinerary for Families
Texas to Colorado Road Trip Stop 1: Palo Duro Canyon State Park, TX (7.5 hours)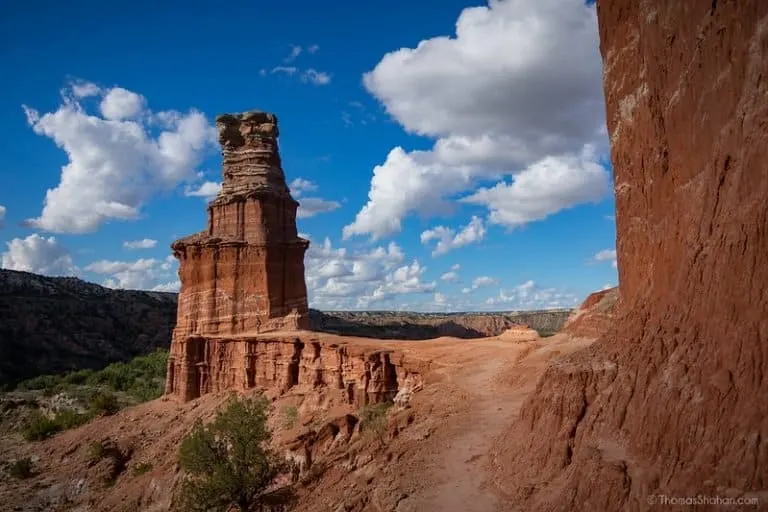 We begin your Texas to Colorado road trip with a stop at the second largest canyon in the country. Palo Duro Canyon is probably the biggest canyon you've never heard of.
As with most canyons, the photos hardly do the scale justice. There are great views from the visitor's center, and a hike up to the Lighthouse is a great way to get the whole family moving. The red canyon stretches out as far as the eye can see.
There are cabins and camping sites in the park, as well as hotels in nearby Canyon, Texas. If you're going to stay the night, chow down on a chuck wagon dinner before watching the "TEXAS Outdoor Musical" in the canyon amphitheater. Is it cheesy? Absolutely. Is it still fun to see? If you like silly jokes, singing, dancing, Texas history, and fireworks, then yes, it is.
You could spend a couple of days exploring the area. The Amarillo Zoo, Wonderland Amusement Park, and Cadillac Ranch are all nearby. Bring a can of spray paint and leave your mark on one of the 10 caddies nose down in the dirt along Route 66. Check out our 10 Fun Things to Do in Amarillo, Texas for more details.
When you get back on the road, head towards Pueblo, Colorado. From there you can veer west to Cañon City or keep going north to Colorado Springs.
Both cities have amazing attractions, so do both if you have time. If you are short on time, Cañon City will be the slightly shorter route because the trip continues west from there. Below is a breakdown of the highlights for both options to help you decide which option to include on your Texas to Colorado road trip if you only have time for one.
Palo Duro Canyon State Park made our list of the best state parks in Texas. See what else is on the list.
Option 1 for Road Trip Stop 2 on Your Texas to Colorado Road Trip: Cañon City, CO (6 hours)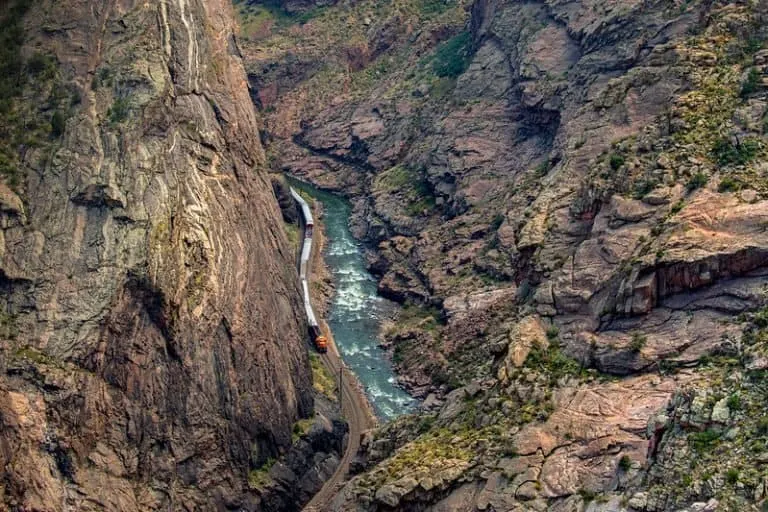 Option number one on the "choose your own adventure" portion of your Texas to Colorado road trip is to spend time in Cañon City, Colorado.
Adrenaline junkies, the Royal Gorge Bridge and Park is calling your name. Walk across the suspension bridge crossing the Arkansas River at a whopping 956 ft. elevation, zoom across the country's highest zip line, or fly through the sky on the skycoaster.
For a somewhat mellower experience, the park also hosts an enclosed gondola, great views from the visitor center, and a playground and splashpad for younger kids.
Another fun way to see the gorge is to book a two-hour breakfast, lunch, or dinner train ride on the Royal Gorge Route Railroad. Whether you choose to ride in the special vista dome cars or in coach, you'll be able to walk onto the open air car at any point along the journey to soak up the mountain air and views.
Option 2 for Stop 2 on Your Texas to Colorado Road Trip: Colorado Springs, CO (6 hours)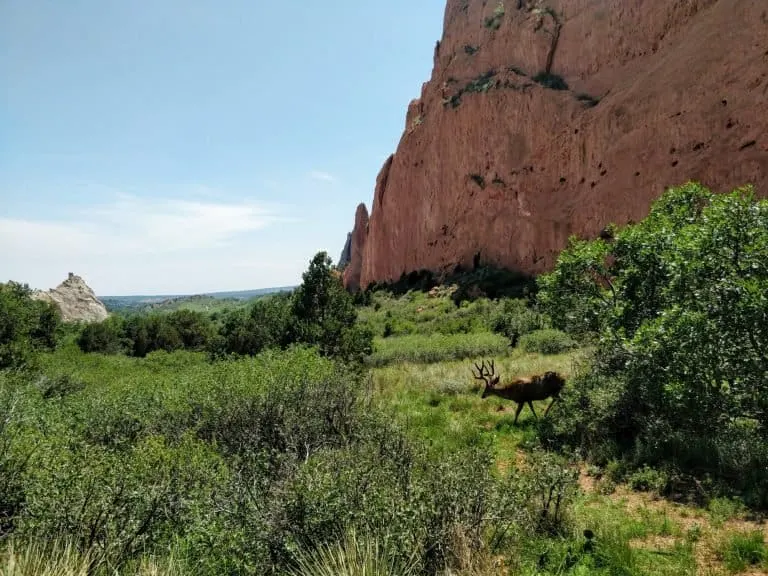 Option number 2 on your Texas to Colorado road trip is to spend some time in Colorado Springs. Treat yourself to a night or two at the Cheyenne Mountain Resort for gorgeous views and direct access to the resort's 35-acre lake. The hotel has kayaks and paddle boards easily accessible for guests to use.
If you really want to splurge, the Broadmoor is one of Colorado's most famed hotels, with a pool that made our list of the Best Hotel Pools in the USA. The hotel has completely revamped the Pikes Peak Cog Railway, which takes passengers on a nine mile journey to the summit of Pikes Peak. Keep your eyes peeled for elk and big horned sheep!
Ever wondered what it would be like to live in the side of a cliff? Let your imagination run wild as you walk through Anasazi cliff dwellings and explore the museum that houses many of people's artifacts at the Manitou Cliff Dwellings in Manitou Springs.
The Garden of the Gods Visitor Center has great science exhibits on how these particular mountains were formed. Wind your way along the many trails through the towering, red peaks. It also has some amazing rock climbing, but you do have to get special permitting for that.
Texas to Colorado Road Trip Stop 3: Telluride, CO (6 hours)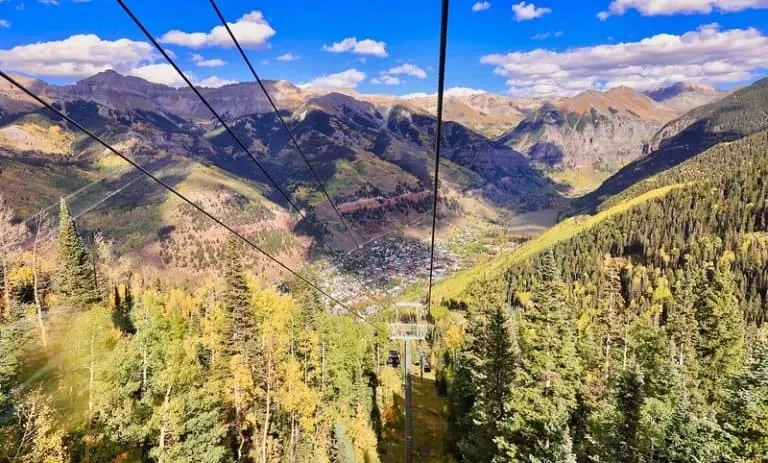 Telluride is a small, isolated mountain town with an historic downtown, ski-village, art scene, and tons of hiking trails.
Stay downtown and you'll be within walking distance of the River Trail. It follows the San Miguel River through town and has plenty of spots for the kids to get their toes wet. Plus, you're never far from town should you need to refuel. If wet toes isn't going to cut it, rent tubes to float the river.
Other kid-friendly trails include the Keystone Gorge trail and Beak Creek trail. The most well known hike in the area is the hike to Bridal Veil Falls. It's just under two miles one way and at the end of the trail, you'll find Colorado's tallest free-falling waterfall.
From downtown, hop on the gondola to carry you over Coonskin Ridge and down into Mountain Village. There's a nature center on top of the ridge and a ropes course, bungee trampoline, and mining sluice in the village. Mountain bikers, don't skip the Telluride Bike Park. Take a lift to the top and get ready to fly down some extraordinary bike trails.
Texas to Colorado Road Trip Stop 4: Mesa Verde National Park, CO (2.5 hours)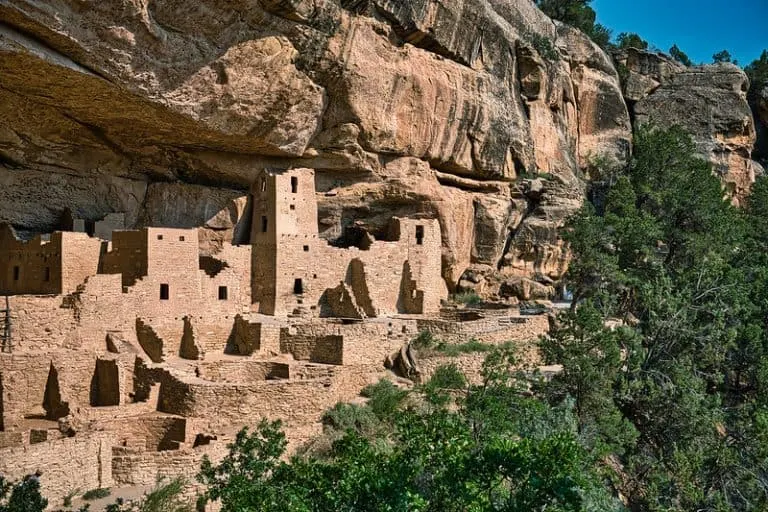 Mesa Verde National Park is our country's largest archeological preserve! Tour the 1,000 year old cliff dwellings of the Ancestral Pueblo people that once inhabited this area. Kids will love climbing ladders and exploring the stone villages nestled into the canyon walls.
Check out our comprehensive guide to Things to do in Mesa Verde National Park for activity ideas as well as lodging and dining suggestions.
Texas to Colorado Road Trip Stop 5: Pagosa Springs, CO (2.5 hours)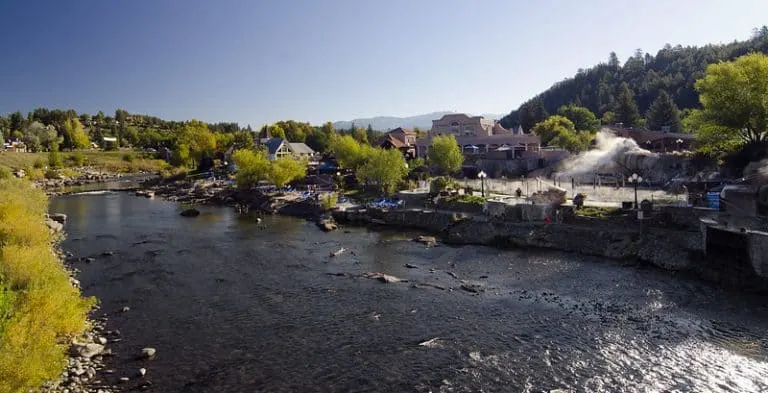 Ready to soak in the world's deepest hot springs? R&R is the name of the game in Pagosa Springs, but you can't skip seeing at least one of the four waterfalls in the area either.
Treasure Falls is visible from the highway, so you don't even have to hike to see it. Piedra Falls is only a half-mile hike, so kids of all ages should be able to get to this one. Maybe hike by morning and soak by afternoon?
You can access the springs by paying a day rate at one of the three resorts with springs pools. The Springs Resort and Spa has 24 different pools filled with spring water, each with varying temperatures and features. Kids are allowed in all areas except the relaxation terrace.
Colorado to Texas Road Trip Stop 6: Santa Fe, NM (3 hours)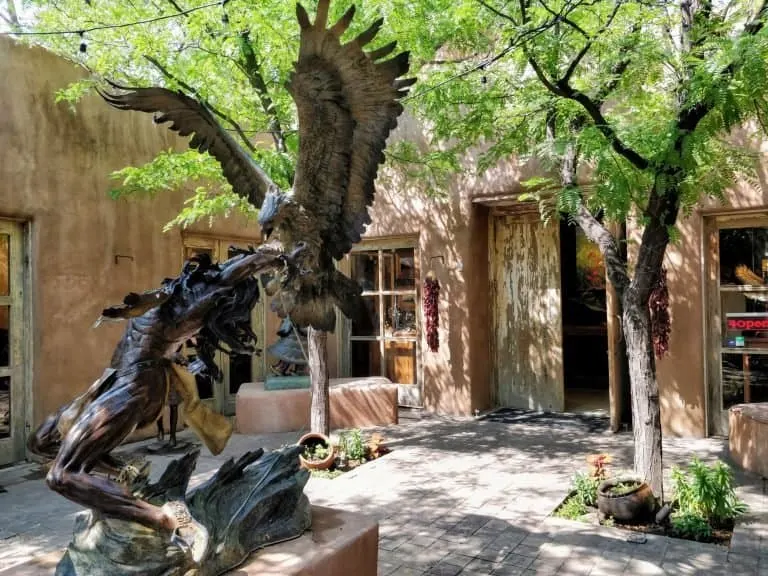 Santa Fe is an artsy town in the high desert with major southwestern flair. Stroll around downtown to get a feel for the unique architecture (everything is adobe!), the strong Native American presence, and the nature-inspired sculptures in just about every art gallery you come across.
The New Mexico History Museum is right downtown and worth a visit if you want to dive into the local history. Downtown is also a great place to grab a handmade gift and some delicious southwestern food. Pasqual's has been around a long time and serves its classic dishes at communal tables in a very homey yet lively dining room.
Meow Wolf is an immersive, interactive art experience. Your family will love it. It's like an art museum, but weirder and a lot more fun. Touch everything, climb ladders, and keep an eye out for secret passages.
For an afternoon pick-me-up, head to the Kakawa Chocolate House for authentic drinking chocolate and candies.
Find out more about our favorite things to do in Santa Fe with Kids!
Colorado to Texas Road Trip Stop 7: Lubbock, TX (5 hours)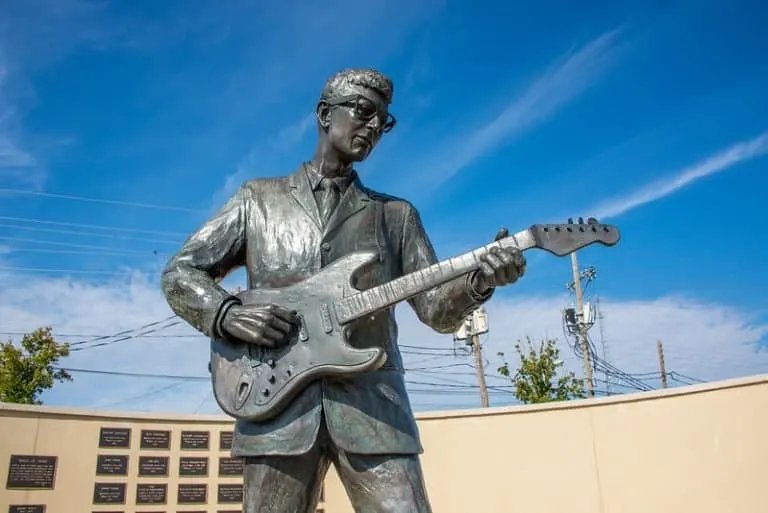 You're finally back in Texas and there is no better way to mark the occasion than paying homage to a Texas legend. If you love Texas music, you need to stop in Lubbock.
It's Buddy Holly's hometown, and all good Texans know that Waylon Jennings got his start in Buddy's band. Learn about Buddy's legacy and peek into the contemporary art and music scene of West Texas at The Buddy Holly Center. Grab a photo with Buddy's statue at the West Texas Walk of Fame.
Spend the night in Lubbock at one of the local hotels and then when you wake up in the morning, make your way home. You are six hours from Austin, five hours from Dallas, six hours from San Antonio, and eight hours from Houston.
If you are coming from Colorado or anywhere else along the route, we have guides filled with things to do in each of these cities. Just click on one of the links below. Happy travels!
Things to do in Austin with Kids
Things to do in Dallas with Kids
Things to do in San Antonio with Kids