A Texas Hill Country road trip is one you will want to add to your vacation bucket list. The Texas Hill Country was created by several rivers carving their way into the Edwards Plateau, creating rolling hills that stretch out as far as the eye can see.
As a local, I have traveled the region extensively, and put together the best Texas Hill Country road trip for families who want to enjoy the highlights of one of the most scenic parts of the state.
This Texas Hill Country road trip itinerary covers a roughly 400-mile-loop to the west of Austin and north of San Antonio, so either city will do as a jumping off point. You'll stroll through historic town squares, hike state parks, learn the local history, and cool off in plenty of swimming holes along the way.
The Ultimate Texas Hill Country Road Trip
Is Texas Hill Country worth visiting?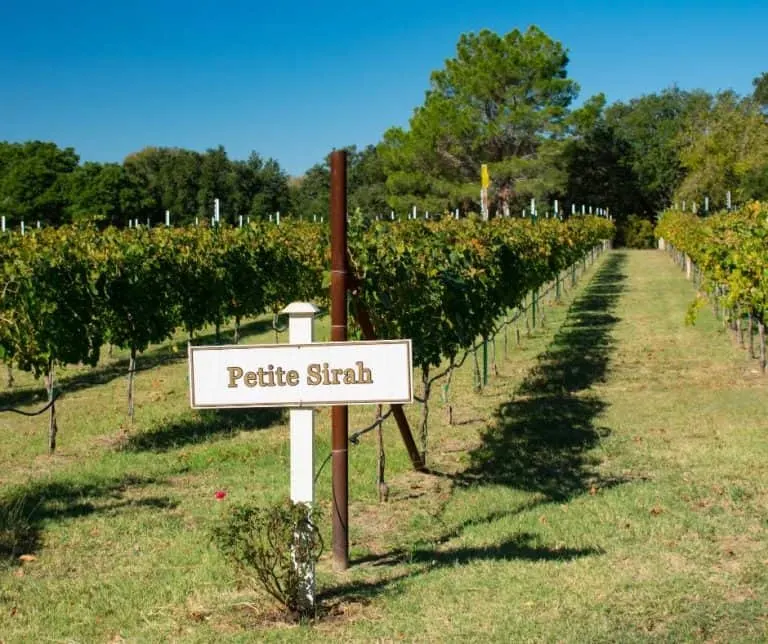 Texas Hill Country is definitely worth visiting and is an ideal road trip destination for those who enjoy great scenery, lots of history and culture, great food, and outdoor fun.
Visually, the landscape compares to parts of Italy and Greece (but with Texas longhorns resting in the grass). In fact, there are over 100 wineries in the Texas Hill Country and you are bound to get a glimpse of several vineyards on your drive.
The green river valleys and white, limestone cliffs that materialize amidst otherwise arid ranch land creates a landscape that is at once both surprising and serene. While rolling pastures are dotted with live oaks and cattle, the rivers are lined with majestic bald cypress and pecan trees.
Explore Hill Country's gateway cities. Here are the best things to do in Austin with kids and best things to do in San Antonio with kids.
What is the Best Time to Visit Hill Country?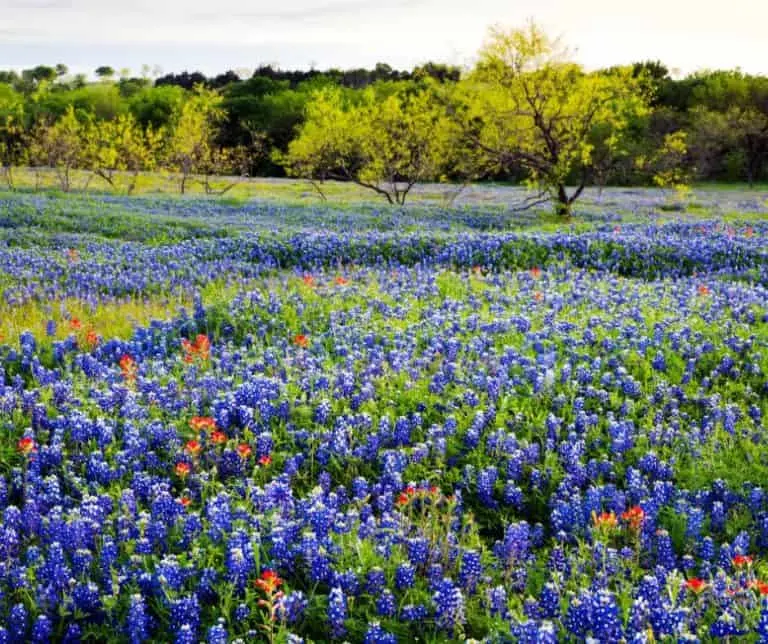 The best time to visit Texas Hill Country is spring because that is when the landscape will be dotted with wildflowers. Ladybird Johnson is behind many of the bluebonnets, pink evening primroses, and Mexican blankets that line the area highways, and scoring the perfect Texas bluebonnet shot is a Lone Star State right of passage.
5 Day Texas Hill Country Road Trip Itinerary
Texas Hill Country Road Trip, Day 1: Dripping Springs, Pedernales Falls State Park, & Johnson City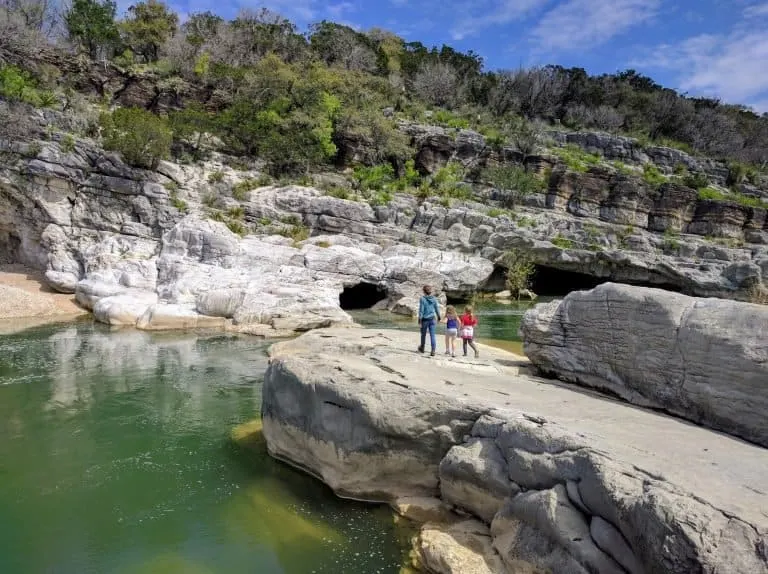 The town of Dripping Springs, just west of Austin, proudly hails itself as the Gateway to the Texas Hill Country. Start your road trip off right with an early breakfast at Rolling in Thyme & Dough, a local bakery and sandwich shop where most ingredients are sourced straight from the farmer's market.
Grab provisions for a picnic lunch and make your way to Pedernales Falls State Park for a morning of rock jumping, hiking, and swimming.
Don't miss the falls area of the park! There's a short, wide trail out to a lookout point for a great view of the falls. Steep stairs lead down to a vast riverbed of limestone boulders, and kids love exploring this area.
Fair warning, these are low, wide falls and depending on the season, not always flowing. However, the unique rock formations are worth exploring even when the river is low. There are several other hiking trails in the park, in addition to designated swimming areas.
After you've had your fill of the park, head into Johnson City for the afternoon. The Hill Country Science Mill is a science museum just off downtown's Main Street, lined with several antique and novelty stores.
Stroll the town square, enjoy some family time at the museum, and grab dinner at Pecan Street Brewing where you'll find comfort food and beers brewed on-site.
Unique Lodging: Private cabin at the New Life Farms Bed and Breakfast.
Distance Covered: 50 miles (departing from Austin).
See more of the state. Here are the 10 best things to do in Texas with kids.
Texas Hill Country Road Trip, Day 2: Inks Lake State Park, Enchanted Rock, & Fredericksburg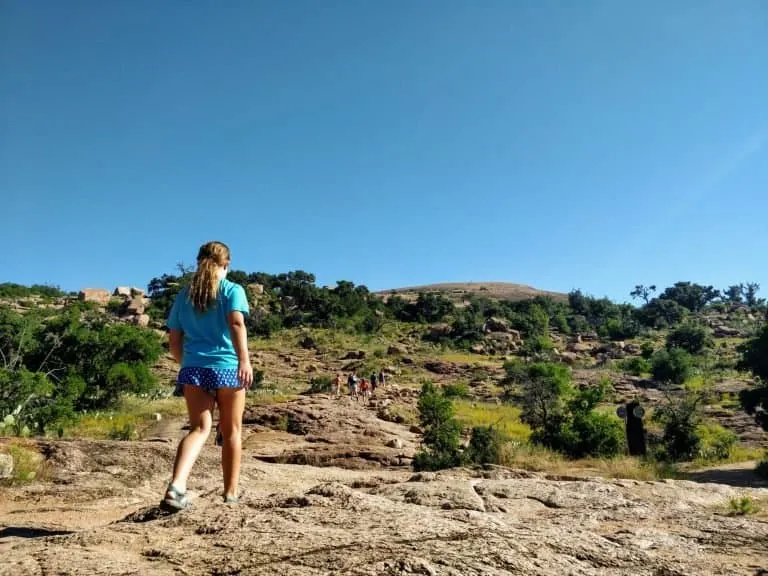 Get an early start and head to Inks Lake State Park for a morning of hiking and swimming. The don't miss spot in this park is Devil's Waterhole.
It's a short, but steep climb up a rocky trail to reach the top of the cascading pools of Valley Spring Creek that feeds into Inks Lake. In a separate area of the park, there is easy access to a large, sandy-bottomed swimming area with grass, picnic tables, and kayak/SUP rentals.
Both Pedernales Falls State and Park and Inks Lake State Park are featured in our 10 Best Day Trips from Austin, Texas.
When you've worked up a healthy appetite, make your way over to the original Cooper's Old Time Pit BBQ in Llano. Cooper's runs with the best of the best in Texas BBQ, and this wouldn't be a Texas road trip without some BBQ!
Spend the afternoon climbing Enchanted Rock. It's a huge, pink granite dome that is the backdrop for many Tonkawa Indian legends and the site of 400+ important archaeological sites.
The view from the top is an impressive panorama of the Texas Hill Country and simply can't be beat. The climb is steep, but relatively short to reach the 1,800+ ft. summit. The Echo Canyon Trail over to Moss Lake offers great views of the dome from below.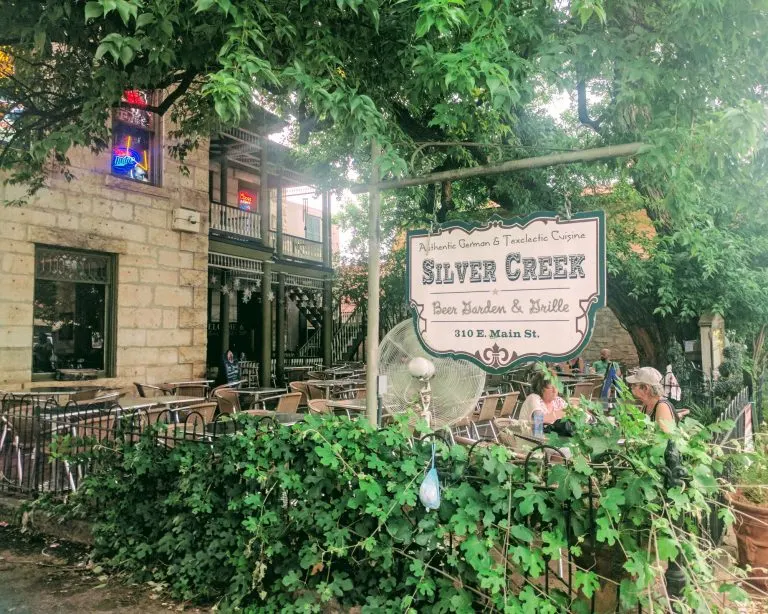 Head into Fredericksburg for traditional German schnitzel and a cozy night's sleep. Fredericksburg was founded by German immigrants in the mid-1800s. Today, it is the tourist hub of the Hill Country.
Main Street is lined with beer gardens, boutiques, day spas, and scrumptious bakeries. You may want to spend the next morning exploring everything Fredericksburg has to offer before you head out of town. Don't skip breakfast (and perhaps a bakery case raid!) from the Pastry Queen at Emma & Ollie.
History buffs will want to visit the world class National Museum of the Pacific War, while gardening enthusiasts will love a morning at the country's largest working wildflower farm, Wildseed Farms.
Unique Lodging: A private cabin at Baron's Creekside, a 26-acre vineyard property just outside of town.
Distance covered: 110 miles.
Texas Hill Country Road Trip, Day 3: Garner State Park
Garner State Park is a Texas family favorite, with many returning year after year to enjoy the clear and cool water of the Frio River.
This park has all the amenities you could hope for including a large park store, burgers at the Garner Grill, kayak/SUP rentals, and an ice cream shop.
Enjoy swimming, tubing, hiking, mini-golf, and most importantly, a night of two-stepping under the stars on the park's dance floor! Don't miss the short hike up Old Baldy Trail for an amazing aerial view of the Frio River Valley.
Garner State Park made our list of the best state parks in Texas. See what other parks made our list!
Unique Lodging: Garner State Park has screened shelters and full cabins in addition to tent and RV sites.
Distance covered: 100 miles.
Texas Hill Country Road Trip, Day 4: Bandera and Boerne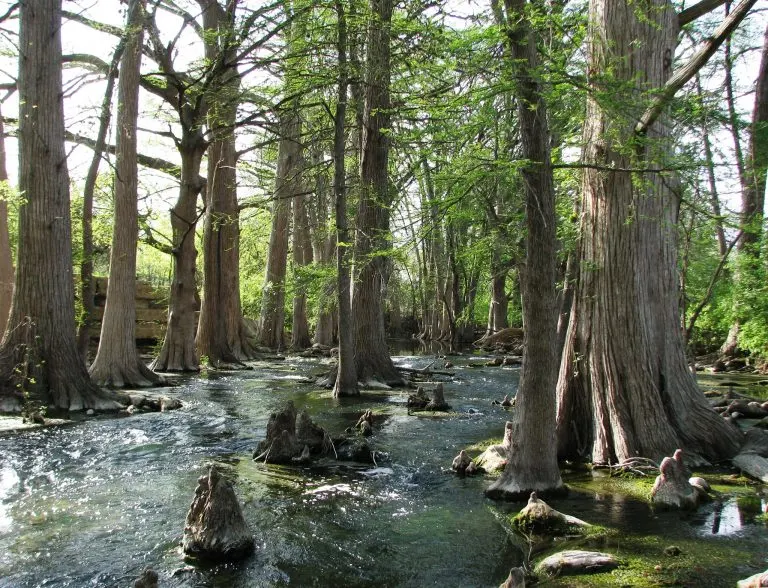 After a stay at Garner State Park, you'll start heading east to complete the southern portion of your Texas Hill Country road trip loop. Bandera, known as the Cowboy Capital of the World, is up next.
Even if you're just passing through, you can still get your giddy up going with a day visit to Rancho Cortez. They've got full-day and half-day options for visiting the ranch, offering the whole family a true taste of the cowboy way.
If a day at the ranch is too much, pull into Bandera just in time for lunch and the best apple pie in Texas at Love Creek Orchards. You may be able to pick your own apples, blackberries, or figs, depending on the season.
If it happens to be a Saturday, don't miss the Bandera Cattle Company gunfighter show at the Bandera Visitor's Center. Otherwise, take some time to explore the Bandera Natural History Museum. Your little dinosaur experts will love the outdoor exhibit of life-sized dinosaurs and ice-age animals.
Boerne's German and Czech cultural heritage is apparent up and down Main Street, so if you missed your schnitzel in Fredericksburg, head to Little Gretel for sausage, beer, and kolaches.
From Little Gretel, you'll want to stroll along the Cibolo Creek Trail toward downtown to see the shops along Main Street. If that doesn't give you quite enough time along the beautiful banks of Cibolo Creek, head to the Cibolo Creek Nature Center for more. If the heat starts getting to you, find refuge inside the Cave Without A Name.
Unique Lodging: The Tapatio Springs Hill Country Resort is a full-service resort just outside of town with a spa, golf course, restaurant, and pool on site.
Distance covered: 75 miles.
Texas Hill Country Road Trip, Day 5: Canyon Lake and Wimberly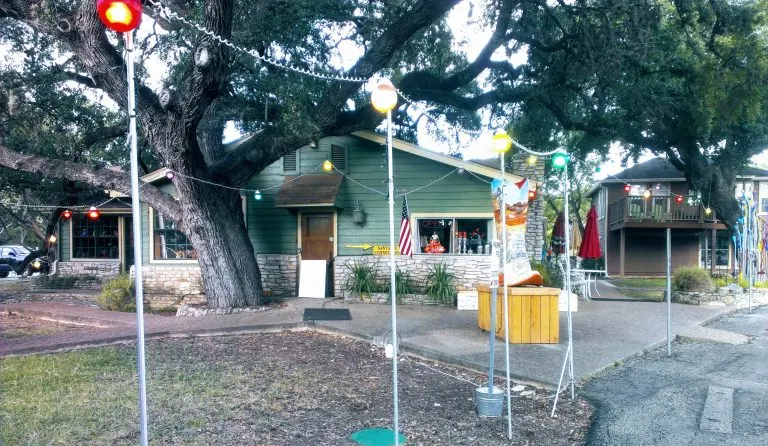 Canyon Lake is a deep, clear lake sandwiched between the adorable hill country towns of Boerne and Wimberly. There are several parks on Canyon Lake.
Overlook Park will take you on an easy walk across the dam for a unparalleled view of the expansive lake, while Comal Park Beach has a dedicated swimming area. Although it's not really a beach- those are hard to come by in the Hill Country- it's a great place to easily access the water for swimming and kayaking.
The final stop on your Texas Hill Country road trip is the small town of Wimberly, Texas. It's only about 20 minutes directly south of where you started in Dripping Springs, and an easy jaunt to both Austin and San Antonio.
Your time in Wimberly could go a couple different ways. On one hand, there are two of the most popular swimming holes in the state nearby: Blue Hole Regional Park and Jacob's Well. Additionally, with certain lodging choices, you will have access to either the Blanco River or Cypress Creek.
On the other hand, you could spend the evening soaking up the laid-back, artist vibe Wimberly exudes. Bootiful Wimberly, a public collection of large, one-of-a-kind, decorative boots made by local artists, was started in 2014.
While not all of them are within walking distance of one another, you can see a large cluster on a stroll through downtown Wimberly. Later, find your way to Wimberly Glassworks to see live glass blowing demonstrations and the amazing final products on display in the showroom.
Unique Lodging: 7A Ranch for private access to the Blanco River or The Lodge at Cypress Falls for private access to Cypress Creek.
Distance covered: 65 miles.