Last Updated on
In August of 2016 my family spent 19 days exploring six Canadian provinces on an Eastern Canada road trip. We began our international road trip driving from New York to Montreal. Then we went eastward from Quebec to New Brunswick to experience the largest tides in the world along the Bay of Fundy. In Nova Scotia, we saw moose, eagles, puffins and whales on Cape Breton Island. On Prince Edward Island we played at the beach. In Newfoundland we boated through Gros Morne National Park's fjords. It was truly an epic road trip stretching across Eastern Canada from Quebec to Nova Scotia and Newfoundland.
Epic Eastern Canada Road Trip – Drive from New York to Montreal and on to Cape Breton Island in Nova Scotia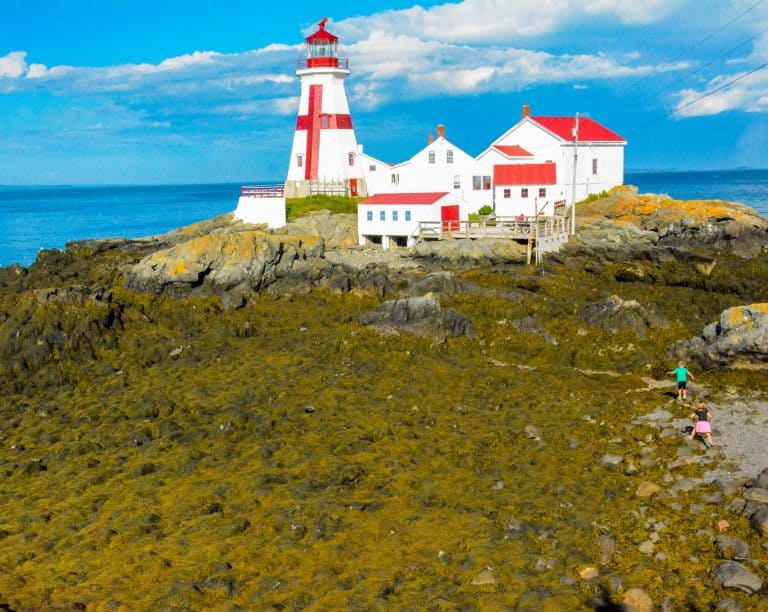 I realize that few families have the ability to replicate our epic adventure. Nevertheless, I would like to encourage and inspire all families to explore the vast country of Canada with their children.
Border Crossing – Thousand Islands and the St Lawrence Seaway – New York to Montreal Road Trip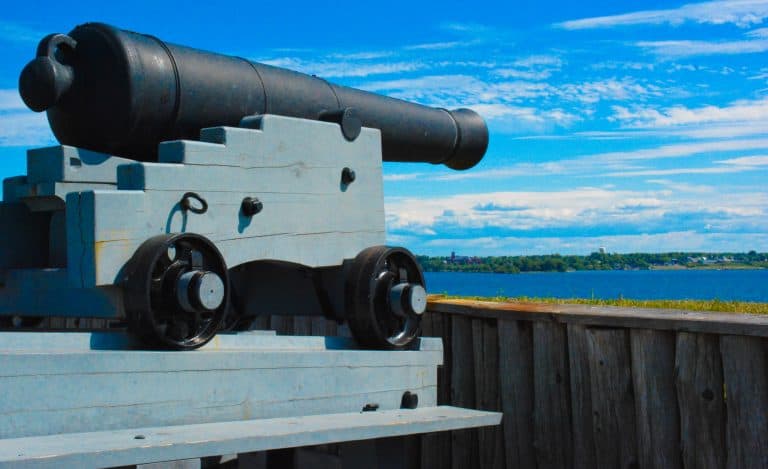 Our New York to Montreal road trip began by crossing over Wellesley Island in the middle of the Saint Lawrence River around lunchtime after spending our morning in New York State touring Boldt Castle.
Mallorytown Landing Parks Canada – A First Stop on a New York to Montreal Road Trip
Mallorytown Landing, the Parks Canada visitor center for its Thousand Islands National Park, is the perfect place for a picnic lunch just about ten minutes north of the border crossing. This summertime visitor center is staffed by enthusiastic college-age students who go out of their way to welcome kids to Canada, give them a quick nature lesson and get them hooked on earning Parks Canada Xplorers tags, a program very similar to the US Junior Ranger program run by the National Park Service. It is a great first stop on a New York to Montreal road trip.
For Wellington National Historic Site
Fort Wellington National Historic Site should be your next stop along the MacDonald-Cartier Freeway on your New York to Montreal road trip. The fort is located along the shore of the St Lawrence River directly across from Ogdensburg, New York. In the summertime, visitors to the fort will find a small museum at the visitor center and several costumed guides within the walls of the fort. There is so much educational fun for kids here! The Xplorers booklet guides children to enter the fort using a secret entry and password as they step back in time about 200 years. It takes only 60-90 minutes to enjoy a self-guided tour of the fort.
In total, the easy highway drive through Ontario from the Wellesley Island border crossing to Quebec is about two hours on this New York to Montreal road trip. Soon after crossing into Quebec, you'll begin to experience the traffic from the city of Montreal.
Visiting Montreal on a New York to Montreal Road Trip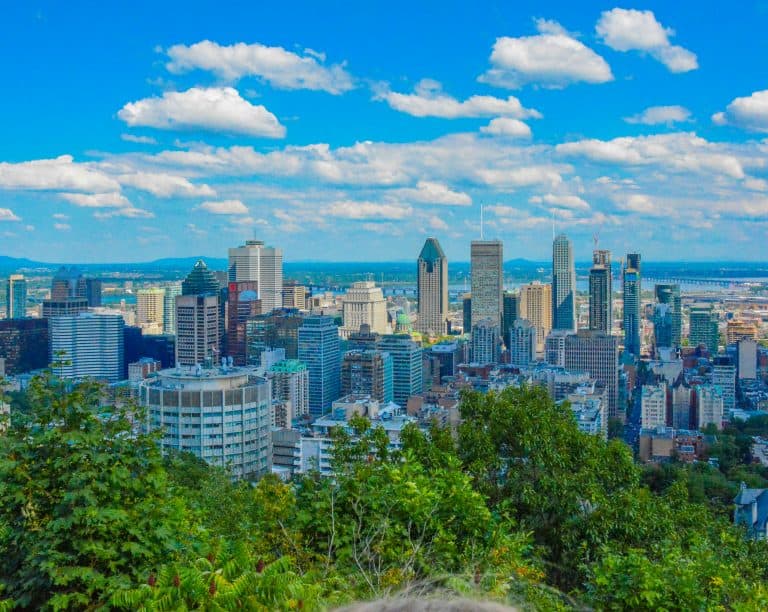 My family only chose to spend two full days in the city of Montreal. When planning our visit, I searched for Montreal's more unique attractions that would strike a good balance with what I had planned for the rest of our trip and fit our family's interests.
Taking in the view from the Chalet in Mount Royal Park (Chalet du Mont-Royal) and snapping the obligatory photo is simply a must when visiting Montreal. There are a few ways in which to arrive at this amazing viewpoint above the city: by city bus, car, or foot. The bus drops passengers off by a huge parking lot that is about a ten minute walk from the Chalet – just follow the crowds. Hiking the steps to the viewpoint from Peel Street is certainly the more memorable option though visitors should be aware that it's a steep 45 minute trek from the Peel Street Metro Station, and the network of trails crisscrossing Mount Royal can be a bit confusing should you stray from the main tourist path.
Visiting the Montreal Olympic Stadium Tourist Area on a New York to Montreal Road Trip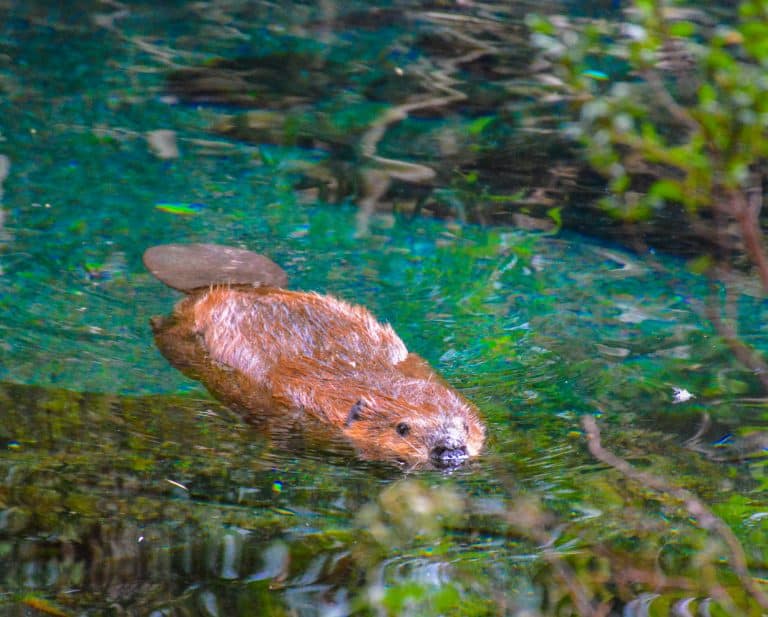 While the Olympic Stadium tourist area is a good 15-minute drive from the city center of Montreal, it is most definitely worth a visit for families with younger kids as it is home to several of the city's most kid-friendly attractions: the Biodome, Planetarium, Botanical Garden and Montreal Tower. The Biodome highlights several of the earth's biomes including two of Canada's nearby natural areas, the Laurentian Mountains and the Gulf of Saint Lawrence. Even on the most epic road trip the chances of seeing a Canadian lynx or even a beaver out in the wild are quite small, but the probability is quite good that you'll see them awake and moving about in the morning at the Biodome.
Exploring Montreal's Old Town on a New York to Montreal Road Trip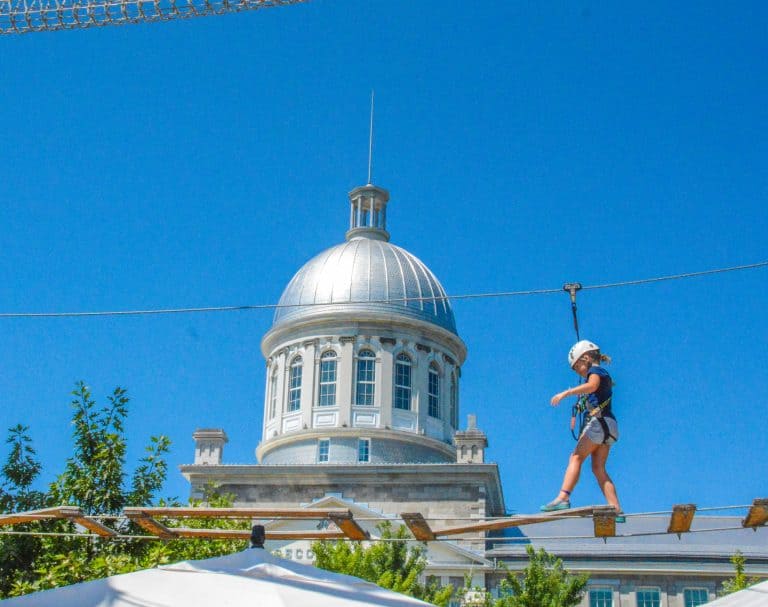 Finally, no trip to Montreal would be complete without a stop at Notre Dame Basilica in Montreal's Old Town (Vieux-Montreal) or a visit to the Old Port (Vieux-Port). Inside the basilica has a beautiful blue hue to it that almost looks like a starry night sky; even the youngest children find it mesmerizing for a few moments. The Old Port has a bit of something for everyone from the high flying Voiles en Voiles pirate-themed aerial park to the tempting food stalls selling sweets like caramel popcorn and gourmet chocolate-dipped frozen bananas.
Where to Stay in Montreal on a New York to Montreal Road Trip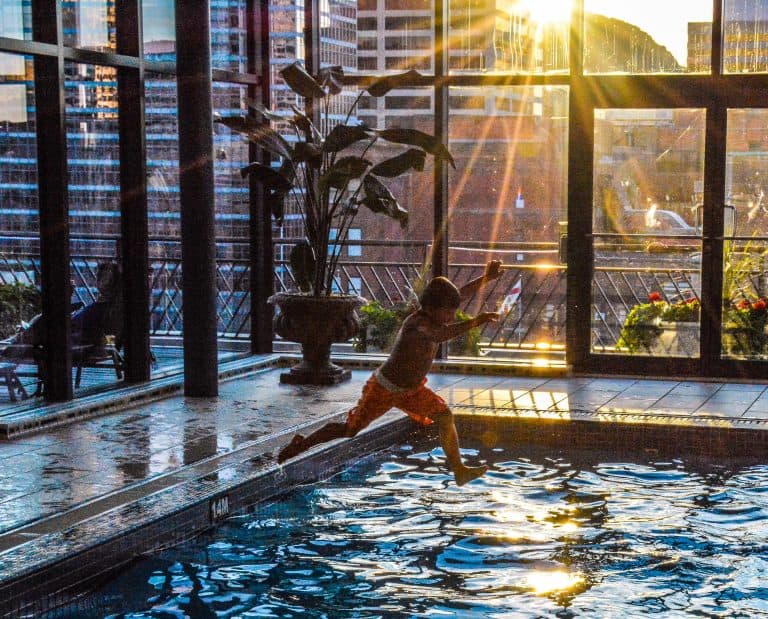 My family enjoyed our stay a Le Square Phillips with some of the best pizza in town just down the street and a fun, indoor rooftop pool perfect for active kids just a few floors up from our room. I shared a family suite with my two children, sister and mom; the suite included a separate room with a king bed, kitchen area, bathroom, living area with sleeper sofa and a bedroom area with a queen bed. It is the perfect home base in Montreal for a New York to Montreal Road Trip
Book a place to stay in Montreal.
Quebec City and Montmorency Falls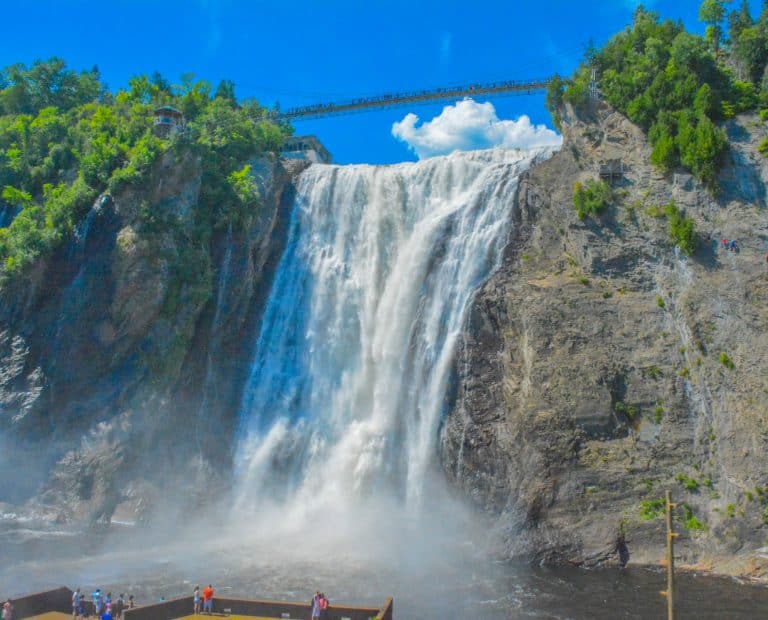 After experiencing Montreal, my family drove about three hours north along the Saint Lawrence River to Montmorency Falls and Quebec City. There we spent a half a day exploring the falls and about 24 hours enjoying Quebec City.
Montmorency Falls is often compared to its more famous Canadian counterpart in Niagara because Montmorency is just a tad bit higher than the Horseshoe Falls in Ontario, and unfortunately, the crowds at Montmorency are also similar to those found at Niagara. However, that's where the comparison ends; there are no tacky tourist traps or high rise hotels overshadowing Montmorency Falls. If you don't mind sharing the view with a few thousand other tourists, there are plenty of trails to walk that offer spectacular viewpoints of the falls; adventure seekers can even zip line or rock climb the cliffs beside the falls.
Where to Eat in Quebec City on an Eastern Canada Road Trip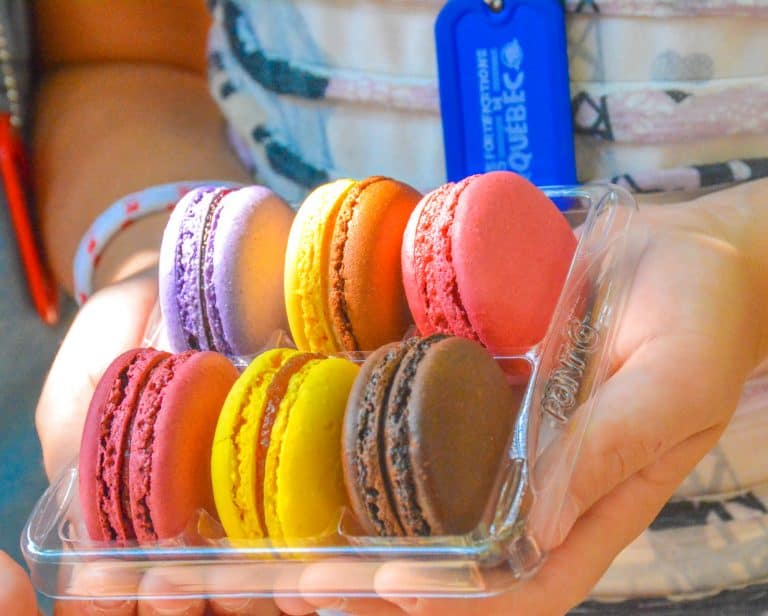 In the summer, the best time to be in Quebec City is in the evening as the sun is setting or first thing in the morning before the buses of tourists arrive. However, no matter the time of day, my preferred place to be in Quebec City is seated at a café or restaurant enjoying a meal. This walled city matches the charm of virtually any city on the European continent, and, in my opinion, the croissants available at Paillard on Rue Saint-Jean and macaroons from La Maison Smith are some of the best on this side of the Atlantic.
Historic Sites in Quebec City on an Eastern Canada Road Trip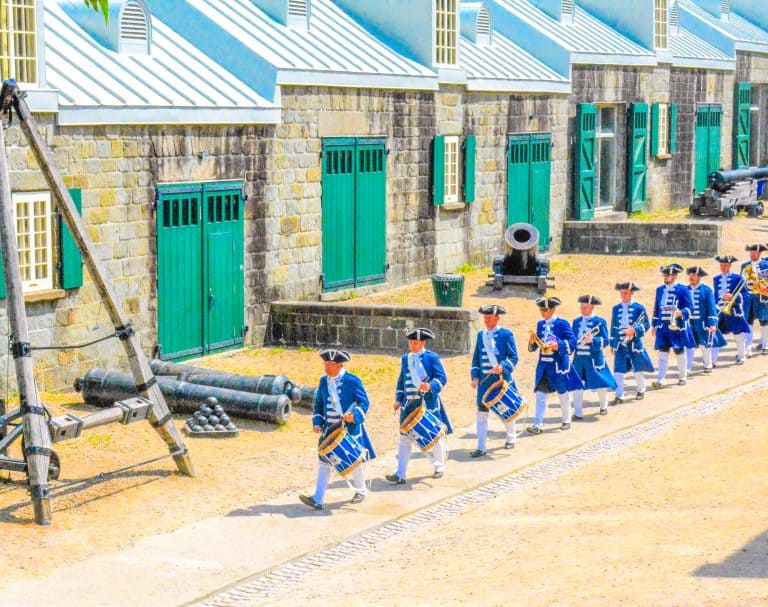 As all parents know, when traveling with kids, only so many minutes a day can be spent seated street-side at a café. Somewhat ironically, we found that best places to burn off kid energy in Quebec City are its historic sites. Underneath the scenic Terrace Dufferin, children can dress up like the governor of New France or dig for "artifacts" at the Saint-Louis Forts and Châteaux National Historic Site. On the other side of old town families can climb the city walls at the Fortifications of Québec National Historic Site to appreciate some impressive views.
Where to Stay in Quebec City on an Eastern Canada Road Trip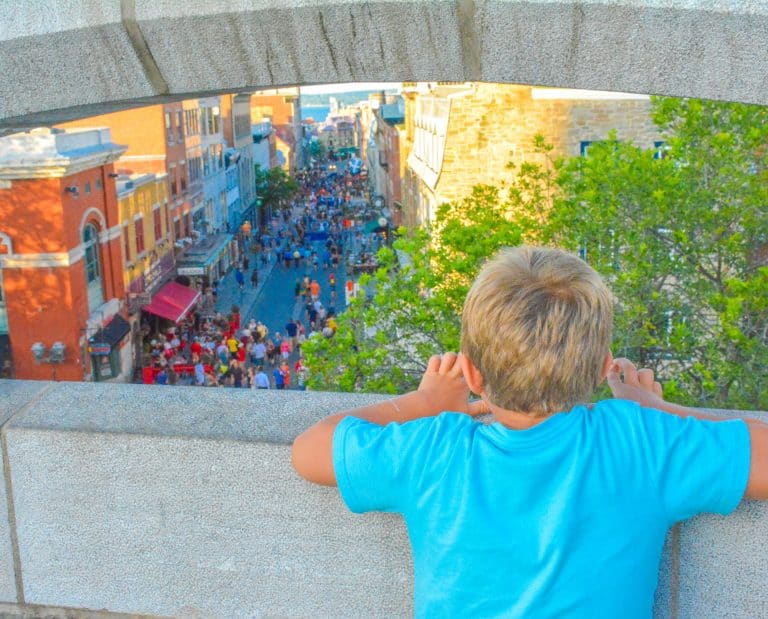 If you only have a short time to enjoy Quebec City, I highly recommend splurging on a hotel inside the old city like Hotel Manoir Victoria. My kids enjoyed the pool, but really it's the location, just one block off of Rue Saint-Jean, that is tough to beat on an eastern Canada road trip.
Find a deal on hotels in Quebec City.
New Brunswick's Bay of Fundy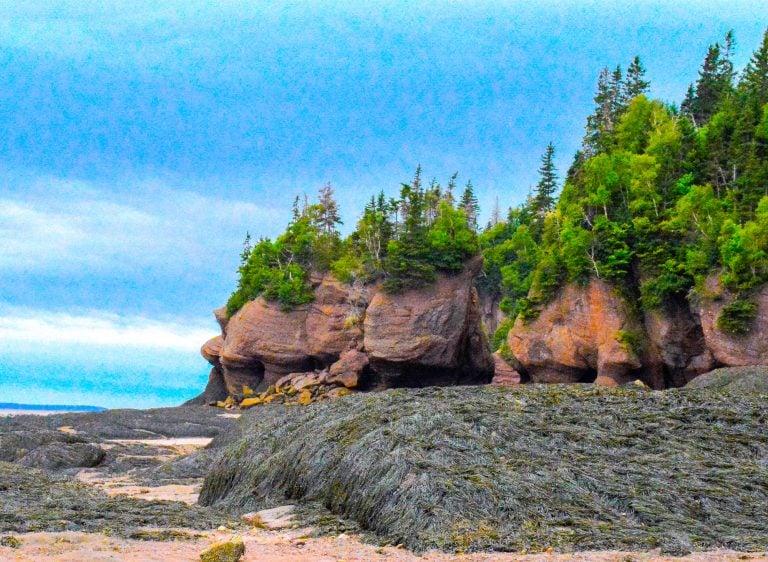 From Quebec City, my family drove north to Rivière-du-Loup and then across New Brunswick to Moncton, a seven to eight hour drive on the Trans-Canada highway. If your family is not interested in heading towards the Maritime Provinces, I would suggest that you consider continuing along the Saint Lawrence to Saguenay or even the scenic Gaspé Peninsula instead.
After spending the night in Moncton, we took an entire day to fully appreciate the tides of Fundy. The tide tables allowed us to walk on the ocean floor in the morning at Hopewell Rocks; then we came back in the late afternoon to see high tide. While waiting for the tides to change, we explored the trails and beaches of Fundy National Park, about 45 minutes down the road in Alma.
Hopewell Rocks
A walk on the ocean floor at Hopewell Rocks is the classic way to experience the extreme tides of the Bay of Fundy. It is possible to spend an entire day hiking this stretch of coastline and appreciating the rock formations at every tidal level; there are kayaking experiences available at the highest tides, a playground for the little ones, a visitor center with exhibits and a café.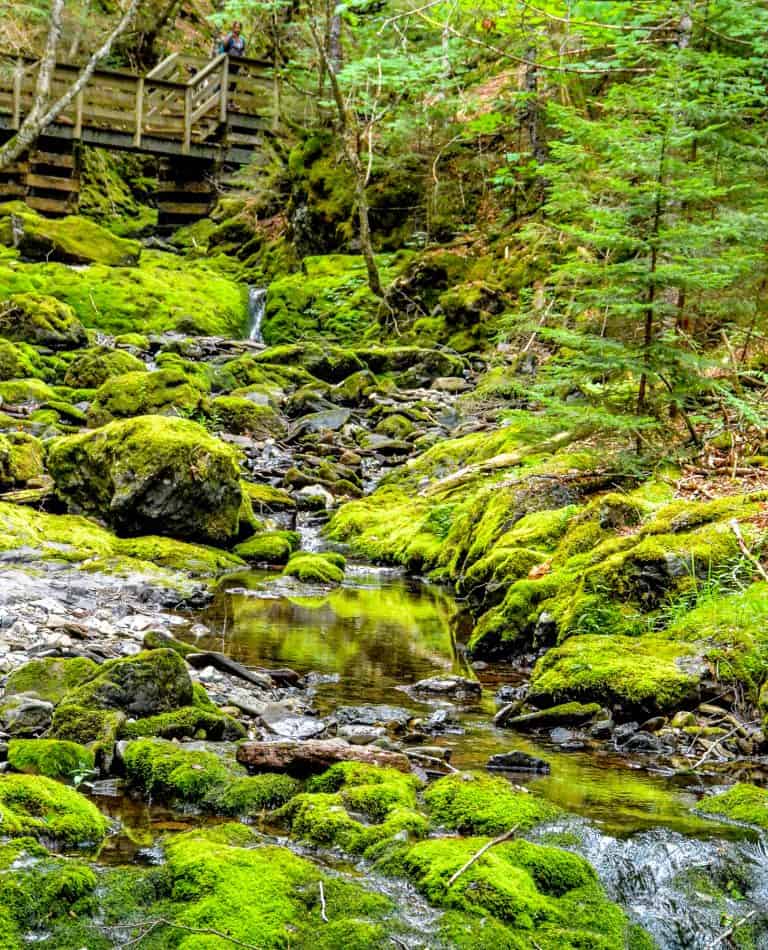 While Hopewell Rocks is a very popular and even crowded destination, Fundy National Park is a much different experience; it's one of the hidden gems of the Fundy coastline. The park's network of trails takes families through green mossy forests to waterfalls, along cliff edges above rocky beaches, and even past one of New Brunswick's scenic covered bridges.
New Brunswick is a destination in itself. If you want to focus your family's vacation on New Brunswick, read Trekaroo's Exploring Southern New Brunswick and the Bay of Fundy with Kids for more details on this region.
Enjoying the Beaches of Prince Edward Island on a Eastern Canada Road Trip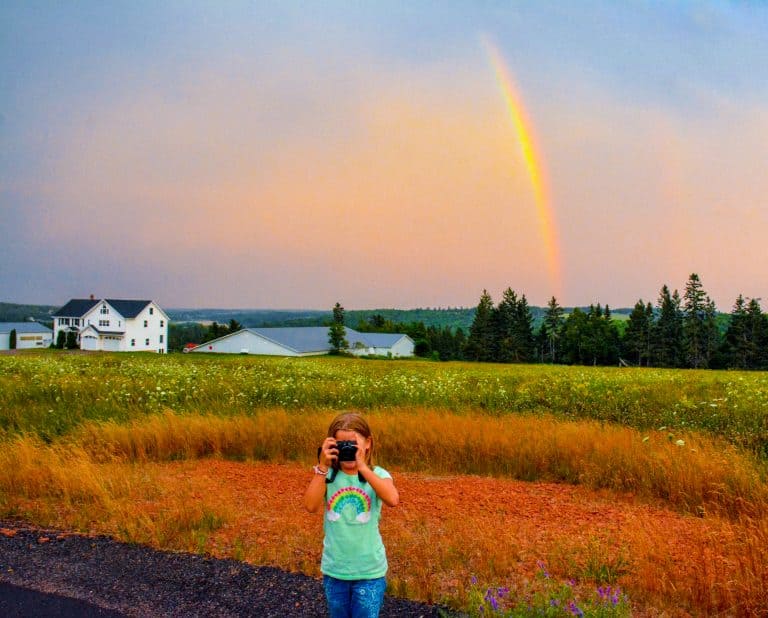 From Hopewell Rocks my family continued north, across the remote, virtually uninhabited marshlands of New Brunswick to the Confederation Bridge. Once arriving Prince Edward Island we were greeted by fields of flowering potatoes dotted with quaint farmhouses. We spent one full day in the Cavendish area of the island.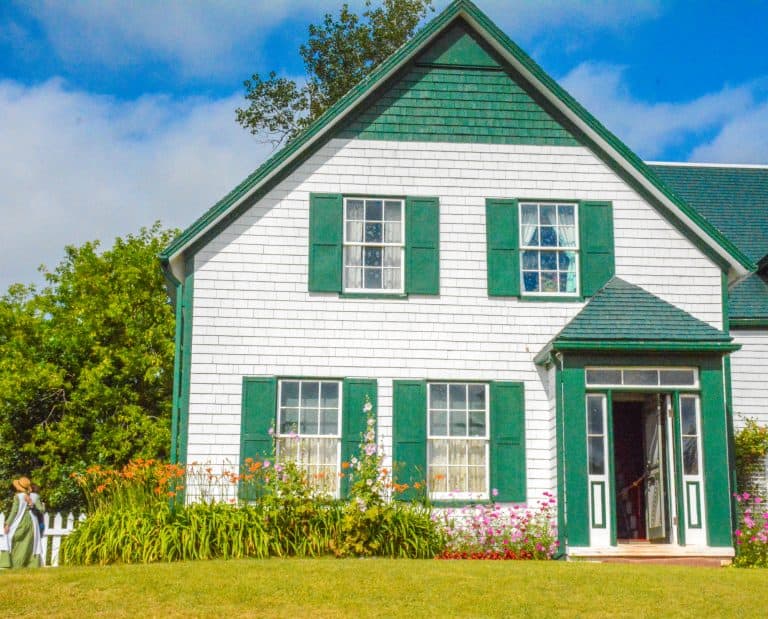 Prince Edward Island is a bucket list destination for anyone who grew up reading of L.M. Montgomery's Anne of Green Gables or watching the saga of Anne's coming of age on old VHS tapes and television. The farmhouse that visitors walk through today at Green Gables Heritage Place in Cavendish is in fact the inspiration for the novels and now is dotted with reminders of scenes from both the books and television show. The Parks Canada Xplorers booklets provide children with a list of things to find the house, barn and garden from a dress with puffed sleeves to various farm tools. Yes, in just about an hour, your children will be begging for their very own over-priced DVD of the series in the gift shop and become Anne-lovers for life.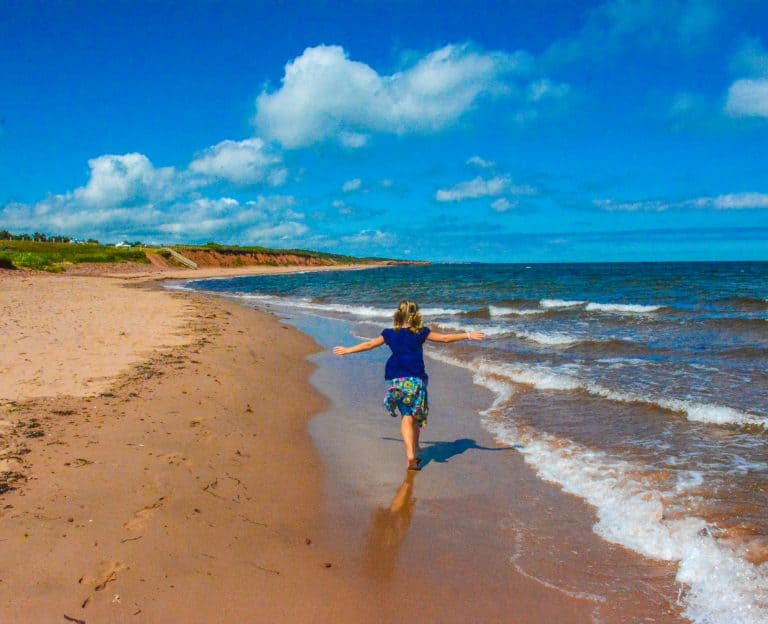 The shoreline and the bounty of the ocean is truly the highlight of any visit to Prince Edward Island. The options for a day at the beach are numerous, though the Cavendish Beach is one of the most scenic and popular. The Blue Mussel Café in North Rustico is a quaint, convenient place to stop for lunch as you drive the coastline looking for the perfect stretch of sand; it's not much to look at from the outside, but the view from the deck is stunning and the lobster is amazing.
Where to Stay in Charlottetown, PEI on a Eastern Canada Road Trip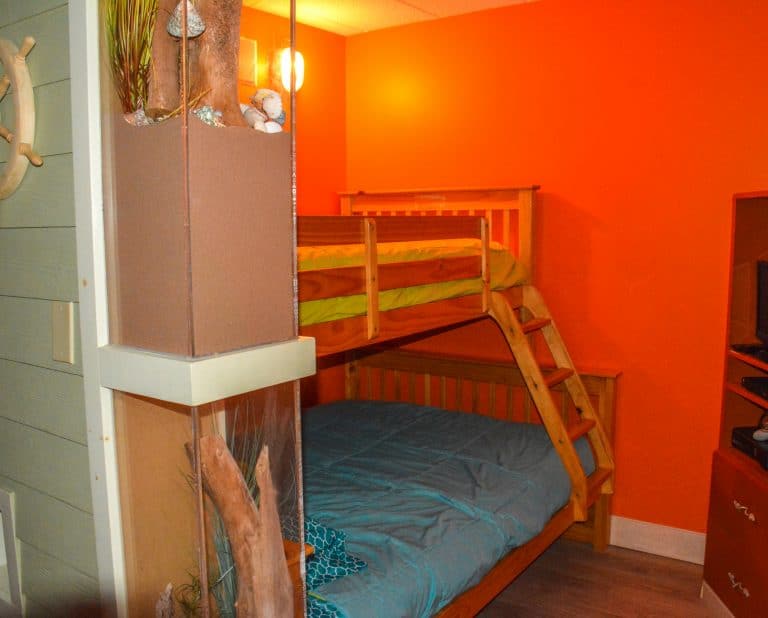 There are plenty of cabins that dot the farmland and seaside in the Cavendish area, but seeing as we had only two nights to spend on the island, we opted for the Holiday Inn Express in Charlottetown. They have themed family rooms with bunk beds – what a treat for the kids!
Book this or other nearby hotels on Trekaroo.
Seeing the Wildlife of Cape Breton Island on a Nova Scotia Road Trip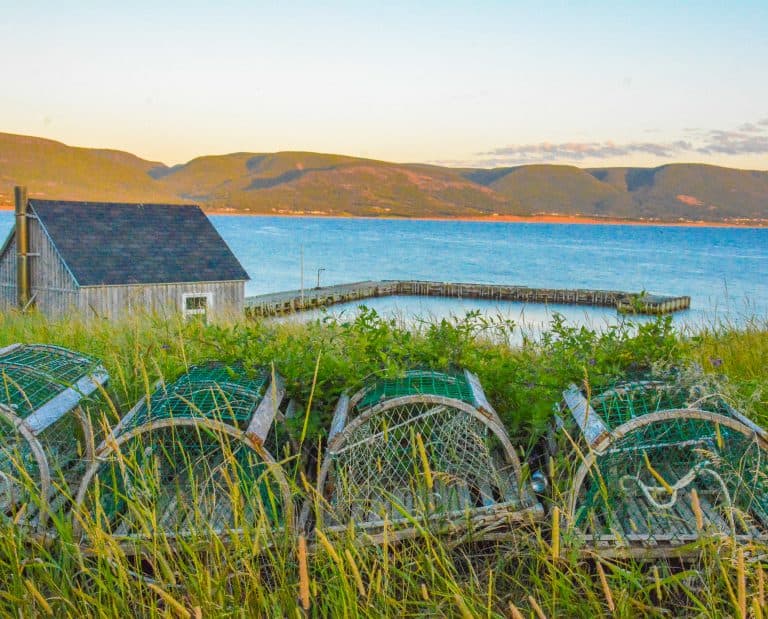 From Charlottetown we continued west to the Woods Island Ferry; the ferry and the Confederation Bridge are the only two options for reaching the mainland from Prince Edward Island.
Then, with an Anne of Green Gables playing on our car DVD player, we drove the Trans-Canada Highway to Cape Breton Island beginning our Nova Scotia road trip. Then we continued up the coast of Cape Breton Island on the Cielidh Trail till it reached the scenic Cabot Trail. On the following day of our Nova Scotia road trip we explored Cape Breton Highlands National Park.
Many visitors come to Cape Breton Island on a Nova Scotia road trip to experience its unique music and arts. To fully appreciate the local flavor of the island, plan to eat dinner at a small family-owned restaurant that provides regional fiddle music during dinnertime in the evenings.
Hiking the Skyline Trail, Cape Breton Island on a Nova Scotia Road Trip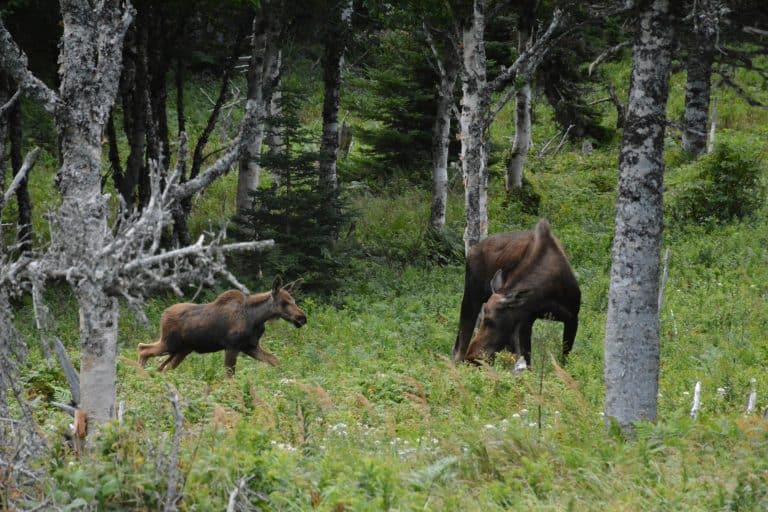 There is no mystery why the tourists driving the Cabot Trail on Cape Breton Island all seem to stop at Skyline Trail for a hike. The view overlooking the ocean is absolutely breathtaking. However, the hordes of tourists tromping along the trails don't seem to bother the moose in the area at all. According to repeat hikers, the chances of seeing these peaceful animals chomping away on the underbrush just off the trail is quite good. It's such a beautiful place that you likely won't mind sharing it with a few hundred other people on a warm summer day.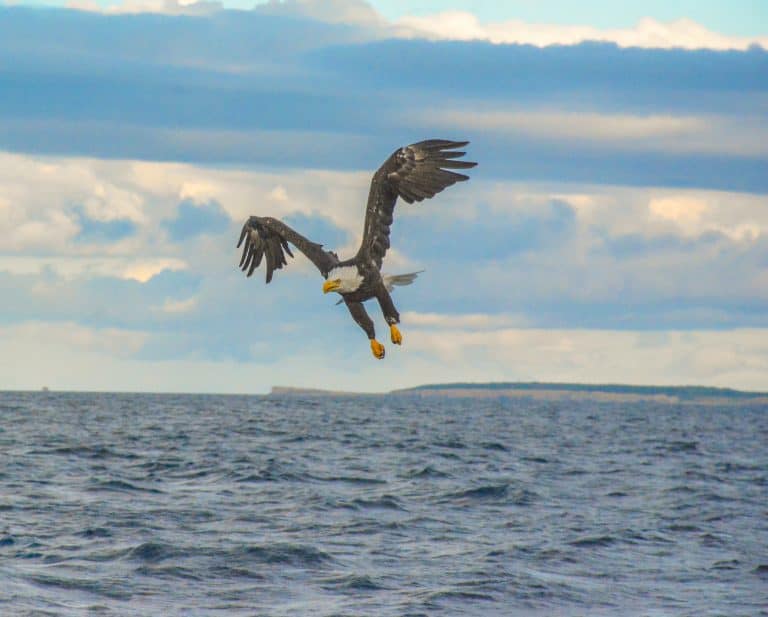 The moose grazing in the hills aren't the only wild animals that are easy to sport around scenic Cape Breton Island. Donelda's Puffin Boat Tours takes visitors out to Bird Island which is surrounded by bald eagles, seals, and Atlantic puffins. Don't forget to pack the binoculars and have a camera available for everyone in the family on this Cape Breton Island adventure!
Where to Stay on Cape Breton Island, Nova Scotia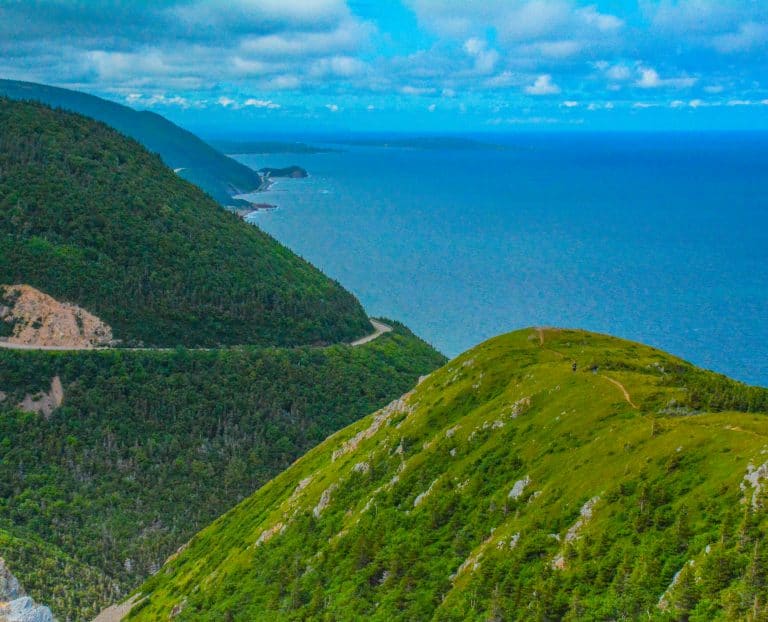 Along the Cabot Trail on Cape Breton Island, we chose to stay at two roadside motels: the Cornerstone Motel just outside Cape Breton Highland National Park in Cheticamp, and Kelly's View Motel, only minutes away from the North Sydney Marine Atlantic Ferry Terminal. While both of these Cape Breton Island motels were a bit rustic, the hostess at each one took pride in their properties and their island.
Book a hotel for your Cape Breton experience.
Visiting Western Newfoundland on a Eastern Canada Road Trip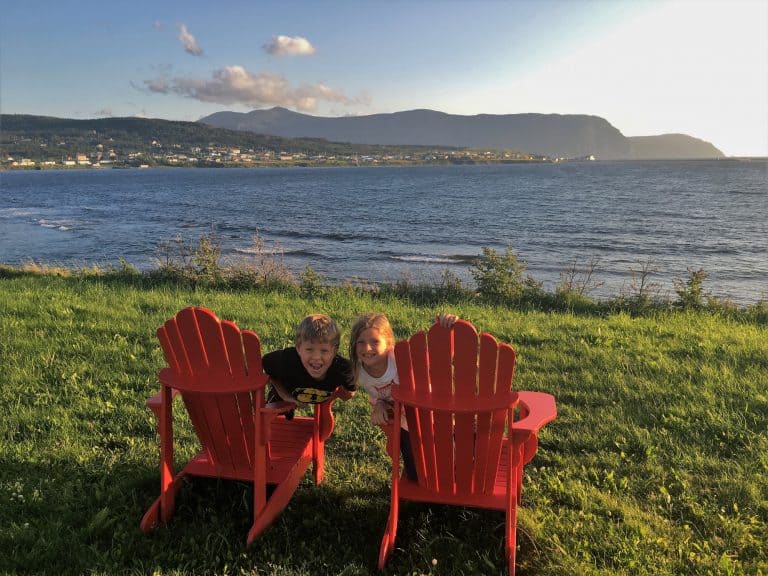 The North Sydney Ferry Terminal was our family's jumping off point for our visit to Newfoundland. We spent a total of four nights in Newfoundland.
Newfoundland is a vast, rugged island. It bears some resemblance to its northern counterparts of Alaska in America and the Nordic countries in Europe. However its people, traditions and stunning landscapes are unique to the island. It is certainly a travel destination like no other. Visitors to Newfoundland should expect to do a lot of driving because distances between sites are long. However, the scenery never ceases to amaze.
Gros Morne National Park
Gros Morne National Park is truly the jewel of Western Newfoundland; it's geologically interesting Tablelands, breathtaking fjords and charming towns are the makings of a perfect family outdoor adventure. For the most adventurous families, Gros Morne Adventures offers kayaking tours on Bonne Bay in the center of the national park and Marble Zip Tours in Corner Brook, just an hour's drive from the park, offers both winter and summer adventures including a zip line experience over Marble Falls.
Newfoundland is a destination in itself, read my blog article Western Newfoundland's Gros Morne National Park for all the details of planning a visit to this province.
My family took the ferry back to Nova Scotia after four nights on the island of Newfoundland, staying in Sydney upon our return to Cape Breton Island. We spent the following day driving from Sydney across Nova Scotia to Digby stopping only for brief pit stops at the Alexander Graham Bell National Historic Site and the Grand Pre National Historic Site. on our Nova Scotia Road Trip.
With this Nova Scotia road trip itinerary, we missed out on a visit to the famous Fortress of Louisbourg, one of the premier living history sites in North America. I do recommend that families planning their own Nova Scotia road include this important historic site in their itineraries.
Enjoying Digby Scallops and Whale Watching on a Nova Scotia Road Trip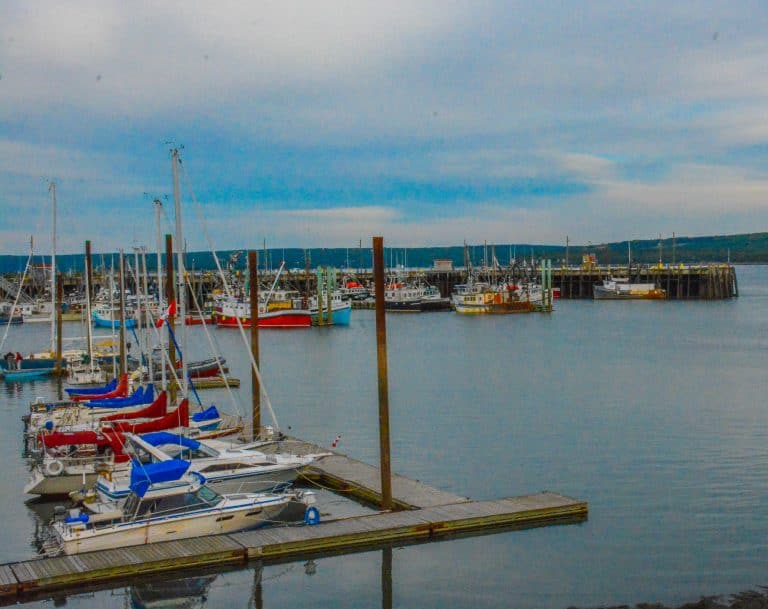 We came to Digby on our way back towards the States solely for the purpose of whale watching near Brier Island.
Digby, a small town known for its scallops, sits directly across the Bay of Fundy from St John, New Brunswick. With its location on the Bay of Fundy, it's possible to sit at one of its seafood restaurants, like The WheelHouse, along Water Street and watch as the boats tied up at the local marina rise or lower with the changing of the tide. Aside from the local scallops, most tourists come to Digby so that they can go whale watching off Brier Island just about thirty minutes down the road.
Brier Island Whale Watching on a Nova Scotia Road Trip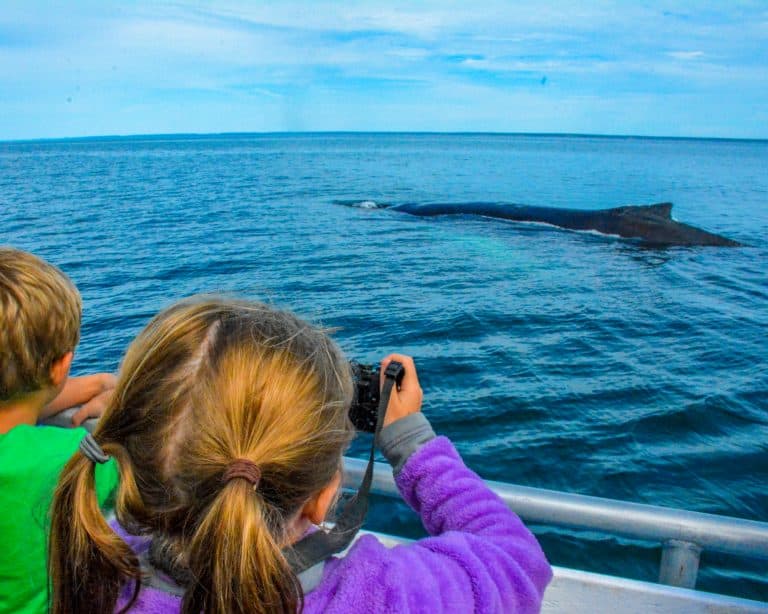 Brier Island is accessible only by a ferry boat that runs regularly between the island and the mainland during the summer months. Many whale watching tours leave from the island, but tours with Petit Passage Whale Watching leave from the area where the ferry docks on the Digby side of the crossing. In the summertime, you're likely to see humpback whales and porpoises on any of the whale watching tours in the region. Often the water is even clear enough to see the humpback whale's light colored pectoral fins underneath the water; this is really exciting because it really gives you a picture of how enormous these creatures actually are. Whale watching off Brier Island is a must-do on any Nova Scotia road trip.
Where to Stay on a Nova Scotia Road Trip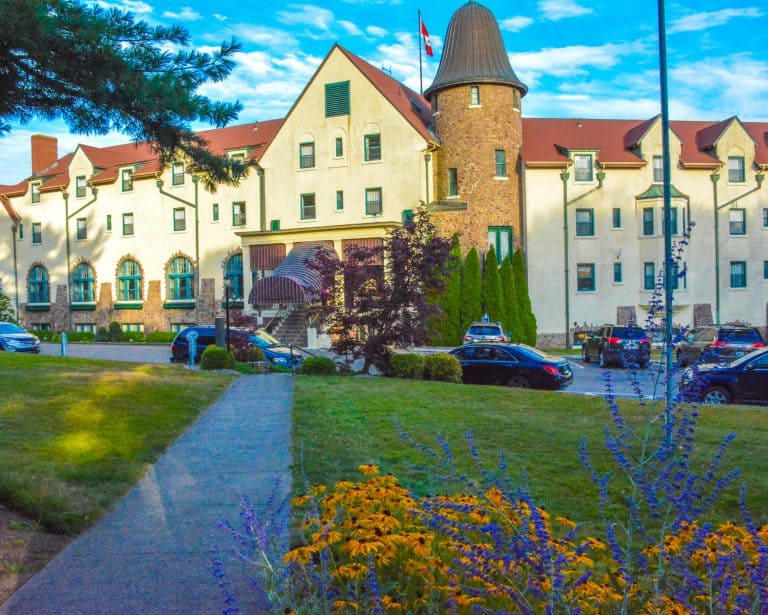 The place for families to stay in Digby on a Nova Scotia road trip is the Digby Pines Resort. This hotel has the feel of an old national park lodge with several updated amenities. There is an outdoor pool, hiking trails, enclosed patio with board games, shuffleboard, a playground and more. My kids instantly made friends with the other kids that they found vacationing at Digby Pines. They begged to extend our stay on our Nova Scotia road trip.
Check rates at Digby Pines and other Digby hotels & resorts.
Island Hopping Back to the United States on an Eastern Canada Road Trip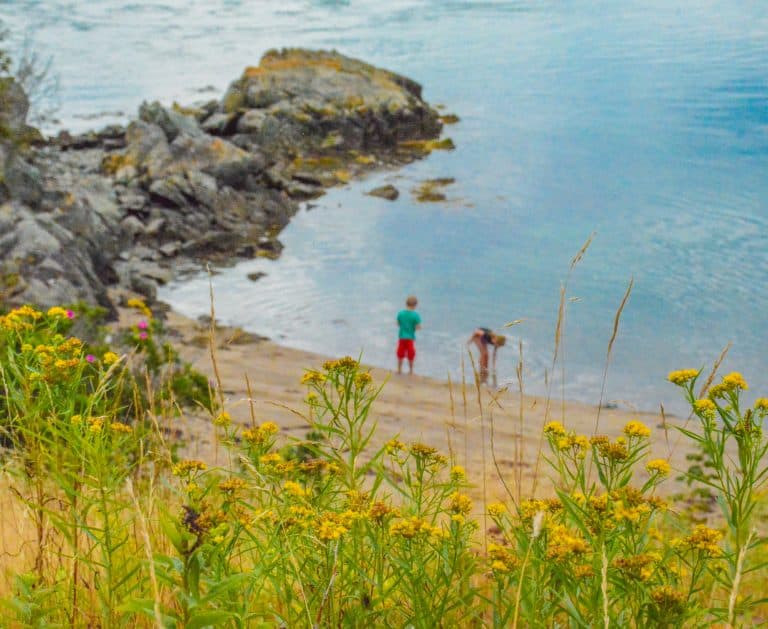 The day after spotting a dozen or so humpback whales, my family took the ferry from Digby to Saint John. We spent an afternoon exploring Saint John and the next day we drove to Acadia National Park in the United States. If you're driving between Saint John and Maine in the summertime on an eastern Canada road trip, I highly recommend the route that we took via the Deer Island Ferry and Campobello Island.
Take the Ferry in New Brunswick on an Eastern Canada Road Trip
The tree-lined highways of Maine and New Brunswick are notorious for being monotonous and even a bit boring to drive; however, there's more than one possible route from Saint John to Maine in the summer months. The route via the Deer Island Ferry and Campobello Island may actually in fact be shorter and is guaranteed to be more scenic than the main highway. There are two ferry crossings. The first ferry onto Deer Island from L'Etete is free of charge. The second ferry Deer Island to Campobello is 20-30 Canadian dollars depending on the number of passengers in the car. This is definitely the way to drive through New Brunswick on an eastern Canada road trip.
Campobello Island on an Eastern Canada Road Trip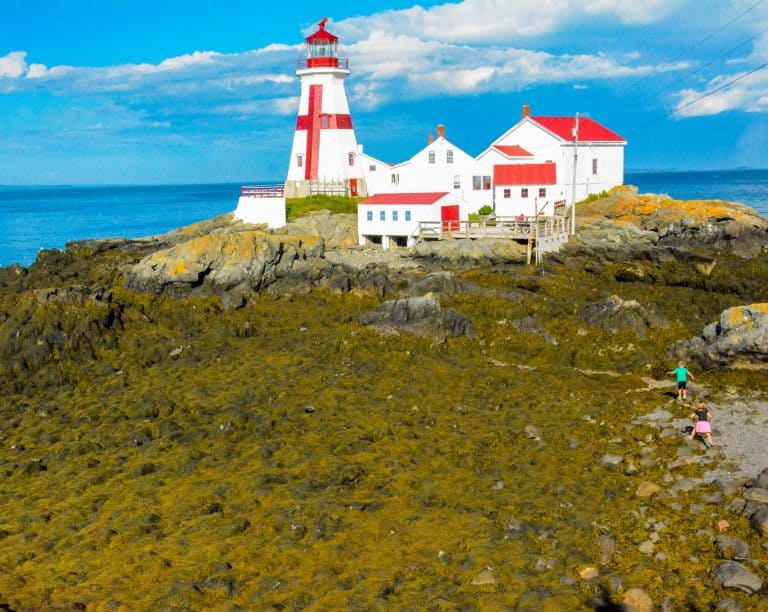 Campobello Island has been a favorite vacation destination for families for over a century. It is one of the most scenic islands in the region. In fact the Roosevelt family often used to vacation on the island. Most of the southern portion of Campobello Island is now Roosevelt Campobello International Park. The park preserves several historic summer homes, including the Roosevelt's cottage. Families can go on a self-guided tour of the cottage using a kid-friendly guide, hike the trails, and enjoy a tea party accompanied by an hour long talk on the life of Eleanor Roosevelt during their visit to the park.
On the opposite end of Campobello Island is one of the most scenic lighthouses along the New Brunswick and Maine coastlines, the Head Harbor Lighthouse. The trail out to the lighthouse is only accessible during low tide. It's quite an adventurous walk up and down stairs and across the ocean floor.
Know Before You Go on a Eastern Canada Road Trip
If you're planning a solo Canada road trip with the kids, be sure to check your required paperwork carefully. Every time I have crossed into Canada alone with my kids, I have been required by Canadian passport control to show notarized paperwork from my husband with our dates of travel and his telephone number.
Do plan to use your cell phone on your Eastern Canada road trip. We contacted our cell phone provider about a month before leaving to find a plan that would cover us in Canada. In our case we were able to pay a small flat fee per day to use our data and minutes in Canada. This was worth every penny. Coverage was a bit spotty and difficult to use in western Newfoundland, but aside from that, we had few issues.
If you're not familiar with the French language, driving in Quebec on a New York to Montreal road trip can be challenging. It was harder for me to follow my GPS directions due to the unfamiliarity of the words that I was hearing and seeing.
If you happen to get sick on your eastern Canada road trip and need urgent care, be prepared to pay about 100 dollars cash for a short doctor's visit that will get you a prescription for some antibiotics.
SaveSave