We are reader-supported. When you buy through links on our site, we may earn an affiliate commission.
As much as my family loves to visit new places and explore the many attractions that a city or area has to offer, there are times when this busy family just wants to unload our car, park it, and spend quality time together in one place. Fortunately for us, there are numerous options for relaxation and fun at resorts and destinations within a short drive of our home town of Seattle! Here are some of our favorites places to stay for restful, easy, and relaxing family-friendly getaway.
Check the best deals on Family Friendly Hotels in Seattle
Suncadia
Located just about 90 minutes from Seattle, Suncadia is a gorgeous resort with so much for families to do. There are several on-site pools, including one with water slides! No matter what the season, there's always something fun going on, such as snow tubing, ice skating, snowshoeing, hiking, biking, and golf. At Suncadia, families have several options for where to stay, including in the lodge, the inn, and vacation homes. My family stayed in a one-bedroom suite in the lodge and thought it was pretty much perfect for relaxing when we weren't out and about playing somewhere on the resort. For fans of the TV show Northern Exposure, head a couple of miles up the road from Suncadia and check out the town of Roslyn where the classic show was filmed.
Lakedale Resort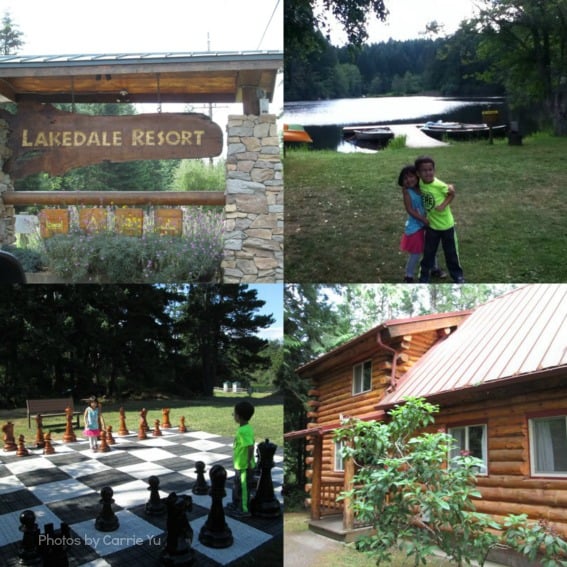 Located on gorgeous San Juan Island, Lakedale Resort has something for everyone. After driving the 80 miles from Seattle to Anacortes, your trip will start with a gorgeous, hour-long ferry ride through the islands to Friday Harbor. Then it's just a 10 minute drive to Lakedale, through rolling hills and tall trees. Whether you choose to stay in a log cabin, "glamp" in a canvas tent, or bring your RV or camping gear from home, there's a place for you to settle in and make your home away from home. While you're at the resort, you can take part in craft activities in the activity tent, swim in the lake, do some fishing, or paddle around in a canoe or kayak. My family stayed in one of the log cabins during our visit; the kids loved sleeping in the upstairs loft, while I particularly was fond of the gas fireplace located in the living room. Very relaxing!
Alderbrook Resort and Spa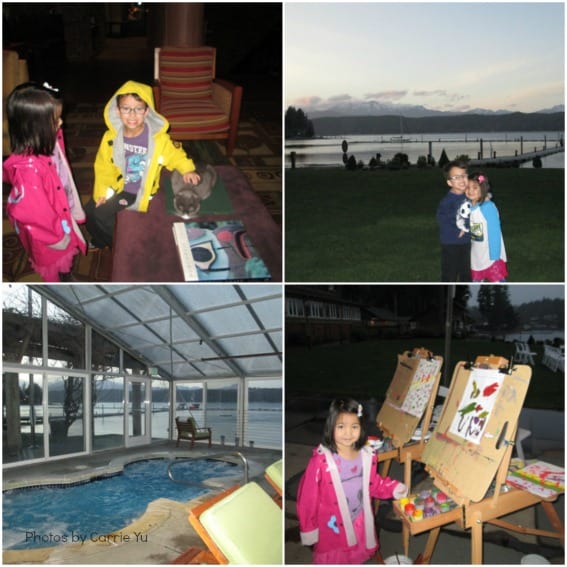 Alderbrook Resort and Spa is another resort with multiple choices of housing for your stay and is also located only a 90 minute drive from Seattle. The lodge has beautifully furnished rooms with soaking tubs and cozy window seats, perfect for curling up on while admiring the beautiful views of Hood Canal. If you have a family or bigger group in tow, check out the cabins that are next door to the lodge. They are located around a grassy circle that's stocked with game equipment, and are just a short walk from the resort's hot tub, pool, and amazing spa. The lobby of the lodge is another fun place for family time. It is stocked with board games and cozy places to sit and read, as well as two resort cats! The lodge is also home to an Xbox Lounge, where multiple gaming systems are ready for you. In addition, Alderbrook is a great place for fun on the water. Guests can rent all sorts of boats from the resort and explore Hood Canal. During our visit we played in the pool, hung out in the lobby, took part in a treasure hunt, painted pictures at the art station, and generally had a fabulous time!
Iron Springs Resort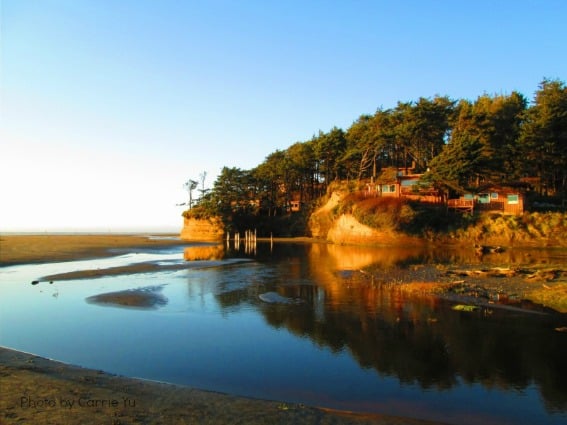 Families have been coming to Iron Springs Resort for generations, for good reason. This beautiful resort is made up of a collection of recently updated, luxury cabins with fully stocked kitchens, all tucked away on a forested bluff overlooking the beach. Enjoy relaxing by the fireplace, walking along the beach, digging for clams (in season), hiking in the woods, or just sitting around together and playing a board game that can be checked out from the resort's general store. Iron Springs Resort is dog-friendly too! We don't have a dog of our own, but my kids had plenty of chances to pet the dogs of other guests, and also to play with the resort's own dogs!  Iron Springs is located at Copalis Beach, on Washington's Pacific Coast, approximately 2.5 hours from Seattle.
Great Wolf Lodge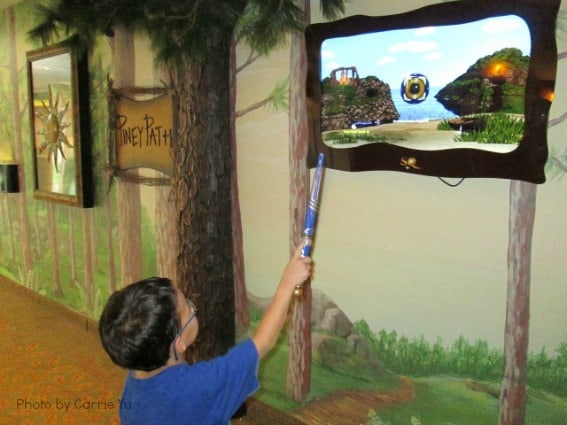 Whenever my kids hear a radio ad for Great Wolf Lodge, they begin a round of begging to return. In their minds, Great Wolf Lodge is pretty much the best place in the state. They love the massive indoor water park, mini golf, and the fun and interactive ShadowQuest game. My husband and I love that Great Wolf Lodge is such an easy destination to reach from Seattle, since it's right off of the interstate and only 90 minutes from our home in Seattle. For a little pampering, there's also an on-site spa with treatments for both kids and adults.
Hoehn Bend Farm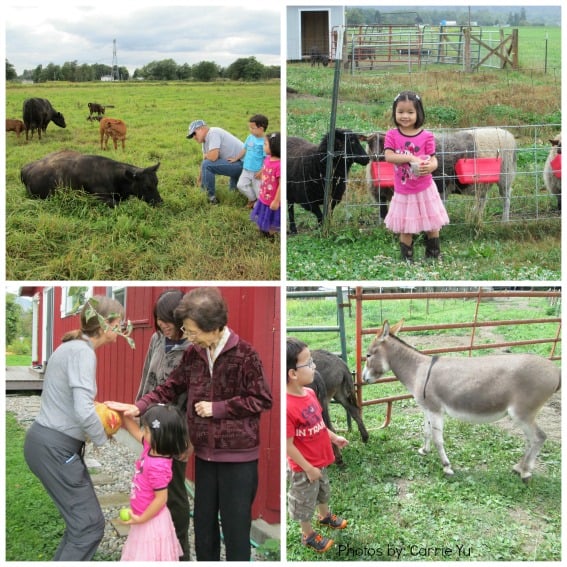 For a really fun and educational family getaway from Seattle, consider a farm stay at Hoehn Bend Farm! This farm is in the beautiful Skagit Valley of Washington State, also about a 90 minute drive from Seattle. Your family will stay in a lovely three-bedroom farmhouse with fully stocked kitchen. But you won't want to spend much time in the house, because there is so much to see and do on the farm! My family has visited twice and my kids had a blast both times. They got to collect eggs, feed sheep, see baby calves, pet farm cats, run through the fields, go on hay rides, and generally have a great time. Farmer Terry and his wife Jean are incredibly friendly and welcoming, and always ready to stop and share a story about the farm or teach kids a new skill. Best of all, activities vary depending on the season, so there's always something new to see and do when you return to the farm
Look for the best prices on Family Friendly Hotels in Seattle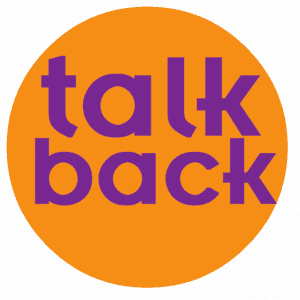 We'd love to hear from you. What's your vacation style? Do you go-go-go or do you prefer to set up camp in one place and allow yourselves time to relax as a family?
*Disclosure: The author's family received media rates or complimentary stays at these properties for the purpose of review. All opinions are her own.
Lead Photo by Shutterstock.com