As much as my family loves to explore the world, sometimes we only have time for a quick weekend getaway. Luckily, there are lots of great weekend getaways from Seattle that are great for families
Here are some of our favorites spots to stay for a family-friendly getaway.
Weekend Getaways From Seattle
1. Suncadia Resort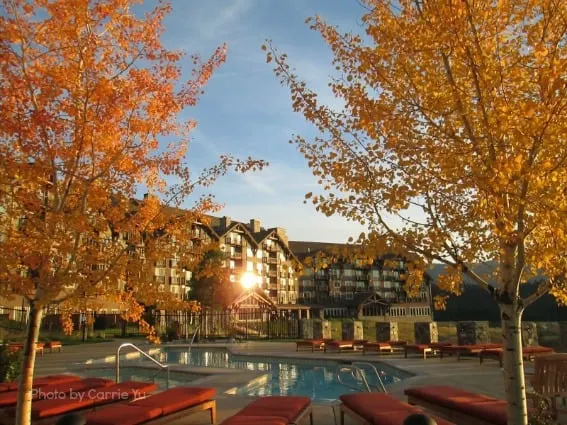 Located just about 90 minutes from Seattle, Suncadia Resort is a gorgeous destination with so much for families to do. There are several on-site pools, including one with water slides!
No matter the season, there's always something fun going on, such as snow tubing, ice skating, snowshoeing, hiking, biking, and golf.
At Suncadia, families have several options for where to stay, including in the lodge, the inn, and vacation homes. My family stayed in a one-bedroom suite in the lodge and thought it was pretty much perfect for relaxing when we weren't out and about playing somewhere on the resort.
Fans of the TV show Northern Exposure, will want to head a couple miles up the road to check out the town of Roslyn where the classic show was filmed.
Find fun at home! Here are the 10 Best Things to do in Seattle with Kids.
2. San Juan Island's Lakedale Resort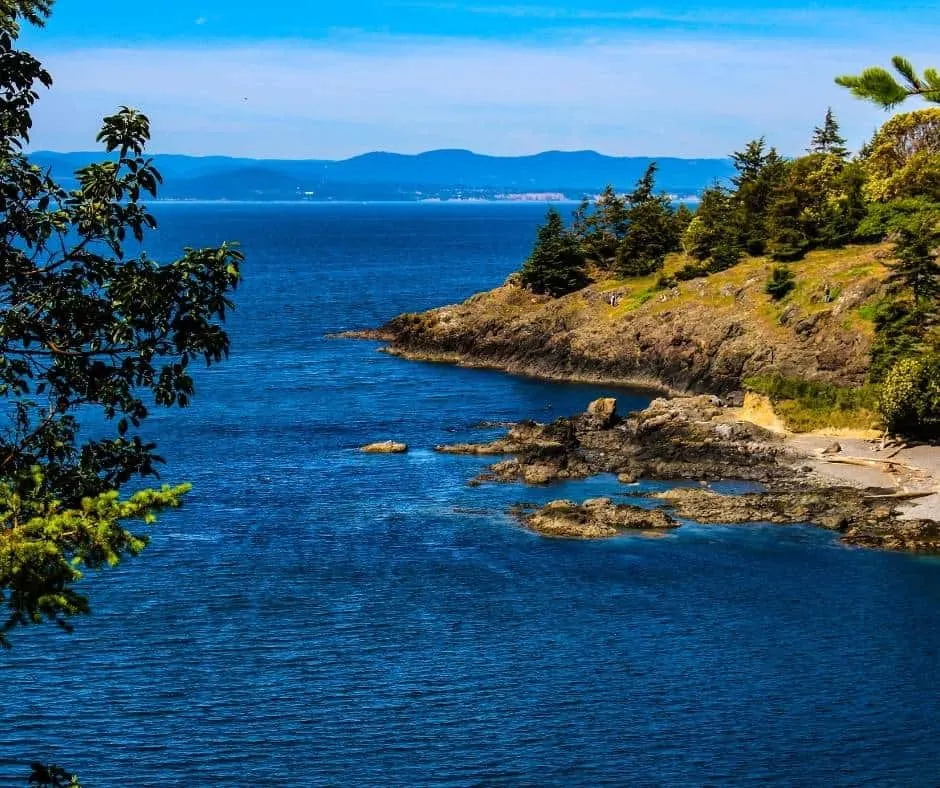 Located on gorgeous San Juan Island, Lakedale Resort has something for everyone. After driving the 80 miles from Seattle to Anacortes, your road trip will start with a gorgeous, hour-long ferry ride across Puget Sound through the islands to Friday Harbor.
Then it's just a 10 minute drive to Lakedale, through rolling hills and tall trees. Whether you choose to stay in a log cabin, "glamp" in a canvas tent, or bring your RV or camping gear from home, there's a place for you to settle in and make your home away from home.
While you're at the resort, you can take part in craft activities in the activity tent, swim in the lake, do some fishing, or paddle around in a canoe or kayak.
My family stayed in one of the log cabins during our visit. The kids loved sleeping in the upstairs loft, while I particularly was fond of the gas fireplace located in the living room. Very relaxing!
3. Hood Canal's Alderbrook Resort & Spa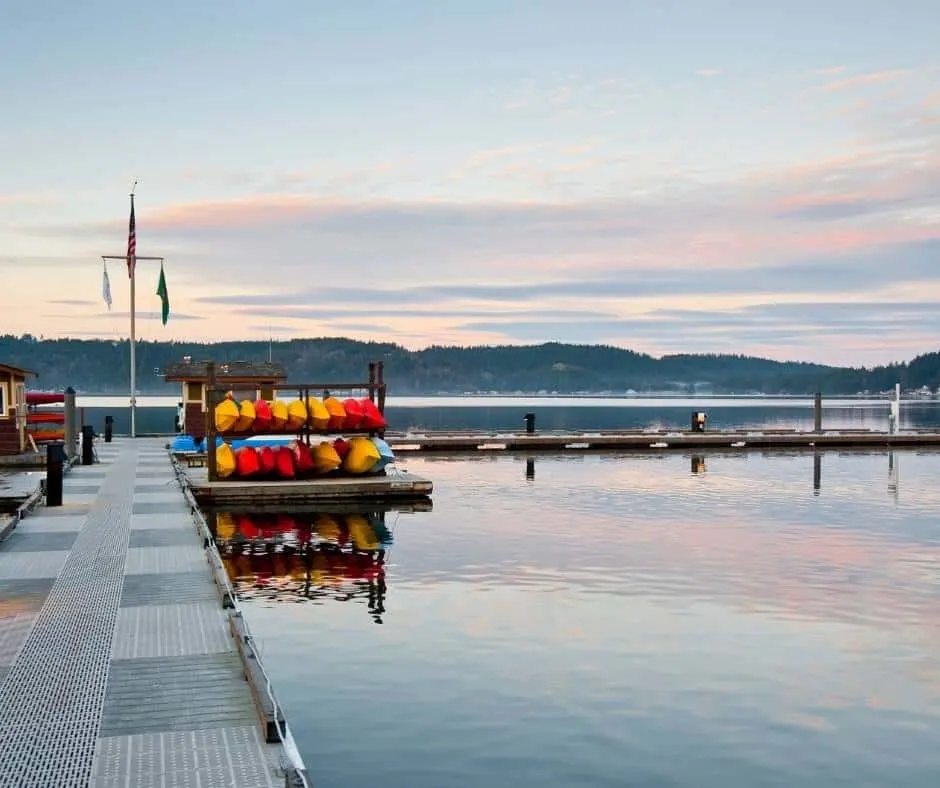 Situated between the Puget Sound and the Olympic Mountains of Western Washington, the Hood Canal region is wild, remote and perfect for a relaxing getaway.
If driving from Seattle, the Alderbrook Resort and Spa is only 90 minutes away but when you arrive, you will much further from the hustle and bustle of the big city.
The lodge has beautifully furnished rooms with soaking tubs and cozy window seats, perfect for curling up on while admiring the beautiful views of Hood Canal.
If you have a family or bigger group in tow, check out the cabins that are next door to the lodge. They are located around a grassy circle that's stocked with game equipment, and are just a short walk from the resort's hot tub, pool, and amazing spa.
During our visit we played in the pool, hung out in the lobby, took part in a treasure hunt, painted pictures at the art station, and generally had a fabulous time!
In addition, Alderbrook is a great place for fun on the water. Guests can rent all sorts of boats from the resort and explore Hood Canal. Kayaking, fishing, and hiking are also popular things to do in this incredibly scenic part of the state.
4. Port Townsend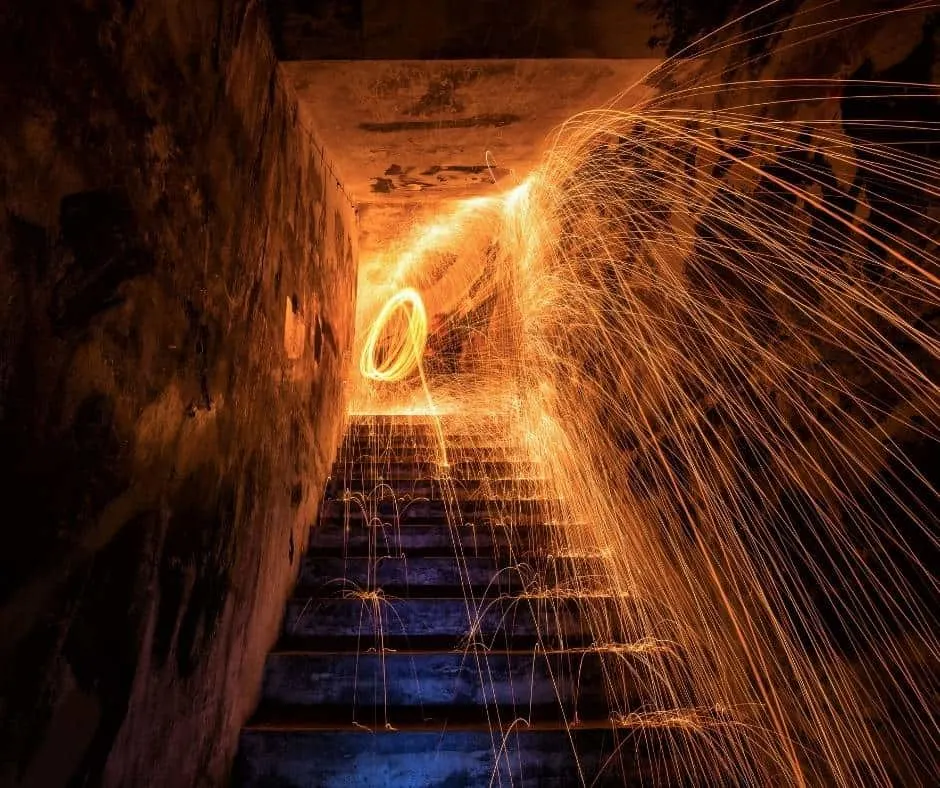 Tucked into the northwestern corner of the Olympic Penninsula, Port Townsend is one of my favorite weekend getaways from Seattle. You can either take the ferry across the Puget Sound or take the long way around via Olympia and Hood Canal.
Kids will loving grabbing a flashlight and playing soldier for an afternoon at the old batteries of Fort Worden. This former military installation turned state park features several old batteries that are a blast to climb on, play hide-and-seek in, or use stage your own mock battles against the enemy.
Beyond day use, Fort Worden is an extremely popular place for families to stay, either at the campsites or the old military housing which has been converted into lodging. After a few hours here it was easy to see why lodging books up quickly during the summer months with families returning again and again.
The Marine Science Center at Fort Worden is worth your time as well. The main center houses touch tanks that filter salt water right from the ocean are filled with marine life in the spring that's released again in the fall.
In Port Townsend's small downtown, you will definitely want to stop in Elevated Ice Cream. To ensure the store is eco-friendly, the ice cream is locally sourced, and the owners even bike to work!
The ice cream flavors are incredibly unique, but there's also standbys for kids like double chocolate. Next door, there's a gourmet candy store owned by the same brand.
The Ajax Cafe in Port Hadlock, near Port Townsend, combines food and fun in such a wonderful way. My kids loved that the restaurant's walls are covered in hats and that they had free reign to try on as many as they possibly could.
The food is fantastic and there is a children's menu available which features local favorites as well as traditional kids meal options. This is THE place to eat if you are in the area and it can be crowded during the busy summer season so plan accordingly.
5. Copalis Beach's Iron Springs Resort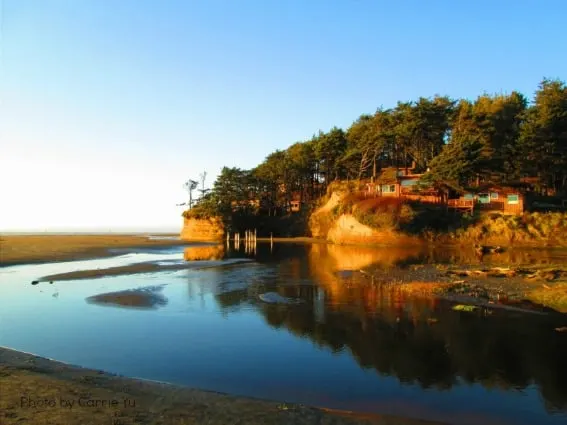 Ocean Shores is a well-known beach destination in Western Washginton, but just north of Ocean Shores is Copalis Beach, a lesser known but equally awesome Pacific Northwest beach destination.
Copalis Beach is about 2 1/2 hours from Seattle and home to the Iron Springs Resort.
Families have been coming to Iron Springs Resort for generations, for good reason. This beautiful resort is made up of a collection of recently luxury cabins with fully stocked kitchens, all tucked away on a forested bluff overlooking the beach.
Enjoy relaxing by the fireplace, walking along the beach, digging for clams (in season), hiking in the woods, or just sitting around together and playing a board game that can be checked out from the resort's general store.
Iron Springs Resort is dog-friendly too! We don't have a dog of our own, but my kids had plenty of chances to pet the dogs of other guests, and also got to play with the resort's own dogs!
Explore more of the state! here are the Top 10 Things to do in Washington with Kids.
6. Great Wolf Lodge in Grand Mound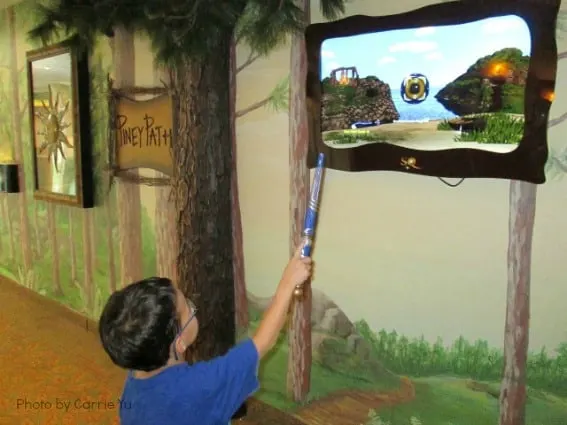 Whenever my kids hear a radio ad for Great Wolf Lodge, they begin a round of begging to return. In their minds, Great Wolf Lodge is pretty much the best place in the state.
They love the massive indoor water park, mini golf, and the fun and interactive ShadowQuest game.
My husband and I love that Great Wolf Lodge is such an easy destination to reach from Seattle, since it's right off Interstate 5 and only 90 minutes from our home in Seattle.
For a little pampering, there's also an on-site spa with treatments for both kids and adults.
If you are planning your first trip to Great Wolf Lodge, you will definitely want to read our article filled with Great Wolf Lodge Tips before you go.
7. Hoehn Bend Farm in Skagit Valley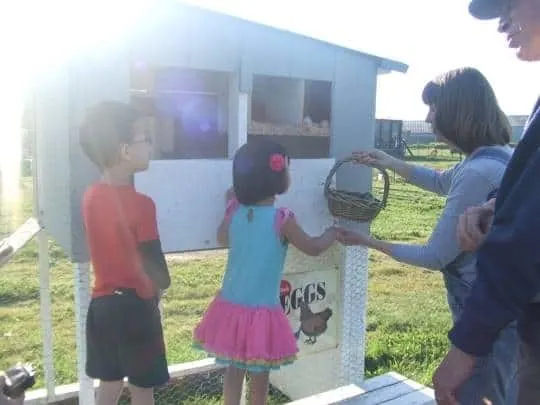 For a really fun and educational weekend getaway from Seattle, consider a farm stay at Hoehn Bend Farm! This farm is in the beautiful Skagit Valley of Washington State, is only 90 minute drive from Seattle.
Your family will stay in a lovely three-bedroom farmhouse with a fully stocked kitchen. But you won't want to spend much time in the house because there is so much to see and do on the farm!
My family has visited twice and my kids had a blast both times. They got to collect eggs, feed sheep, see baby calves, pet farm cats, run through the fields, go on hay rides, and generally have a great time.
Farmer Terry and his wife Jean are incredibly friendly and welcoming, and always ready to stop and share a story about the farm or teach kids a new skill. Best of all, activities vary depending on the season, so there's always something new to see and do when you return to the farm.
8. Olympic National Park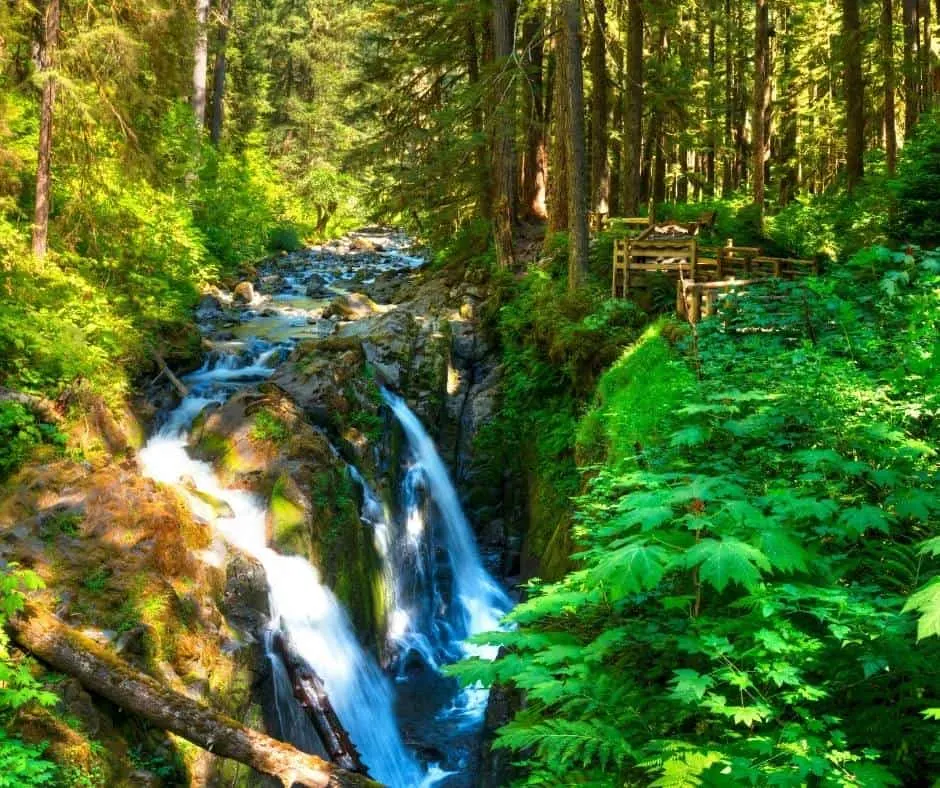 Olympic National Park is the brilliant, green gem of the national park system. It is known for its temperate rainforests filled with old growth trees, rugged beaches, steamy hot springs, and snowy alpine scenery.
As a matter of fact, the park is so large and diverse that it can be made into several wonderful weekend getaways from Seattle.
A visit to Lake Quinault Lodge is a peaceful, waterfront getaway surrounded by old-growth rainforest. The Quinault Rainforest Loop Drive is a 31-mile loop around Lake Quinault. There are many opportunities to get see waterfalls, wildlife, or just take a walk through the forest.
Olympic National Park's beaches are wild, remote, and fun to explore. During low tide, sea anemones hang from massive boulders like dripping blobs of flubber and sea stars gather on towering rocks in massive clumps.
On the seemingly never-ending stretches of sand, massive spruce and fir logs are scattered about, smooth and silvery from being tossed in the surf like matchsticks.
The small village of La Push is a good place to call home base to enjoy these beaches as well as the Hoh Rainforest which receives about 150 inches of rain per year!
If it is alpine scenery you crave, you will want to head up to Hurricane Ridge. Hurricane Ridge is 17 miles south of Port Angeles and the road up the mountain is open year round, except for when weather closes it temporarily.
Other highlights of Olympic National Park you won't want to miss in the northern portion of the park include the Sol Duc Hot Springs (and lovely Sol Duc Falls) and scenic Lake Crescent.
Read our full guide which highlights all the great things to do in Olympic National Park with kids.
9. Enjoy Sunshine in Sequim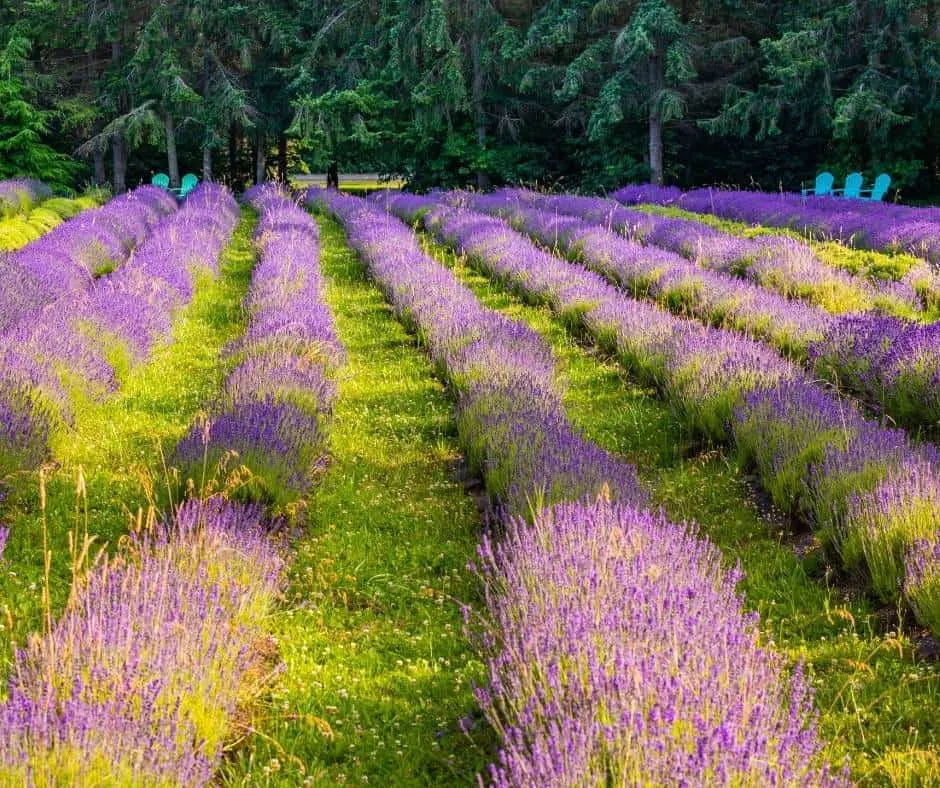 Sequim sits in the rain shadow of the Olympic Mountains and receives far less rain than any other part of Western Washington. If it is cloudy in Seattle, it just may be sunny in Sequim!
Sequim is just 65 miles from Seattle but this small town can feel so much further away. My kids favorite thing to do in Sequim is visit the Olympic Game Farm.
There, families can buy a couple loaves of wheat bread from the ticket booth, and drive their way through this farm which houses animal actors featured in Disney's old nature films such as "The Incredible Journey" and "Grizzly Adams."
Expect to see bears, bison, elk, tigers, yaks, zebra, lions, and more!
Sequim is known as "the lavender capital of the world". If you find yourself near Sequim, Washington during the months of July or August, do yourself a favor and make a stop at Purple Haze Lavender Farm.
From the moment you open your car door, you're surrounded by a lovely cloud of lavender fragrance. You can walk through the lavender fields, admire the beautiful gardens near the farmhouse and end by feasting on some delicious lavender ice cream.
The Dungeness Spit National Wildlife Refuge is a popular spot to bring a picnic and make an afternoon of it.
It is popular place to hike along the shore and take in the views of the Strait of Juan de Fuca and the San Juan Islands. It is also a good place to spot bald eagles perched on the branches of trees along the shore.
10. Mt. Rainier National Park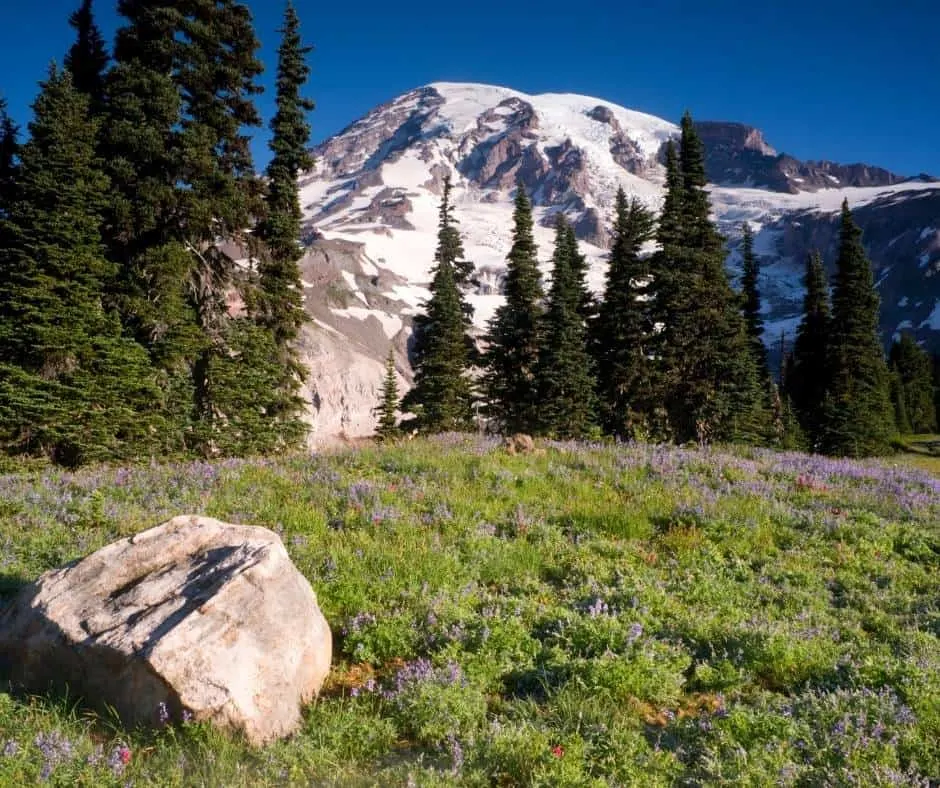 Mt. Rainier looms over the Seattle skies, perennially covered in a blanket of snow. This sleeping volcano is also a national park, and a great spot for a weekend getaway.
This national park is home to great alpine hiking trails, lush forests, and waterfalls. The Paradise area of the park is the most popular, and snow can linger on the mountainsides up until the 4th of July. But later in the season, snow is replaced by a carpet of wildflowers.
Beyond the national park boundaries, there are a couple of surrounding attractions that are worthy of a visit. Northwest Trek is a great animal park which focus on critters that call the Pacific Northwest home.
Their tram tour allows you to see animals such as elk, moose, caribou and bison roaming free. Predators like bears, cougars, and wolves are kept in well-designed enclosures.
The Mt. Rainier Railroad is great for families who love trains. They offer train rides year round, including a Polar Express Train during the holidays.
The attached logging museum has a collection of steam logging locomotives and exhibits highlighting life in the railroad logging camps of the early 20th Century.
If you aren't in the mood to hike up the side of a mountain, how about taking a gondola ride instead? It is a 10-minute ride up the 2,400 vertical foot- gondola route on the Mount Rainier Gondola. Great views of Mt Rainier and the surrounding Cascade Mountains are your reward at the top.
*Disclosure: The author's family received media rates or complimentary stays at these properties for the purpose of review. All opinions are her own.
Lead Photo by Shutterstock.com