I recently went on a family getaway to one of the most beautiful places in all of Wisconsin. Door County is a peninsula approximately 70 miles long that lies in the northeast part of the state bordering Lake Michigan. With 11 lighthouses, 5 state parks, 11 golf courses, 100 art galleries, museums and performing arts venues, 2500 acres of cherry orchards, 6.5 miles of sandy shoreline, and more than 23,000 acres of public and preserved land to explore, there is always a new adventure in Door County.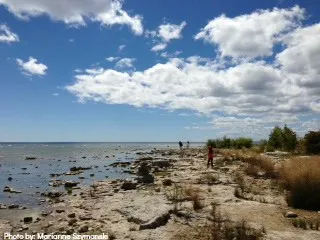 Our adventure began with a 3 hour drive from Milwaukee, including a stop along the way. Once we arrived in Sturgeon Bay, which is the gate of the peninsula, it took about 50 minutes to drive to Gill's Rock at the top. A must-do is a day trip on the ferry for a six mile venture to Washington Island to spend an afternoon.
You can bring your car and bikes along but you don't need either as you can also explore on foot. There is plenty to see on this 35 square mile island which has a population of about 700. Restaurants, golf courses, moped and bicycle rentals, and vacation cottages are amongst the most popular. Transportation on the ferry is available every day of the year, weather permitting.
Door County is rich with maritime heritage; older children can learn about the history of 18th, 19th, and 20th century shipwrecks as well as explore lighthouses and maritime museums. Younger children will be entertained by nature along the sandy beaches and bluffs and as a passenger in mom or dad's kayak. There is plenty of fun with child-themed restaurants, excursions, fishing, and playgrounds at many of the resorts and campgrounds. In fact, there is so much to do that I complied the 12 "don't miss-must visit" locations for families with children in Door County.
The "Must Do" Activities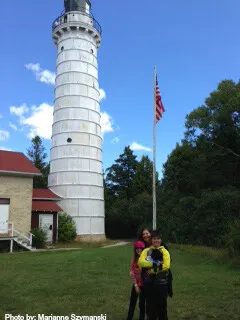 At the Farm in Door County in Sturgeon Bay children can feed bottles of milk and corn to animals and feel what it is like to live on a farm and care for farm animals. This is a living museum of rural America and new exhibits and animals change each season.
Experience equestrian riding at Kurtz Corral. Whether young, middle or old, every age enjoys watching horses trot and most likely wants to learn to ride. Family-owned, it provides safety instruction, arena, walk or walk and trot riding. This is something not to miss.
The Red Putter is an icon in Door County and is known for its 18 hole mini-golf course. Located in Ephraim, this course is ideal for the beginner mini-golfer to the most advanced player. Authentic yet vintage, the greens are charming. For a true Door County souvenir, get a photo of your child sitting in the large red chair.
Candleworks will show and teach youngsters how candles are made. Dip your own candle for $2.50. The wax is hot so mom and dad need to help. Children can choose the colors for their own personalized candle to take home. The store is filled with scented wax and soy candles. The staff is super friendly and ready to answer questions about the candle making process.
No trip to Door County should ever be had without a trip to Peninsula State Park. It is the third largest state park in all of Wisconsin. Kids love to climb the stairs of the infamous tower, play in the sand on the beach, wade in the water, and hike the many paths while in the midst of beauty and nature. Parents, bring a stroller as little ones will get tired. Camping is very popular with families here. If you have never camped before, this is a great place for a first-time try.
Skyway Drive-In is a true authentic outdoor movie theater. There are not many of these left in the country where you can sit in your car, enjoy snacks, and watch an age appropriate movie as a family. The drive-in makes for one really fun evening together.
Learn to Kayak with Door County Kayak Tours. The best way to know if your school-age child is ready is to be sure the swimmer is comfortable in water, underwater, and can listen well to an instructor. Start with a two person kayak with an adult in the back so a child can get comfortable paddling in open water before adventuring on his/her own. We took the tour to kayak the bluffs and caves to make the most memorable experience on the water. Door County Kayak Tours also offers a sunset trip, which is better for teens than younger children.
A must-do for any inspiring artist, the Hands On Art Studio features make-it-yourself art experiences that give children as well as mom and dad a chance to channel their inner artist. You create personal masterpieces of clay, metal, fused glass, bead, wood, and paint. It is best for children who have skill and patience. There is also an adult-only time slot on Friday nights in case you brought a babysitter along: a great date night idea for parents.
At Cave Point County Park in Baileys Harbor, you can stand on the rock formations, make a rock tower, and see the bluffs and caves. Rough Lake Michigan waters created wonders over the years and to walk on them and see their grand beauty is a priceless experience. Be sure to snap a family photo here.
Take a lighthouse tour. With 11 to choose from, an exploration of each is deep rooted in Door County history and a great way to spend a meaningful and educational afternoon. If you have a budding boater or history aficionado, don't miss this educational opportunity.
Meals not to be Missed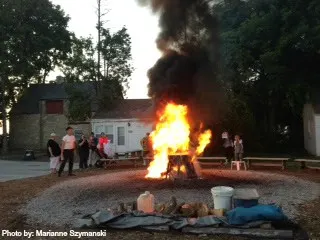 Your First Fish Boil! A Door County tradition that is a "must-do" is to attend a fish boil at one of the many restaurants. Whether you like fish or not, the storytelling on the history of a fish boil and the visual of the pot boil-over is worth the visit. Of course, there are menu options for non-fish eaters but the boiled whitefish (usually caught that morning), boiled potatoes, boiled onions, and the rest of the fixings (each restaurant offers its own) create a memorable family dinner. We loved it so much we did it twice. Reservations for fish boils are usually required but several time slots are offered throughout the evening. Be sure to arrive 30 minutes before your reservation to watch the show.
Located in Ephraim overlooking the lake (try and get a front window table), The Old Post Office is a family owned renowned restaurant is decorated with a home-style look. The son of the owner was our waiter and helped de-bone our fish once served. We were able to learn more about the family and the rich history it shares in Door County. During our visit to the Old Post Office, our fish boil was led by Erv who shared funny fish jokes, a history of the fish boil, and sure knew how to make that pot boil!
Located in Fish Creek in the heart of the shopping area is Pelletiers. We really liked the casual setting as a great place to relax and enjoy a family meal. It also offers an option for light eaters.
On Renard's Cheese Tour your family can witness the whole cheese making process. You'll see how milk turns to cheese and get a chance to taste the result. Reservations are required for the tour. At the tasting facility (a separate location that than the factory) visitors can taste multiple selections at the cheese curd bar, which kids love. Our favorite was the chocolate cheese and the sage cheese.
You can't make a trip to Door County without bringing back some cherry pie. Of all we tasted, our favorite was from The Cherry Hut in Fish Creek. There is something magical about its combination of cherries and the crust. While the restaurant sells everything cherry on their website, it doesn't ship pies by mail, so we had to bring back three. They are that good!
Top Places to Stay:
In Fish Creek, Parkwood Lodge's traditional setting is a great alternative to traditional camping. Enjoy S'mores in the fire pit at night while gazing at the stars. Take a comfy dip in the indoor heated pool. Relish the convenience of having a coin-operated laundry nearby. The rooms are very rustic and aged but the resort has the feel of a nature-based Door County experience. It is located within walking distance to Peninsula State Park. There are 60 rooms and 6 different styles of rooms so it would be best to review the options to find the most appropriate and comfortable room for your family.
The Landing Resort, a family friendly resort in Egg Harbor offers both indoor and outdoor pools, arcade games, basketball, ladderball, and a free game-lending library. The rooms have kitchenettes, private patios, and lofts. There is free Wi-Fi and in room DVD players. Our room had 1 1/2 baths, which is always a plus while vacationing with children. Grills are available for those nights you just feel like cooking together. Each morning, we took a walk around the Landing Resort property to Egg Harbor to watch the sunrise. It's a short and beautiful walk, and the town is filled with cute shops and restaurants.
There are many more Door County Activities, Restaurants, and Hotels to check out (literally hundreds) and we could not cover them all
Disclosure: Thank you to Parkwood Lodge in Fish Creek and The Landing Resort in Egg Harbor for complimentary hotel stays in Door County. Marianne did not receive compensation for this review and all opinions are her own.