Wondering where to travel in 2018? Curious what the best family-friendly places to visit are? Trekaroo's lead editors and travel experts have weighed in to curate this shortlist of the best family-friendly places to visit in 2018.
Watch this video to get a glimpse of all of our top-rated family-travel destinations for 2018 then read below for details, travel tips & recommendations.
Top Treks: Best Family-Friendly Places to Visit in 2018
Visit Modern Day Garden of Eden in Costa Rica
-Recommended by Trekaroo's Founder & CEO, LiLing Pang-
Imagine a modern day Garden of Eden. That's Costa Rica. Decades of commitment to conservation and education are paying off big time. The country's oceans, forests, rivers, and volcanic mountain ranges are quite literally teeming with life. In a country the size of West Virginia, it's remarkable that 25% of its land area is protected to safeguard the incredible biodiversity contained within the countries borders. Any family who delights in nature must visit Costa Rica. Whether you're soaking in a natural hot spring pool, flying through a slot canyon on a zipline, or kayaking in a bioluminescent bay, you'll be immersed in natural beauty and the warmth of Costa Rican Hospitality.
BEST TIME TO GO: Anytime of the year except the last two weeks of December and Easter Week when all of Central America goes on vacation. Mid-Dec to April is the popular dry season. June to November is rainy season where the crowds thin and one might argue is an even better time to visit.
BEST WITH KIDS AGED: Truly all ages. Costa Rica is also working towards becoming more accessible to people with disabilities.
ABSOLUTELY DO NOT MISS: The Monteverde cloud forest reserve to see the elusive Resplendent Quetzel and sloth and capuchine monkey spotting at Manuel Antonio National Park.
WHERE TO STAY: We have a few great recommendations in Costa Rica: El Establo, in the Monteverde Cloud Forest; Si Como No Resort and Wildlife Refuge, in Manuel Antonio; and Nicuesa Rainforest Lodge, in the Osa Peninsula. Explore these fabulous eco-lodges in Costa Rica.
Trekaroo's Recommended Costa Rica Travel Experts: We were so impressed with IL Viaggio Travel, a locally based Costa Rica tour operator who specializes in building custom itineraries for families. When we traveled with them, it was like having a local friend show us their country and host us with that distinctive warm Costa Rican hospitality. If you're going to Costa Rica and have the best experience these are the folks you want to have planning your trip. Ask for Trekaroo's Perks when you contact them.
Related: 20 Unforgettable Costa Rica Family Vacation Experiences and Costa Rica Adventure Travel for Families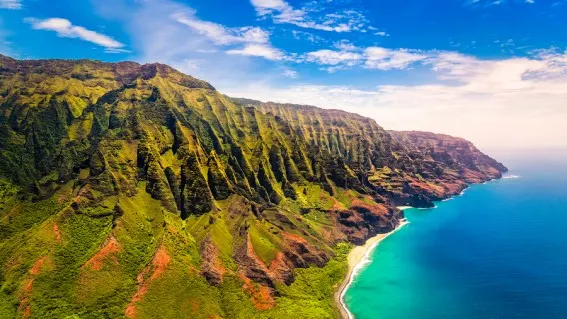 Photo by: Bigstock/MartinM303
Paradise Found in Kauai
-Recommended by Trekaroo's Editor-in-Chief, Sharlene Earnshaw-
Towering waterfalls, sweeping canyons, lush tropical rain forests, and postcard-perfect beaches await nature-loving families on Kauai. Immerse yourself in an island filled with opportunities to be adventurous while surrounded by immense natural beauty. Hike to the brink of Waipoo Falls in Waimea Canyon, take an exhilarating boat ride to witness the mighty cliffs of the Napali Coast, tube through irrigation canals used during the island's storied sugar cane days, or just sit by the pool with a Mai Tai in hand and enjoy the breeze of the trade winds.
BEST TIME TO GO: Any time! Expect more rain in the winter months and more tourists during the summer months.
BEST WITH KIDS AGED: All ages will have a great time, but if you are eager to explore Kauai's trails and waters, elementary ages and older are ideal.
ABSOLUTELY DO NOT MISS: A kayak and hike adventure to a swimmable waterfall!
WHERE TO STAY: Grand Hyatt Kauai Resort & Spa boasts one of the greatest pool areas on the planet. Floating in the saltwater lagoon with a cocktail in hand and the sound of waves crashing in the background is what Hawaiian dreams are made of.
Related: Explore the Top 10 Things for Families to do on Hawaii and our planning guide to your family's best bets in Kauai!
---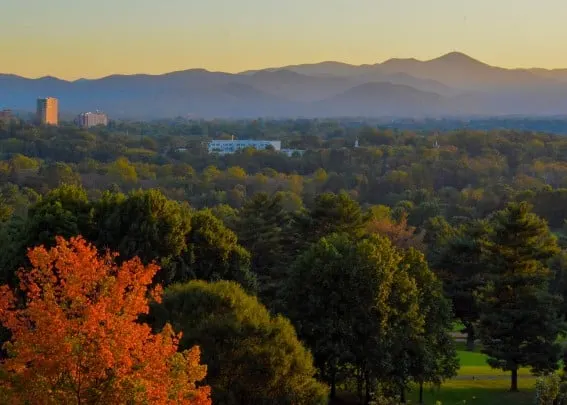 Get a Family-Friendly Taste of the South in Asheville
-Recommended by Trekaroo Travel Expert, Melissa Moore-
Asheville's Blue Ridge Mountains offer endless opportunities for hiking just minutes from the city; work up an appetite climbing peaks and sliding down waterfalls, then return to the city of Asheville for restaurants that satisfy every craving. Choose shrimp and grits tacos or salted carmel drinking chocolate, Asheville's food scene is legendary.
BEST TIME TO GO: Fall is lovely, but so are spring and summer.
BEST WITH KIDS AGED: Ages 6 and up. It's best if children are old enough to enjoy a 3-5 mile hike along the Blue Ridge Parkway, sit for a dinner out at a restaurant and appreciate an audio tour the historic Biltmore Estate.
ABSOLUTELY DO NOT MISS: The views from the top of the Blue Ridge Parkway. Hiking to the top of Mount Pisgah at sunset with my 7-year-old son will always be one of my favorite travel memories.
WHERE TO STAY: To experience Southern charm and family-friendly luxury, consider the Omni Grove Park Inn situated in the mountains overlooking the city.
Related: Explore Outdoor Adventure & Southern Food Cravings along Asheville's Blue Ridge Parkway and Asheville with Kids (a planning guide)
---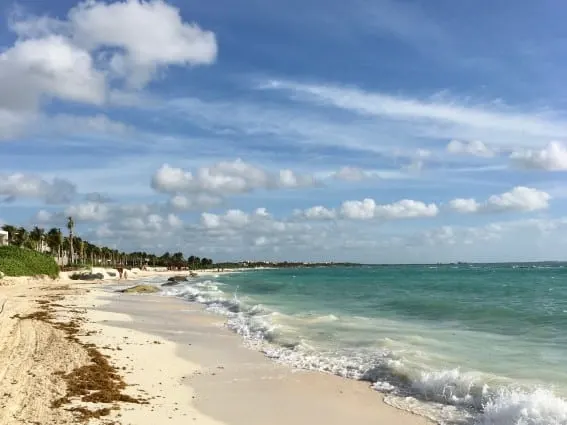 Luxury Family Vacation at one of the Best Beaches in the World at the Riviera Maya
-Recommended by Trekaroo's Lead Travel Expert, Michelle McCoy-
Natural streams have carved through the jungles of the Riviera Maya creating underground caves and providing a haven for birds, animals, and families seeking a vacation in a place that feels like heaven on earth. Where the mangroves meet the aqua waters of the Caribbean, kids and parents can play, swim, explore, play golf, and relax with a drink in hand. It's the perfect luxury vacation!
BEST TIME TO GO: All seasons are lovely. Peak travel is Nov – March. It is the most crowded during Christmas vacation but the weather is near perfect for a winter get-away. The cheapest time is May – November during the rainy season which is especially heavy Sept – October.
BEST WITH KIDS AGED: All ages! Babies and toddlers will love the soft sand and gentle waves. Kids will enjoy the fun swimming pools, gentle waves, and beach-side games. Just outside the resort are theme-parks waiting for families to take an adventure to such as Xcaret, Xel-Ha, Croco Cun Zoo.
ABSOLUTELY DO NOT MISS: Visit El Pueblito, a beautiful town square near the entrance to Mayakoba, playing host to a farmer's market selling foods and wares from local merchants.
WHERE TO STAY: The Fairmont at Mayakoba is kid-friendly with swimming pools, delicious restaurants, and beach-front access.
---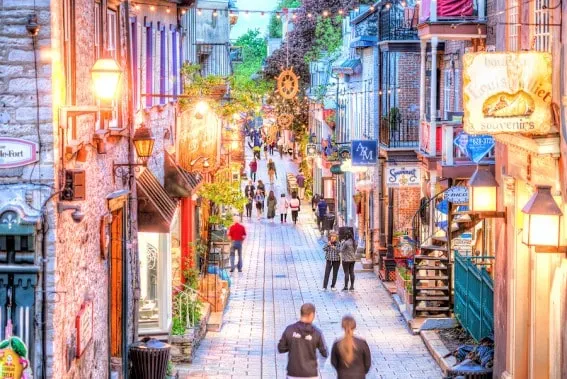 Photo by: Bigstock/Andriy Blokhin
Walk Through North American History in Quebec City, Quebec
-Recommended by Trekaroo Blog Editor, Katie Bodell-
History comes alive (over 500 years of it!) in the charming capitol city of Quebec, located a few hours from Vermont, New Hampshire, and Maine. Families can explore Quebecois history through an assortment of hands-on museums, monuments, and interactive national parks while enjoying the French influence in Quebec's amazing food, sweet treats, language, and street artist entertainment.
BEST TIME TO GO: Spring and Fall. Summer is surprisingly warm (and busy). Wintertime hosts a wealth of snow-themed events for the brave family- temps rarely top 20 degrees and frequently dip into the negatives.
BEST WITH KIDS AGED: Any age, although elementary and up will best enjoy the history.
ABSOLUTELY DO NOT MISS: Strolling through the cobblestone streets of Old Quebec's Petit Champlain; you will feel like you have been transported directly to France.
WHERE TO STAY: The Hilton Quebec is our favorite, featuring a dramatic view of the Old Quebec skyline and the St. Lawrence River, as well as kid-friendly perks, a heated outdoor pool, and a fab breakfast to start your day.
Related: Explore the top 10 things to do with families in Quebec
---
---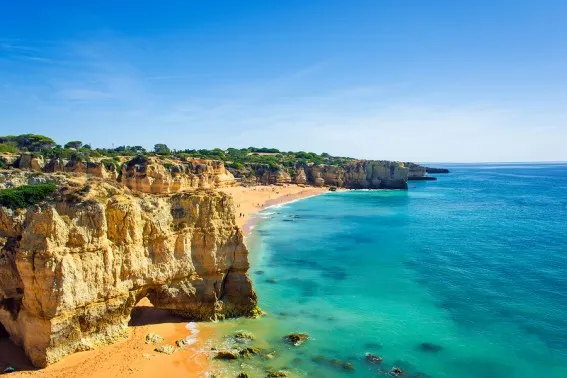 Photo by: Bigstock/samael334
Portugal – The Perfect First European Experience for American Families
-Recommended by Trekaroo Travel Expert, Melissa Moore-
Portugal has it all – a gorgeous rocky coastline, pristine beaches, and even the historic city of Lisbon with it's intricate tile work and sweet pastries. Also, Portugal is particularly easy to reach with direct flights leaving Boston and NYC daily in the evening and arriving in Lisbon less than seven hours later.
BEST TIME TO GO: Spring, fall and early summer are all great times of year to visit Portugal. Portugal has a moderate climate, similar to California, so any time of year is really a fine time to visit.
BEST WITH KIDS AGED: Any age. Portugal has beautiful beaches for families.
ABSOLUTELY DO NOT MISS: The coastline, especially around Cascais. It doesn't matter if you drive, catch a train or even rent a bike, be sure to take a ride along the coastline; breathe in the fresh sea air and hear the waves crash on the shore.
WHERE TO STAY: Stay at one of Martinhal Resort's four properties! Two are conveniently located by the beaches in the Algarve (Southern Portugal). One is located in the trendy Chiado district of Lisbon and the other just outside of Lisbon in the coastal suburb of Cascais.
Related: Explore Lisbon with Kids
---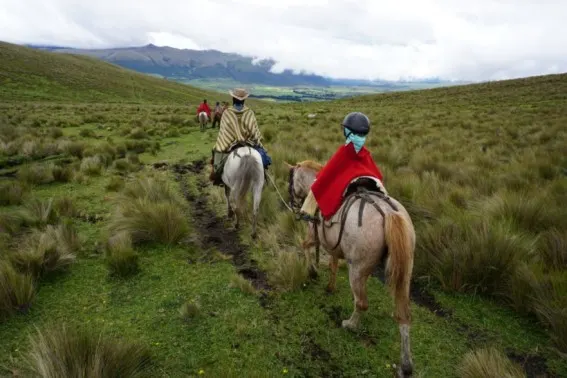 Ecuadorian Andes – Mystique, culture, and stunning landscapes
-Recommended by Trekaroo's Founder & CEO, LiLing Pang-
Set aside everything you might imagine about a country that sits on the equator. Thanks to the dramatic Andean mountain range that runs through the entire span of Ecuador, it is a place of dramatic contrasts. From it's tropical oceans to the tallest peak towering at 20,548 feet above sea level, Ecuador boasts an astounding 46 ecosystems. While of the Galapagos Islands have made it on many a traveler's bucket list for good reason, the Ecuadorian Andes surprised and entranced us just as much. Quito, the country's capital high in the Andes, is central to travel in and out of Ecuador. Flanked by two mountains on either side, this UNESCO world heritage city is oozing with culture and history. Walking her narrow streets, we found tiny store fronts with merchants selling their specialty item or master craftsmen carrying on traditions passed down from father to son for generations. Traveling north of Quito to the Imbabura province, the valleys broaden. The best alpaca blankets, embroidery, and leather goods are sold in Otavalo's famous artisan market. Descending into the foothills of the Andes towards the ocean, you enter the Choco-Andean cloud forest. 3,000 acres of this mystical cloud forest is protected by the privately owned Mashpi Reserve with the luxurious Mashpi Lodge nestled deep it it's heart.
Heading south from Quito, Cotopaxi Volcano rises into the sky. One of the most profound experiences of our trip to Ecuador was the time we spent at Hacineda El Provenir discovering our inner chagra (the Ecuadorian equivalent of a cowboy). If dramatic landscape is what you're after, the best is yet to come. Continue south towards Riobomba. As the mountains became impossibly sheer, a silencing awe will undoubtedly settle upon you. Pictures and words do this place no justice. It is a landscape every traveler has to savor with their own two eyes.The place to make a stop is Aluasi where you won't want to miss the Devil's Nose Train ride, an engineering marvel that costs many lives to build.
BEST TIME TO GO: All year. High travel season coincides with school vacation times mid-June to early September. The Andes are cool and wet all year round. If you plan to do a lot of driving, rainy season mudslides can be particularly troublesome. If you plan to visit the Galapagos as well, January to May is particularly packed because of warm seas and calmer waters.
BEST WITH KIDS AGED: 8 and up
ABSOLUTELY DO NOT MISS: Horseback riding like an Ecuadorian chagra at the foot of the majestic Cotopaxi Volcano, a night hike at Mashpi Reserve with a local guide, or the Devil's Nose train ride in Alausi.
WHERE TO STAY: Casa Gangotena in Quito; Mashpi Lodge, a private mashpi reserve 3 hours north of Quito; and Hacienda El Porvenir, near the Cotopaxi Volcano one hour south of Quito.
Related: Quito Ecuador Travel: Things to Do with Kids
---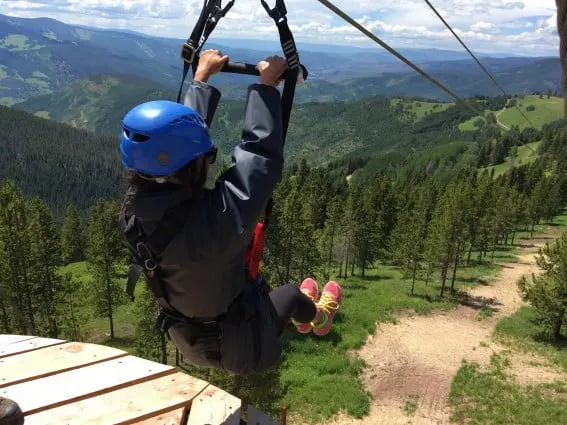 Escape to the Rockies in Vail
-Recommended by Trekaroo's Editor-in-Chief, Sharlene Earnshaw-
Many know Vail is a great winter escape but we discovered that Vail is also a great summer destination for families who love to be outside. The weather is mild, days are sunny, and the scenery is epic. Hiking, mountain biking, zip lining, and even goat yoga await! Several festivals take place throughout the season, ensuring there is always something fun going on in Vail Village.
BEST TIME TO GO: Winter for epic skiing and summer for gorgeous weather and outdoor adventure
BEST WITH KIDS AGED: Elementary age and older
ABSOLUTELY DO NOT MISS: Hiking with a friendly llama on a Rocky Mountain trail.
WHERE TO STAY: The Sebastian in the heart of Vail Village is extremely family-friendly. This luxury property offers complimentary children's programming and rooms that allow for large families to stay together, complete with kitchens and spacious living spaces.
Related: Explore our Best of Vail in the Summer guide.
---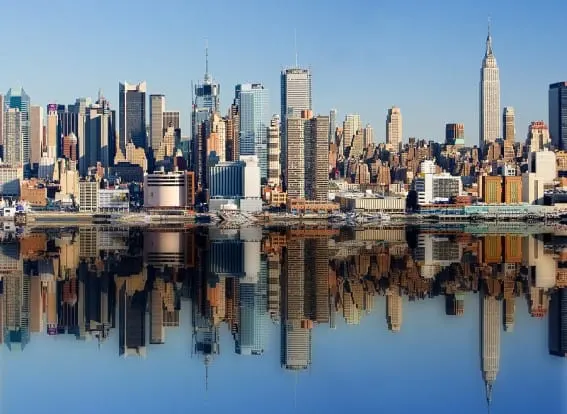 Photo by: Bigstock/Swartz Photography
Get Touristy in New York's Big Apple
-Recommended by Trekaroo Blog Editor, Katie Bodell-
With city-centric tourist opportunities around nearly every corner, easy use of public transportation, lots of free activities and adventures, and an almost endless list of must-see, bucket-list attractions, families should visit NYC in 2018, whether it is your first visit or your 5th.
BEST TIME TO GO: Unless you want to brave the cold, skip winter with the kids.
BEST WITH KIDS AGED: Middle school and up. Although there are a TON of activities for families with young ones, little feet will quickly tire of walking NY streets.
ABSOLUTELY DO NOT MISS: The many and diverse adventures of Central Park could afford a week's vacation on its own. Hungry? Take a foodie tour to really explore the uniqueness of each NYC neighborhood.
WHERE TO STAY: We loved staying at the swanky Sherry-Netherland, a historic NYC boutique hotel on 5th and 59th at Central Park's entrance. Their Central Park Family Getaway Package includes luxe accommodations with butler service, entrance to the Central Park Zoo, Metro transit cards, and fun Central-Park themed goodies for the kids.
Related: Explore the Top 10 Things for Families to do in NYC
Note: All photos by individual recommendation author unless otherwise noted.
Lead Image by: Flickr/esparta
Social Lead images by: Bigstock/CHOReograPH