Just minutes from Portugal's gorgeous Guincho Beach and scenic coastline is a toddler-friendly, luxury resort that caters specifically to families, Martinhal Cascais Family Hotel. The resort has a full program of kid-friendly amenities: a Kids Club for children beginning at six months of age, a playground complete with a trampoline and zip line, rooms with bunk beds, a small indoor heated pool, and a full host of baby and toddler amenities. This is the perfect place for a toddler-friendly holiday in Portugal. It's also a great place for a family vacation in Portugal with kids. Yes, my 8-year-old daughter loved this resort, but I did as well; visually the buildings and landscaping are beautiful and the food is fresh and local.
Portugal with Kids: A Toddler-Friendly Family Vacation at Martinhal Cascais near Portugal's Beautiful Beaches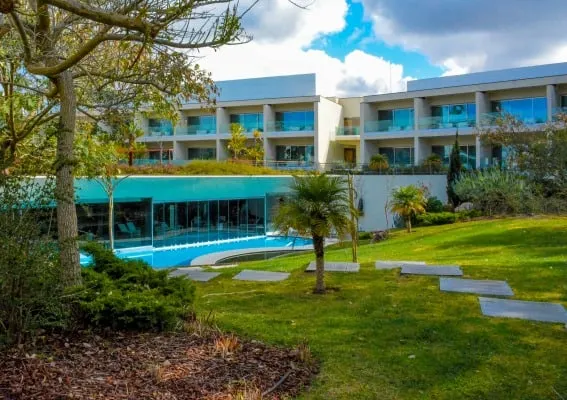 The Perfect Introduction to Europe at Martinhal Cascais Family Hotel
Before my children were born, Europe was my favorite vacation destination. I loved to get lost in its cities, sample pastries from tiny shops hidden in alleyways, pop into ancient churches to look upwards at the art on the ceiling, and navigate public transportation from city to city. But, frankly, the thought of bringing my young children to Europe was never an idea that I entertained for very long. The combination of long flights, jet lag, unfamiliar food, and busy cities seemed like the perfect recipe for a family meltdown of epic proportions.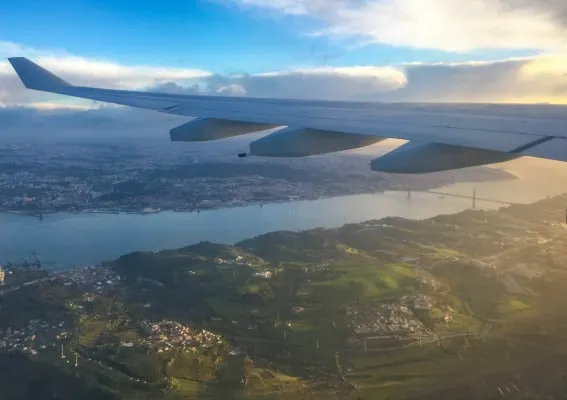 However, our visit to Martinhal Cascais has changed my mind. First, our flight from Boston to Lisbon was under six hours, not much longer than a flight from New York to Los Angeles. After landing at the airport, my daughter and I walked quickly through customs, where we were guided into a priority line for families, and were out of the airport into a shuttle/taxi scheduled by Martinhal complete with a booster seat in under an hour.
Martinhal's Family Resort at Cascais, Portugal is a great place to stay while the little ones work through their jet lag. It is a 20-40 minute taxi ride from Lisbon's airport depending on time of day and traffic. Once at the resort, it is possible for families to eat all their meals at the resort. Or, alternatively, the resort offers a couple of options for transport into Cascais, Portugal about 10 minutes away; reception can call a taxi to be charged to the room and the resort's shuttle runs a few scheduled times a day. This is certainly one of the best family resorts in Portugal.
---
[cta id="67644″ align="none"]
---
Spacious Rooms and Kid-Friendly Amenities at Family Resorts in Portugal with Kids
Photo Courtesy of Martinhal Family Hotels and Resorts
There are rooms at Martinhal Cascais to fit just about every type of family — from standard rooms just the right size for a family's first getaway with the baby to villas with plenty of room for a multigenerational vacation. Some rooms have Murphy bed bunk beds that fold down from the wall one at a time and other rooms have couches with pull out beds; the villas have both the bunk beds and a pull-out sofa bed. For larger families and those traveling with more independent teens, connecting rooms are a popular option as well.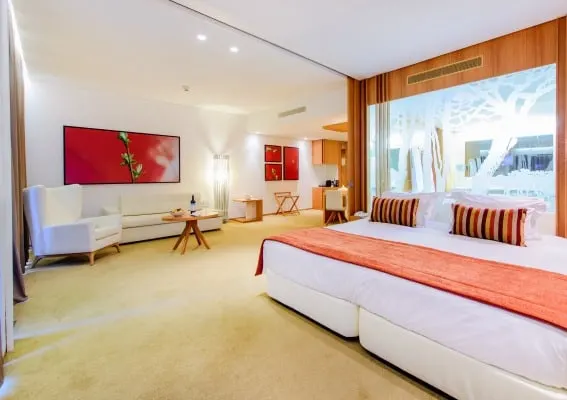 Photo Courtesy of Martinhal Family Hotels and Resorts
The spacious bathrooms at the resort have just about everything that a toddler parent could imagine to make travel with kids just a bit easier. This is certainly one of the best toddler-friendly holidays in Portugal There's a huge bathtub, perfect for an entertaining, or sleep inducing, bubble bath. That large bathtub is separated from the bedroom by a glass wall complete with a privacy screen that goes up and down at the touch of a button so that a little one could enjoy their bath supervised by a parent in the bedroom. (And, no, moms of tots — this button is not within easy reach of little ones — so that screen won't be going up and down all day long.) Plastic stools, tot-sized flip-flops, potty seats, and baby bathtubs are all available for the littlest ones as well. Everything has been thought of for this toddler-friendly Portugal holiday destination.
The owners of Martinhal have thought of practically every detail to make traveling with kids as easy and fun as possible. They even provide economically priced laundry service – especially for baby and children's wear. The price to launder baby clothes begins at just one Euro a piece and there are plans available for washing 20+ items of children's clothing for one Euro a piece or less. Speaking from experience, I know that this might just be a sanity-saver, especially on a longer trip. Fitting in time for laundry during travel can be such a hassle!
Breakfast Buffet and Dining Options at Martinhal Cascais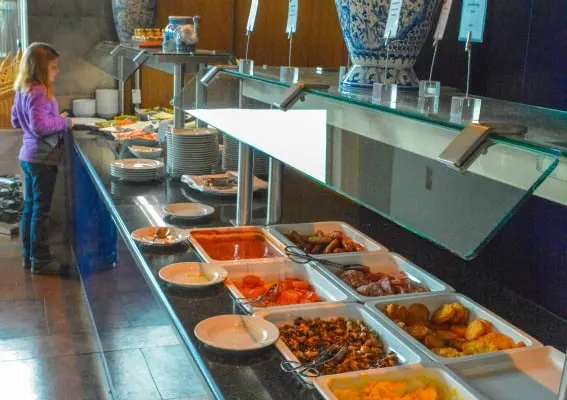 Parents all know how important it is to be able to find familiar food when the kids are hungry. Martinhal Cascais offers a few options for dining throughout the day. There aren't a huge number of choices, but the food is of excellent quality. O Terraco serves a buffet breakfast and a full dinner featuring Portuguese cuisine; next door Os Gambozinos serves a light lunch. Some vacation packages include breakfast or half board.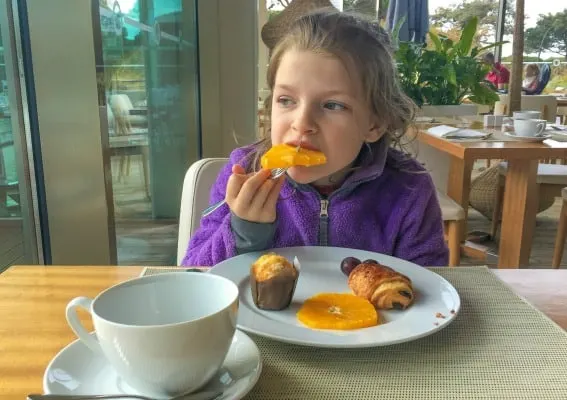 We most enjoyed the breakfast buffet at OTerraco. The buffet includes pastries, several varieties of cereal, meat and cheese, a few hot items, and fruit. Waffle and pancakes can be requested as well as coffee and tea. The pancakes are a bit different from any that I have eaten in the States; they are light, sweet, and come dusted in powdered sugar — yum!
The best part of dining at OTerraco for parents of little ones is that there is a children's play area inside the restaurant which is often staffed with workers from the Kids Club in their orange sweatshirts. Tots can play nearby, just out of sight, while parents finish their dinner or enjoy their breakfast cappuccino; it's a win-win. As, Cintra, owner of the Martinhal brand, likes to say "at Martinhal, parents have their cappuccino with the foam still on it." Obviously Martinhal knows how to make a toddler-friendly holiday in Portugal relaxing for the entire family.
An Amazing Playground and Rafi the Fox's Kids Club at Martinhal Family Resorts in Portugal with Kids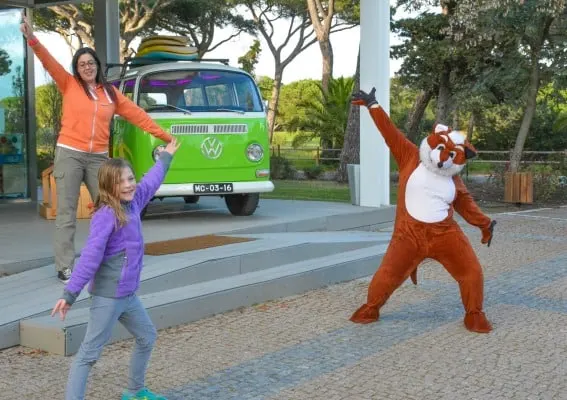 The Kids Club was the highlight of Martinhal Casks for my daughter. On several occasions my daughter and I played together in the gated outdoor area on the soccer field or trampoline, and my she also spent an entire day in the Kids Club from 8AM till 6PM while I attended a conference. I was surprised that even after a full day at the Kids Club, she still wanted to return — that says a lot about the super friendly, attentive staff!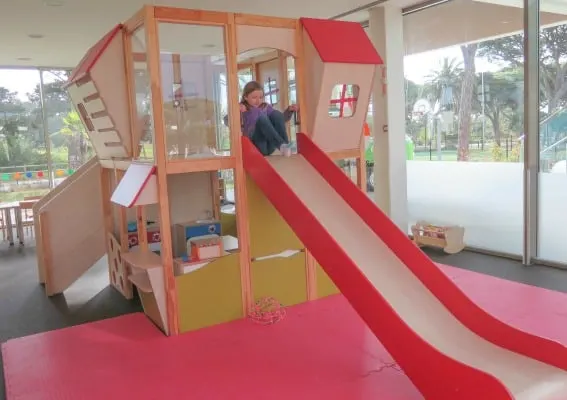 The Kids Club is divided up into a few areas for children of different ages. On the ground floor there are two areas: a small, self-contained baby room for children ages six months to two years old, and the main children's child care area featuring a slide, ball pit, building blocks, art activities, and more. Upstairs there is a room for older children, and teen programs, often off-site, are provided on occasion. The areas that are open and operational on a given day are dependent on the guests staying at the resort. My daughter had a great time playing with kids of different ages from age 3 to about 11 in the Kids Club — with approximately 3-10 kids in the club at any given time during our stay, she most enjoyed how there seemed to be a distinctive area for each activity from art to pretend play.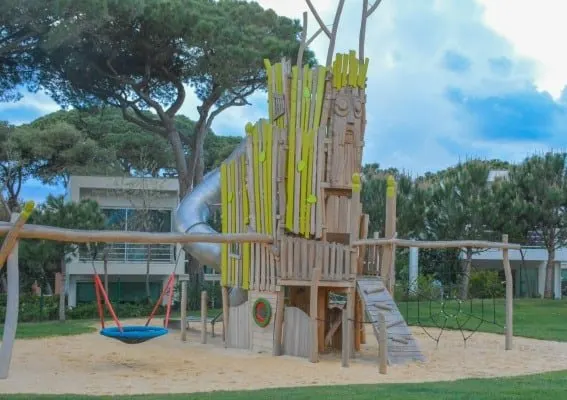 I admit that I'm a playground connoisseur; my kids are only a year apart in age and can play together at a playground for hours. The playground at Martinhal Cascais is simply awesome. My daughter kept coming back and begged, even after sundown, to come back again and again. And, for parents of older children, it is possible to sit in the M Bar, upstairs of the Kids Club with a bird's eye view of the playground, and watch your children play below as you enjoy a drink and a snack. Now that's a vacation everyone can enjoy!
Day Trips from Martinhal Cascais – Scenic Coastline and Colorful Castles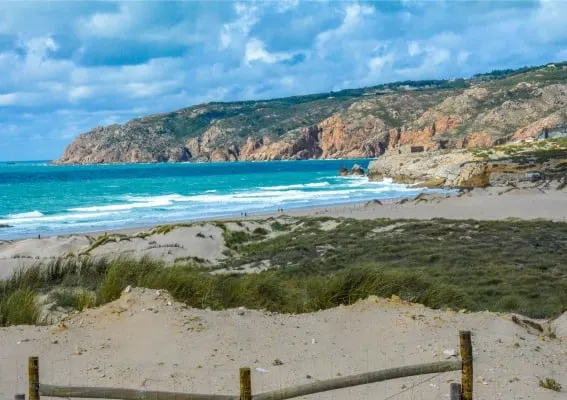 While families could easily spend days at Martinhal Cascais relaxing poolside during the summer months, it would be a shame to come to Cascais, Portugal and not enjoy the gorgeous coastline just a few kilometers away.
---
[cta id="67644″ align="none"]
---
Guincho Beach and Portugal's Scenic Coastline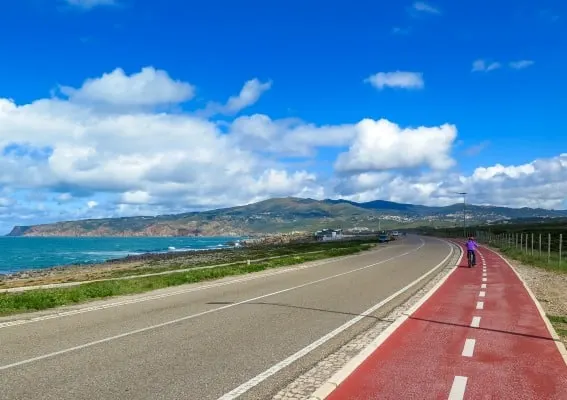 The simplest way to reach Guincho Beach and its spectacular coastline dotted with ruins of ancient forts and batteries is via bicycle. Bikes are available for rent in the resort's lobby. It's as easy as making a request at the desk, and they'll provide you with everything that you need including a backpack and a bike lock, children's bikes of the appropriate size, and maps. (There are lots of bikes, but in high season, you likely need to reserve in advance.)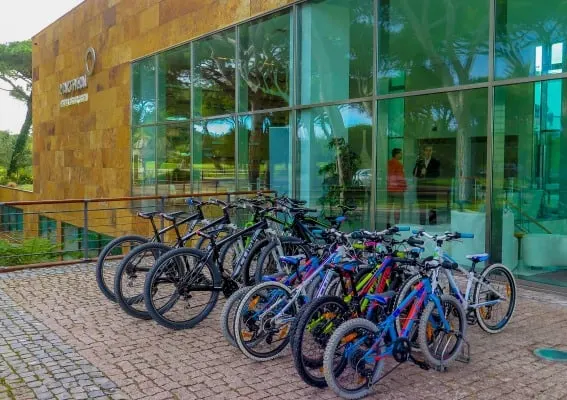 In the summer months, there are many more beaches to explore; some are just right for surfers and kite-surfing while others are best for tots wading in the waves and playing in the sand. Reception at Martinhal will surely guide your family to your ideal beach. There are also surfing and kayaking lessons, excursions, and rentals available during the summer season depending on weather conditions.
Visit A Classic Seaside City – Cascais, Portugal with Kids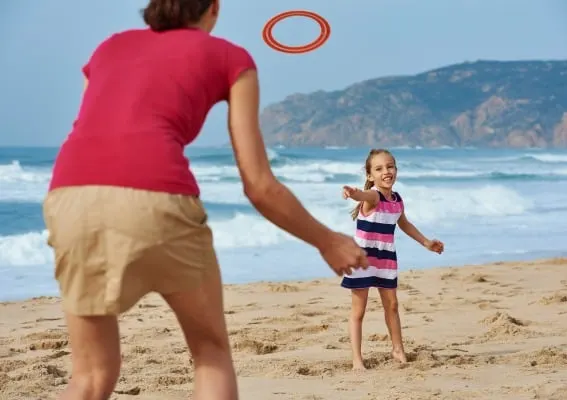 Photo Courtesy of Martinhal Family Hotels and Resorts
Just a short bike or taxi ride from the Martinhal Cascais property, the city of Cascais, Portugal is full of history, family-friendly beaches, and seaside charm. Cascais, also only a 30 minute train ride from Portugal's capital of Lisbon, has been a summer retreat of Portuguese and European royalty for centuries, and during wartime, home to the secret agents that inspired the stories of James Bond 007. However, history is not what brings most families to Cascais, Portugal; families come to Cascais for the beaches, some of the cleanest in Europe, and the seaside promenades perfect for an evening stroll or an afternoon bike ride. Cascais, Portugal is also home to several museums, 14 of them to be exact, including Casa Das Historias Paula Rego, which highlights the work of Portugal's most famous artist, Paula Rego.
Visiting Castles in Sintra, Portugal with Kids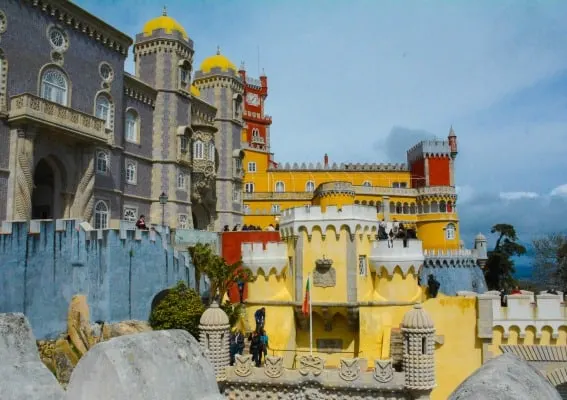 Imagine a colorful, sprawling castle of yellow, red, and blue that looks like it belongs on the children's Candyland game board or in an illustrated version of Alice and Wonderland. This is The Pena National Palace in Sintra a UNESCO World Heritage Site built in the 19th century Romanticist style. A ticket to the castle buys you few hours exploring this fantastical building with tile work fit for a Portuguese king. My daughter was amazed and demanded a camera so that she could take her own pictures! We didn't even have the opportunity to explore the extensive grounds which appear to be just as magical.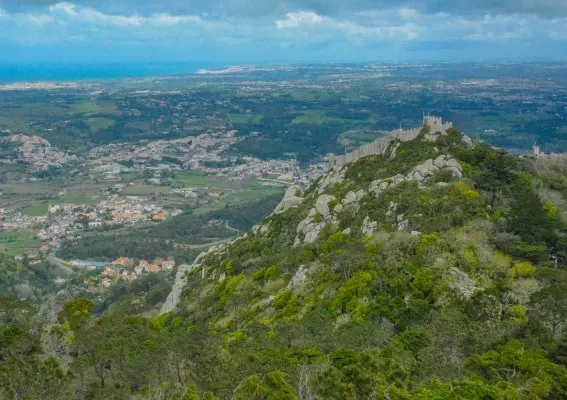 However, there is so much more to Sintra than just the iconic Pena Palace. There are several other palaces, gardens, and architecturally intricate buildings within a short bus or tuk-tuk ride of the city center: the Castle of the Moors just opposite the Pena Palace, the Monserrat Palace in the heart of the Sintra mountains, and the Quinta da Regaleira located in the Old Quarter of Sintra. Of course, city center of Sintra itself is also quite charming — if just a bit touristy. Right in the center of town across from the town square is a pastry shop, Piriquita, selling delicious, traditional Portuguese treats. Prominently placed in the middle of town is the The National Palace of Sintra, the best preserved royal palace in Portugal dating back to the early 15th century.
If You're a Blogger or an Entrepreneur, Consider Attending Next Year's Martinhal Event!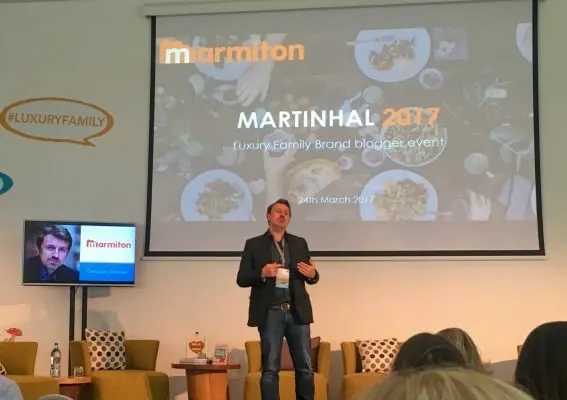 With a full day of speakers hailing from the United States, Portugal, and across Europe, dozens of bloggers and entrepreneurs came away from the first Martinhal Event inspired to be passionate about growing their business while enjoying their children and families. At the event, bloggers heard story after story of hard times followed by successes and saw plenty of cute family pictures of the children who inspire both mothers and fathers along their entrepreneurial journeys.
To me, the most inspiring story of them all was that of Chitra and Roman Stern, owners of the Martinhal brand and parents to four children. It was fascinating to hear their story of developing a luxury family hotel brand in Portugal as we experienced their Martinhal Cascais Family Hotel. After hearing their story, it's no mystery as to why every single detail about traveling with children has been meticulously addressed and taken care of in the design and building of the Martinhal properties. No wonder this hotel is one of the most toddler-friendly holidays in Portugal!
Know Before You Go to Portugal with Kids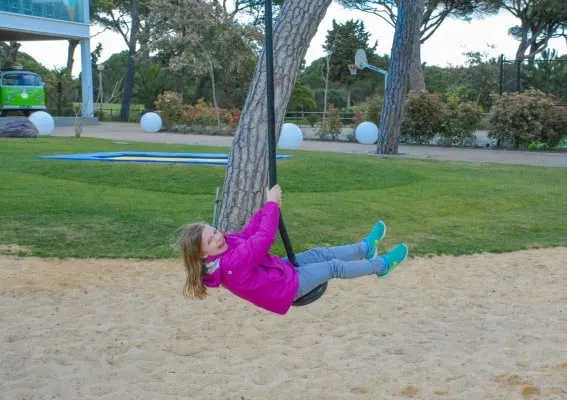 The pools and activities at Martinhal Cascais are seasonal. During the high season, activities, including the Kids Club, will likely need to be prearranged. My daughter and I visited the resort on a particularly cool and rainy weekend in March. There weren't too many guests interested in renting bikes and few people were even visiting the beaches due to the wind. We did not pre-arrange activities and instead chose whatever best fit the weather. The large outdoor resort pool was closed up for the winter; it is only open during the summer months.
There is a small heated indoor pool inside the spa and renovations are currently ongoing to cover and heat the outdoor pool inside the Kids Club area. However, the main pool is only open in the summer months as it is not heated.
Martinhal Cascais is not within walking distance of any stores or attractions. A taxi or shuttle is required to go into town. As of spring 2017, there is no store on property.
Be sure to book all your baby essentials in advance for your toddler-friendly holiday in Portugal.
Founded in 2010 by Chitra and Roman Stern, Martinhal Family Hotels & Resorts was conceived with families in mind and aims to offer a luxury holiday experience with high-class, family-friendly facilities in some of the most prestigious areas in Portugal. Four properties make up the collection: Martinhal Sagres Beach Family Resort and Martinhal Quinta Family Golf Resort in the Algarve, and recently opened Martinhal Cascais Family Hotel and Martinhal Chiado Family Suites in Lisbon. www.martinhal.com
---
[cta id="67644″ align="none"]
---
Disclosure: The author was invited to Martinhal Cascais Family Hotel as part of a press trip in conjunction with the first Martinhal Luxury Family Brand Event. All opinions are her own.
All photos are by Melissa Moore unless otherwise credited.