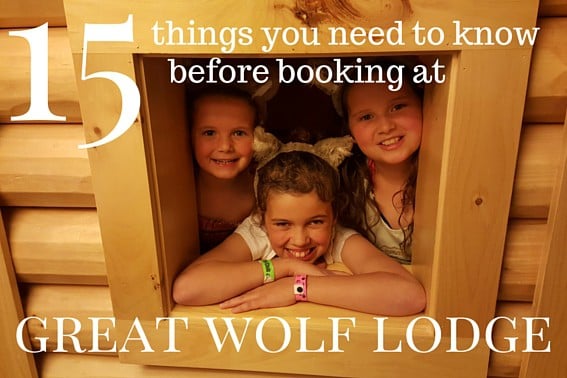 Is the Great Wolf Lodge worth the cost? After my family's recent stay for the grand opening of Great Wolf Lodge Southern California my son proclaimed it better than Disneyland! My daughter declared it a tie. Disneyland is the standard in which we measure all things awesome in this household so I would say that is a rousing endorsement indeed. No doubt about it, if your family likes water parks, Great Wolf Lodge is definitely the place to be. The resort's Orange County location is the first indoor water park in all of California and I have no doubt that California will be hooked. Ready to book a stay at a Great Wolf Lodge near you? Here are some Great Wolf Lodge tips that will help you make the most of your vacation.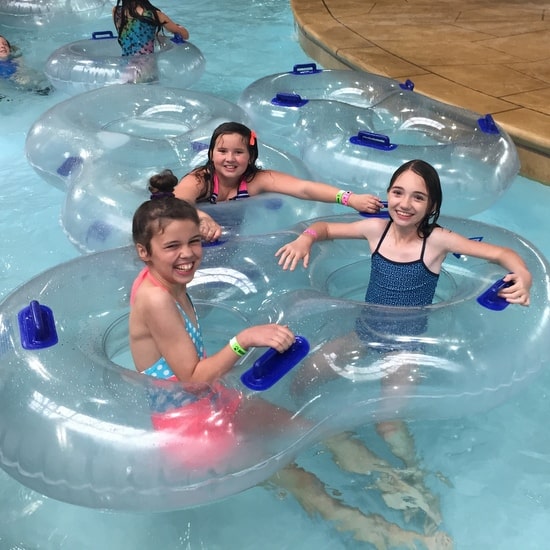 1. Great Wolf Lodge offers a discount to all military, fire, emergency medical service personnel, police, and correctional officers through their Howling Heroes program. A valid ID must be presented at check in and the promo code HEROES should be entered when making a reservation.
2. Great Wolf Lodge Southern California has partnered with Disneyland – which is right down the road – to put together discount packages. Some of the these packages include the same Magic Morning access that folks who stay at Disneyland Resort properties receive. Great Wolf Lodge also provides a shuttle to and from Disneyland for its guests. More details can be found here.
Bonus tip: Ask for a room on an upper level facing the Great Wolf Lodge parking garage so that you can watch the Disneyland fireworks from your room.
3. Large families rejoice- there are rooms that fit up to 8 people! Rooms have base rates that include water park access for all occupants. They also have max rates which include water park passes for $40 per extra person. Standard family suites and Wolf Den suites have bases of 4 and maxes of 6. Kid Cabin suites have a base of 6 and a max of 7. Spacious multi-room Grand Bear suites have a base of 6 and a max of 8!
4. Wolf Den and Kid Cabin suites do not have an actual door separating the kids' sleeping area from the adults from the adults. They do, however, have bunk beds and their own private flat screen televisions with Youtube access. If your kids are anything like mine, they will relish the ability to lay in bed and watch silly cat videos after a long day at the water park. Wolf Den and Kid Cabin suites in the Southern California location have little critters inside that come to life when kids wave a MagiQuest wand or shake their Clubhouse Crew stuffed animal at them. There is no way to turn these animals off so I suggest keep wands and critters outside of the Wolf Den/Kid Cabin if you don't want the critters to come to life.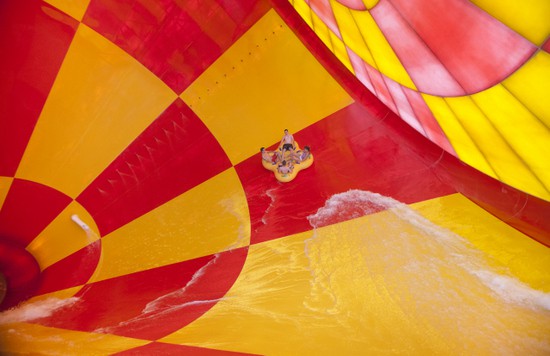 5. Don't pack towels or flotation devices. Both are provided by the water park. When children enter the water park for the first time a lifeguard will measure your child's height and give them a wristband which determines which rides they are able to go on and which places shorter/younger children must wear a life jacket. Life jackets are plentiful, come in a variety of sizes, and always available. Do pack bathing suit cover ups to make it easy to go from the water park to other resort activities. Also pack athletic shoes if you are staying at a Great Wolf Lodge property with a ropes course (Southern California does not have one). Sunscreen is generally not necessary unless you are planning on spending an extended amount of time in the outdoor play area.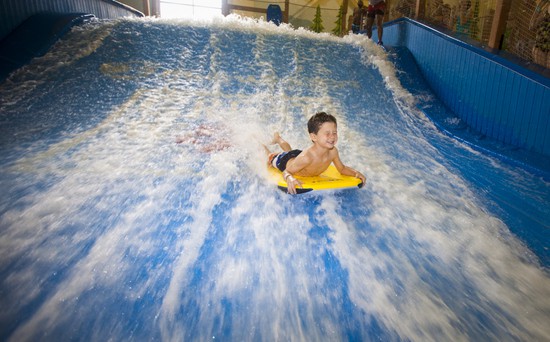 6. Guests can gain access to the water park as early as 1 pm on the day of check-in and enjoy the water park until closing time on the day of check out. This feature really allows families to maximize their water park experience. If you do plan on staying late, be sure to be out of your room by 11AM on check-out day and store your luggage with the front desk or in your car. I recommend packing a special bag to take in the water park with a change of clothes and a plastic bag for wet bathing suits. There are lockers for rent available inside the water park. Showers and dryers are also available inside the water park to help you clean up after your water park stay.
7. Great Wolf Lodge takes water park safety seriously. There are always several lifeguards on duty at each attraction and the lifeguards are rotated frequently to prevent fatigue. Every day I watched a park employee with a dummy the size of a toddler sneak into an area and drop the baby in to the water to see how long it took a lifeguard to react to the situation and "rescue" the dummy. I was very impressed by their reaction time and seeing these drills made me feel secure about my children's safety inside the water park.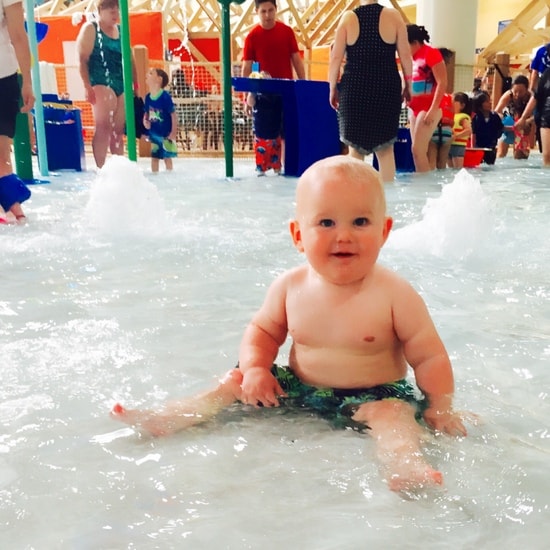 8. The water park features attractions that will entertain kids of all ages and thrill-seeking desire. Tots will enjoy the zero-entry water play at Cub Paw Pool and parents will be thrilled to know this area is completely fenced in and has a magnetic safety latch to ensure little ones don't wander off. The park features a massive water play structure, Fort Mackenzie, which is the ideal places to splash without a pool. Water slides are everywhere- from short slides for preschoolers to massive tube slides that take thrill-seekers on watery adventures. The Southern California location also featured a pool with water basketball and and obstacle course as well as wave rider where kids could boogie board or surf. Of course, no water park is complete without a lazy river and a wave pool, so Great Wolf has both.
Check out this fun, short video for a sample of Great Wolf Lodge:

9. The main draw of the Great Wolf Lodge is the water park, but there are lots of other things to do. The Southern California location features bowling, a kid-friendly spa, Creation Station (think Build-A-Bear with an interactive video game component), MagiQuest (an addictive live-action role playing game where kids use magic wands and solve clues by heading to various video portals around the resort), a large (and ticket generous) arcade, a fun laser game, an XD movie theater, glow golf, fun dance parties, the Forest Friends show, morning Wolf Walks, and nightly Story Time in the Grand Lobby.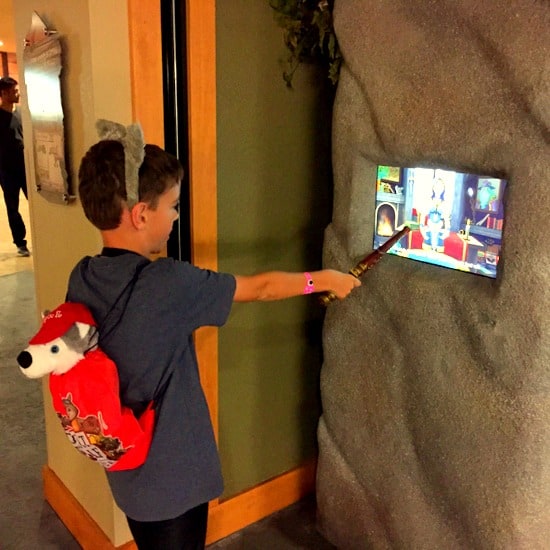 10. Individually the extra activities can add up quick but The Great Wolf Lodge does offer special packages which bundle activities/souvenirs together at a discount. The following packages can be found at the Southern California location:
The Paw Pass is $79.99 and designed for children age 6 and up. It includes a choice of one MagiQuest game and wand, one animal at Creation Station and one Clubhouse Crew Adventure Game, one pair of Great Wolf Lodge swim goggles, a leather treaty bracelet, one glitter tattoo, a 12 oz Mike and Ike cup, and 20 Paw Points in the Northern Lights Arcade.
The Wolf Pass is $99.99. It includes all of the above plus one game of bowling Ten Paw Alley, one game of Howl at the Moon Glow Golf, one ride on Howly Wood XD Theater, and one play at Lazer Frenzy.
The Pup Pass is $39.99 and is good for all ages. It includes one animal at Creation Station and one Clubhouse Crew Adventure game, a glitter tattoo, a 12 oz Mike and Ike candy cup, a scoop of ice cream from Pear Paw Sweets & Eats, and 20 Paw Points in the Northern Lights Arcade.
Note: The Clubhouse Crew game and MagiQuest game are actually very involved and take a long time to complete. We didn't even have enough time to complete either game during our stay so we will bring our stuffed animals and wands back on future visits to continue where we left off. Pitstopsforkids.com has a great post on the ins and outs of MagiQuest.
11. The bracelets that give guests access the water park also act as your room key and payment system. I LOVED the bracelets because I never had to worry about packing a room key or credit card with me when we headed down to the water park. I wish more resorts would use this system (Vegas, I am looking at you). Be sure to give your kids the rules on charging things to the room (or simply ask at check-in for kiddos to have a non-charging bracelet) and make sure the bracelets are on securely enough to prevent them from falling off. The Great Wolf Lodge did ask me for a room number and last name when I  used my bracelet to charge food to my room but I would still be careful about leaving a bracelet lying around. I also suggest cutting the bracelets lengthwise after your resort stay to make sure nobody can gain access to your information.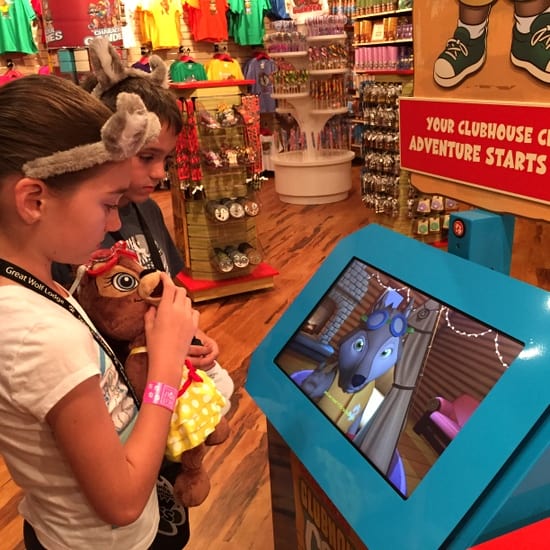 12. You can bring a cooler to the Great Wolf Lodge but it must remain in your room. Since rooms do have mini fridges and microwaves, it is pretty easy to save money by having a supply of snacks and drinks in your room. Crock pots and rice cookers are also easy things to bring along to save money by making a meal or two per day instead of eating out every meal. If you are planning on eating inside the water park, there is a quick-service restaurant, but you may also want to consider ordering a surprisingly affordable pizza from Hungry as a Wolf and bringing it in to the water park. You might also want to consider purchasing a refillable cup for $12.99 which gives you free fountain drink and Icee refills for the duration of your stay.
13. Great Wolf Lodge takes food allergies very seriously. The resort recognizes that food allergies and special diets are more common than ever and they go to great lengths to make sure everyone is safe. The entire resort is nut free! Everything that goes into the fryer is gluten free to prevent cross contamination. If you have a food allergy, a chef will come to your restaurant table to discuss it with you and then personally make sure that your meal is prepared to avoid cross contamination. This even hold true at the buffet. We all know that buffets are easy places for cross contamination to occur so if you have an allergy, simply tell the chef which items you would like to eat and he/she will bring out a plate of food that is safe to eat.
14. There is a display in guest rooms which includes a card with the promo code for a FREE Shutterfly Great Wolf Lodge Photo Book. Don't pass this deal up! You can always enter the code while you are there and then finish making the photo book at home.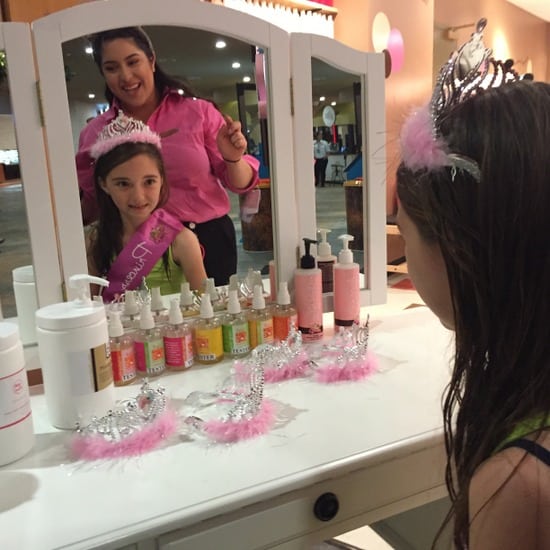 15. The kids spa is fun but pricey. I love the idea of Scooops Kid Spa because it allows for some great mother/daughter bonding time and girly girls always love a good mani pedi. Unfortunately, I found the price tag of nearly $45 for a child's manicure to be too steep for me. That being said, the spa did seem to be a popular spot so maybe I am out of touch. There is a $10 option for kids who want a sampling of the spa experience. It includes a princess sash, a crown, their choice of hair scent (which will wash out in the water park so plan accordingly), and application of a scented hand lotion. That experience is cute but lasts under 5 minutes. I was unimpressed, but my daughter seemed pleased.
Disclosure: My family received a complimentary experience at the Great Wolf Lodge to cover the grand opening for Trekaroo. Their hospitality is appreciated but all opinions are my own. 
Comments
comments