A Portugal family vacation to Lisbon with kids features cable car rides up steep hills, day trips to beautiful beaches, and a visit to one of the best aquariums in Europe. There are so many fun things to do in Lisbon with kids.
Detailed tile work adorns the city's buildings, hilltop views afford sweeping views of central Lisbon and its River Tagus, and Lisbon's pastry shops offer traditional Portuguese custard tarts.
Traveling with kids to Lisbon is much like visiting any other European city; Lisbon has efficient public transport and kid-friendly museums. It's a great choice for a first European family vacation.
Don't start planning your trip to Portugal without first checking out these Portugal planning tips.
The Best Things to Do in Lisbon with Kids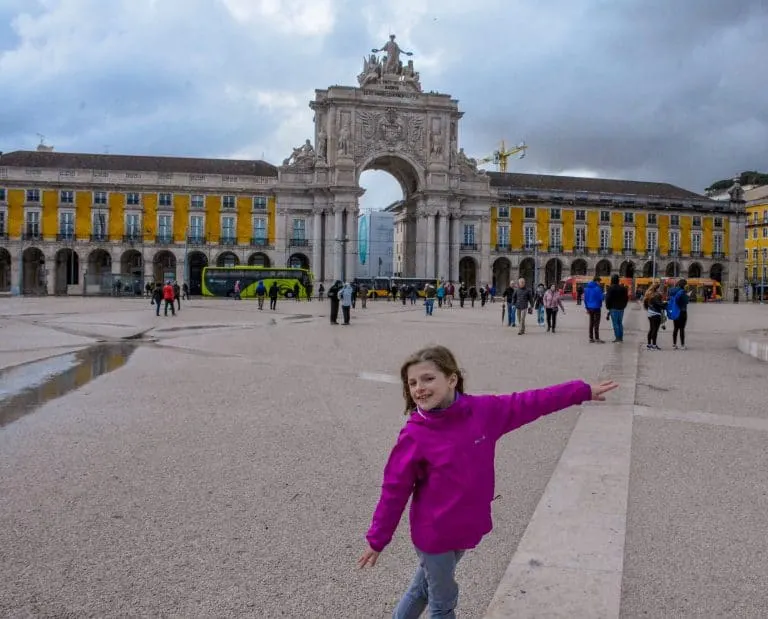 Lisbon is the perfect first introduction to Europe for American children. Lisbon is an easy six-hour flight from the East Coast of the United States. That's just long enough to get some good rest on a red-eye flight, but not so long that kids will tire of watching movies mid-way through a day time flight.
Also, the language barrier in Lisbon is minimal for Americans. Most everyone we spoke with as tourists had good conversational English skills.
I expected to need to pull out some of my high school Spanish (because I have no Portuguese language skills) — but, thankfully, this was not necessary.
Spending a few days in the city? Check out this fantastic Lisbon itinerary. Exploring more of the region? Here is a wonderful Portugal and Italy itinerary for families.
Capture incredible memories of your Lisbon family vacation with Flytographer. Flytographer has a network of incredible professional photographers ready to come to you and help your family create the ultimate souvenir of your special trip. Trekaroo is proud to be a Flytographer customer and affiliate.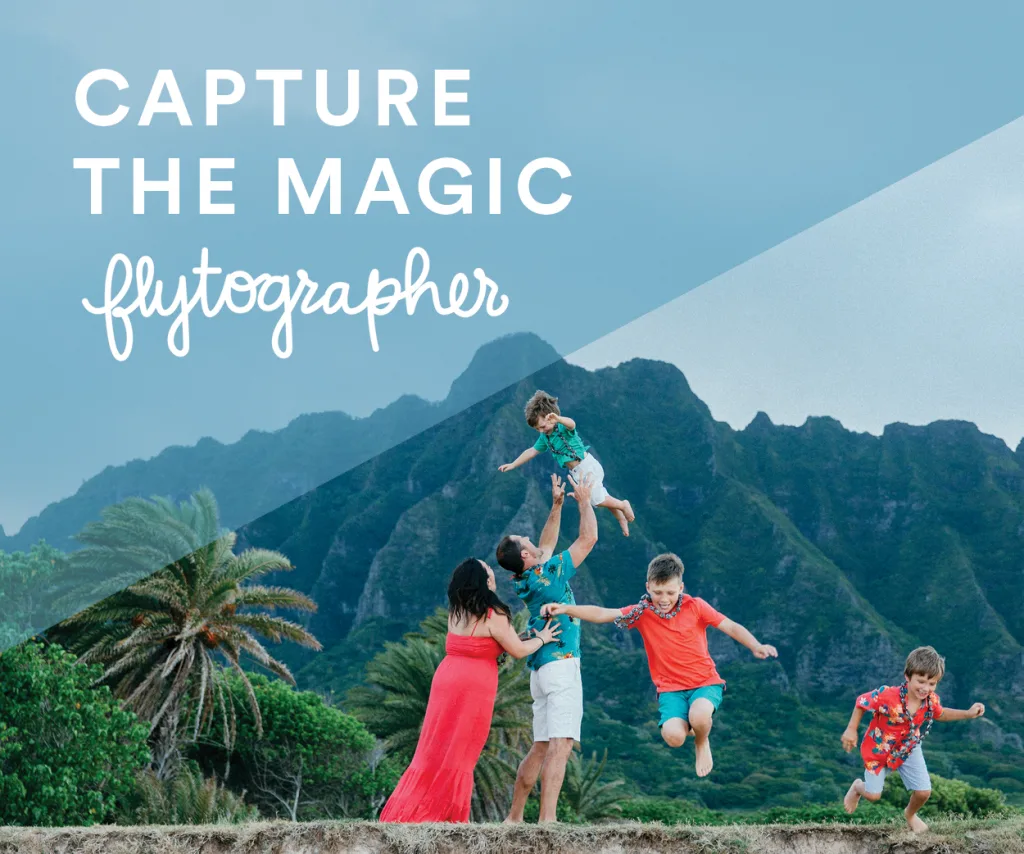 Experience the History of Lisbon, Portugal with Kids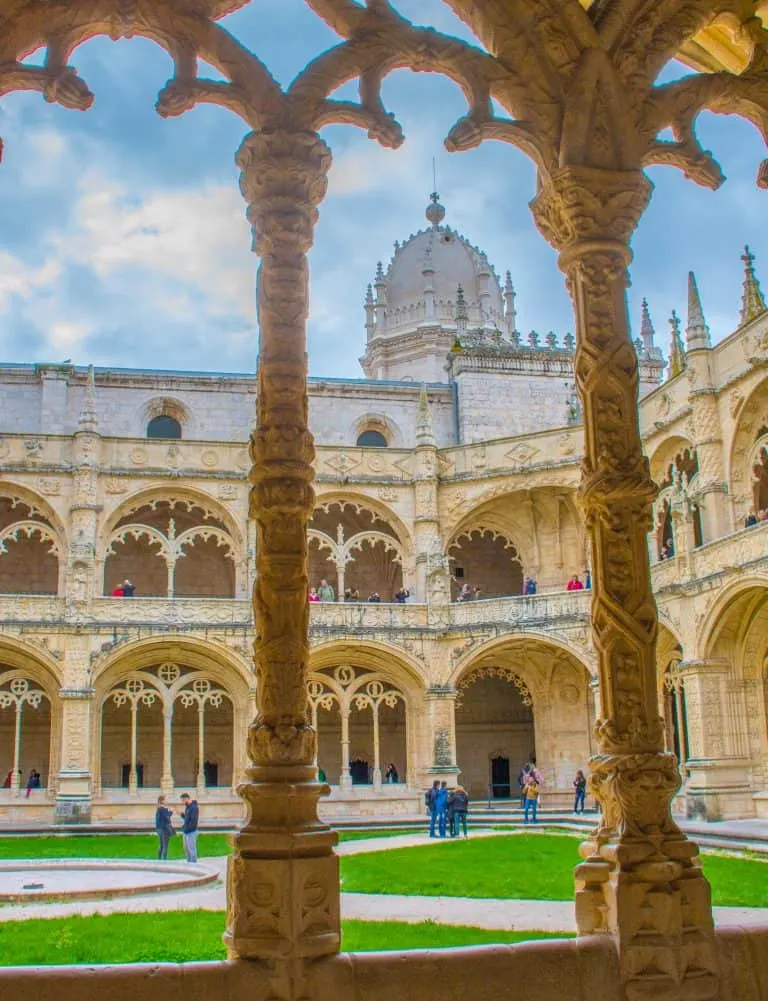 Lisbon, Portugal feels historic and European. It is one of Europe's easiest capital cities to explore for family travelers. The historic part of town is relatively compact and walkable. The touristy area of Lisbon is not overwhelmingly large.
It is also easy to escape the city for a family-friendly day trip to the beach or the mountains in only 30-45 minutes by car, bus, or train. This variety and ability to get a quick change of scenery makes the area so much more fun to explore Lisbon with kids.
One day can be spent appreciating the architecture at the Mosteiro dos Jerónimos in Belém and the next day can be spent at the beach in Cascais. It is easy to avoid the monotony of visiting museum after museum in the city center when traveling to Lisbon with kids.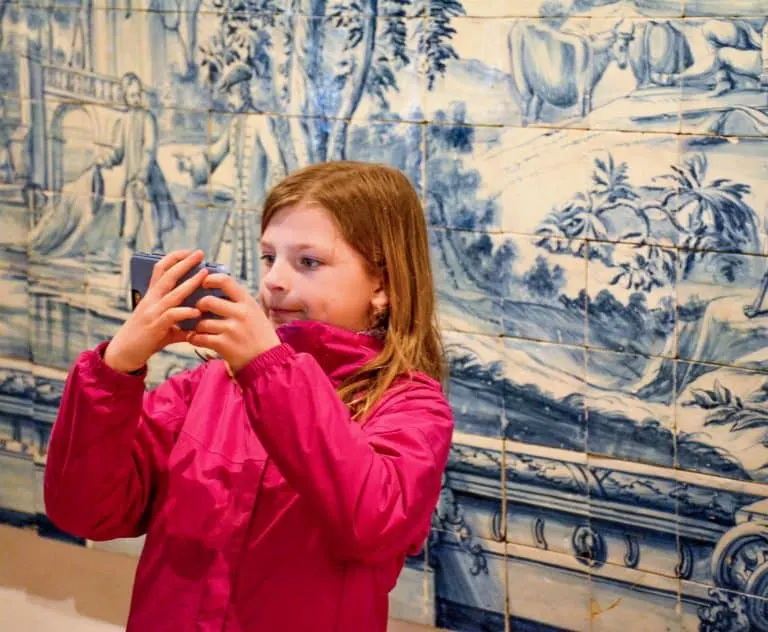 While in Portugal, I watched my daughter explore the National Palace in Sintra and the Museo do Azulejo in total wonder of their intricate wood carvings and colorfully painted ceilings.
She was so impressed by everything that she was seeing, and I'm sure that her first trip to Europe made an impact that will last a lifetime.
See the City of Lisbon with Kids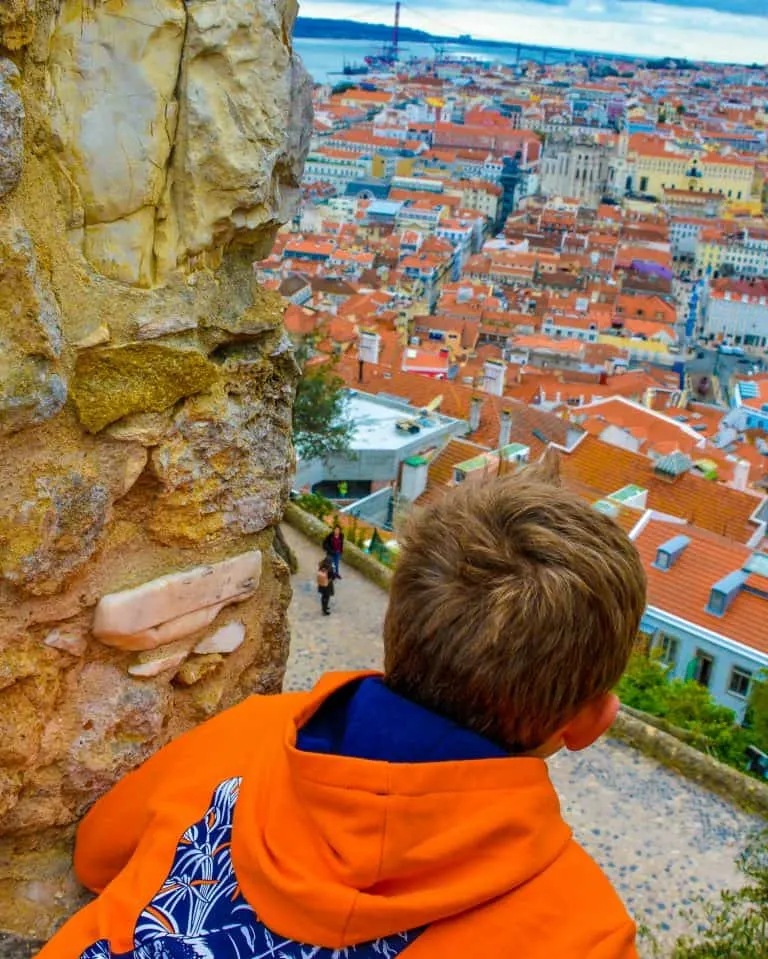 Exploring Lisbon's streets is essential on any visit to Lisbon with kids or without. Be sure to walk the pedestrian Rua Augusta down to the Placa do Comercio.
The black and white stone mosaic artwork on the city's squares and walkways is both beautiful and uniquely Lisbon. Though beware, in the rain those beautiful stone tiled walkways are remarkably slick.
On a walk through the Baxia, it isn't hard to spot the Santa Justa Lift that transports passengers from the lower part of town up onto one of Portugal's seven hills.
Just like San Francisco and Rome, Lisbon's city centre has some steep hills, taking a tram or elevator up the hill and wandering back down through the city streets is a great option for families.
Castelo de Saõ Jorge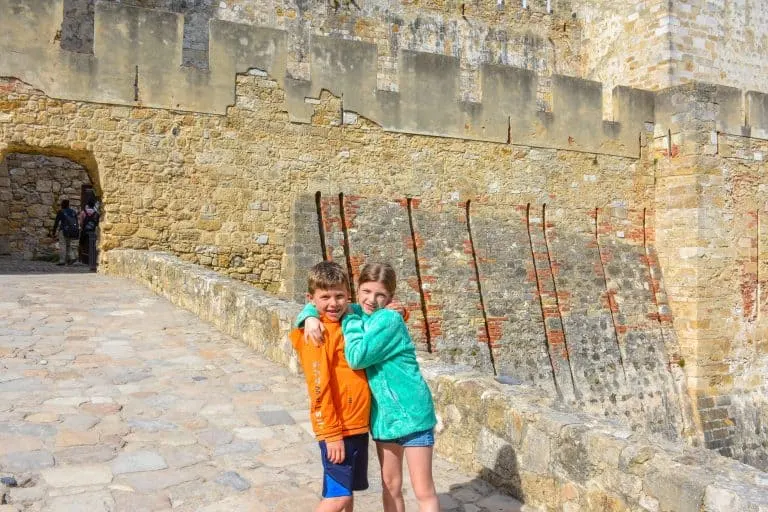 One of the highlights of any visit to Lisbon with kids is taking the tram up to the top of Saõ Jorge hill to explore the prominent 11th century Castelo de Saõ Jorge. It can be a bit challenging to find a tram that goes all the way up so be prepared for a bit of a climb.
Once you've purchased a ticket and entered the castle complex, there's plenty of space to enjoy the views of Lisbon with kids.
My kids loved exploring the ramparts and canons while I chased them up and down countless steps. We even found some peacocks, which were, of course, a highlight for the kids!
Public Transportation in Lisbon with Kids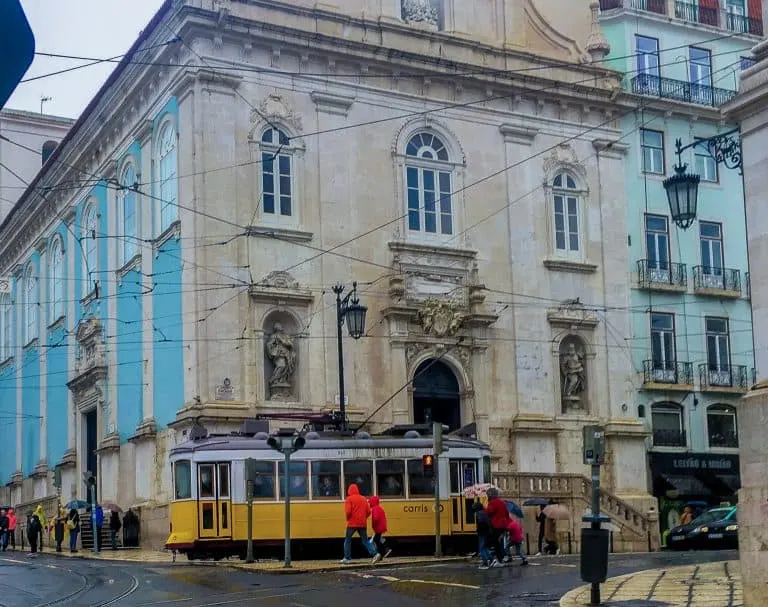 It is necessary to use public transportation to get around Lisbon with kids, especially to visit Belem and the aquarium. While the Metro and bus system have their limits, I found them remarkably easy to use.
The Metro trains are color-coded and have cute little symbols to designate each line. A day pass pays for itself in 4-5 trips, which you might not need on a nice sunny day, but it was easily the right choice for us on a rainy day visiting Lisbon with kids.
Places to Eat in Lisbon with Kids
As with many cultures along the Mediterranean coast, the Portuguese tend to eat later than Americans – though I did find that dining with my daughter around 6-7pm was perfectly acceptable.
For dinner, we chose two quick service dining options within a ten-minute walk from our hotel, Martinhal Chiado: the Palácio Chiado and the Time Out Market.
Time Out Market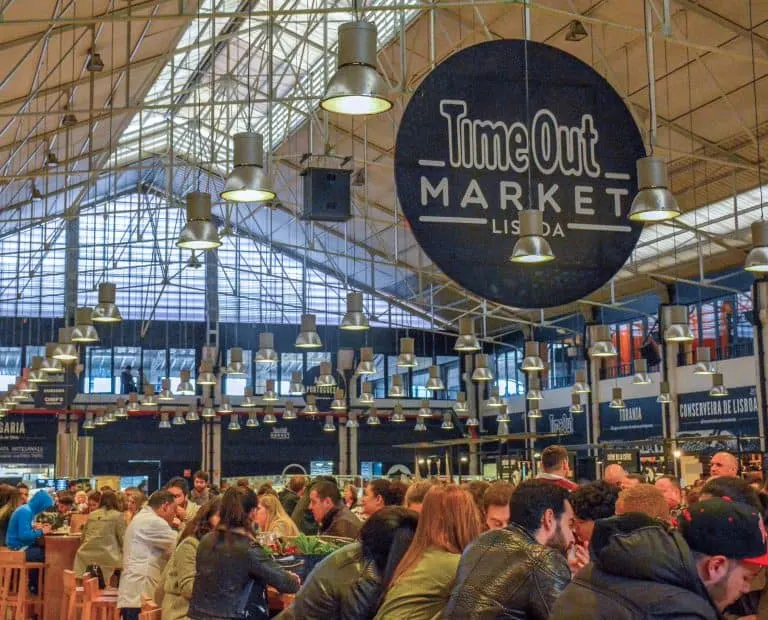 The Time Out Market is a large traditional European market converted into a sophisticated food court. There are about two dozen restaurants from which to choose around the perimeter of the market. Each restaurant serves 5-6 of their specialties. The seating is in the middle of the market.
As I walked into the market, I was a bit skeptical that this arrangement would work for my daughter and me, but, once I found the restaurant serving slices of pizza, my daughter was all set.
At popular times, finding a seat, especially while managing children, can be a bit of a challenge. However, if you like good food and want to try some local specialties, it's definitely worth it. It's a good choice for families on their first trip to Europe.
Palácio Chiado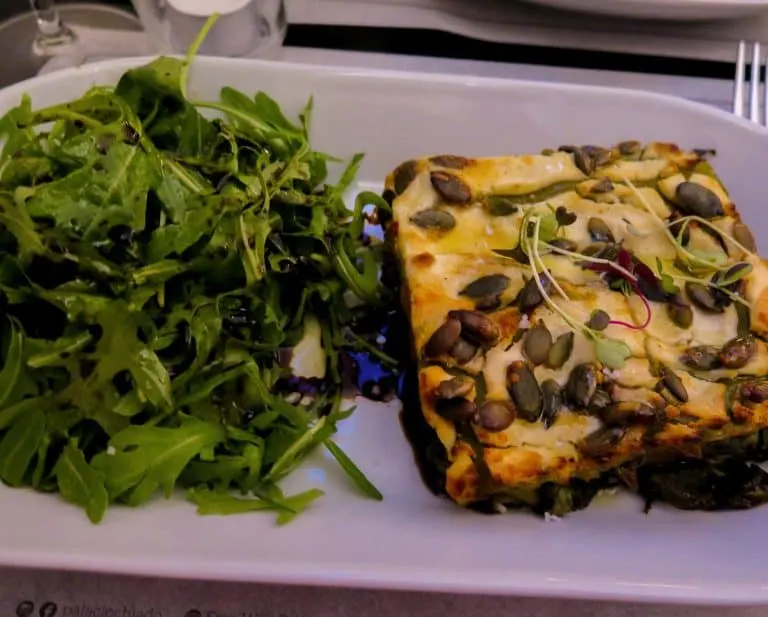 Appropriately the Palácio Chiado is housed in a renovated 18th-century palace that dates to approximately the time of the American Revolution.
The model for food service is similar to the Time Out Market, though there are only five restaurants and a wait staff brings the food to you when it is ready.
Some of the rooms in the Palácio are modern while other maintain features that date back hundreds of years; the staircase adorned with art is particularly spectacular.
Indoor Things to do in Lisbon, Portugal
Portugal is known for its sunny days and sea breeze. And, Lisbon is built accordingly; it's a beautiful place to simply stroll around outdoors. But if you do need to spend a day indoors while visiting Lisbon with kids, like us, there are a couple of options to consider.
Parque das Nações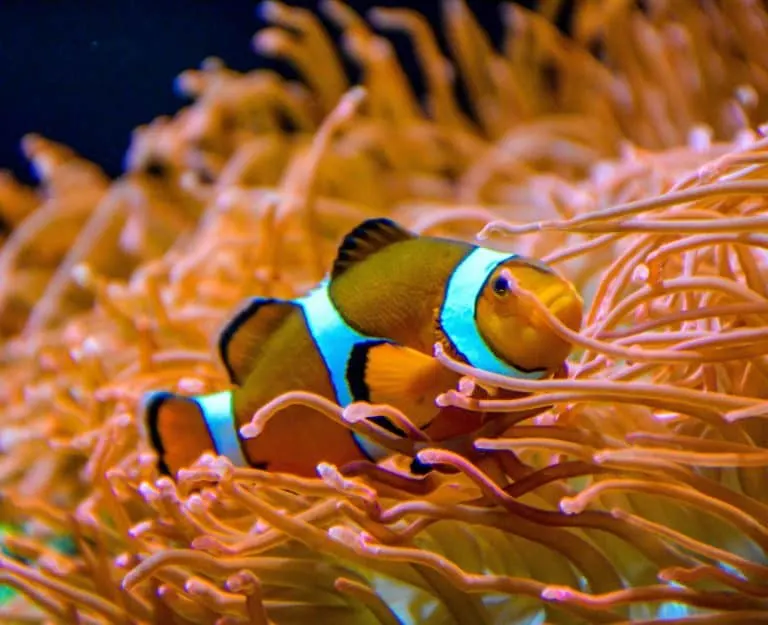 When confronted with a stormy day in Lisbon with kids, every local that I asked said that we should first go to the Oceanário at Parque das Nações, and then on to the neighboring science museum, Pavilhão do Conhecimento – Ciência Viva.
They all proceeded to describe to me the elevated cable car, Telecabine Lisboa, which begins near the aquarium and runs along the river affording scenic views of the area.
All of these sites in the Parque das Nações are conveniently located about a 10-minute walk from the Oriente Metro station through the indoor Vasco da Gama Shopping Mall and an outdoor promenade which would have been gorgeous in just about any other weather.
We arrived at the Oceanário just before noon on a Sunday and found out firsthand how crowded it gets on a rainy weekend in Lisbon. But, once we accepted the crowds, we enjoyed a fabulous two hours exploring one of the top aquariums in Europe.
The aquarium is built around a very large central tank which houses at least a dozen varieties of fish and several species of sharks.
Around the central tank are other exhibits featuring marine life from around the globe including penguins, sea otters, and tropical fish. Yes, Disney lovers will happy to know that it's quite easy to find a whole tank of "Nemo" fish in the tropical oceans section of the aquarium.
Museu Nacional do Azulejo (National Tile Museum)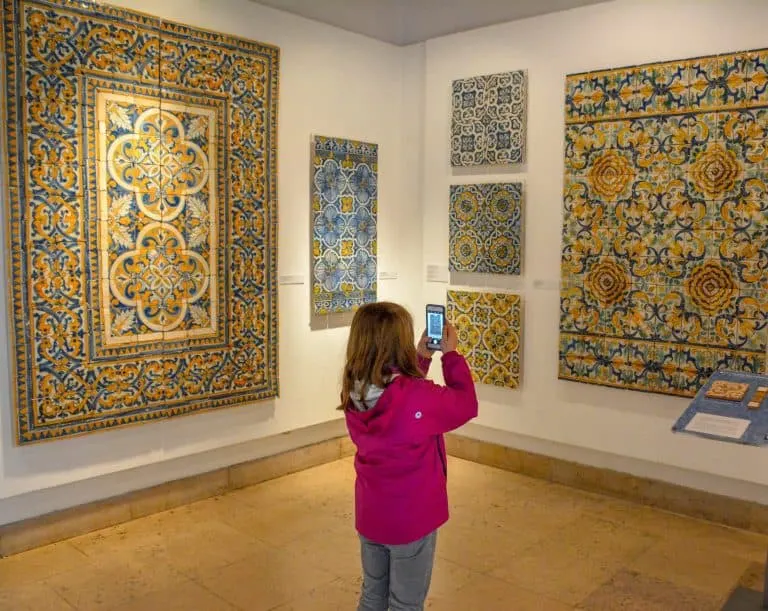 For something more traditionally Portuguese to visit on a rainy day, consider the Museu Nacional do Azulejo, The National Tile Museum. The building features the Chapel of Saint Anthony with intricate 18th-century baroque decoration.
While the museum itself is not particularly child-friendly, my eight-year-old daughter loved the museum so much that she wanted to go through it a second time.
There are finely painted tiles dating from the mid-15th century until the 20th century with detailed and interesting placards, designed for the blind, which visitors can touch to feel the patterns of the tiles on display.
The paintings and carvings in the chapel portion of the museum are the same sort of artwork that is displayed in the most beautiful and historic chapels across Europe.
Take a Trip Out to Belem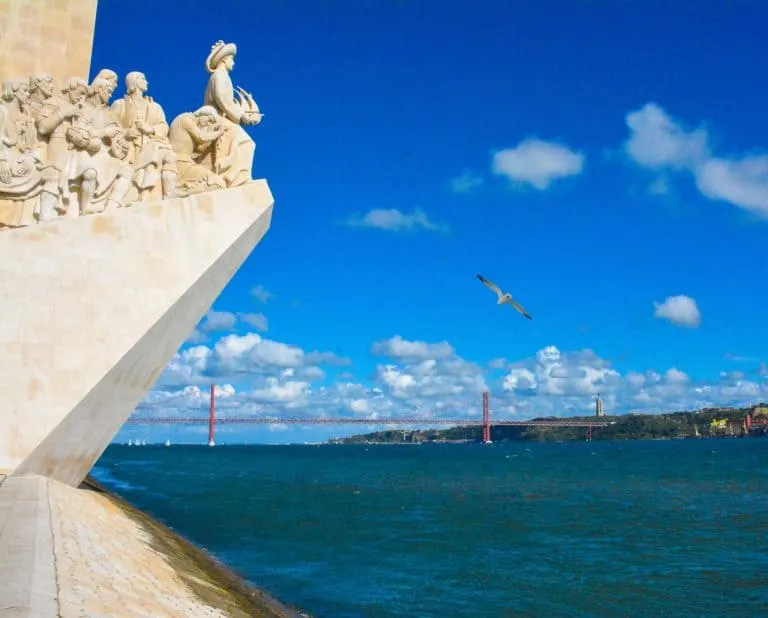 Belém is a district of Lisbon located along the Tagus River. It is a 20-minute tram ride outside of the city center. Belém is a favorite of tourists and families with kids of all ages.
On the bank of the river are two of Portugal's most recognizable monuments: the Belem Tower, constructed in the early 16th century to defend Portugal during the Age of Discovery, and the Monument to the Discoveries built in 1960 to remember the 500th anniversary of Prince Henry the Navigator's death.
Just about a kilometer upriver from these two monuments is the 25 de Abril Bridge. The bridge may look strikingly familiar to many Americans as its placement and color mirror San Francisco's iconic Golden Gate.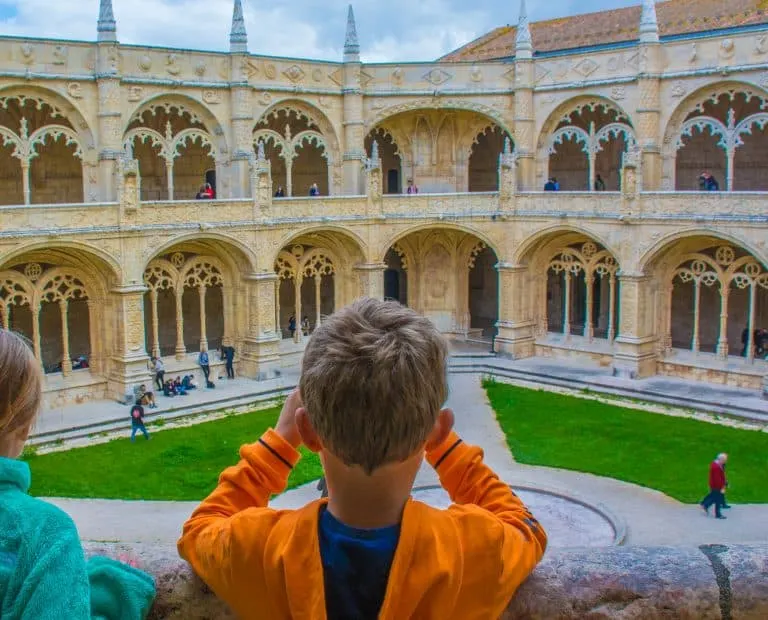 Also in Belém, across the street from the Monument to the Discoveries, is a UNESCO World Heritage site, the Jeronimos Monastery. It is famous for its distinctive Manueline architecture, a combination of European Gothic and Renaissance style as well as African Moorish themes.
Lines for buying tickets to the Jeronimos Monastery are notoriously long. However, there's a reason why it's such a popular tourist attraction; the intricate Manueline architecture of the courtyard and chapel are simply beautiful. My kids loved posing for pictures while admiring the stonework and arches.
Where to Stay in Lisbon on a Portugal Family Vacation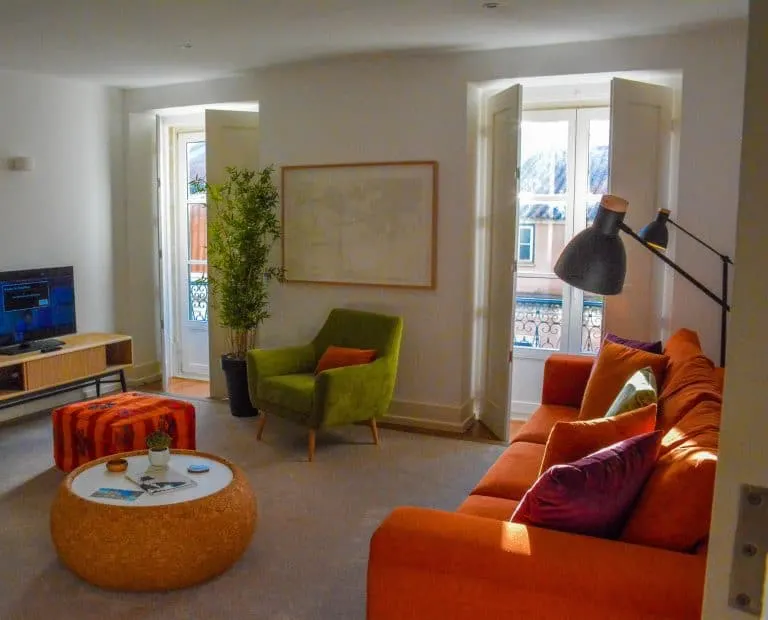 During our days in Lisbon, my daughter and I stayed in a one bedroom apartment at the Martinhal Chiado Family Suites. I can't imagine a more family friendly hotel!
Due to the nature of the building, every apartment at Martinhal Chiado has a unique layout and features. However, each room has a fully equipped kitchen featuring a stove, dishwasher, washer-dryer, fridge, basic dishes, cutlery, pots, and pans.
I loved getting up early, making myself a coffee with the in-room Nespresso machine while letting my daughter catch up on her sleep.
My daughter slept soundly in her bunk bed in an alcove in the hall. I was able to read for a bit on the couch without disturbing my daughter down the hall. Each room also comes with one of the cutest high chairs that I have ever seen.
Of course, parents bringing a baby along on their family holiday should make sure to prearrange all necessities through Martinhal's baby concierge.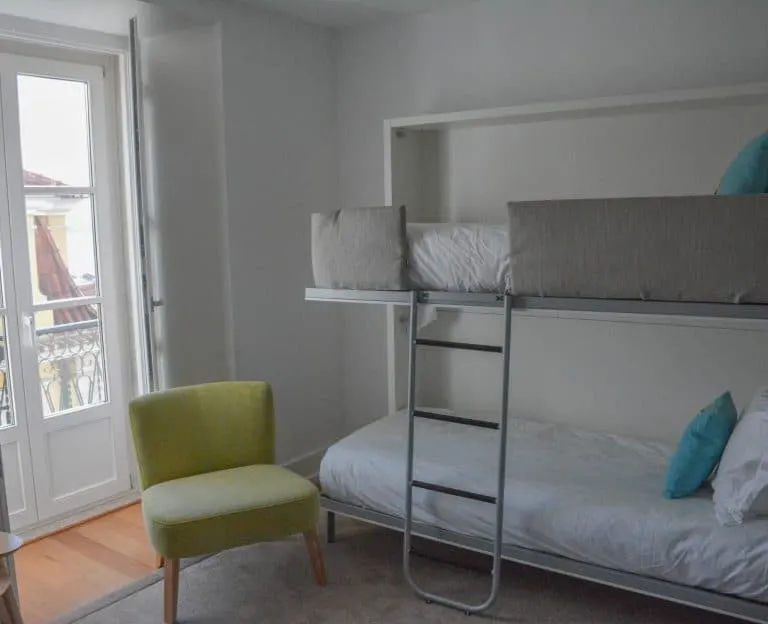 Admittedly, I did not try out any of the kitchen appliances as I prefer not to cook when I travel. So, my daughter and I got our breakfast at the M Bar downstairs.
It offers a classic breakfast of eggs cooked to order, coffee or tea, fresh squeezed juice, pastries, cereal and fruit. This little eatery also serves a light lunch and snacks throughout the day to hungry families.
Childcare at Martinhal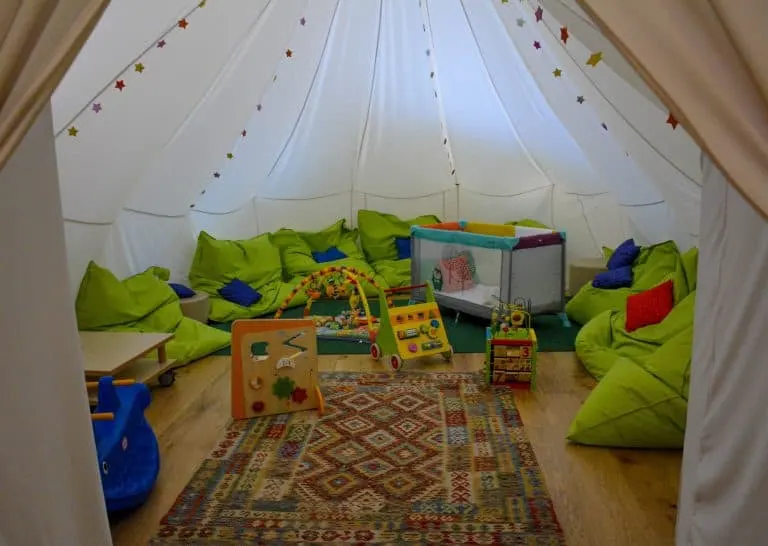 Like the other Martinhal hotels, the Martinhal Chiado offers a Kid's Club for children ages six months and up. There are regularly programmed themed activities for ages 2-5 and 6-9 on a daily basis. (Depending on the season and age of child, these services my require a reservation and/or a fee.)
A Pyjama Club is offered in the evening for dinner-time child care and is available nightly from 5:30-9:30PM; dinner is available for children staying in the pyjama club.
TRYP Lisboa Oriente Hotel
Tryp Lisboa Oriente Hotel, located near Lisbon's Oceanário, is another great hotel choice for families visiting Lisbon. It has spacious family rooms with bunk beds. The hotel also has its own parking garage for families who rent a car .
It has a great location near both the Estação do Oriente Metro stop and the Vasco da Gama Shopping Mall. Families can easily grab a meal at the mall's convenient, modern food court.
Take Day Trips to Sintra and Cascais
Sintra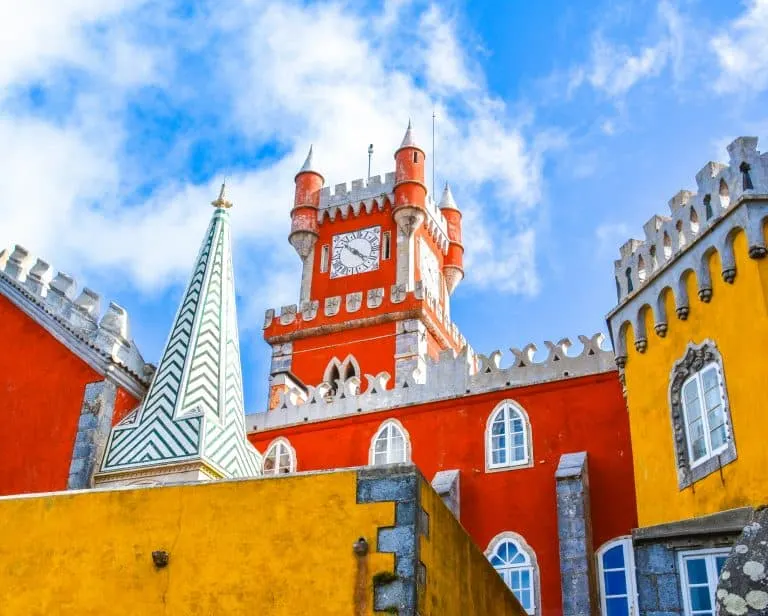 Families planning a visit to Lisbon should definitely plan a day trip to Sintra and Cascais. Sintra has colorful castles and palaces. Cascais has a more laid-back atmosphere, seaside promenades, and beaches. For more tips on visiting Sintra check out how to get to Sintra from Lisbon.
Imagine a colorful, sprawling castle of yellow, red, and blue that looks like it belongs on the children's Candyland game board or in an illustrated version of Alice and Wonderland. This is the Pena National Palace in Sintra, a UNESCO World Heritage Site built in the 19th century Romanticist style.
A ticket to the castle buys you few hours exploring this fantastical building with tile work fit for a Portuguese king.
However, there is so much more to Sintra than just the iconic Pena Palace. There are several other palaces, gardens, and architecturally intricate buildings within a short bus or tuk-tuk ride of the city center.
The Castle of the Moors just opposite the Pena Palace, the Monserrat Palace in the heart of the Sintra mountains, and the Quinta da Regaleira located in the Old Quarter of Sintra.
Of course, city center of Sintra itself is also quite charming — if just a bit touristy. Right in the center of town across from the town square is a pastry shop, Piriquita, selling delicious, traditional Portuguese treats.
Prominently placed in the middle of town is the National Palace of Sintra, the best preserved royal palace in Portugal dating back to the early 15th century.
Cascais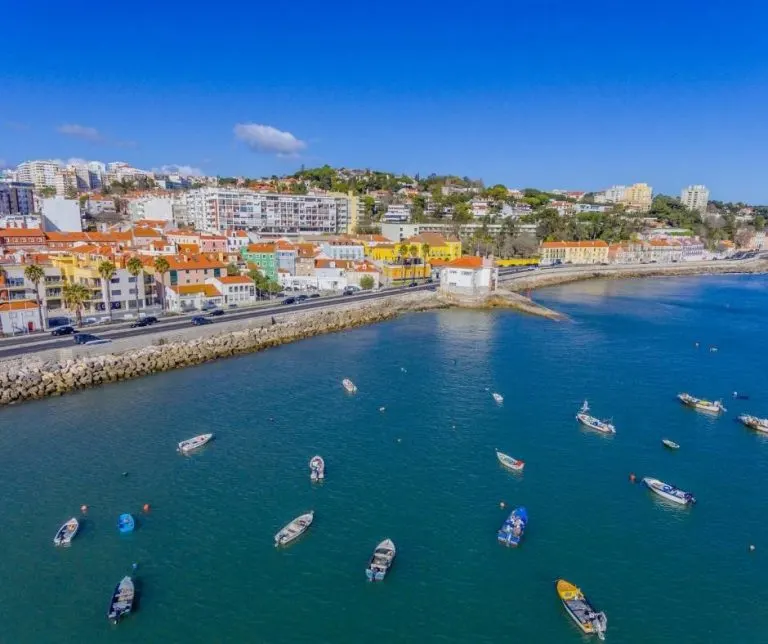 The city of Cascais, Portugal is full of history, family-friendly beaches, and seaside charm. Cascais is only a 30 minute train ride from Portugal's capital of Lisbon.
It has been a summer retreat of Portuguese and European royalty for centuries, and during wartime, home to the secret agents that inspired the stories of James Bond 007.
However, history is not what brings most families to Cascais, Portugal. Families come to Cascais for the beaches, some of the cleanest in Europe, and the seaside promenades perfect for an evening stroll or an afternoon bike ride.
The simplest way to reach Guincho Beach and its spectacular coastline dotted with ruins of ancient forts and batteries is via bicycle. In the summer months, there are many more beaches to explore. Some are just right for surfers and kite-surfing while others are best for tots wading in the waves and playing in the sand.
Cascais, Portugal is also home to several museums, 14 of them to be exact, including Casa Das Historias Paula Rego, which highlights the work of Portugal's most famous artist, Paula Rego.
Disclosure: The author was invited to Martinhal Chiado Family Suites as part of a press trip in conjunction with the first Martinhal Luxury Family Brand Event. All opinions are her own.