I love New York City. And one of my favorite places to visit in NYC is Central Park.
Look for current hotel deals in Central Park
Central Park is massive (843 acres) and chock full of adventure and fun for both locals and visitors alike. Families could honestly spend an entire week exploring Central Park. And while we know that isn't likely the ONLY place you will visit on your trip to NYC, we wanted to fill you in on the awesome, kid-friendly fun that is yours for the taking. Let's explore the fabulous fun you can have in Central Park with kids.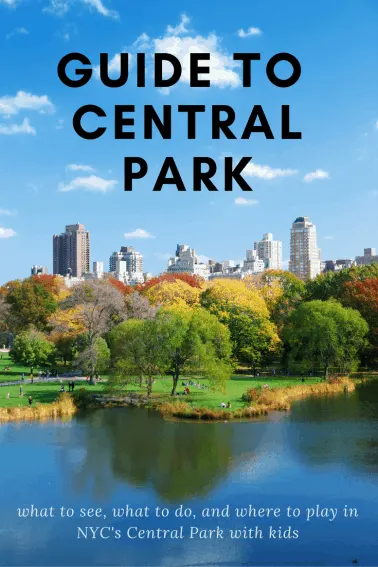 A very special thanks to The Sherry-Netherland for hosting my family's recent Central Park excursion. Their family getaway package includes Central Park activities: the Carousel and the Central Park Zoo. You can read my full review and explore details of this beautiful, historic hotel across the street from the Park.
Family-Friendly NYC: What to Do in Central Park with Kids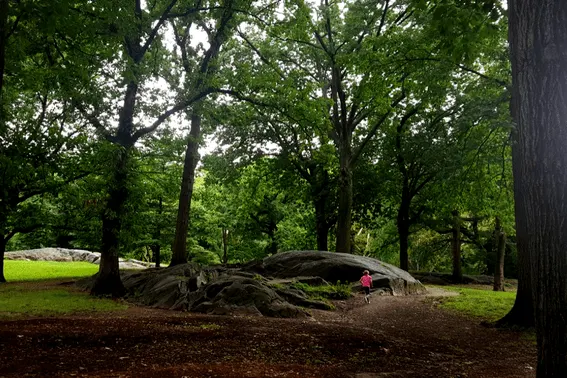 Take a Walk
Free
It may seem obvious, but one of the best things to do while visiting Central Park is to just stroll through the beautiful grounds. With over 58 miles of trails, plenty of open spaces, stunning vegetation, animal encounters, rocks to climb, and sights to see, taking a walk through Central Park is the epitome of a New Yorker's park experience (bring the dog for bonus points). Be sure to wear comfy shoes, dress in layers, and plan on tackling one section of the park at a time. For maps & in-park tips, download the Central Park Conservancy's Exploration Guide with kids activities and suggested routes through the park.
To make the most of your Central Park sightseeing visit, stop by one of the park's visitor centers to snag one of the free Discovery Journals and Discovery Kit backpacks, filled with kid-sized binoculars, field guides to the park's regions, a hand lens for up-close exploration, colored pencils, and sketch paper. How cool is that?
Tip: Free guided walks are available almost every day in the park, and free Discovery Walks for Families are made, you guessed it, just for families like you! Bikes can be rented but must stay off the walking paths.

Visit the Animals at the Central Park Zoo
Cost: $12 adults, $7 kids
The Central Park Zoo is fabulous. I have been to zoos all over the country, and this adorable zoo within Central Park is just small enough for a short, hour or two visit, but just large enough (and well-planned) that everyone will seriously enjoy the exhibits. The children's zoo, included with your admission, is hands-on and oh-so-fun, while the red panda exhibit will draw out every adorable "ahhh" from your vocabulary.
Tip: If you don't live near either coast, don't miss feeding time with the resident sea lions. Trainers interact with the animals in this educational "show" that is worth the cost of admission alone.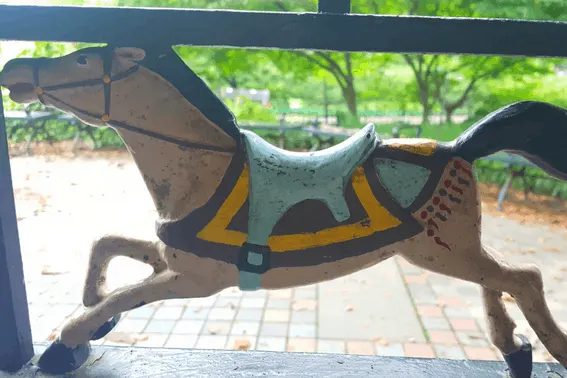 Take a Ride on the Central Park Carousel
Cost: $3/ride (cash only)
For a nostalgic spin through Central Park, you must take your kiddos for a ride on the Central Park Carousel, a park favorite since its original opening in 1871! Kids can choose their steed, one of 57 hand-carved horses, or hop on the chariot for those wanting an easier ride up and down through time.
Tip: Parents, be sure to check out the creepy clown images inside the carousel base itself. You'll find yourself wondering about the artist who designed the carousel. Kids likely won't pick up on the oddity.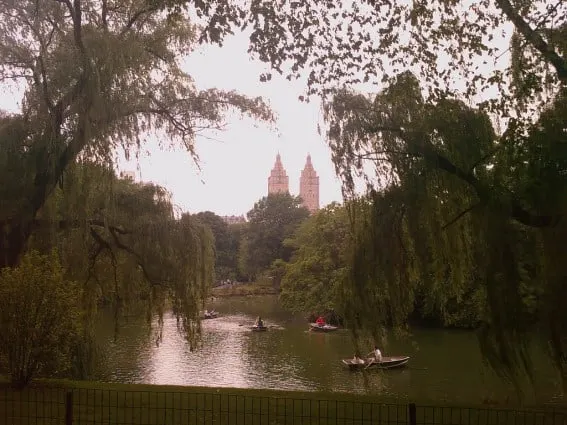 Row, Row, Row Your Boat from Loeb Boathouse
Cost: $15/hour (cash only)
Enjoy the park from the waterfront with rowboats (or gondolas) on the lake at the Loeb Boathouse, open spring through fall. This perfect warm-weather activity is a photo-op jackpot, so be sure to dress the kiddos in cute clothes.
Tip: Only 100 boats are available, so arrive early (open at 10am) on busy weekends or holidays to avoid a wait.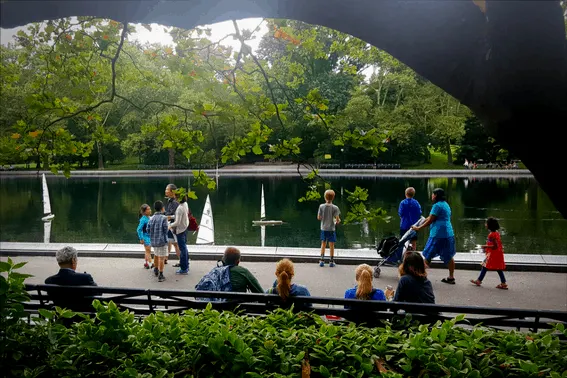 Sail the Park
Cost: $11/30 minute rental
If hopping in a rowboat seems a bit too strenuous for you, consider renting a model sailboat with Sail the Park at the Kerbs Memorial Boathouse in Conservatory Water. This time-honored tradition has been a family favorite for more than 140 years as the boats themselves are powered by the wind (although the remote controls that move the sails are a bit more modern).
Tip: Parents can watch their kiddos from a distance while enjoying a snack or a glass of wine from Le Pain Quotidien (the daily bread) snack shop that overlooks the pond. The outdoor seating area is shaded and quite lovely.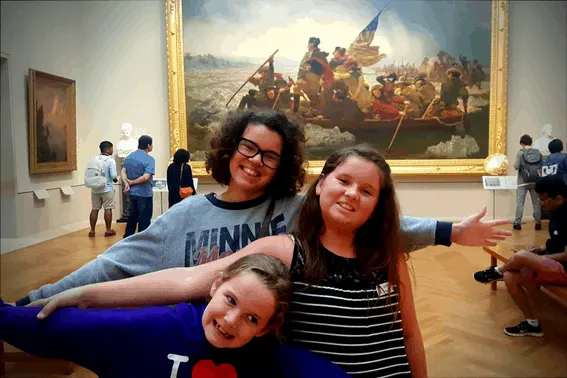 Explore nearby Museums
Cost: Varies
The Metropolitan Museum of Art, where your family can explore literally thousands of pieces of artwork, is located in the eastern part of the park, just above the 79th Street Transverse. Just outside the park, within close walking distance is The American Museum of Natural History and the New York Historical Society (across Central Park West at 77th), the Guggenheim (across 5th Avenue at 88th Street), the Jewish Museum (across 5th Avenue at 92nd), and El Museo del Bario and Museum of the City of New York (across 5th Avenue at 104th), among others.
Check for hotel availability in Central Park
Tip: If you plan on visiting a few museums during your trip, pick up a New York CityPASS that can save you money (and time in line!) while visiting.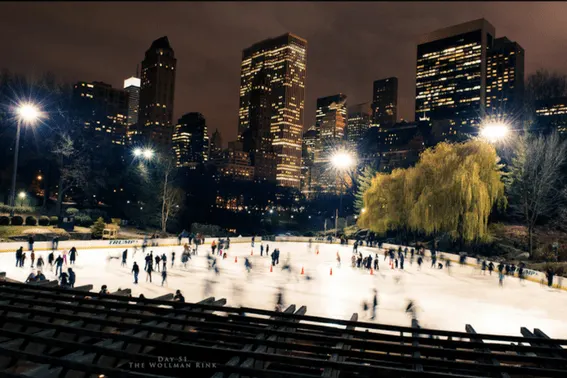 Image by: Flickr/thezartorialist.com
Skate on (thick) Ice
Cost: from $8.50/adults, $4.50/child
Throughout the winter months, park visitors have two options for outdoor ice skating, Wollman Rink and Lasker Rink. Wollman draws most of the crowds thanks to its picturesque backdrop, but Lasker is a more economical option for families looking for a deal.
Tip: The trees on the Harlem Meer are lit every holiday, a must-see if you are in NYC during the month of December.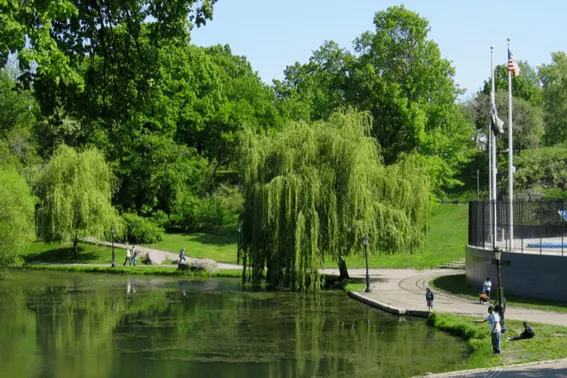 Photo by: Flickr/InSapphoWeTrust
Catch a Fish (& then Release It)
Free
Harlem Meer, the most northern body of water in the park, is home to a variety of fish including largemouth bass, sunfish, carp, and pickerel. Complimentary fishing poles and bait (as well as instruction) are available for families wanting to try their hand at angling from The Charles A. Dana Discovery Center, located just north of Harlem Meer.
Tip: Although fishing is available year-round, Harlem Meer does close for fishing due to certain wildlife situations, including the presence of algae. Call ahead for closures.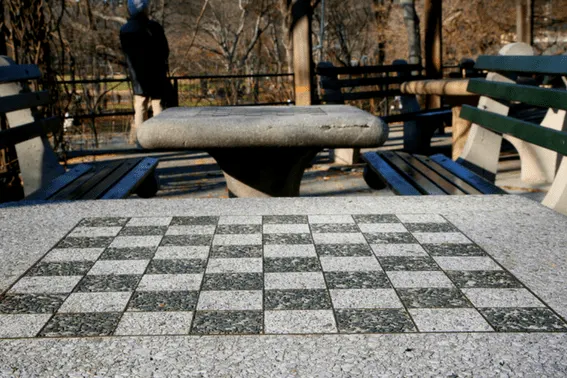 Photo by: Flickr/sfllaw
Play an Organized (or unorganized) Game
Free
It wouldn't be a park in many people's eyes without the option to play an organized game of some sort. From playing board games at the Chess & Checkers House to snagging a complimentary Field Day Kit with a variety of balls, bats, frisbees, and jump ropes at the North Meadow Recreation Center, there is a game for every park visitor.
Tip: You won't find kites in the Field Day Kits, but kite flying is a great activity for the open spaces throughout the park. Pick one up in advance, they are hard to find in NYC.
Photo by: Flickr/torbakhopper
Ride Atop a Horse-Drawn Carriage
Cost: from $54
One of the most leisurely ways to explore the park, a horse-drawn carriage ride is one for the memory books. Families can ride together while enjoying the views throughout the park.
Tip: Advance reservations can be made but require an additional (ugh!) reservation fee. The carriage rides do not operate in extreme weather conditions.
Swing, Slide & Play in Playgrounds
Free
To the rejoicing of kids everywhere, Central Park knows what kids want in a park: playgrounds! Central Park actually boasts TWENTY-ONE individual playgrounds, all with their own personality and activities. Standouts for families include Heckscher Playground, the oldest and largest in the park, with a climbing wall and water features; Tarr-Coyne Tots Playground, designed specifically for the youngest park visitors; Mariner's Playground, featuring an interactive nautical theme with decks & ladders; Ancient Playground, inspired by the Met's Egyptian collection; Robert Bendheim Playground, accessible for kids with disabilities; and the Tarr-Coyne Wild West Playground, themed as it would sound.
Tips: There is a playground around nearly every bend in the park. Parents should negotiate a playground plan or the kiddos will want to stop at every single slide, swing, and climbing structure throughout a trip through the park.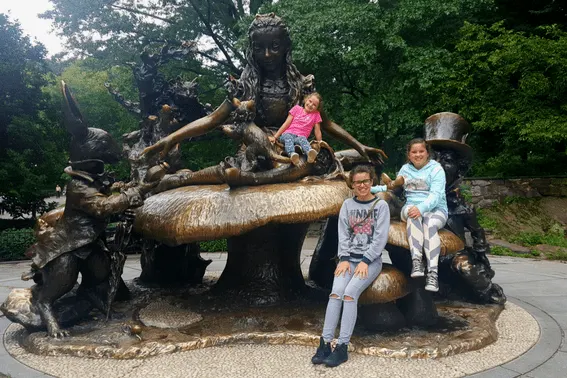 Climb on the Park's Sculptures
Free
Families will find an impressive amount of unique sculptures throughout central park. Kids will get a kick out of the Alice in Wonderland statue (they can scamper up on the giant mushroom), Balto the dog (perfect for "riding"), Mother Goose, the Hans Christian Andersen statue, the Alexander Hamilton statue (hello, Hamilton fans!), and the numerous figures lining the Literary Walk. Bethesda Fountain boasts not only a lovely statue on top but great views of The Lake on the terrace.
Tip: Most all of the statues have an audio tour that can easily be dialed from any cell phone. The information is read by celebrities and it is quite entertaining (and educational).
Photo by: Flickr/jiuguangw
Explore Nature at Belvedere Castle
Free
Although not a true castle, the 1865 Belvedere Castle does boast turrets with winding staircases to climb and beautiful park views. Inside, kids can don their scientist hats by learning about the work of naturalists in the park. Microscopes, telescopes, weather reports, and even paper mâché renderings of park birds are inside The Henry Luce Nature Observatory, located inside the castle.
Tip for when kids "gotta go:" Restrooms are located throughout the park (there are more than 20 of them, although not all of them are open year-round). As one would expect, the level of cleanliness varies.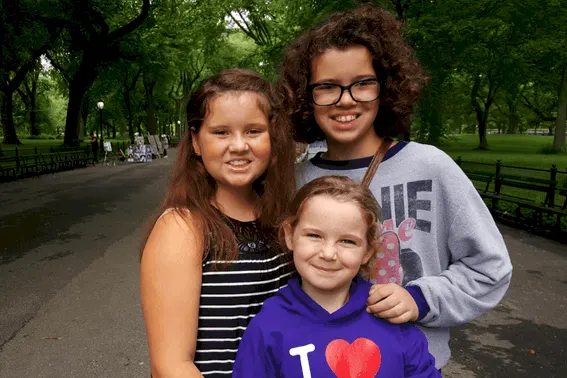 Stroll the Mall & Literary Walk
Free
Although young kids will likely see this walk only as a pathway between playgrounds, The Mall and Literary Walk is that quintessential NYC park view you've seen in pretty much every NYC movie. Bribe your kids with a treat and people watch here while they snack.
Tip: Send older kids on a scavenger hunt to find the "odd man out," one of the statues near the literary walk that doesn't quite fit the pattern. Hint- it's randomly Christopher Columbus.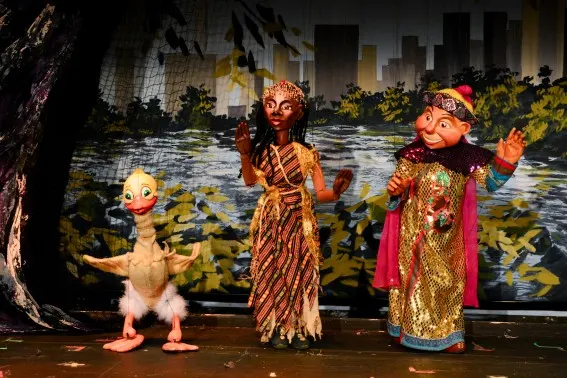 Photo by: Justina Wong
Watch a Performance at Swedish Cottage
Cost: $12/adults, $8/kids
Take the kids to see an old-fashioned marionette show at the Swedish Cottage inside Central Park. The cottage was imported from Sweden in 1876, while the company produces its own, original works based on fairy tales of old. Your kids will love it!
Tip: Visit the Swedish Cottage during the holidays for event packages that include fun workshops for the kids.
Photo by: Flickr/edenpictures
Seek Miniature Thrills at Victorian Gardens Amusement Park
Cost: $8.50/entrance plus $4/ride (unlimited wristbands available)
If you haven't had enough fun and adventure during your visit to Central Park, take a quick trip to Victorian Gardens Amusement Park, located in the Wollman Rink during the summer months only. Families here can ride 13 old-fashioned, carnival-style rides geared mostly for younger children, with only one ride above a 42" height minimum.
Tip: Pricing increases (as do the crowds) on weekends and holidays. Kids under 36" get in free.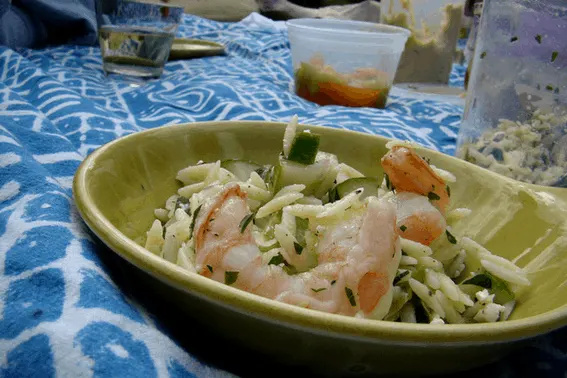 Photo by: Flickr/istolethetv
Plan a Picnic (or Grab Lunch in the Park)
Central Park offers pretty much every form of dining opportunity from in-park vendors selling famous NYC hot dogs and goodies to walk-up cafes, full-service restaurants, and of course, the opportunity to pack and eat a picnic. Full-service restaurants include Le Pain Quotidien (where you can watch the sailboats at Conservatory Water), The Loeb Boathouse Restaurant (perfect for a post-rowboat-pick-me-up), and Tavern on the Green, the iconic fine-dining restaurant with impeccable views.
Look for the best hotel prices in Central Park
Tip: Don't have a reservation but have a hungry toddler? Both the Loeb Boathouse and Tavern on the Green offer to-go windows where you can quickly order and take your meal to enjoy throughout the park.
Check the Central Park Conservancy website for tips, tricks & detailed information on everything Central Park.