I watched her sky blue rain poncho ascending up and up. With her short legs, my little girl tackled each stair with a fearless determination as we ascended high into the canopy of the Choco-Andean cloud forest. Emerging above the trees 85 feet in the air, the sheer vastness of green surrounding Mashpi Lodge made me gasp.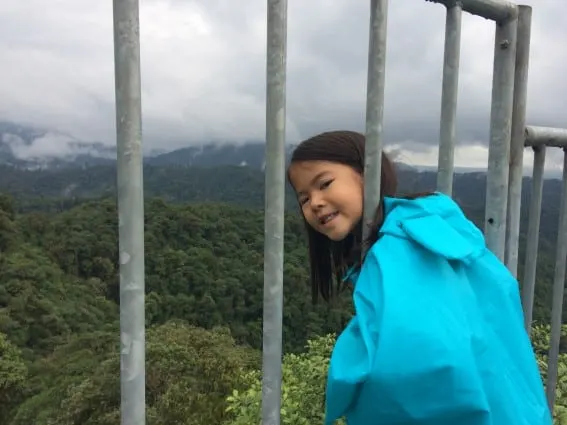 The tall observation tower we were standing on seemed to shrink into a matchstick sculpture. The air, moist and cool like a soothing herbal compress. I had to pinch myself to remember we were in fact standing on the equator in the tropics.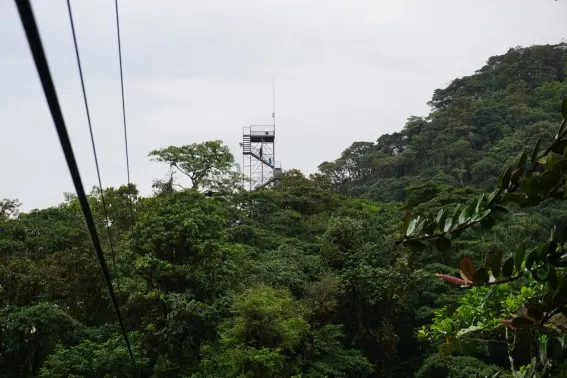 "Heelloo, Paa-paa!" she hollered, waving frantically. Her little eyes had spied the faint line of a cable in the distance suspended between the trees far below. Squinting, I could barely make out the teeny box suspended on the cable, with two people peddling along in an odd tandem foot-powered Sky Bike. But, we heard them loud and clear, "Heelloo! I can see you!" And in a flash, she was ready to descend back into the belly of the cloud forest. It swallowed us in and beckoned us to stomp our wellies in mud puddles, fondle fuzzy sopping wet moss, and play peek-a-boo with insects, birds, reptiles, and amphibians.
A special thanks to Metropolitan Touring who offered us a media rate to allow us to experience the wonders of Mashpi Lodge first hand. But our ear to ear smiles and opinions are entirely our own.
The Magic of Mashpi Lodge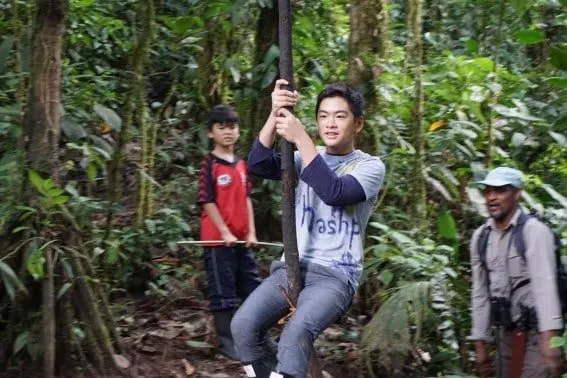 Mashpi is a 3,000 acre private reserve located three hours north of Ecuador's capital, Quito. This luxurious modern lodge is nestled in what feels like complete seclusion at 3,117 feet above sea level enveloped by a magical cloud forest. Mashpi Lodge maintains the highly distinguished status as one of National Geographic's Unique Lodges of the World and was recognized on the Condé Nast Hot List and Travel Leisure's It list in 2013.
The drive from Quito winds through small mountain villages and finally down a dirt road. The vegetation gets denser and denser as you get further and further into the reserve. It's a surprise when your car finally halts at the entrance of Mashpi Lodge because you can barely make out its clean modern silhouette beyond the misty veil.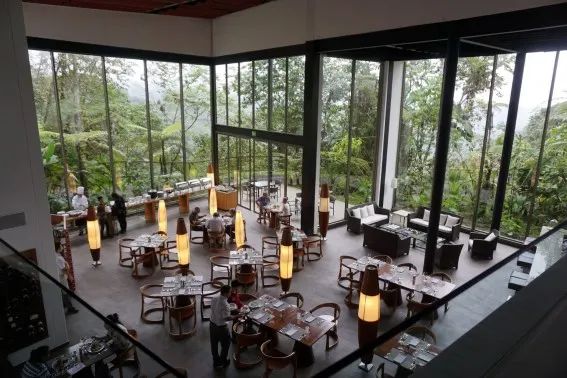 As soon as we step out of the van, we were greeted by a welcome chorus of chirping birds, whistling crickets, and the pitter patter of dew dripping from one leaf to another. We were also greeted by the warm staff of Mashpi Lodge and ushered into the lobby with refreshing towels and cocktails (non-alcoholic ones for the kiddos). The lobby is spacious and minimalist, the architecture bows to the beauty of the forest, taking a backseat so you can appreciate the living art framed within each floor-to-ceiling picture window.
Book your trip to Mashpi Lodge
Mashpi Lodge – Architecturally Astounding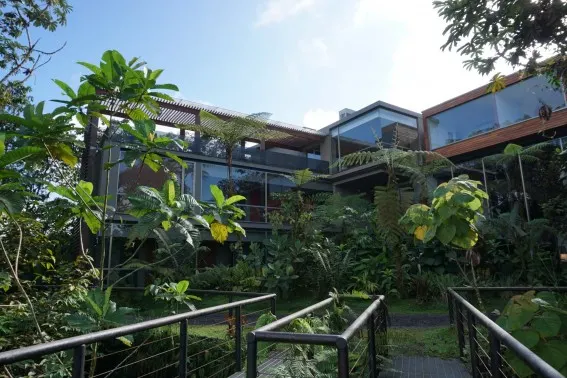 With just 24 rooms, the staff of Mashpi Lodge aim to pamper every guest. While you may be in the middle of a cloud forest, miles away from the next village, and surrounded by creatures great and small, at Mashpi Lodge, luxury meets adventure, there is no roughing it out whatsoever.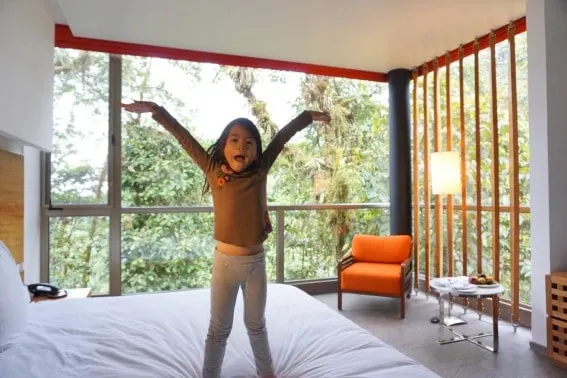 Our family's interconnected rooms were spacious, modern, and understated. The wall of glass made us feel like we had stepped into a glass terrarium except that the creatures were living on the outside of the glass while we were nestled safely inside our bubble. In the morning as the sun rose, we could see birds flying from branch to branch, examine the intricate woven textures of leaves, vines, and branches just out of reach, and spot agoutis creeping along the forest floor. At night, fanciful insects, hypnotically drawn to the light of our "glass bubble" splayed themselves out for our curious eyes to examine their underbellies.
Check for availability in Mashpi Lodge
The Mashpi Experience Tailored for Kids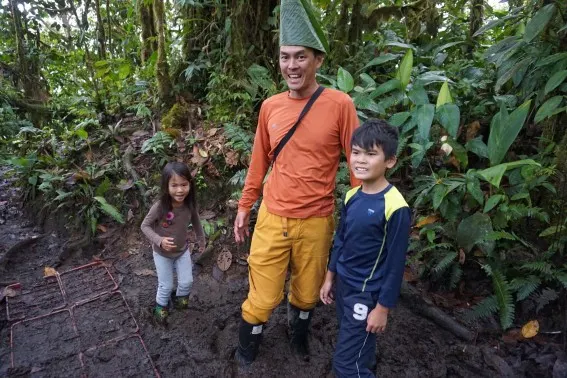 What makes the Mashpi experience exceptional for families are the delightful expeditions tailored to the interests and physical fitness of each guest. Even the youngest are catered to and much thought is given as to how the day's experiences will engage each child. Our guides truly went out of their way to get to know our kids by name, discovering what would delight each child, and ensuring that the expeditions kept pace with the kids.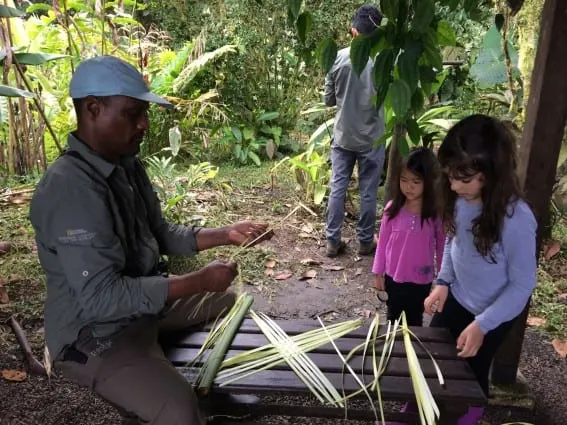 For example, when our guide, Jose, saw that our 6-year old really loved crafts, he sat for an hour showing her how to weave a mat out of leaves while our boys marveled at an army of ants devouring a live spider. Instead of boring us with facts about the forest, we simply explored with our hands and feet. We touched, we built, we listened. When we got tired, our guides waited, distracted, and even gave rides.
Bird-watcher's Paradise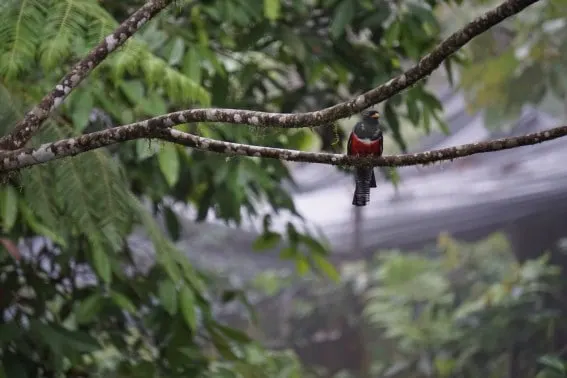 Every morning at the crack of dawn, guides gathered with guests before breakfast to watch a myriad of birds singing their morning songs. The Choco forest is home to about 400 species of birds, 36 of which are endemic.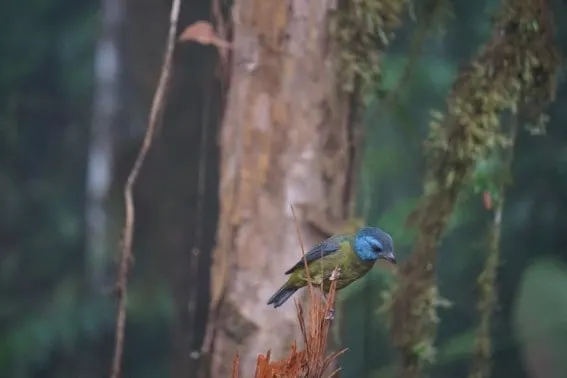 It's no wonder that Mashpi Lodge is a mecca for die-hard bird watchers, but even if you are not, the guides will help you spot these flighty friends using scopes and binoculars set up on the roof terrace. Each morning, we were able to see about 20 different birds within the hour.
Unique Perspectives on the Sky Bike and Dragonfly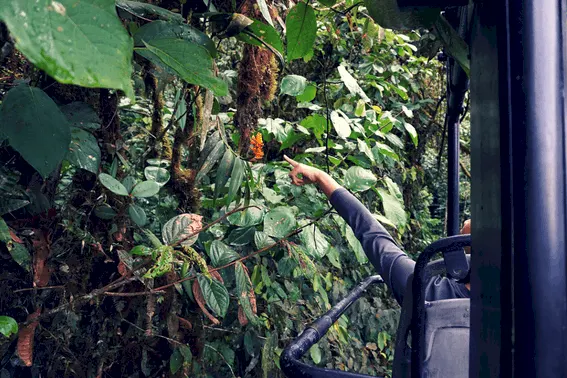 After breakfast and again after lunch, expedition guides fitted guests with rubber boots and lead their little groups on adventures into the forest. We rode both the Sky Bike and the Dragonfly. Both afforded us a wonderful bird's eye view of the forest from high in the canopy.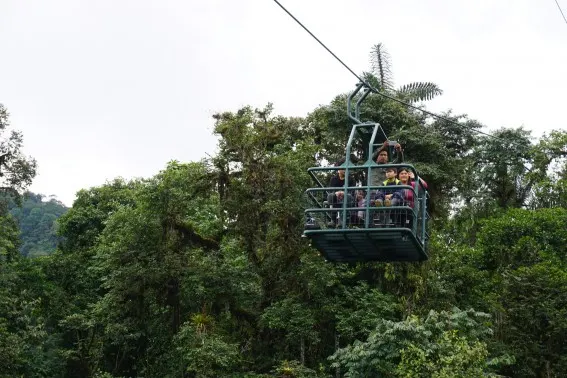 The Sky Bike is a human powered bike suspended on a cable. You can start and stop the bike as you desire. The Dragonfly is an electric powered cable car spanning 1.2 miles and travels at a leisurely pace. It's great for all ages. We enjoyed both experiences equally and loved the slow pace of the rides that allowed us to observe even the smallest bromeliad blooming behind pizza-sized leaves.
Hikes for Tykes and Older Kids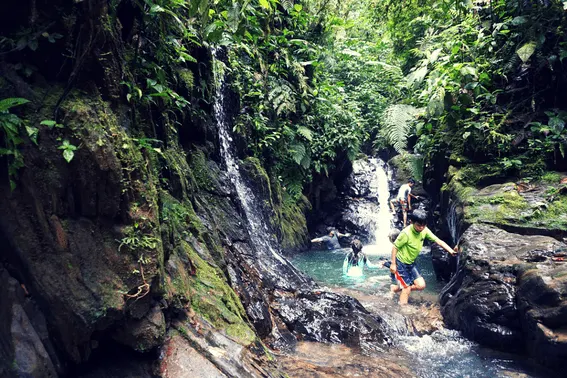 Our kids loved the hike we took through a shallow and crystal-clear forest stream that ended up at a swimming hole. The kids promptly stripped down to swim suits and plunged in without a second thought to the cold. They squealed with delight until they were too cold. Thankfully our guides had towels and snacks ready. Clearly, they had done this hundreds of times before.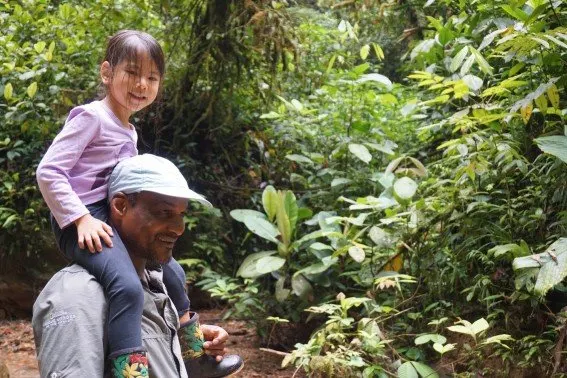 The hiking trails around Mashpi are well defined and maintained, but this is, after all, the cloud forest and vegetation is dense and the ground is always moist. As a parent, I was glad to be with two strong local guides who had grown up in these forests and know their way around its trails like the back of their hands. Our 6-year old was also very happy to ride on their shoulders when the hiking got a little too much.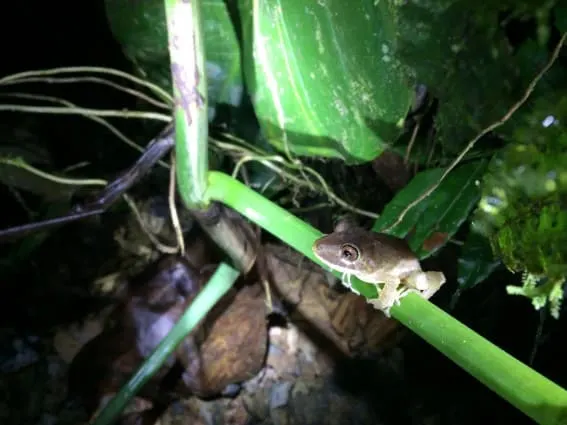 One evening, before dinner, we went on a night hike. Put a bunch of kids in a shallow stream after dark, give them flashlights, and you have an sure recipe for exciting memory making. Tell them to start searching for elusive frogs and bugs and you won't be able to squelch their excitement. I am not sure how our guides did it. Somehow, above the cacophony of other night sounds and noisy children, they were able to spot the tiniest frog camouflaged between the leaves – just by listening to the unique calls made by these tiny creatures.
The Hummingbird Garden and The Life Center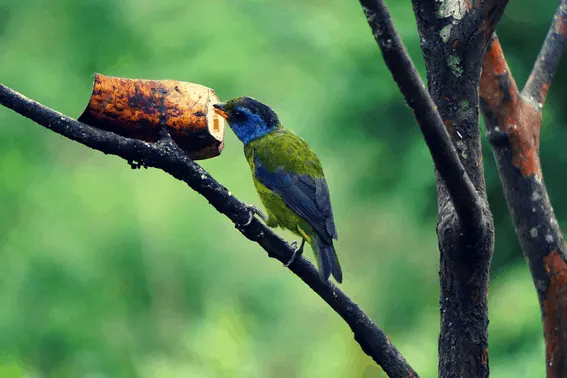 Mashpi is vast and exploring all 3,000 acres by foot would be challenging. Fortunately, there are a few areas that have been developed to entice out the wildlife. At the hummingbird garden we sat for hours watching these colorfully hyperactive birds dance from feeder to feeder.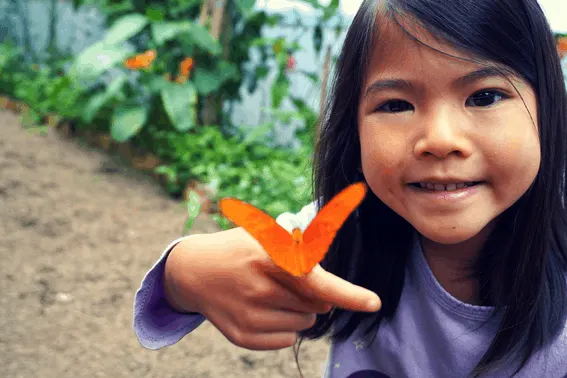 At the Life Center, we had the opportunity to talk to Mashpi's resident biologist about the butterflies he was raising and studying. We also watched as different birds and animals came to eat fruit in front of the observation deck.
Look for the best price in Mashpi Lodge
Ecuadorian Gastronomy at its Best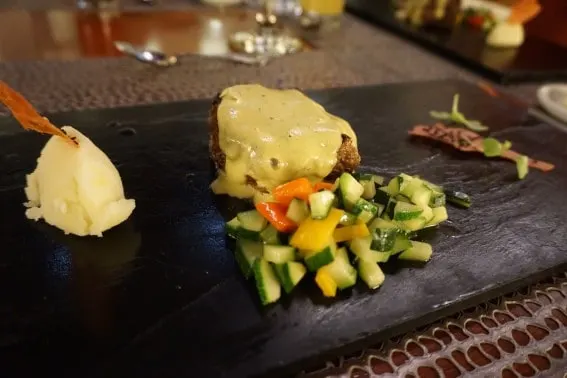 Probably the most surprising thing about our stay at Mashpi Lodge was the delicious traditional and modern Ecuadorian cuisine we enjoyed. While we came primarily to experience the wildlife, the food made a huge impression on us as well. Mashpi Lodge is located midway between the ocean and the mountain peaks. Their fine dining menu features the best ingredients from the ocean and the land while celebrating the Choco forest's unique ingredients like wild mountain garlic, manioc, and Salak (snake fruit).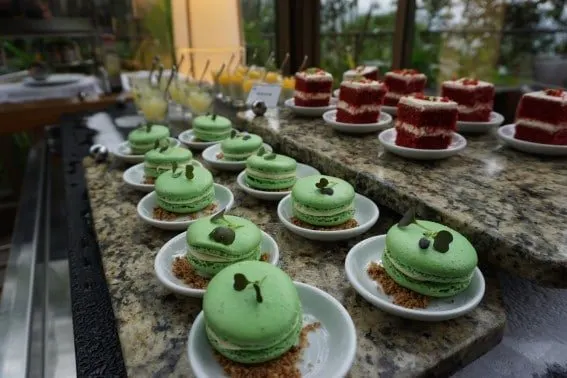 The preparations creatively employ local ingredients with modern gastronomic techniques to present a unique menu that can only be experienced at Mashpi Lodge. Traditional dishes such as ceviches were served at lunch time. Each meal we enjoyed was as much a part of the Mashpi experience as the daily expeditions into the forest.
Photos in the post are by Brennan Pang and LiLing Pang. Trekaroo's content contains affiliate links to help run our generators and keep our servers running.