Interested in traveling to Costa Rica? Consider checking out some of the best Eco-lodges. I first traveled to Costa Rica 17 years ago as a young, single woman looking for an adventure. Now a mother of two, and ready to bring international travel back into my life, I was more than worried that returning to Costa Rica would be a different experience than my first trip; and not different in a good way. Three million tourists visited the country last year; how could Costa Rica eco-lodges sustain the country's beauty while more and more people explore it? The answer lies in two words: ecotourism and sustainability.
Ecotourism: tourism to places having unspoiled natural resources, with minimal impact on the environment being a primary concern.

Sustainability: the quality of not being harmful to the environment or depleting natural resources, and thereby supporting long-term ecological balance.
One of the top biodiverse regions in the world, Costa Rica has many things to be proud of. From their 96% literacy rate to their soccer team climbing the ranks among the most notable of teams, the Costa Ricans I spoke with beamed with pride over their nation's accomplishments. But they are most proud of Costa Rica's success in ecotourism, the result of long-range planning and excellent education, and Costa Rica eco-lodges are leading the way. With 70% of the land mandated by law to remain untouched, and 28 National Parks, reserves, and wildlife refuge, this little country located in Central America, has a big heart.
Featured image by: Bigstock/jschultes
What Is Being Done
"Costa Rica is the world's nature sanctuary. Her strong vision, great planning, and unbending commitment to protection and sustainability is not just a gift to its people, but to the world. During my recent visit, I was blown away by its incredible biodiversity and the ease with which we could see some of the rarest creatures like the Resplendent Quetzal. This is a bird that eludes ardent birdwatchers throughout the rest of Central America. As a testament to both public and private efforts, in Costa Rica's Monte Verde Forest Reserve (Reserva Biológica Bosque Nuboso Monteverde) we were able to watch a mom and dad pair in all their beauty going about their dance of caring for their new baby. It's an experience I will treasure forever."

– LiLing Pang, Trekaroo Co-founder and CEO
The Costa Rica Tourism Board (ICT) has established the CST (Certification of Sustainable Travel) that awards companies and tourist destinations with "leaves" or level markers (instead of stars) for helping to leave less of a carbon footprint. With everyone working towards the common goal, Costa Rica's aim is to be the first carbon neutral country in the world by 2021. I was able to see firsthand some of the steps that are being taken to keep Costa Rica beautiful for future generations.
Exploring Costa Rica Eco-Lodges
Finca Rosa Blanca – 5 Leaves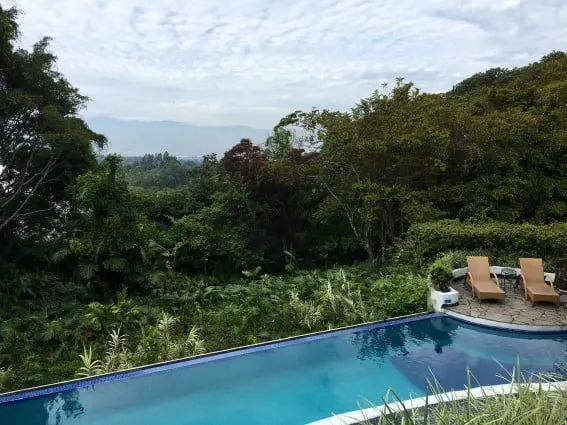 Located in the Central Valley of Costa Rica, 4000 feet above sea level, Finca Rosa Blanca Inn and Coffee Plantation has thought of almost everything when it comes to "going green." From their chemical-free pool (overlooking the entire valley), compost collections in rooms, and organic coffee plantation on site, Finca Rosa Blanca is a boutique inn that cares about the smallest environmental impact. This is evidenced in a small way by their biodegradable straws in the inn's restaurant to a much grander community impact with their commitment to 100% local hire.
Check for hotel availabilities in Finca Rosa Blanca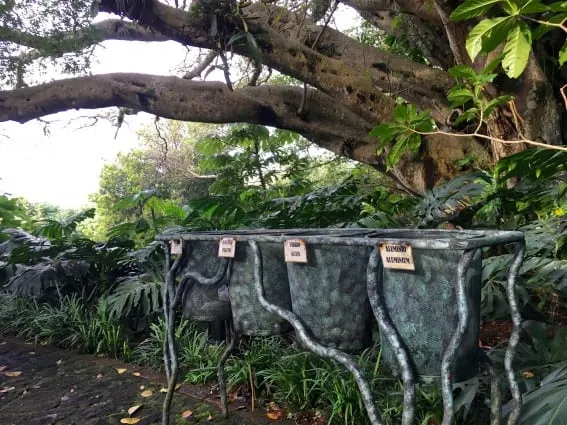 Costa Ricans are taught at an early age the importance of sorting waste materials. The camouflaged wastebaskets along paths at the inn help guests join in on the recycling as well. It's just one example of how Finca Rosa Blanca is making it easy to be green.
The Golden Bean: Finca Rosa Blanca's Organic Coffee Plantation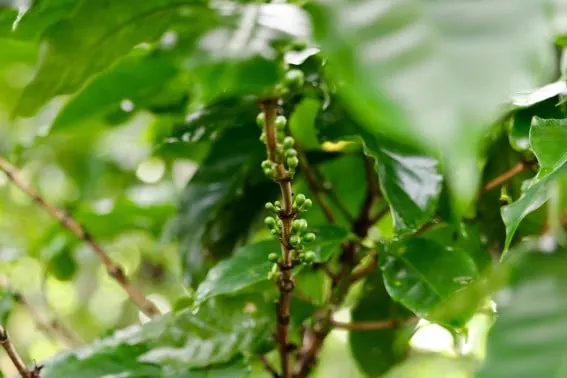 Finca Rosa Blanca isn't only about changing the country through their sustainability efforts; their organic coffee plantation is changing how the world views coffee. Costa Rica is the world's 13th largest coffee producer. Our guided tour through the plantation showed what a little foresight can do when it comes to producing coffee.
The area around the inn was mostly clear-cut when the owners (2 Berkeley grads) came in the mid-1980s. They dug in and replanted the surrounding forest, along with a working coffee plantation. The organic plantation has no pipes, using the daily rain and natural irrigation of banana plants, and other trees to provide shade. In doing so, native birds have returned to the new growth. On the tour through the plantation we were able to see where the coffee beans are grown, hand-picked, and dried out. Every detail on the plantation is carefully considered for its impact on the land. Even the hard wood of the coffee plant is later used for burning in kitchens to help infuse coffee flavor into rotisserie chicken.
Coffee Cupping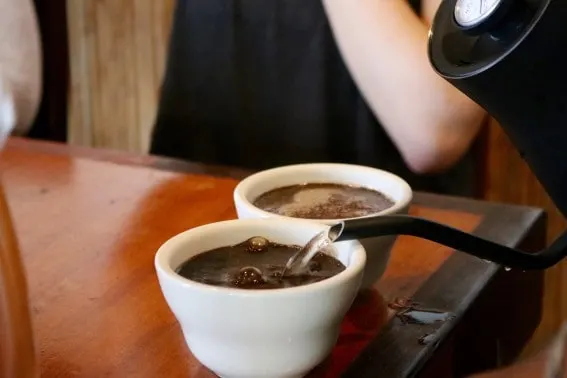 Coffee Cupping allows the taster to experience different roasts with all the senses. It's kind of like a wine tasting experience but with coffee. A lighter roast is less burnt, so it's less bitter. As a bonus, lighter roasts actually contain more caffeine. After a tour at Finca Rosa Blanca, all coffee drinking habits may be forever changed!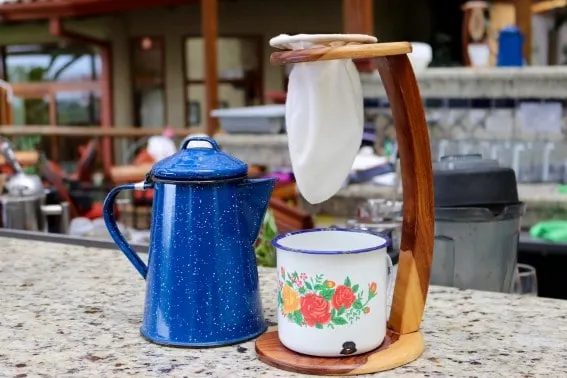 Talking with Glenn, the owner of Finca Rosa Blanca, his passion about the conservation efforts is evident. He even declared, "Sustainability is like a religion here." And with a national tax that allows monies to go to land owners who plant more trees, Costa Rica is living its zealousness.
While enjoying our dinner, with, of course, sustainable and locally-grown ingredients at the onsite restaurant El Tigre Vestido, Glenn told us a story to really help us understand the heart of the country. He spoke of a United Nation's meeting where the larger countries were taking the floor speaking. When the representative from Costa Rica was overlooked, someone declared, "Let the gentleman from Costa Rica speak. Because wherever there is a Costa Rican, there is Liberty."
Corso Lecheria: Organic Strawberry and Cheese Dairy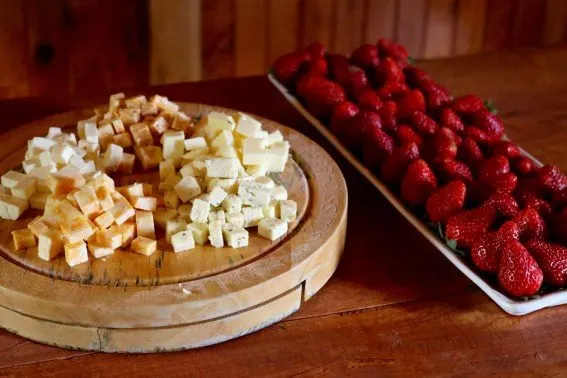 Strawberry and cheese tasting at the same stop is good. But organic strawberries that are best eaten with the leaves first, and cheese made on site with milk from happy, free range Jerseys, is heavenly. So it's only fitting that Corso Lecheria is located in a cloud forest between the Poas and Irazu active steam volcanoes. A location so picturesque, it may leave you both yodeling and stunned at the same time.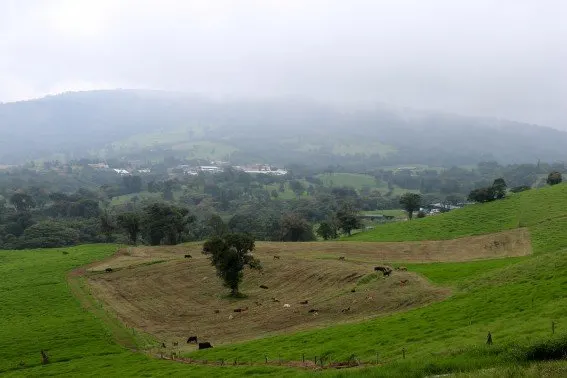 But this is no average dairy. Here on property, take a walk through a jungle path where morphos (butterflies) flit around along with other native species. The national bird, the Yigurirro Robin, reminiscent of a mockingbird, followed us through the jungle. The older Ticos (Costa Rican people), say the bird predicts the coming rain. Our guide related the winged creatures to the Tico's nature: mellow and humble. Nothing could be more accurate.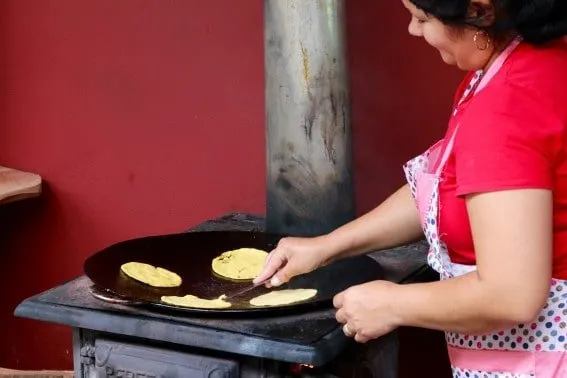 A family destination, Corso Lecheria's guided tours allow kids to milk cows and learn how strawberries grow in an organic, controlled environment. Lunch at the on site restaurant is a must. Hand made tortillas cook on a cast iron stove and are filled to make "gallitos," an authentic Costa Rican plate. The heavenly strawberry juice can aptly be categorized as "Nectar of the Gods."
---
Pacuare Lodge – 5 Leaves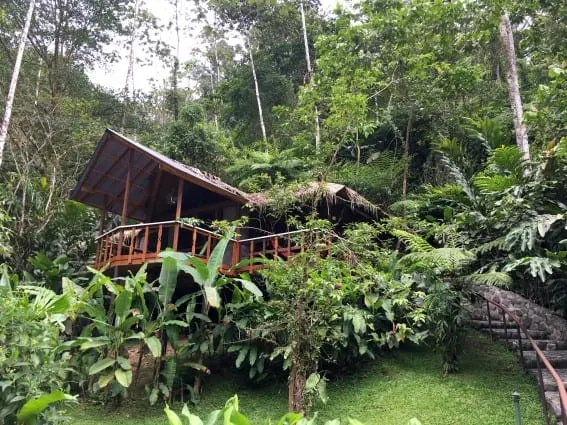 Located along the Pacuare River heading towards the Caribbean side of Costa Rica, the Pacuare Lodge is only accessible by rafting in or taking a gondola on wires over the river after a 4×4 journey through the jungle. These adventures alone make Pacuare Lodge a unique, mind-blowing experience. Add its 5 Leaves sustainability commitment and this lodge becomes the top Costa Rica ecotourism destination. National Geographic deems Pacuare Lodge one of the top "Unique Lodges of the World."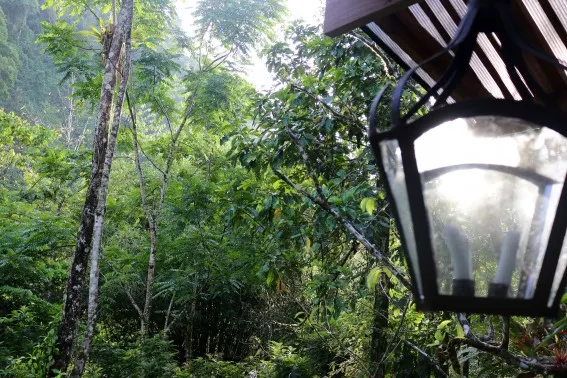 The Pacuare Lodge follows the 4 C's: Community, Conservation, Commerce, and Culture. The limited amount of electricity on property makes a stay both sustainable and magical. Guests return from dinner to find their bungalow illuminated by candlelight, evoking an Out of Africa atmosphere. Solar panels help power the on site restaurant's kitchen. Even the scraps from the restaurant's meals are fed to pigs that produce methane gas. This gas fuels the heat for the hot stones at the onsite Jawa Juu Spa.
Look for the best prices in Pacuare Lodge
Pacuare Lodge is a 100% local hire company. Employees take on the roles of raft guides, food servers, hike leaders (sometimes all of the roles in the same day), and basically assist with whatever guests need. Their joy and passion about the eco-lodge is infectious.
Taking Costa Rica Eco-Lodges to the Next Level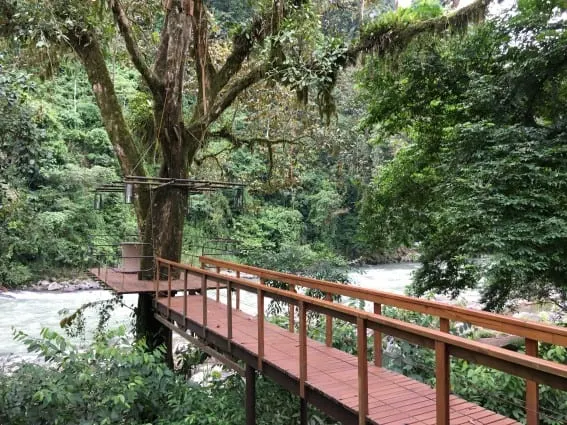 Located on 836 acres bought to conserve, the Pacuare Lodge only uses 5% of the land. Only 20 bungalows make up the lodge. This will help to keep the tourism footprint limited and to allow staff to offer excellent customer service through an intimate experience.
The lodge's commitment to sustainable tourism is commendable. Pacuare Lodge's jaguar conservation research program and employment of indigenous locals has helped the surrounding area. To the delight of guests, world-class chefs have been brought in to teach culinary masterpieces using the ingredients grown in volcanic soil nearby. With all that they are doing, Pacuare Lodge is taking Costa Rica ecotourism to the next level.
Playa Nicuesa Rainforest Lodge – 5 Leaves
Trekaroo CEO LiLing Pang visited Playa Nicuesa Rainforest Lodge in the Osa Peninsula. Nestled in the lush rainforest of the Piedras Blancas National Park, Playa Nicuesa fronts the pristine coastline of the Golfo Dulce off the Pacific Ocean.
The Osa Peninsula is one of only four tropical fjords in the world and separates about 700 square miles of virgin rainforest from the rest of the mainland. As a result, its flora and fauna has evolved in relative isolation. It is estimated the Peninsula contains almost 2.5% of the biodiversity of the entire world and is home to half of the species that roam Costa Rica. Considered one of the most biologically intense places on the earth, the peninsula's protection is of prime importance. Cocovado and Piedras Blancas National Parks have been established to preserve the habitat of the many endemic species.
Look for current deals in Playa Nicuesa
Fortunately, private individuals have also caught the vision and are joining in as conservationists. The Butlers, a couple from New York, fell in love with the Osa Peninsula and in 1992 purchased 165 acres of an abandoned cocoa plantation. Their dream was to develop an eco-lodge that would leave minimal impact on the environment. Today, most of Playa Nicuesa has returned to rainforest.
The Sustainable, Architectural Design
The lodge consists of a handful of detached bungalows, one wide-open common dining and living space, and a two-story building with 8 rooms, all built upon the same footprint as the existing farm structures. The beautiful wood floors, sturdy beams, and furniture were built using lumber from fallen trees and sustainable tree farms. The rooms are spacious and comfortable, designed to maximize natural ventilation, and to minimize separation from the rainforest. The 30 guests at this high-end eco-lodge come to enjoy being surrounded and completely immersed in the rainforest with all its lovely earthy scents, chirping birds, and critters at their doorstep.
In this secluded location, accessible only by boat, guests lack no creature comforts. A private chef prepares gourmet meals three times a day, while a bartender keeps the drinks flowing. But that means managing waste is no small task.
Costa Rica Eco-Lodges Sustainable Hospitality
At Nicuesa, trash is meticulously sorted through down to a daily drop-off of food scraps to the pig farmer at a neighboring beach. Other objects are cleaned and delivered to a women's co-op where they are transformed into beautiful crafts. Gray water is managed through a series of natural filtration pits that double as planting beds filled with flowers. Organic micro-organisms are used to clean out the septic system of toxins and diseases. The lodge's energy needs are mostly supplied by the sun.
Solar panels generate electricity, while an ingenious drying room uses the sun's energy to dry an entire room full of towels, blankets, and clothes in two hours, even in the humid rainforest.
"It was so inspiring to see innovative ideas being put to work. I was churning with ideas about how I could put some of these creative solutions to work back home."

– LiLing Pang, CEO of Trekaroo
Costa Rica Ecotourism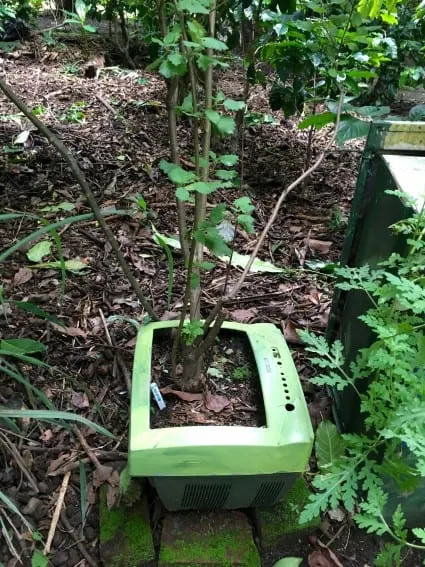 My local guide Juvenal explained to me,
What makes Costa Rica great is its nature, people, and peace.
Great initiatives have been established these last two decades through laws, education, and proactive measures. So I am not concerned for the nature of Costa Rica. Many people are being proactive to conserve and renew the wildlife that makes this country so beautiful. As for the people, the Ticos are still the kind, mellow, and humble humans I fell in love with on my first trip. The increase of tourism has not changed either of these two things, and that gives me great peace. Pura Vida!
Watch this video on the beauty of Costa Rica:

All Photos by the author WomanInTravel, unless otherwise noted.
Feature Image by Shutterstock, Facebook Image Courtesy of BigStock/kikkerdirk
Disclosure: I was an invited guest of @VisitCosta Rica_PR, Finca Rosa Blanca, and Pacuare Lodge. Although I am grateful for their hospitality, all opinions are my own.
---
More Costa Rica Travel Stories: