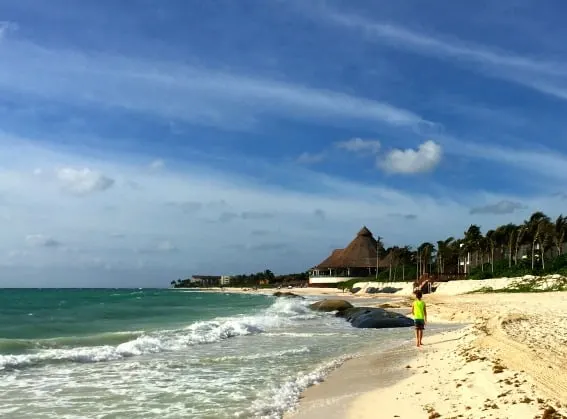 Mayakoba in the Riviera Maya is a luxury family vacation waiting to happen. Where a master planned resort blends the spectacular hospitality of the top luxury hotels of Fairmont, Banyan Tree, Rosewood, and the new Andaz, into the white sands of Cancun, Mexico. Where the PGA certified golf course weaves through the jungle, natural waterways, and beach like a chameleon matching its surroundings.
I knew all this as I drooled over the website photos of white sand beaches and quiet waterways lined with mangrove trees on this large resort. But I didn't know how family-friendly this place in the Riviera Maya would be. As I planned our trip, I had contemplated sightseeing ventures to the ruins of Tulum or the beach at Playa del Carmen. Even as we drove from the airport in Cancun, I spotted brilliant billboards advertising nearby fun and considered whether we should do something outside of Mayakoba- Xcaret, Xel-Ha, Croco Cun Zoo – so many theme parks and adventures! But after we arrived to the beautiful lobby of the Fairmont Hotel, our doorman took us to our room and told us all there was to do at Mayakoba. After hearing about fun pools and a water slide, beach games and SUPs by the sand, kayak tours, bikes to ride, boat cruises, and amazing restaurants, I knew we had all we wanted for a perfect vacation right inside this vast resort.
Lead Photo by: Michelle McCoy
Family-Friendly Luxury at Mayakoba, Riviera Maya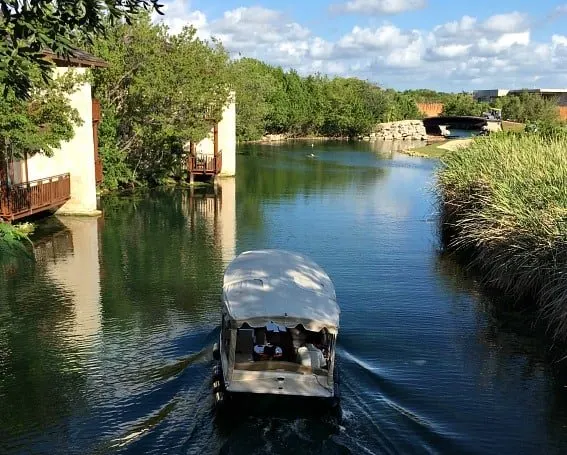 Photo by: Michelle McCoy
Mayakoba is an eco-luxury resort set on a large property strung with quiet canals lined with mangrove trees and a tropical jungle. Four hotels share this property and guests can enjoy traveling between them to visit one of the 13 restaurants, beautiful pools, and the beaches. The Chameleon golf course plays host to the OHL Classic and is the only PGA certified course outside of the USA. Lobbies, restaurants, and rooms open their doors and windows to let the fresh ocean breezes blow throughout. Kids and parents comfortably enjoy the resort in suits, flip-flops, and breezy cover-ups. By the beach the wind blew strongly, blowing away our winter blues. We enjoyed walking the paths near our room as it felt like a small meander through the jungle. We spied many iguanas resting in the sun and a small coati (mistakenly thought to be a small anteater) as we rode a golf cart. Jungle birds, migrating Canada ducks, herons, many other birds, and even some small crocodiles call Mayakoba home and are watched over by the resident biologists.
Family Friendly Beach and Pools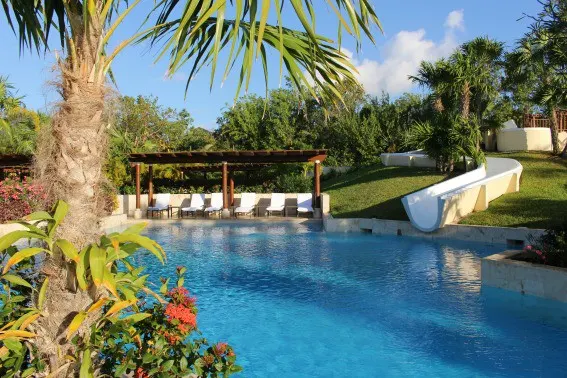 Photo by: Michelle McCoy
What makes Mayakoba so kid-friendly? On our way to breakfast at La Laguna, we saw kids splashing in the main water park of the Fairmont, grabbing inner tubes so they were ready for the water slides, and moms and dads saving comfy beach chairs next to the swim up bar. Large shallow areas as deep as a step were sprinkled throughout the maze of pools, perfect for little ones with beach chairs for mom and dad right next to the water. Bikes are stationed all around the resort and are free to borrow to travel the half mile to the beach, or on the nature trail, or just for fun. Golf carts with seats for 12 or more swing by thatched hut stations about every 10 minutes to take families to the beach, or dinner, or their private cabins. Another beautiful pool overlooks the ocean, and just below we found everything a family could want at the beach. Comfy beach chairs, towels, and shade umbrellas stretched far with plenty of space to spread out. Lifeguards were present to watch the warm waves and to hand out equipment such as stand up paddle boards, boogie boards, volleyballs, snorkels and masks, paddle ball sets, and sand toys.
We played ladder ball and cornhole after lunch and then worked on our sandcastle by the shore. The waves were gentle and the water was shallow for a substantial distance. Large sandbags were just off the shore protecting the beach from erosion. Their primary function was to increase sand production, naturally, but they have the added benefit of making the waves gentle. We climbed and slid off of them, enjoying them like water slides and laughing as the waves splashed us. The only downside at the beach was hidden rocks that hurt our feet when we found them by surprise.
Kids activity centers and Teens Room host fun programs and activities for kids ages 4-12 and 10-17 respectively, during the day. Babysitting service was also available.
Camp Mayakoba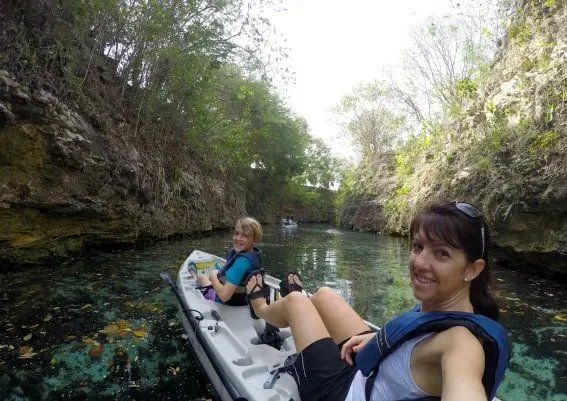 Photo by: Michelle McCoy
Strung throughout the resort are ribbons of waterways, carved naturally through the tropical jungles of Cancun via rainfall and underground springs. We took a kayak tour through these natural canals with clear and calm waters. We spotted fish, turtles, and birds and our guide taught us their names and how the flora and fauna connect here. Imagine our surprise when he spotted a crocodile, thankfully a small baby one, resting on the bank. These crocs are carefully watched by the staff and biologists of Mayakoba to keep guests safe. There isn't one longer than one meter allowed on the property. Our tour lasted about an hour and was both peaceful and exciting. Take archery lessons or learn to play padel ball at the courts near the golf course or enjoy a game of tennis all through Camp Mayakoba. Small Duffy boats with thatched roofs take guests throughout Mayakoba for tours, transportation, and special events. The waterways are a beautiful spot for a special dinner cruise or tour (reservations needed).
El Pueblito
Photo by: Michelle McCoy
A beautiful town square complete with fountains, colorful flowers, and a chapel where Catholic mass is celebrated every Sunday is located right inside the gates of Mayakoba. Guests and the public can enjoy shopping in this village, taking a cooking class, saying prayers at the Chapel, and enjoying a cafe or ice cream at El Cafecito. We especially enjoyed the weekly Farmers Market open on Sundays from 11am – 3pm. Local merchants displayed their wares behind small booths and we shopped and tasted a variety of treats. Cafes, pan dulces, Mayan food, ghee, beads, jewelry, wood work, and fresh BBQ dotted the square. Locals came for Catholic mass at noon, and children danced around to the music with bright balloons. It almost felt too beautiful to be real. A sweet taste of the beauty of Mexico is found here at El Pueblito.
Willow Tree Spa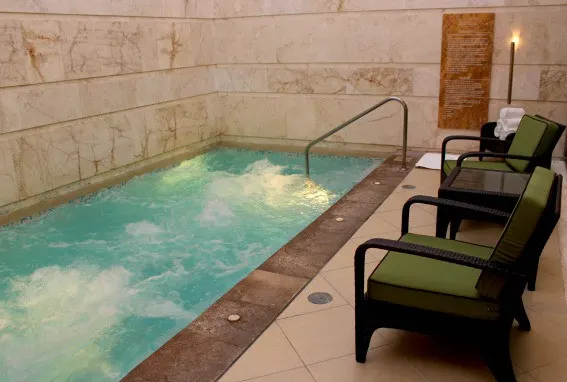 Photo by: Michelle McCoy
What every mom craves and rarely gets is time to herself to refresh, rejuvenate, and relax. Dads too! I know first hand that taking care of myself usually helps me better care for my family. The Willow Tree Spa is the ultimate getaway for a busy mom or dad. I felt treated like royalty as I was ushered into the rooms to begin my time. Lockers and changing rooms are the place to start. It's encouraged to spend a good 30-45 minutes ahead of a spa treatment to enjoy the jacuzzi, steam room, inhalation room, and relaxation chamber with fresh water. A wide variety of treatments are offered for both men and women by trained professionals who take great care to make sure all one's needs are met – including privacy and modesty. I thoroughly enjoyed an hour-long treatment of "Honey in the Heart." A soothing honey wrap was applied with a head to toe massage, then a cleansing overhead shower rinsed me as I felt my body melt into the table. After freshening up with the provided brushes and makeup tools, I felt ready to take on the evening of a great meal with my son. To note – each hotel at Mayakoba has their own spa with speciality treatments in a beautiful environment
Luxury Family Vacation: Dining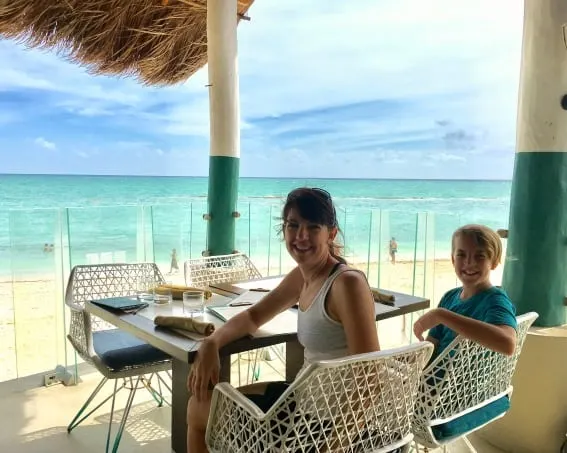 Photo by: Michelle McCoy
Delicious cuisine and kid friendly food can be found at one of the amazing 13 restaurants at the 4 hotels of Mayakoba served up by top chefs. At each dining location, servers ask if guests have any food allergies, then proceed to provide excellent and friendly service.
La Laguna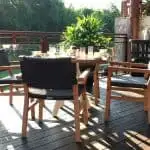 We started our mornings at the Fairmont Mayakoba by sitting in the morning sun drinking sweet Mexican coffee and fresh juices. La Laguna serves up an amazing breakfast buffet with a mix of local dishes, familiar breakfast items, and a kids buffet table. From pan dulce and huevos rancheros to pancakes, waffles, and made-to-order omelets with fresh pico de gallo and guacamole to top it, the selection was huge and offered many healthy choices. La Laguna serves modern Mexican cuisine with a tequila bar for breakfast, lunch, and dinner. Next door is Cafe Maya offering fresh coffee, light bites, souvenir shopping, wines, and even hair wraps in the afternoons.
Brisas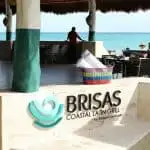 Brisas Restaurant is hands down the most beautiful place for lunch as I have ever visited. True to its name, ocean breezes waft and gust through the open walls of this thatched hut right on the white sands of the Caribbean Sea. The waters sparkle a brilliant blue and the colors of the restaurant reflect its brilliance. We enjoyed grilled shrimp and a pulled pork sandwich as we gazed at the beautiful beach just waiting for us to come and play. The service was spectacular and I've come to expect this is standard amongst all of Mayakoba. Brisas offers a full bar and beach/pool side service and beautiful dining for lunch and dinner.
El Puerto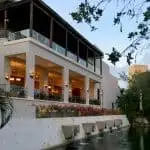 Overlooking the waterways of the Fairmont, this Latin-Asian restaurant specializes in blending sushi, fine cuts of beef, sake, Latin wines, and over 100 types of tequilla. Fresh breezes wafted in as we dined on skirt steak Tagalog style, and NY strip steak. Dishes are meant to be shared or sample some fresh sushi for lunch and dinner.
Banyan Tree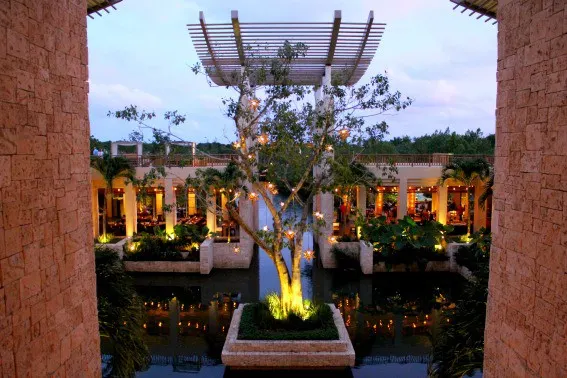 Photo by: Michelle McCoy
There was something about the Sands Beach Club at Banyan Tree that my teenage son especially enjoyed. Perhaps it was the relaxed atmosphere on the blue lounge chairs or the volleyball net set up to play. We had just finished a delicious lunch at Sands with blue table runners, napkins, and jeweled tiles reflecting the brilliant blue of the Caribbean Sea in sight of our table. Our bellies were stuffed with chips, salsa, and guacamole, ceviche, and Caesar salad. Perhaps the beach had a more grown up feel as the Banyan Tree attracts more couples with its private suites with a pool in each suite. His teenage nature shies away from being treated as a young kid. At any rate, we loved being able to enjoy the beach at the Banyan Tree and found it just as family-friendly as the neighboring Fairmont Beach which was a short walk down the sand.
Cello Restaurant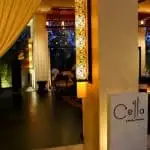 The lobby of The Banyan Tree is a majestic, two-story wonder built around the canal with dramatic roof top arches and a live Banyan Tree gracing the center. There are hardly any walls which gives a complete outdoor experience to this building which holds restaurants, shops, and comfortable seating areas to enjoy the Caribbean sun and warm breezes. A new concept restaurant, specializing in Italian dishes and fine wines, is Cello. Seating in comfortable chairs with plump pillows, fine service, and views of the waterways, Banyan Tree, and lights is beyond special. A meal here could be extra special for couples, friends, and families. I enjoyed a tender Chilean Sea Bass on a bed of orzo pasta, seasoned with cheese and orange and octopus compote. My son ordered off the kids menu and was happy with his fish nuggets and fries in this beautiful spot. We laughed at the Mayan mask on the wall that looked like he was blowing bubbles and overwhelmingly enjoyed our evening of fine dining.
Mayakoba will live on in my dreams as one of my favorite luxury family vacation destinations. I can't wait to return!
Disclosure: I was hosted at the Fairmont Mayakoba with accommodations, meals, activities, and airfare. I was not asked to present a particular point of view, and all opinions are my own.
Featured photo by: Michelle McCoy