We have braved the terrors of Halloween Horror Nights at Universal Studios Hollywood to gather up all the details to help you prepare for your trip.
Halloween Horror Nights is best shared with your teen – 13 years or older. No doubt about it, Halloween Horror Nights is Southern California scariest Halloween event. The event offers eight mazes including a terror tram, multiple scare zones, live shows, and many other attractions.
The haunted mazes change a bit each year and that is what will bring you back time and time again. Let's look at all the gory details!
Complete Guide to Universal Studios Halloween Horror Nights
Ticketing for Halloween Horror Nights
Halloween Horror Nights at Universal Studios Hollywood is a separately ticketed event. This means you will need a ticket in addition to any daytime tickets you purchase during this time.
The event takes place at the beginning of September through Halloween. You can purchase your tickets online which will save you substantial time and help you get directly into the horrific fun. Early entrance begins at 6pm and the event starts at 7pm.
Tip: If you plan to spend the day at Universal Studios Hollywood check out our guide to make the most of your visit.
Universal Studios Halloween Horror Nights- The Mazes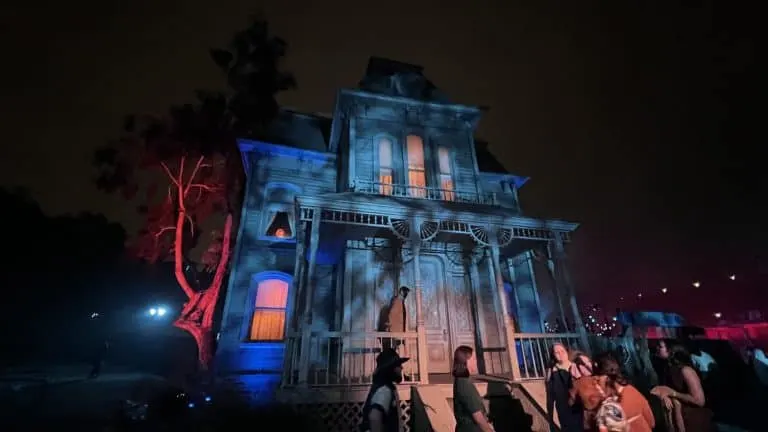 Halloween Horror Nights features eight unique mazes, complete with their own theme and different approach. You will want to check out their website for all the details on each maze to decide where you want to go first, but here is an overview of what you can expect.
For the year 2022, the main maze theme is The Weeknd: After Hours Nightmare! This haunted house takes you directly into the surreal mind of global superstar, The Weeknd. This maze will drop you into the middle of a grotesque masquerade complete with after hours music. His maze is located on the lower lot and will likely have the longest line, so plan accordingly.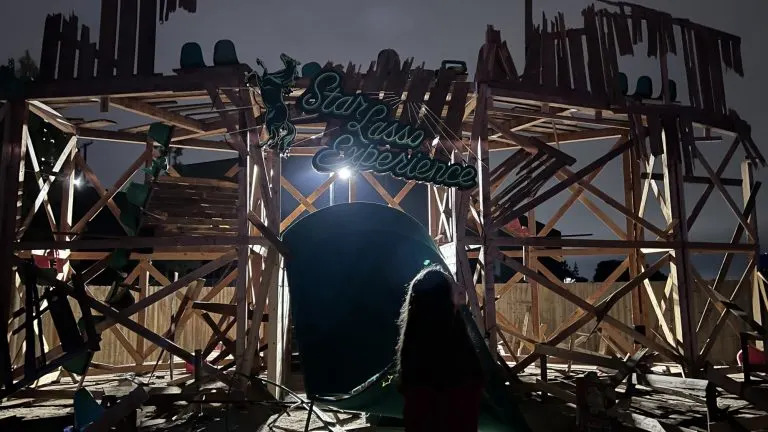 A crowd favorite is the Terror Tram. This is a takeover the popular Back Lot Tour for Halloween Horror Nights. On this tram you will embark up upon a hair raising adventure ending is a Halloween party hosted by a crazed clown.
For the year 2022, the maze themes are Jordan Peele's films Us and Nope. In a surprise twist you are forced off the tram to walk through these mazes – it's a fun and quick way to experience serval mazes in the back lot!
Scarecrow: The Reaping is a maze about a Depression era farm where the scarecrows have taken over the land. In this all new haunted house you will be challenged to escape before you are harvested!
This maze is located past the Wizarding World of Harry Potter. Consider visiting this location first as it's a bit of a walk and everyone rushes to the lower lot, therefore this line is usually shorter at the start of the night.
Located near the Scarecrow Maze, the Halloween-themed maze features Michael Myers. The maze is set to the 1978 horror classic and is definitely one you will not want to mess. Place yourself directly in the classic movie Halloween and face your fears of Michael Myers.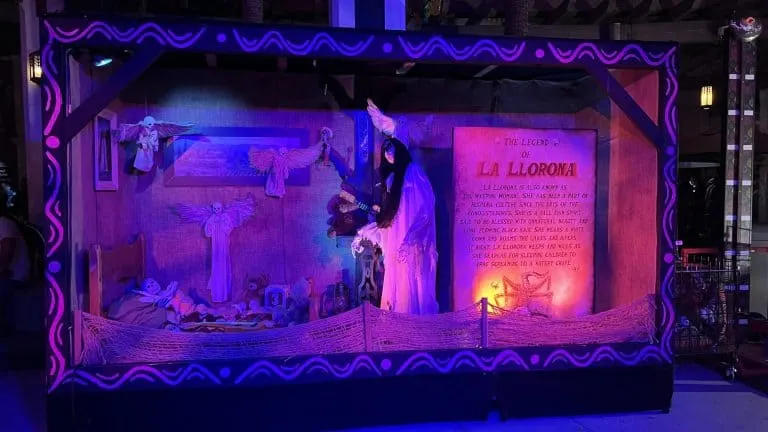 La Llorona: The Weeping Woman, is a terrifying maze featuring a Mexican folklore tale about a woman trapped between the afterlife and this world. This maze is one of the more terrifying mazes and is a perfect example of why this event is recommended for those over the age of 13. It features some more realistic images that tend to stick with you.
The Horrors of Blumhouse maze is a colliding of two horror films Freaky and the Black Phone. In this maze you will find yourself trapped between a ruthless serial killer and his team victim.
Try to escape the basement from the movie the Black Phone and save yourself before it's too late. This maze is located next to the Water World show and it is situated prefect for grabbing a snack before you wait in line.
A classic maze, Universal Monsters: Legends Collide, is one that I think everyone will enjoy. Here you will run into some of the amazing legends from original horror films like the Wolfman, Dracula, and the mummy. This maze is definitely a nice twist on your classic horror maze. This is one that is probably the best for beginners to try first!
The Killer Klowns from Outer Space maze is something from a childhood nightmare. These clowns are not one you would want to come face-to-face with at your local circus. This maze is exactly why clowns are one of the scariest things out there!
Universal Horror Hotel is based on the 1920s Hollywood hotel complete with its own serial killer owner. This hotel invites guests in, but they never seem to check out. You have to escape the hotel before you check out. This maze is located in the former Walking Dead attraction and was shortest toward the end of the night.
Live Entertainment and Scare Zones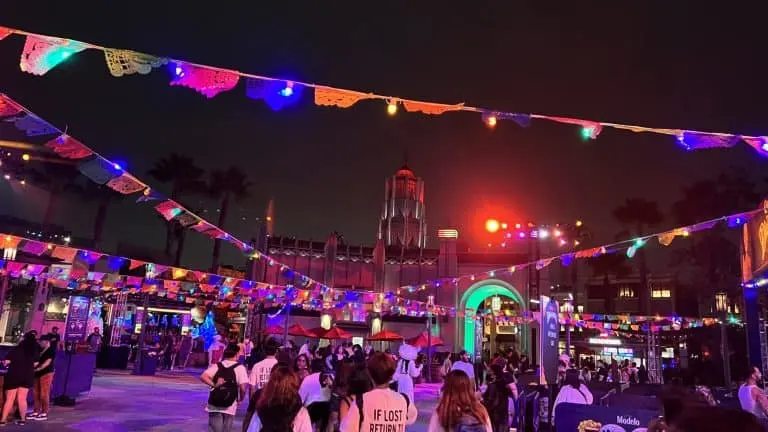 At Halloween Horror Nights at Universal Studios Hollywood you need to always be on alert! Even walking into the park you are not exempt from a jump scare or a creature encounter.
Be sure to check out the Jabbawockeez as they return to Halloween Horror Nights at Universal Studios for an all new show featuring their unique style of dance and special effects. You will surely appreciate their music and humor as a relief from the constant scares around you.
New for 2022, the Death Eaters from the Wizarding World of Harry Potter will be making an appearance! Look for them just outside of Hogwarts Castle. The Death Eaters are looking for others to join the Dark Lord's cause. This a quick and easy encounter – this is a good place to start with beginners.
The sinister scares zones this year features terrifying themes! As you enter the park, Clowns with Chainsaws will show you why it's always a bad idea to mix clowns and chainsaws! Check out the El Pueblo del Terror to explore some of the terrifying inhabitants of this tiny village. Stop by the Slideshow Slaughterhouse for a peek inside of this bloody sideshow.
Rides and Attractions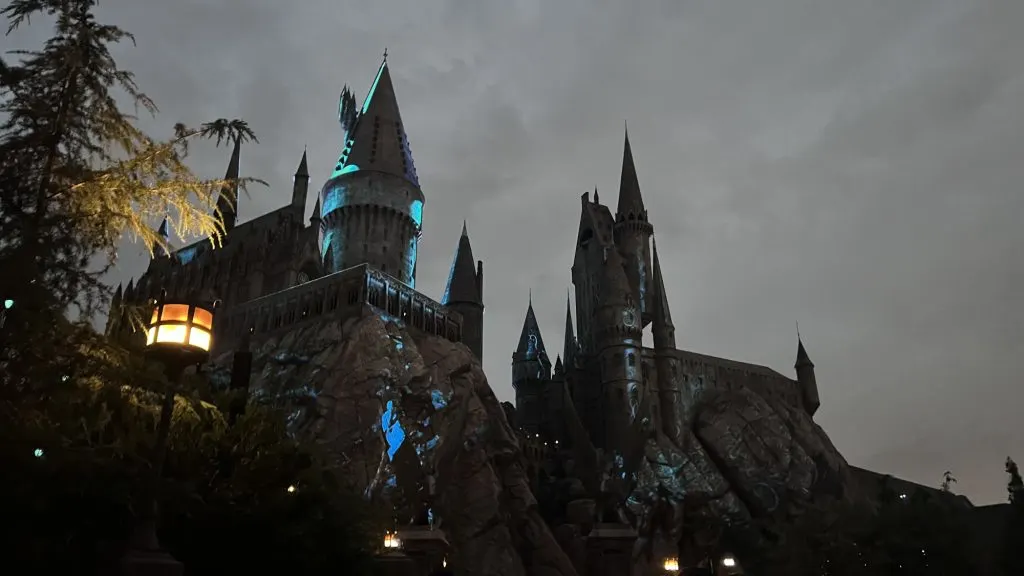 Keeping in theme with the Halloween Horror Nights at Universal Studios Hollywood there are a few rides and attractions open during the evening.
Be sure to check out Jurassic World where you will get a nice scare from a giant Tyrannosaurus Rex! Take a spin on Transformers the Ride 3-D where you will be immersed in a generational thrill ride. Enjoy the classic revenge of The Mummy the ride and face one of Universal Studios Classics mummies in this intense roller coaster that goes both forwards and backwards!
Take a ride on The Simpsons ride, this virtual roller coaster will take you through the Simpson's World. Finally, head over to the Wizarding World of Harry Potter and take a ride on either Harry Potter and the Forbidden Journey or The Flight of the Hippogriff. Both rides will be open and available to those experiencing Halloween Horror Nights at Universal Studios Hollywood – the lines are surprisingly short this time of night.
Dining at Halloween Horror Nights
Universal Studios Hollywood has created a terrifyingly delicious menu for Halloween Horror Nights.
Be sure to check out the beef Birria tacos with red sauce; these scary good tacos will not disappoint from Little Cocina. Then, grab yourself a cup of churro bites while you are there but hold onto them tight as one good jump scare will leave them all over the floor!
Stop by the Dia de los Muertos Bar and pick up one of the handcrafted cocktails available like the sugar skull punch featuring vodka, lemon juice, blue cacao, and grenadine topped with a purple cotton candy! If you're looking for something less sweet try the smoked margarita which features tequila, Mezcal, lime, and pineapple juice.
JoJo's Ice Cream will be available with killer cones. These large waffle cones are filled with strawberry swirl soft serve strawberry sauce and a cherry just looks like a meal fit for a killer clown!
If you are looking for a twisted take on a classic then head over to the Minion Café where they are offering a variety of hearty food items like the Evil Takis Mac & Cheese featuring macaroni and cheese loaded with hot zesty Takis. Still hungry for more? Try the rotisserie chicken, half a barbecue chicken serve with crinkle cut fries and corn on the cob.
Finally, if you need a sweet treat before you go to fight off hunger, grab a candy corn funnel cake. That's hot deep fried cake is top with candy corn and makes for a perfect end of the night treat!
Tip: Download the Universal Studios Hollywood app to help you stay on top of wait times and do use the interactive maps. Halloween horror nights at universal studios Hollywood offers in app games to help you kill time in line!