Everyone has their version of an enchanted island vacation. Choosing an island to visit with kids might not fit your dreamy or romantic vision of an island vacation, but exploring an island with kids can be still magical. So what are the best island vacations for families? A few of them might surprise you!
Sure, we have plenty of sunshine and beach time on our list, but there are also several island vacations that have a focus on nature, adventure, and staying off the beaten path.
With less commercialized attractions, families have the ability to fill their time on the island exploring untouched ecosystems, roaming the coasts, touring historic towns or villages, and spending quality time with loved ones, creating memories to cherish forever.
Here are 12 island vacations for families that we think you should consider exploring.
Best Island Vacations for Families
San Juan Islands in Washington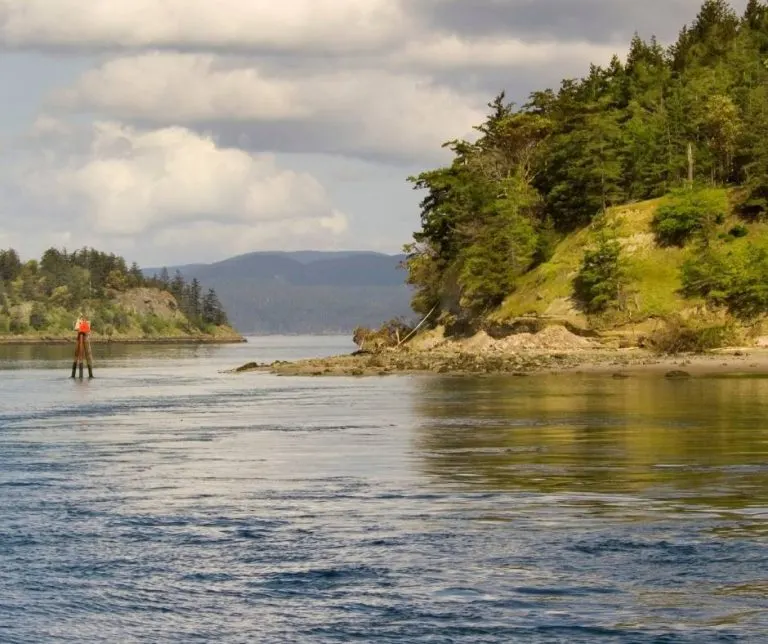 If you are looking to escape the heat and enjoy tremendous natural beauty, visit the San Juan Islands, part of the archipelago that has more than 450 islands just off the coast of Washington.
The San Juan Islands are rich with history, but also known for splendid views, saltwater shores, quiet woodlands, and orca whales.
Book your whale watching excursion in the San Juan Islands on TripAdvisor. As a TripAdvisor affiliate, Trekaroo receives a small commission and you receive the best rates.
Sample the beauty of the archipelago while on the Washington State Ferry from Anacortes. Then head to Lime Kiln Point State Park which is located on the edge of San Juan Island and is known to be a great spot to try to see orca whales and other sea life from land.
Educate the kids about these beautiful whales in their natural habitat and learn from knowledgeable marine naturalists on a memorable whale watching excursion.
You can also rent bikes or go kayaking in Deception Pass State Park and explore the beauty of the coast. Visit the San Juan Islands National Historic Park and earn a Junior Ranger badge by heading out on a ranger-led activity or program or taking a hike in the park.
Stay Here: There are plenty of options to choose from, including quaint B&B's, mid-town hotel or even a waterfront private cottage. The Lakedale Resort in Friday Harbor is a family friendly property with log cabins and lake activities on the property.
Kauai
Kauai is nicknamed "The Garden Isle", but it should also be known as the "outdoor playground" for active families.
For kids who would rather run, hike, snorkel, and climb than relax on the beach, this is the island to call home during a Hawaiian vacation. Don't worry, there are plenty of great spots to just relax on the sand if you want a break in between the adventure.
Hike to a waterfall, find a rope swing over a creek, pick island fruit at farms, and definitely book a tubing excursion through sugar cane plantation irrigation canals (as fun and crazy as it sounds!).
In Hanalei Bay, the waves are perfect for beginner surfing lessons during the summer months, and the fabled Na Pali Coast awaits hikers where all roads end and a trail begins. Or choose to see the dramatic coastline from a catamaran.
Snorkel amid sea turtles at Anini Beach and Ke'e Beach on the North Shore, or at Poipu Beach on the south side of the island. Enjoy a luau to make this a perfect Hawaiian Island vacation!
Read our full guide to 25 things to do in Kauai with kids.
Stay Here:
The Marriott Waiohai Beach Resort Club sits on the famous Poipu Beach which has a reef-protected 'kiddie' beach, snorkel area, boogie board area, and swimming area, all naturally made! Great beaches for families and plenty of amenities, too!
Prince Edward Island in Canada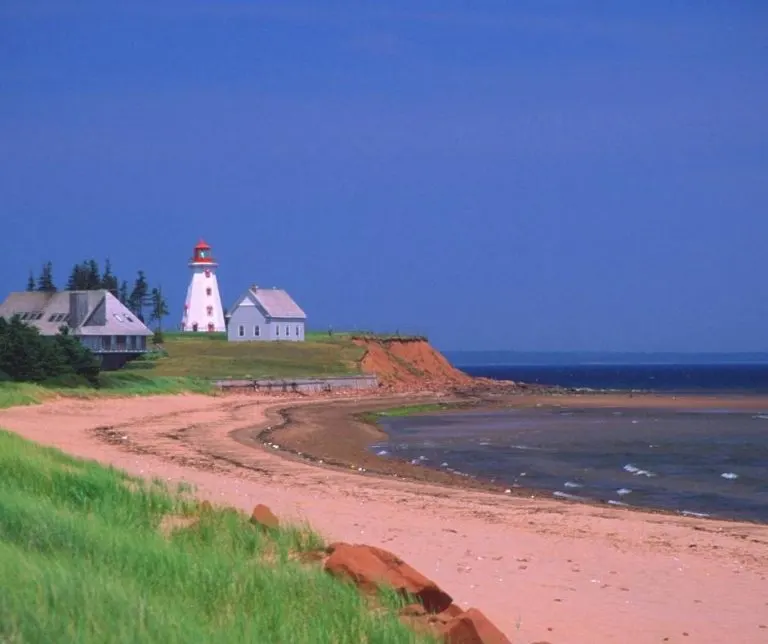 Good things come in small packages. The smallest Canadian province, Prince Edward Island, lies in the Gulf of St. Lawrence on the county's east coast. "The Gentle Island" should be a contender for your next summer vacation as it is beautiful all around from May to early October.
Enter the world of Anne of Green Gables and stay in the Cavendish region along the island's north shore. Ride a bike along the scenic waterside stretch between Morell and St. Peter's Bay.
Play on the red sand beaches of Prince Edward Island National Park or ride a bike along the scenic waterside stretch between Morell and St. Peter's Bay. A daily serving of Cows Ice Cream is also a must.
Lobster suppers (generally served in community halls) are a PEI tradition as are the ceilidhs held in local churches or community halls (ceilidh is a Gaelic word – often described as a "kitchen party" – fiddle music, step dancing etc.). The July Lobster Carnival in Summerside is an event not to be missed.
Charlottetown is the provincial capital and worthy of a visit as well. In Charlottetown, kids enjoy the Harbour Hippo land and sea tours.
Founder's Hall is an interactive museum covering the history of Canada; the Charlottetown Conference held here in 1864 led to the formation of Canada in 1867. Visit Peake's Wharf on the waterfront for shopping and boat tours.
Extend your stay with this epic eastern Canada road trip itinerary.
Stay Here:
The Cavendish Region has a wide range of accommodations for families including charming family owned and operated inns like Kindred Spirits Country Inn and Cottages.
St. John, US Virgin Islands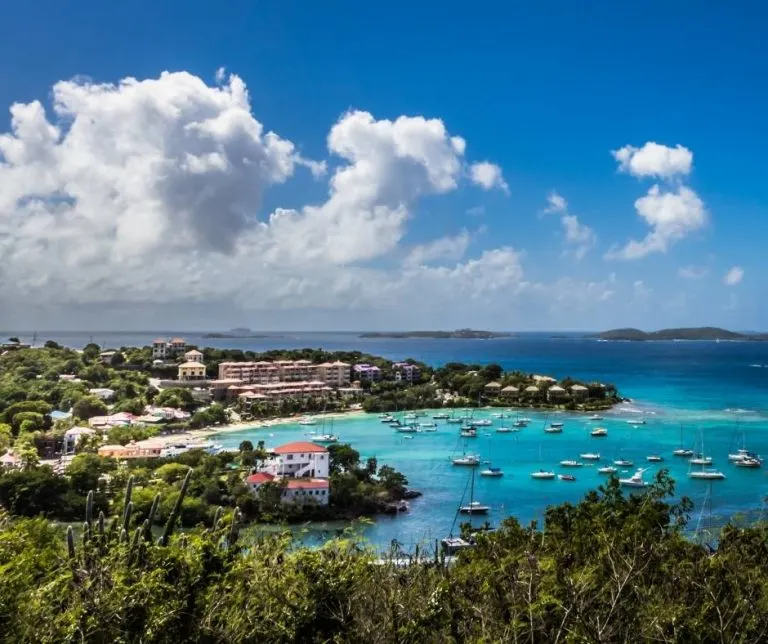 St. John USVI is the ultimate Caribbean low-key island getaway right in the United States; no passport required!
More than 2/3 of the island is dedicated to the Virgin Islands National Park. This is a place for snorkel lovers, nature enthusiasts, hikers, and historians. Add in tropical breezes, island music, and some adventure and you have a destination worthy of many repeat visits.
Imagine swimming with the sea turtles, racing the barracuda, or watching the trumpet fish puff up! Snorkelers young and old will love the underwater snorkel trail at Trunk Bay. With gently lapping waves and shallow entry this is a perfect snorkel learning spot.
A four-wheel drive vehicle will take visitors on an adventure to Lameshur Bay for idyllic views and terrific snorkeling. Sign-up at the national park office for a ranger-led Reef Bay hike. Don't forget your snorkel gear!
Book a snorkel tour is St John USVI.
A see-thru kayak allows non-snorkelers to see the fish and the reefs without getting underwater.
Learn about plantation history and try out some tamarinds and dumb bread from the local docents at the Annaberg Sugar Plantation. Hike around the grounds of the plantation ruins and take in the views of the surrounding islands.
Check out the Petroglyph hike, which leads to Taino Petroglyphs and abandoned plantations. When the family runs out of steam for adventure, relax at any of the beaches- Maho is our favorite.
Stay Here:
You can rent a villa on the island or book a room at the Estate Lindholm, a bed and breakfast, located on a hillside overlooking Cruz Bay Harbor, which is ideal for families.
Capitiva Island in Florida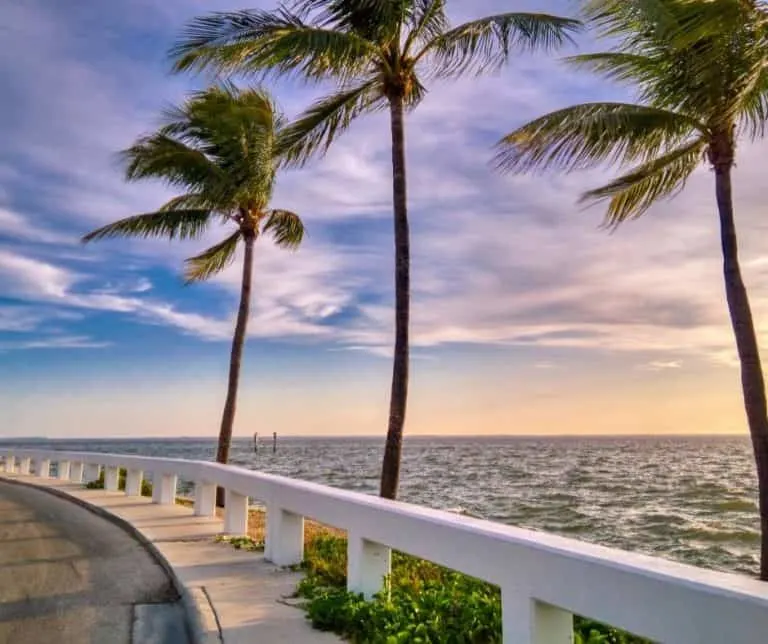 Discover native Florida and the surrounding natural wildlife by exploring Captiva Island. This peaceful barrier island is just over the Sanibel Causeway from Fort Myers on the Gulf Coast.
The beaches of Captiva Island are famous for shelling with over 250 kinds of seashells. Miles of paved, flat trails make the island a wonderful place for families to explore by bicycle and golf cart.
For the young nature lovers, another highlight of the island is Sanibel Sea School featuring year-round marine conservation classes for kids, tweens, and teens.
The school's Captiva campus is located at South Seas Island Resort and offers half-day and full-day programs that allow kids to explore the vibrant ecosystems of Captiva Island through a unique hands-on curriculum. Enjoy a perfect sunset over the clam warm waters of the Gulf of Mexico.
Here are seven more of our favorite Florida beach towns for families.
Stay Here:
Find the South Seas Island Resort on Captivia Island amid 300-acres of wildlife preserve with over two miles of beaches. Parasailing, paddle boarding, kayaking, fishing, sailing, or pool hopping (and even a water park for kids) will make this resort one the entire family will love.
Bermuda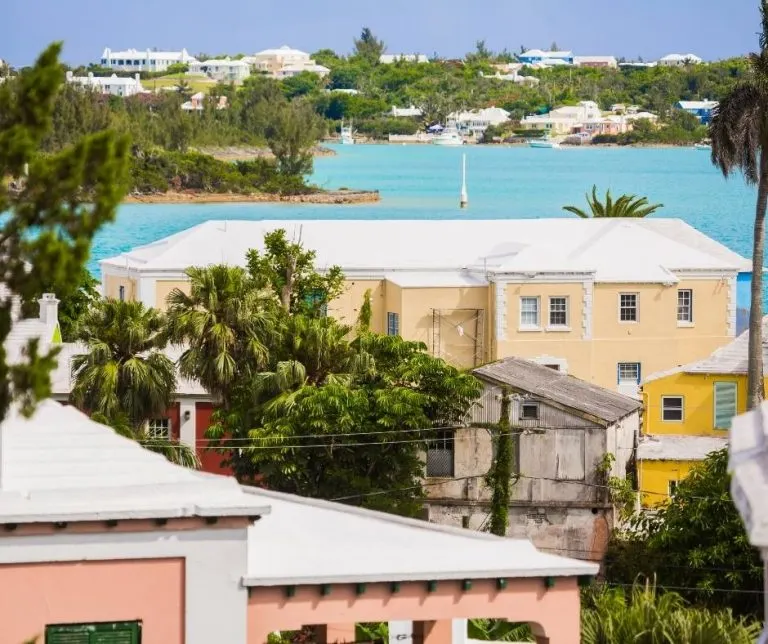 Bermuda is 600 miles east of the Carolinas in the Atlantic, an easy two-hour flight from several major East Coast cities like New York and Washington DC. It has a lacy coastline dotted with green vegetation and brightly painted limestone cottages. Sapphire blue waters surround the island.
Bermuda is the oldest British Territory, with it's founding in 1604, around the same time as the founding of Jamestown in the US. It is filled with history and attracts highly educated and sophisticated residents looking for a tax haven. Good news is, you don't have to be rich to enjoy your stay in Bermuda!
Beach days are the best days on this island with electric blue waters and pink sand beaches. South Shore Park between Horseshoe Bay and Warwick Long Bay is a favorite for visitors and locals.
Snorkeling is another popular activity. Achilles Bay Beach in San George's has very calm waters that are good for young kids. If you have more advanced swimmers in your group, Elbow Beach has lots of interesting underwater arches.
A fun way to explore Bermuda is by bike. There is an 18-mile walking and biking trail that takes you from the town of St. Georges on one end to the Royal Naval Dockyards at the other end of the island.
A visit to Bermuda would not be complete without a visit to the magnificent Crystal Caves located in St. Georges.
Read our complete guide to things to do in Bermuda on a family vacation.
Mackinac Island in Michigan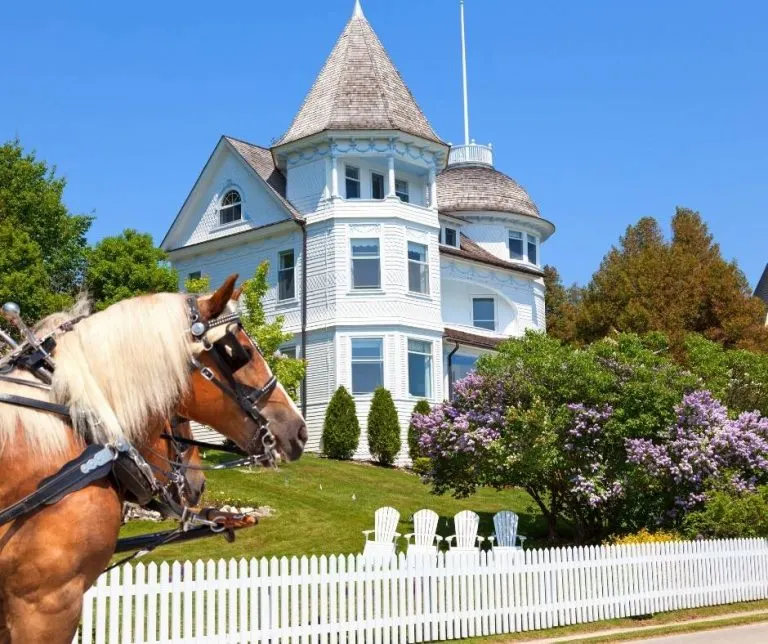 Mackinac Island is a historic island (the entire island is a National Historic Landmark), just north of mainland Michigan filled with old-fashioned charm, natural beauty, and plenty of activities that will have families reminiscing of the simpler days of yester-year.
No cars allowed on the island so horse-drawn carriages or bikes are the perfect means of transportation. Kids will love taking the ferry to the island under the impressive Mackinac Bridge and learn a little history about the area at the same time.
Fort Mackinac is the Revolutionary-era fort on the island from 1780-1890. Fort tours, rifle, and canon demos along with a number of reenactments and "soldiers' life" tours are now available. Children will delight at the Kids' Quarters with hands-on displays, learn morse code, and play interactive games.
Don't forget to try the famous Mackinac Island fudge! The island is known as the Fudge Capital of America.
Stay Here:
For fun family activities and lodging that won't break the bank, consider a stay at Mission Point Resort. Watch a movie at the island's only movie theater, grab a seat and take in the views at the huge front lawn overlooking Lake Huron, take a dip in the outdoor pool, or challenge each other for a fun golf game on the 18-hole putting course.
Isle of Capri in Italy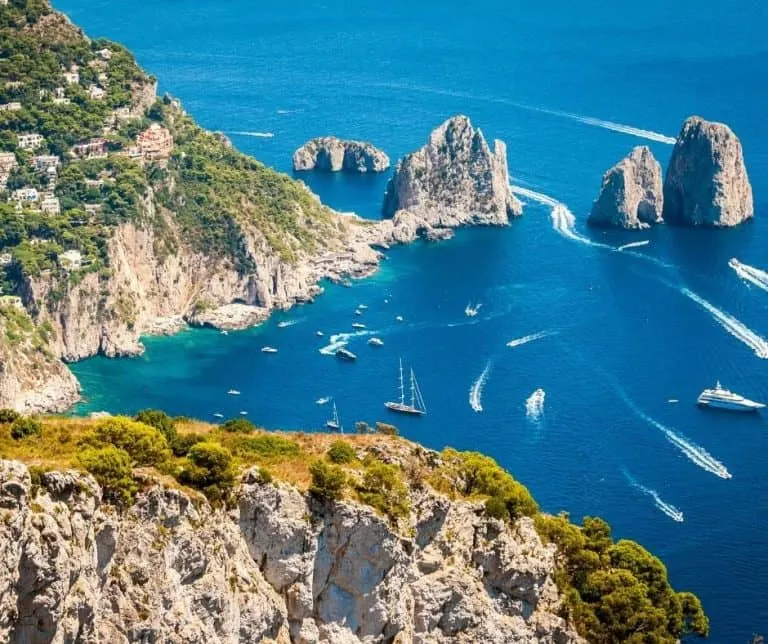 Taking in Italy with kids is wonderful in itself! If you have the opportunity to head to the Amalfi Coast (one of the Italy's most scenic stretch of coastline), take the ferry from Naples or Sorrento to paradise on the isand of Capri.
Even if you do not stay on the island you must visit for a least a full day. The family will forever remember the views which makes this visit worth every penny. Get an early start with kids. Take a ferry over and immediately hop on the funicular (it's like an amusement ride in itself) up to The City of Capri.
Take a chair lift to Ana Capri where the views of the Bay of Naples are simply stunning. Explore the Blue Grotto or Augustus Garden.
Rent a private boat for a coastal tour (more people means it might even out for the price of a public boat tour) and take in the breathtaking views of turquoise water for miles and miles.
Better yet, spend a couple days on the island. Here are several great things to do in Capri, Italy.
Turks and Caicos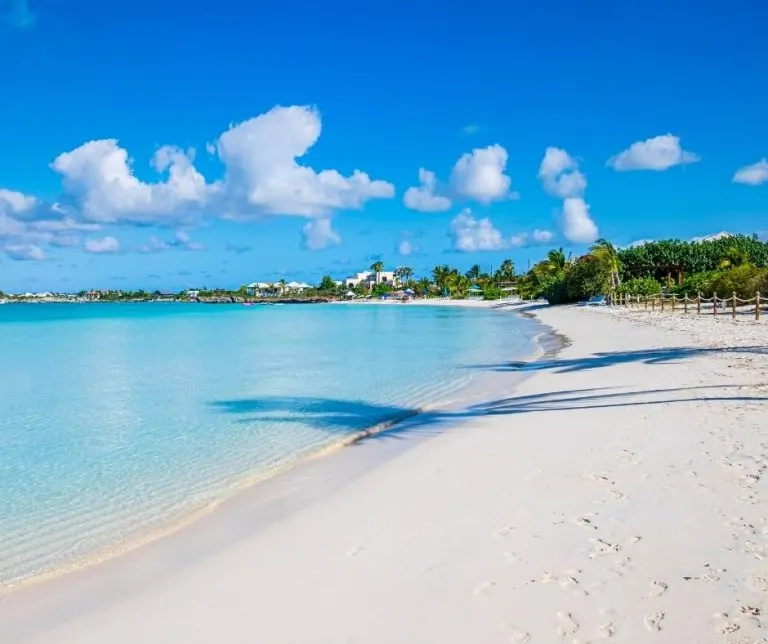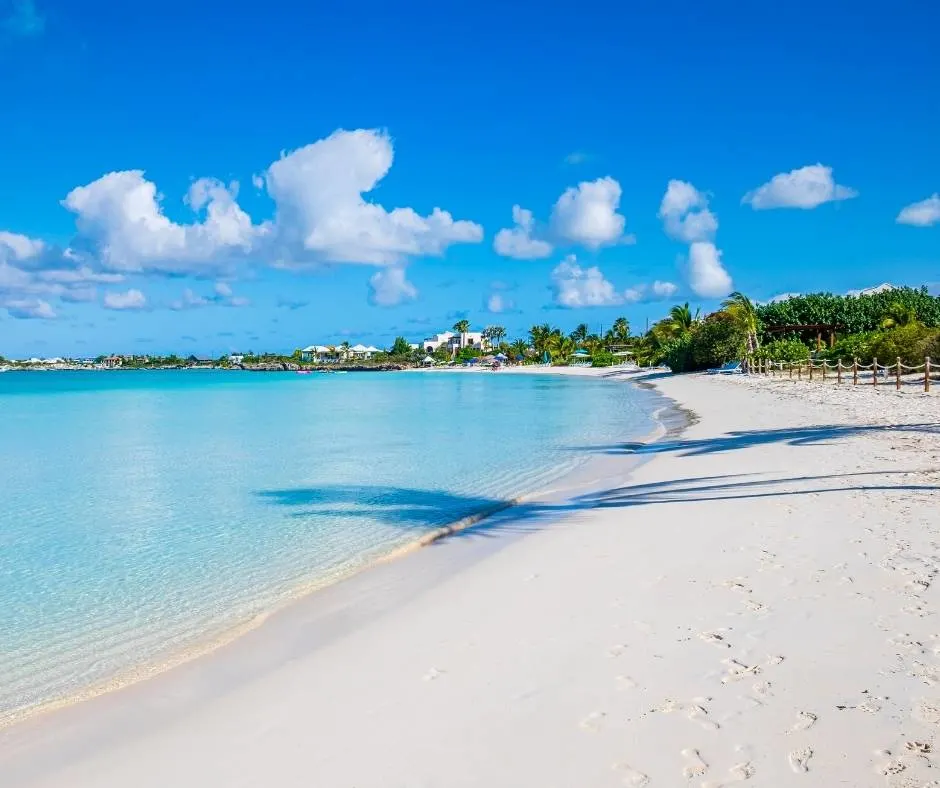 Pristine white sand beaches, turquoise water, and verdant coral reefs, make Turks and Caicos one of the best island vacations for families who want a beach-focused vacation.
This Caribbean island nation is home to some great all-inclusive resorts, including Beaches Turks and Caicos, one of the best family-all inclusives around.
Grace Bay Beach is located on Providenciales Island and the white sand and crystal turquoise water are legendary. The bay has great scuba diving sites and is protected by a barrier reef that is teeming with sea life.
Snorkeling in Turks & Caicos is a treat, as it is home to an incredible barrier reef system. Two of the most popular snorkeling spots with kids on Providenciales are Bight Reef and Smith Reef. Both are about a 10 minute walk from Grace Bay.
Families enjoy this catamaran and snorkel combo cruise from Grace Bay.
If someone has dreamed up a way to play in the water, it's available in Turks and Caicos. You can enjoy paddleboarding, kayaking, parasailing, jetskiing, flyboarding, and kiteboarding. Read our full guide to things to do in Turks and Caicos to discover all this island nation has to offer.
Stay here:
Beaches Turks and Caicos is definitely designed with families in mind. This all-inclusive resort truly is inclusive of all, making it a great spot for family reunions and multi-generational getaways. Read our comprehensive review to get the full scoop.
Coronado Island in California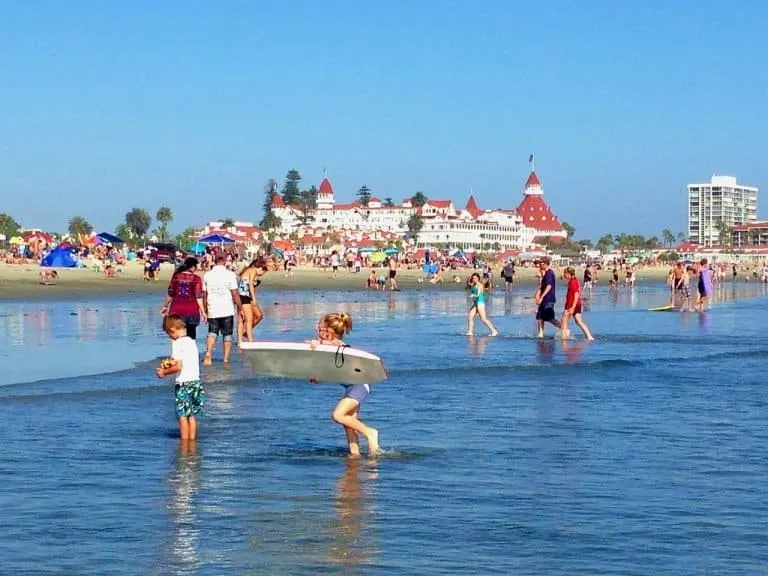 Just across the bay from downtown San Diego, situated in between the Pacific Ocean and the San Diego Bay, Coronado Island is the perfect place for families who want a Southern California beach vacation.
Coronado Beach just might be Southern California's best beach for young kids, with it's fine white sand, gentle waters, and tide pools for the curious. We love this spot so much it has made our list of the best beaches near San Diego and and the best beaches in Southern California for families.
Enjoy the famed brunch or stay for a few days and play at the swanky, yet historic, Hotel Del Coronado. With its iconic red-shingled roof, this glamorous vintage hotel is where you'll feel like a movie star as soon as you walk in. The panoramic views of the Pacific Ocean are worth the visit!
Hotel Del made our list of the best California beach resorts for families.
Explore the bike trail along Glorietta Bay. At the Ferry Landing Market Place in Coronado, there are plenty of places to grab a bite to eat for an impromptu picnic on the Bayside Beach while enjoying the San Diego skyline.
Soak up the warm California sunshine while you window shop along Orange Avenue, and stop in at the Fabrison's French Creperie Cafe for an authentic french crepe in a charming European cafe setting.
Stay Here:
The historic Hotel Del Coronado would be the ideal place to stay for a true visit to Coronado Island. Or give your kids a taste of staying in an old Spanish village at the boutique El Cordova Hotel located just across the street.
This private residence turned hotel once belonged to the visionary Elisha Babcock, the man who made Coronado Island what it is today. No two rooms are alike, but families will love the one- and two-bedroom suites with full kitchen facilities.
Block Island in Rhode Island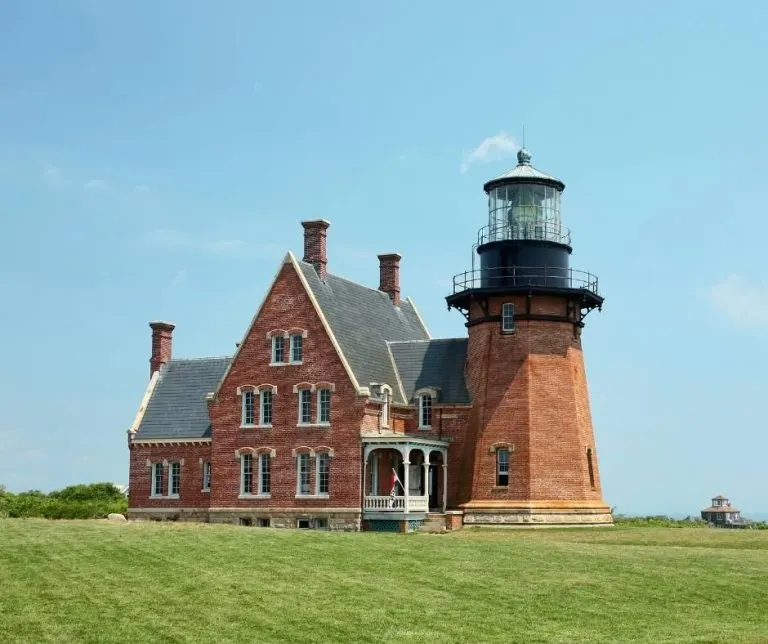 A short 12 miles off the coast of Rhode Island, Block Island has 17 miles of beaches, spectacular bluffs, and picturesque lighthouse that help protect the shore. The Nature Conservancy has named Block Island one of the 'Last Great Places in the Western Hemisphere,' while many know this island as 'Bermuda of the North.'
Families will enjoy the pristine beaches, cycling flat roads filled with other families, calm-water kayaking, fishing off the beaches, clamming in the salt-water ponds, and walking trails through dunes past nests of many dozens of fledgling seagulls.
The island has a wonderfully relaxed, island vibe that parents with children in tow will love. Take a bike tour on the island with Great Freedom Adventures where guides will personally take you to Southeast Island Lighthouse, kayaking in the Great Salt Pond, on a sunset sail, nature walks, or to check out the local picks for great food like Finn's Seafood at the Old Harbor.
Plan a beach day at Crescent Beach where the sand is smooth and the waves are gentle. And, in the winter, the island becomes a winter wonderland, right out of a movie.
Stay Here:
Find simple relaxation here on the island in every hotel, bed and breakfast or cottage. Choose from many hotels like the National Hotel that have breathtaking views and iconic front porches where you'll marvel at the views of the ocean for hours.
Tahiti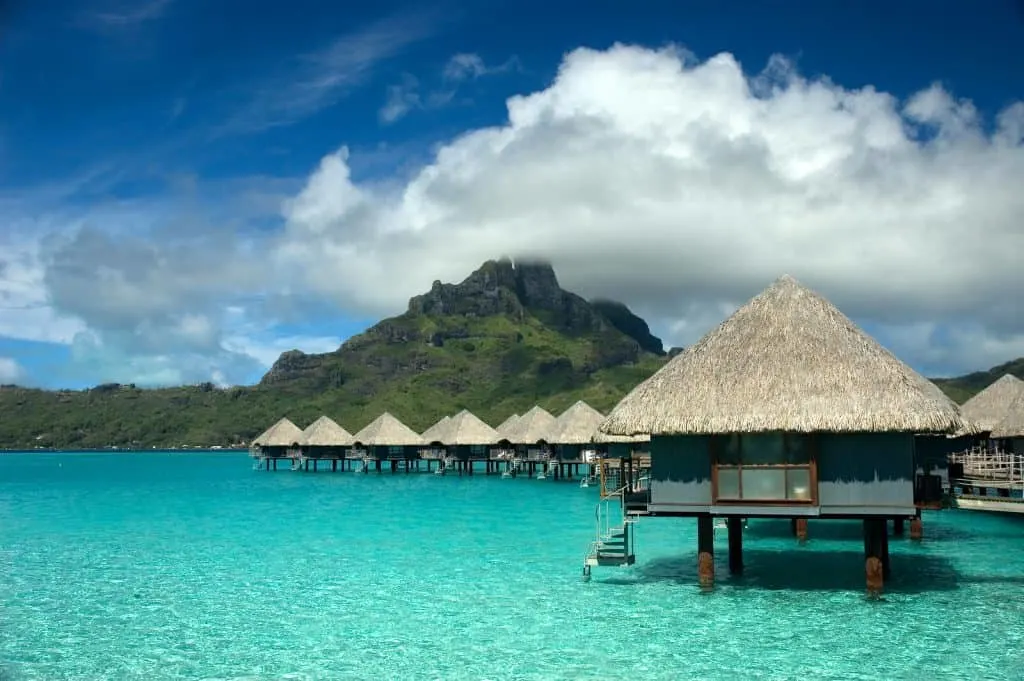 A vacation in Tahiti is the stuff of dreams. This remote, tropical islands is situated in the middle of the vast Pacific Ocean in French Polynesia. The remote nature of the island and the natural beauty of the landscape, water, and the sea life weave together to make for an unforgettable tropical family vacation.
Scuba dive and snorkel with stingrays, sharks, turtles, and other marine life in waters so shallow and clear, they have to be seen to be believed.
Motu (islets) are everywhere in Tahiti. Take a trip to a motu to snorkel or picnic and you're likely to be the only ones on the island.
Or, go on a tropical safari on 4x4s into the interior with Mato-Nui Excursions. The Papenoo Valley impenetrable rainforests hued with every shade of green.
Make time to island hop to Moorea where you can enjoy snorkeling, scuba diving, outrigger canoeing, paddle or kiteboarding, surfing, water skiing, hiking, bicycling, ATVing, or whale watching in one of the most beautiful places in the world.
Stay Here:
Tahiti is the birthplace of the overwater bungalow. You and the kids can sit in a chair and peek down through a glass window in your overwater bungalow at the marine life below at spots like the InterContinental Tahiti Resort and Spa.
Read our full guide to a vacation in French Polynesia.
Special thanks to Marisa Langford who wrote the original version of this article in 2015.