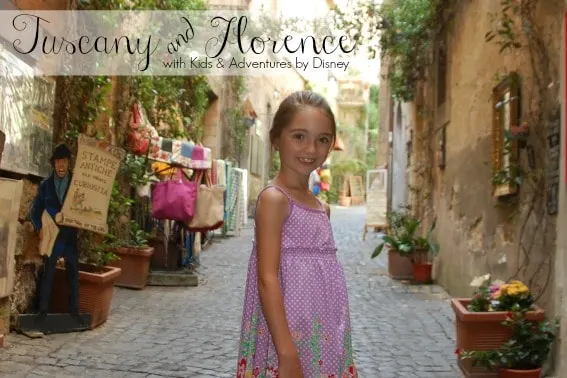 After bidding a fond farewell to the Eternal City (be sure to read all about the Roman leg of our Adventures by Disney journey) we embarked towards the Italian countryside. There was no need to lug our luggage to the bus because Disney's magic fairies had come by and whisked it away prior to departure, assuring us that everything would be tucked safely inside our next hotel room and awaiting our arrival. During our drive I was surprised to discover most of this country of 60 million people is actually quite rural. While I gazed out the window at the rolling green hills dotted with farms, our guides Marco and Landon took meal orders for the evening and made sure our entire group was well-stocked on snacks and water. As much as I loved the excitement of seeing the top things to do in Rome with kids, it felt good to breathe and admire Italy's natural beauty.
---
[cta id="67854″ align="none"]
Orvieto and lunch under the Umbrian sun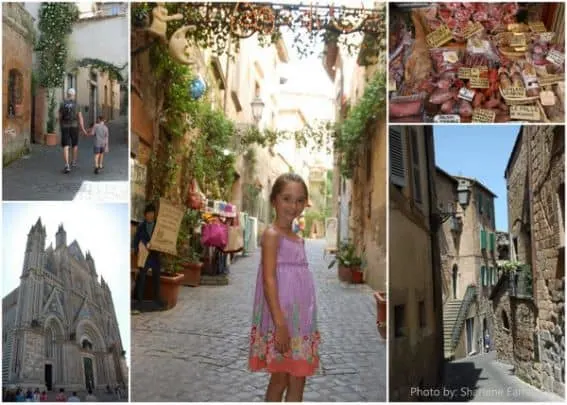 We all know about the timeless beauty of Tuscany, but Umbria, the green heart in the center of Italy, is equally worthy of praise. Our coach parked in a lot at the base of a hill unlike any of those we were used to seeing in the United States. At the top of the hill, reached via funicular, stood a fortified medieval city, begging for exploration. The village was everything I could have ever dreamed up: narrow cobblestone streets, quaint earth-toned shops filled with goodies created by local artisans, and an ornate 14th-century cathedral standing at center stage. Orvieto is known for its truffles, white wine, and hand-painted pottery, all of which are readily available for purchase. My family chose to spend the bulk of our time in this Etrucsan village window shopping and taking in the views, including panoramas of the Italian countryside below.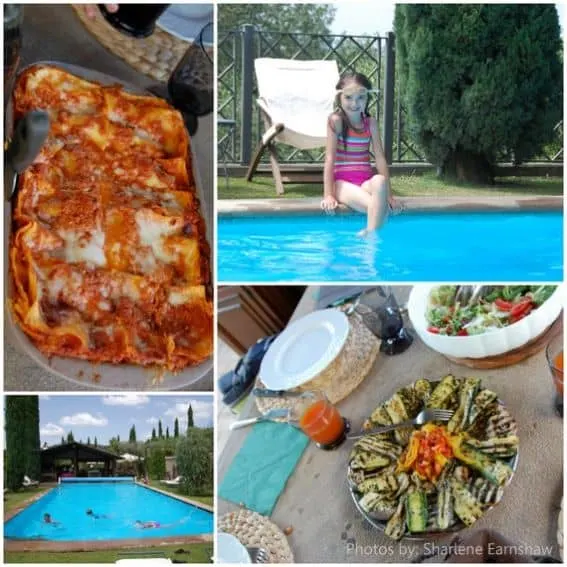 After Orvieto, we drove deeper into the countryside until we reached Relais Gli Ulivi, the private, family-owned estate where we would be having lunch. Once again, Disney had outdone themselves. The estate is the sort of place that makes you want to drop everything and move to Italy. The family owns an expansive olive orchard in the hills, with views that are far to magical to actually be real. Course after heavenly course of authentic local cuisine served overlooking asp rawling olive orchard. Check. Medieval village rising on a distant hillside. Check. Sparkling pool for the kids to splash in while the parents indulge in one more glass of wine. Check. Cooking demonstration on how to make Torta Della Nonna. Yep, they did that too!
Movie for them, wine for us!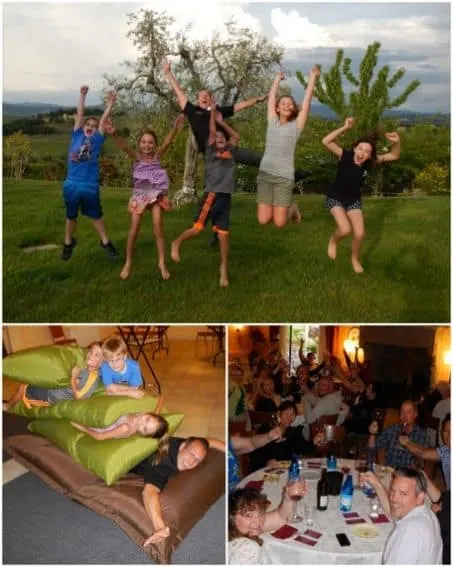 As if our Umbrian excursion wasn't enough to make for a perfect day, Disney still had an entire evening of magic planned for us at our Tuscan home for the next few days, Borgo Di Cortfreda. We were greeted with a welcome drink and the contagious energy of Max, the hotel's charming and exuberant manager. I am sure there are many beautiful hotels with stunning views all over Tuscany but they don't all have Max. He exuded such joy and passion that it instantly made our entire group the newest members of what I am sure is an ever-growing fan club.
Our first night in Tuscany was the night my kids were looking forward to most. It was Junior Adventurer movie night, and Marco and Landon were in charge! First the kids played games on the lawn, before indulging in a very serious Italian soda tasting. This was followed by dinner, a Disney movie, and of plenty of belly laughs courtesy of Marco, Landon, and all their newfound friends. Meanwhile, us parents were absolutely giddy to have a meal that didn't involve reminding our kids about a thousand times about basic manners. Instead, Max led us through a food and wine tasting, convincing us that we absolutely could not leave Tuscany without that bottle of aged balsamic, tin of local truffle oil, or bottle(s) of wine. Then it was dinner followed by wine, wine, and more wine. Did I mention how much we enjoyed the wine?
---
[cta id="67854″ align="none"]
Pasta-making, wine, medieval banquet, and more wine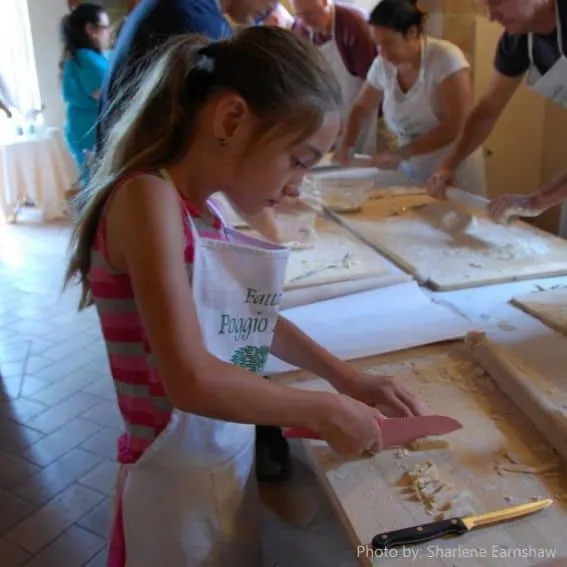 Disney must have known how much we were going to enjoy the wine from the night prior because they let us off the touring hook with an easy yet memorable day in the Tuscan countryside. After a leisurely morning breakfast at the Borgo, we hopped in a coach for a short ride to the Fattoria Poggio Alloro, a family-run farm and winery with picture-perfect views of the medieval towers of San Gimignano. It was there that we would meet Sarah Fioroni, the farmer's daughter, cookbook author, and pasta maker extraordinaire. She taught us all how to make our own homemade pasta using semolina flour, farm fresh eggs, and a bit of elbow grease. We all had so much fun making our own linguine, spaghetti, and tortellini, but luckily, our lunch was left to the professionals. While lunch was being prepared, we went on a tour of the winery, fed the cows, and even did some more wine tasting while the kids learned how to flavor their own olive oil with farm fresh herbs. The food and the views at lunch were phenomenal but my daughter's run in with an Italian bee was not. Luckily, Marco and Landon were well prepared, acting faster than any EMT I have ever seen. They were equipped with everything we could have ever needed to make sure the bee sting was well taken care of, including an ice cream to dissolve any remaining tears. Our adventure guides passed the emergency preparedness test with flying colors!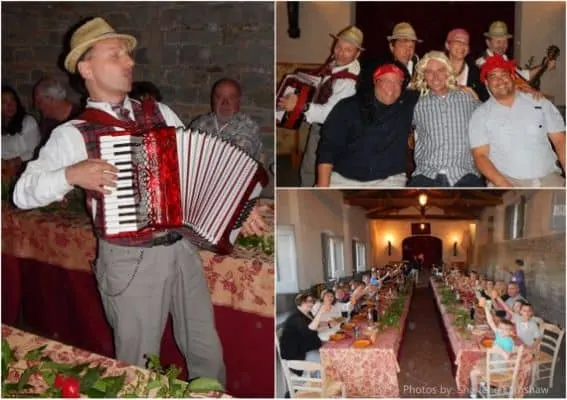 The evening's meal was unlike any other. A short drive took us to yet another irresistibly quaint hilltop town, Certaldo, where we discovered we would be dining inside an old monastery. Our multi-course, medieval-themed dinner was served to us by costumed servers and the setting was truly special. The evening came to life when our servers turned into performers, singing jolly songs and encouraging us all to get in on the fun. It wasn't long before they had men in wigs sitting on each other's laps and the entire group hysterically laughing at the light-hearted spectacle. It was a celebration of our wonderful day in Tuscany complete with joyous sing-a-longs and a conga line.
Florence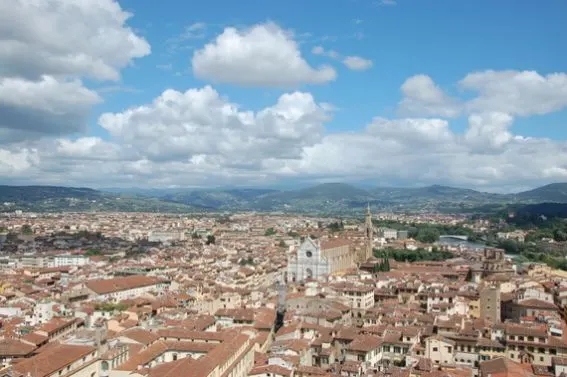 We have plenty of reasons to be thankful for the Medici family. They were the ruling family in Florence beginning in the late 14th century, and they were open to new ideas about art and humanism. These ideas took us out of the Dark Ages and birthed the Italian Renaissance, a movement that would slowly bring about change throughout Europe. The art and history of this Tuscan city have been remarkably preserved, making it an important stop on any tour of Northern Italy. Disney's tour begins with reserved entry to see Michelangelo's "David," perhaps the most iconic statue in all of creation. Our local expert guide pointed out all of the nuances of David's perfection, before leading us on a walking tour of the city. We marveled at sights such as the grand Duomo which stood in opulent fashion, the romantic Ponte Vecchio which spanned the Amo River and has served as the backdrop for countless pictures throughout the generations, and the vast markets famously known for their high quality leather goods.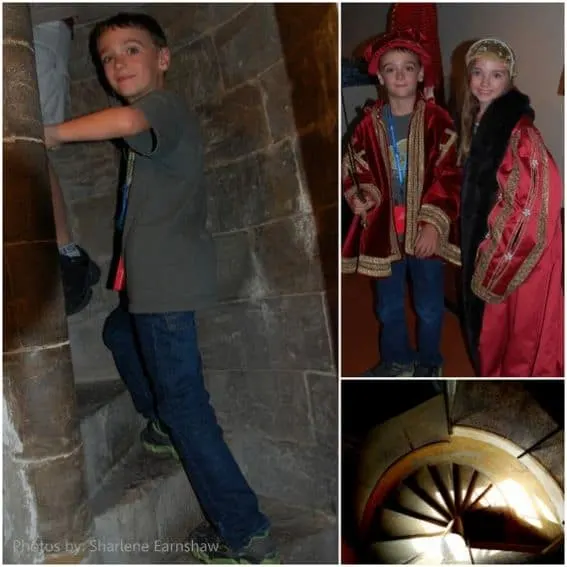 After lunch we enjoyed the highlight of our day, a private behind-the-walls tour of Palazzo Vecchio. My entire family had fun playing spy as we crept through hidden passages held inside this famed palace's walls. We saw Medicini commissioned works created by Michaelangelo, Botticelli, and Vasari. We even tried on recreations of clothing worn by the wealthy during Renaissance times. The tour kept the children engaged without compromising the desire of us adults to soak every bit of art and history that the Palazzo held.
Our group was given free time to split up and explore Florence on our own that afternoon. Two return options were given- leave early and have dinner back at the hotel or stay late and enjoy an evening in Florence. As much as my husband and I wanted to stay and soak up as much of Florence as we possibly could, we had to give in to our little one's tired feet a break and head back. Lucky for us, the Borgo di Cortefreda has a fully stocked wine shop and Max was eager to show my husband which bottle he should purchase to share during our last evening of relaxation in Tuscany. We sipped that full-bodied red and savored our last moments in the countryside because the next day we were boarding a bullet train and heading to Venice.
Borgo di Cortefreda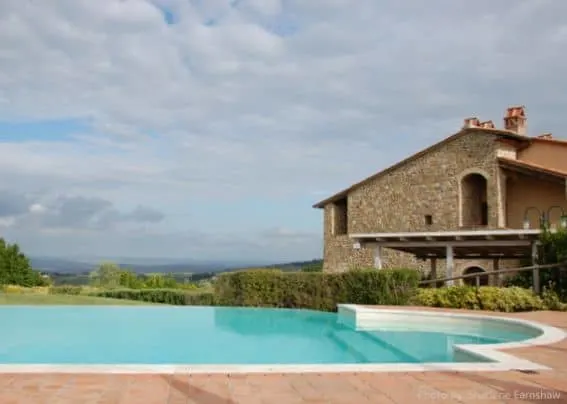 Borgo di Cortefreda, our hotel home during our time in Tuscany, is the sort of place that lends itself to relaxation. With just 55 rooms, the property felt small but not too small, and the staff couldn't have been more friendly and accommodating. The onsite restaurant and wine shop are not to be missed. My kids were most excited about the swimming pool and vast lawn, but I was much more impressed with the sweeping views of the countryside which served as our backdrop. Our family of four was given two adjoining rooms which we found to be especially spacious by European standards. The tiny village of Tavarnelle is within walking distance but vineyards and cypress trees are the property's closest neighbors.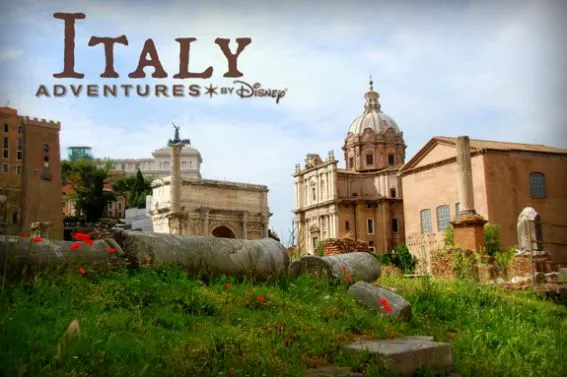 Want to learn more about the Adventures by Disney Viva Italia experience? Check out my overview of the Adventures by Disney Viva Italia experience and a detailed account of our time in Rome. Ready for your own Italian dream vacation? Book your trip with Adventures by Disney.
Want even more Adventures by Disney? Check out the trip my family took with Adventures by Disney to Peru.
---
[cta id="67854″ align="none"]
Disclosure: I received a complimentary tour for myself and guest as well as discounted rate for two additional family members so that I could cover Adventures by Disney's Via Italia trip. Disney requested nothing more than an unbiased account of my experience. All opinions are my own.