We are reader-supported. When you buy through links on our site, we may earn an affiliate commission.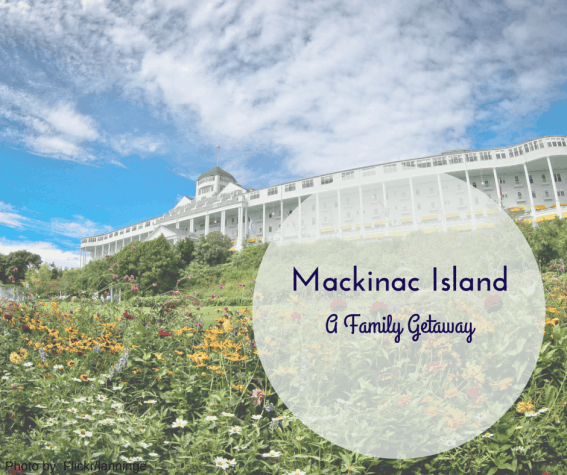 Located in Lake Huron between the lower and upper peninsulas of Michigan, Mackinac Island is an idyllic destination unlike any other. Many say a visit to Mackinac Island is like stepping back in time where the vrooming of cars are replaced with the clip-clop of horses and bicycles quietly whizzing by. Whether you choose to explore the island by foot, bicycle, or horse-drawn carriage the island provides a chance to relive history as it was in the 1800's or sit back on the world's longest porch and people watch. Whatever you may choose to do, take it slow, breathe, and relax. After all, you are on island time!
Stroll Main Street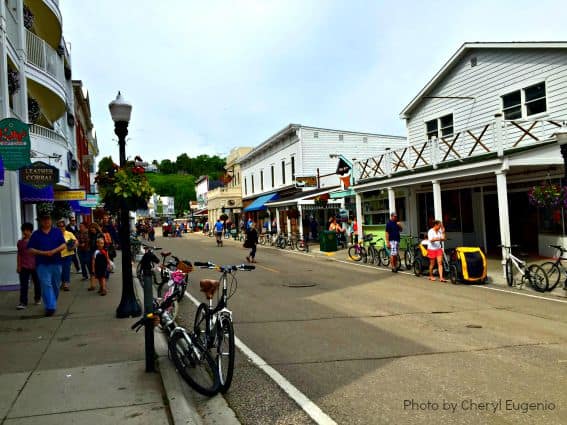 After stepping off the ferry, Main Street, the hub of activity on Mackinac Island, greets you. Follow the sweet smell to any of the fudge shops for a sample. After all, you are at the Fudge Capital of America. Looking for a Mackinac Island souvenir? I absolutely fell in love with Little Luxuries of Mackinac, a cute boutique shop with unique Mackinac Island goodies such as handmade candles, cute artwork, and even souvenirs for your favorite pooch. Visit Doud's Market, Michigan's oldest family-owned grocery store, for necessities, a picnic lunch, or even regional wines and beers.
Not sure about which ferry to use? We loved our Star Line Ferry boat ride, complete with "rooster tail!"
Explore the Island by Horse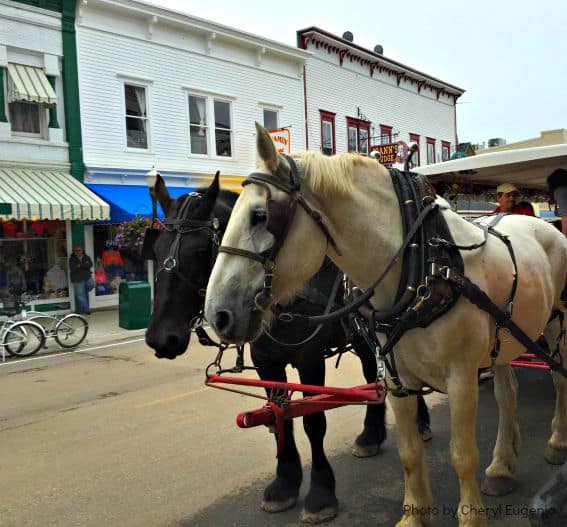 Never been to Mackinac Island before? One of the best ways to acquaint yourself with the charming island is to sit back and relax and take a horse-drawn carriage tour. The Mackinac Island Carriage Tours is a great way to familiarize yourself with the island and in under two hours you'll quickly understand why people fall in love with the island. The tour is full of tidbits, corny jokes, and a different way to see the highlights of Mackinac Island. Pass by old Victorian houses, see the Grand Hotel in all its magnificent glory, and marvel at the natural wonder Arch Rock. The stops at the carriage museum, the optional butterfly house, and Arch Rock are also great ways to stretch the legs. Not to mention provides a much-needed diversion for antsy toddlers and babies.
Explore the Island on Two Wheels (or Four)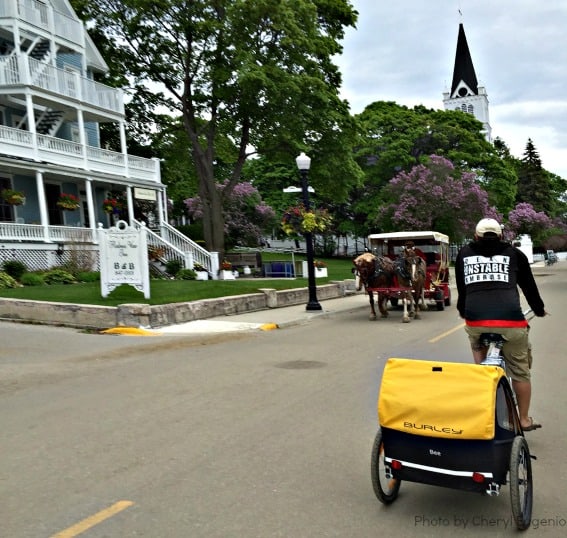 As you can probably imagine, one of the most popular ways to explore the island is by bicycle. Visitors have the option of riding the relatively flat 8-mile bicycle trail circling the island, or can challenge themselves with biking the island's hilly interior paths. Since most of the island is covered by Mackinac Island State Park, the entire island is waiting to be explored. Just watch out for the poison ivy! Bring your own bikes or rent them at several locations including Mission Point Resort on the east side of the island.
Admire the View from Grand Hotel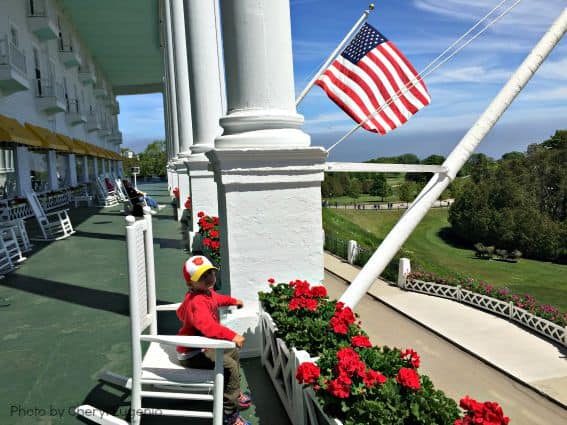 A visit to Mackinac Island is not complete with stopping by America's Summer Place, Grand Hotel, and even if you can't stay here the next best thing is visiting. With an entrance fee of $10, you'll see the hotel's fabulous interior and have access to explore the grounds. Shop the lower level shops, then grab a scoop of ice cream from the on-site ice cream parlor, Sadie's (named after the original owner's dog). Afterwards, make your way to the hotel's porch, deemed the longest in the world. Sit back on the rocking chair and watch horses clip-clop their way to the hotel. If you still find yourself hungry, the hotel offers a lavish luncheon buffet and dinner (with a dress code).
Tip: Head to the Cupola Bar for exceptional views of the bridge, lake, and huge serpentine pool.
Relive History at Fort Mackinac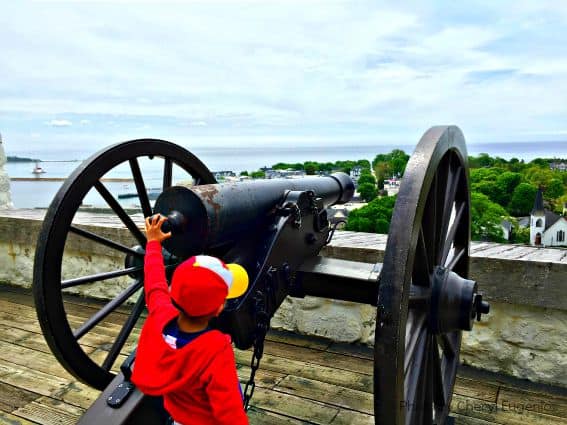 History comes alive at this former military post. On any given day, families at Fort Mackinac can hear live cannon blasts and see soldiers in period clothing marching on. Families can spend the day exploring the oldest building in Michigan along with 13 other historical structures where they can learn about military training and family life within the fort. Children will delight at the Kids' Quarters with hands-on displays, learn morse code, and play interactive games. Don't forget to check the schedule – costumed interpreters perform live demonstrations such as rifle firing or playing in a musical concert.
Join the Festivities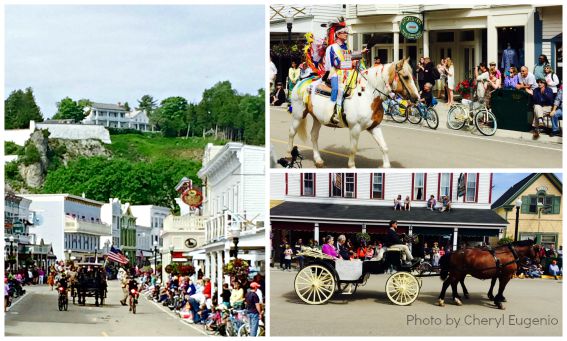 Quite honestly, anytime is a great time to visit Mackinac Island, but to make your vacation extra special visit during any one of their family-friendly festivals. It's all about the fragrant flower at Lilac Festival with ten days of festivities including turning Windemere Point into a free family playground, a run, and a horse-drawn carriage parade. Love fudge? You'll love Fudge Festival even more. Horse is king on Mackinac Island and it seems appropriate to honor them with Festival of the Horse.
Tip: Planning to stay on the island during a festival? Be sure to reserve accommodations far in advance!
Simply Unwind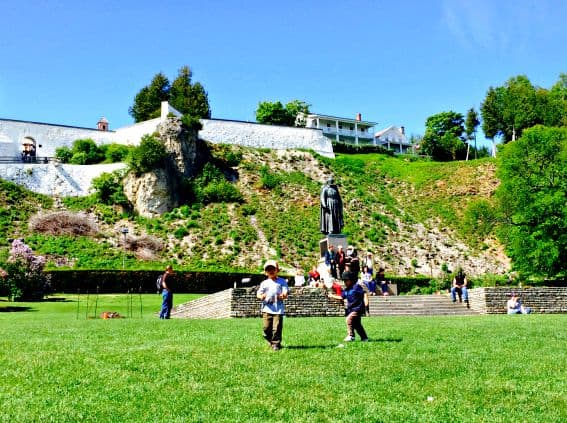 One of the best things about Mackinac Island is the ability to relax. Grab yourself a picnic blanket and sit on Marquette Park's hilly lawn. Conveniently located in front of Fort Mackinac and east of the busy downtown area, the park provides a quiet oasis to watch bicyclists and horses pass by and the ideal place to enjoy your ice cream and fudge. Kids can then burn off their sugar high at the park's playground, throw around the frisbee, or run to their heart's content. Another great place to relax is at Windermere Point located right by the shores which provide ideal kite-flying conditions.
Where to Stay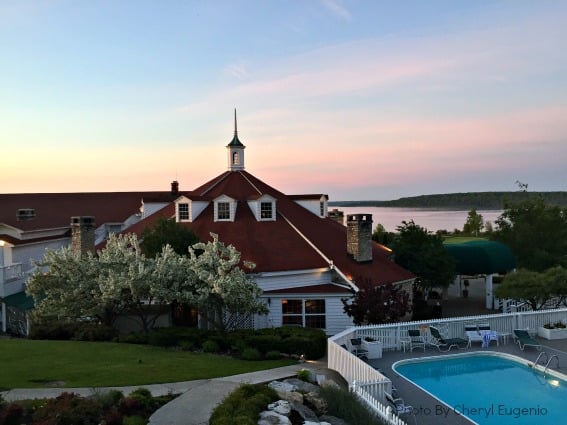 Although a trip to Mackinac Island can be accomplished with a day trip, to truly experience the island's lure and magic, nothing beats staying on the island. Luckily, families have tons of choices that range from quaint B&Bs to the extravagant resorts. For fun family activities and lodging that won't break the bank, consider a stay at Mission Point Resort. Watch a movie at the island's only movie theater, grab a seat and take in the views at the huge front lawn overlooking Lake Huron, take a dip in the outdoor pool, or challenge each other for a fun golf game on the 18-hole putting course. Learn a little bit more about Mackinac Island at the resort's five-floor Tower Museum, but the highlight is the view overlooking Lake Huron from the top. Once you've taken advantage of the resort's fun activities, it's time to explore the island! The on-site bike rental will be happy to help you. Kids eat free at any of the restaurants.
Tip: If you can sneak away first thing in the morning (or better yet round up the crowd), head north a few feet where you'll have unobstructed views of the sunrise. Well worth it!
Are you ready to plan your Mackinac Island vacation? Read on for more Mackinac Island tips.
Disclosure: I was provided with hotel accommodations and activities in order to facilitate this review. The opinions stated, however, are entirely my own.