Where is Bermuda? Most people who haven't visited this island before immediately picture Bermuda's iconic blue and white sand beaches and assume it is in the Caribbean. Surprise! Bermuda is closer to North Carolina.
Where is Bermuda Exactly?
It's 600 miles east smack dab in the Atlantic Ocean, less than 2 hours direct flight from Boston, New York, Philadelphia, Toronto, and Washington DC. But this quick getaway from the Northeast isn't all that will surprise you about Bermuda. There are so many awesome things to do on your Bermuda vacation.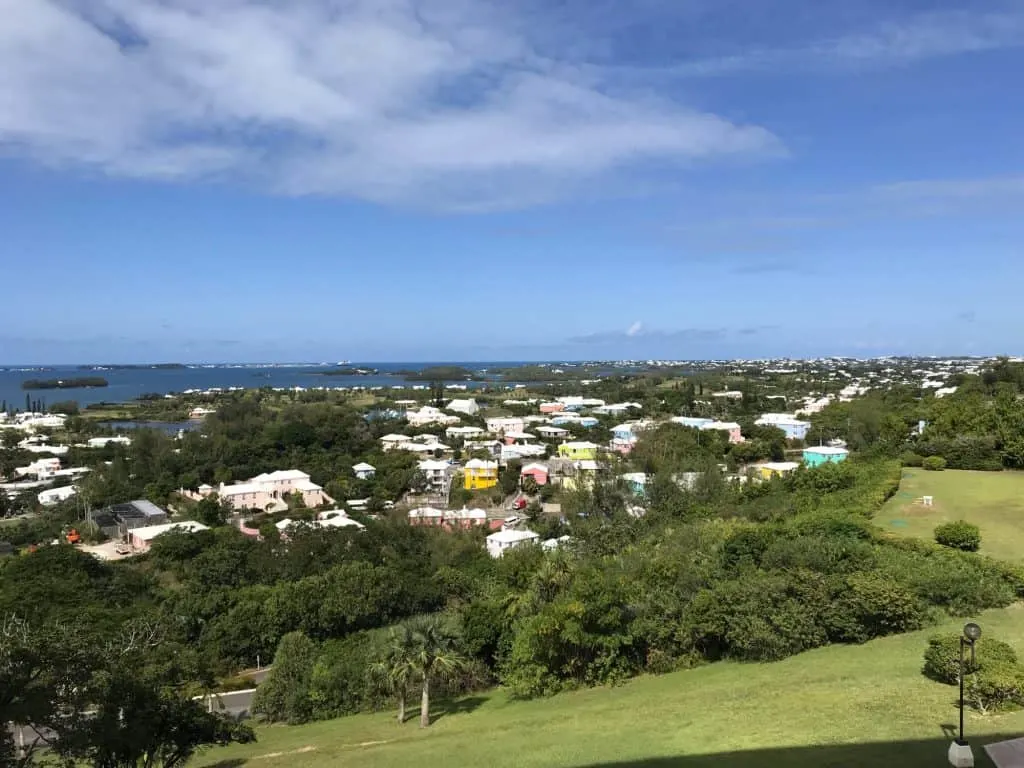 My flight arrived in the evening. So when I awoke that first morning and drew open the curtains at the Fairmont Southampton, I gasped at the sapphire blue waters surrounding the island.
Bermuda has a lacy coastline dotted with green vegetation and brightly painted limestone cottages. It's so adorable that this curious traveler couldn't stay in bed. What I discovered over the week I spent in Bermuda is an island that's like an onion with layer upon layer of history, culture, and natural beauty.
Are you arriving by cruise ship? Here is a great packing list for your cruise.
A Lesson in Bermuda Geography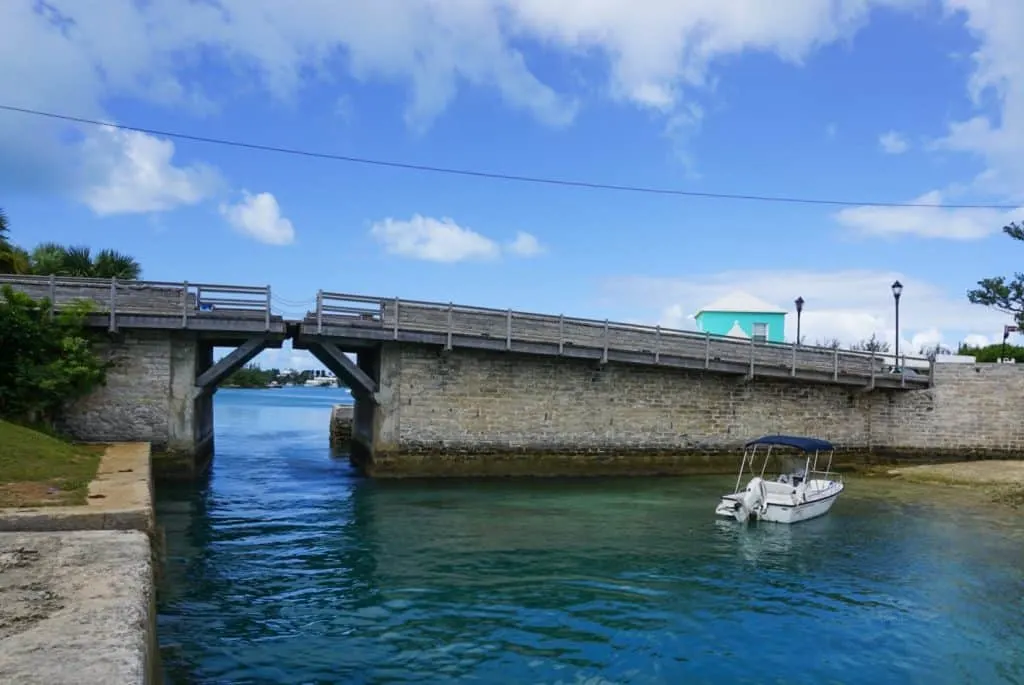 Many who come to Bermuda arrive by cruise ship, but if you fly in, try to score a window seat. From that bird's eye view, you'll see that "Bermuda Island" is a small J-shaped collection of nine main islands. Narrow inlets and bridges interconnect them. These islands are the very tops of a massive underwater volcano rising from the floor of the Atlantic ocean. An extensive reef system surrounds Bermuda's islands.
At the top of the "J" due northeast is quaint and historic St. Gorges. The parish of Hamilton is midway down the J-shaped island. Southampton is on the outer curve of the hook, and the impressive Royal Naval Dockyard is at the furthest end of the hook.
Tourist getting around the island have the option of jumping into a taxi (most expensive), utilizing the efficient and very safe public bus and ferry system, or renting a two-seater Twizzy.
Things to do in Bermuda on Your Vacation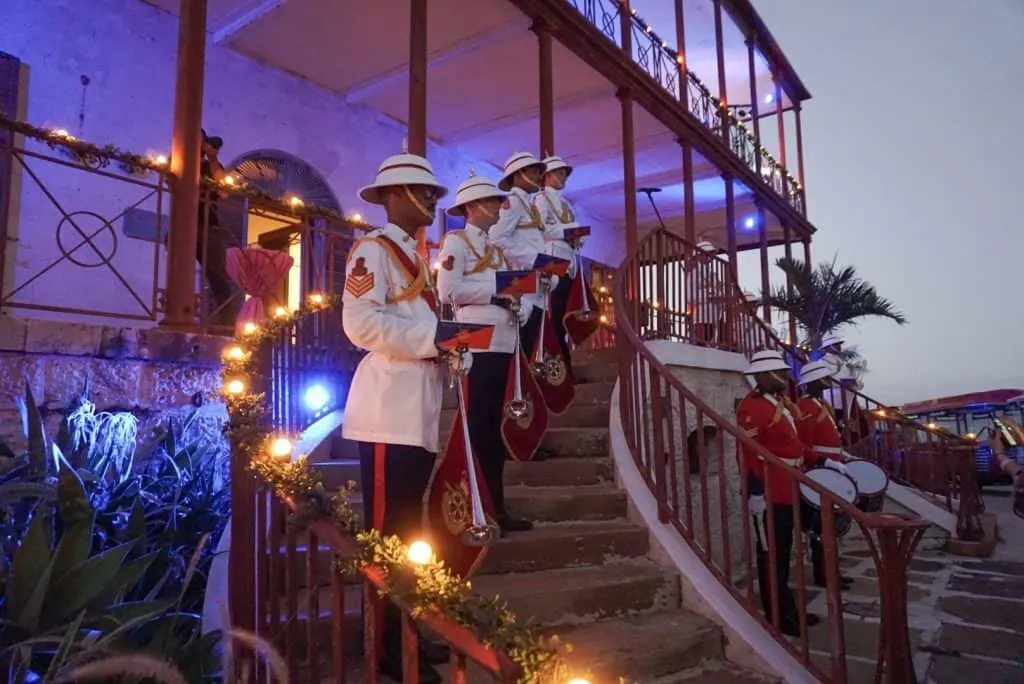 Bermuda is the oldest British Territory, with it's founding in 1604, around the same time as the founding of Jamestown in the Americas. It's proximity to the "New World" was a strategic one and its history is a tapestry interwoven with Britain's and America's.
However, Bermuda is distinctly Bermudan. Known as a tax haven for the wealthy, it has drawn highly educated and sophisticated residents who enjoy the relaxed island charm. Bermuda's iconic shorts and sport coat attire captures it's vibe perfectly.
1. Bermuda Lectures and Tours
Several local tour guides can bring the history of Bermuda alive for families. Bermuda Lectures and Tours offer 2-3 hour walking tours that cover the history of the Royal Naval Dockyard, the City of Hamilton, some sections of the Railway Trail, and various nature reserves.
Owners, Tim and Mary Rogers, were the teacher and conservationist duo who lead our fascinating Railway Trail tour. These historical tours would be best for families with kids eight and up.
2. Bermuda Haunted History Ghost Walk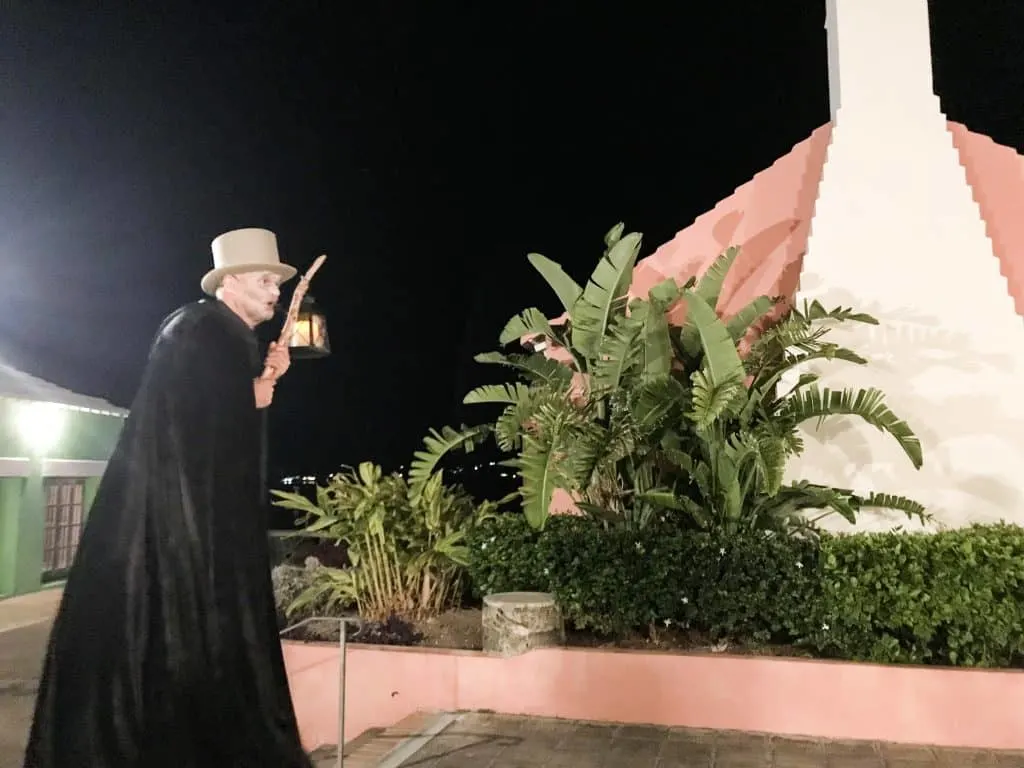 If your kids usually yawn at history, the Bermuda Haunted History Ghost Walk on Thursday nights will spook them to attention.
St. Georges is a UNESCO World Heritage Site bursting with historical charm and colorful residents. Who knew that during the American Civil War, the Confederates staged a biological attack on the north from the town of St. Georges in Bermuda? Take this tour, and you'll learn more about the intrigue of their plot.
3. Explore Bermuda's Quaint Towns and Neighborhoods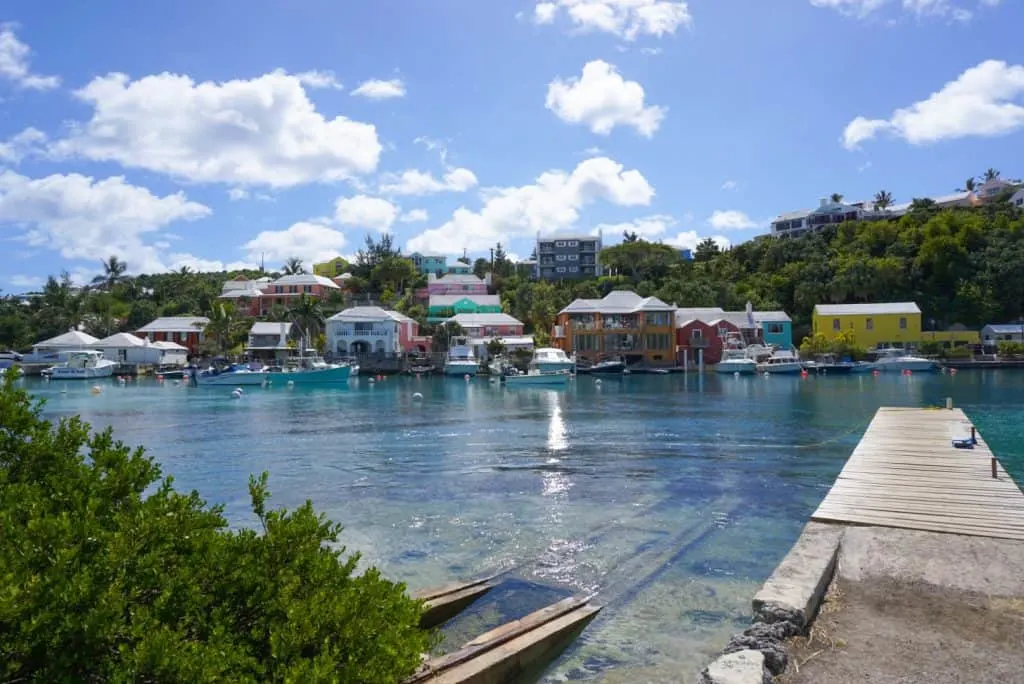 Bermuda's casual sophistication is everywhere you look. The island awoke a nostalgia for Jersey Island in the United Kingdom where my grandmother lived. Narrow windy roads, picturesque neighborhoods, colonial-style buildings, quaint limestone cottages, and stone fortifications, all felt familiar. The warm sunshine and bright blue waters, however, transported me back to the tropics where I grew up.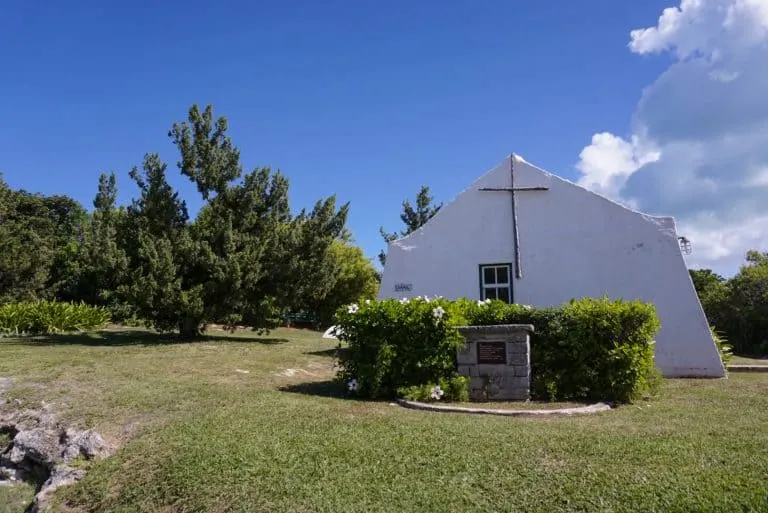 The limestone cottages have a couple of distinctive features that make them unique to the Island of Bermuda. Each is capped with white stepped roofs and painted in cheerful Caribbean colors.
The limestone roofs are part of a rain catchment system that makes every home in Bermuda mostly self-sufficient in its fresh water supply. An innovation birthed out of necessity. You see, Bermuda has no fresh water lakes, underground springs, or rivers. So rainwater capture and desalination are the island's only sources of water.
4. Bike Along the Old Railway Trail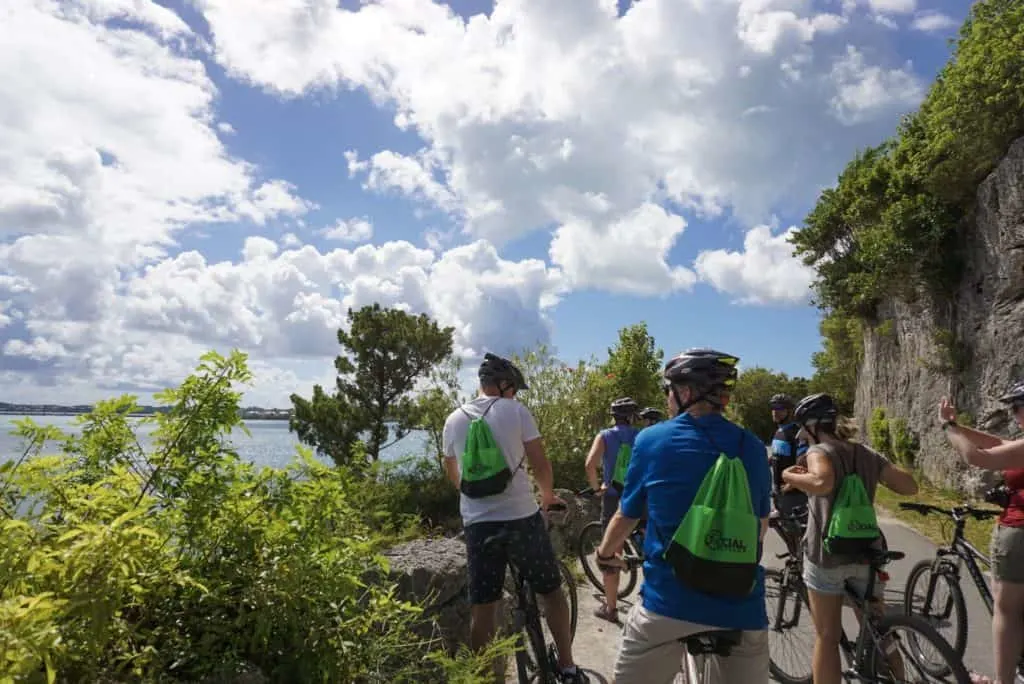 A fun way to explore Bermuda is by bike. The Bermuda Railway Trail serviced the island's residents for a short 17 years. In 1948, it was abandoned. It reopened in 1984 as an 18-mile walking and biking trail that takes you from the town of St. Georges on one end to the Royal Naval Dockyards at the other end of the island.
You can pick up the trail in any of the nine parishes of Bermuda. Local fruit trees line the trail and locals in the know often stop for a fruitful feast.
There are several bike rental operators on the island. You can choose a self-guided ride or go on a 3+ hour bike tour with a local guide. We thoroughly enjoyed our guided bike tour with Social Cycles Bermuda. Our guide showed us the local goodies growing along the trail and shared the rich history of the island.
5. Play in Bermuda's Brilliant Blue Waters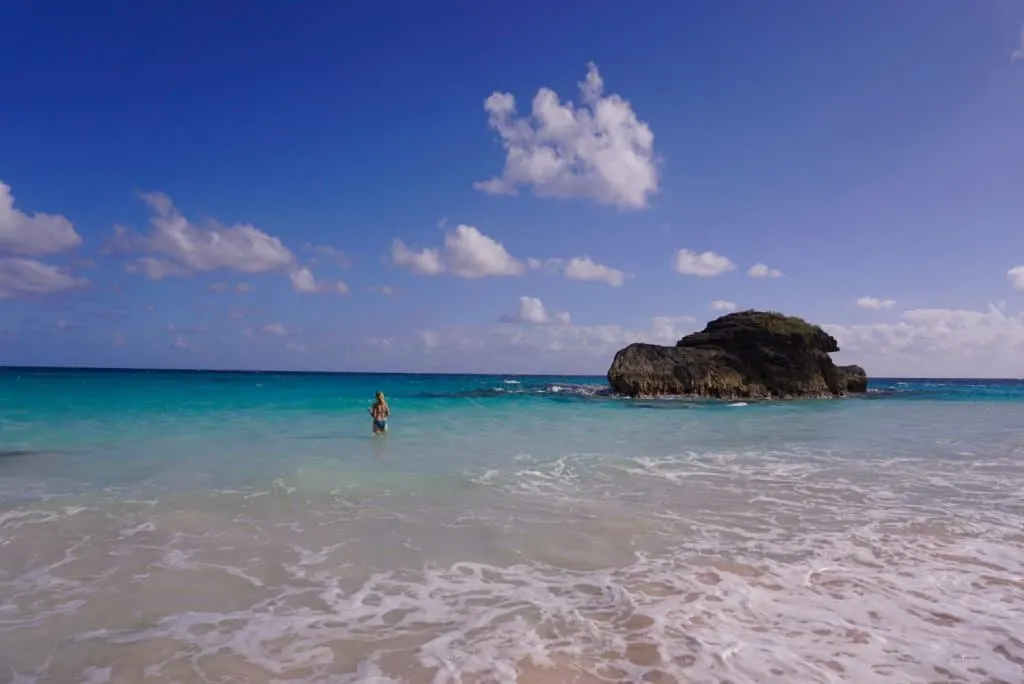 It seems that Bermudans live as much on water as on land. Who can resist getting out on the water when surrounded by beautiful pink sand beaches and crystal blue waters?
If you're curious like me, you'll be fascinated by the reason the water around Bermuda is electrically blue. Well, it turns out, the island is full of porous limestone rock. As a result, there are no rivers that pour silt runoff into the ocean.
When light hits a large body of water, yellow, and red light waves are naturally absorbed while blue light waves are scattered and reflected. Particles interfere to create different hues of water. But the mostly particulate free ocean around Bermuda results in a pure blueness that's mesmerizing.
6. Visit Bermuda's Pink Sand Beaches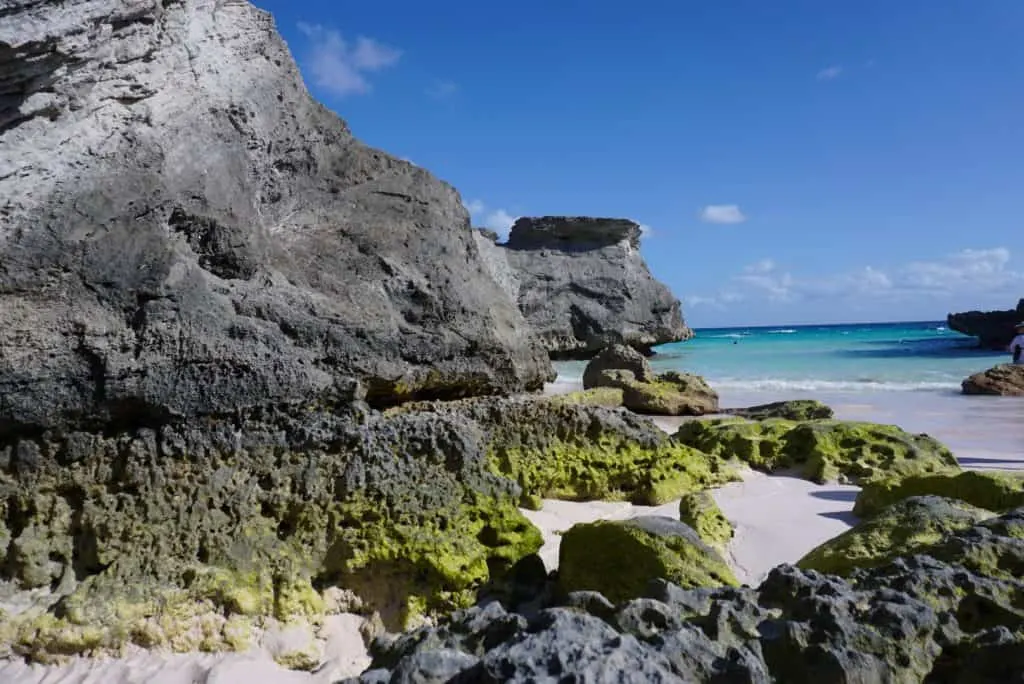 The pink sand beaches of Bermuda have a fascinating origin. Calcium carbonate shells that contain red foraminifera, a single-cell marine organism are responsible for the delightful pink sand beaches. These pulverized skeletons from invertebrates such as corals, clams, forams, and other shells accumulate on Bermuda's south shore beaches.
In August, the water is bathwater warm, around 85 degrees Fahrenheit. From Nov to May, it can dip to as low as 64 degrees.
So, if you're heading to Bermuda for a winter escape with kids, you might want to pack a light wetsuit for your little ones who get cold quickly. South Shore Park between Horseshoe Bay and Warwick Long Bay is a favorite for visitors and locals.
7. Snorkel in Bermuda
The expansive coral reef systems around Bermuda make for great snorkeling and diving but aren't great for surfing. Snorkeling can be done from a beach or a boat.
We quizzed some locals for their favorite snorkeling spots from the beach, and they recommended Church Bay and Reef Hotel.
For really young kids, Achilles Bay Beach in San George's has very calm waters. For the more advanced swimmer, Elbow Beach has lots of interesting underwater arches that snorkelers and scuba divers love exploring. If you're interested in snorkeling with sea turtles or glow worms, there are snorkel tours that will take you out to specific sites.
8. Visit Bermuda Aquarium and Zoo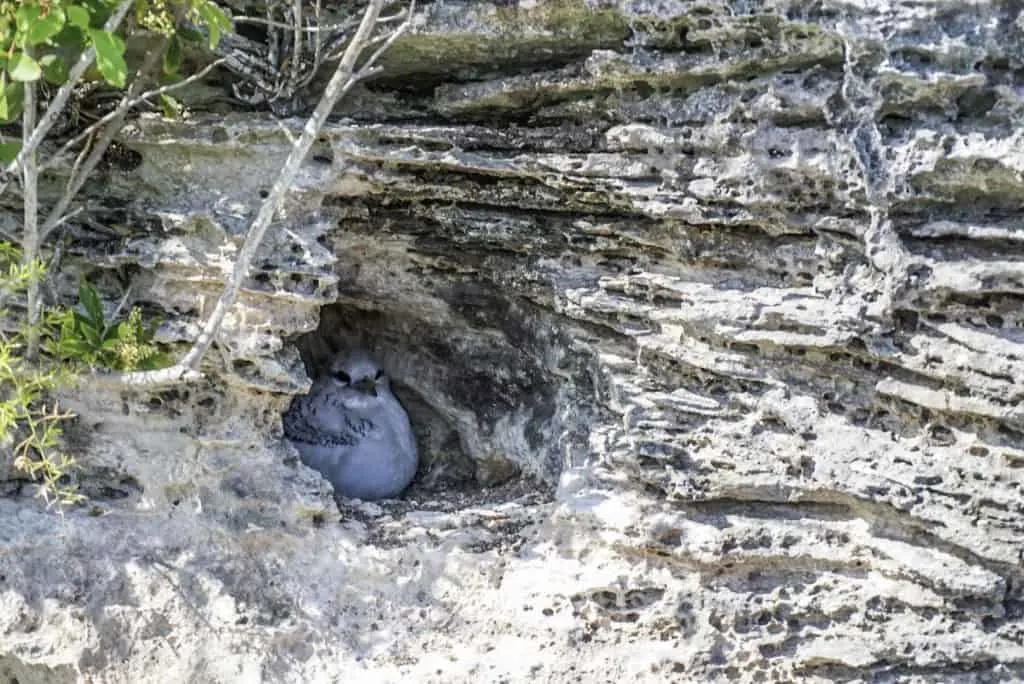 If your kids are too young to snorkel, you can still get up close to ocean life at the Bermuda Aquarium and Zoo. The aquarium is a non-profit organization with a critical mission – to educate youth about conservation of their fragile island habitat. The aquarium recently acquired a private island called Trunk Island. In addition to visiting the aquarium and zoo, you can book a tour to Trunk Island.
9. See Bermuda Crystal Caves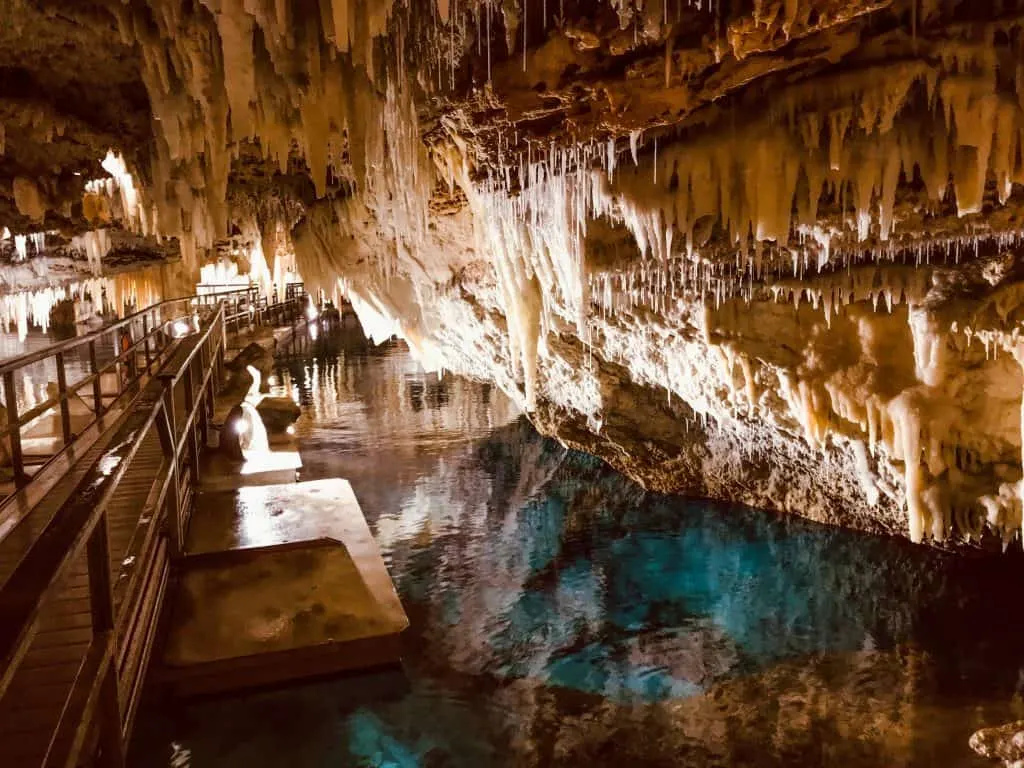 Remember how I told you that Bermuda is like an onion? Another layer to her beauty lies underground. A visit to Bermuda would not be complete without a visit to the magnificent Crystal Caves located in St. Georges.
There are two caverns to explore – Fantasy Cave and Crystal Cave. The walk down to each requires climbing 80+ steps each, but the trail is well lit and well paved.
Be sure to call ahead for the tide table to make sure that the water level is low enough that you can cross the pontoon bridge inside of Crystal Cave. The experience of walking over the magically blue water inside of this jewel-studded cave is hard to top.
Crystal Cave is very close to the airport, so it's a great stop either on your way in or out of Bermuda if your flight allows the time for a visit. Here is a great guide to visiting Crystal Cave Bermuda.
10. Sample Some of Bermuda's Local Food and Drink
Rum-based Fun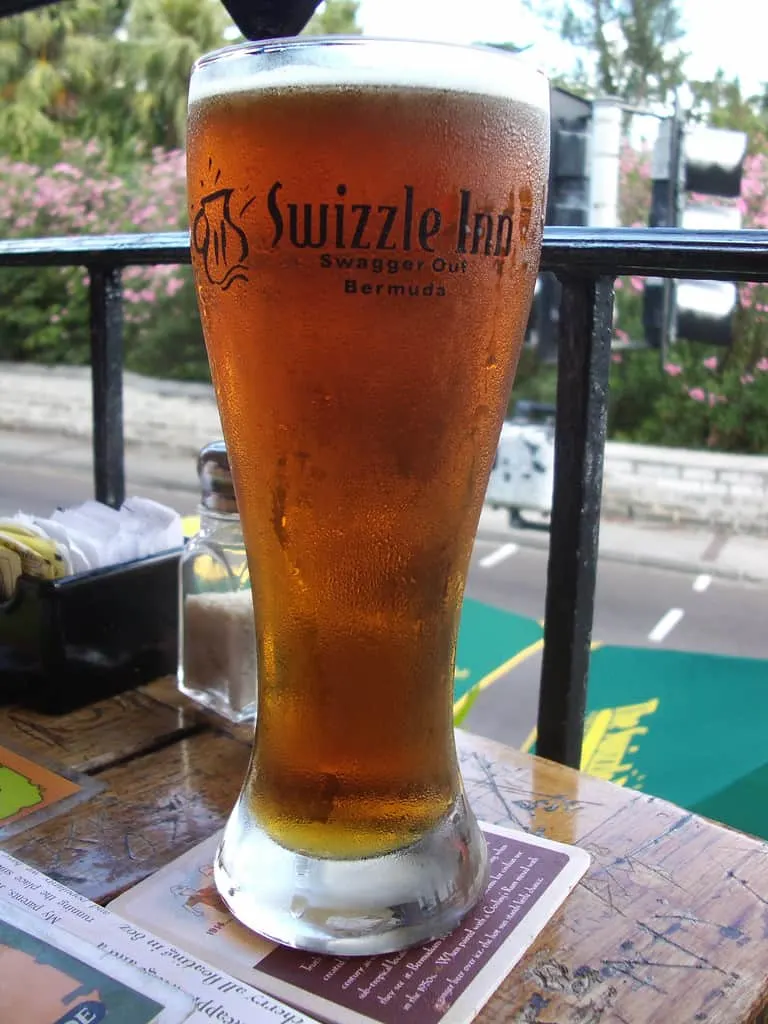 When in Bermuda, eat like a Bermudan, and chase each bite down like a local. Swizzle rum is served by the pitcher.
While you can get a Swizzle rum just about anywhere, locals gave away the secret that the Swizzle at Swizzle Inn and Pub has that special something. It goes does down real easy like a fruity sweet tea.
Dark and Stormy is a ginger beer and rum cocktail that might be more like "sweet and bubbly." Marcus Restaurant at the Fairmont Princess has their own take called the Darker 'n Stormier.
Bermudan Fish Sandwiches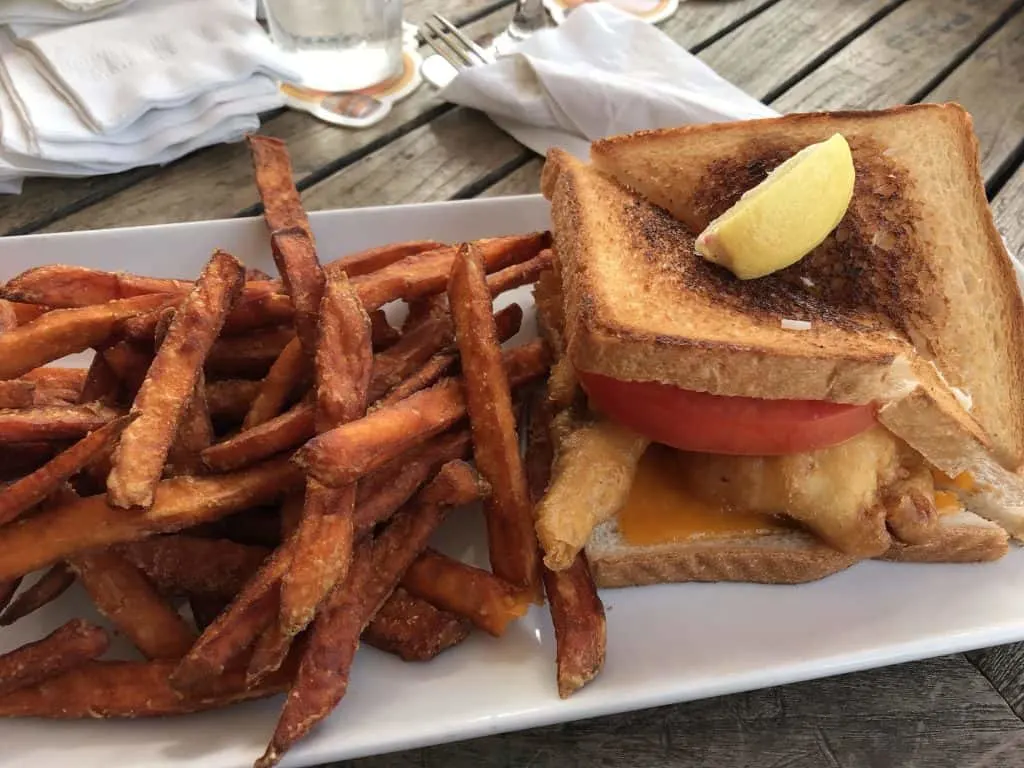 On an island with a melting pot of cultures, you'll find scones for tea, fish fry for lunch, gigantic BBQ Bermuda lobsters spilling over dinner plates, and Portuguese malasadas at any time of the day.
But if you're searching a no-frills local joint for the most epic of fish sandwiches, then Art Mel's Spicy Dicy in Hamilton is the place to head. Expect a tower of lightly-battered fried fish slathered in tangy coleslaw sandwiched between soft raisin bread.
Featured above is Swizzle Inn's special take on the fish sandwich which they call Bailey's Bay Fish Sandwich. It was delectable!
Bermuda Fish Chowder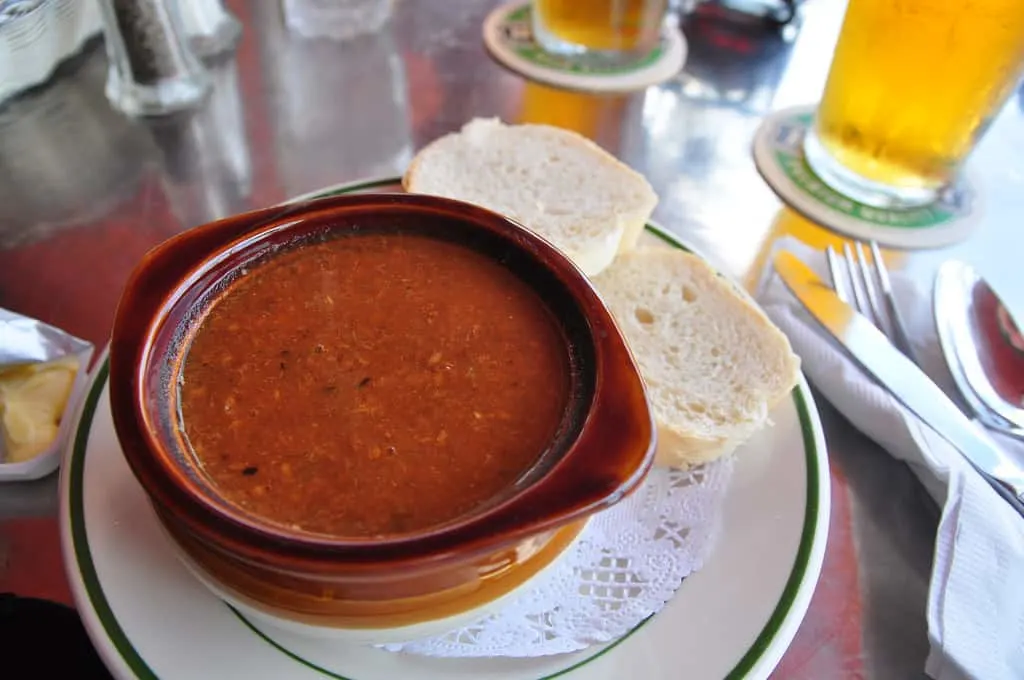 Perhaps no other dish bears the heart and soul of Bermuda more than a steamy bowl of fish chowder. It's packed with complex flavor but light on the palette.
You can enjoy a bowl of it just about anywhere on the island, but Wahoo's in St. Georges with a view of the water might be the best place to savor some fish chowder.
Marcus'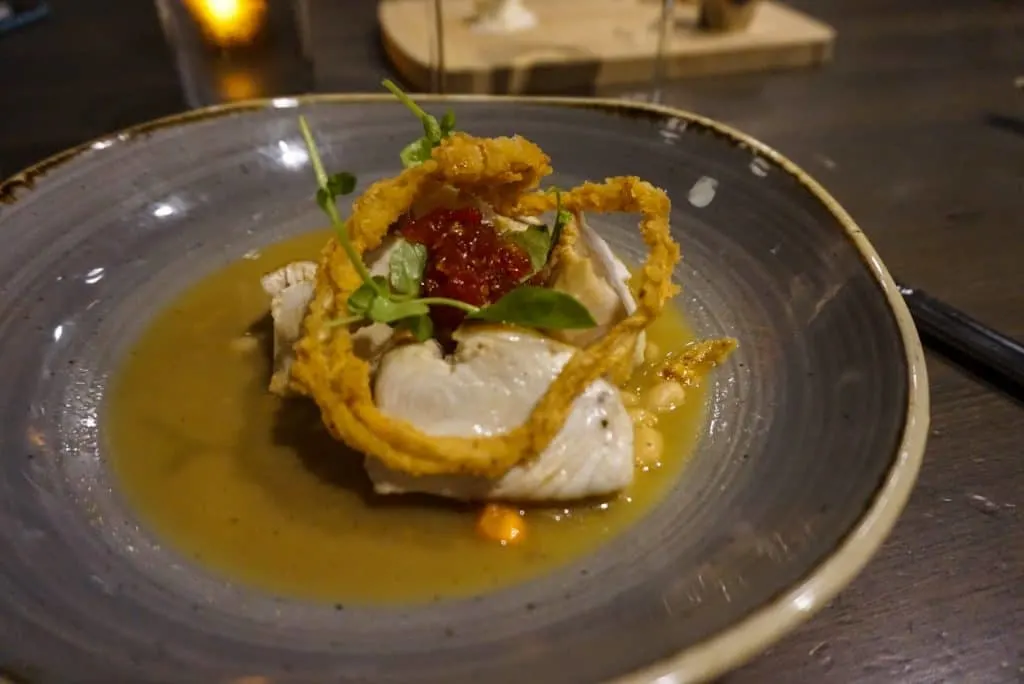 Redefining comfort food in Bermuda is a restaurant by celebrity Chef Marcus Samuelsson. At Marcus', you'll find some classics like fish chowder, reinterpreted into a croquette.
While parents dine on fresh lobster and shellfish, kids will find familiar comfort food items elevated to fine dining. I may or may not have devoured the best plate of chicken and waffles I've had the pleasure of sinking my teeth into.
Where to Stay in Bermuda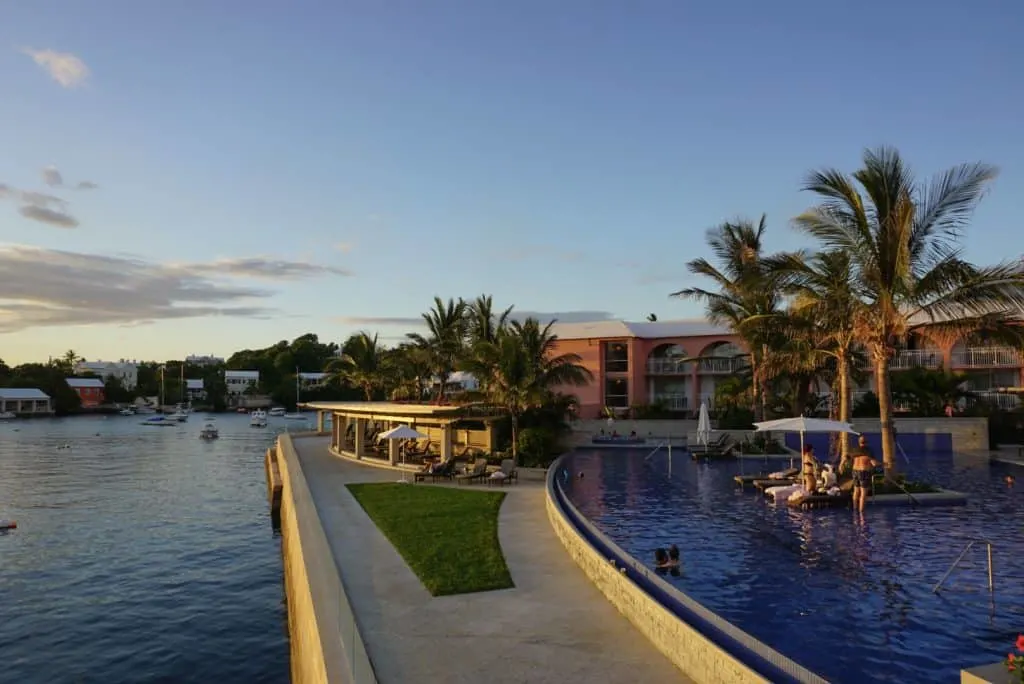 ➠ Check for the lowest prices on family-friendly hotels and cottages in Bermuda. As a Booking.com affiliate Trekaroo is proud to offer our readers the lowest rates guaranteed.
Fairmont Southhampton
There is no shortage of family-friendly hotels and resorts in Bermuda, but the Fairmont Southhampton has lots of amenities geared towards families with different interests.
Just a two-minute shuttle ride away is the Fairmont Beach Club. It features a private beach for Fairmont guests with a full-service water sports center, beach-side dining, and tennis courts. It is also adjacent to the beautiful pink sand beach at Horseshoe Bay. Parents can also enjoy golf or relax at the spa.
The Explorer Camp Kids' Club entertains children with arts and crafts, games and nature activities. There's also an arcade and dedicated kiddie pool.
Hamilton Fairmont Princess
If you're looking for a hotel centrally located with easy access to restaurants and other sites, the Hamilton Fairmont Princess has newly renovated modern rooms and a heated infinity pool with gorgeous harbor views.
Kids under five get free breakfasts. This property is not on the beach, but their free Jeepnee shuttle will take you to the beach club shared with their sister property.
The Reefs Resort and Club
For a more boutique experience, The Reefs Resort and Club is another favorite with families. This family-owned property has suite-style rooms as well as two-bedroom cottages and condos with kitchens.
Room rates include breakfast as well as complimentary kayaks, paddleboards, snorkel gear, towels, and beach chairs. Babysitting and laundry service is available as well.
Disclosure: The author was hosted by the Bermuda Tourism Authority to uncover the hidden treasures of Bermuda. She did not receive any other compensation and as always, these opinions are entirely her own.