All resorts are not created equal. Some are designed for couples looking for a romantic getaway while others are about spa and relaxation. Beaches Turks and Caicos is definitely designed with families in mind.
This all-inclusive resort truly is inclusive of all, making it a great spot for family reunions and multi-generational getaways. If you are looking for Beaches Turks and Caicos reviews that cover it all, look no further! Here are 10 reasons why we think you should head to Beaches Turks and Caicos with kids.
Read more Beaches Turks and Caicos reviews and book your stay with TripAdvisor.
Beaches Turks and Caicos Review- 10 Reasons Why We Love Beaches Turks and Caicos for Families
1. Getting to Beaches Turks and Caicos is Easy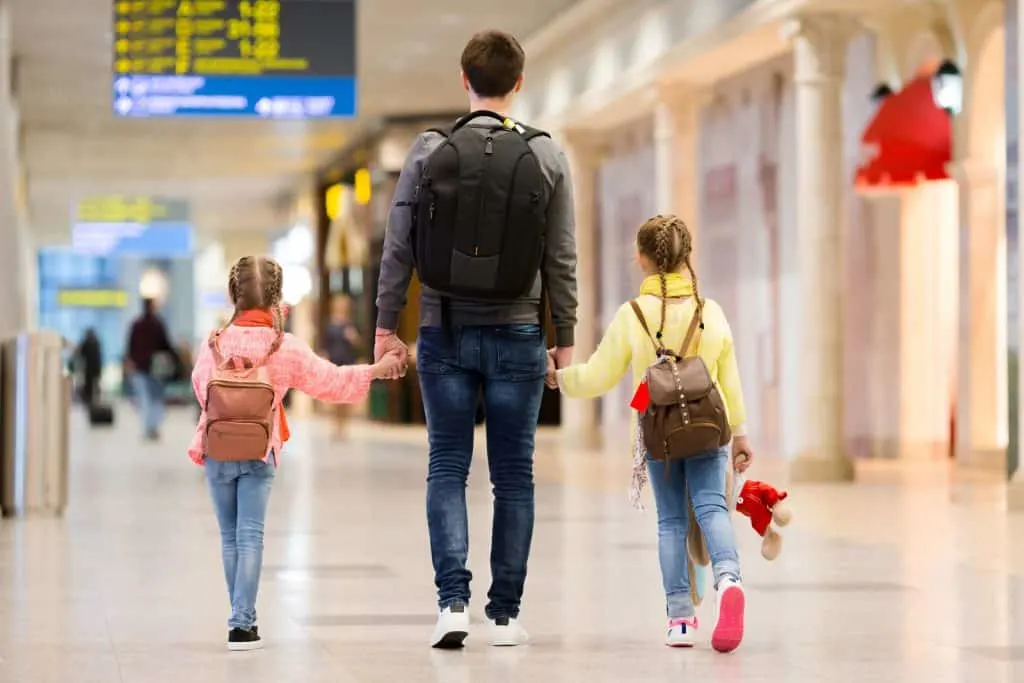 Providenciales, the home of Beaches Turks and Caicos, may be a small island but is actually very easy to access from the United States and Canada.
Direct flights are offered from major cities such as New York, Miami, Ft. Lauderdale, Boston, Charlotte, Chicago, Dallas, Houston, Toronto, and Montreal. West Coast cities won't be able to fly direct but trust me, dealing with one connection in order to reach paradise is well worth the effort.
Once in T&C, getting through immigration at this small airport is easy. Airport shuttle service is included with your Beaches vacation. The Beaches stand is located just outside of the airport door to the left and the shuttle ride to the resort is only about 15 minutes in length.
Beaches Turks and Caicos made Family Travel Magazine's list of the best Caribbean and East Coast resorts.
2. All-Inclusive Pricing Makes it Easy for Your Family to Stick to Your Vacation Budget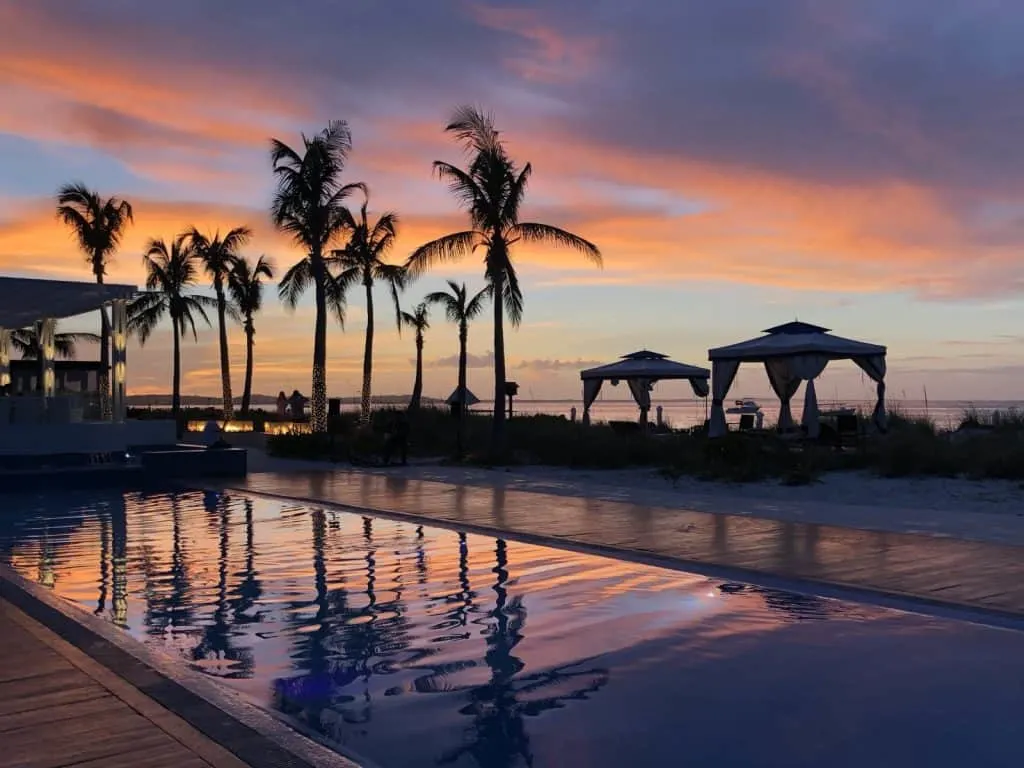 From the time I got on the airplane for Turks and Caicos until I got on my return airplane back home, I never once opened my wallet while staying at Beaches Turks and Caicos!
Everything from drinks to numerous water activities is included in the price of a Beaches vacation. Some room categories even include butler service!
If you are really itching to spend some money, there are several resort shops which will gladly take your dollar (the US dollar is the official currency of the island) and offsite activities can be booked through the Island Routes tour desk. Spa services can be booked for an additional cost as well.
Good to know: Tipping is not allowed at Beach Turks and Caicos. Amazing service from the friendly staff is absolutely included.
3. Kids Clubs Are Designed for Infants, Teens, and Everyone in Between
Yes, family vacations are meant to bring families together, but sometimes it is nice for parents to have a couple of hours to themselves. Beaches offers a variety of kids clubs based on age that will keep your children entertained while you spa or simply enjoy a couple peaceful hours with a lounge chair and a frozen mojito on the beach.
Camp programs are broken up by age so your tween daughter can rest assure that she won't be lumped into the same group as her dorky younger brother.
Toddlers will love puppet shows, face painting, and time with their favorite characters at Camp Sesame, while teens and tweens will go on glass bottom boat rides, play beach soccer, and go on scavenger hunts with kids in their own age group.
4. Beaches Has Great Food With Plenty of Options
Yes, you can find great food at an all-inclusive resort! Beaches Turks and Caicos is home to over 20 different restaurants and food stands, from adult-only fine dining at Sopadillas to a poolside food truck celebrating many tasty incarnations of mac and cheese.
My personal highlights included avocado toast al fresco at oceanfront Neptunes, fish tacos with my feet in the sand at Barefoot by the Sea, and being serenaded by our multi-talented Teppanyaki chef at Kimonos. Families will appreciate that meals are properly portioned and kid-friendly fall backs are always available for picky eaters.
Good to know: Food allergies are accommodated. Simply notify your server about any restrictions you might have.
5. There Are So Many Pools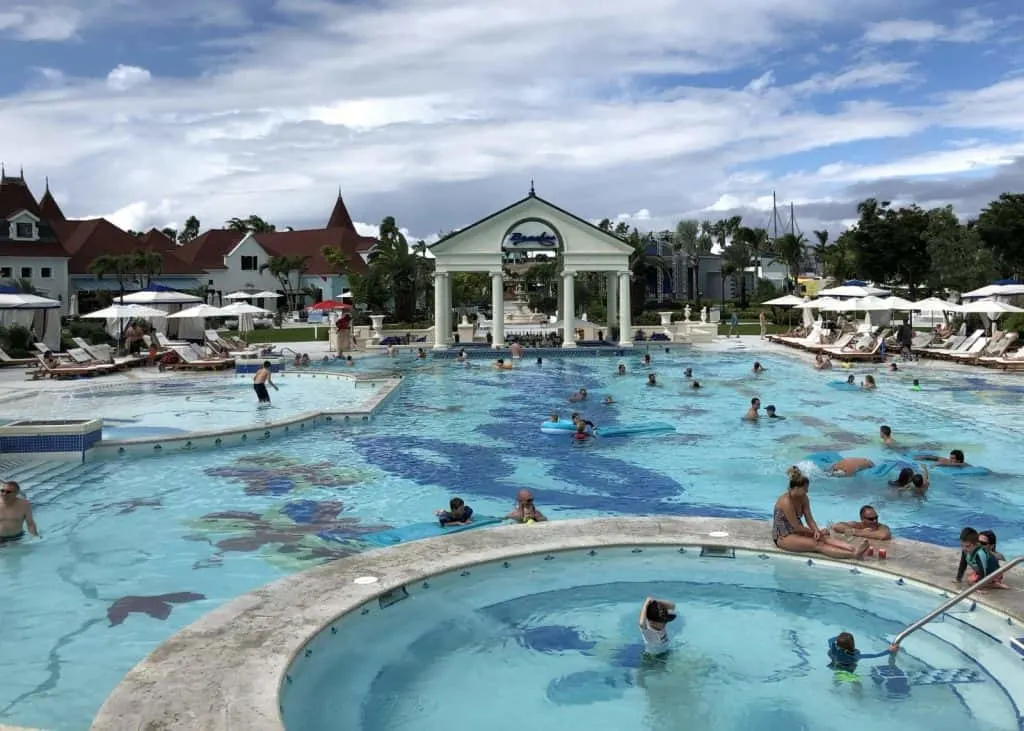 From the tranquil, adult-only pool in a quiet courtyard to the party that always seems to be happening at the Italian pool, it is easy to find a pool vibe that suits your fancy at one of the resort's eight pools.
No need to get out of the pool to grab a frosty beverage; there are five swim-up bars on property. My favorite pool is in the French Village. The water is warm, the vibe is chill, and the drinks are always flowing. Not sure what to order? The frozen mojito was especially popular with our group.
6. You Can Slide, Float, and Splash to Your Heart's Content in the Pirate Island Water Park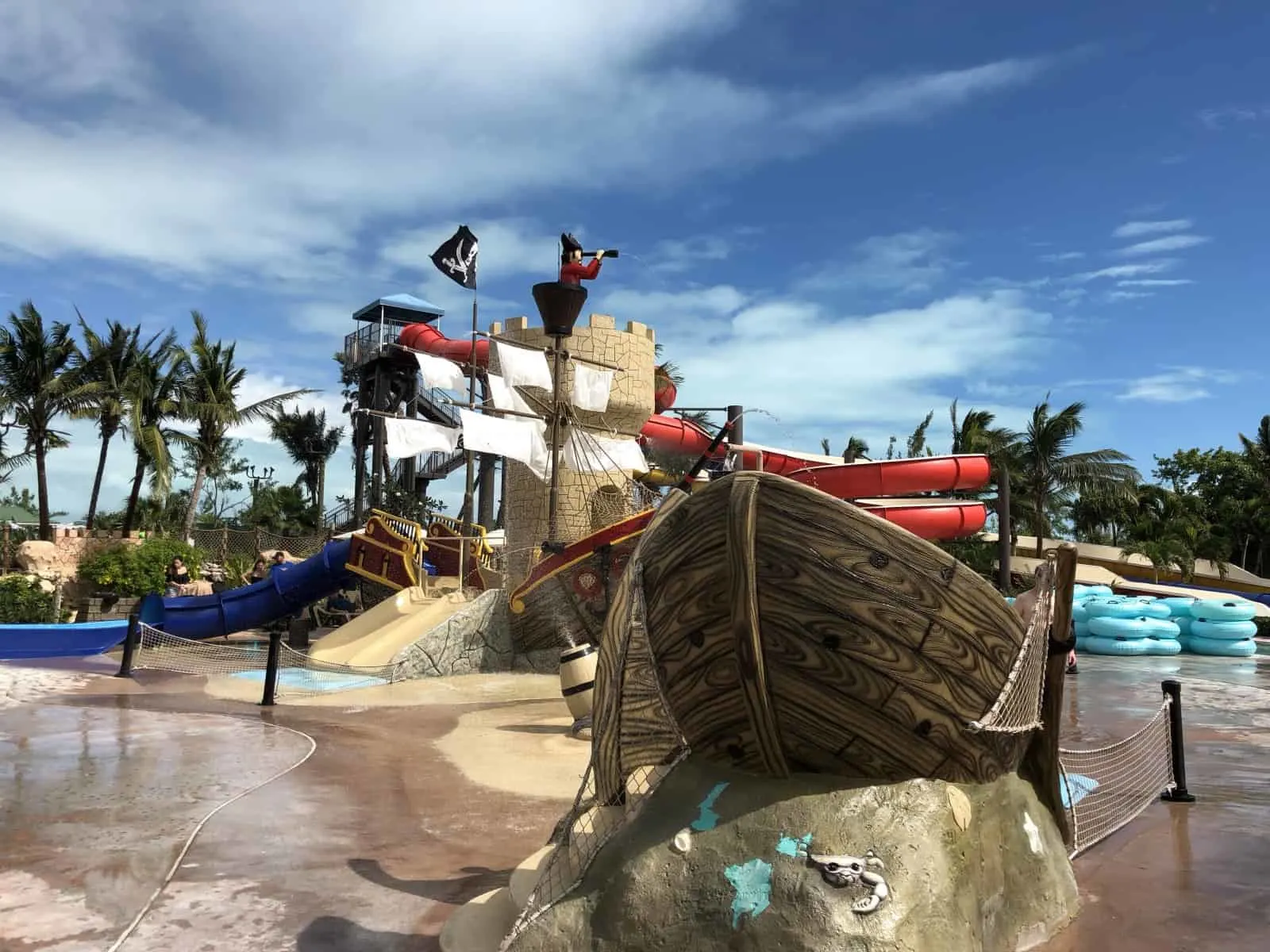 Because multiple pools and a perfect beach just weren't enough, Beaches decided to up the water-based entertainment even further with their Pirate Island Water Park. The park features 11 water slides of varying thrill level, a lazy river, a splash pad, and pirate ship complete with water cannons, and a special zero entry pool designed with tots in mind.
Older children will have a blast on the surf simulator where they can surf or boogie board on the perfect machine-created waves. This is where you will be spending the most time at Beaches Turks and Caicos with kids.
7. Enjoy Stunning Beauty and Activities Galore on Grace Bay Beach
Beaches Turks and Caicos sits on Grace Bay Beach which is consistently ranked as one of the top beaches in the entire world. The powdery, white sand and calm, turquoise waters are practically begging you to linger all day long.
Sure, you could lounge all day in a lounge chair by the sea and enjoy drink service, but Beaches includes numerous water activities in your rate so why not enjoy them?
Kayaks, snorkeling equipment, stand-up paddle boards, aqua trikes, and sailing boats can be checked out. Snorkeling trips, glass bottom boat tours, and lessons on how to use equipment are also included.
Good to know: Beaches cancels all water activities whenever there is a red flag warning and significantly limits them when there is a yellow flag. Summer brings the most green flag days.
8. Free Diving for Certified Divers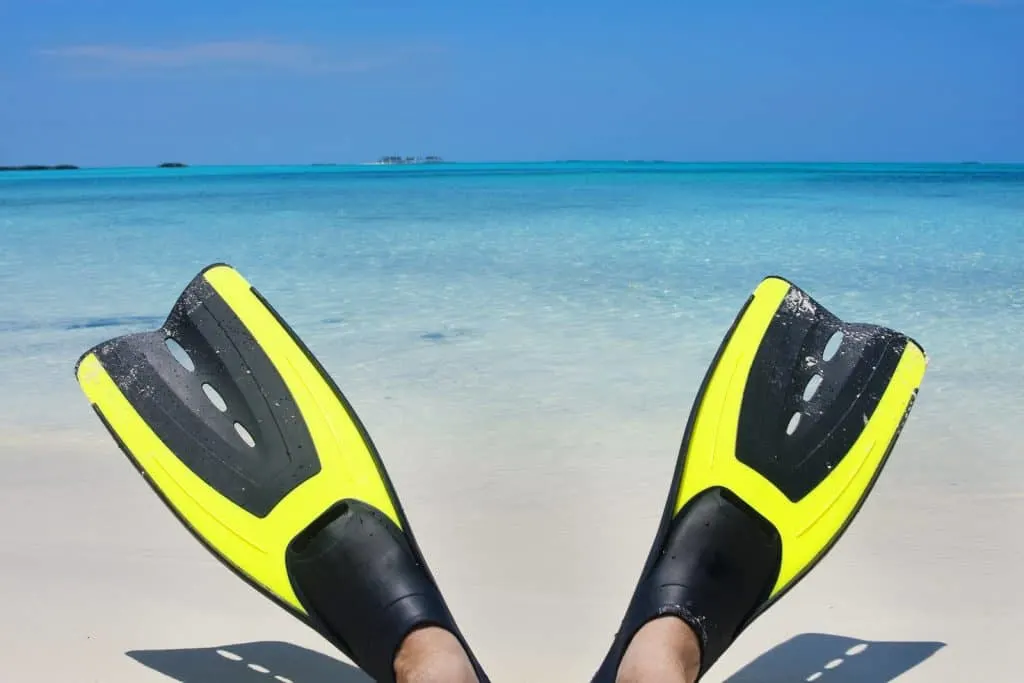 Yes, you read that correctly. Certified divers can enjoy the underwater magic of the Caribbean Sea at no additional cost. With equipment rental, transportation to the dive site, and guidance from PADI-certified staff, you may schedule up to two dives per day for the duration of your stay.
First-time divers can take the PADI Discover Scuba Diver Course for a fee. Once completed, divers are guaranteed one single-tank dive per day. Children ages ten and older can participate in the PADI Kids Scuba Program for a fee.
9. Enjoy Plenty of Entertainment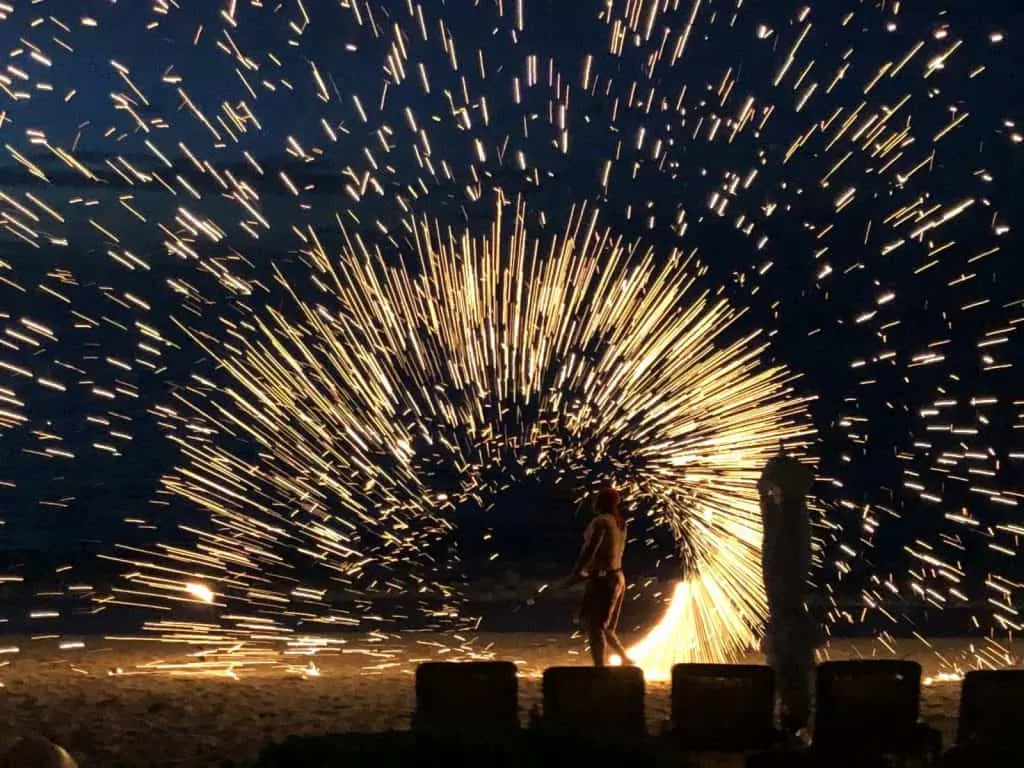 As if pristine beachfront, fabulous meals and expansive pools just weren't enough, Beaches also packs in plenty of fun entertainment into their all-inclusive experience.
Live musical performances on the main stage, musical theater productions, karaoke, poolside movie nights, Sesame Street character parades, and even fire dancers keep things lively at the resort. The resort leaves an informative brochure about the next day's offerings in your rooms each day so it is easy to keep up with all the happenings.
10. There are Opportunities to Give Back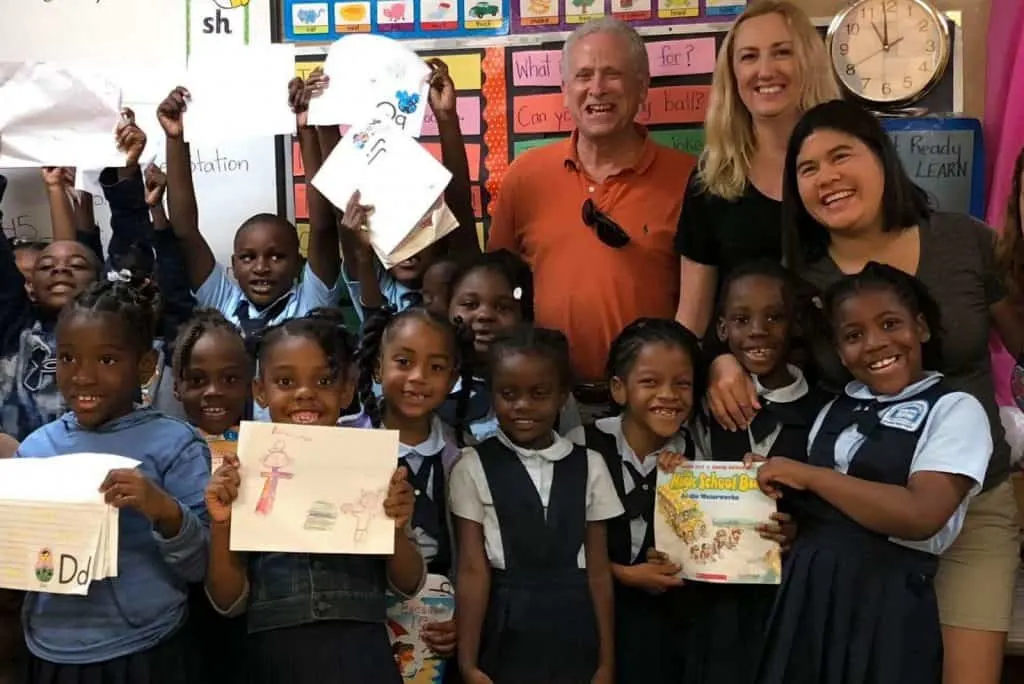 Turks and Caicos was hit rather hard during the 2017 hurricane season. Beaches Resort was closed for four months following Hurricane Irma because of extensive damage. Luckily, the resort is back and better than ever.
The surrounding community is moving forward as well but still has some rebuilding to do. One of the true highlights of my time in Turks and Caicos was participating in the Reading Road Trip program led by the Sandals Foundation. This program takes resort guests to local schools where they can meet and read to cheerful elementary school children.
My heart will be forever touched by the experience and it is a wonderful way for your entire family to come together and give back to the local population. This experience can be booked at the Island Routes tour desk.
If you do sign up for this program (and I truly hope you will), please bring some books of your own to donate to the school's library as well as a few coloring books for the children. Expect big hugs and beaming smiles in return.
Ready to check out another Beaches property? Here's a great review of Beaches Negril.
Disclosure: The author received a complimentary stay at Beaches Turks and Caicos while attending the Family Travel Summit. She was not asked to express a specific opinion and all opinions are her own.
Lead image by Beaches Turks and Caicos