Kauai is my happy place. Why? Because a Kauai family vacation is filled with both relaxation and adventure. The scenery is lush, the vibe is chill, and there are so many fun things to do in Kauai with kids!
Don't know what to do in Kauai? The Garden Isle is for nature lovers who prefer shave ice stands and chicken crossings to the big city bustle of Honolulu. What it lacks in night life, it makes up for in days filled with hiking, swimming, and exploration. Here are our favorite Kauai family activities.
Planning on visiting more Hawaiian Islands? Check out the best things to do in Maui, the best things to do on the Big Island, and the best things to do in Oahu.
Kaui Family Activities- The Best Things to do in Kauai with Kids
Explore the Napali Coast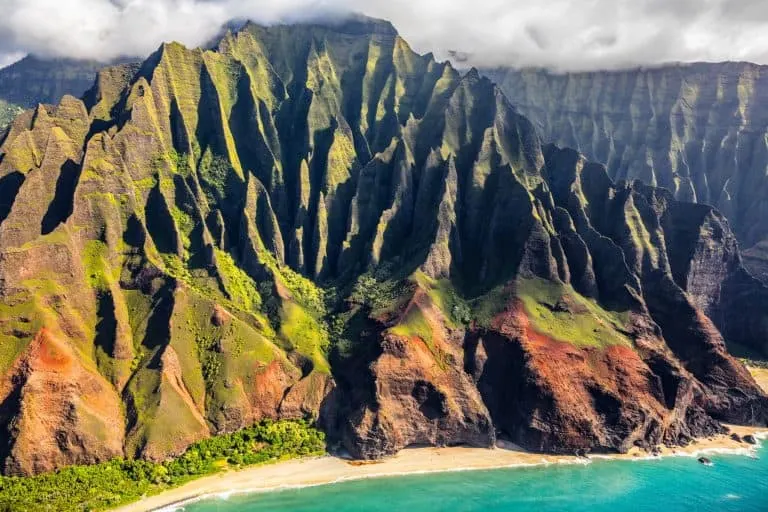 Whether by land, sea, or air, exploring the Napali Coast is one of the best things to do in Kauai. This stretch of coastline on Kauai's northwest side is known for its towering sea cliffs, dramatic scenery and incredible natural beauty.
Napali Coast on Foot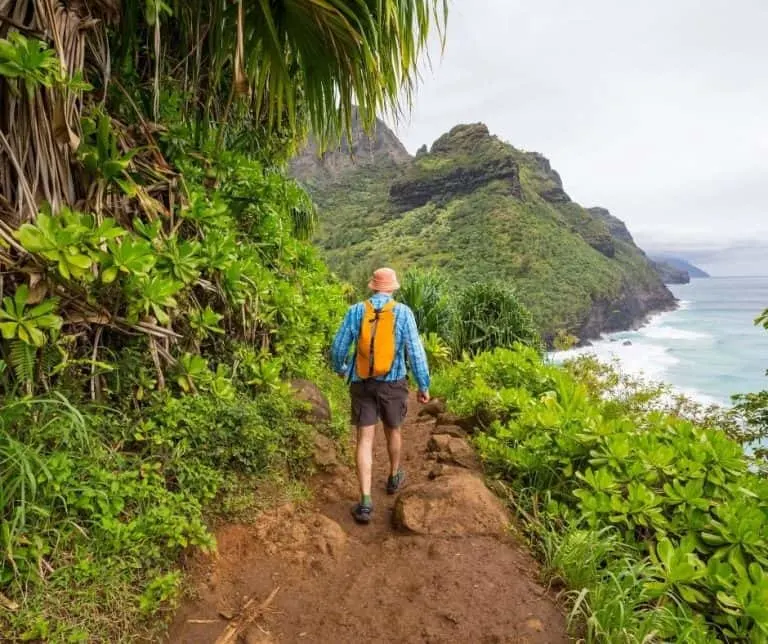 It is possible to hike the 11-mile length of the coastline's Kalalau Trail, but it is strenuous, dangerous, and definitely not suitable for young children.
Instead, enjoy the first two miles of the trail which leads hikers to Hanakapi'ai Beach. The trail is often muddy and slippery and there is a 1000 feet total elevation change. Luckily, the views are worth the effort. This trail is best suited for families with older children.
In order to enjoy this trail which begins in Ha'ena State Park, you do need park reservations. These reservations are very popular and dates open 30 days prior at 12 am Hawaii time. Set your alarm and be ready to book as soon the clock strikes midnight in Hwaii. You can choose from a shuttle option from Hanalei or parking at the state park directly.
Napali Coast by Boat
One of the best ways to see this part of the island is by boat. Exploring the Napali Coast by catamaran is a fun option for those who love the water. Kauai Sea Tours has a deluxe catamaran tour that includes snorkeling, a light breakfast, lunch, and beverages. They also have a dinner cruise in the evening.
My family chose the morning cruise because we knew that it was likely to have the best weather and calmer waters. We had a glorious day exploring the coastline and taking in the stunning beauty of the Napali Coast.
Snorkeling lasted about 45 minutes (which is plenty of time) and we were able to see a wide variety of fish and a few sea turtles. Back on the boat, we spotted dozens of spinner dolphins (including babies!), more sea turtles, and even a couple spotted eagle rays!
Due to trade winds, the ride back from the Napali Coast can be very bumpy, which can be very fun if you aren't prone to sea sickness. I highly suggest taking anti-nausea medication an hour before your cruise begins. Also be sure to watch the horizon and stay if you are starting to get queasy. With these procautions my sensitive stomach did just fine.
If you are an adventurous family, you might want to consider exploring the Napali Coast tour on a motorized raft which includes snorkeling and the ability to dart into sea caves and under waterfalls. These raft tours are fun and splashy, but there is no relief from the sun so apply suncreen often!
Napali Coast by Air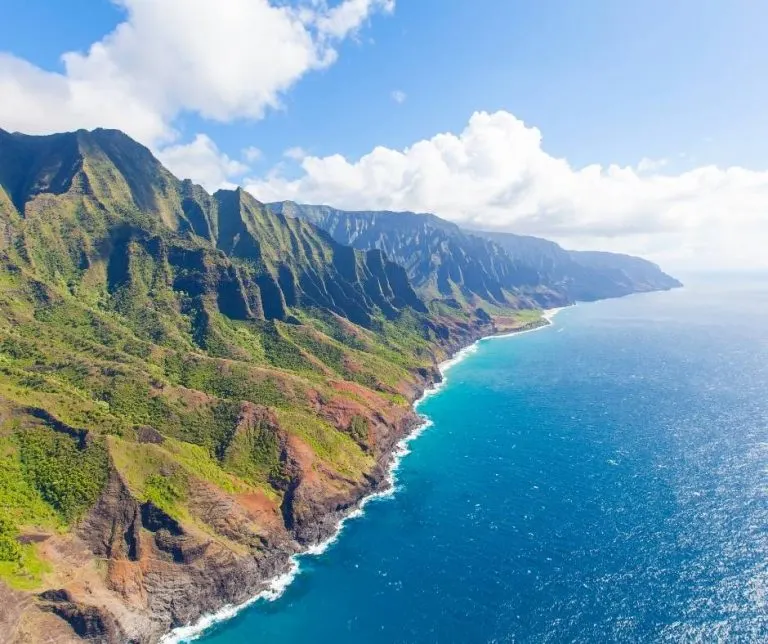 Viewing the Napaili Coast by air is a nice option for those not be able to hike or don't feel comfortable on a more adventurous boating experience. Helicopter tours typically visit several spots on the island including Waimea Canyon, Waialeale, and the Napali Coast.
They are the most expensive option but you will see many places that you probably would never see on your own. Air sickness is a possibility so take anti-nausea medication well before your board the helicopter. Children under two can sit on laps and fly for free. Read this review of a doors-off helicopter tour on Kauai.
Not sure what to pack? Use our FREE Printable Hawaii Packing List.
Tube Through the Tunnel of an Old Sugar Cane Plantation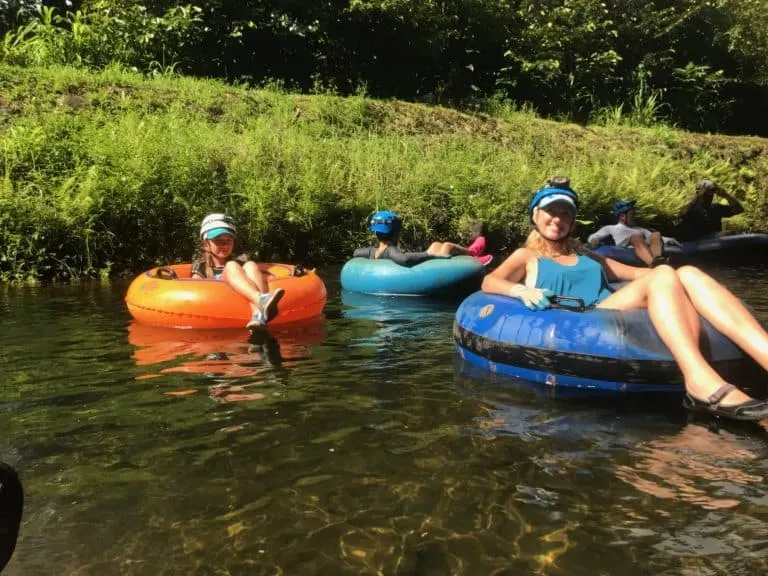 Tubing through the canals of the old Lihue sugar cane plantation is one of the more unique activities in Kauai. Kauai Backcountry Adventures outfits guests with inner tubes and headlamps so they can embark on a guided adventure through irrigation flumes and tunnels that were hand dug back in the 1870s.
We had a blast spinning and gliding across the cool water which is rerouted from Mt. Waialeale, one of the wettest spots on the planet.
We listened to our voices echo in the tunnels and marveled at our jungle surroundings. After your tubing adventure, celebrate with lunch (included) and a dip in a refreshing swimming hole.
These tours are incredibly popular and book up well in advance, so be sure to make reservations as soon as you know your dates.
Explore more of the 50th State. Discover the Top 10 Things to do in Hawaii with kids.
Spend Lots of Time at the Beach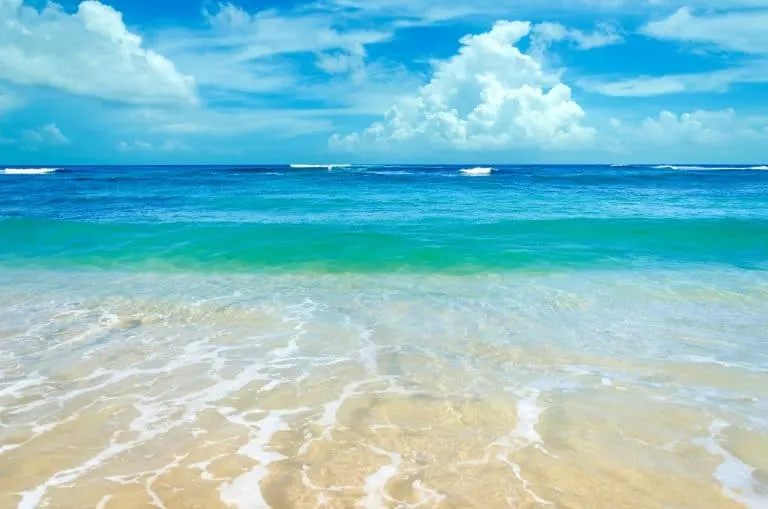 There are so many beautiful beaches out on the island, but some are more kid-friendly than others. Lydgate Beach Park features a sheltered swimming area, perfect for toddlers and new swimmers. Picnic tables and a playground amp up the family-friendly factor.
If you are looking for a nice beach within walking distance of food and drink, Kalapaki Beach in Lihue is a great option. The water is generally calm and great for beginner surfers and paddle boarders.
Shacks next to the beach offer lessons and equipment rental. Several restaurants are near the beach, including the Duke's and the grab-and-go Kalapaki Beach Hut.
Hanalei Beach is my favorite beach on the island. The views are remarkable, the sand is powdery soft, and the beach is never crowded. While the surf can kick up during the winter months, the water is typically flat and ideal for swimming in summer.
Capture incredible memories of your Hawaiian family vacation with Flytographer. Flytographer has a network of incredible professional photographers ready to come to you and help your family create the ultimate souvenir of your special trip. Trekaroo is proud to be a Flytographer customer and affiliate.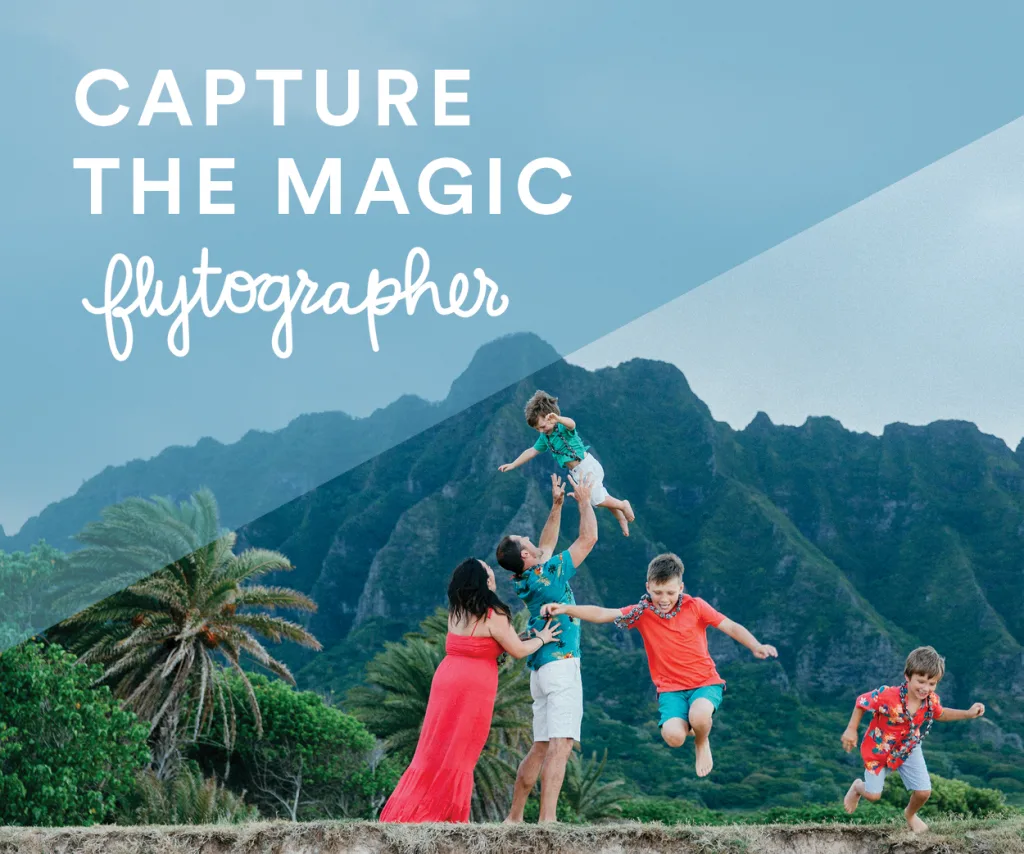 Visit the Grand Canyon of the Pacific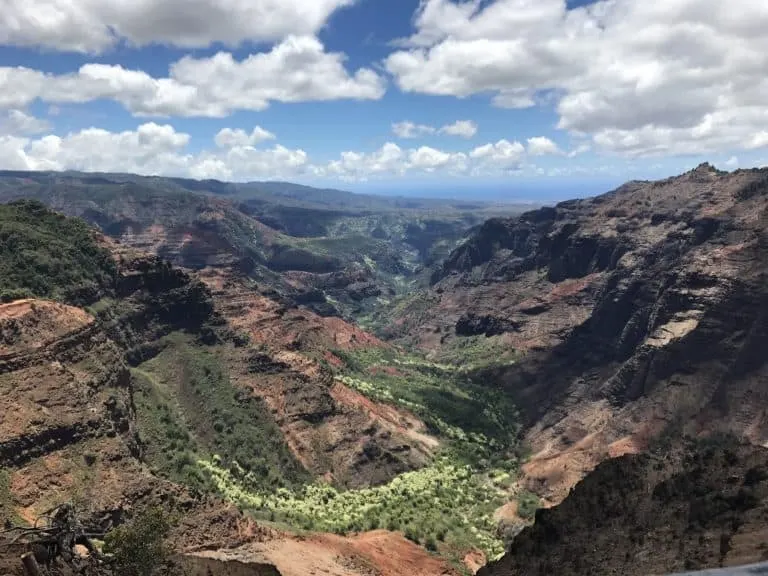 Kauai may be small in size, but it is big in geographic diversity. Waimea Canyon is a "must see" on Kauai's west side. The vibrant and jagged canyon, colored in shades of iron-rich red and tropical green, deserves much more of your attention than a stop at a viewpoint.
After viewing the dramatic Waipoo Falls from a scenic lookout, head into Koke'e State Park to embark on a remarkable hike to the waterfall's brink.
Expect to enjoy plenty of breathtaking views, a dip in a waterfall-fed pool, and the satisfaction of making it to the brink of a waterfall about to make its 800-foot plunge into the canyon below.
If your family isn't into hiking, you will still want to drive around the park and visit several viewpoints, including one where you can spot Ni'ihau, the Forbidden Isle, 17 miles across the Kaulakahi Channel.
Learn to Surf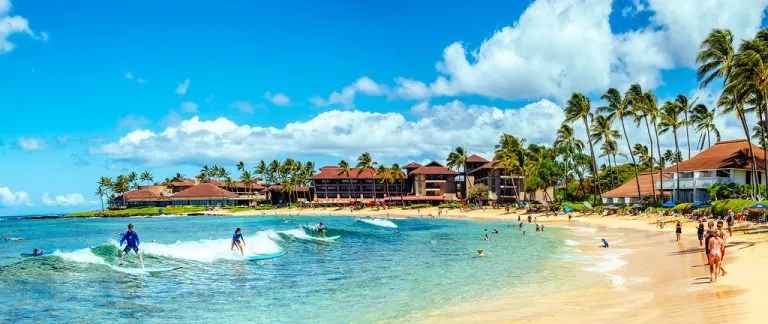 For many families, a Kauai family vacation wouldn't be complete without some surf lessons. Thankfully, there are some great spots for beginners to learn! The best and most popular spot is in Poipu, just down the beach from the Sheraton. This spot has a nice break for beginners and you don't have to paddle out too far to catch it!
There are a few different surf schools that use this spot, and they all do a good job of getting you up on the board.
Over on the north shore, Hanalei Surf School offers lessons as well as paddleboarding. If the water is flat in the bay as it is for much of the summer, stand-up paddlebarding is a great way to get out on a board and enjoy the insanely beautiful views.
Fall in Love with Hanalei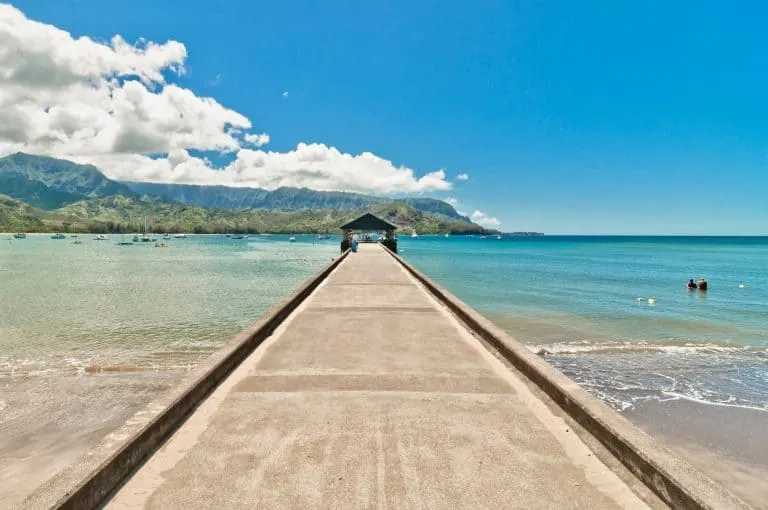 Meander along the coast towards Kauai's north shore, cross the one-lane bridge, and enter one of the most beautiful small towns in America. Hanalei Town is hugged by misty green mountains, plunging waterfalls, fields of taro, and picture-perfect Hanalei Bay.
The food truck scene is legit in this small town (population 450) and farm-to-table cooking is emphasized in local restaurants. No trip to Hanalei is complete for my family unless it includes a shave ice from JoJo's. Lunch at Kalypso is always a great option as well.
During the winter months the surf breaks at Hanalei are legendary, but come summer, the water is typically flat and ideal for swimming, paddle boarding, and jumping off the pier. No doubt about it- the beaches of Hanalei are what Hawaiian dreams are made of.
Kayaking can be enjoyed in the bay or up the Hanalei River where kayakers paddle past lush forests and taro fields. Horseback riding can be enjoyed at nearby Princeville Ranch.
Marvel at the Birds and Views at Kilauea Point National Wildlife Refuge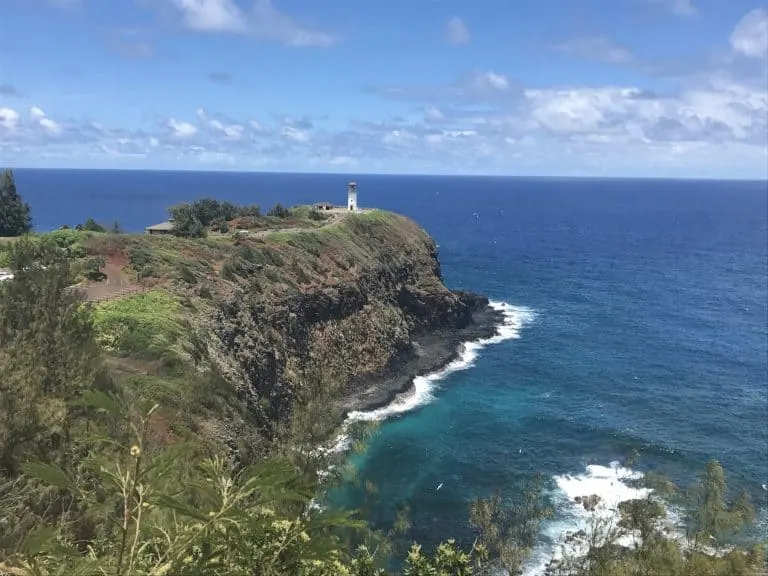 Located on the northernmost tip of the island, the Kilauea Point National Wildlife Refuge is great for those who enjoy dramatic views and scoring another stamp on their National Park Passport. There is a Junior Ranger program, which can be completed in a short visit.
The ocean cliffs of this protected spot provide breeding grounds for various seabirds and the nene, the endangered Hawaiian goose.
Albatrosses, wedge-tailed shearwaters, and red-footed boobies can be spotted soaring or nesting nearby. We spotted several eggs and chicks in burrows just off the trail.
The Wildlife Refuge is also home to the historic Kilauea Lighthouse, which begs to be photographed. During the winter months, Kilauea Point is a good spot for viewing humpback whales.
Reservations are now required to visit Kilauea Point National Wildlife Refuge and may be made up to two months in advance.
Zip Line or ATV in the Back Country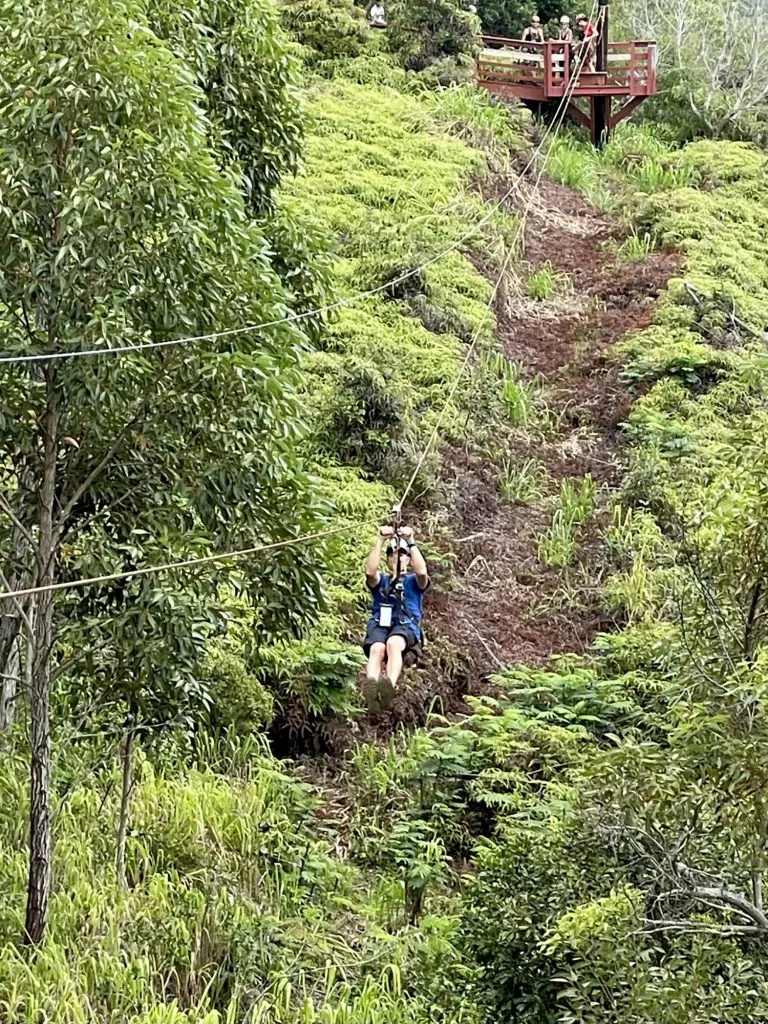 If your family is like mine, they are always up for an adventure. There are two adventures that begin in Koloa, on Kauai's south side, that are sure to pump up the adrenaline while giving you access to a portion of the island you might not otherwise see.
Koloa Zipline is unlike any other zipline I have experienced before (and I have done lots of zips). The scenery is spectacular, filled with ocean and Waita Reservoir views while being surrounded by jungle. But what makes this zipline unique is that you have the option to zipline superman style and even upside down!
Don't worry, if you would rather stick to the traditional zip pose, you can do that too. There are a total of eight ziplines on this course and you will need to do some short but steep hikes up a couple hills. Kids as young as seven are welcome to join the fun, they just may need to zipline tandem in order to add enough weight to the line.
Another way to explore this same piece of backcountry property is to book an ATV tour. This tour is ideal for folks who would rather stick to ground-based adventures. These are also great for families with younger kids as there are no age requirements, as long as the driver is age 25.
Each of the Polaris UTV vehicles seats up to four people, and you are sure to be covered in Kauai's famed red dirt by the end of the off-road tour. It is three hours long and covers about 18 miles of driving past movie filming sites, a large tunnel, incredible ocean and jungle views, and fishing at the Waita Reservoir.
Spend the Day in a Tropical Rain Forest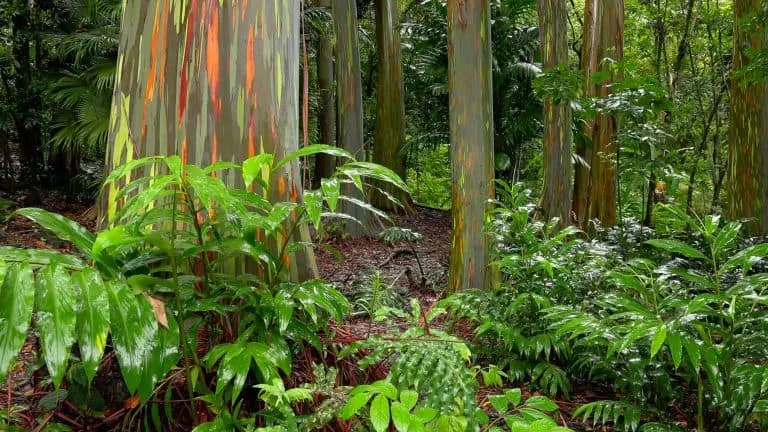 One of the lesser known things to do in Kauai with kids is enjoying the day exploring the Kehua Arboretum. Located six miles mauka (toward the mountain) from the town of Wailua, this special spot protects 30 acres filled with lush plant life, including the remarkable rainbow eucalyptus trees.
The Keahua Stream runs through the arboretum, making it a great place to swim or let the kids discover some of the little creatures that call the stream home. There is also a rope swing that is very popular with locals and sure to tempt your teens and tweens.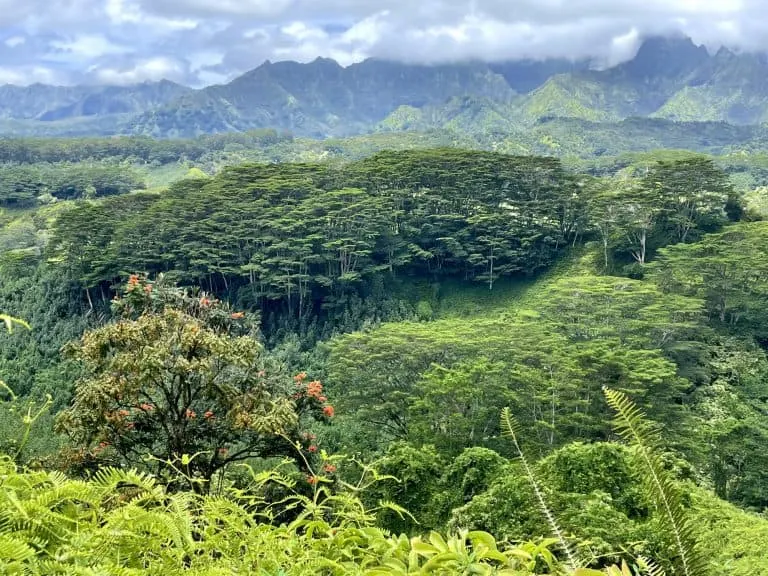 The Kuilau Ridge Trail originates in the park. This 2.5-mile hike gradually climbs up 600 feet in elevation through rain forest and features lovely mountain views. Much of the trail is shaded and the scenery is splendid.
Since this trail is in the rain forest, it is often damp and muddy, so I suggest wearing shoes with decent tread.
Sample the Island's Shave Ice Offerings
If you think shave ice is simply a snow cone, you have clearly never had real Hawaiian shave ice! Shave ice is so fluffy, so fresh, so flavorful, that it simply can't be resisted.
One of the most popular shave ice stands on the island is JoJos. It bills itself as the original shave ice shack on the island and has locations in Waimea, Kapa'a and Hanalei. We love the root beer float and the Haupia Special- coconut shave ice, macadamia nut ice cream, and haupia cream.
Another stand that can't be missed is The Fresh Shave in Koloa. They specialize in all-natural ingredients that are fresh, local, and organic.
Menu items are named after different mustache types such as "The Handle Bar"- pineapple and coconut shave ice topped with fresh pineapple and shaved coconut- and "The Fu Manchu"- strawberry and banana and cream topped with fresh strawberry puree and bananas.
Go Snorkeling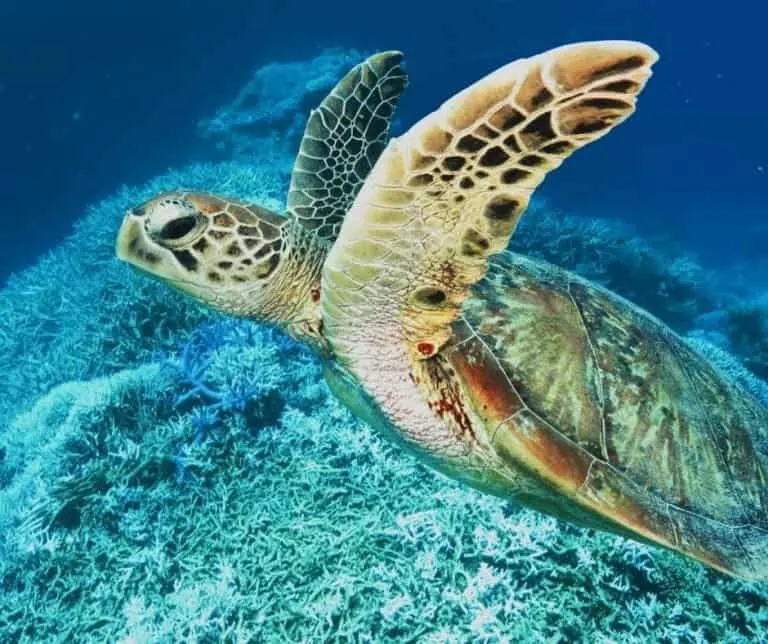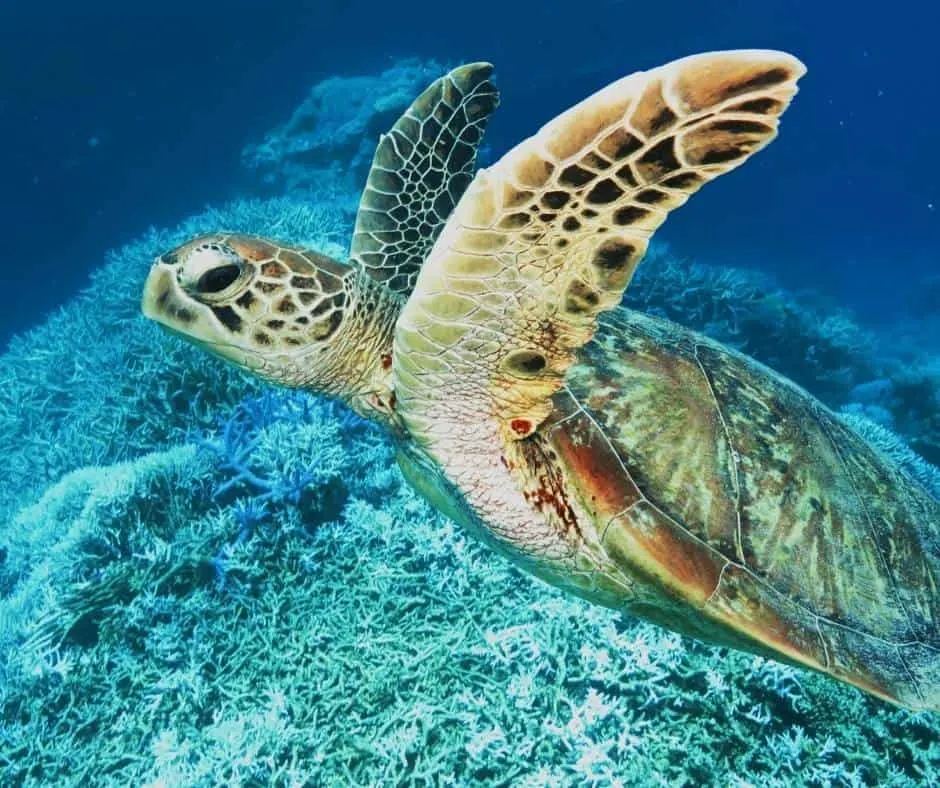 Kauai's landscape is pretty spectacular, but there is plenty to marvel at below the ocean's surface. Great diversity of sea life can be discovered in the reefs just offshore, from the iridescent parrotfish to the blue-mustached Humuhumunukunukuapua'a.
If you ask anyone in my family, the true superstar of the reefs is the honu, or green sea turtle, with its graceful glide and gentle nature. Here are some of our favorite Kauai snorkeling spots for families:
Lydgate Beach Park, near the mouth of the Wailua River, has a jetty-enclosed swimming area which is great for teaching kids how to snorkel for the first time.
On the south shore, Poipu Beach Park is a great spot for young snorkelers. The spot is well-known, however, and can become a bit crowded during the high season.
Anini Beach has a large offshore reef and the aquatic life is vibrant. Thanks to Google, there really are no secret beaches on the island anymore, but Anini tends be less visited than many others. I recommend bringing some sort of flotation device because there are sections where the water can get pretty deep.
On the far north end, Ke'e Beach is a fantastic (and popular) snorkeling spot. Conditions can vary based on weather so be sure to check the surf report before heading out. Reservations are required since this beach is at Ha'ena State Park.
Ready to go snorkeling? Read about 20 of the Best Places for Snorkeling in Hawaii.
Kayak to a Waterfall
One of the great family adventures on the island is a kayak trip up the Wailua River combined with the one-mile hike to Secret Falls. Of all the things to do in Kauai, this was my family's favorite.
There are many tour operators that will lead you on this adventure, or you can simply rent a kayak or paddleboard and go it along. Once you reach the pull-in spot for kayaks, beach your kayak on the shore and head into the jungle for an easy-yet-scenic hike to Secret Falls. The falls are swimmable and the perfect place for a picnic lunch.
After enjoying your time at the falls, consider paddling further upstream to a popular cliff jumping spot if you aren't with an organized tour group.
Where to Stay in Kauai with Kids
Grand Hyatt Kauai Resort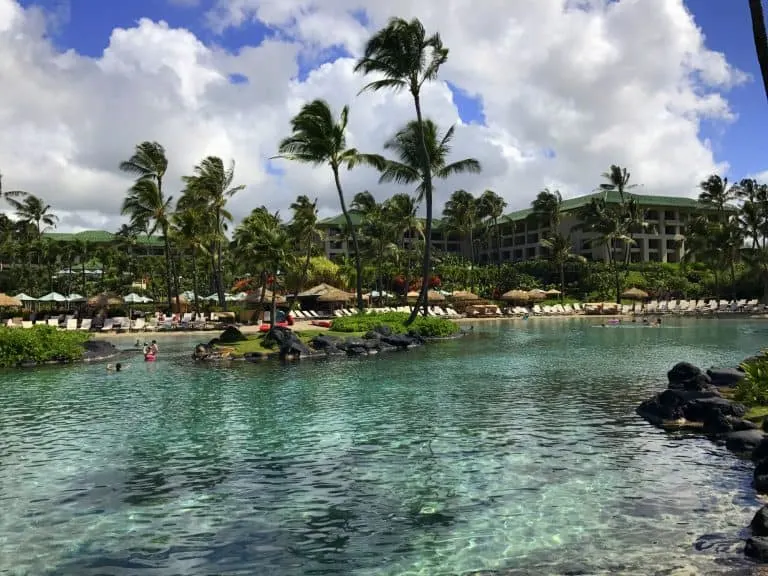 There is no resort on the island more family-friendly than the Grand Hyatt Kauai Resort in Poipu. Located on Shipwreck Beach, this sprawling resort has one of the most gorgeous pool complexes in all of Hawaii. As a matter of fact, it made our list of the best hotel pools in the USA.
The pool area features multiple lava rock-lined pools, a lazy river, water slide, and an enormous saltwater lagoon which has been the subject of many of my recent daydreams. A wonderful kids club and countless activities (lei making or ukulele lessons, anyone?) amp up the family-friendly factor, as do the refillable water bottle and sunscreen stations.
Royal Sonesta Kauai Resort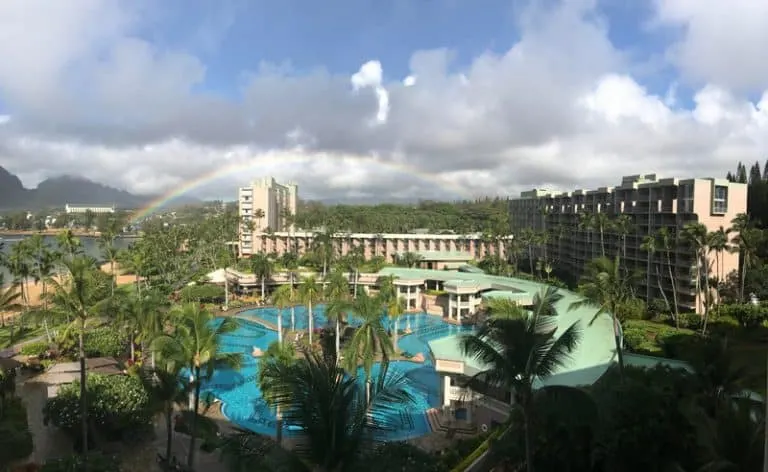 The Royal Sonesta Kauai Resort in Lihue is centrally located for island exploration. The resort sits on Kalapaki Beach, a kid-friendly stretch of sand perfect for swimming, paddle boarding, and beginner surfers.
My family loved the massive swimming pool, dotted with several hot tubs on its outer reaches. There are several dining options within walking distance which is nice because resort dining can be very expensive.
Sheraton Kauai Coconut Beach Resort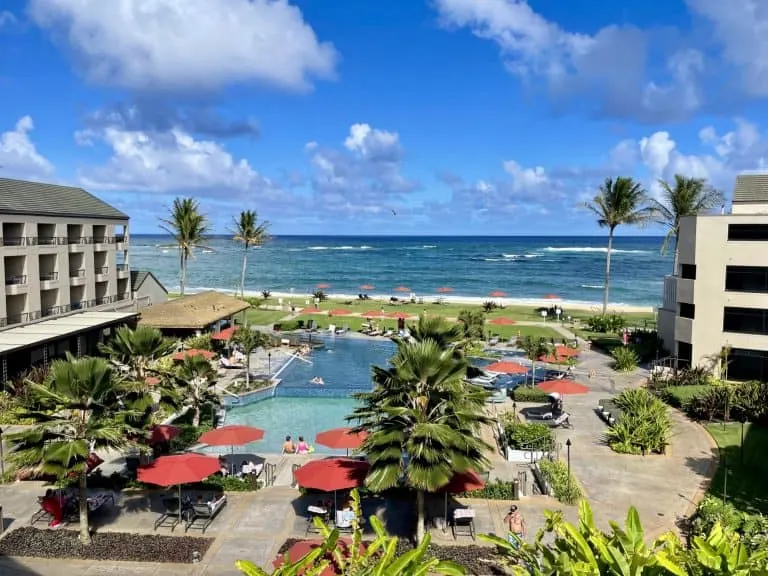 The Sheraton Kauai Coconut Beach Resort has a great, central location for exploring the island. It is located in Kapa'a and has a nice pool with incredible views. During our visit, an endangered Hawaiian monk seal spent several hours lounging on the resort's beach.
There are two pools side by side, a zero-edge infinity pool and a shallow, children's pool. There is also a large hot tub which is a great place to relax when those trade winds pick up around sunset.
Families will love the expansive game area next to the pool which has old-school arcade games, pool tables, and a shuffleboard table.
Activities are often scheduled by the pool such as kite making, lei making, and hula, and you won't want to miss twilight S'mores on Firdays. There are also bikes available for checkout to explore the area.
In the evening there is often live music which can be enjoyed in the pool, at the outdoor dining venue next to the pool, or relaxing by one of the hotel's fire pits. On Tuesdays and Thursdays, you can reserve space at Luau Ka Hikina luau and enjoy an evening of great food and entertainment.
I was pleasantly surprised by how spacious our oceanview room was, and couldn't get over those incredible pool and ocean views. The in-room fridge and coffee were appreciated. Rooms don't have their own microwaves but there is one that available for complimentary guest use.
More Hawaii Travel Coverage:
Disclosure: My family received one complimentary night at the Grand Hyatt Kauai Resort for the purposes of an unbiased review. All opinions are my own.