One of my favorite things to do when in the Hawaiian Islands is discover what's below the water's surface. The water is incredibly clear, and best of all- you don't need a wetsuit to swim during the winter! Snorkeling is amazing, but where it the best snorkeling in Hawaii that is safe and accessible for families?
We know the best snorkeling spots in the Hawaiian Islands and can't wait to share them with you! Of course, some beaches are better for underwater exploration than others but when you find the right beach, there is just something so tranquil about entering an underwater world full of vibrant fish, docile sea turtles, and delicate coral.
Here are 20 of our favorite snorkeling spots for families in Hawaii. This guide is perfect for those looking to do island hopping in Hawaii or are simply just looking for the best spots the island of their choice.
If this is your first time visiting the Hawaiian Islands don't miss the Top 10 Things to do on a Hawaii Vacation.
Best Snorkeling in Hawaii- 20 Great Spots for Families
1. Molokini Crater, Maui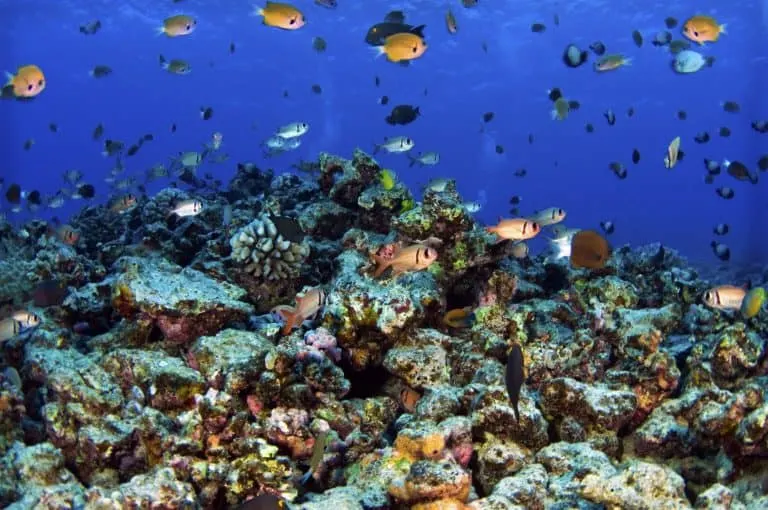 Molokini Crater is located three miles off Maui's shore and is world-renowned for its clear waters full of marine life. Everything from parrot fish to Humuhumunukunukuapuaa (Hawaii's state fish) can be found swimming around this ancient sunken volcanic crater.
Lucky for you, there are several snorkeling guide companies ready and willing to have you experience one of their boat tours (for a fee). Unless you go first things in the morning, be prepared to share the water with plenty of other snorkelers and scuba divers. This beautiful spot is definitely no secret.
I recommend the sunrise snorkel tour on Kai Kanani's catamaran. An early boat trip with Kai Kanani allows snorkelers to enjoy the waters before the crowds show up. We were the first boat to arrive at Molokini and only began to see boats as we were pulling out to leave.
Here are our picks for the 9 Best Maui Resorts for Families.
Capture incredible memories of your Hawaiian family vacation with Flytographer. Flytographer has a network of incredible professional photographers ready to come to you and help your family create the ultimate souvenir of your special trip. Trekaroo is proud to be a Flytographer customer and affiliate.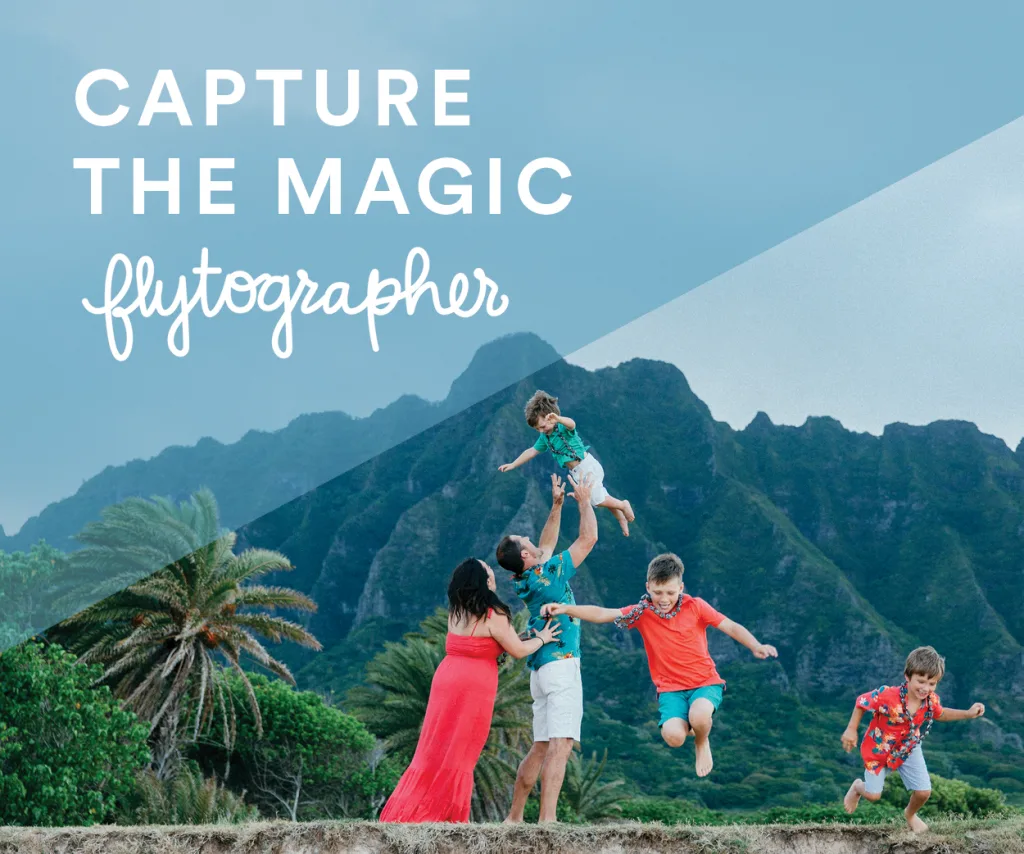 2. Ahihi Kinau Natural Area Reserve, Maui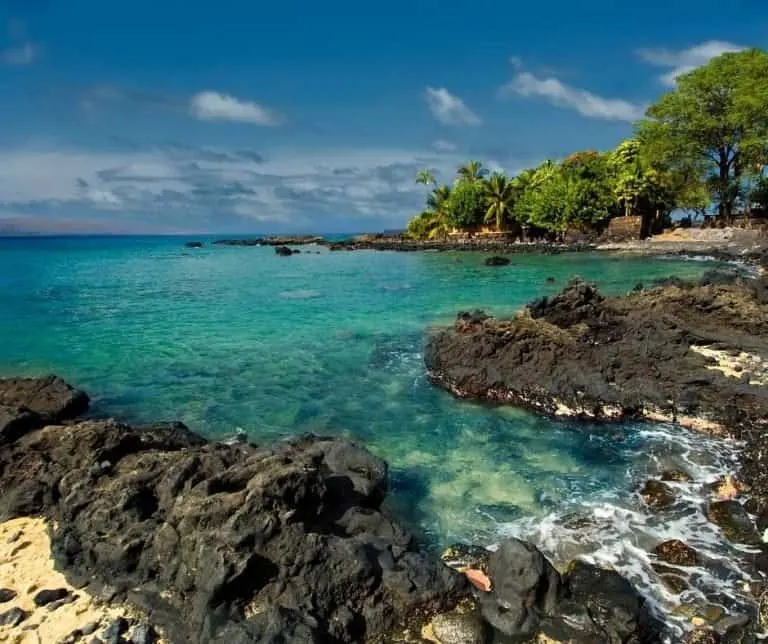 Ahihi Kinau is an easy drive from Kihei and Wailea, south of the populated resort areas. Park alongside the road, find an easy place to enter the water, and start exploring. There are several shallow spots for snorkelers near the rocks. Just be careful not to step on the coral reef.
Which is the best Hawaiian island for families? Read this guide to find out!
3. Turtle Town, Maui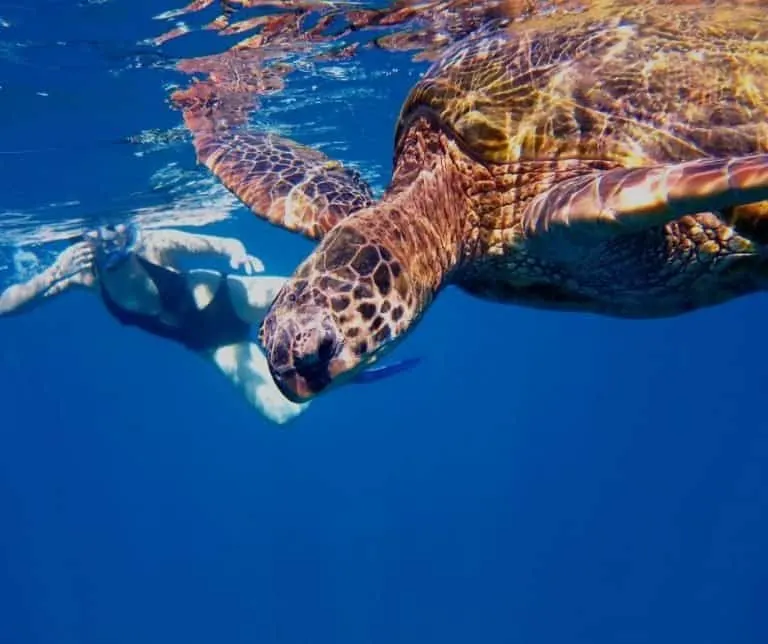 This spot is off Maluaka Beach and is one of the best places to see green sea turtles in Maui. It just south of Wailea at the end of Makena Road. Enter the water by the rocks at the south end of the beach. There are several lava rock reefs and coral reefs out in the water, giving snorkelers options for shallow and deeper water snorkeling.
Is this your first trip to Maui? Check out our picks for the Top 10 Things to do in Maui with Kids!
4. Kahaluu Beach Park, Hawaii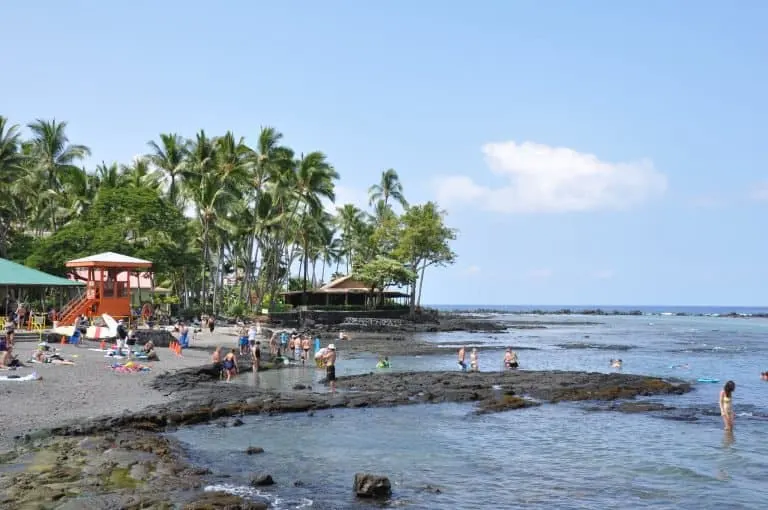 Kahaluu is a shallow cove in Kailua-Kona on the island of Hawaii. It is full of fish and is a popular sea turtle hangout. Since most of the cove is only neck high and the waters are usually calm.
If you are new to snorkeling in Hawaii, this is a great place for first timers. Here you can swim among many species of fish including porcupine fish, tang, and even eels! During low tide, there are also great lava rock tide pools for the family to explore.
Kahaluu made our list of the best Big Island beaches. See what other magical spots made our list!
5. Kealakekua Bay, Hawaii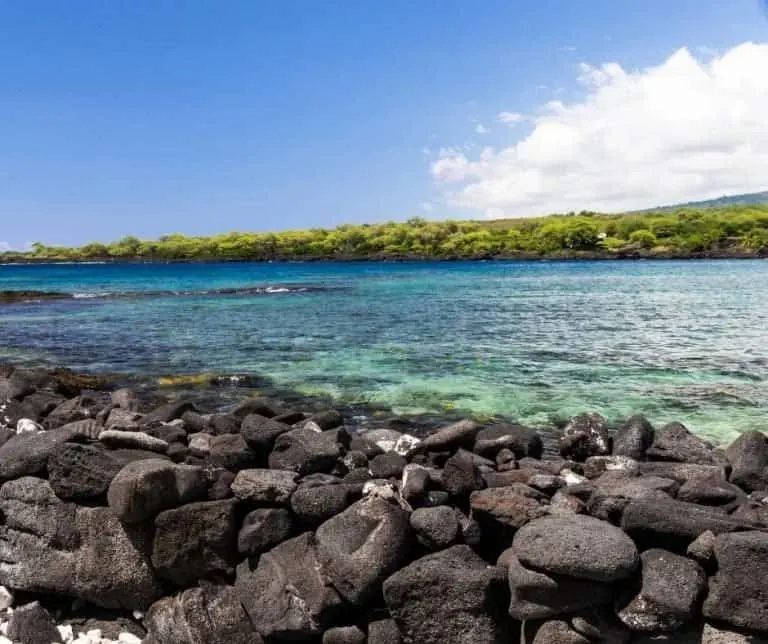 Otherwise known as Captain Cook Bay, this is one of the most popular spots on the Big Island for commercial snorkeling tours. It is located about 17 miles south of Kailua-Kona.
There is great snorkeling in various spots on the bay. Many people rent kayaks and paddle out spots that are harder to access from the shore.
Here is the complete list of of the 12 Best Snorkeling Spots on the Big Island for families.
6. Magic Sands Beach Park, Hawaii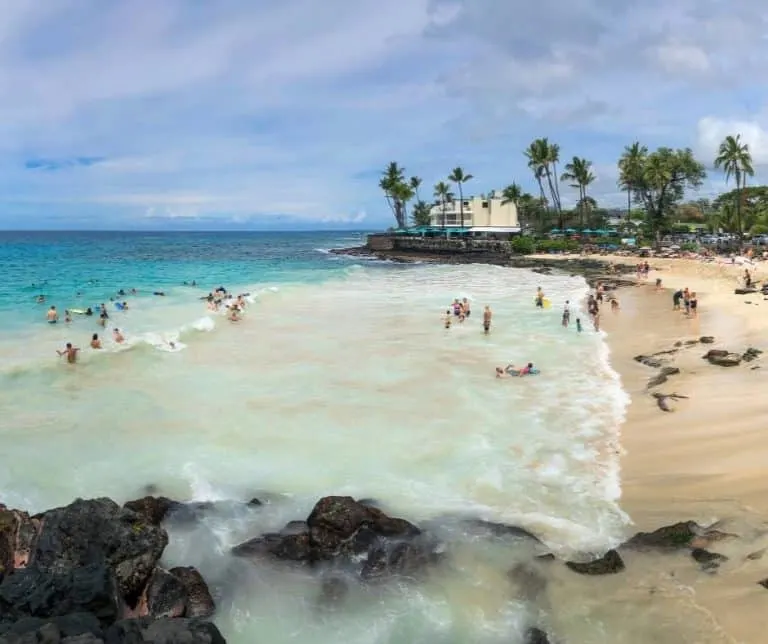 Located in Kona, not far from Kahaluu, this is a great spot for beach play and snorkeling. The reef is about 100 yards offshore (flotation devices for safety with kids are suggested) and is filled with big fish! After, the kids will enjoy playing in the small waves at the beach.
Wondering what to do on the Big Island beside snorkel? Read The Top 10 Things to do on the Big Island.
7. Hanauma Bay, Oahu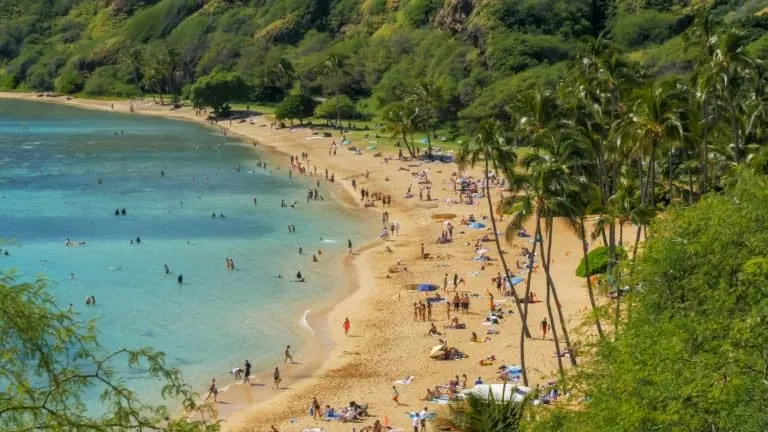 I'll be honest, this isn't my favorite beach in Oahu. I don't like to have to pay to snorkel and I certainly don't like sharing the fish with a crowd. That being said, you can't beat the proximity to Waikiki, the scenery, or the amount of fish in the bay at this popular spot.
Hanauma Bay really is a great place to learn to snorkel and get to know the fish that call the Hawaiian islands home. Small children can play at shore's edge and enjoy the small break. Older children can swim with sea turtles, glide past triggerfish, and float above the urchins.
8. Ko Olina Lagoons, Oahu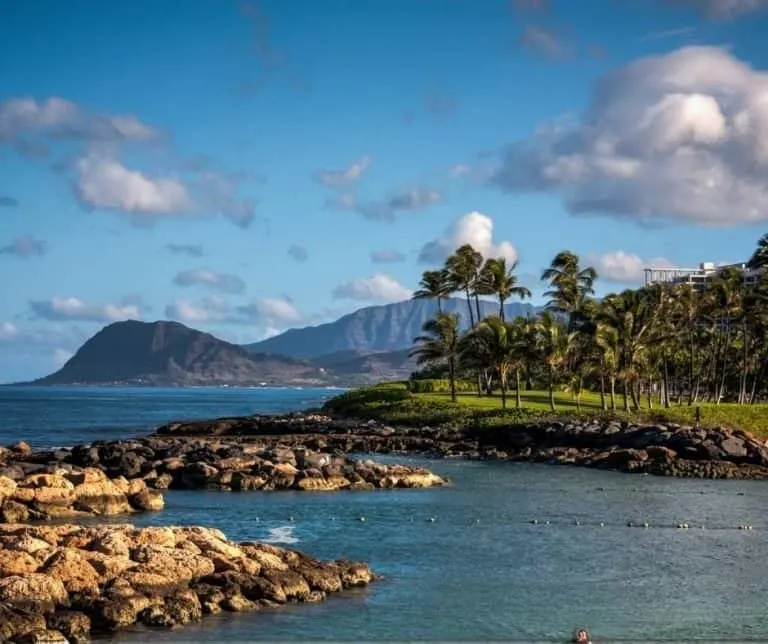 These artificial lagoons in front of the resorts in Ko Olina offer some snorkeling opportunities. Stick near the rocks to have the best chance of seeing fish. If all else fails, head to the Aulani and pay to snorkel in their Rainbow Reef.
9. Kahe Point Beach Park, Oahu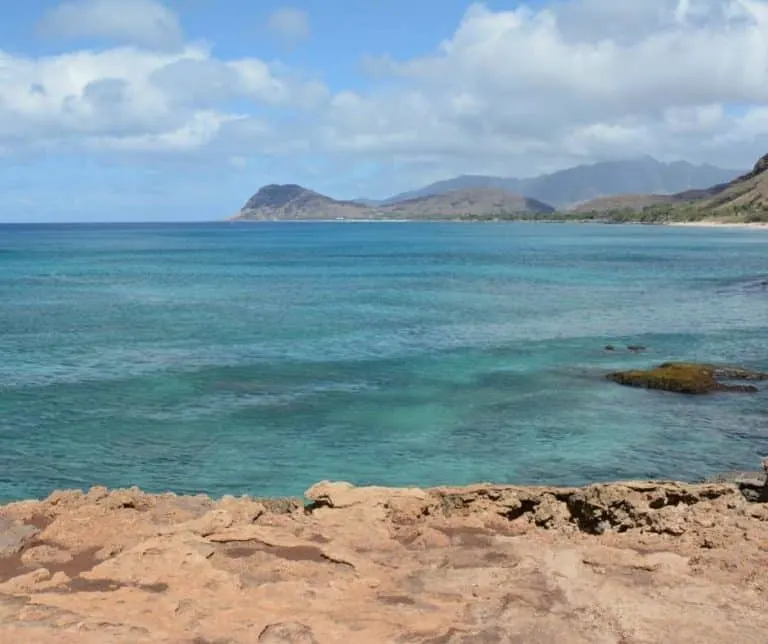 This spot, otherwise known as Electric Beach, is close to the Ko'Olina resort area. It is best suited for experienced swimmers since it is more of a deep water snorkel. Warm water from the local electric power plants attracts a wide variety of sea life.
Wondering what to pack for Hawaii? We have a printable Hawaii Packing List to help you on your way.
10. Anini Beach County Park, Kauai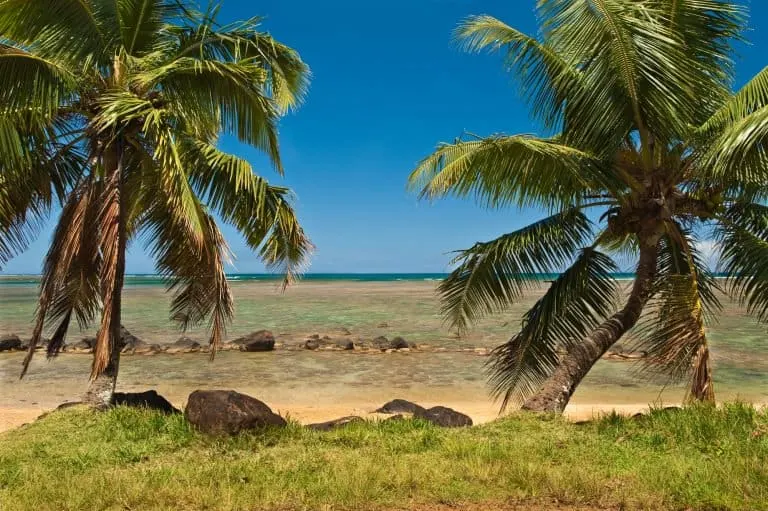 Not only is this beach one of Kauai's safest beaches for swimming, it is also one of the best snorkeling spots on the island!
The shallow waters of Anini Beach County Park, framed by emerald cliffs create an idyllic snorkeling paradise. Beginners and experts alike will enjoy exploring the tranquil, fish-filled waters. Be sure to leave some time to do some beachcombing. Rare and highly valued Niihau shells have been known to wash ashore.
11. Ke'e Beach, Kauai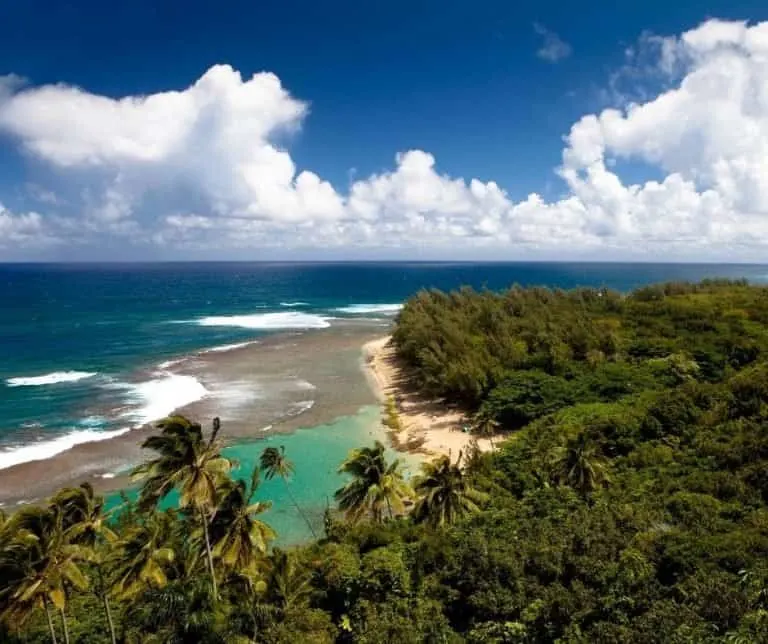 This beautiful beach is on the far north shore of Kauai, close to the cliffs of the Napali Coast. Snorkeling here is great during the summer months but during the winter months, the ocean conditions are not safe for snorkeling.
12. Tunnels Beach, Kauai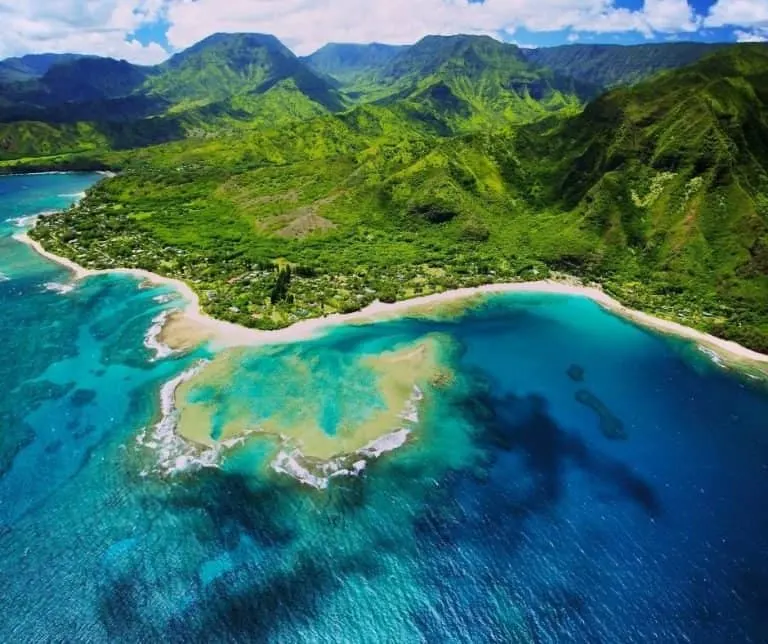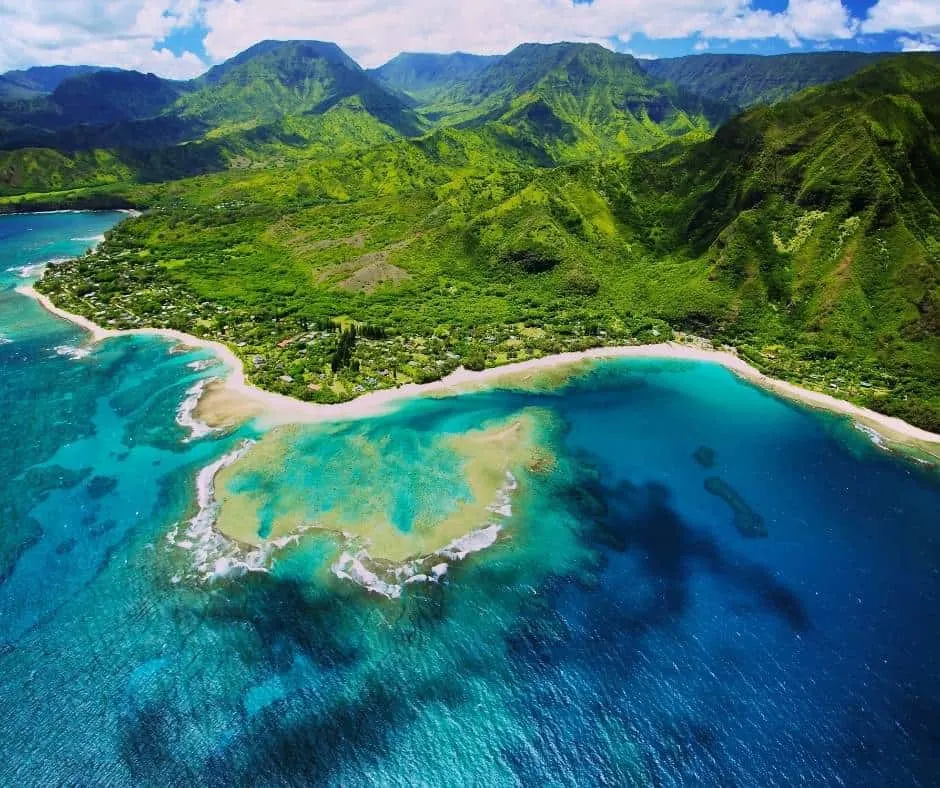 This beach has fantastic snorkeling, but you have to be willing to walk to reach it. The beach gets its name from lava tubes that form underwater caverns.
Park at Haena Beach Park (try to arrive by 10am) and head south to reach this magical spot. Luckily, the walk along the beach is spectacular so your kids won't mind the exercise. This is another beach where snorkeling is safest during the summer months.
Kauai is a great island for families. Discover the Top 10 Things to do in Kauai.
13. Kapalua Bay, Maui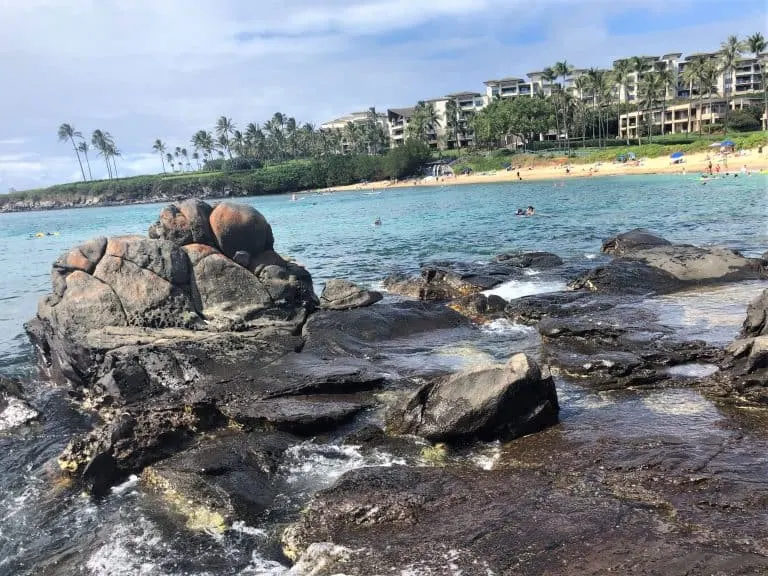 On the northwest side of Maui there is a cove that is perfect for beginning snorkelers. The beach at Kapalua Bay has gorgeous white sand and is perfect for sunbathing, but once you head out towards the rocky outcrops on the north side of the cove, you enter a world filled with tropical fish, crustaceans, and invertebrates.
The rocks at Kapalua Bay are also a favorite hangout for sea turtles. The cove shelters the water from the wind, keeping the water calm; so pop on those flippers and hop on in!
14. Napili Bay, Maui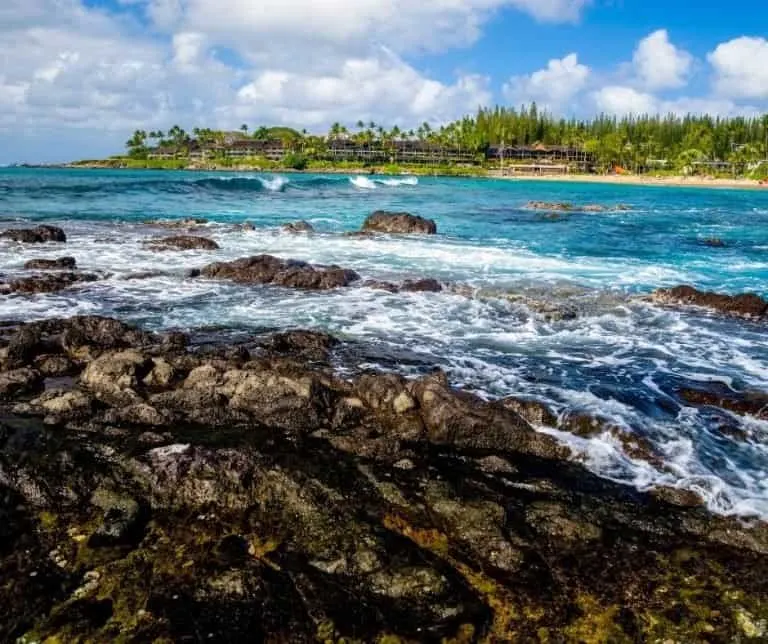 Just a short, 5-minute walk from Kapalua Bay is Napili Bay. It is another great spot for first-time snorkelers. There is a shallow reef just offshore and plenty of fish and turtles to spot if you snorkel along the rocks.
15. Honolua Bay, Maui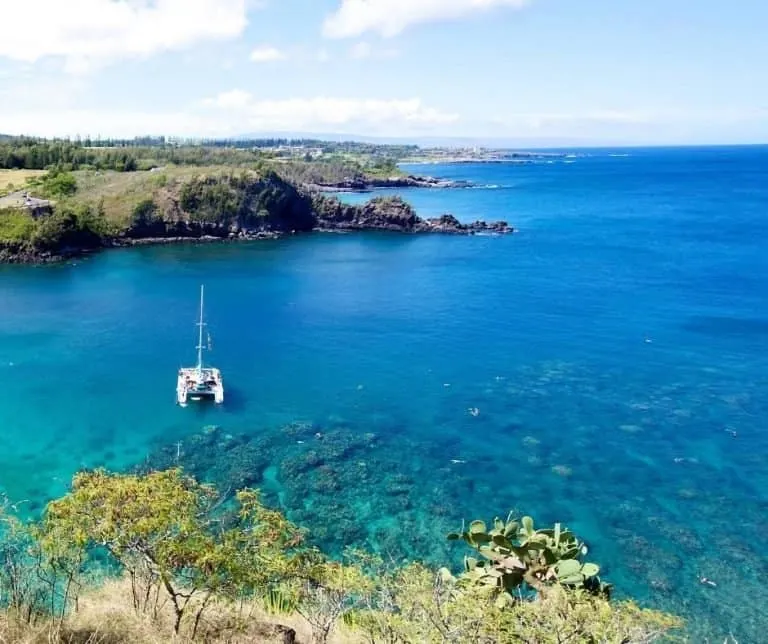 The beach at Honolua Bay is rocky and the water near the shore is not incredibly clear, but there is some great snorkeling waiting for those willing to swim out a bit.
For these reasons, we recommend this spot for older kids who are more experienced swimmers. Stick to the left side of the bay to see the most marine life. Avoid snorkeling in Honolua in the winter when it becomes a popular destination for surfers and conditions are not good for snorkeling.
16. Black Rock, Maui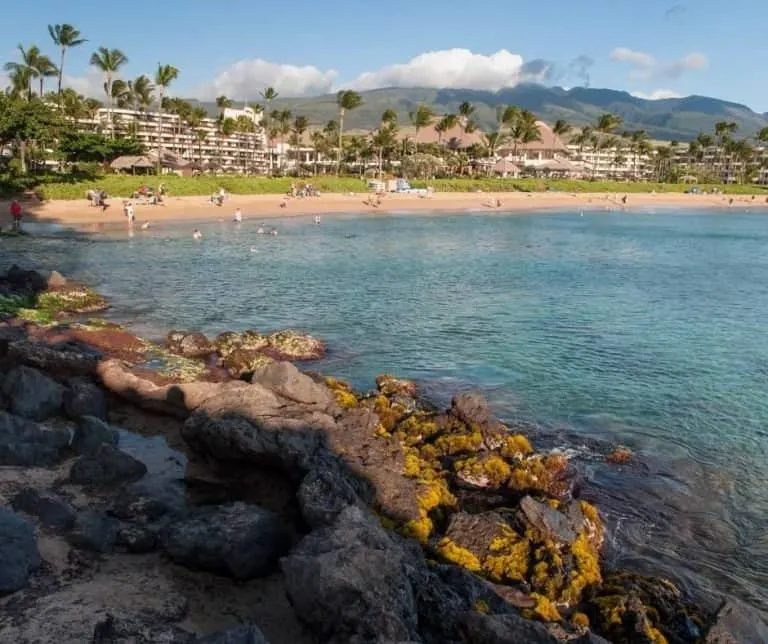 Maui has no shortage of beautiful beaches and Kaanapali is definitely among the most beautiful (and crowded). There is some nice snorkeling at Black Rock, next to the Sheraton Kaanapali Resort.
Note: This is also a popular spot for cliff jumping. Stay away from the area where the rocks jut out the furthest to avoid the jumpers.
17. Poipu Beach, Kauai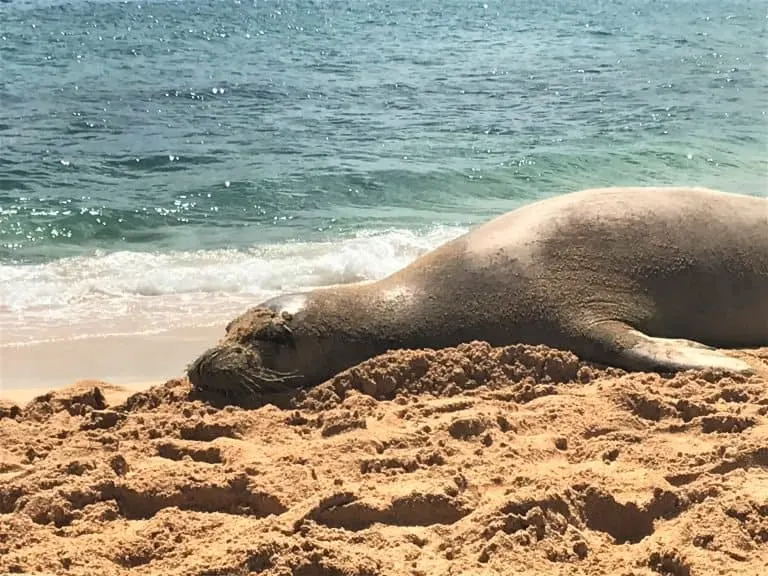 Poipu Beach is the most popular beach on Kauai's south shore. You'll find great places to sunbathe, have a picnic, and enjoy the water. There is a small breakwater area where children can play and snorkel without the threat of large waves or strong currents.
There is a lifeguard at this beach as well. Keep your eyes out for honu (sea turtles) and rare Hawaiian monk seals on the shore, but give them space if you do.
18. Lawai Beach, Kauai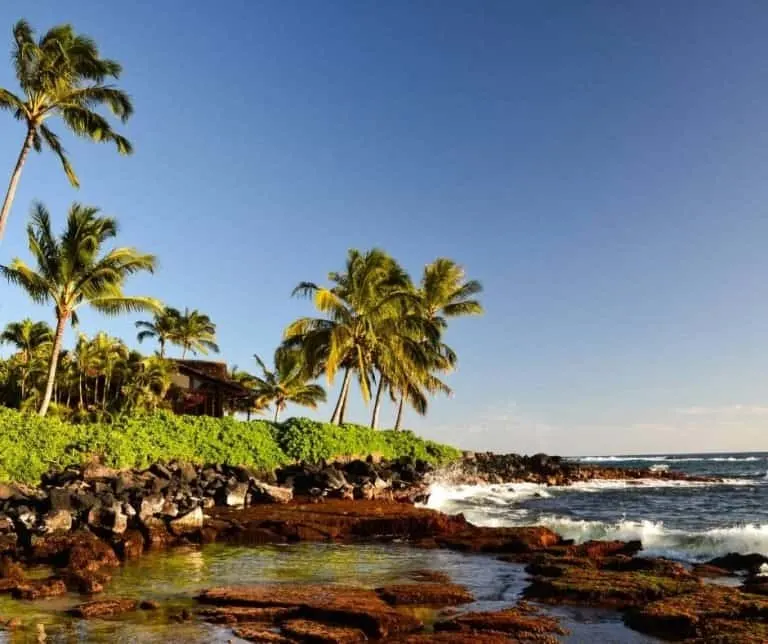 The beach itself isn't the best (and practically disappears at high tide), but the snorkeling at the reef offshore is good. There is a nice diversity of fish and coral.
Sea turtles like to hang out in the area, especially in the afternoon. The best snorkeling is near the Beach House Restaurant. We suggest dining here before or after your snorkel.
19. Shark's Cove, Oahu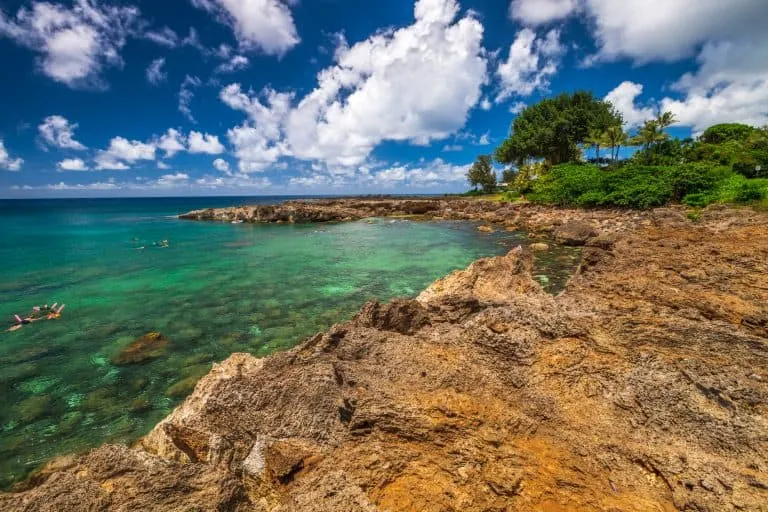 With a misleadingly sinister name, Shark's Cove is actually my favorite place to snorkel on Oahu. There are some extremely shallow areas in the Pupukea tide pool portion of the cove that are great for kids.
The entrance into the water is rocky. so caution should be used. Be aware that large swells can occur on the North Shore during the winter, so this spot is best suited for summer exploration.
20. Kuilima Cove, Oahu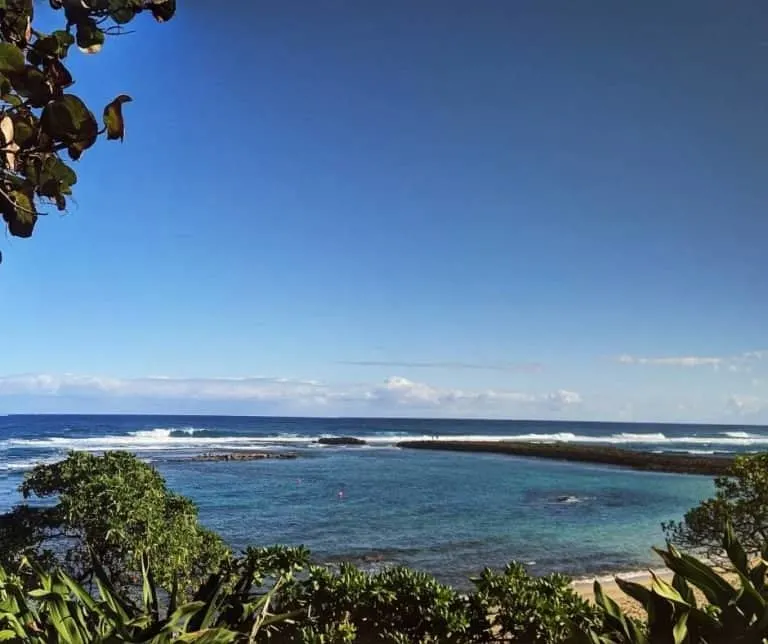 Kuilima Cove is located on the eastern edge of the Turtle Bay Resort. Parking can be found on resort property on the right-hand side near the tennis courts. Be sure you're at the beach on the right-hand (east) side of the hotel. The cove is sheltered by rocks and quite shallow, making it very family friendly.
Discover More Things to do in Hawaii with Kids:
Lead Image by: flickr/goodncrazy
Disclosure: The author did receive a complimentary tour from Kai Kanani while working with the Maui CVB on several stories. All opinions are her own.