Looking for the best kid friendly beaches in Oahu? With 111 miles of coastline, Hawaii's most populated island is home to many Instagram worthy beaches. From the world-famous Waikiki Beach to Oahu's best hidden gems, here are the best beaches in Oahu for families.
Tips for Visiting The Best Kid Friendly Beaches in Oahu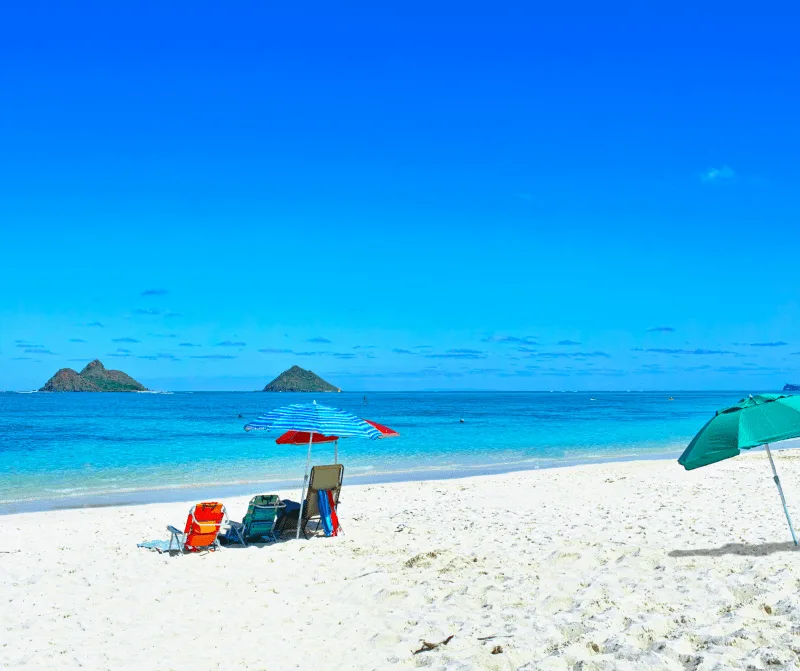 Do not leave ANY valuables in your car while at the beach. You may think you are being sneaky hiding something in the trunk near the spare, but it's not worth it. Car theft is a common occurrence.
Pack in, pack out. Please don't litter. Hawaiians treasure their beaches. Show respect by leaving it the way you found it.
Check surf reports before you go. It is always best to know the conditions before you get in the water.
Reapply sunscreen frequently. The sun is more intense than most of us living in mainland US and Canada are used to and the reflection off the water amplifies its effect. Nobody wants to become a lobster on the Oahu vacation!
The 13 Best Beaches in Oahu for Families
1. Lanikai Beach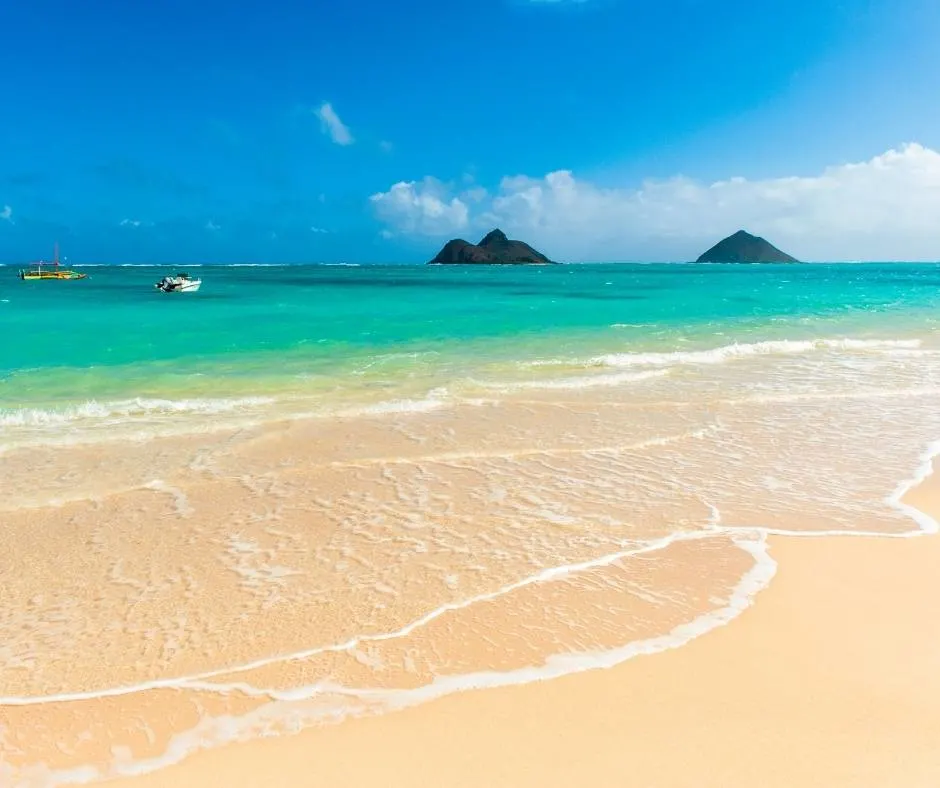 Lanikai Beach is located on the windward side of the island in the town of Kailua. This is one of the most famous beaches in Oahu and it is very popular due to it's offshore coral reef. The reef makes the water perfect for swimming and snorkeling.
The beach is located near two small islands which are perfect for picture backdrops and also excellent for exploring. You will often see kayaks and paddleboarders heading out to the islands from Lanikai.
Book your kayaking tour of Kailua Bay.
As this is one of the more popular beaches in Oahu, it is best to arrive early to secure your spot and parking. Due to it's location, this beach can become shady later in the day – another reason to arrive here early!
Amenities: Parking is available in the residential area and parking is limited. There are no public restrooms so prepare accordingly.
Recommended Nearby Hotel: Kahala Hotel and Resort is an excellent option for Lanikai Beach. This luxury resort is gorgeous has many included perks like free cultural activities and kids club for children, free surfing lessons, and free yoga. There is often a great view of dolphins from the property!
There is more to Oahu than beaches! Here are 30 of our favorite things to do in Oahu with kids.
2. Waikiki Beach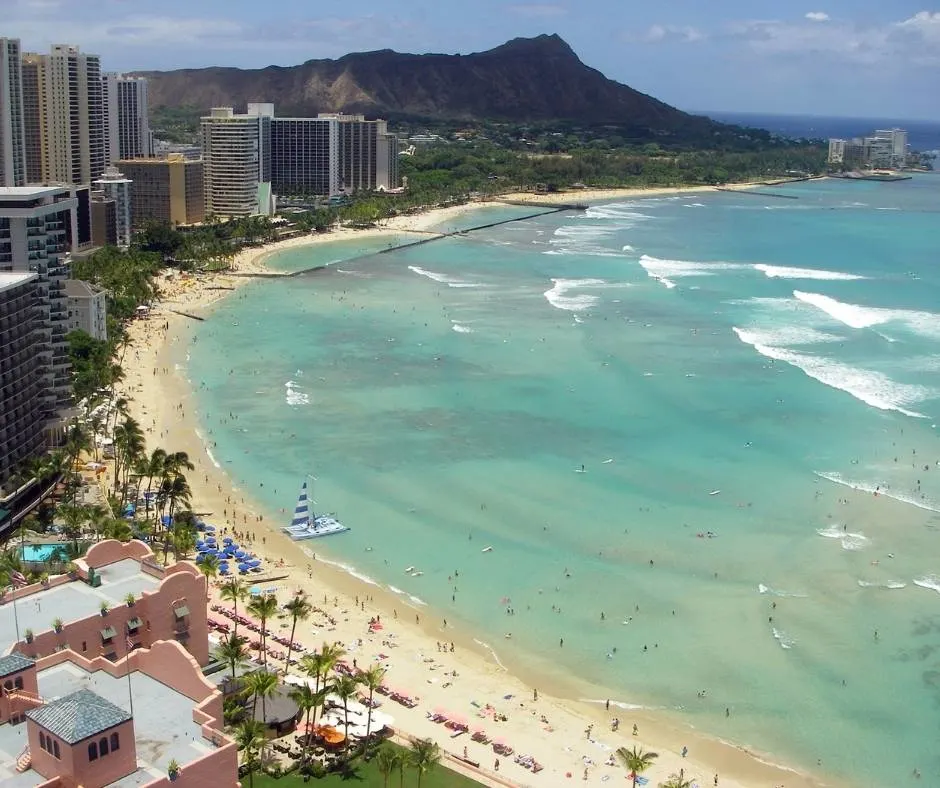 Waikiki, although often overcrowded, is an "easy" beach for families. The stretch along Waikiki is actually multiple beaches that are easily accessed from many of Oahu's best family friendly hotels. From sunrise to sunset, the water is swimmable, the sand is soft with small pebbles, and the people-watching is an activity in itself. There are nearby booths to rent everything from stand up paddleboards to water bikes that float on top of the water.
Pick up a few boogie boards and the kids can spend hours riding in the smaller waves. There is not much of an undertow. When the sun gets too hot, there are plenty of snow cone stands and restaurants nearby to help cool kids down.
The natural breaks along the shore and a section with a man-made shelter wall make this a great place for water activities. Floating, swimming, and snorkeling are easier here thanks to the wall.
If you are looking to try your hand at surfing head down the beach to Queen Surf Beach – part of Waikiki. Waikiki is one of the easiest places to learn to surf thanks to its gentle waves and long break.
There are lots of shops along the beach offering surf lessons. You can (and should) book your lessons ahead of time
A picturesque view of Diamond Head reminds locals and tourists alike that these waves were once ridden by Hawaiian royalty.
Amenities: Waikiki Beach offers public restrooms and many showers. This makes it easy to go from the beach to the shops without skipping a beat. Benches line the sidewalk welcoming sunset watchers and sea gazers. Parking is nearby at many of the shopping centers or hotels.
Recommended Nearby Hotel: The Waikiki Marriott Beach Resort and Spa is an excellent choice for it's location and children's programs. The resort is located right in the middle of Waikiki, a great location for enjoying the beach, shopping, and visiting the zoo or aquarium!
3. Hanauma Bay Beach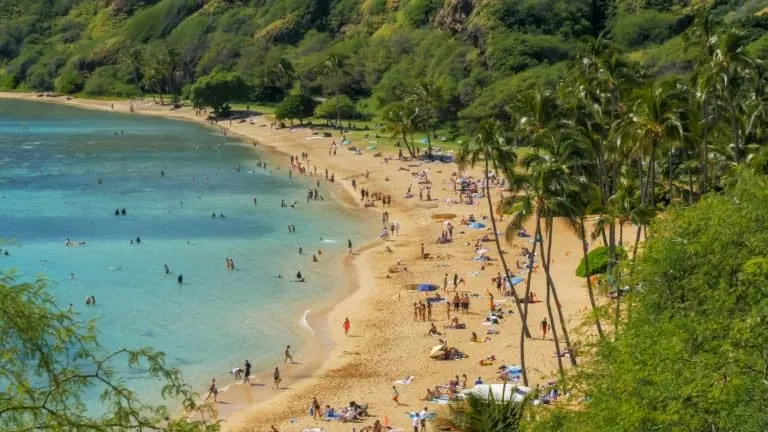 Hanauma Bay is an amazing snorkel destination that just so happens to have a beautiful, pristine beach wrapping around it. It is best to arrive early to avoid the crowds.
My daughter and I floated above the reef and watched numerous fish and sea turtles pass by. In between snorkel sessions, we sat on the soft sand and built castles which we decorated with nearby shells. There is a snack bar on the beach and a clean bathroom with numerous showers.
Know before you go: Hanauma Bay beach has an entrance fee and reservations are also required. Hanauma Beach is a good place to teach children that we need to treat our ocean with respect. Watch the video at the entrance to learn how to treat and protect the reef in the bay. A large clapboard identifies the fish in the bay, both by name and with pictures.
4. Waimea Bay
Yes, the famous Waimea Bay from the Beach Boys song, Surfin' USA! This is a favorite North Shore beach for families and honeymooners alike because it is simply amazing!
Snorkeling with the colorful and interactive fish is something you will not want to miss – so get here early! The bay has limited capacity because there is only so much parking and the fish need space.
There are plenty of places to rent snorkeling gear here and there is also limited fish feeding – another reason to get here early – arrive while the fish are hungry!
The bay offers signs and educational resources to help you understand what fish you are looking at.
It is important to note that this gorgeous bay becomes impossible to explore in the winter because the swell picks up and the surf can be quite big.
Still, this beach is worth visiting in the winter months to watch the impressive surf and the surfers brave enough to hang ten. The Vans Triple Crown surfing event is hosted here each year bringing surfers from all over the world.
Amenities: There is a pay parking lot here and parking down the hill from the entrance. There are are also showers and public restrooms at the beach. The bay has a snack shack and rental shop.
Recommended Nearby Hotel: Backpackers Inn and Plantation Village is the closest property to Waimea. It is right on the beach and provides free parking. You must be 18+ to stay in the dorm rooms but there are private cottages and studios with fridges and microwaves that are great for families.
5. Kailua Beach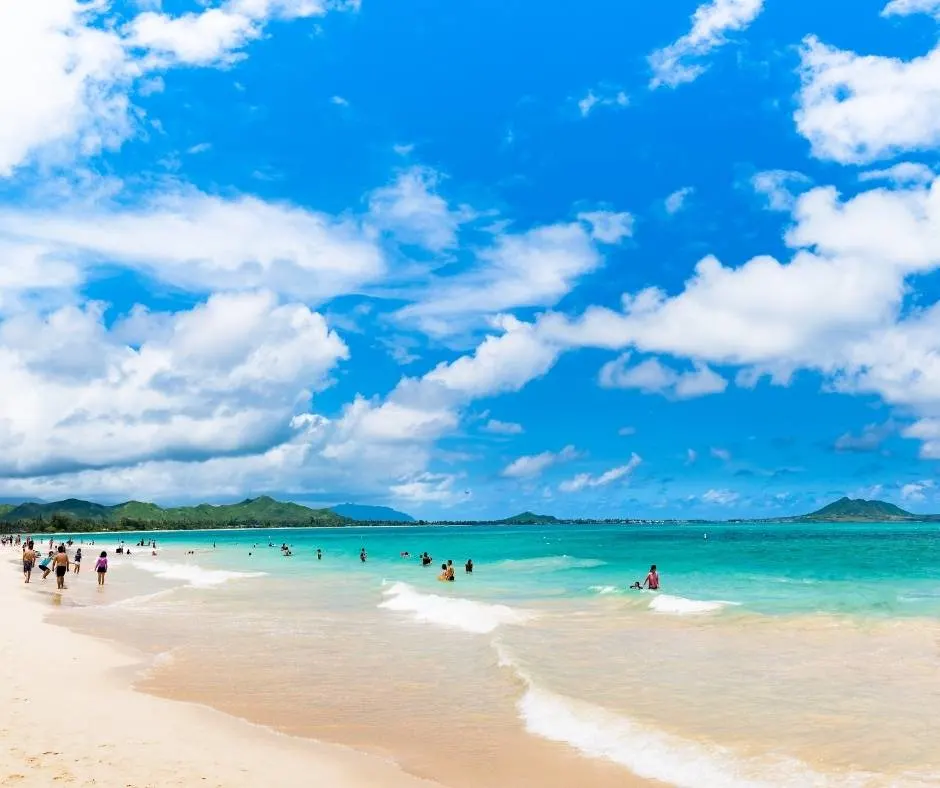 Kailua Beach is on a one-acre public park on the windward side of the island in the city of Kailua. The soft sand and gentle waves make it a perfect place to spend the day.
Snorkeling, wind surfing, sailing, and diving are all excellent activities for Kailua Beach.
Try spending a weekday here because it is an especially popular weekend spot. The local food trucks are a draw to the area try island specialties like poke or fish tacos.
There are spots nearby where you can rent water equipment to take the day to next level!
Trekaroo Tip: During some months, man-o-wars sometimes float through so be on the lookout and just avoid them.
Amenities: There are picnic tables, volleyball courts, and public restrooms. There are three parking lots alone Kailua Beach. Lot three has a boat launch if you are meeting for an excursion or if you are renting a boat.
Recommended Nearby Hotel: Off the beaten path, Paradise Bay Resort is an escape from the hustle and bustle of Waikiki. It is in a location perfect for boating and paddle boarding. The resort offers free kayak and snorkel equipment rental and has some amazing waterfront cottages.
6. Sunset Beach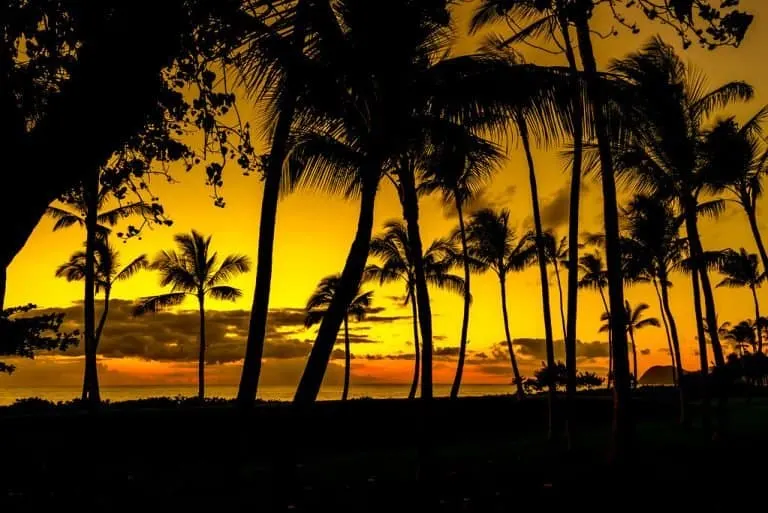 On the North Shore of Oahu you will find Sunset Beach- famous for it's crystal waters. This is a very popular spot during the spring and summer seasons because the water is perfect for swimming and snorkeling.
During the winter months the water is perfect for surfing! Sunset Beach is known for its huge, rideable waves – this is why many professional surfers call this part of Oahu home! If you are hoping to meet a local surfer, this is probably your best bet for a chance encounter.
Amenities: Parking is available at the Sunset Beach lot across from the beach – there is also parking along the road. The beach has public restrooms, showers, and lifeguards. Local food trucks are often parked in this area.
Recommended Nearby Hotel: Courtyard by Marriott Oahu North Shore is a great choice for the North Shore. Families will enjoy the nearby beach, the pool, and the excellent location to tour the North Shore.
7. Pokai Bay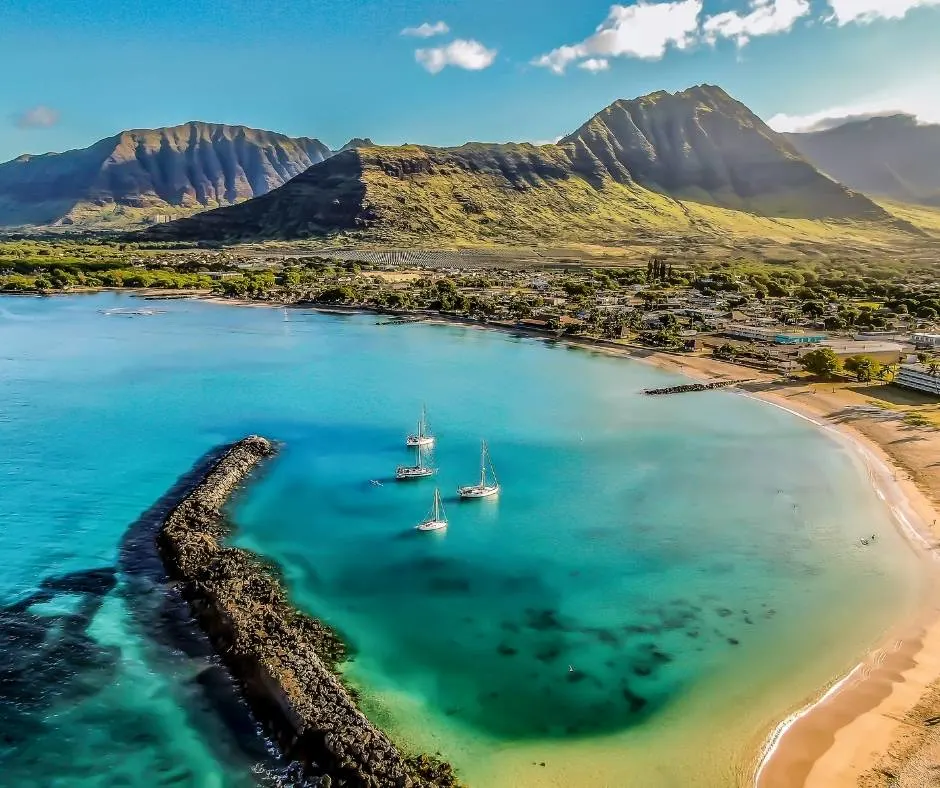 Pokai Bay is a great place to learn how to snorkel. The kids will enjoy the sheltered, shallow waters which will give them a chance to really see the fish in the area.
Pokai Bay is one of the more secluded beaches on Oahu. This will allow you to really keep an eye of the kids and get some quality time in the water.
Most of the Oahu gets large surf in the winter months but Pokai is ideal for swimming in the winter. The reef that surrounds the bay helps shelter the area. This beach is the most protected on the leeward coast.
Amenities: There is onsite parking available. There are public restrooms in the parking lot.
Recommended Hotels: Looking for a kid friendly hotels – check out our 7 Best Hotels in Oahu for Families!
8. Ala Moana Beach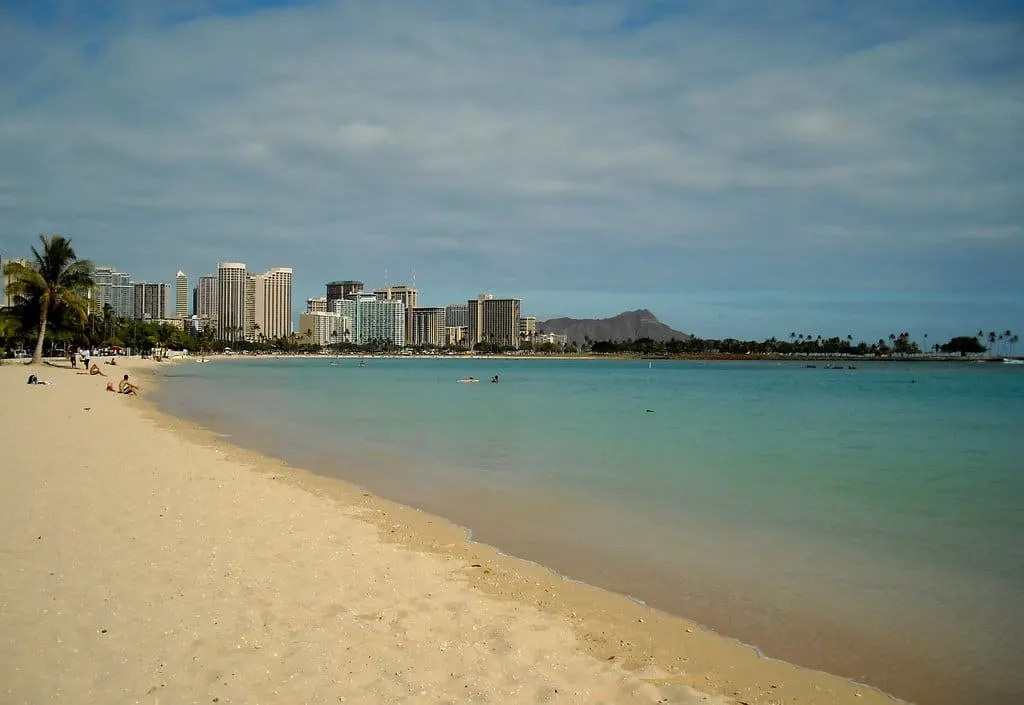 Ala Moana is a manmade beach that is a nice place to escape the larger crowds of Waikiki. The half-mile beach is protected by the outer reef, making it a good place to swim or paddle board. Ala Moana is a great place to go with beginning swimmers.
The views of Waikiki Beach from Ala Moana are excellent and a favorite spot for family pictures. You can capture the beautiful beach, Diamond Head, and the bustling city behind it, making this one of the best beaches in Oahu.
Flytographer has a network of incredible professional photographers ready to come to you and help your family create the ultimate souvenir of your special trip. Trekaroo is proud to be a Flytographer customer and affiliate.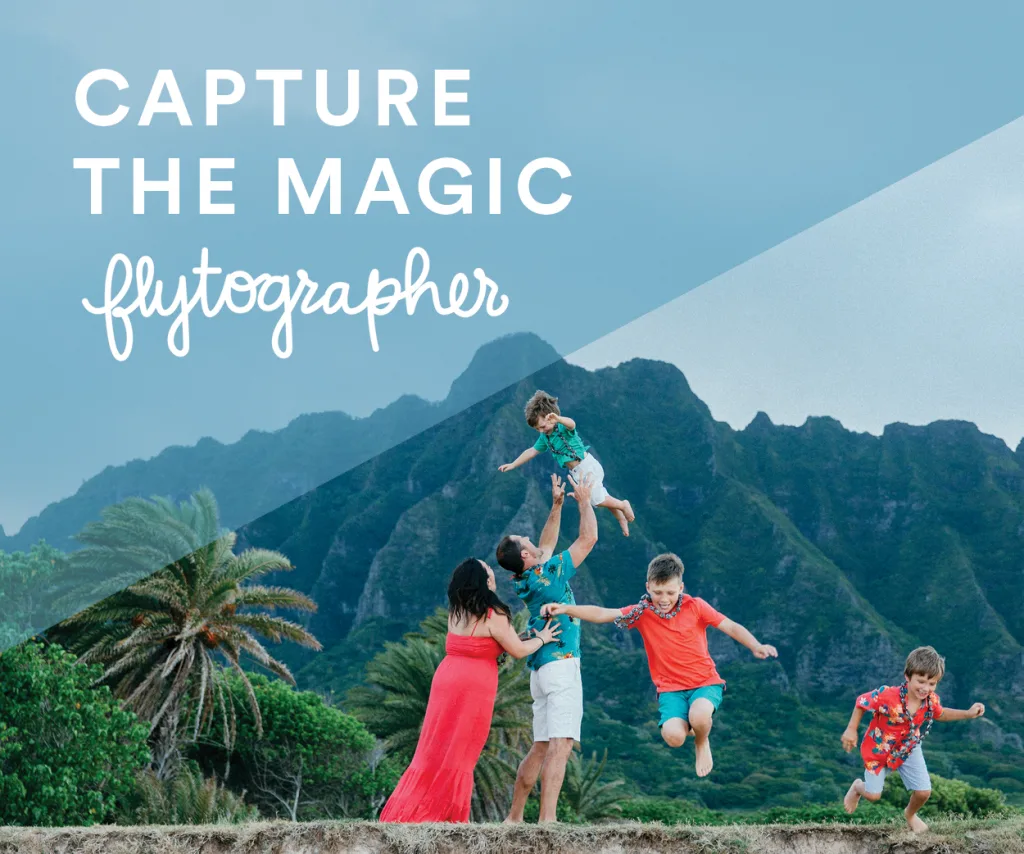 Amenities: The beach offers shady spots, grassy picnic areas, and tennis courts. The nearby yacht club and concession stand are a nice places to grab a snack. There is onsite parking at the Ala Moana Park.
Recommended Nearby Hotel: The Hilton Hawaiian Village is one of the most iconic properties on Waikiki Beach – it is the tall rainbow tower many of the famous pictures of this stretch of sand. They have an excellent family program and offer great amenities throughout this 22-acre property.
9. Makaha Beach Reserve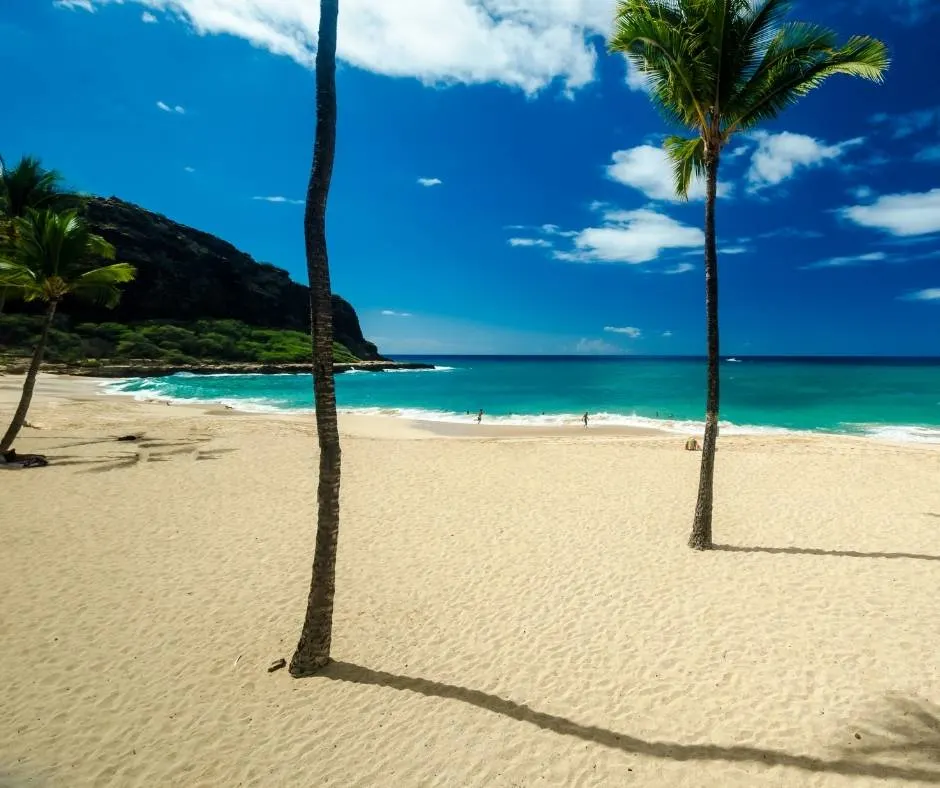 Makaha Beach is an excellent spot for swimming, body surfing, and floating throughout the summer months. Swimming in the middle of the beach is best for calmer waves.
In the winter this beach becomes great for surfers because of the rip tide that take place here but unsafe for swimmers. Makaha Beach can become crowded on the weekends so try to plan your trip to the beach mid week to enjoy a quiet beach day!
Amenities: There are two lots near the beach for parking and street parking is available. Public restrooms are near the closest parking lot.
Recommended Nearby Hotel: Aulani, A Disney Resort & Spa is a family oasis. The family friendly activities and premier kid's club is well worth the stay at this Disney property.
10. Sandy Beach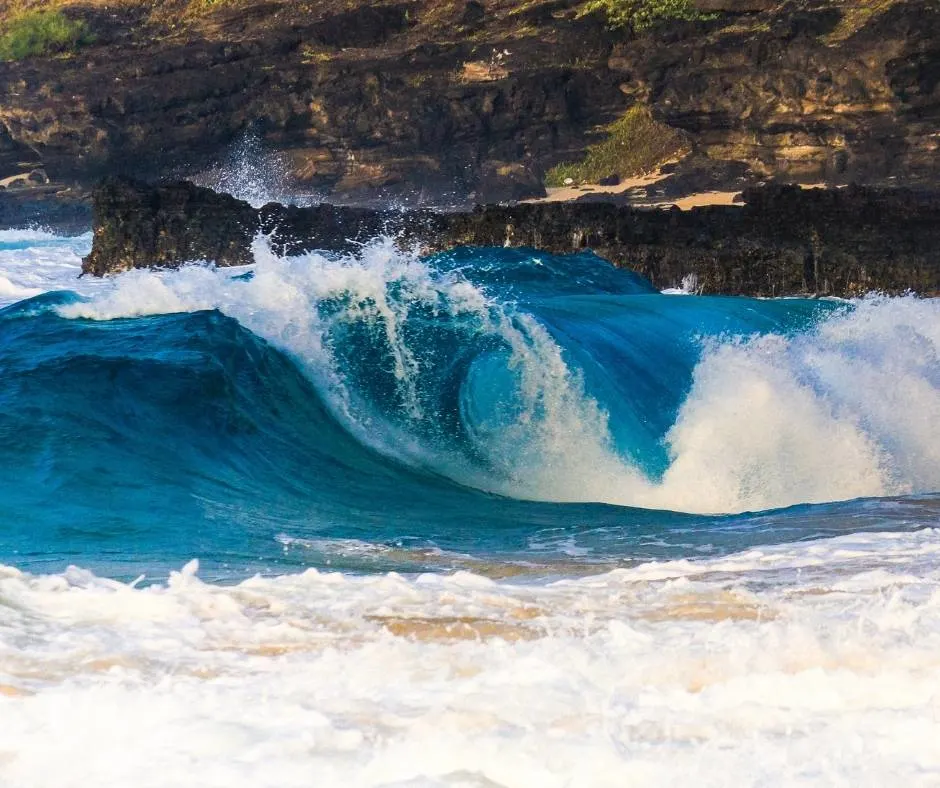 Sandy Beach is one of the best beaches in Oahu for lounging and watching surfers and body boarders. The waves here are rather large and are best for the experienced surfer or body boarder. Just enjoy watching the action and leave the waves to the experts.
This beach is a lovely retreat from the busy beaches near Waikiki. It is also near the Halona Blowhole – this is a gorgeous place for photos and very exciting to watch.
Amenities: There are lifeguards on duty at this beach. Public restrooms and showers are available in the park, as well as picnic tables and some shady grass.
11. Nanakuli Beach Park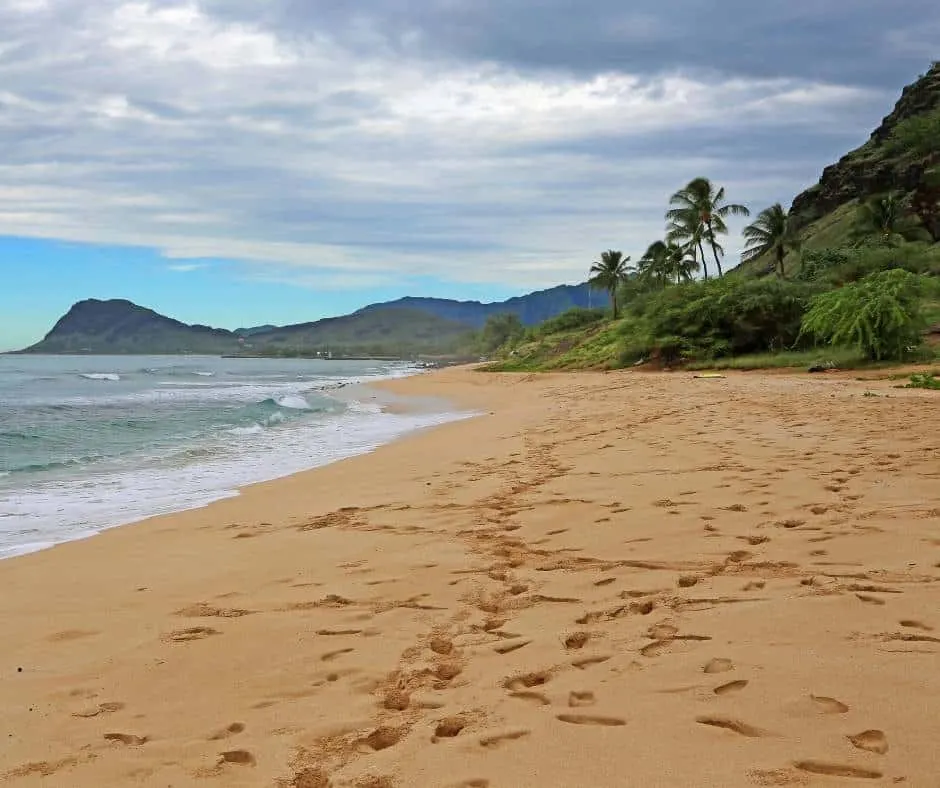 Nanakuli Beach is a favorite of divers. This 40-acre park is located on the west coast of the island and the protected coral reef makes for some great fish sightings and calm waters. There is a grassy park and picnic area along the beach.
The campground here makes this a unique and popular location. Many people spend the day here lounging and swimming in the northern part of the beach which is best known for it's gentle waves.
Amenities: There is plenty of parking but the earlier you arrive the better your chances are at snagging a close spot. There are public restrooms and showers available. Lifeguards are on duty year round.
12. Bellows Field Beach Park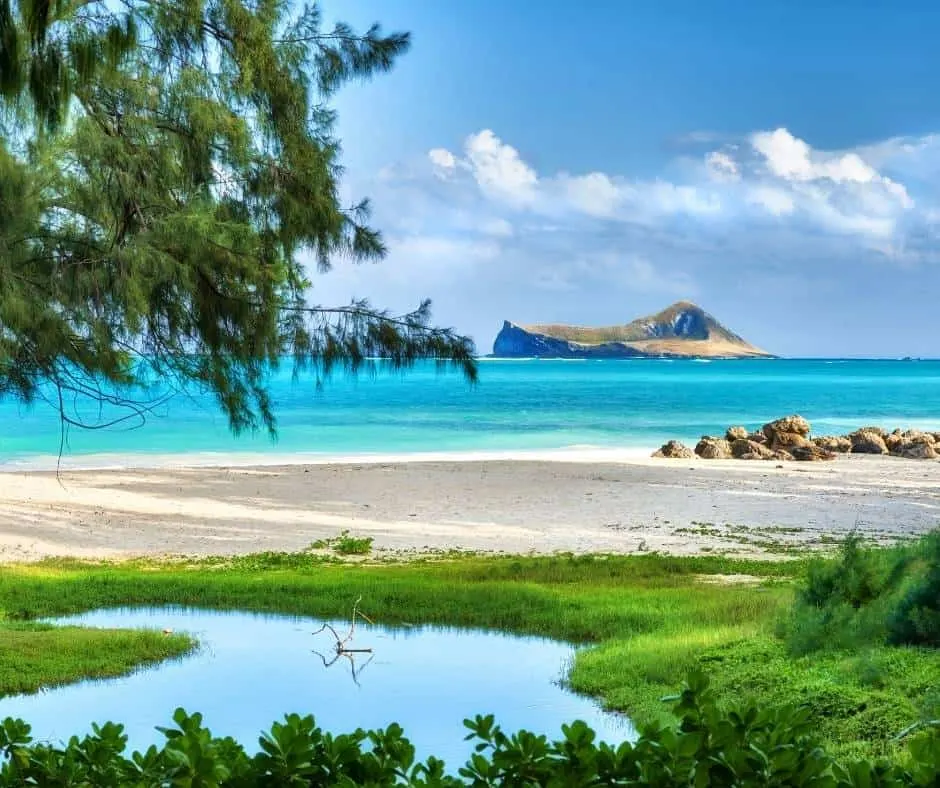 Bellows Field Beach is a favorite for families with small children because the water can be very shallow for a long way out. This beach, located on a military base in Waimanalo, is only open to the public Friday through Sunday, so plan accordingly.
The east side of the beach is sheltered by a reef that makes the waves very gentle and keeps the water warmer. Keep your eyes out for jellyfish in the area, as they also enjoy the warmer water.
Amenities: There is onsite parking, public restrooms, and showers. Nearby there is a small convenience store to pick anything you might need.
13. Halona Cove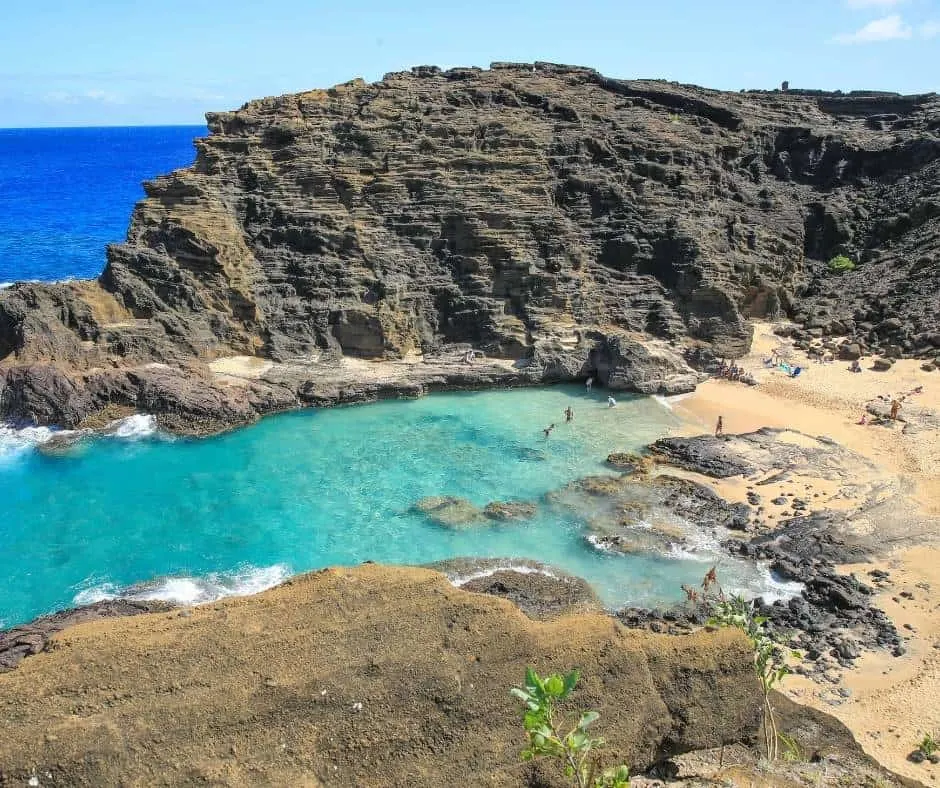 The very small and rocky cove of Halona Cove makes the list of best beaches in Oahu because it is a must see! If you are willing to hike the path down you will start to feel like you have been here before – mainly because this beach is in many movies and television shows.
Movies like Disney's Pirates of the Caribbean franchise and television shows like Lost have shot at this beach. The water here is fun for swimming and bobbing around in the waves.
Amenities: Parking is available along the road and at the Halona Blow Hole parking lot. There are no restrooms here, but it is worth a look and quick dip.
14. Ko Olina Lagoons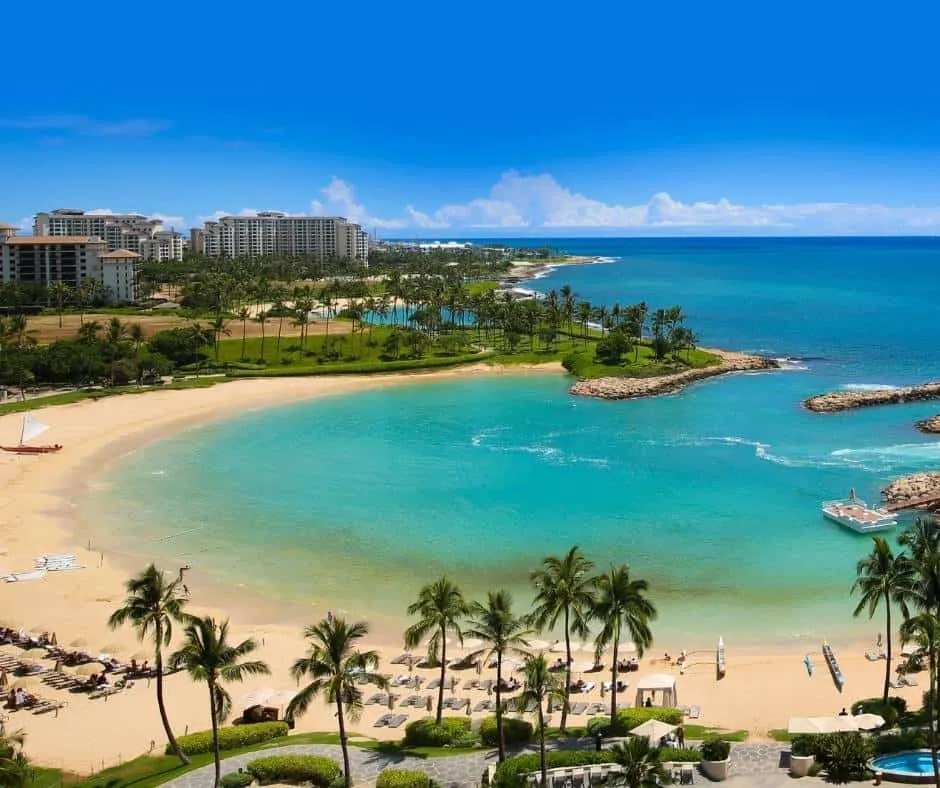 The Ko Olina beaches are a set of four manmade lagoons that sit in front the area's resorts. They are great for swimming, stand up paddle boarding, and kayaking because a break wall keeps the lagoons calm.
These beaches are mostly frequented by hotel guests but all beaches in Hawaii are public so free to stop by! There is some good snorkeling along the rocky shoreline in between the lagoons.
Recommended Nearby Hotel: Four Seasons Resort Oahu at Ko'Olina is a gorgeous property. The pools on property are definitely worth the visit and the sheltered beach area is a plus!
Discover More Things to do in Hawaii with Kids:
Thank you to Janel Murray who wrote the original version of this article.