With its sunny beaches, world-class shopping, and delicious local and Asian cuisines, it's no wonder that families flock to the island of Oahu in Hawaii.
The island offers a variety of lodging options for families looking to experience everything from the hustle and bustle of Waikiki to the legendary waves of the North Shore. Read on for our picks of the best hotels in Oahu for families.
Best Hotels in Oahu for Families on the Waikiki Strip
1. Sheraton Waikiki- Best Hotel on the Waikiki Strip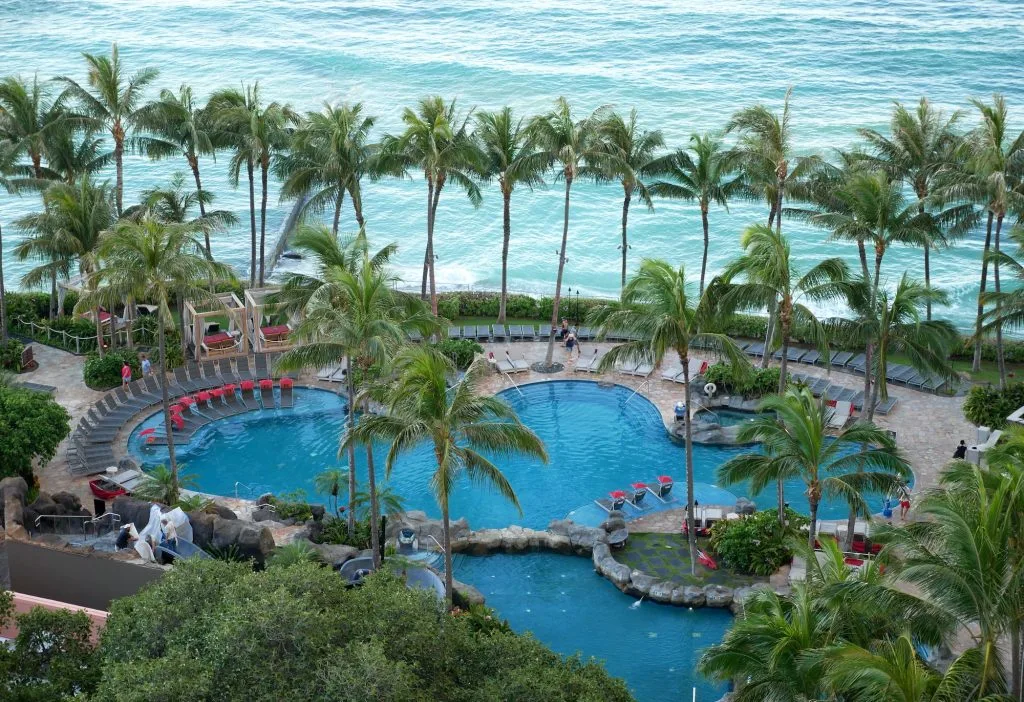 Beyond having the best family pool on the famous Waikiki Strip, the Sheraton Waikiki offers fun activities for kids in a family friendly setting.
Daily lessons in Hawaiian culture are included with your resort fee and will have your kids playing the ukulele, making leis, and dancing the Hula in no time.
One of the biggest draws to staying at the Sheraton Waikiki is the location. It's one of the few hotels located right on the beach in Waikiki, giving you the option to explore blocks of shopping and restaurants or stay put and enjoy life on the beach.
When you are done exploring, head to the Helumoa Playground family pool where kids have access to a kid's pool, fountains to play in, two waterslides, and two freshwater pools.
Best of all, due to an incredibly nice edgeless adult-only pool overlooking the ocean, you'll find plenty of space to stretch out and enjoy the family space without the usual crowds Waikiki is famous for. All these amenities help crown the Sheraton Waikiki as one of the best hotels for families in Oahu.
Check for availability at the Sheraton Waikiki.. As a Booking.com affiliate, Trekaroo is thrilled to offer its readers the lowest rates guaranteed.
2. Halekulani- Best Luxury Hotel in Oahu for Families
The Halekulani Hotel has received five stars from reviewers who not only loved the beach location, luxurious rooms, and spectacular ocean views but also the family friendly vibe of the hotel. The staff is incredible with kids and are even known to play hide and go seek to show kids some of the fun aspects of the bedrooms.
At Halekulani, families can experience the best of Waikiki without ever leaving the hotel. House Without a Key, the poolside restaurant, offers kid-friendly dining, delicious virgin concoctions for kids, and even Wikki Stix, fun wax sticks for them to make their own creations while they wait.
The nightly entertainment at House Without a Key offers some of the best entertainment Waikiki has to offer. Former Miss Hawaii winners dance the hula and take the time to chat with families and take photos.
At Halekulani, the pool is big enough that you won't worry about your kids bothering other people and warm enough that you'll swim longer than expected during the winter months.
Head out of the pool gate to the beach where you are more than likely to see sea turtles frolicking in the surf in the late afternoon and early evening. For families looking for a luxury stay, the Halekulani is definitely of the best hotels for families in Oahu.
For more on where you can see sea turtles, check out the best beaches to see sea turtles in Oahu.
3. Aston Waikiki Beach Hotel- Best Budget Hotel in Oahu for Families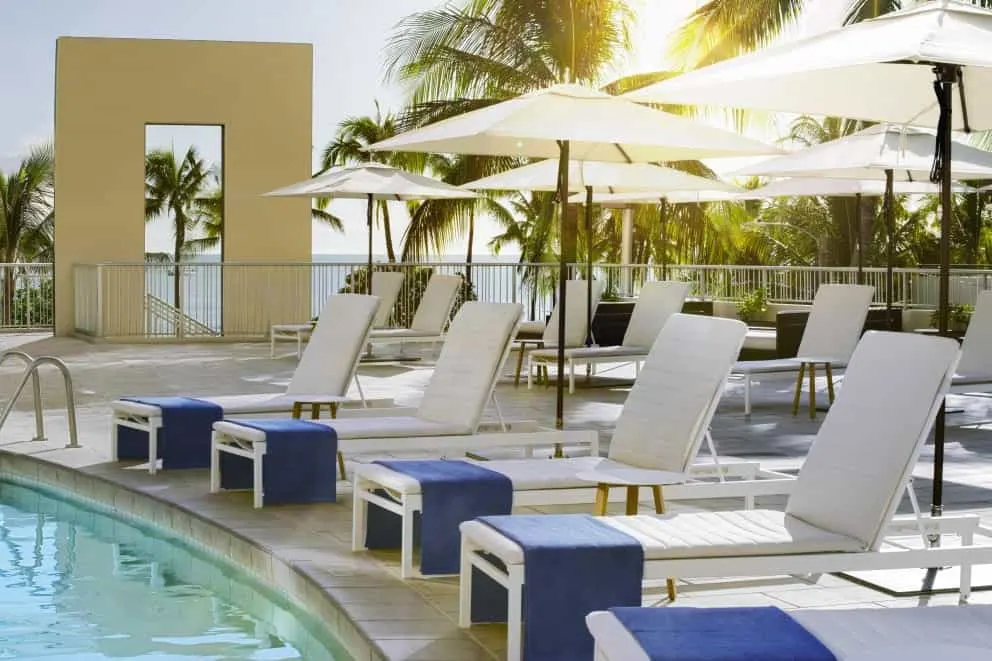 Finding affordable hotels can sometimes be tricky, particularly in Waikiki, Oahu. Trekaroo families have found that the Aston Waikiki Beach Hotel is the best option for sand, sun, and surf on a budget.
The hotel has great free amenities like a PS3 console and Blu-Ray player with free game and movie rentals to keep kids busy at night. They even offer GoPro loaners to use during the day.
Stay on a Friday for a great view of the weekly Waikiki fireworks from your hotel balcony. The pool is smaller but underwent recent renovations that add a gorgeous touch to the poolside.
Another feature of the Aston Waikiki is the amazing location. Simply cross Kalakaua Avenue to arrive at Kuhio Beach, a kid-friendly beach protected from larger waves by a breakwall. Also within walking distance are kid-friendly activities like the Honolulu Zoo and Waikiki Aquarium.
Check for deals on the budget friendly Aston Waikiki Beach Hotel.
Looking to hit the beach with kids? Check out our guide to the best beaches in Oahu for families.
4. Hyatt Regency Waikiki Beach Resort & Spa- Best Hotel for Points Collectors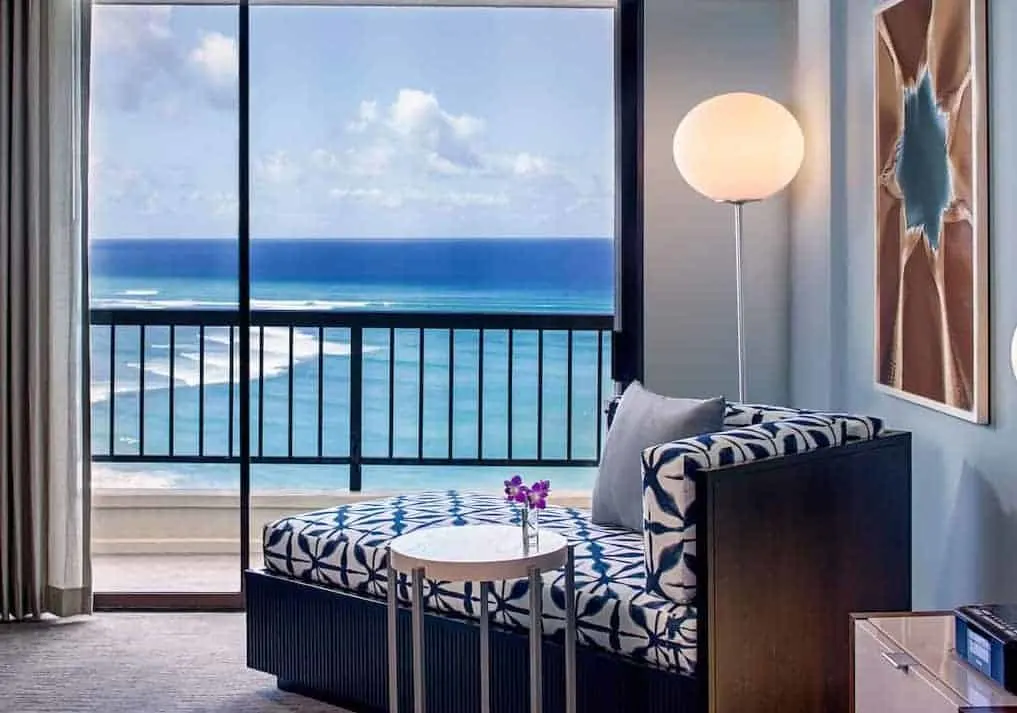 Families traveling with kids can often benefit from hotel loyalty points. There are few hotels that can offer perks comparable to those at the Hyatt Regency Waikiki Beach.
Here, loyal Hyatt Members converge in the Regency Club Lounge located on the third floor of the hotel. Families have access to the club 24 hours a day, with meals, beverages, and snacks being served throughout the day.
What makes the club different is the large patio with couches, tables, and firepits. Feel the heartbeat of Waikiki each night without dealing with the lines and crowds on the street below.
Even without club access, this hotel is perfect for families. Newly renovated, clean and modern rooms welcome families who want to lounge in comfort. The pool deck has a large and family friendly hot tub and pool where inflatable floats and toys are welcome. Poolside service is quick and efficient.
Check for deals at the Hyatt Regency Waikiki Beach.
Use these Oahu travel tips to plan your perfect vacation.
Best Hotels in Oahu for Families on the North Shore
5. Turtle Bay Resort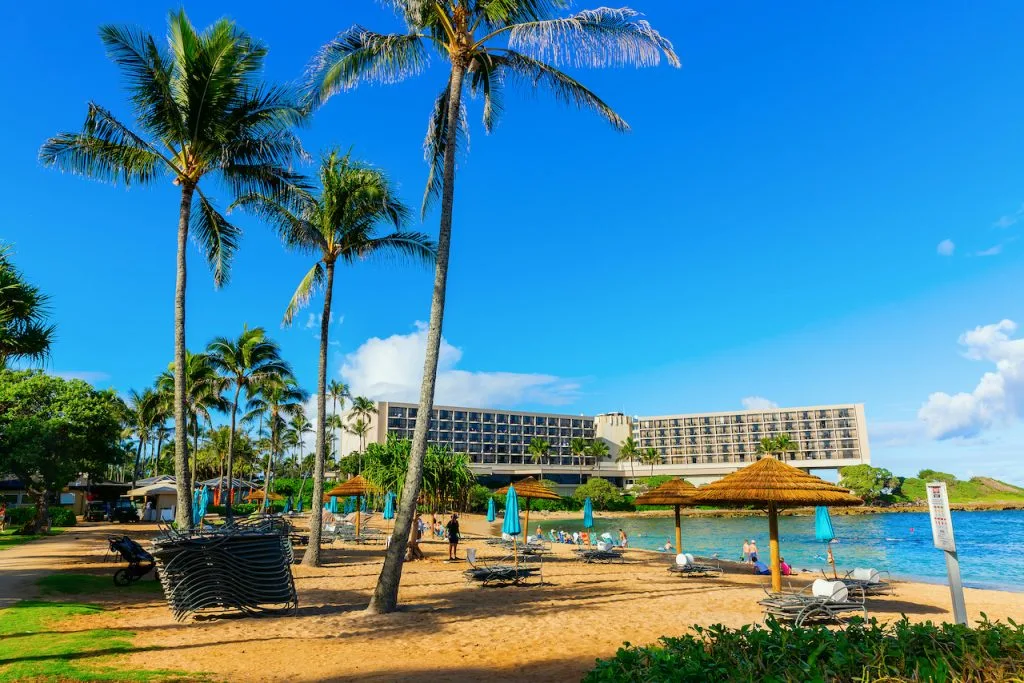 Oahu's North Shore is famous for its larger waves and laid back vibe. Located only an hour from the Honolulu Airport, Turtle Bay Resort is a world away from Waikiki.
Families love to head north to experience the surfer lifestyle that the North Shore is known for. From the shores of the resort, families sit and marvel at the talent of local surfers and paddleboarders as they tackle the large waves with ease.
Turtle Bay Resort has an enormous number of activities perfect for families. From learning to surf with a dog to free hiking on one of the resort's many trails, there is always something to do at Turtle Bay.
Book any activity through the resort and they will even lend you a Go Pro to record your adventures. Families booking a 2-3 night stay on the North Shore, will have time to really discover why Turtle Bay is one of the best hotels for families in Oahu.
Check for hotel deals on Oahu's North Shore at Turtle Bay Resort.
Best Hotels in Oahu for Families near Ko Olina
Ko Olina is 30 minutes from Honolulu and the hotel district is much newer than the one in Waikiki. There is no natural beach in this area but there are several man-made lagoons which have lovely human-created beaches and flat water. Each of the hotels in this are sit on one of the lagoons.
6. Aulani- A Disney Resort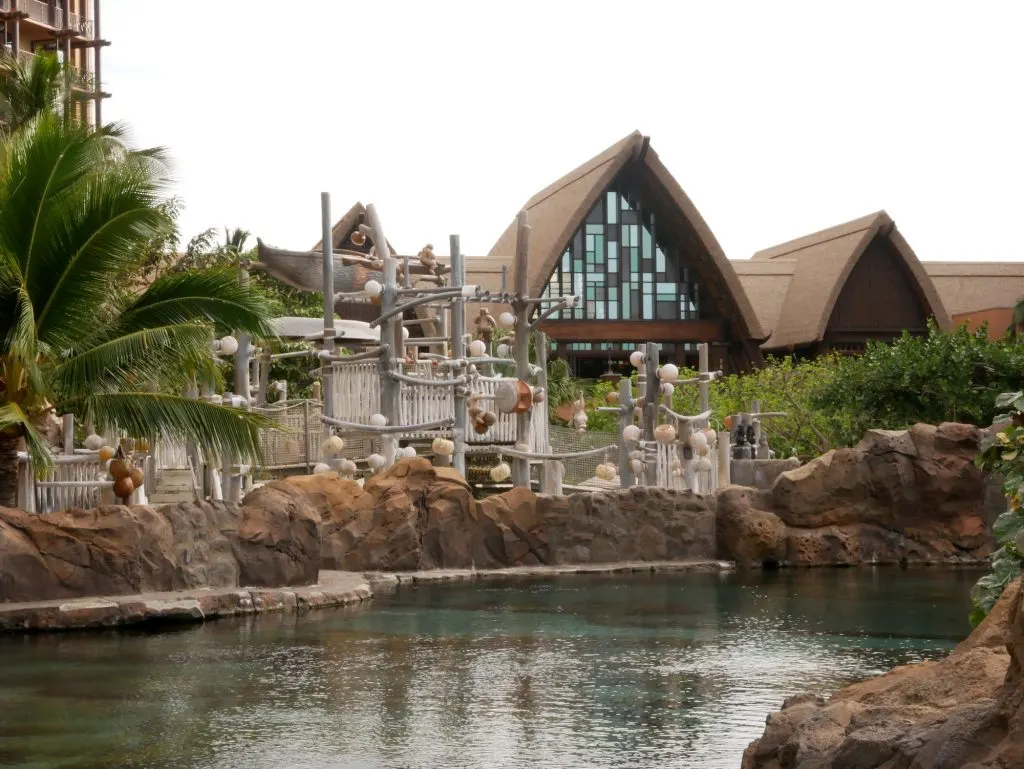 For families looking for a complete resort experience in Oahu, there is nothing comparable to Aulani, A Disney Resort and Spa. Standing tall above the calm waters on the shores of Ko Olina, Aulani is a good mix of Hawaiian culture and Disney magic.
Don't expect the same level of Disney as you would get at a Walt Disney World Resort but instead, an integration of the brand into a Hawaiian hotel stay.
At Aulani, some rooms come with kitchenettes that include fridges and microwaves, and there are plenty of dining options onsite to meet your needs.
The Waikolohe Valley pool area has two large waterslides, a fun lazy river, and several pools and splash pads. There is even Rainbow Reef, a snorkeling lagoon filled with tropical fish. Each day, Goofy can be found frolicking in the water and leading pool games for kids.
Families will also love the FREE kids' club, Auntie's Beach House. Here, kids can play in several themed rooms or on the playground in Auntie's backyard.
Scheduled events happen daily including the Ka Wa'a Family Luau and science sessions with Stitch. Pre-registration is required and spaces fill up quickly.
7. Marriott's Ko Olina Beach Club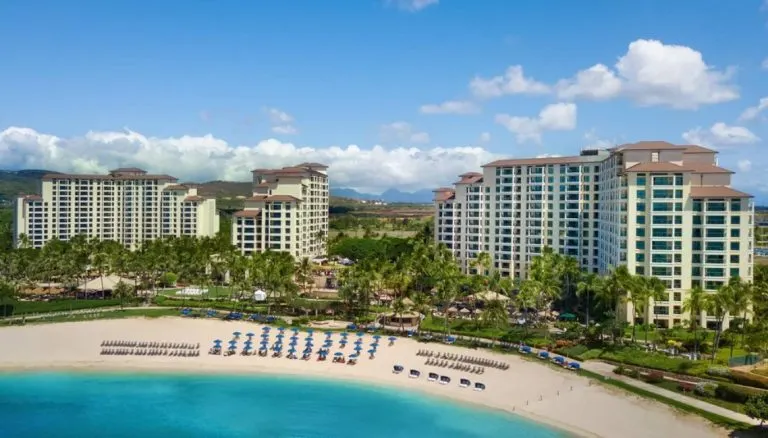 Marriott's Ko Olina Beach Club is a great option for families looking for lots of space, especially larger families. The property has one-, two-, and three-bedroom villas with plenty of living space and fully equipped kitchens. These villas can sleep up to eight people.
There are three pools on property, including a children's pool, and hot tubs, as well as waterfalls and a waterslide. Swimming in the lagoon is another great option for families, and the resort offers complimentary beach chairs to plop down on the soft sand.
Beyond water play, there is a play area and activitiy center as well as daily activities like lei making, aqua bingo, and mermaid swimming.
While having a kitchen is a major perk for families, you probably won't want to cook every meal, so take advantage of the restraurants on property, or book a special evening at Fia Fia- the property's Polynesian dinner show which is offered on Tuesday nights.
But wait, we have more Hawaii coverage!
Heading to more Hawaiian islands? Check out the best hotel pools in Hawaii.