Maui has become one of the most popular beach vacation destinations in the United States but where are the best beaches in Maui?
Once again, Trekaroo has done the hard work of sun bathing, snorkeling, sandcastle building, surfing, and sunset watching at beaches across Maui to bring you this list of our favorite beaches on Maui. We include details about what makes each one special and detail each beach's amenities.
Best Beaches in Maui Near Lahaina, Kaanapali, and Kapalua
1. Kaanapali Beach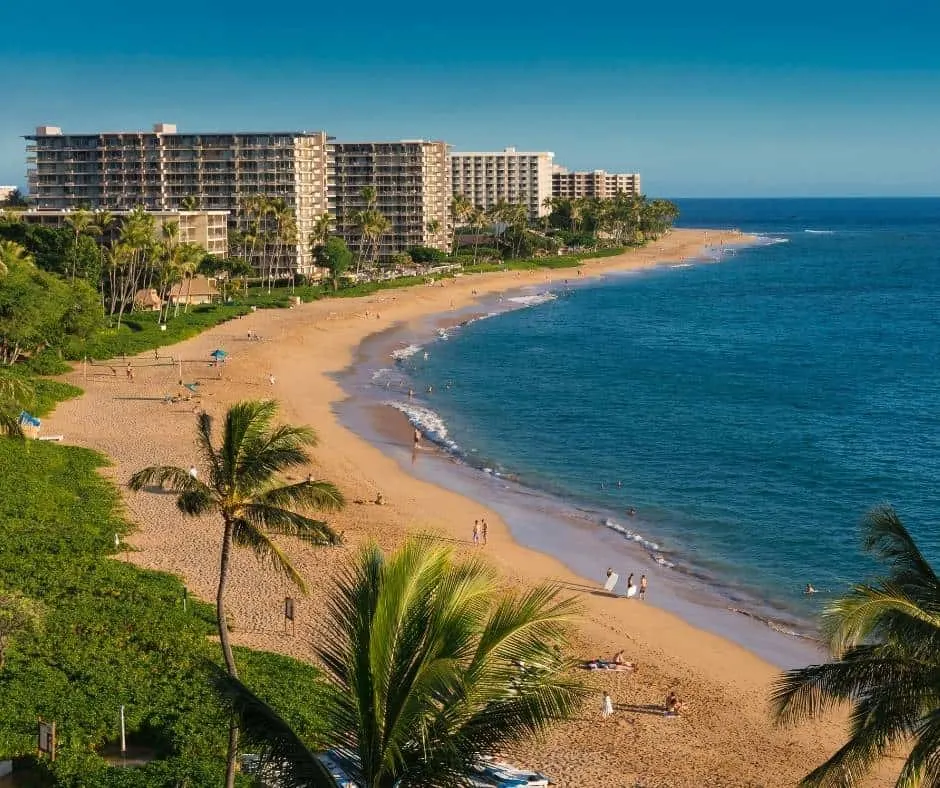 Kaanapali Beach is the Waikiki of Maui and the most popular beach with tourists on the island. This mile-long stretch of sand in West Maui is home to several resorts and condo complexes, as well as Whalers Village, a large shopping and restaurant venue.
The sand is soft, the water is great for swimming, and the weather is usually sunny. The trade winds tend to kick up in the afternoon, making things quite breezy.
My kids love boogie boarding on the stretch of beach in front of the Kaanapali Alii Resort and there is good snorkeling near Black Rock below the Sheraton Maui Resort. Jumping off Black Rock is a popular activity best suited for brave souls that are good swimmers.
There is a beach path that follows the length of the beach that is good for walking, running, and biking.
Explore the island! Here are the best things to do in Maui with kids.
Amenities: There are several stands along the beach path offer places to rent beach equipment, bikes, and book water activities. There are a few beach lots for parking (which can fill up) as well as parking at Whaler's Village which will give you three free hours of parking with a purchase.
Recommended Nearby Hotel for Families: The Kaanapali Alii is a beachfront condo resort with the space and full kitchen that families are looking for located right on Kaanapali Beach.
2. Kahekili Beach Park
Located just north of Kaanapali Beach, this beach is a great place for young children to learn how to snorkel because the reef is close to shore and the water is usually quite calm. Keep your eyes out for sea turtles!
The beach is nice and part of the biggest resort area on the island but not as crowded as Kaanapali Beach itself.
Amenities: There is free parking at the beach's lot. Restrooms and showers are available. There is a shaded pavilion that is first come, first served. There are also barbecue grills available.
Recommended Nearby Hotel for Families: The Westin Kaanapali Ocean Resort Villas is a great resort right on Kahekili Beach. In addition to beach access there are two large pool areas, complete with waterfalls and a waterslide.
Don't know what to pack for your Maui vacation? Check out our Hawaii packing list.
3. Kapalua Bay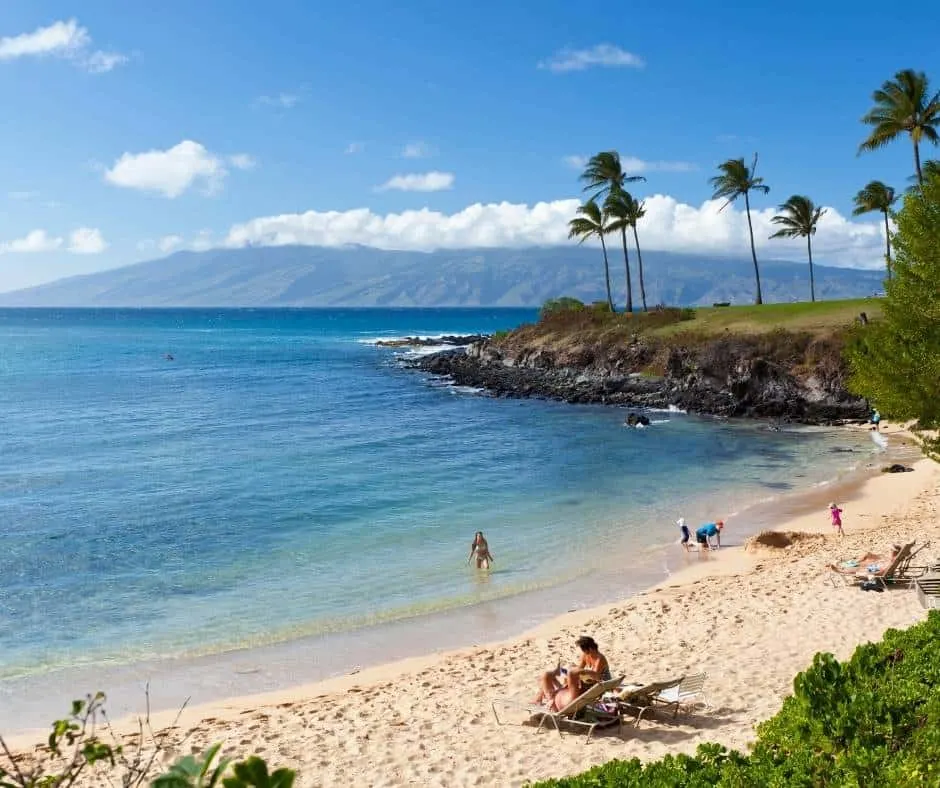 Another beach that often tops 'best beach" lists is Kapalua Bay. It is a sheltered beach that is perfect for families.
Kapalua Bay seems to have it all. Nice sand, incredible views, swimmable waters, and great snorkeling. It is not a large beach and it can get busy with tourists from neighboring resorts.
Sea turtles tend to hang out by the lava rocks along the north end of the shore. This is also the area where you are likely to see the most fish. The waves here are usually very small.
Amenities: There is a beach parking lot but it is pretty small so go in the morning if you want to be sure to score a spot. There is a bathroom and showers. The beach is accessed via a short walk from the parking lot through a tunnel. You can park in this same lot to access Napili Bay as well.
Recommended Nearby Hotel for Families: The Montage Kapalua Bay is one of the most luxurious properties on the island but still maintains a family-friendly atmosphere with Paintbox, it's educational program for children and daily Hawaiian cultural activities.
4. Napili Bay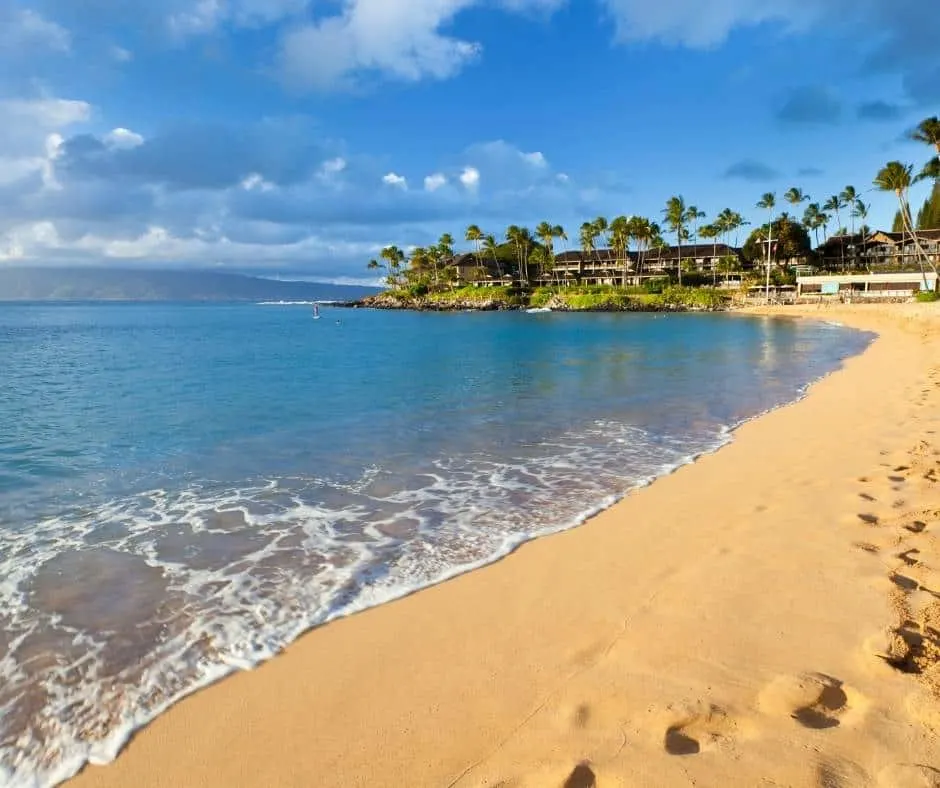 This crescent beach is Kapalua's sister beach and equally as magical. Napili Bay has the same great sand, incredible views, easy swimming, and terrific snorkeling.
The only difference is that when the wind picks up, the waters can be rougher here than at Kapalua. This beach tends to be less busy because it is fronted by the Napili Kai Resort. There is good snorkeling along the rocks near the shore closest to Napili Kai.
Amenities: There is a beach parking lot that is shared with Kapalua, but it is pretty small so arrive early or be patient and wait for a spot because you will get ticketed if you park in undesignated areas. There is a bathroom and showers. Napili Kai's Sea House restaurant sits right on the sand is a great place to eat.
Recommended Nearby Hotel for Families: Napili Kai Beach Resort is one of our favorite resorts for families on the island. Views from their oceanfront rooms are jaw-dropping because they are so close to the water. Many rooms have kitchens as well.
5. Olowalu Beach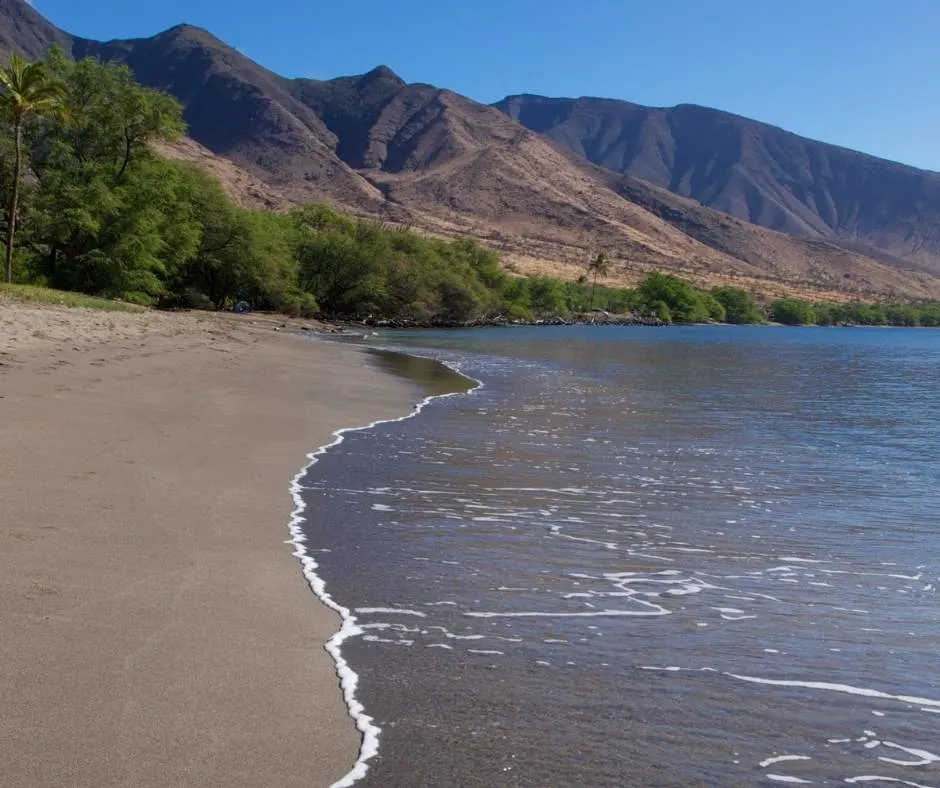 As you are driving from the airport and approaching Lahaina, you will come across a narrow stretch of beach right next to the road near Mile Marker 14. This is Olowalu Beach.
It isn't the best beach for swimming but it is a great snorkeling spot. Since the reef is so shallow, this is one of the few places that is actually better to explore during high tide. The best snorkeling is a couple hundred yards offshore but the water is still quite shallow.
Amenities: There are no amenities. Park along the road but avoid getting stuck in soft sand. There is a general store in Olowalu, just down the road.
Recommended Nearby Hotel for Families: If you want to stay in the heart of Lahaina, Lahaina Shores Beach Resort is a best bet. It is located within walking steps of restaurants, galleries, and the town's famed banyan tree.
Best Beaches in Maui on the South Side: Wailea and Kihei Area
6. Wailea Beach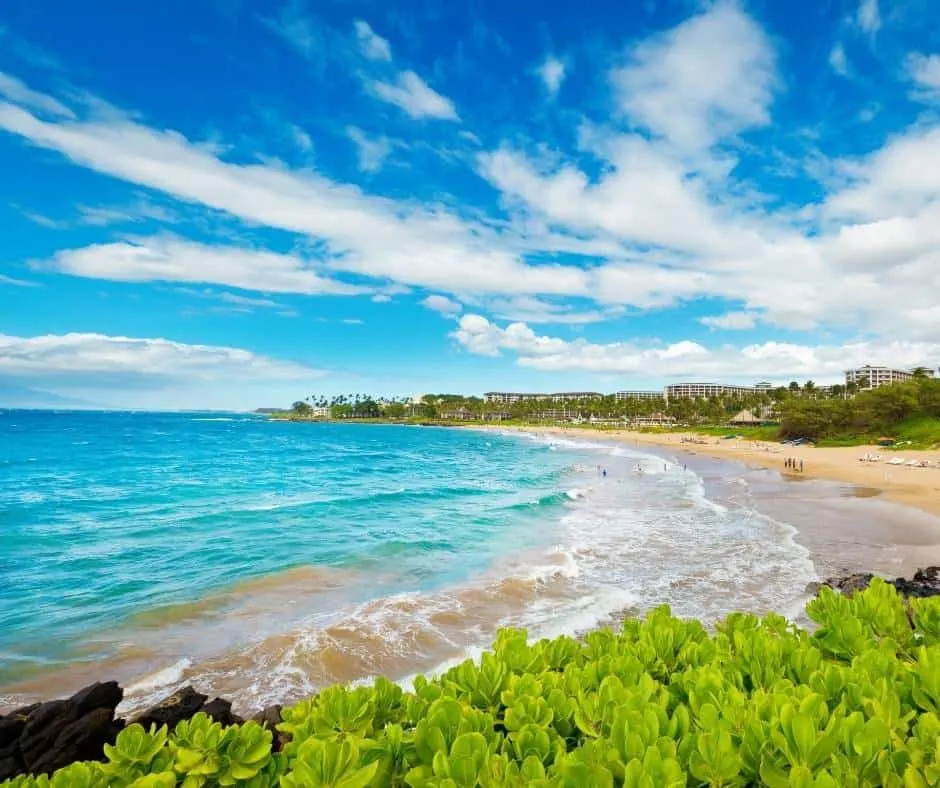 This crescent-shaped beach in South Maui is one of the most beautiful in all of Hawaii, so it is no surprise that the Four Seasons and the Grand Wailea, both luxury resorts, were built adjacent to this lovely slice of sand.
The waves are small, making it a great place for swimming or lazily floating in an inner tube and soaking in the views. There are rocky outcroppings that frame either end of the beach which are good for snorkeling.
This beach is home to the Grand Wailea and Four Seasons Resort Maui at Wailea, so it can get busy with hotel guests. Sunsets here will take your breath away.
Amenities: Though this beach is fronted by two resorts, there is still public access. There is free public parking (or park at a resort and pay if the spots are full) and bathrooms and showers onsite.
Recommended Nearby Hotel for Families: As stated above, both the Grand Wailea and Four Seasons Resort are at Wailea Beach. Both properties made our list of the Best Maui Resorts for Families.
7. Kamaole Beach Park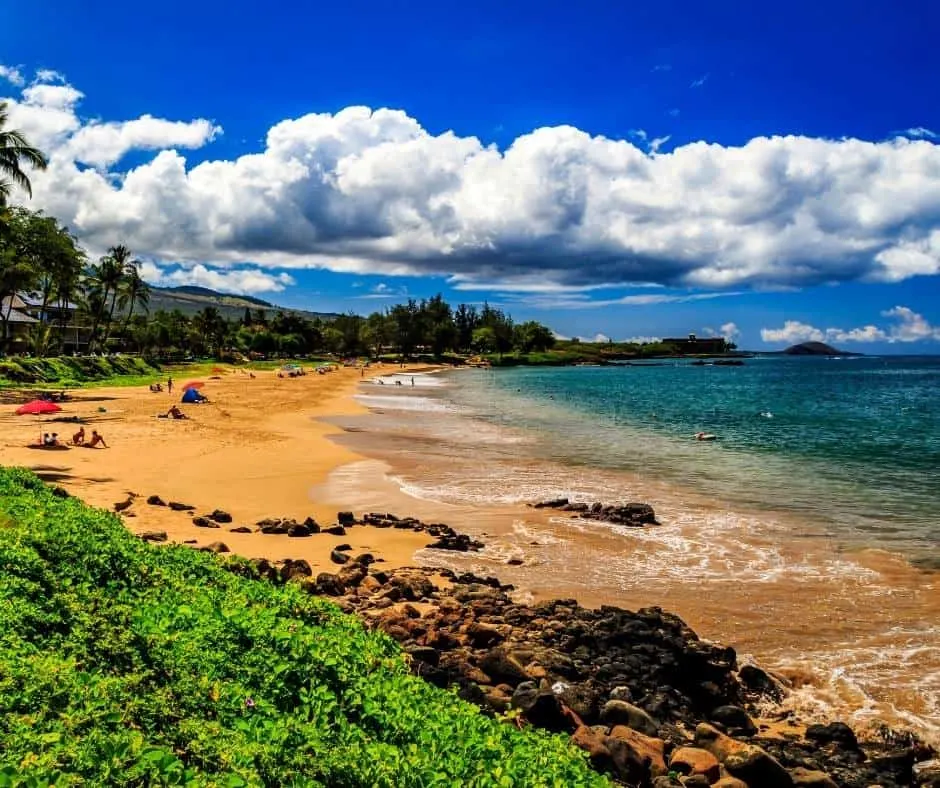 Kama'ole Beach Park is a group of three popular beaches (Kam 1, 2, & 3) located in the town of Kihei in South Maui. This is a popular spot for locals as well as tourists.
Kam 1 is also known as Charley Young Beach and there is more information on that beach below. Kam 2 is the smaller than Kam 1, but is still very nice for swimming, sunbathing, and snorkeling at either end.
Kam 3 is the smallest of the three and has the most rocky sections, but it is still a great beach. It has the most grass and is the nicest place to picnic of three. It is also a great place to swim and snorkel. You really can't go wrong with any of the Kams.
Amenities: There are parking lots and street parking options available depending on what section of Kamaole Beach Park. Some sections of the beach have lifeguards. There are also restrooms, showers, and places to picnic.
Recommended Nearby Hotel for Families: The Aston Maui Hill has large suites with full kitchens, and is only a 6-minute walk from Kam Beach 3.
8. Charley Young Beach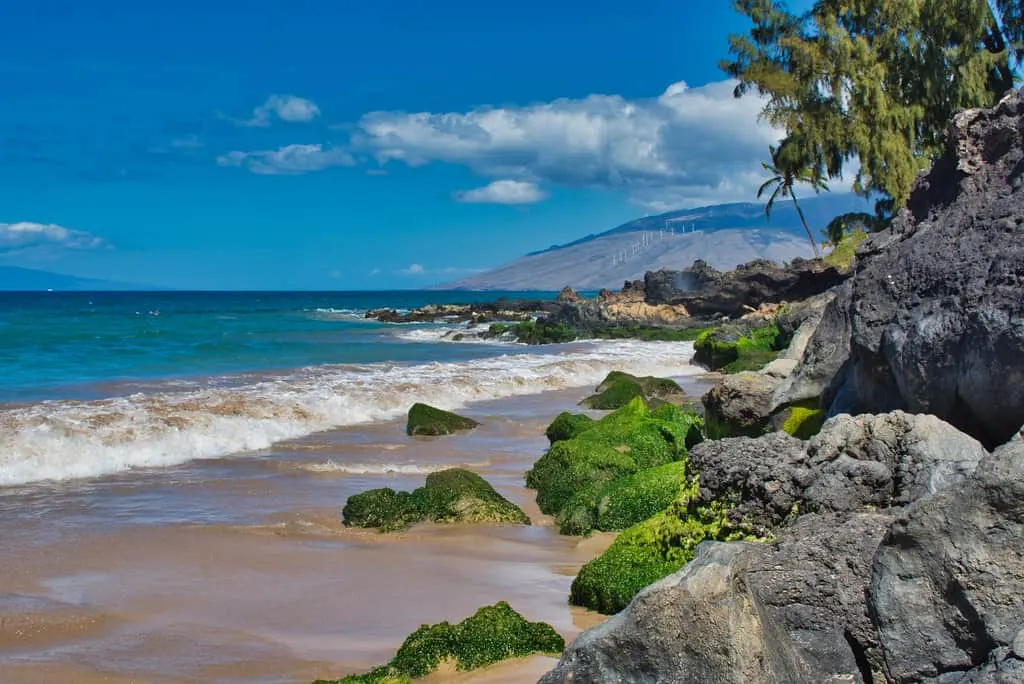 Charley Young Beach is basically the far northern stretch of Kam 1 beach. This end of the beach is more of a locals spot. There is shade from the Ironwoods trees along the shore and the water is typically calm and safe for swimming and snorkeling.
Amenities: There is no lifeguard on this section of beach. There is a porta potty and showers. Parking can be found in a lot off Kaiau Street. From there take the public access path and stairs to access the beach. More services can be found further down the beach towards Kam 1, 2, and 3.
Recommended Nearby Hotel for Families: Kihei is well-known for being a good destination if you are looking to rent a condo in South Maui. There are several excellent options to choose from that are walking distance to the beach.
9. Keawakapu Beach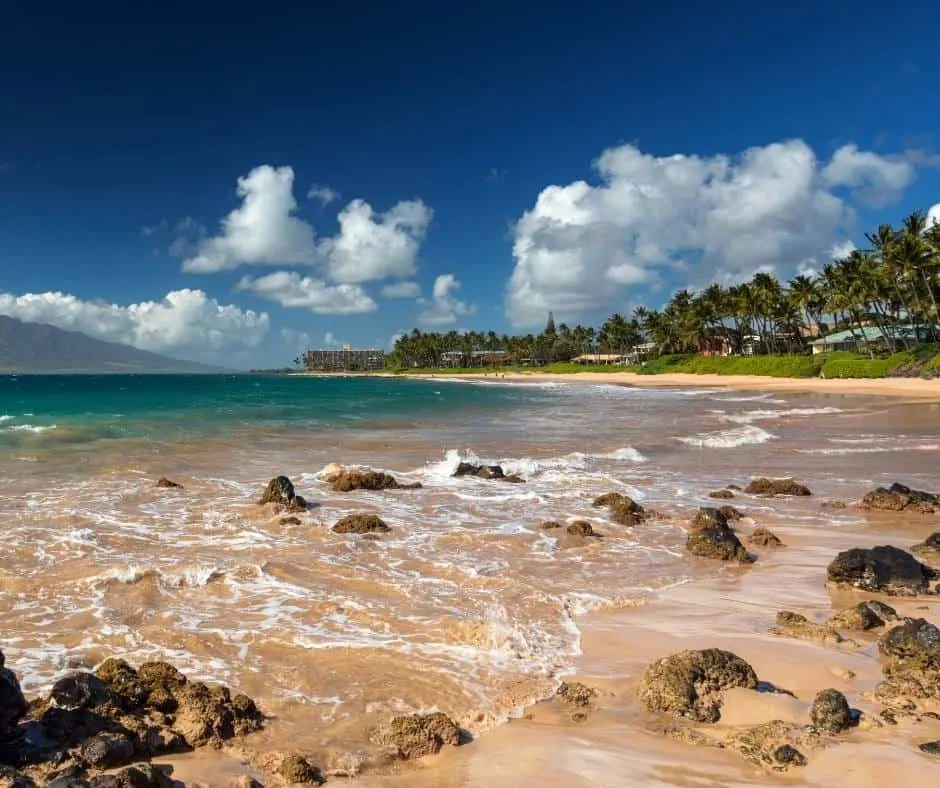 This sandy stretch of beach lies between Kihei and Wailea. There are some very nice homes near this beach to gawk at and pretend they are yours.
This beach is good for swimming, boogey boarding, or just laying in the sand. There are tide pools at the north end of the beach.
Amenities:
Recommended Nearby Hotel for Families: The Mana Kai Maui is on the north end of Keawakapu Beach and has family rooms and kitchens. It also rents kayaks, paddle boards, and snorkel gear for use at the beach.
10. Palauea Beach (aka: White Rock)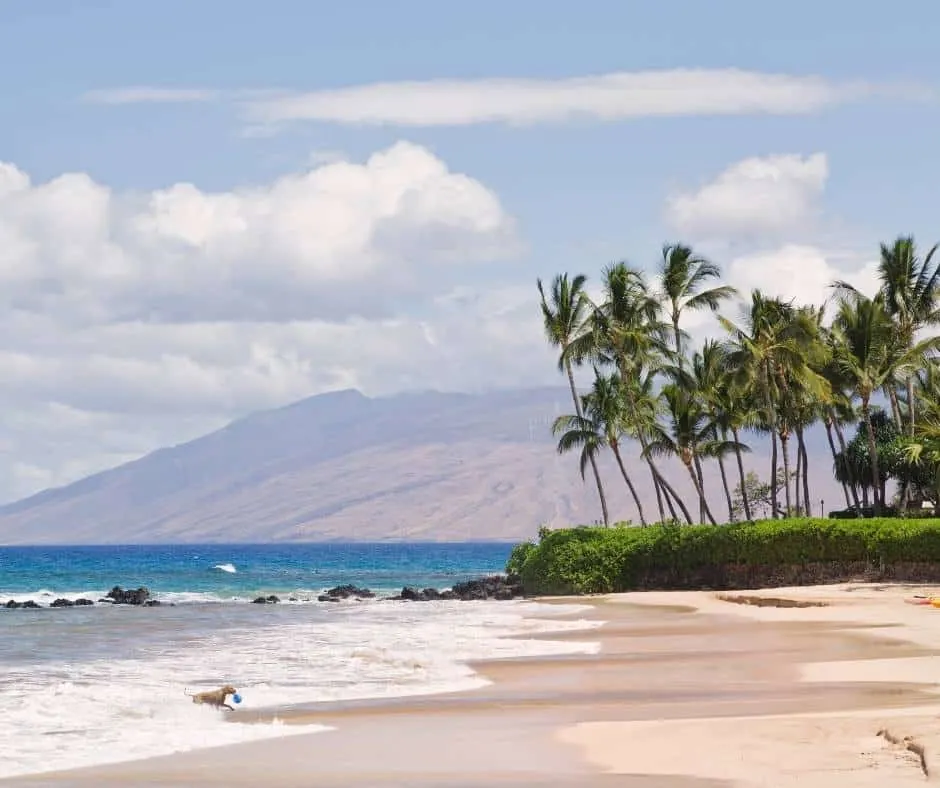 White Rock is a beach just south of the Wailea hotel area on a stretch of sand dominated by multi-million dollar homes. No beaches are private in all of Hawaii so despite the impression these home owners might be trying to give, rest assured that you belong.
The entire beach is about 300 yards long and there is some snorkeling worth exploring at either end. It is a nice beach for swimming when the water is calm, which it typically is during the summer months. This beach tends to be less crowded than some of the surrounding beaches.
Amenities: Park alongside Makena Road to access the beach via a path. There is a porta potty near the road but no real services at this beach.
Recommended Nearby Hotel for Families: The Fairmont Kea Lani is another fantastic option in the Wailea area and just a short walk from Palauea Beach. Rooms are spacious and activities like lei making, and ukulele lessons bring the Aloha spirit to its guests.
11. Mokapu Beach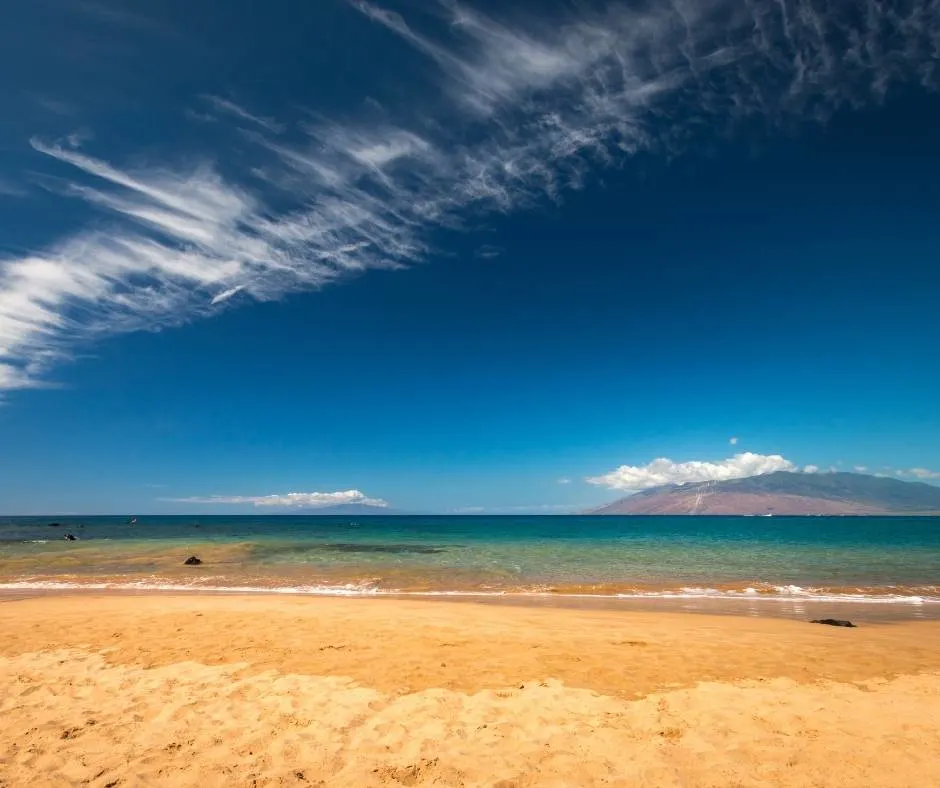 Mokapu is a lovely beach in the Wailea resort hotel area, just north of the Shops at Wailea. It is right next to Ulua Beach Park, a popular spot to go diving and snorkeling. There is a reef between the two beaches that is great for snorkeling. I prefer Mokapu to Ulua because it isn't as busy.
The water here is usually calm, making it a great option for families. Mokapu Beach is fronted by the Andaz Maui at Wailea Resort, but there is public access. Just keep in mind that amenities like beach chairs are for guests only.
Amenities: There is a parking lot but it is shared with Ulua Beach so it can get busy. If the lot is full, park at any of the other lots nearby and walk along the Wailea Beach Path until you reach the beach.
Recommended Nearby Hotel for Families: Andaz Maui at Wailea Resort is a five-star Hyatt property located right on Mokapu Beach.
12. Makena Beach Park (aka Big Beach)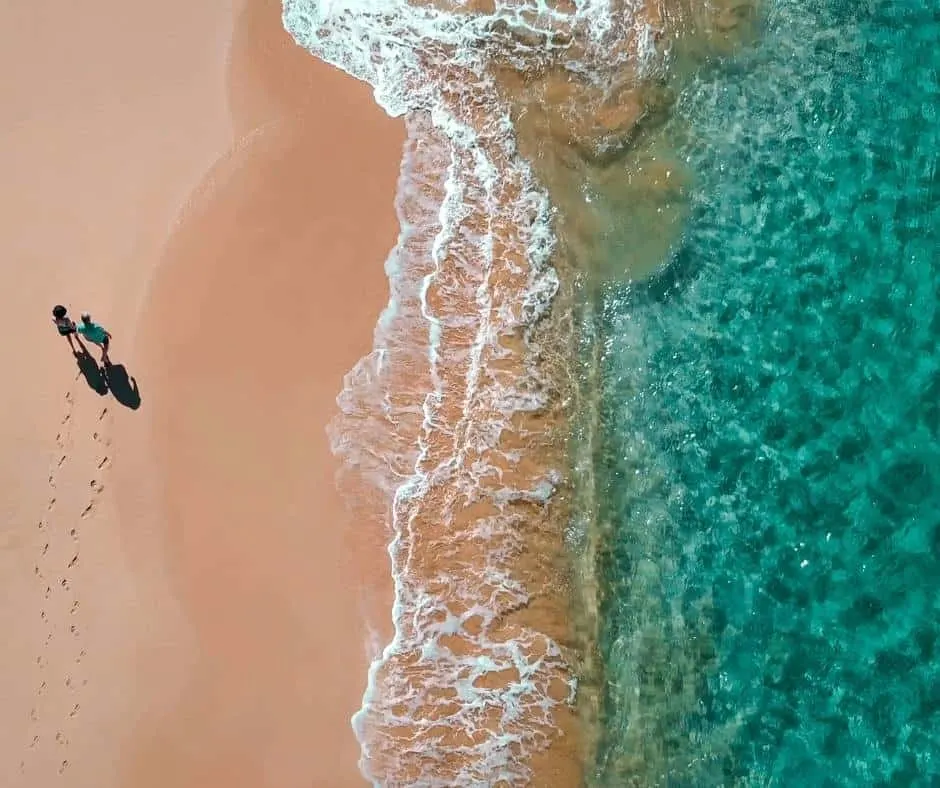 Makena Beach, aka Big Beach, is located south of Wailea and is truly one of the most drop-dead gorgeous beaches on the island. It is 2/3 mile long, making it one of the largest undeveloped beaches on the island. It consistently finds its way to the top of "best beaches" lists for good reason.
Makena Beach can have riptides and rough surf at times, it really just depends on the swell. Consult with lifeguards to check conditions before entering the water.
Amenities: Makena Beach may be further from the more populated areas but there is a lifeguard, food concessions, restrooms, and parking available. The Jawz Taco truck is nearly parked next to this beach and everything we have eaten off that truck has been delicious!
Recommended Nearby Hotel for Families: The Residence Inn is a good option in Maui if you are looking for something more affordable but don't want to sacrifice comfort or space. There is a breakfast buffet as well as evening refreshments at the pool bar.
Best Beaches in Maui on the Hana Highway
13. Honokalani Beach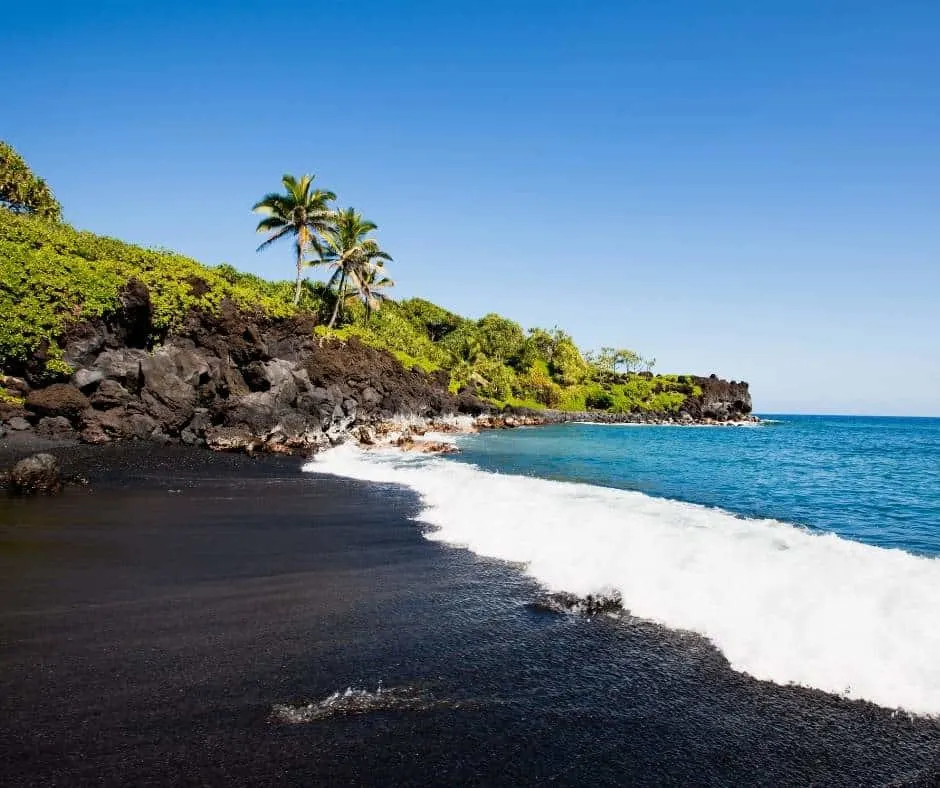 If you are looking for black sand beach perfection, Honokalani Beach is the place to find it. Located a few miles north of Hana, this beach is located inside Waianapanapa State Park. It is definitely one of the best stops on the Road to Hana.
This is not a swimming beach but it is a nice place to enjoy the black sand, hike to lava caves, and witness a blowhole. This area is particularly sacred to Hawaiian people and should be treated with respect.
Amenities: There is a $10 fee to park. There are restrooms and picnic tables. Reservations are currently required to enter the state park. Reservations may be made up to 14 days in advance, and no later than the day before your visit. You can camp inside this park.
14. Hamoa Beach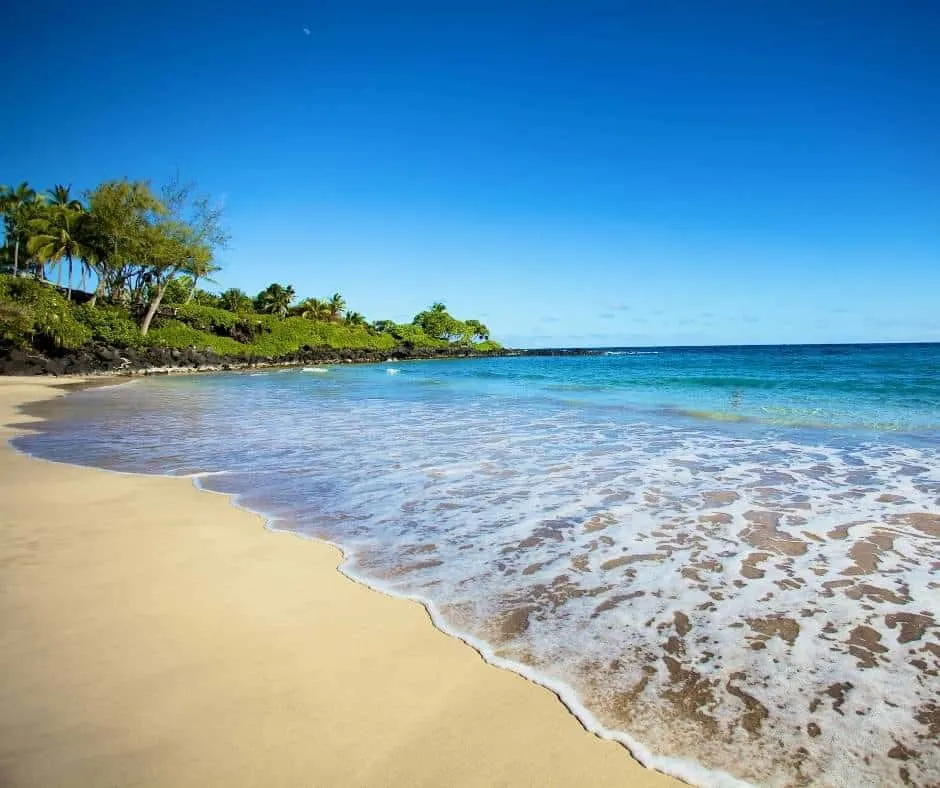 If you are looking for a beach to enjoy while visiting Hana, Hamoa is the place to go. This is a classic stretch of Maui beachfront, with lovely sand and good surf.
Hamoa can be a great beach for swimming when conditions are calm, but dangerous if the swell is high, especially in the winter. Check surf reports before heading out.
Amenities: There is only parallel parking on the street above the beach. The beach is located at Hana Highway Mile Marker 50 and accessed either via a set of stairs or a path, depending on where you park. There are bathrooms and showers but no lifeguards.
Recommended Nearby Hotel for Families: The Hana-Maui Resort maintains the beach and provides beach chairs and other amenities like a beach shuttle to its guests.
15. Baldwin Beach Park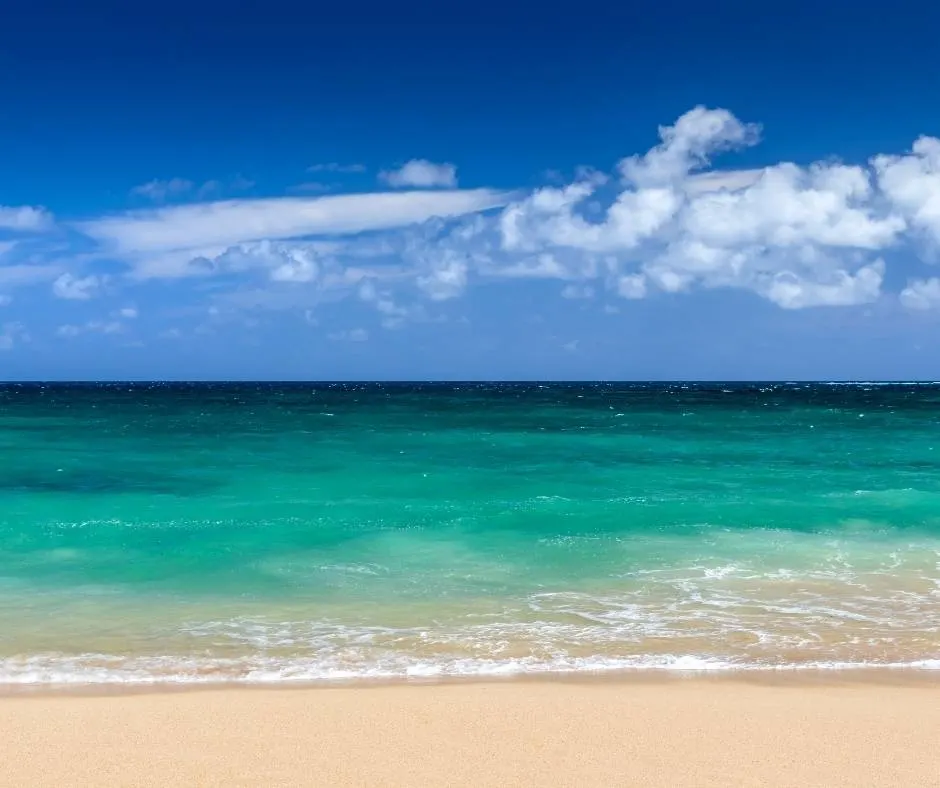 Baldwin Beach Park is a popular beach with locals just north of Paia Town. It isn't close to resort areas but it is close to the airport so it is a good spot if you are in that area or coming back from the Road to Hana.
The sand is wide and the length of this beach is about 1.5 miles. There is an area known as Baby Beach on the west end that is super calm and great for little ones. The eastern edge of the beach is quite calm as well.
Amenities: This beach has a large parking lot, lifeguards, bathrooms, and showers. There are also picnic tables and barbecues
Recommended Nearby Hotel for Families: The Paia Inn is a boutique hotel in Paia right on the beach. It is a great home base for exploring the Hana Hwy or heading up to Haleakala.
Discover More Things to do in Hawaii with Kids: