Cold weather is here- are you sick of it yet? Even the most hearty winter souls have been caught dreaming of the warm winter vacation, but where are the best warm winter family vacations in the USA?
I happen to be an expert on this particular subject because I really don't like being cold. I have been known to wear a jacket indoors when someone sets the AC below 72. I do endure the cold from time to time, you know, for the kids, but I am happiest when I can lounge in the sun like a lizard.
Here are our favorite warm winter vacation destinations in the USA. These are the best places to thaw out and warm up before diving back into the remaining days of winter.
The Best Warm Winter Family Vacations in the USA
1. Palm Springs, California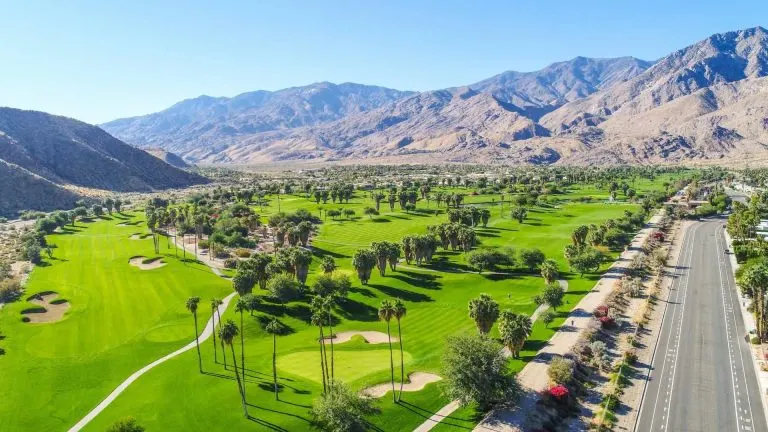 Average high temperature in the winter: 70-75 degrees
Number of days of rain per month in winter: Just 2!
Palm Springs is where people from LA head when the "winter" weather gets too extreme for us at home. If it is 55 in LA, it is sure to be at least 10 degrees warmer in the Coachella Valley where Palm Springs is located.
This is the land of palm trees and golf courses. Resort swimming pools are a year-round attraction and there are lots of outdoor adventures to be had- from a hike to a palm oasis, to days spent at the Living Desert, to Red Jeep tours of the San Andreas fault.
Here are our favorite things to do in Palm Springs with kids.
And, since it is the desert, it hardly ever rains here so your chances of sunshine are extremely high!
Where to Stay: There are so many great resorts in Palm Springs for families. We love the Omni Rancho Las Palmas for its waterslides and lazy river which are sure to give your family summer vibes.
La Quinta Resort is a great option if you are traveling with Fido. The amazing golf, tennis, and dozens of resort pools are major draws.
Hyatt Regency Indian Wells is another great option if you are looking for a great resort pool complete with waterslides and a lazy river. They also offer glow golf in the evenings!
Is this your first time traveling with your little one? Here are 25 great tips for flying with a toddler.
2. Kaanapali Beach, Maui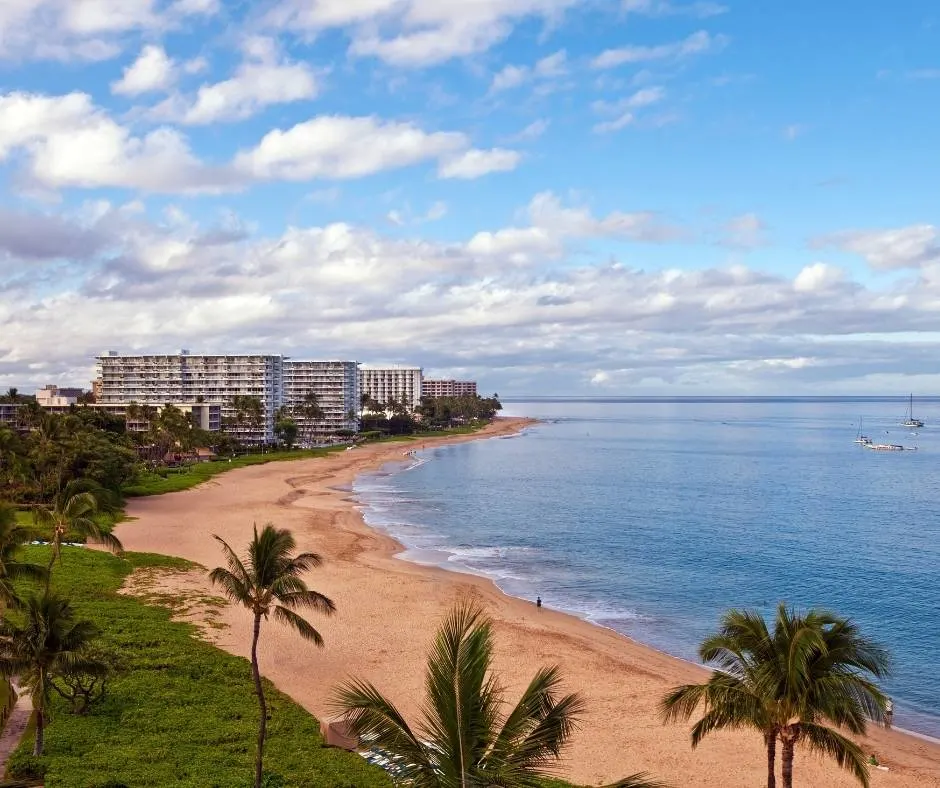 Average high temperature in the winter: 82 degrees
Number of days of rain per month in winter: 2-3 days
There really isn't a bad time to visit Maui, but the winter is especially wonderful on the dry side of the island in spots like Lahaina, Wailea, and Kaanapali. In addition to absolutely beautiful weather, there are also whales!
That's right, the winter is prime humpback whale watching season in Maui which is home to the densest population of humpback whales on the planet!
10,000 humpback whales migrate from Alaska to Maui every year to give birth and feed in the warm waters which are rich in plankton and krill.
It is often easy to spot the whales right from the shore. If you have an oceanfront hotel room, like the one we had at Napili Kai Resort, it is possible to see whales jumping out of the water from the comfort of your balcony!
The best way to really see the whales is on a whale watching cruise. There are many different options, including some that combine whale watching with snorkeling in popular spots like Turtle Town or Molokini.
Of course, there is much more to enjoy on a winter vacation to Maui than just whales. Here are our top picks for things to do in Maui with kids.
Where to Stay: There are so many amazing resorts in Maui! Here are our picks for the best Maui resorts for families.
Capture incredible memories of your Hawaiian family vacation (as well as dozens of other destinations) with Flytographer. Flytographer has a network of incredible professional photographers ready to come to you and help your family create the ultimate souvenir of your special trip. Trekaroo is proud to be a Flytographer customer and affiliate.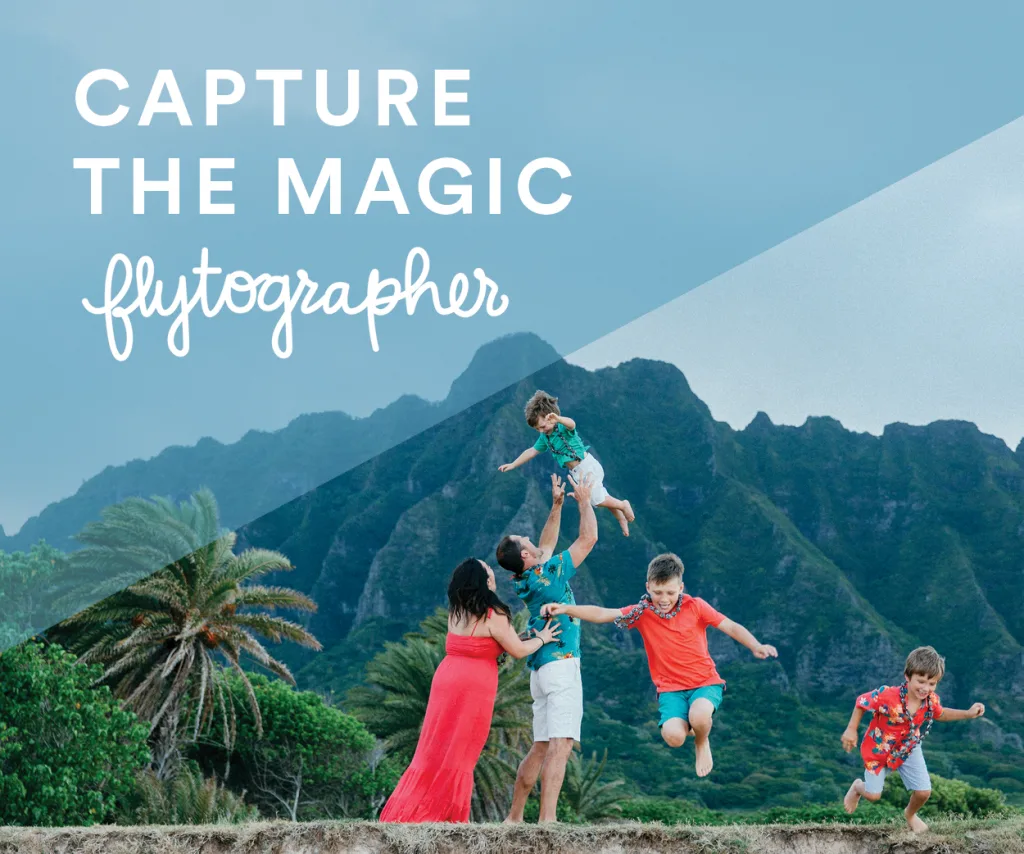 3. Tucson, Arizona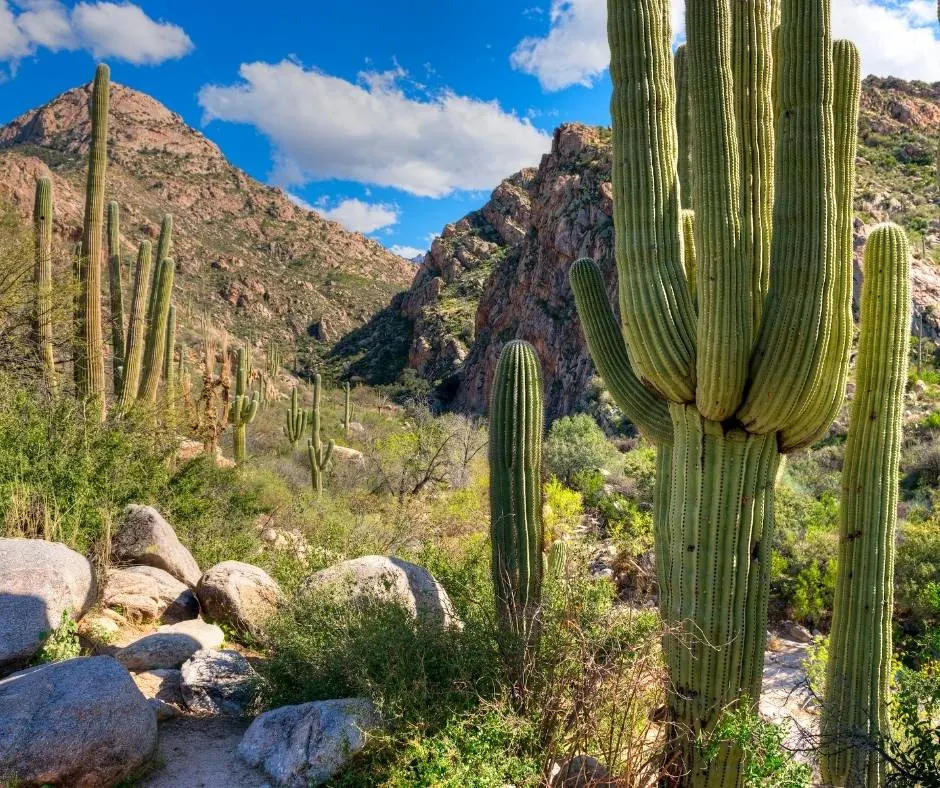 Average high temperature in the winter: About 70 degrees
Number of days of rain per month in winter: 4 days
I really feel like Tucson doesn't get the love it deserves. Tucson is not only home to Saguaro National Park, it is also the only UNESCO Capital of Gastronomy in the United States, thanks to its incredible Sonoran Mexican cuisine.
Tucson receives 300 days of sunshine per year and winter is generally dry, making it a great destination for hiking, biking, or just lounging by your resort pool.
Sabino Canyon and Catalina State Park are two great places to get outside, along with the two districts that make up Saguaro National Park which the city splits down the middle.
If it is epic Instagram photos you crave, head to Mission San Xavier del Bac, which has an epic "Hotel California" vibe, and strike a pose.
Read about our picks for the best things to do in Tucson with kids.
Where to Stay: The JW Marriott Tucson Starr Pass Resort is a fabulous luxury resort for families. Golf, tennis, hiking, and pool time are big draws at this gorgeous resort which backs up to desert park land.
I also love the Westward Look Resort's low key luxury. This sprawling resort features several specialty gardens, hiking trails, biking (bike rental available) and even horseback riding!
Loews Ventana Canyon Resort has a great pool area with water slides, full service spa, and a multitude of dining options. It is also surrounded by that enchanting desert scenery that we all come to Tucson to experience.
4. Death Valley National Park, California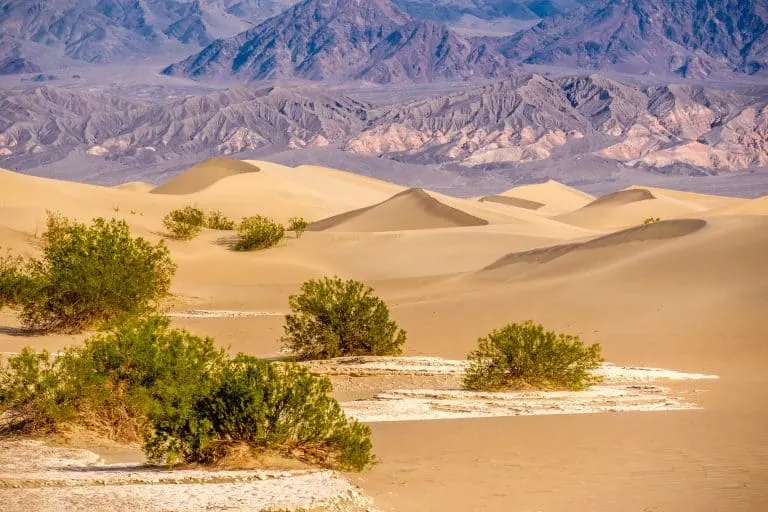 Average high temperature in the winter: 70 degrees
Number of days of rain per month in winter: Just one day!
I know that most people associate Death Valley with HEAT but during the winter, this national park is actually incredibly pleasant to visit.
As a matter of fact, I think winter is the best time to visit Death Valley National Park because the mild temps allow you to get out there and explore without melting.
Despite its ominous name, Death Valley is actually quite beautiful and filled with life and diversity.
From sledding down the sand dunes at Mesquite Flat to climbing up the sides of Mosaic Canyon to watching the sun turn Zabriskie Point all sorts of magnificent colors, families are sure to fall in love with the park.
Check out our full guide to Death Valley National Park which includes lots of fun things to do and great tips for exploring the park.
Where to Stay: While you can camp in Death Valley, I think this is one of those national parks where I prefer lodging with four walls.
The Oasis at Death Valley is made up of two properties, the more upscale Inn at Death Valley and the family-focused Ranch at Death Valley.
Both were extensively renovated about three years ago and have access to a 87-degree spring-fed pool, sports courts, and children's playground.
There is also horseback riding and jeep rentals available onsite. Golfers won't want to miss playing at lowest elevation gold course in the world!
5. Puerto Rico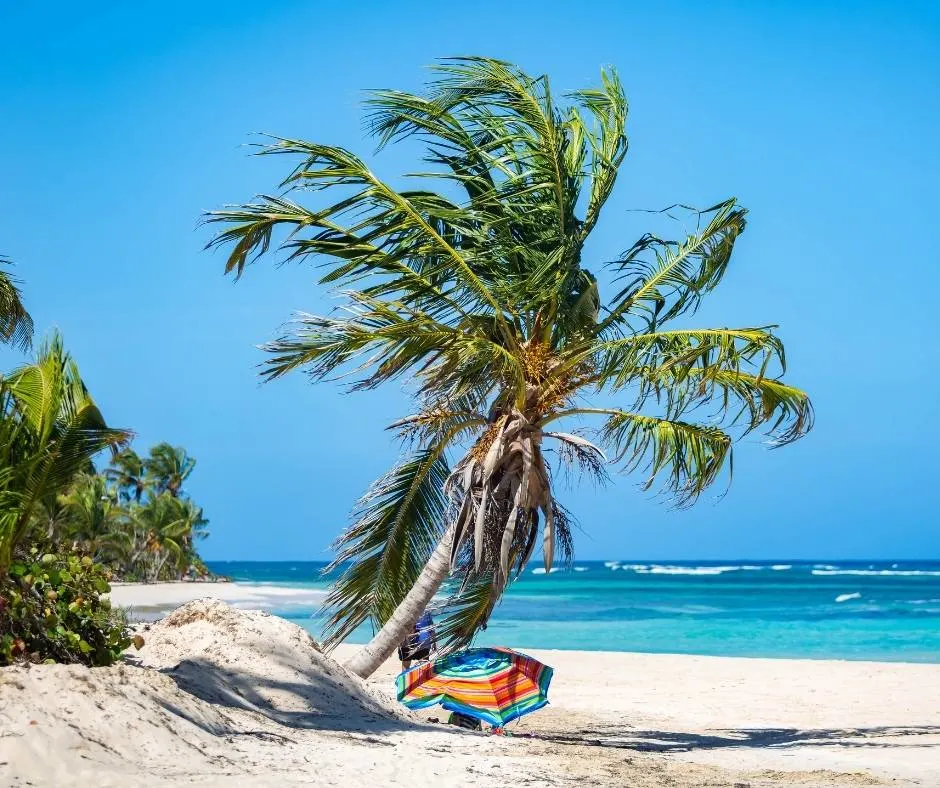 Average high temperature in the winter: 83 degrees
Number of days of rain per month in winter: 15 (but it doesn't last long)
East Coast families will be happy to hear they don't have to head all the way to Hawaii to find tropical weather in the dead of winter. Puerto Rico is a Caribbean island you can visit without having to worry about a passport- score!
Check out the best things to do in San Juan, Puerto Rico.
There are 300 miles of beaches in Puerto Rico, which means there is almost one beach to explore for every day of the year. Add in water sports such as paddle boarding, kayaking, snorkeling, surfing, diving, and relaxing (yes, that should be a sport too), and you have officially arrived in heaven.
Sure, you could just lounge on the beach and soak up the sun, but adventure awaits! Zip line in El Yunque National Forest, kayak in a bioluminecent bay, sail the Caribbean waters on a catamaran, and explore the caves in the Rio Camuy Cave Park.
Where to stay: The El Conquistador Resort, a Waldorf Astoria Resort is spread over 500 acres overlooking both the Caribbean Sea and the Atlantic Ocean.
With everything from their 100-acre private island getaway, Palomino Island, to the massive family-friendly Coqui Water Park, the Waldorf Astoria Spa, Arthur Hills Golf Course and of course the main pool complex which features three pools, you have no reason to leave this luxury resort.
6. Scottsdale and Phoenix, Arizona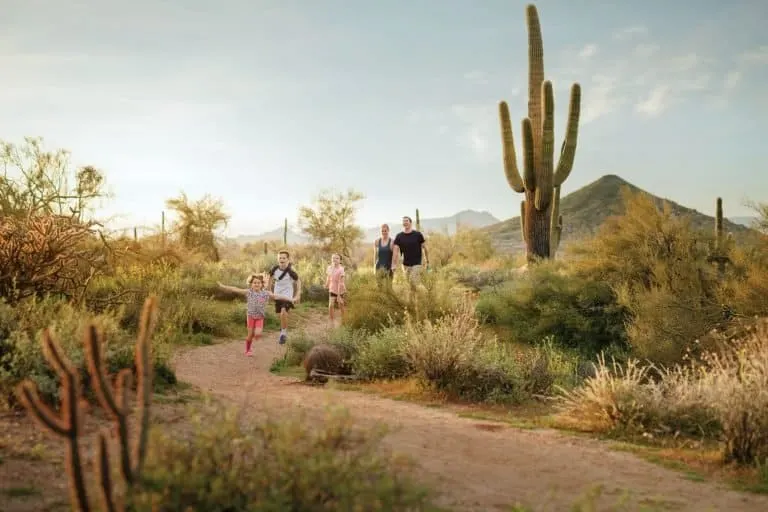 Average high temperature in the winter: About 70 degrees
Number of days of rain per month in winter: Less than 5
Scottsdale and Phoenix have both been long been known as a primo spots for warm winter vacations in the USA for good reason, the weather is gorgeous and the resorts are ample.
I can't get enough of the saguaro cacti and the rocky desert landscape. There are so many great hiking trails to enjoy, like those found in the South Mountain Park and Preserve.
If you would rather channel your inner cowboy and make your way through the desert the way the vaqueros did, head to Mac Donald's Ranch and take the kids on a trail ride.
Little train enhusiasts will want to spend time at McCormick Stillman Railroad Park and most of the city's popular courses offer classes and programs for all ages, including Kierland Golf Club, McCormick Ranch Golf Club, and The Phoencian Golf Club.
Here are our favorite things to do in Scottsdale with kids and the best things to do in Phoenix with kids.
Where to Stay: There are so many amazing options for family resorts in Phoenix and Scottsdale, and many have their own waterparks!
At Pointe Hilton Tapitio Cliffs Resort families love the spacious two-room suites and The Falls Water Village which features a 40-foot waterfall, a 138-foot enclosed slide, and expansive pools.
The Adventure Water Park at the Westin Kierland Resort features a lazy river, waterslide, and Kierland FlowRider. And the resort is very family focused with a great kids club and plenty of activities and events going on year round.
The Arizona Biltmore, A Waldorf Astoria Hotel has been an Arizona landmark since opening in 1929. Amenities families love include eight pools, croquet, golf, tennis, and giant lawn chess. It's no wonder this hotel has been frequented by so many celebrities and U.S. presidents!
The Arizona Grand Resort and Spa is home to Oasis Water Park. It is one of the top 10 water parks in the nation and is exclusively for resort guests. In addition to eight-story water thrill slides, a wave pool, and a flowing river, guests will enjoy luxurious rooms and family-friendly onsite dining.
7. US Virgin Islands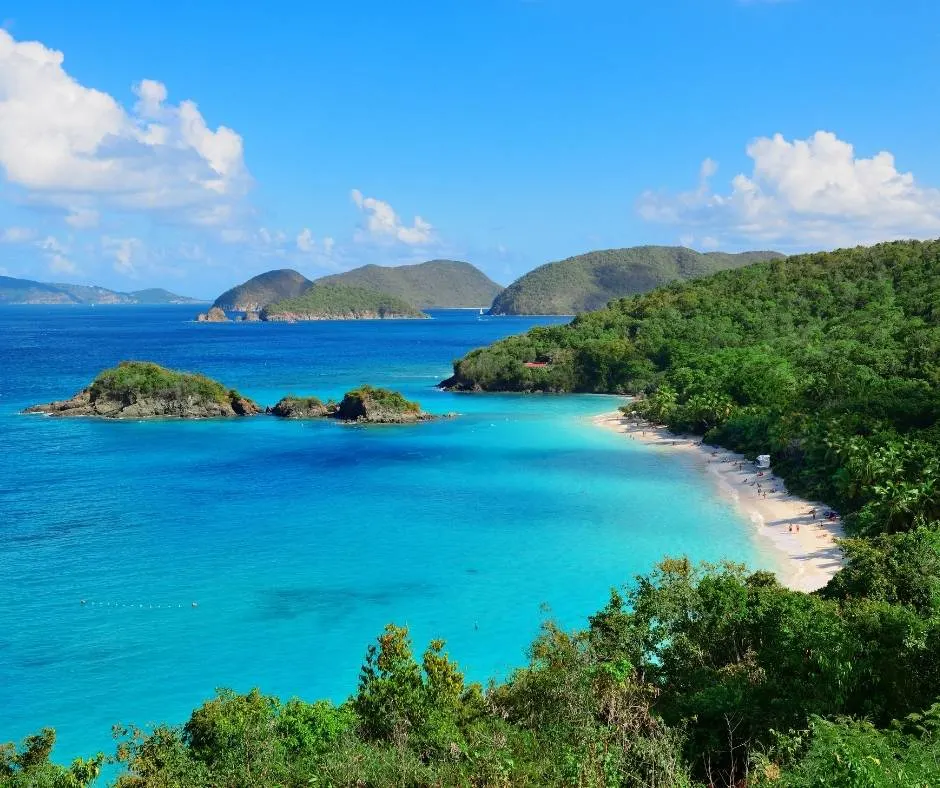 Average high temperature in the winter: 83 degrees
Number of days of rain per month in winter: 10 days
The US Virgin Islands (USVI) are comprised of St. Thomas, St. John, and St. Croix. Tourists from all over the world vacation here to escape the chill of winter and soak up that wonderful Caribbean sunshine, but one of the perks for United States citizens is that we don't need a passport to visit.
From crystal clear waters to white sandy beaches to vibrant greenery and drop-dead gorgeous views from almost every vantage point, a vacation here is a feast for your eyes and a splendid break from reality.
All the islands offer varied activities such as zip lining, snorkeling, kayaking, and horseback riding, as well as plenty of fun on the beach.
St. Thomas boasts more action than the other islands, thanks to its cruise port. Nature lovers will appreciate that more than 60% of St. John is part of Virgin Islands National Park which allows it to remain wild and ready to be explored.
Here is a comprehensive guide to St. Thomas USVI.
Where to Stay: On St. Thomas, Marriott's Frenchman's Cove is a family-friendly resort with two- and three-bedroom villas that have full kitchens. Kids will love the large swimming pool with a waterslide and everyone will love the private beach and ample water sports onsite.
On St. John, The Westin St. John Resort Villas are tough to beat. The property has ocean-view villas with full kitchens, washer/dyers, and some villas even have enough space for eight adults, making it perfect for multigenerational travel.
8. The Florida Keys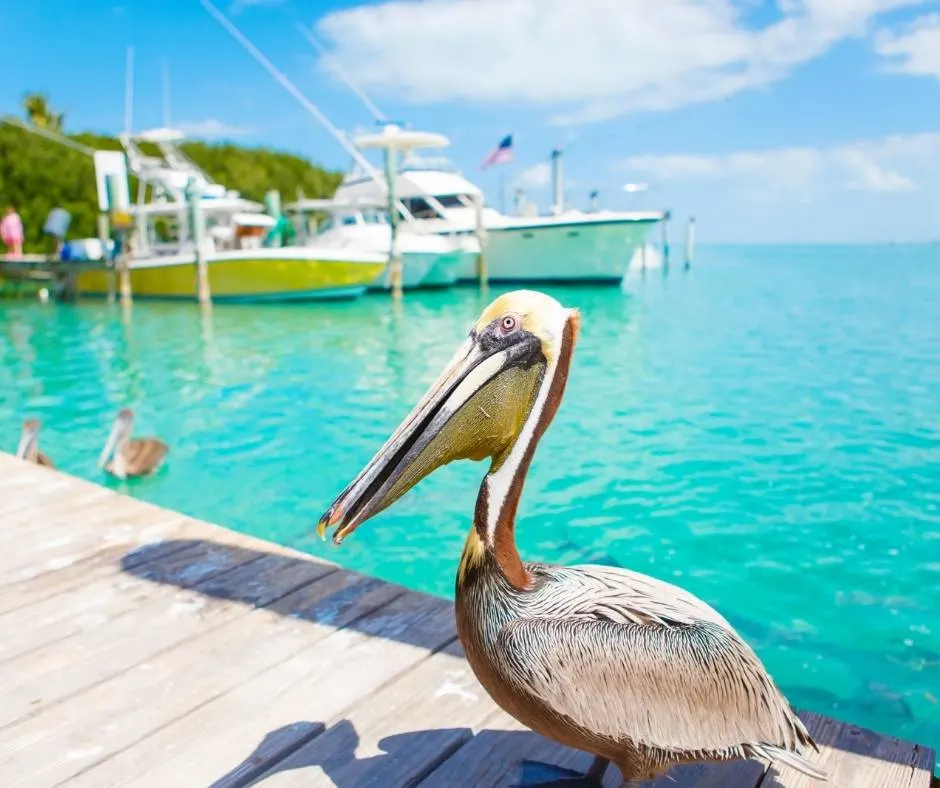 Average high temperature in the winter: 76 glorious degrees
Number of Days of rain per month in winter: 3 days
When freezing temps are baring down on much of the East Coast, the Florida Keys are warm and sunny, beckoning you to a place where the biggest problem seems to be blowing out a flip flop!
The Keys are the furthest south you can get in the continental United States and if you are up for you're chasing sunshine and a laid-back charm, the Florida Keys are the perfect place for your family vacation.
On your journey along the Overseas Highway, you can explore a coral reef, tour Ernest Hemingway's home, enjoy action-packed water sports, and sample every single variety of key lime pie out there.
Robbie's (located at Mile Marker 77.5) is a fun stop lined with handmade souvenir shops and outdoor games. The main draw is feeding the giant, silver tarpon from the dock. Kids can't get enough of it!
It is also a great place to sample conch fritters and get out on the water via a boat tour or jetski. It is a tourist trap in the best kind of way.
Down in Key West, make time to enjoy the nightly street carnival in Mallory Square. Sword swallower, jugglers, and tightrope walkers help liven the atmosphere while you stroll vendor stands and sample items from food carts.
Here are 10 great things to do in the Florida Keys and 10 more fun things to do in Key West.
Where to Stay: The Ocean Pointe Suites is a laid-back place to stretch out by the water. Each suite is equipped with a full kitchen, washer, dryer, and private balcony. There's also a marina with a small beach and a heated pool.
24 North Hotel Key West is located right at the point of entry to Key West. It's convenient to visit the Old Town via the hotel's trolley, but away from the hustle and bustle of the nightlife. The artwork and murals are eclectic and the pool is popular families.
9. Orange County, California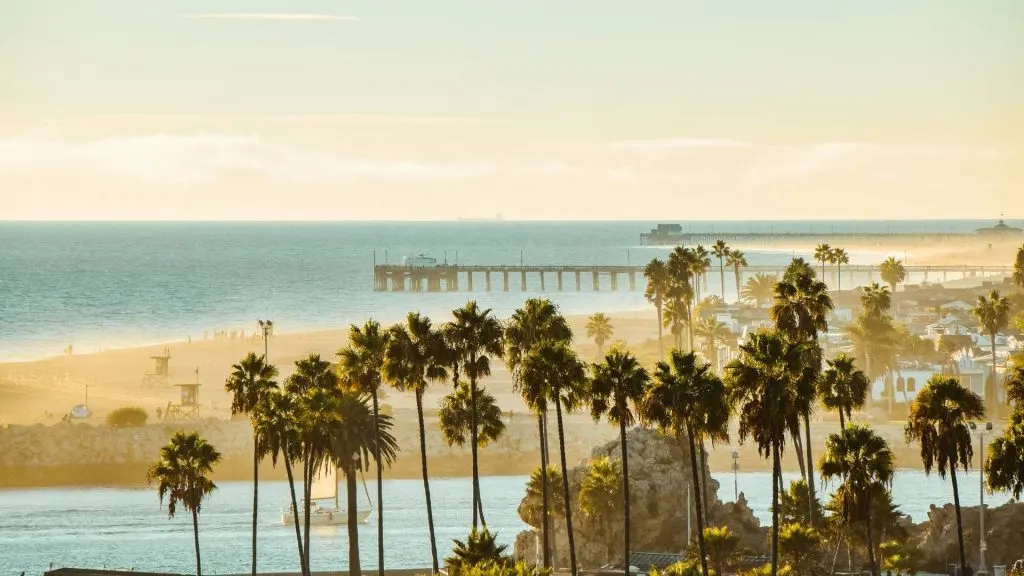 Average high temperature in the winter: 70 degrees
Number of days of rain per month in winter: 5 days
Orange County is what made me the weather weakling that I am today. Over a dozen years of living in one of the most temperate places on the planet will do that to you.
I can't begin to tell you how amazing it is to explore tide pools on the beach on a random 80 degree day in January and have the entire place to yourself. From the artsy vibe of Laguna Beach to the classic surf town appeal of Huntington Beach, Orange County is hard to beat.
Beyond the coast, there is wonderful hiking and mountain biking in Orange County, and the hills urn an emerald shade of green after a healthy rainfall.
Of course, that world-famous mouse that has enchanted families for generations also happens to call the OC home. Winter is a great time to visit the Disneyland Resort because crowds tend to be lower and there is always something fun going on like Christmas or the DCA Food and Wine Festival.
But wait, there's more! Check out 30 Fun Things to do in Orange County with Kids.
Where to Stay: The Ritz Carlton, Laguna Niguel is a gorgeous luxury hotel that sits on a bluff above Salt Creek Beach in Dana Point. The views and location are hard to beat.
The property has an amazing Eco-Adventure Center where guests can sign up for whale-watching excursions, surf lessons, cooking classes, golf, and more.
Up in Huntington Beach, the Hyatt Regency Huntington Beach is a fun place for families. The pool has cabanas, a splash pad, two pools, a couple water slides, and Huntington Beach is right across the street so waterplay is endless.
If Disneyland Resort is where you want to call homebase while exploring Orange County, check out the OG of Disney resort lodging- The Disneyland Hotel.
This magical hotel delights families with headboards that play "A Dream is a Wish Your Heart Makes", character greetings in the lobby, and an E-ticket pool with a Monorail-themed slide.
10. Honolulu, Hawaii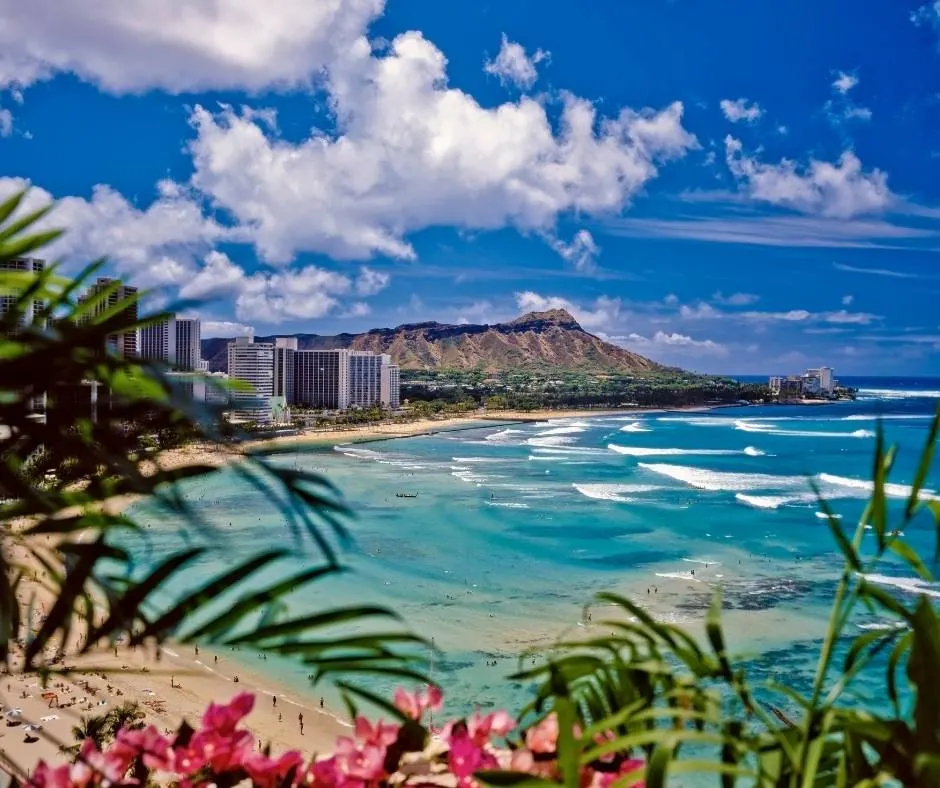 Average high temperature in the winter: 81 degrees
Number of days of rain per month in winter: 5 days
Waikiki Beach in Honolulu is the original Hawaiian beach vacation destination. It has gone through many changes over the decades but the perfect stretch of sand and lazy waves perfect for beginner surfers has remained the same.
Waikiki is a popular spot for those love city vibes in and island setting. Great dining at places like Morimoto Asia Waikiki (ramen and sushi), Duke's (mahi mahi and mai tais), Musubi Cafe Iyasume, and Island Vintage Shave Ice is part of the Waikiki experience, as is shopping until your drop.
Beyond Waikiki, there are plenty of other great places to visit on the island to get out of the high rises and into nature like Diamond Head, Makapuu Lighthouse, Waimea Valley, and the pristine beaches of Kailua and the North Shore.
Make sure to allow for time to visit Pearl Harbor. In addition to the museum and resting place of the USS Arizona, it is also home to the USS Missouri Battleship and the USS Bowfin Submarine Park, which can both be explored by visitors.
Where to Stay: The Sheraton Waikiki has the best family pool on the Waikiki Strip and a terrifc beachfront location. The Helumoa Playground has a kid's pool, fountains to play in, two waterslides, and two freshwater pools.
Daily lessons in Hawaiian culture are included with your resort fee and will have your kids playing the ukulele, making leis, and dancing the hula in no time.
Finding rooms with two queen beds can be a challenge in Waikiki but the Hyatt Regency Waikiki Beach has large rooms with the two queens that many families are looking for. It is located right across the street from the best stretch of Waikiki Beach and the views from the huge hotel hot tub are fabulous.
Be sure to check out the farmer's market that takes place on the ground floor of the resort on Mondays and Wednesdays. There are lots of great handmade gifts to purchase and plenty of fresh tropical fruit to enjoy.
11. South Padre Island, Texas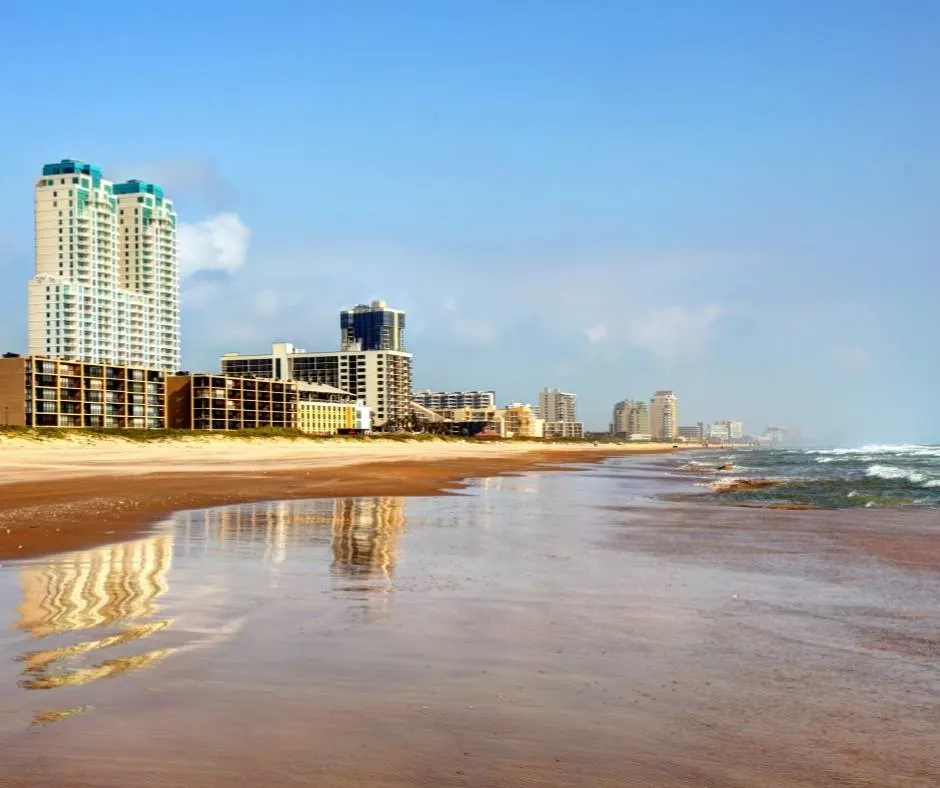 Average high temperature in the winter: 70 degrees
Number of days of rain per month in winter: 2-3 days
While South Padre Island has a reputation as a spring break party hub, it is a laid-back beach town perfect for family vacations for most of the year, winter included.
Padre Island is the longest barrier island in the world and a perfect place to swim, sail, kayak, and dolphin watch.
If horseback riding on the beach is on your bucket list, South Padre Island is the place to do it! You can also go parasailing, visit a sea turtle rehabilitation hospital, go zip lining, jet ski, and even learn how to build an epic sand castle from a pro.
Read about our 10 favorite things to do in South Padre Island.
Where to Stay: The Isla Grand Beach Resort is a beachfront resort with cabana rooms in the two-story building and two-bedroom condos in the high rise building overlooking the pool.
Enjoy a poolside snack, take a dip in the hot tub, play a round of shuffle board, see a fireworks show, and listen to live music all without ever leaving the property.
12. San Diego, California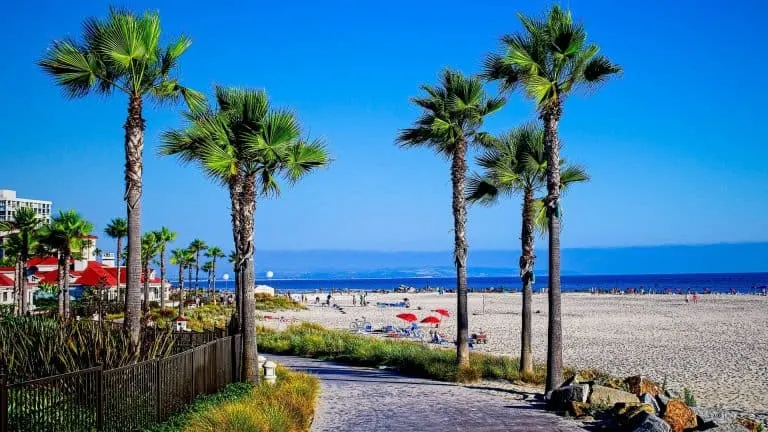 Average high temperature in the winter: 66 degrees
Number of days of rain per month in winter: 4 days
Ahhh, San Diego. Do you ever have a bad day? San Diego is easily one of the major metropolitan areas in the US with the most consistently beautiful weather all year long.
It also happens to be one of the most family friendly cities in the entire country. There are so many amazing things to do, no matter your interest.
San Diego is home to one of the best zoos on the planet, gorgeous beaches, top notch museums, wonderful nautical and military cultural experiences, great theme parks, and some of the tastiest Mexican food in the country.
There truly is so much to do and we have an entire article dedicated to the best of the best for families visiting San Diego. We also have a great guide to the best beaches in San Diego.
Where to Stay: If you are all about location, location, location, the Omni San Diego Hotel sits right next to Petco Park, home of the Padres, with an aerial walkway which allows guests to have direct, private access in to the ballpark.
It is also a block away from the popular Gaslamp Quarter, the ferry to Coronado is a 7-minute walk, and Seaport Village is about a mile away.
Up in La Jolla, the La Jolla Shores Hotel boasts an incredible beachfront with calm waves and clean sand. Kayak and surf lessons take place right next to the hotel and during the summer months you can even snorkel with harmless leopard sharks that use La Jolla Cove as a nursery.
Paradise Point Resort is situated on a small island in Mission Bay right across the water from SeaWorld. Families can stay in guest rooms, suites, or bungalows facing the pool, lagoon, gardens, or beachfront.
Spend the day on the sand or enjoy other fun activities onsite include renting bicycles, sailing, tennis, or golf on the 18-hole putting course.
13. New Orleans, Louisiana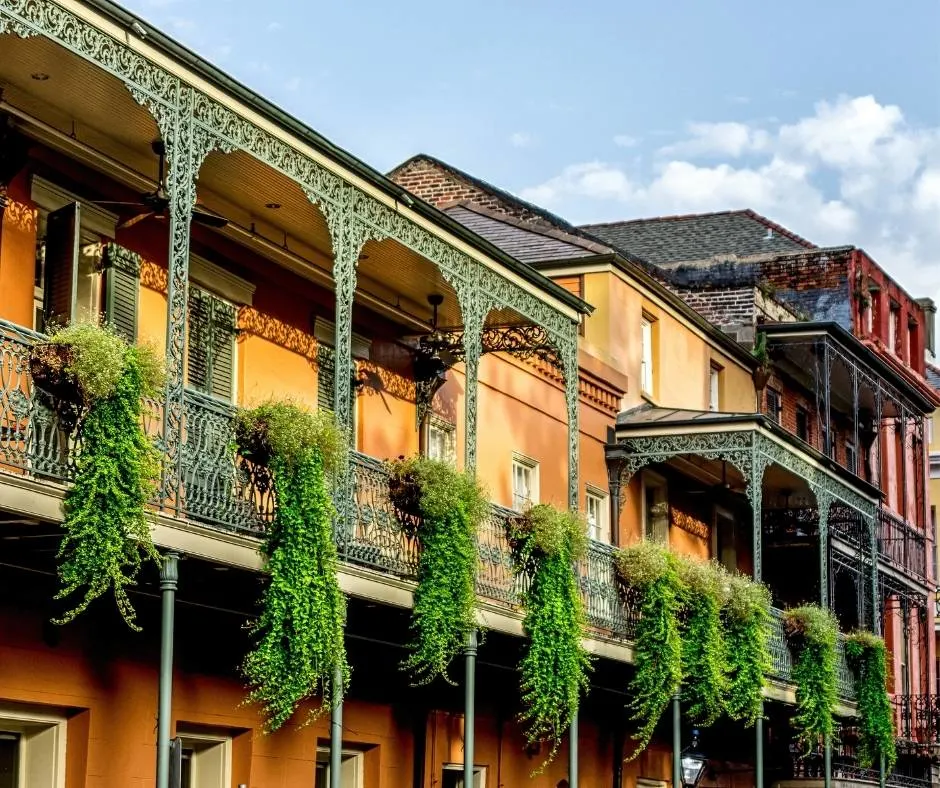 Average high temperature in the winter: 65 degrees
Number of days of rain per month in winter: 6 days
I know many people associate New Orleans and Mardi Gras with adult getaways filled with lots of drinking and debauchery, but the truth is Mardi Gras is actually a very family-friendly event in most places that aren't Bourbon Street.
Uptown New Orleans as well as many of the parade routes in the city's suburbs are packed with families picnicking and vying for prime spots to scoop up "throws," trinkets tossed to spectators. Many locals even have Mardi Gras ladders designed for the event that serve as viewing perches young ones.
The largest family-friendly event is Family Gras. Hosted in nearby Metairie, the celebration includes free outdoor concerts and parades rolling next to the festivities.
Beyond the Mardi Gras season, New Orleans has lots to offer families visiting during the winter. It is a great time to be outside and take a swamp tour or paddle the city's canals before the weather gets hot and sticky.
The Audobon Zoo, Aquarium, and Insectariums are all popular attractions with animal-loving families. Eating at famed restaurants like Cafe du Monde (beignets!), Willie Mae's Scotch House (fried chicken!), Mother's Restaurant (po'boys!), and Mr. B's Bistro (bbq shrimp!) is another great way to enjoy your time in NOLA.
Read more about the best things to do in New Orleans with kids and great day trips from New Orleans.
Where to Stay: The Omni Royal Orleans Hotel makes a special effort to make the littlest guests feel welcome with the Omni Kids Crew program. Upon check-in, children receive a backpack filled with fun activities just for them.
The location right in the middle of the French Quarter puts many major attractions just a few minutes walk away. The heated rooftop pool is always popular with kids as well.
The Embassy Suites is also another solid option for famileis. It is a short walk to the French Quarter and the waterfront and who doesn't love all-suite rooms, complimentary hot breakfast, and a cocktail hour?
14. Miami, Florida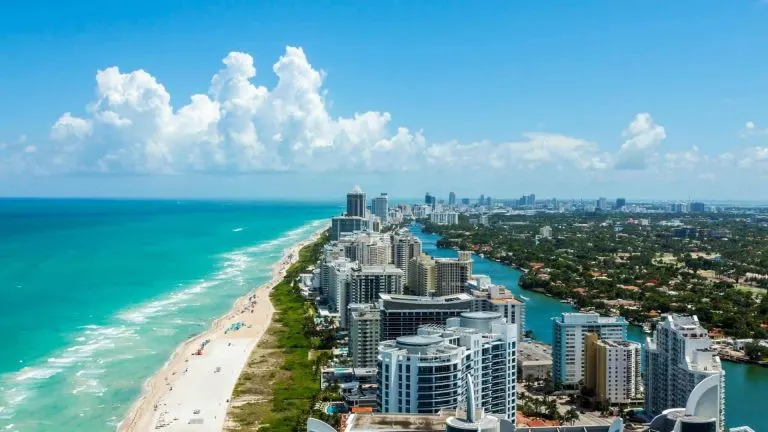 Average high temperature in the winter: 75 degrees
Number of days of rain per month in winter: 4 days
Bienvenido a Miami! Beautiful turquoise water, white sandy beaches, colorful architecture reminiscent and a skyline that is internationally known await.
Step into a postcard in South Beach where palm trees, neon signs, and Art Deco hotels from the 1930's line the beachfronts. Take a speedboat tour of Miami and check out Miami Beach, including the homes of the rich and famous, from the water.
Two national parks are close to Miami and each gives you a very different glimpse of the natural beauty of South Florida. The Everglades are a great place to hop on an airboat tour and check out crocodiles, alligators, and all sorts of exotic birds.
Meanwhile in Biscayne National Park you can snorkel through a shipwreck and paddle through mangroves with the Biscayne National Park Institute.
You can't leave Miami without experiencing a traditional Cuban meal. Go to Little Havana and dine at Versailles for the most amazing "ropa vieja" or have a classic Cuban sandwich from Sergio's.
Check out these fun things to do in Miami with kids.
Where to Stay: Stay at a boutique hotel on Ocean Avenue or head to five-star luxury at the Loews Miami Beach Hotel or the legendary and glamorous Fountainbleau Miami Beach where luxurious pools, cabanas, and miles of beaches await.
15. Naples, Florida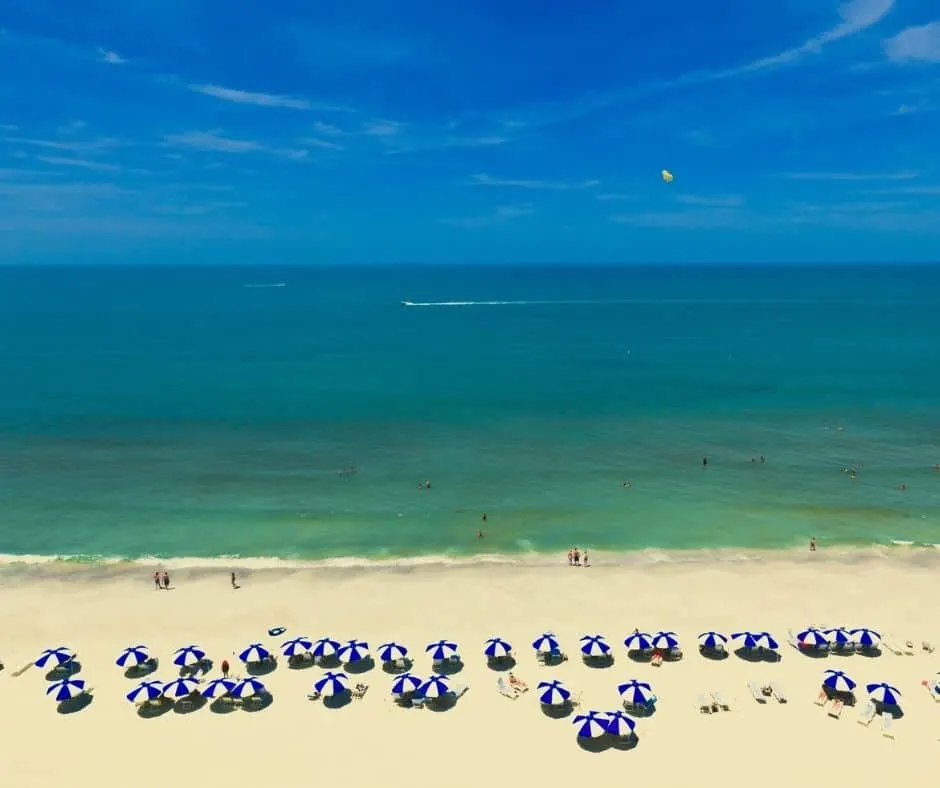 Average high temperature in the winter: 76 degrees
Number of Days of rain per month in winter: 2 days
On the Gulf of Mexico side of South Florida, Naples is another amazing warm winter vacation destination in Florida. What was once a sleepy beach town has now become one of the most desirable family vacation spots in the Sunshine State.
Naples Beach is one of the best in the US, and the area around the pier always has a fun vibe, plenty of volleyball nets for a game on the sand, and lots of nearby restaurants to enjoy. Plus, the sunsets here are beautiful.
You'll find fine white sand and plenty of room to spread out at Clam Pass Beach Park. There are wonderful mangroves next to this beach and free nature walks are offered in the winter, providing a great way to learn more about the local scenery and conservation efforts.
Naples is a great launching off point for dolphin cruises and manatee-spotting adventures. You can also take a boat tour out to 10,000 Island Wildlife Refuge to do some epic sea-shelling. You can also easily tour Everglades National Park from Naples.
Where to Stay: The Naples Grande Beach Resort is located right on the boardwalk and has three pools and the only water slide in Naples. There is also golf, tennis, and a full-service luxury spa.
The Ritz-Carlton Naples has luxury accomodations and Nature's Wonders program led by naturalists which teaches children about the marine life and ecosystems in Florida. The beachfront location, 36-hole golf course, and full-service spa kick things up a notch.
16. Gulf Shores and Orange Beach, Alabama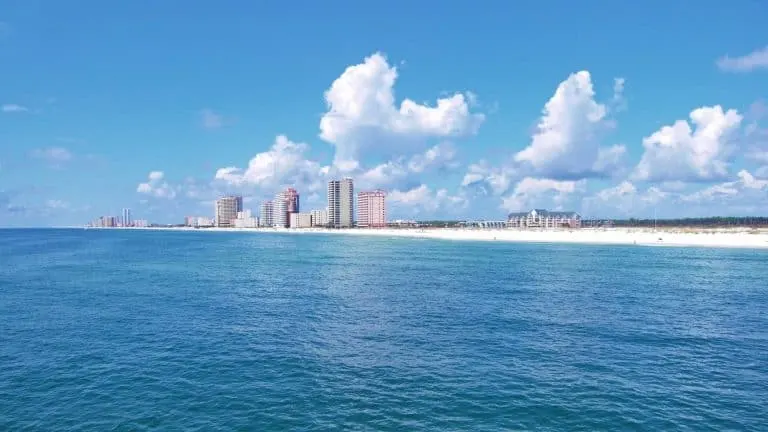 Average high temperature in the winter: 65 degrees
Number of days of rain per month in winter: 6 days
The Gulf Coast towns of Gulf Shores and Orange Beach, Alabama are home to some of the best stretches of powdery, white sand in the country. The winter is the low season which means there are always bargains to be had.
Here you can sunbathe, parasail, fish, take a dolphin-watching cruise, or kayak past sea turtles, manatees, and even alligators!
Relax on the beach or pursue outdoor adventure in the surrounding waterways, wetlands, and maritime forest.
There are 30+ miles of trails in Gulf State Park and the park operates a bike share program, where you can borrow a bike from one of several bike stations for up to three hours free of charge.
Make time to eat at Lulu's, a sprawling complex on the intercoastal waterway with live music, all outdoor seating, a ropes course, arcade, and souvenir shop.
Here are our favorite things to do in Gulf Shores and Orange Beach.
Where to Stay: In Orange Beach, Turquoise Place is the premier oceanfront, condominium resort. Every condo has an ocean view with a huge balcony. There are several pools on-site, as well as a poolside bar and grill.
In Gulf Shores, you simply can't go wrong at The Beach Club! It's a large, family-friendly resort where you can spread out in multi-bedroom oceanfront condos. Every condo has a balcony looking out over the endless waves and there is a large pool and great dining onsite.
17. Big Bend National Park, Texas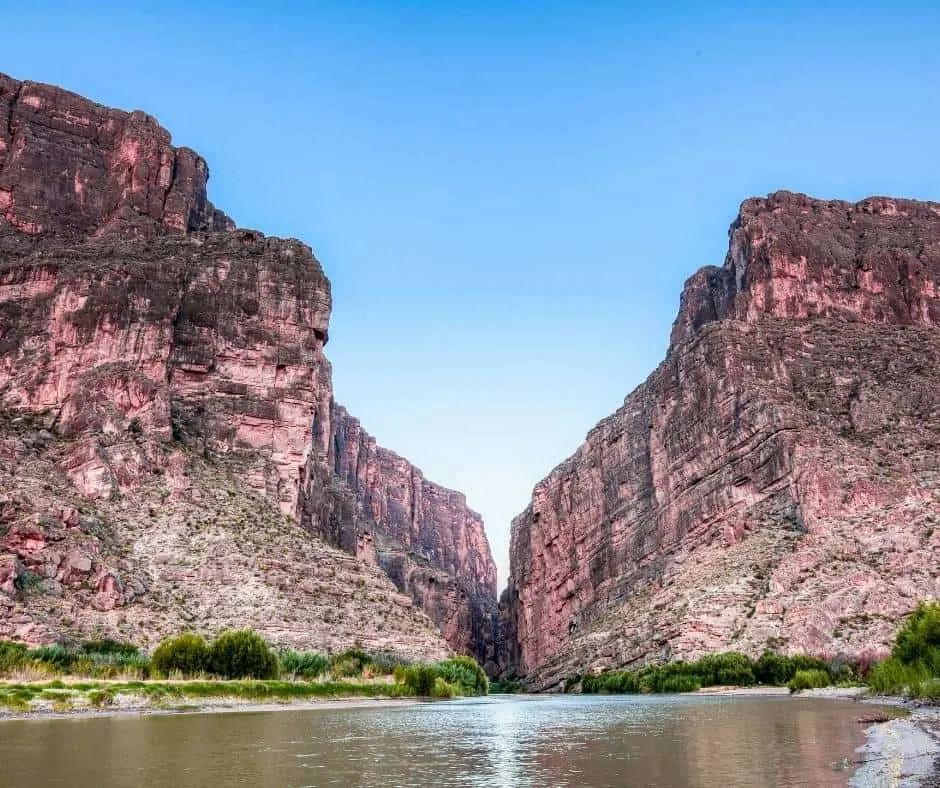 Average high temperature in the winter: 60-65 degrees
Number of Days of rain per month in winter: 1-2 days
Way down in southwest Texas at the Mexico border you will find Big Bend National Park, a huge and diverse park home to both the Chisos Mountains and the Chihuahuan Desert.
Getting there takes some effort- it is about four and a half hours from El Paso and six hours from San Antonio- but your efforts will be rewarded with great views, scenic drives, fantastic hiking, soaks in hot springs, and the impressive Rio Grande.
Highlights include the breathtaking hike into Santa Elena Canyon with epic views of the Rio Grande, soaking in the Rio Grande Hot Springs, jagged mountains rising up from the desert at Chisos Basin, and crossing the Rio Grande into Mexico via row boat to eat authentic Mexican food in Boquillas del Carmen.
Raft and canoe trips are great ways to really see the river and its canyons, and they range from daytrips to multi-day excursions.
Where to Stay: The Gage Hotel in Marathon is a nice option for families. It has a pool, outdoor fire pit, and the famed 12 Gage Restaurant on site.
If you are up for adventure, stay at the Far Flung Adventure Center where you can book river trips, Jeep tours, and ATV tours while staying in a casita on the property. Plus there is a pool, outdoor grills, and a kitchenette in your casita.
18. Waikoloa Village, Big Island of Hawaii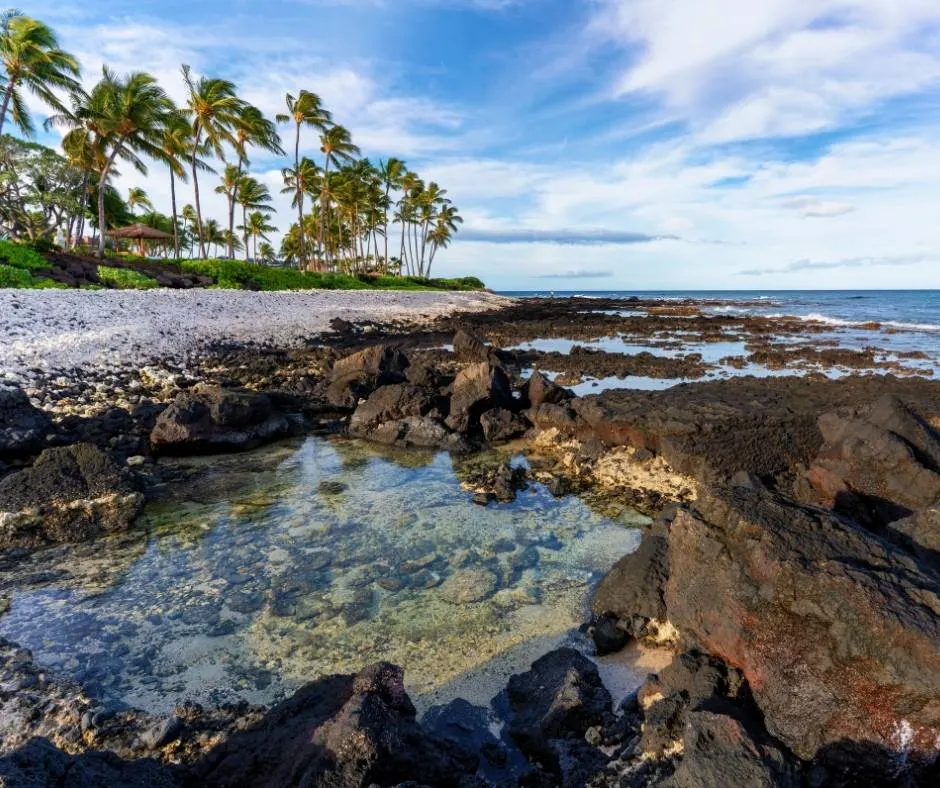 Average high temperature in the winter: 80 degrees
Number of Days of rain per month in winter: 2 days
The Big Island of Hawaii is an island of contrasts. While the Hilo side of the island is getting 17 days of rain in December, the Kona side (where Waikoloa Village is located) is sunny and dry with just two days of rain.
If you are searching for active volcanoes, the Big Island is home to the most active volcano on the planet. It is so exciting see an active lava flow at Hawaii Volcanoes National Park but timing and luck are key. Check the park website for updates before you go.
Even if you can't see the active lava flow, there is almost always some action happening at Halema'uma'u crater which can be viewed at an overlook at the Jagger Museum. There are also lava fields to explore, a lava tube to walk through, stinking sulphur banks smoking and gurgling, a sea arch to gasp at, and absolutely jaw-dropping views of the coast to take in.
Beyond volcanoes, your family can visit black sand beaches with lazy sea turtles lounging about, snorkel with harmless manta rays at night, horseback ride through a valley so beautiful that it was once the vacation retreat of kings and queens, or just spend lots of time lounging at your resort.
Here is our full guide to all the best things to do on the Big Island with kids.
Where to Stay: The Hilton Waikoloa Village is a sprawling mega-resort that families dream about. The property has it's own snorkeling lagoon, amazing pools with waterfalls and slides, dolphins to meet, a fun luau, Hawaiian cultural activities and even a monorail or boat to travel about the property!
We also love the the Waikoloa Beach Marriott which has some condo-style rooms in addition to the standard options and a great beachfront. They also have a nice luau, watersport rentals, and two championship golf courses.