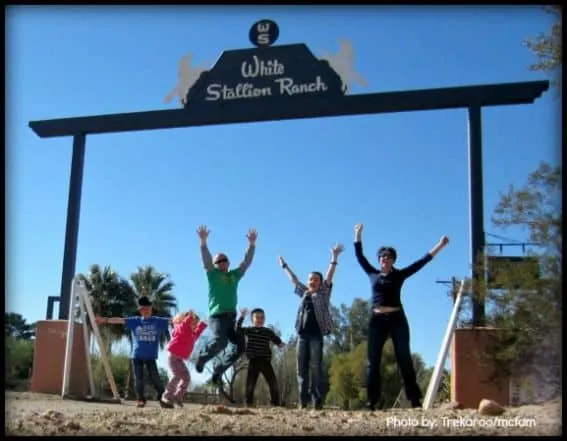 Our family's lunchtime conversation at White Stallion Ranch went something like this….
Me: "So kids, who wants to go on the slow horseback ride across 'Suicide Pass' tomorrow?"

Oldest son, with much caution: "I don't think I want to go."

Second son, with boundless energy: "I do!"

Younger two kids: "We want to go swimming!"
A memory of my oldest son, very young at the time, flashed through my mind.
I said, "Son, when you were three years old, your uncle wanted to take you out on the trampoline in his back yard, and you were so afraid to do it, that you cried in my arms." (Thankfully he started laughing at this point.) "You never know what fun you may have when new opportunities come across your path. So, ride a horse through the mountains when you can, jump on trampolines when you get the chance, swim in the pool even when it's 55 degrees outside… except if you are mom, then you can just go in the hot tub!"
Giggles erupted around the table, and I realized that I just might have to jump in the pool that afternoon!
Out in the Arizona desert, the winter sun shone bright and clear at White Stallion Ranch,on each day of our January visit. Despite the warmth that touched my skin, I was still squeamish about swimming in the very-well heated swimming pool at the ranch. In order to "walk my talk," I did take the opportunity to swim, even though my family didn't think that three seconds of treading water in the deep end was sufficient before I raced to the indoor hot tub! The kids loved splashing around for a lot of the afternoon, and they quickly made new friends who loved playing "Marco Polo" with them.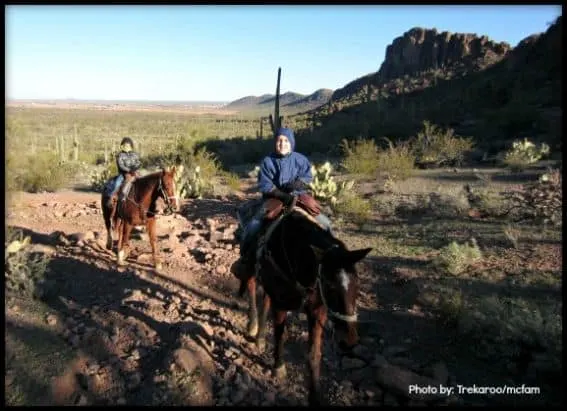 Horseback riding was one of our favorite activities at White Stallion Ranch, which was a good thing because there were lots of opportunities to ride. Our six-year-old took his first trail ride and was so excited to "steer" his horse. The wranglers helped him up from the loading platform onto a small and gentle steed. He followed right in line with all the other horses, who tread the trails in the desert down into soft ruts.
The saguaro giants rose like sentinels on the hill. As we rode near them, we saw a variety of desert life, including a small ground squirrel and a couple of quick jackrabbits. My oldest son bravely joined me and his brother for the slow mountain ride to "Suicide Pass." Our two-hour trip started out going gently up hill through the cactus, then more steeply up and around the backside of one of the small mountain peaks. Our horses bravely climbed the rocky and steep pass, and although I was quite a bit nervous, there were no drop offs and the horses (and we) did great. The view from the top was magnificent!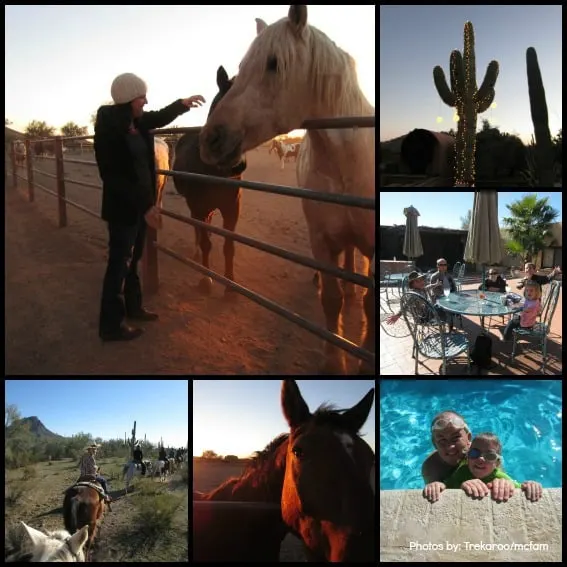 Fast horseback rides and team penning were the most thrilling opportunities that crossed our path. Once our ten-year-old had several slow rides under his belt, he decided to try a fast ride. The wranglers took him and my husband into the arena, gave them some tips about riding fast, and gave them a little "test." Both of them passed with flying colors and then set out on their fast trail ride. I came into the arena before the team penning, got the same pointers, and nearly flew out of my saddle as my horse loped (ran) across the soft dirt. My wrangler was incredibly helpful with teaching me and after several more attempts, I was ready to join a group of four for some team penning. We started down the side of the arena towards the group of steer and I still had to hang on tight as I bounced up and down. Then the fun began… we all yelled at those steer and guided three of them around the corner and into a pen. Russell True, one of the owners of White Stallion Ranch, was out there encouraging and helping us. I could hardly believe it when he said that I did great for my first time herding cows. But it was sure fun!
Going on all-inclusive family dude ranch vacations is now at the top of my family's list of All-Time Fun Vacations! For the kids, they were absolutely thrilled to eat cookies out of the bottomless jar, drink lemonade, ride horses, swim in the pool, play air-hockey, and shoot pool in the game room all day long. For us parents, there was nothing better than feeling the freedom to enjoy all those things with our kids. There was no worry about where we were going to eat next, what we were going to do with our time, and how we would get there. I so enjoyed playing a game of chess with my boys while hanging out in the cozy lodge waiting for dinner that I knew would be spectacularly delicious. White Stallion Ranch did everything with excellence. The food was amazing and healthy. The horses were well cared for and the wranglers were gentle and helpful. Our kids were never bored and had an abundance of fun things to enjoy. The True family has established a guest ranch with a personal touch that made every guest we talked to feel welcomed and happy. We can't wait to go back!
To read more details about horseback riding, evening activities, food, and accommodations at White Stallion Ranch, please read my complete review.
White Stallion Ranch is one of the Top50 Ranches in the world and now we know why. To see more ranches in that category, check out the helpful resources at Top50 Ranches. White Stallion Ranch is a part of the Dude Ranchers' Association and is an excellent resource as they represent over 100 of the best dude ranches in the west.
Our family would like to thank the True family and the staff of White Stallion Ranch for knowing our names, providing us with excellent horses, a cozy and spacious room, yummy food, and an amazing family vacation. White Stallion Ranch hosted our stay, but as always, we were not asked to express a particular point of view and all opinions are our own.