It's practically a rite of passage for an American child to visit Washington DC on a school trip or as part of a family vacation. But where are best kid-friendly hotels in Washington DC for families?
Families are not the only folks visiting DC. It is filled with businesses travelers, dignitaries, and yep- politicians as well. Some hotels cater to these traveles while others cater much better to families with amenities like hotel suites and pools.
Here's a list of Trekaroo-approved hotels that are family friendly and close to the action along with details about why we like them.
Best Kid-Friendly Hotels in Washington DC for Families
Grand Hyatt Washington- A Great Kid-Friendly Option Near Metro Center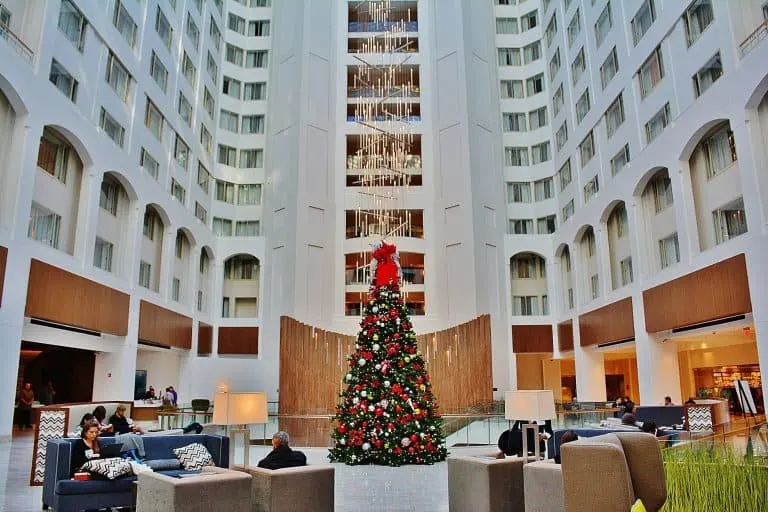 Grand Hyatt Washington is our top pick for the best family hotel in Washington DC due to its convenient location. Metro Center Station, serving the red, blue, orange and silver Metro lines, is located right downstairs from the hotel's lobby.
There is no need to even walk outside in order to catch trains to the National Zoo, Arlington Cemetery, and Reagan National Airport. The White House and Smithsonian National Museum of American History are both within a 10-minute walk of the hotel, making it simple to come back to the hotel midday for a rest or a snack.
Trekaroo families who have stayed at the Grand Hyatt loved the comfortable beds, convenient outlets and charging stations, and bedside reading lights. They also have suites available for families looking for more room to spread out.
Grand Hyatt guests have access to a fitness club and indoor pool located in the same building (though the pool is small, it's a nice amenity), and it offers the Hyatt Grand Club. If you're not familiar, Hyatt Grand Clubs are absolutely worth the upgrade (it will cost you approximately $75 extra per day).
The Grand Club is open all day, and puts out a full breakfast, full lunch, snacks, and dinner appetizers (that can work as a full dinner, depending on what your kids will eat). Desserts come out at night! Of course, you won't be in the hotel to take advantage of each meal, but it can pay for itself with breakfast and bottled waters alone.
These amenities and the top location make this one of best hotels in Washington DC for families.
Explore our recommendations for the Top 10 things to do with kids in Washington DC with kids.
Hotel Madera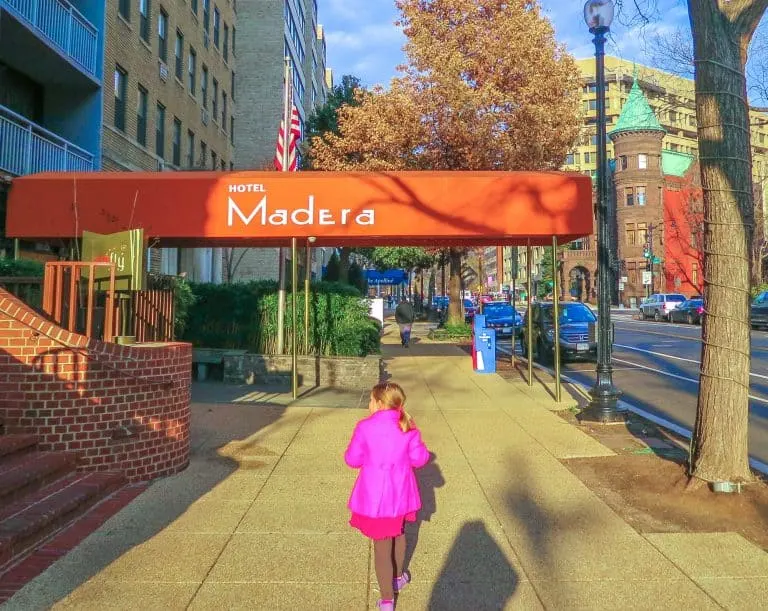 Everyone needs a good night's sleep to keep up with the pace of a busy city like Washington DC. Fortunately Hotel Madera has suites with pull out couches available. With the kids quietly tucked away in their own beds, everyone can get a better night's rest for the next day.
They also have family packages available and welcome ammenties for kids like ice cream or milk and cookies. This property is also dog friendly and offers complimentary treats, dog beds, and other pet essentials.
Hotel Madera is just a five-minute-walk from the Dupont Circle Metro Station and a 15-minute-walk from the White House.
Hilton Garden Inn Downtown DC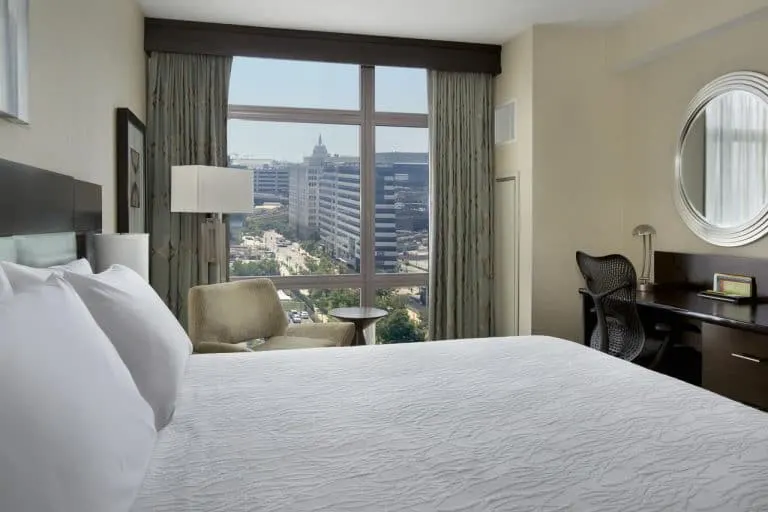 Deciding where to eat dinner with tired kids who have spent the day walking the memorials of the National Mall can be challenging. It's nice to have good food options at a kid-friendly Washington DC hotel.
The night our family stayed at the Hilton Garden Inn Downtown Washington DC, we decided to take advantage of a seasonal, kids-eat-free promotion at the on-site restaurant, Third Rail.
However, we could have also ordered room service, warmed up refrigerated leftovers using our room's microwave, or simply walked to dozens of restaurants within a short walk of the hotel.
It's rare to find an in-room refrigerator, Keurig coffee maker, and microwave at a downtown hotel. The Hilton Garden Inn Downtown has it all. The hotel also has a small indoor pool, suites with excellent-quality sofa beds, and a quiet location just two blocks from the White House.
Homewood Suites by Hilton Washington DC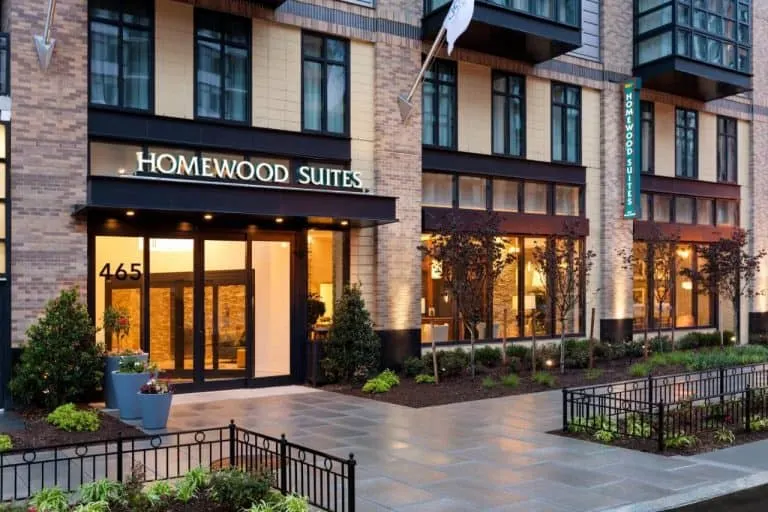 Do you like the flexibility to be able to cook meals on the road? Maybe there is a picky eater in your family or someone with food allergies that makes dining out a challenge. Homewood Suites is a spacious all-suite hotel with full kitchens.
In addition to full kitchens and more than the most other DC hotels, they also offer a free breakfast to guests and connecting rooms which are ideal for larger families. There are two locations in Washington DC- one downtown and one by the Convention Center.
The Willard- The Best Luxury Hotel in DC for Families Near the National Mall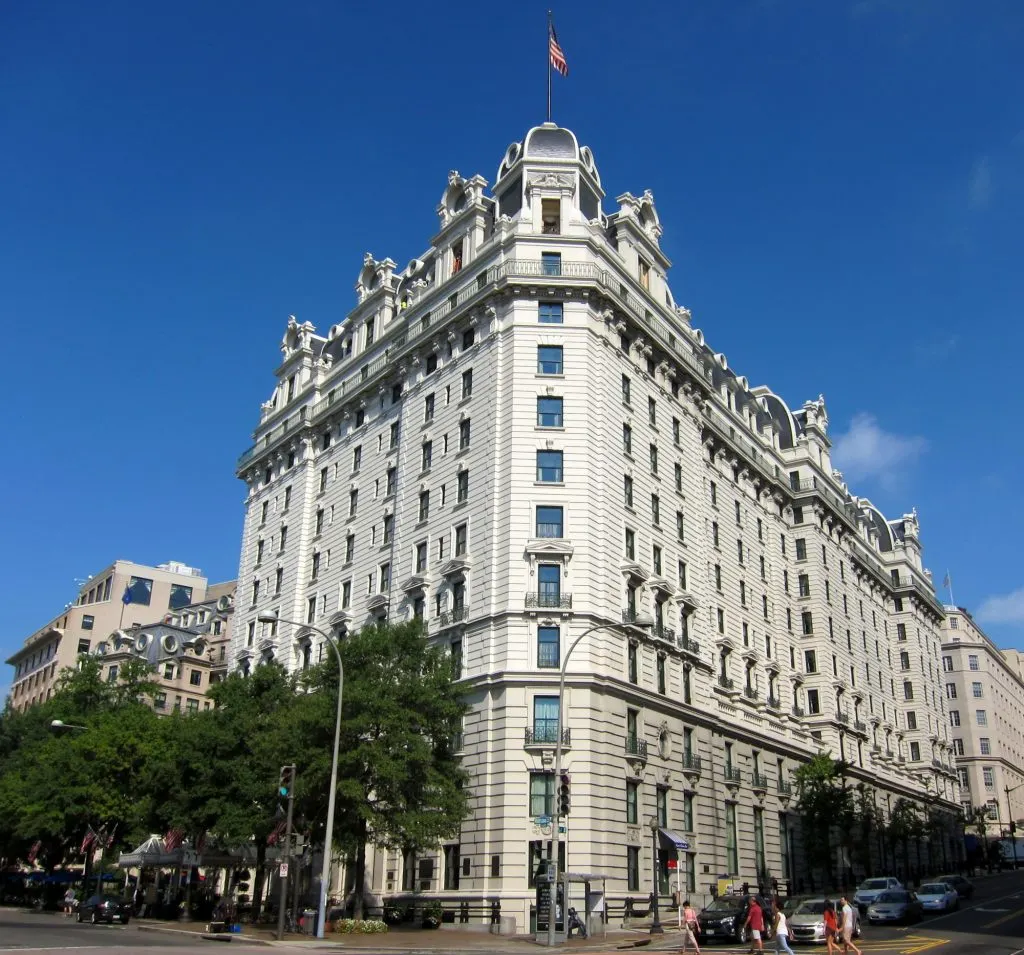 The Christmas decorations at The Willard Intercontinental Washington are legendary. And, speaking from experience, the Easter decorations featuring cherry blossoms aren't too shabby either.
The beauty doesn't end, however, the moment that families step into the elevators and out of the lobby. The views of the National Mall and Washington Monument from the circular windows on the top floor of The Willard are among the best in Washington DC.
Families especially love the spacious rooms at this historic, luxury, family-friendly Washington DC hotel. Whether you're in town for the lighting of the National Christmas Tree or the White House Easter Egg Roll, the short walk across the street to the White House can't be beat.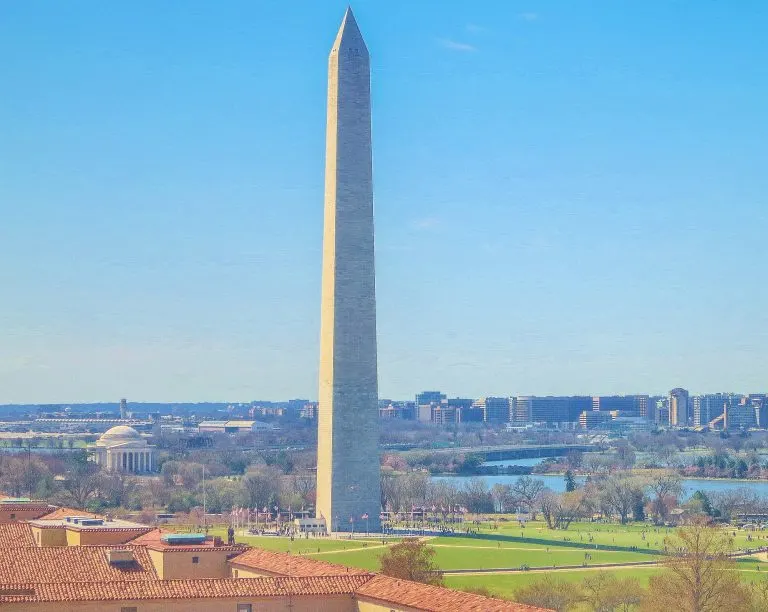 Omni Shoreham- Best Hotel for Families in Washington DC near the National Zoo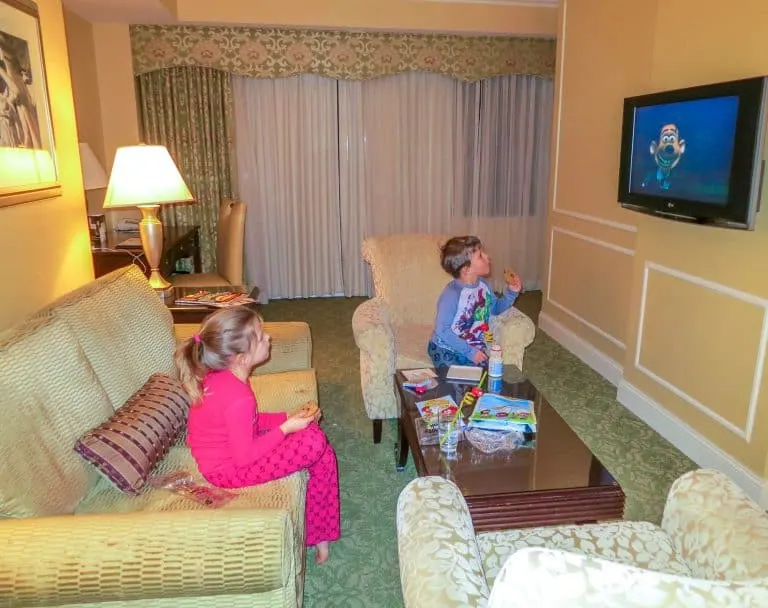 Undoubtedly, most families come to Washington DC to enjoy some history. Sometimes historic places and young children don't mix well.
But, at the Omni Shoreham Hotel even families can enjoy a historic Washington DC hotel. The Omni has hosted countless inaugural balls and many notable guests. At check-in, children are welcomed with smiles and a small backpack full of activities as part of the kids program.
The Omni Shoreham might not be downtown near the Smithsonian Museums, but it is just a 10-minute-walk from the most kid-friendly destination in town, the National Zoo which one of the few zoos in the country that has pandas.
Bonus- this one of a few hotels in Washington DC that has an outdoor pool, which is always a plus for families, especially during those hot DC summers.
Find current deals being offered at Washington DC's family-friendly hotels. As a Booking.com affiliate, Trekaroo is thrilled to offer its readers the lowest rates.
Cambria Hotel & Suites Washington DC Convention Center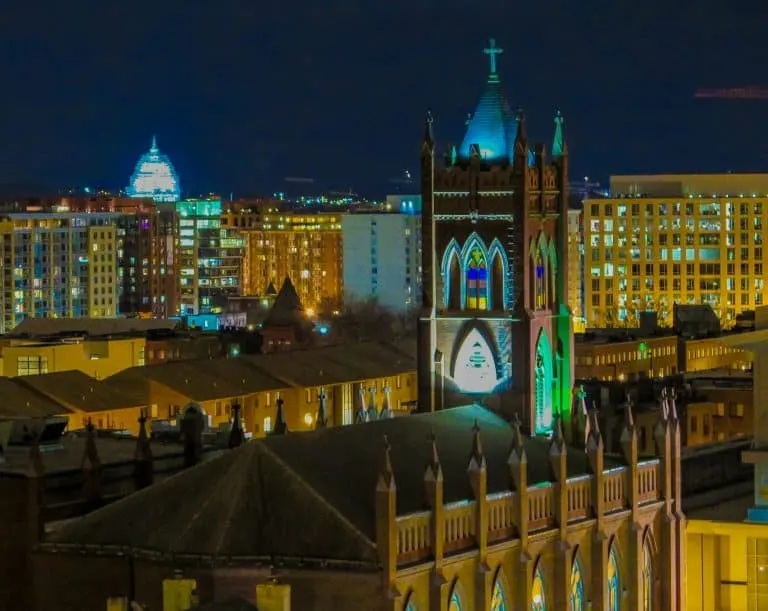 Families visiting Washington DC during the winter months are likely to spend a lot more time at thei hotel than those traveling during the summer months.
Yes, seeing the monuments after dark should still be a part of your family's itinerary whether you visit in January or June. But, in January it is dark earlier and the temperatures will send you inside much faster.
After walking around the National Christmas Tree in freezing temperatures just after dark, our family had plenty of time for a swim before bedtime at the Cambria Hotel Washington DC Convention Center. My kids splashed around happily for over an hour in the rooftop indoor pool while I took in the view of the US Capitol and Washington Monument.
We found the rooms at this all-suite hotel to be relatively spacious and thought the buffet breakfast, available at a reasonable price, was a great way to start off a full day of exploring our nation's capital.
Embassy Suites Washington DC Convention Center, Georgetown, and Chevy Chase Pavilion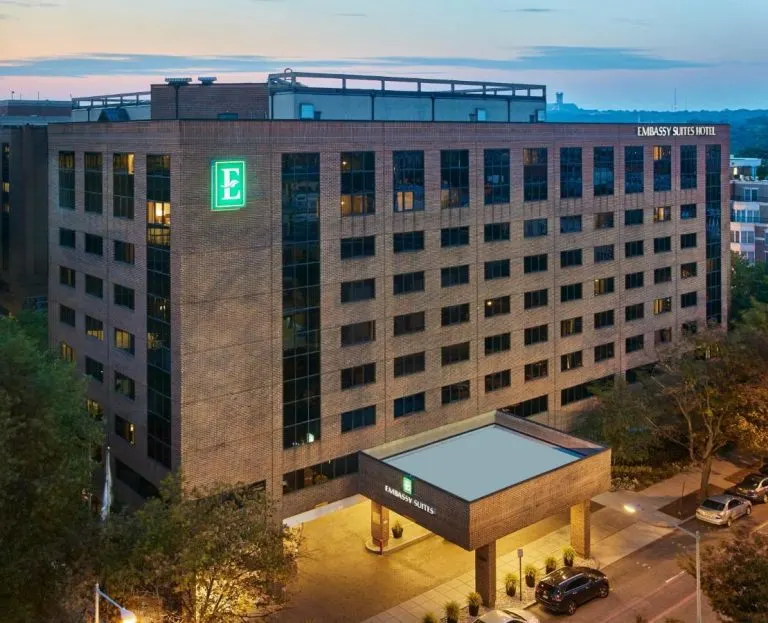 Embassy Suites have long been one of our favorite hotel brands for families. We love that all the rooms are suites with a door between the living area and the bedroom.
This means that kids can sleep on the coach bed while parents have pricy in the bedroom. Or, if you are a family with 3-4 kids, you can get two queens plus the coach bed and all still fit in one room.
Another perk of Embassy Suites is a complimentary (and reliably good) hot breakfast is included with your stay, as well as the Manager's Reception which includes snacks and FREE drinks (yep, including alcohol).
All three DC Embassy Suites have indoor pools and hot tubs, which tend to be the most important amenity to kids.
Embassy Suites Chevy Chase Pavilion is the furthest from the action but it is located directly on the Red Line at the Friendship Heights Metro stop so it is actually very convenient.
Embassy Suites Georgetown is the most highly rated of the three, in the hip neighborhood of Georgetown that is filled with great dining. It is located within walking distance of the Foggy Bottom Metro Station and Dupont Circle Metro Station.
The Embassy Suites DC Convention Center is about a half mile from the White House and 0.7 miles from the Smithsonian Air and Space Museum.
Marriott Residence Inn Washington DC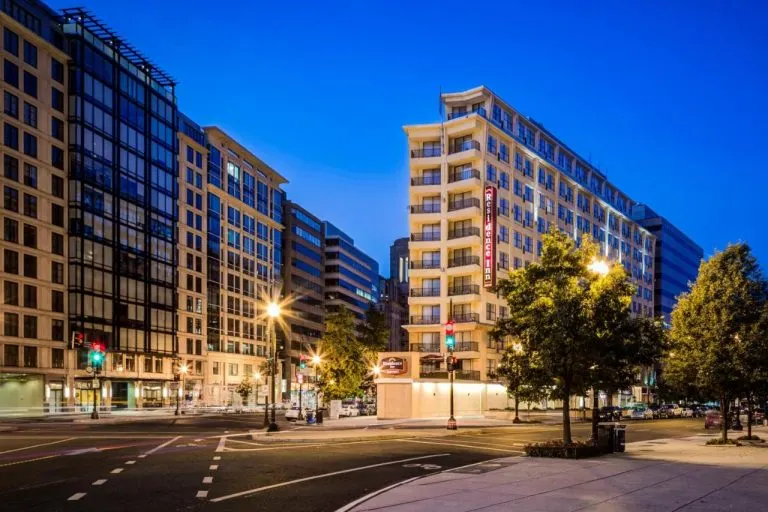 We love Marriott Residence Inns! The downtown Washington location is in the Federal Building area, only two blocks from the National Mall and one block from the Metro. You'll get a free hot breakfast every day, and lower rates for longer stays.
You're half a mile from the Smithsonian museums, and suites with kitchens are the norm, allowing families to spread out.
Hotels for Families Near DC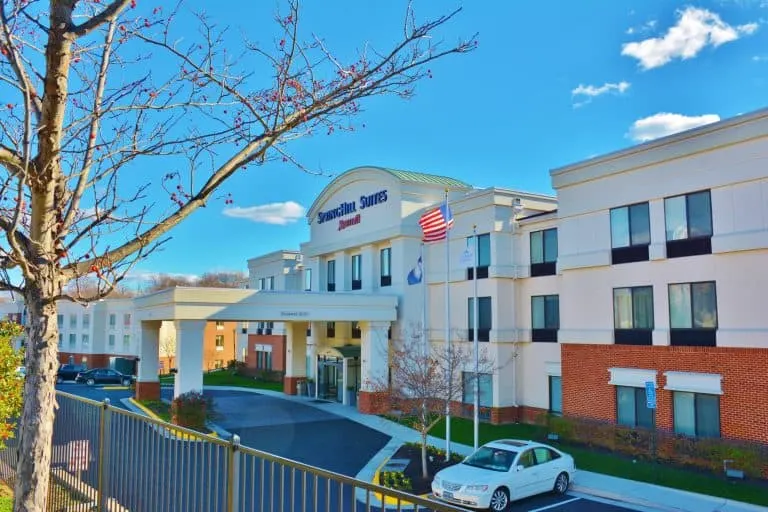 Alexandria is located just south of Washington Dc across the Potomac River in Northern Virginia. From the King Street Metro Stop in Alexandria, it takes less than twenty minutes to arrive at the L'Enfant Plaza Station just steps from the National Air and Space Museum.
Families driving to Washington DC from the north or south find that Alexandria is quite easy to access from I-95 and the Beltway. The hotels in Alexandria are a good (and often less expensive) alternative to the best kid-friendly hotels in Washington DC for families if you are traveling with a car.
If you do have a car you will definitely want to check out the best day trips from DC for families.