Seattle is an amazing city to visit with so much to see and do for visitors of all ages! But you do have to rest sometime, so where are the best hotels in Seattle for families?
We asked frequent visitors and Pac NW locals to share their picks for the best kid-friendly hotels in Seattle and theses are some of their favorites.
Coming from Sea-Tac? Use this guide on how to get from Sea-Tac to Seattle's downtown with ease.
Best Hotels in Seattle for Families Near Downtown
Hyatt at Olive 8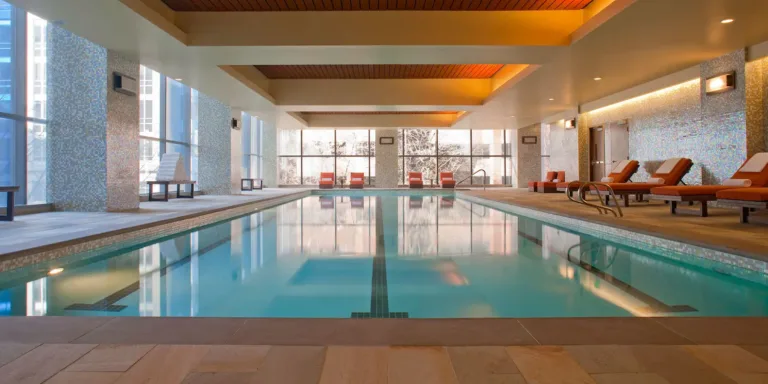 Hyatt at Olive 8 features sleek, modern decor and furnishings and eco-friendly design. This hotel is located in the heart of Seattle's downtown, near the convention center. You can feel good about staying here because Olive 8 was the first LEED's certified hotel in Seattle.
We love the ultra-modern layout of Olive 8: the lobby looks out on downtown from expansive glass panes, and the common areas are all open, with wide hallways and high ceilings.
While staying at Olive 8, you're within walking distance of the Space Needle and Pacific Science Center, and right on metro lines to Pike Place Market and the waterfront. There are several Pike Place food market tours and we highly recommend you book one. Yum!
Discover the 10 best things to do in Seattle with kids.
Families especially love this hotel's huge indoor pool and hot tub, a bit or a rarity in the area. The hotel also has a nice fitness center and a spa. Rooms also have mini-fridges and coffee makers, two important ammenities to traveling families.
Onsite dining includes a bagel shop (a good option for a quick breakfast) and the seafood restaurant, Tidal+ which is known for its lobster mac and cheese and fish and chips. There are several other more kid-and-budget-friendly restaurants just a short walk away.
Sheraton Grand Seattle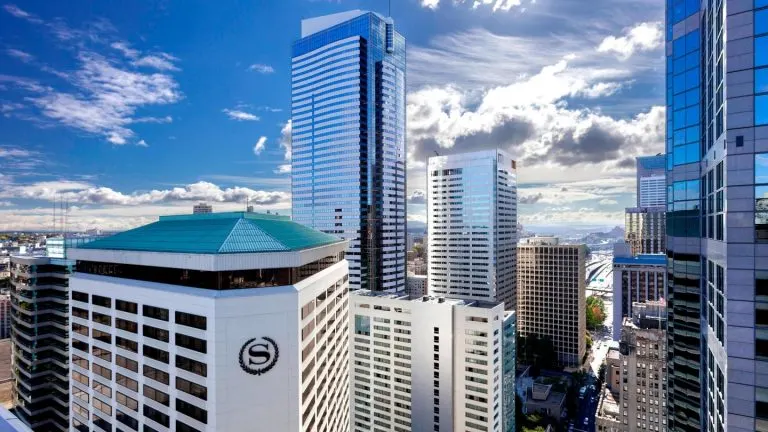 Located right in the heart of downtown, the Sheraton Grand Seattle is just a short walking distance from museums, shopping, restaurants, and more. The hotel's location offers easy access to Seattle's famous Pike Place Market and is close to bus lines for accessing areas such as the International District and Seattle's sports arenas.
Kids love the pool on the 35th floor of the hotel! It is in a huge room with a pool, hot tub, and adjoining exercise room behind tall glass windows. The entire room is windows, so you can see a 180-degree view of downtown Seattle and beyond.
And during the holiday season, the Sheraton Seattle is home to a massive gingerbread village in the spacious lobby! This Sheraton also has a Starbucks that serves coffee by day and beer and wine in the evening. There are two other restaurants onsite, as well as room service available.
The Westin Seattle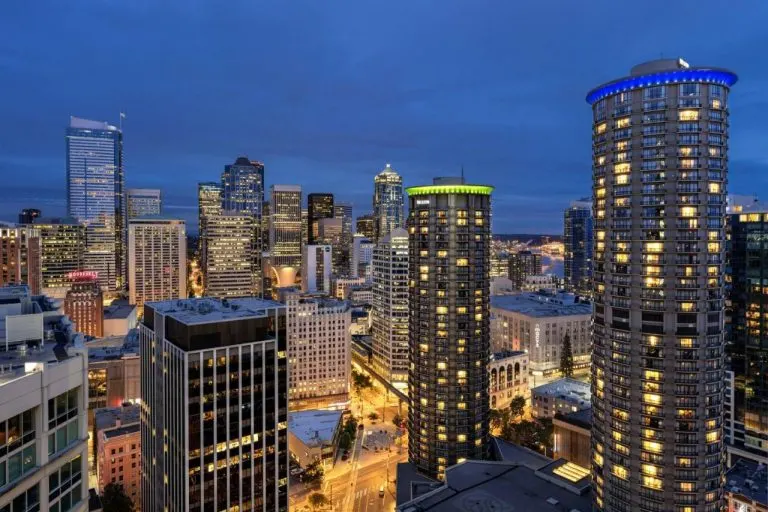 The Westin Seattle is also located downtown, near Seattle's historic monorail, right on the edge of Belltown and downtown. Hop on the monorail for the short ride to the Space Needle and Seattle Center with its great eateries and museums! You can even book a room in the North Tower with Space Needle views!
As the kids swim in the indoor pool, parents can relax on the sun deck. There's also a well-equipped fitness center for staying in shape during your trip.
Didn't have space to pack all the baby gear you need? Don't worry, the Westin features the Westin Kids' Club, which gives guest access to items like bottle warmers, umbrella strollers, and potty seats!
Cribs with a crib-sized version of the Westin Heavenly Mattress are also available. And kids will also be thrilled to receive a special Westin Kids Club bag on check-in! If you get hungry, stop by Relish Burger Bistro which serves up three meals daily.
Explore more of the state! Here are the best things to do in Washington with kids.
Fairmont Olympic Hotel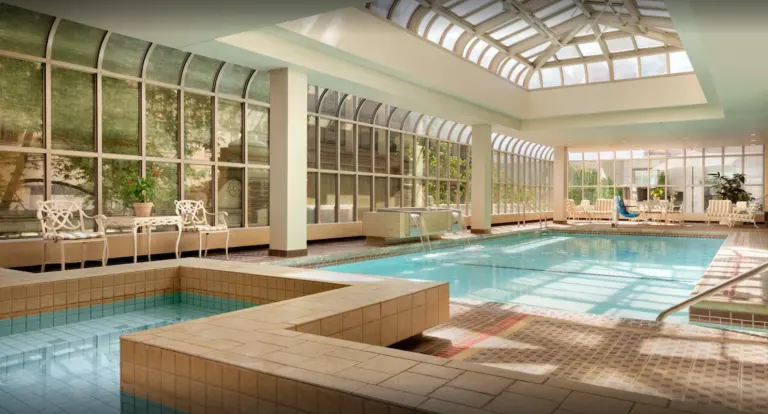 Fairmont hotels are generally fabulous, and the Fairmont Olympic Hotel is no exception. Guests are treated like royalty at this historic luxury hotel located in the heart of downtown Seattle.
Kids will love the hotel's special touches like milk and cookies from room service, kid-sized bathrobes, and, of course, an indoor pool.
The hotel is walking distance to most Seattle attractions, or use the hotel car for easy travel to points further away. The staff at the Fairmont is eager to offer tips, tricks, and suggestions for exploring the Seattle area with children.
The rooms at the Fairmont Olympic are decorated with a classic yet contemporary decor. The beds are extremely cozy and large, luxurious bathrooms and closet spaces gave families plenty of room to spread out. Families traveling with babies can request high chairs, diapers, baby toiletries, playpens, cribs, and more.
Be sure to take advantage of the health club during your visit. Your kids will love the indoor swimming pool where kick boards and pool toys are available for use. You can also enjoy complimentary bottled water and fresh fruit while poolside!
Kid's menus and kid-friendly options are available at every on-site restaurant. If you need to get between point A and point B, take advantage of the hotel car which took your family to top attractions like Seattle Center without the hassle of hailing a taxi.
Staying at the Fairmont Olympic is a splurge, but it's an experience your family won't forget!
Staypineapple, Hotel FIVE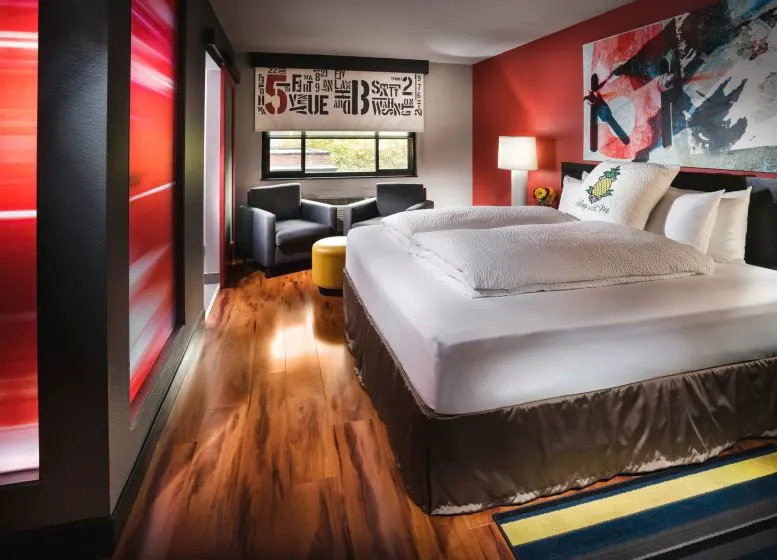 Seattle's Staypineapple, Hotel FIVE is found in the northern part of downtown Seattle, conveniently located just a short walking distance to both the Space Needle and Seattle Center.
Families are welcomed to this hotel with free mini pineapple cupcakes in the colorfully decorated lobby. They will enjoy complimentary bicycle check out, and comfortable rooms. This hotel has more of a boutique, trendy vibe that teens will especially enjoy.
This hotel is very dog-friendly, with plenty of doggy items like beds and bowls to keep your pooch comfy during its stay. Their owners will appreciate the complimentary afternoon coffee and treats in the lobby.
The hotel has a complimentary hotel shuttle to take guests to local attractions such as the Seattle Zoo or Pike Place Market!
Read this full review of Staypineapple Hotel FIVE.
Staypineapple, Waterton Hotel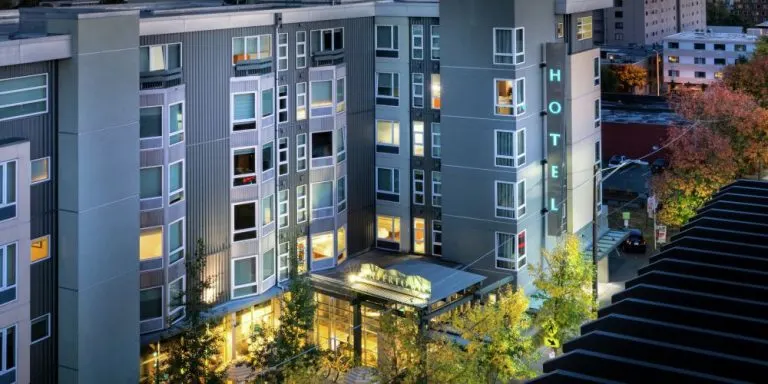 Watertown Hotel is a favorite of Trekaroo families because it provides good value in a nice location. Located in Seattle's University District, it offers easy access to downtown Seattle, as well as activities in the U District.
The hotel has great family-friendly amenities like complimentary use of the hotel's bicycles. They have coffee and treats set up for guests in the afternoons and are dog-friendly if you are traveling with your furry family members.
Grand Hyatt Seattle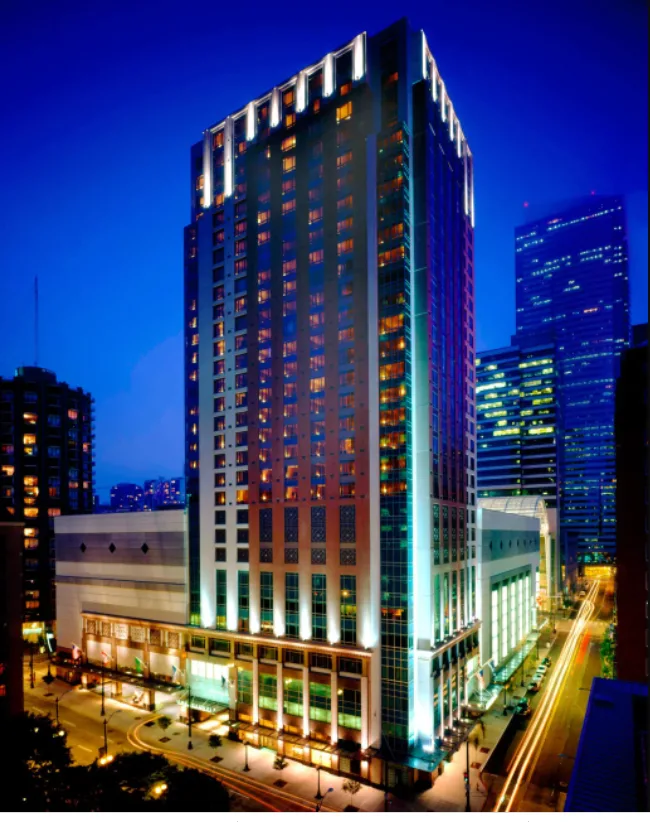 The Grand Hyatt Seattle has a great central location and is just blocks from Pikes Place Market, the Seattle Aquarium, and the waterfront. There is lots of shopping nearby, and the entire area gets decked out for the holiday seaon.
Some rooms come with floor-to-ceiling Space Needle views, and some with access to the the Grand Club Lounge. Club level rooms are awesome because they include breakfast, an evening cocktail hour, and snacks throughout the day.
Families love the oversized bathubs, Balmain Paris Spa amenities, and cushy spa robes that make them really feel pampered on vacation. There is a large fitness center on site, along with a hot tub.
Room service is also available, so pop on a robe and order dinner! Or, head to the Ruth's Chris Steakhouse located on property and enjoy a special meal. There are also casual options like Starbucks and NYC Deli where you can purchase a grab-and-go breakfast or take a sandwich with you for lunch.
8. Seattle Marriott Waterfront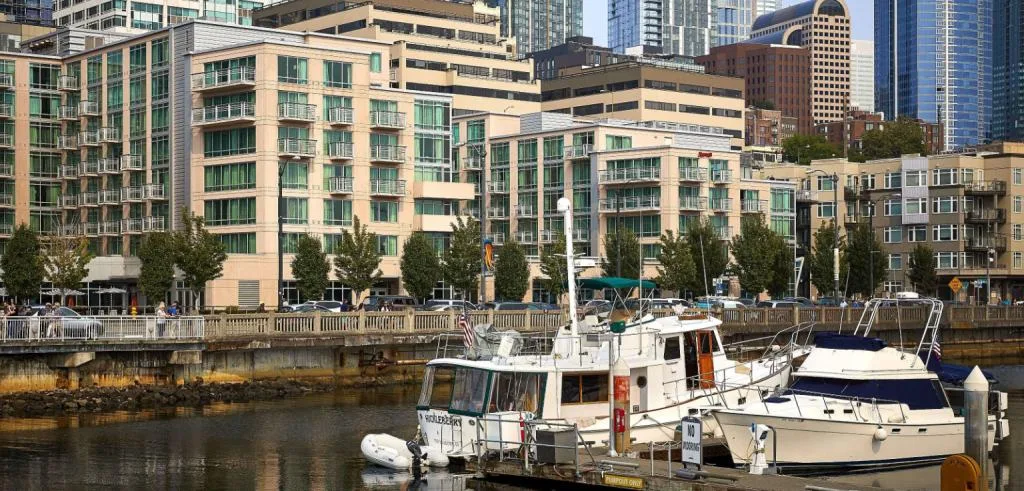 The Seattle Marriott Waterfront is nicely located near the cruise ship terminals and the Seattle Aquarium. It's also located just an elevator ride and a couple of blocks walk from Pike Place Market and downtown.
Rooms have views of the scenic Puget Sound which is just across the street! You really can't beat the location of this hotel if you are wanting to to spend time downtown.
Unlike all the othert hotels in the area, Seattle Marriott Waterfront kicks up their pool game just a bit more by offering a heated indoor/outdoor pool. That way, you can enjoy the beautiful weather if it makes an appearance or swim inside if it is cloudy and rainy (which it often is).
Many rooms have water views, and all have comfortable beds and mini fridges. Downstairs, there is a spacious lobby with lots of comfy seating and a lounge that serves up drinks, apps, and pub faire.
Hook and Plow is the property's signature restaurant. It is known for its benedicts at breakfast and seafood at dinner.
Hotel 1000 Seattle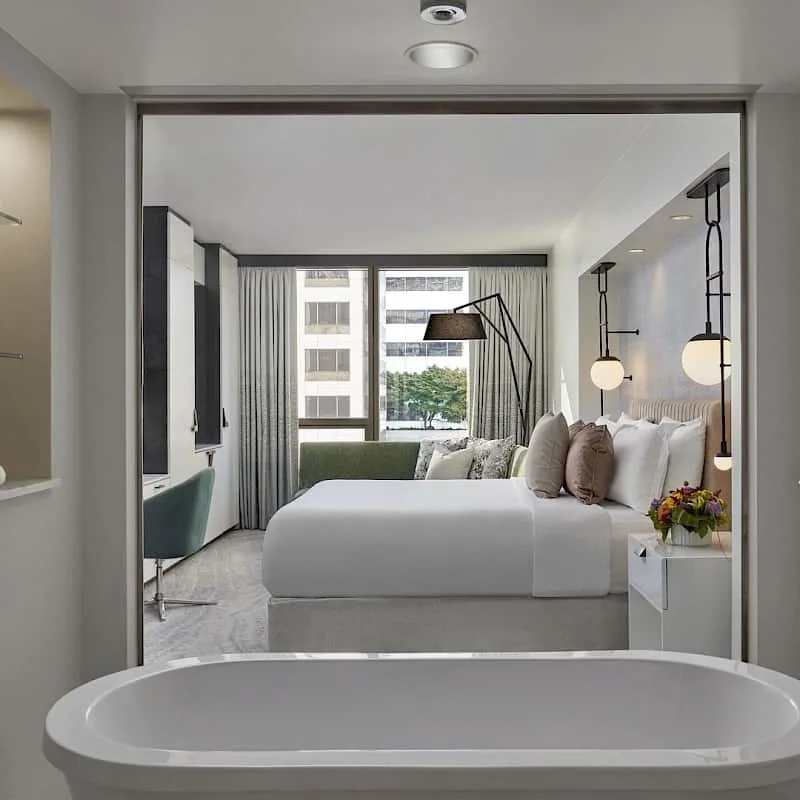 Located on 1st and Madison, about a 10 minute (5 blocks) walk from Pike Place Market and the waterfront, Hotel 1000 Seattle is a boutique hotel with a focus on luxury. This property has modern decor, a sull service spa, and even a golf simulator that guests are welcome to use for free!
It is convenient to most of the shopping, and restaurants in downtown, without being overly busy with tourists just outside the door. If the weather is nice, take the two-mile walk from teh hotel, along the waterfront to the Seattle Center and the famed Space Needle.
Spacious guest rooms have floor to ceiling views and "fill from the ceiling" pedestal tubs which are perfect for bubble baths. Most downtown area hotels in Seattle only have rroms with one king or two doubles, but Hotel 1000 has larger rooms which have king beds or two queens. This is a big deal for those of us with older kids who need more space.
Keurig coffee makers and mini fridges are standard. So are large windows with city or water views. Cribs and rollaway beds are available for famileis with those needs. They also have several ADA rooms should you be traveling with someone with disabilities.
Embassy Suites by Hilton Seattle Downtown Pioneer Square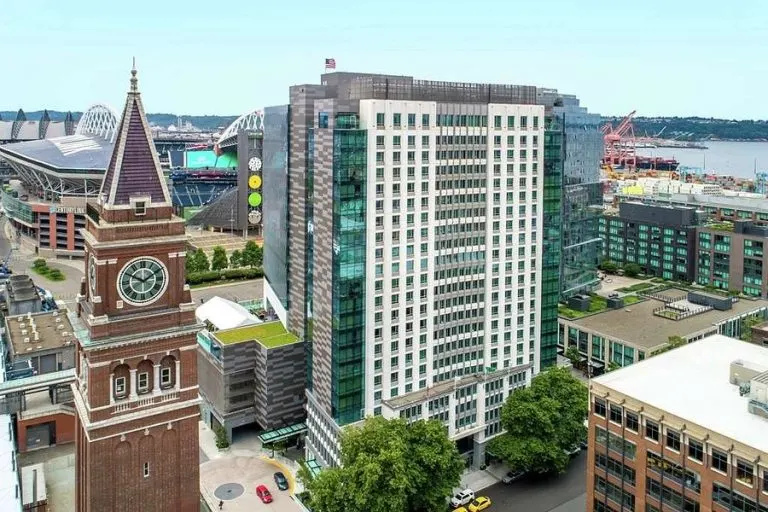 We've said it before and we will say it again- the Embassy Suites are always great options for families. Their suite-style rooms can sleep up to six people, make them nice options for larger families. Plus everyone love having a living area separate from the sleeping area.
Other things we love about Embassy Suites- complimentary breakfast (we aren't talking yogurt and pastries people!) and the evening reception which includes complimentary alcoholic beverages as well as snacks. We also love the indoor pool and outdoor sundeck.
This property is near Lumen Field, where the Seattle Seahwks play, and a short distance from T-Mobile Park where the Seattle Mariners play.
Book our stay at Embassy Suites by Hilton Seattle Downtown Pioneer Square.
Best Hotels in Seattle for Families on the Eastside
Hyatt Regency Bellevue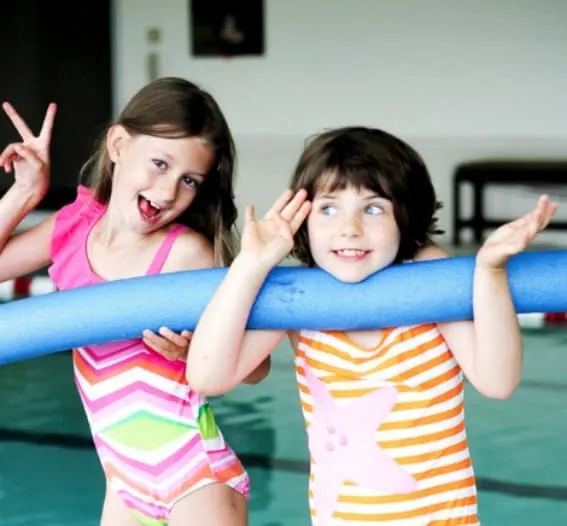 Located just outside of Seattle in the bustling city of Bellevue, the Hyatt Regency is a fantastic place for families to stay. This large hotel features spacious rooms, kids' activities, and a beautiful indoor pool.
The Hyatt Regency is surrounded by restaurants and shopping, and is connected to two separate malls via elevated walkways. Once you check in, guests are all set for fun! And if you do want to head into Seattle itself, it's just a short drive across Lake Washington to downtown Seattle.
Woodmark Hotel in Kirkland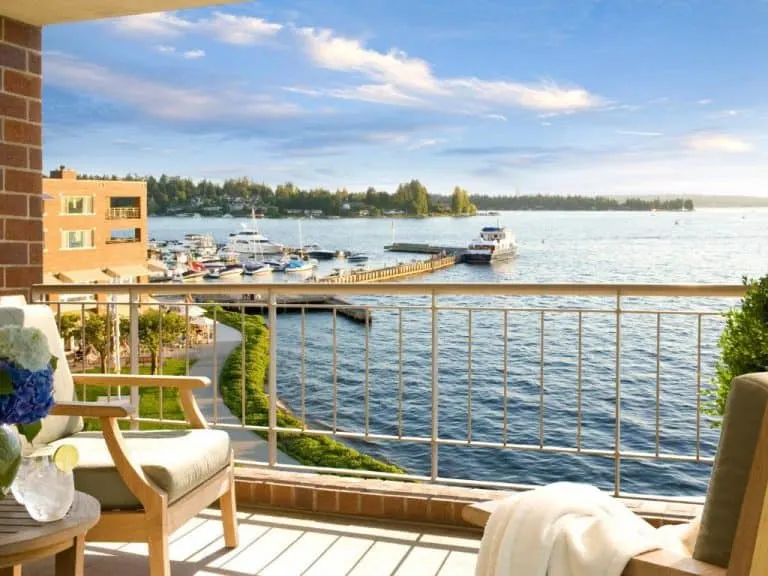 The Woodmark Hotel is just a short drive from downtown Seattle, but upon checking in, it feels like a resort far away from city life. The hotel is nestled on the shores of Lake Washington in the small city of Kirkland, and is the perfect place to relax and unwind after a busy day of sightseeing.
Check out a bike or kayak, or rent a paddleboard or jet ski for exploring Lake Washington. If wine tasting is your thing, you'll love the great access to Woodinville (about 15 minutes north of the hotel), which is home to over 100 wineries!
For kids, there is a large play area just a few blocks from the hotel. But the event that families love the most and that kids will talk about forever is the 10 pm FREE "Raid the Pantry." Trekaroo families love this activity that entails from 10 pm to 1 am where guests have access to a small room full of snacks, soups, sandwiches, soft drinks, and more!
Explore some Free Family Fun in Seattle.
Featured photo by: Bigstock/Andy777