Last Updated on
Trekaroo generates revenue from purchases made through links to our partner brands.
There is something really special about Morro Bay. It's quite stunning to drive down to the coast and see this huge rock sticking straight out of the ocean as if to say, "Don't look at anything else but me!" The crashing waves and long, sandy beach to the north take a close second place to the massive rock that is home to peregrine falcons. On a recent Spring Break trip with our 4 kids and their grandparents, we didn't find crowds of people at this laid-back town, but what we did discover was a relaxing time together exploring the California coast.
[youtube https://www.youtube.com/watch?v=w0o5sHe-Vpc?rel=0]
Sandy Beaches, Kites, and Abalone Shells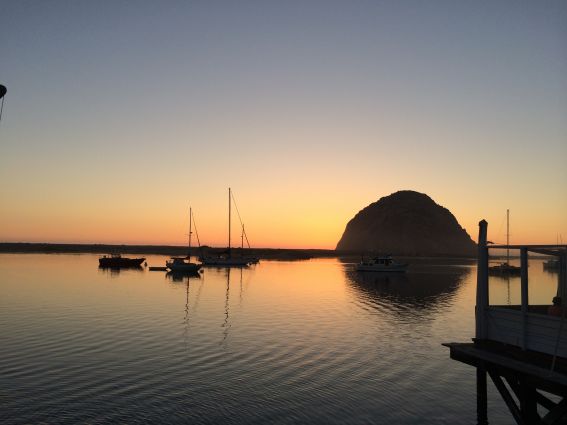 The sun shone brightly on our first afternoon in Morro Bay and we took advantage of the warmth and headed directly to the sandy beach at the base of Morro Rock. I was quite surprised to find plenty of parking spots and free parking. That is not what I am used to in busy Orange County! The soft sand drifted through our toes and the air was warm enough to entice the kids to run through the cold surf. The waves were gentle and the breeze was strong which made our kites lift straight up in perfect ease.
TIP: We found inexpensive and easy to use diamond XKites at a large name super store before we got to the beach. They were so easy to use. We tried to help another family get their diamond-shaped kites in the air but something was just not right and they wished they had our kites!
We watched the tide chart app carefully on our smart phone and knew that it would be relatively safe to explore the big rock jetty. I had strong memories of searching for abalone shells with my cousin here when I was about 12 years old and I remembered being so excited when she found six-seven shells resting in a little cave of the jetty. My 11-year-old listened to my recollections and got excited to find his own abalone shells. We climbed all over those rocks and about half way down the jetty, and although we didn't find any of those shimmering shells, I loved the adventure with him.
Great Eats and Shopping

Kid friendly Morro Bay is one of the many beautiful little towns sprinkled along the rugged California coast. It often is covered in fog, as we experienced each day for the rest of the week we spent there in April. The town has a relaxed beach vibe with salt water taffy and candy shops tucked on the Embarcadero, along with fresh fish restaurants (like the Great American Fish Company where we devoured our mesquite grilled fish), and novelty shops. One of my favorites is the Shell Shop which has been a favorite place for me to go since I was a kid. My abalone-shell-hunter son loved it as much as I did for the great variety of shells and the bins filled with inexpensive shells he could buy with his small savings to display at home.
Hearst Castle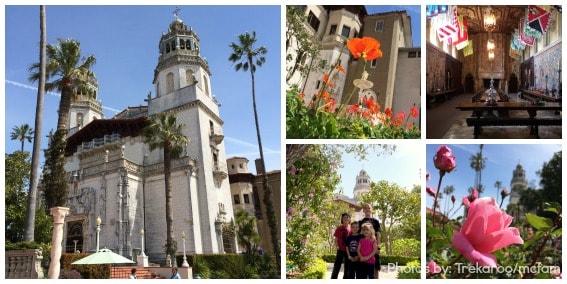 One of the biggest attractions on the California coast is Hearst Castle. Staying in Morro Bay was a good home base for us to take a day trip to see this modern day castle just 40 minutes north in the town of San Simeon. It was the first time that any of us, including my well-traveled parents, had ever taken a tour of the castle. We were struck with how Mr. Hearst had gathered pieces from all over the world (like a 500 year old fireplace and beautiful ceiling pieces) to put together in his mansion. We especially enjoyed walking through the grounds and gardens and soaking in the sun because we could see the coast below us shrouded in that almost ever-present marine layer.
Outdoor Adventures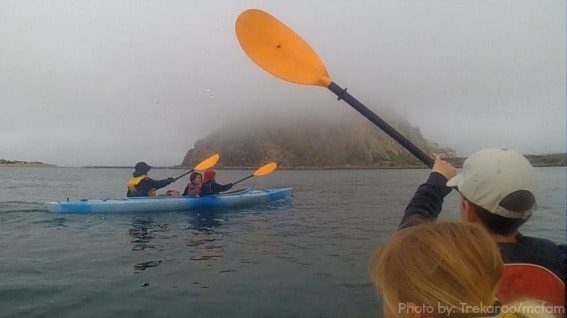 Our family loves to do outdoor activities that have an adventurous element to them and Morro Bay provided a lot of opportunities to get out and explore. We rented kayaks from Kayak Horizons and had a great time traversing the bay. We paddled down past the many fishing boats and found the sea otters floating on their backs, holding their paws together like they were praying. The sea lions bathed lazily on their floating docks but one started swimming behind us and it became a fun game to go as fast as he was. We docked on the sand spit almost directly across from Kayak Horizons and had a blast exploring the sand dunes. We took the marked path to the other side to see the ocean, aware that the path protected the nesting shore birds. We found a plethora of sand dollars and decided to keep a few for mementos. The kids played hide and seek on the dunes and I took the time to lie down on the soft sand and take a quick nap in the warm sun. We loved the dunes!
The next day we took a Tiki Boat Cruise which promised to take us to the "best kept secret of Morro Bay," which happened to be the sand dunes! We knew this secret first hand and we agreed that it is one of the best areas of Morro Bay to explore and enjoy. We giggled at the humor of the captain as he played the theme to "Gilligan's Island" and then as he told us some interesting stories of the history of the bay. It was a great one-hour cruise that thankfully didn't end like the crew from Gilligan's Island.
Wildlife Spotting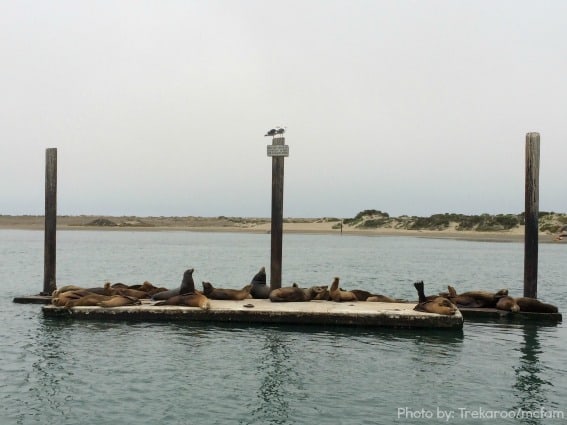 Many species of wildlife know how special Morro Bay is because they call it home. We stopped at the Museum of Natural History and enjoyed all the hands on displays that taught us about the wildlife and geology of the area. Outside, we watched the nesting herons and great shore birds in the cyprus trees next to the bay. Morro Bay State Park is a large section of estuary and mountainside that is great to explore. On the last morning of our visit, we hiked to the top of Black Hill. On a clear day we could have looked down on all of Morro Bay, but instead we looked into the face of the marine layer that nurtured the area in mist and cool temperatures that allows the wildlife to thrive. We'll have to hike that mountain again soon, on our next trip to beautiful Morro Bay.
We used our new Vivitar DVR 787HD Digital camera to take videos of our adventures in Morro Bay. It was perfect for our active family because the waterproof case kept the camera protected from the sand and water.
[youtube https://www.youtube.com/watch?v=oSmdpziTi0s?rel=0]
Disclosure: We were hosted by the Morro Bay Visitor Center And were given a complimentary dinner at Great American Fish Co., kayak rentals at Kayak Horizons and a Tiki Boat Cruise with Bay Cruisers for this story. We were given tour tickets to Hearst Castle by California State Parks. I was not asked to present a particular point of view and all experiences and opinions are my own.
Featured photo by: Michelle McCoy