The laid-back beach town of Morro Bay, CA is a great weekend getaway from the congested San Francisco Bay Area or Southern California. Loved by surfers and outdoor enthusiasts alike, there are many things to do in Morro Bay and the surrounding area!
Go kayaking in the Morro Bay Estuary. Peek in on the elephant seals in San Simeon. Let the sea otters delight you along the Embarcadero, Morro Bay's main drag. Go hiking in Morro Bay State Park or whale watching on the bay.
Once you've worked up a hunger from all of that physical activity and oneness with nature, Morro Bay has quite a few fine restaurants to choose from. Known for its amazing seafood, many establishments even have their own unique take on clam chowder. Here is the full scoop on what to do in Morro Bay.
Explore more of the state! Here are the best things to do in California with kids.
Things to do in Morro Bay
1.

Snap a Selfie with The Rock
No, not Dwayne "The Rock" Johnson, we're talking Morro Rock! This massive volcanic remnant stands at the mouth of Morro Bay and is the dominant geological feature of the area.
One of the easiest things to do in Morro Bay is snap a selfie with it. At approximately 576 feet tall, the rock can be seen from miles away. Morro Rock Beach and Anchor Memorial Park both provide great photographic perspectives of it.
You can get close to Morro Rock if you wish. Visitors can drive directly to its base to get a great feel for its massiveness. Not only is Morro Rock a California Registered Landmark, but it's also a designated bird sanctuary.
2.

Try Surfing or Stand-Up Paddleboarding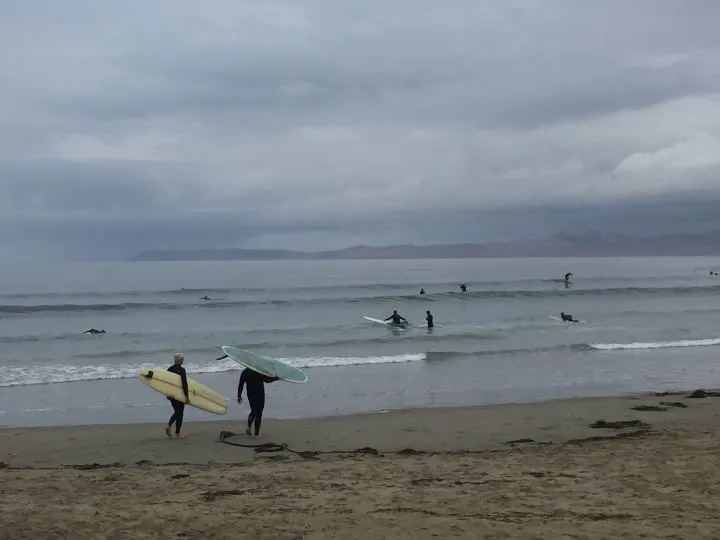 Catching a wave or mastering stand-up paddleboarding (SUP) are great things to do in Morro Bay! Beginner to intermediate surfers will find great beach break waves from Morro Bay right in the shadow of the Rock.
Trying SUP for the first time? For dependably calm waters, head to Coleman Beach or as the locals call it, "Mother's Beach," due to its popularity with moms and kids.
3.

Get Outdoorsy in Morro Bay State Park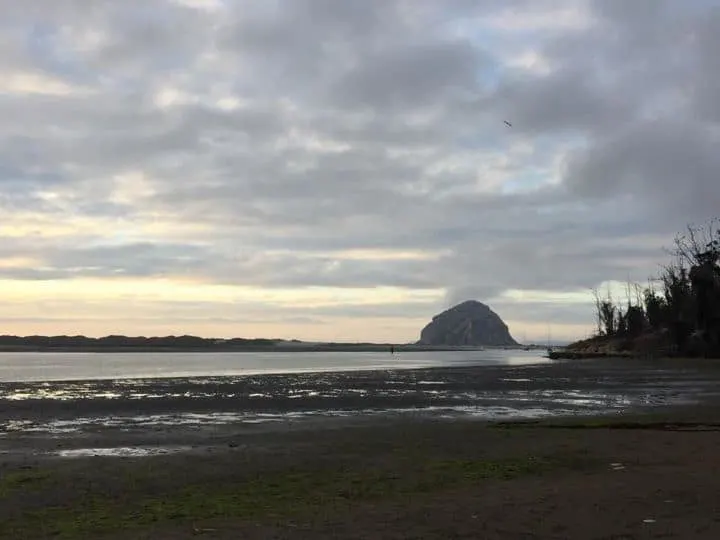 Among the popular things to do in Morro Bay are, hiking, birdwatching, mountain biking, and renting a canoe or kayak. Morro Bay State Park goes all-in on these outdoorsy offerings.
It also home to a volcanic remnant visitors can hike on. Black Hill is a 661-foot volcanic peak that can be reached by hiking 0.6 miles round trip. It offers an elevation gain of 190 feet. The reward is sweeping views of the city of Morro Bay from the top.
This state park includes an 18-hole golf course with gorgeous views of the bay. The park's Museum of Natural History also provides a great overview of the wildlife and geology in the area with lots of hands-on displays.
Just when you thought you'd heard about all of the treasures this place has to offer, I can tell you that the sunset is from this park is amazing!
4.

Kayak the Morro Bay National Estuary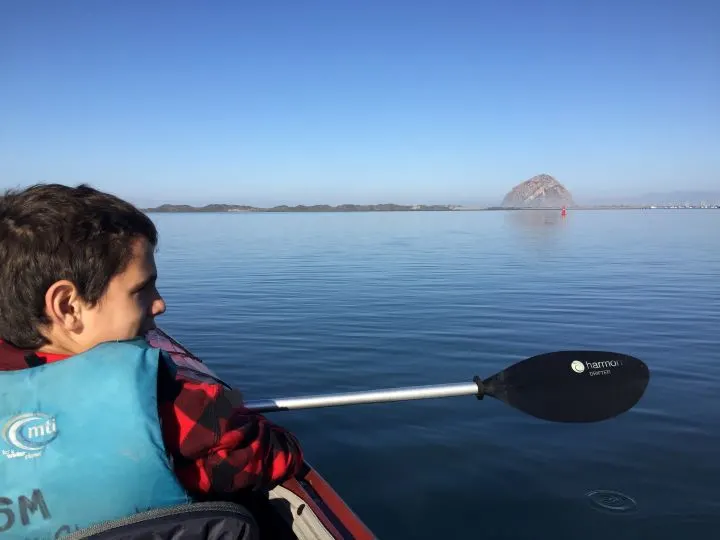 A federally protected wildlife haven, Morro Bay National Estuary encompasses 2,300 acres right where freshwater meets the sea. Kayak tours are one of the most epic things to do in Morro Bay. They're a great way to explore this area and get a look at its inhabitants.
Central Coast Outdoors offers half-day tours that will expose your family to lessons about bird and plant life. Don't be surprised if you see herons, harbor seals, and otters near your kayak. The tour includes a stop on the estuary's pristine sand dunes, an area that was once the fishing grounds of the Chumash people.
5.

Set the Family Loose on the Morro Bay Bike Park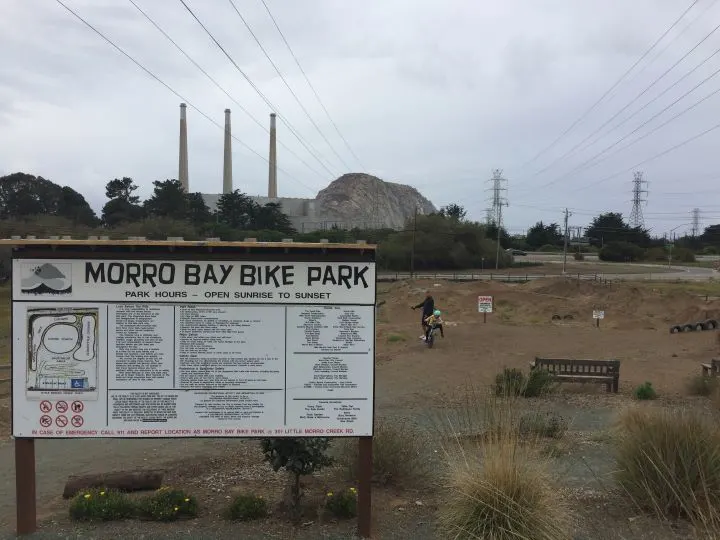 Not all of the best things to do in Morro Bay occur on the water. Hit the hills at the Morro Bay Bike Park. Built and maintained by riders and volunteers, this BMX-style bike park is designed for all ages and skill levels.
The pump track and dirt jumps are well developed and maintained. The free facility is a half-acre of dirt hills to charge and tons of fun to be had. The park is visible from Highway 1 near the Main Street exit.
6. Break in a Mountain Bike or Hike at Montaña de Oro State Park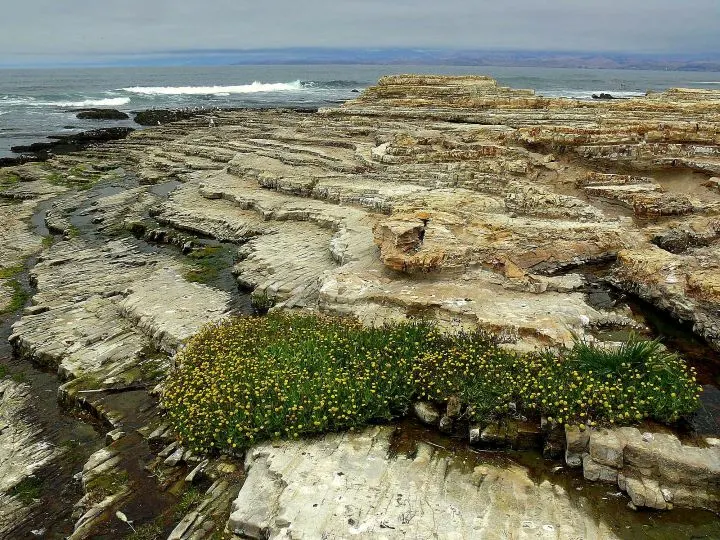 A mountain biker and hiker paradise, Montana de Oro State Park offers one of the most picturesque things to do in Morro Bay.
The park features more than 8,000 acres of breathtaking scenery that includes rugged cliffs, secluded sandy beaches, and well-maintained trails. Keep in mind that bikers and hikers share trails, it would be a good idea to outfit your bell with a bike.
The park's name translates to "Mountain of Gold." It's referred to as such because of all the golden wildflowers that bloom in the spring.
It's best-known beach is Spooner's Cove, a gorgeous stretch of coastline with easy accessibility for families and spectacular sunsets.
Care to spend the night? Montana de Oro State Park has both environmental and equestrian campsites. Be sure to visit the old Spooner Ranch House! Built in 1892, it is part museum, gift shop, and park general store. It is also a great place to learn about the rich history of the Central Coast.
7. Explore Morro Bay's Main Drag
The town's main drag, the Embarcadero, offers a colorful collection of things to do in Morro Bay. Unique shops and fun experiences abound throughout the entire area.
Hit up the Morro Bay Farmer's Market. Load up on saltwater taffy at Carousel Taffy. Purchase trinket boxes, sailboats, wreaths, lamps, and anything else you could imagine covered with shells at the Shell Shop.
Go antiquing or fall in love with the stylish potential of your yard at the Garden Gallery. There are all sorts of surprises waiting for you on Morro Bay's Embarcadero.
8. Rent a Surrey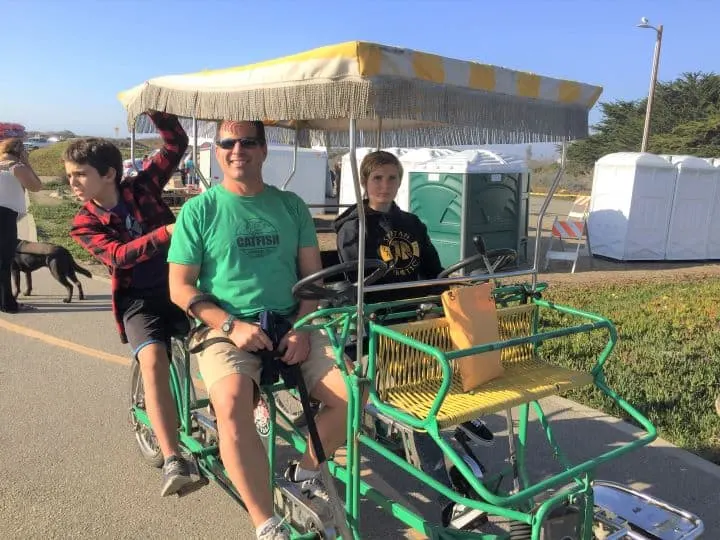 Test your family's teamwork capabilities by renting a surrey at Farmer's Kites and Surreys. Picture this: your family on a surrey, laughing, working together to power it while the ocean breeze works its way through your hair and the scenery of the Morro Bay Marina passes by.
The learning experience that came from renting a surrey was one of the most surprising things to do in Morro Bay . Your family may even decide to add the layer of fun that ours enjoyed- we belted out a round of, "Surrey with the Fringe on Top." Yes, the song from Oklahoma!
We set off toward Coleman Park, home of Morro Bay's most famous landmark, Morro Rock. The park has a fantastic matrix of well-maintained bike paths that are easy to steer a surrey through. Along the way, cyclists and walkers stopped and took note of our surrey ride, perhaps thinking that they ought to rent a surrey too.
When you return your vehicle, take a moment to check out Farmer's Kites and Surreys. The place is chock full of colorful kites and other merchandise. So pick up a couple of kites and head back to the beach at Coleman Park and let 'em fly!
9. Visit the Elfin Forest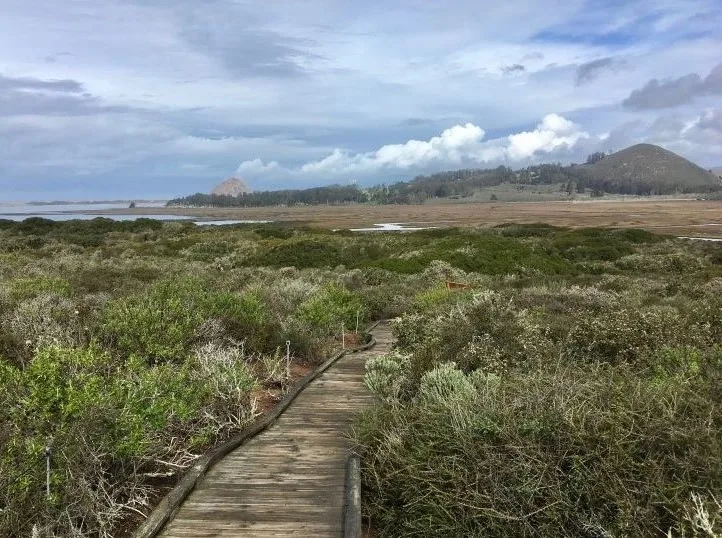 One of the most unique things to do in Morro Bay is to visit the Elfin Forest. Named for its pygmy trees, the entire forest is full of California Live Oaks that grow to only 4 to 20 feet in height. Elsewhere in the state, you'll find California Oaks that stand up to 50 feet tall.
Imagine feeling like a giant as you walk through this grove! Coastal brackish marsh, maritime chaparral, coastal dune scrub, riparian woodland fringe, and manzanitas also grow among the oaks.
Skirting the Morro Bay Estuary, the Elfin Forest is also home to over 200 plant species, 110 bird species, 22 mammal species, and 13 reptile and amphibian species. It boasts a number of insect species, including a whopping 23 species of moths and butterflies.
The easiest way to visit is via the boardwalk loop. At just under one mile, it provides access for all ages and abilities. The boardwalk starts and stops beside the parking area at the 16th street access point.
10. Go Whale Watching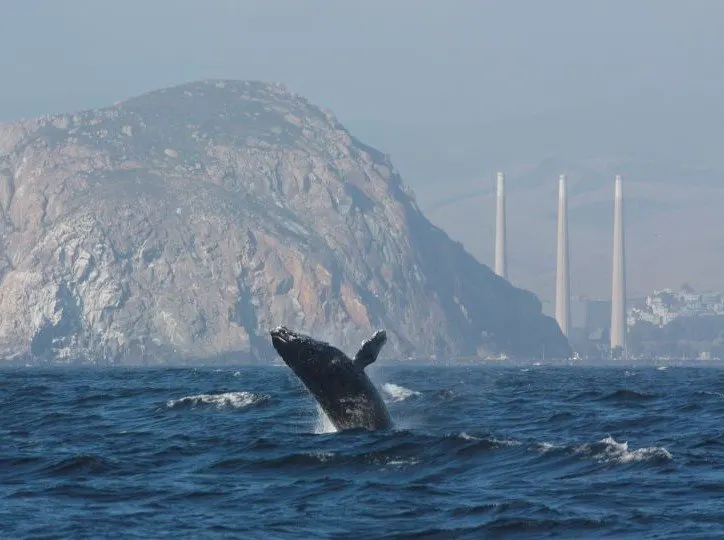 Whale watching is one of the most spectacular things to do in Morro Bay. Some species of this majestic mammal can be spotted along the Central Coast year-round.
California Gray whales are usually common from mid-December through April. Blue Whales can be seen from April into the summer. The Humpback whales arrive around April or May and stay through November. Orcas are seen throughout the year.
Morro Bay beaches offer plenty of incredible vantage points for spotting the massive animals. The bluffs overlooking Morro Strand State Beach and Estero Bay offer panoramic ocean views that include breeching and feeding whales.
A whale watching tour is the best way to experience these giants. Outfits like Sub Sea Tours, Virgs Landing, and Lost Isle Adventure depart from the Embarcadero daily.
Where to Eat in Morro Bay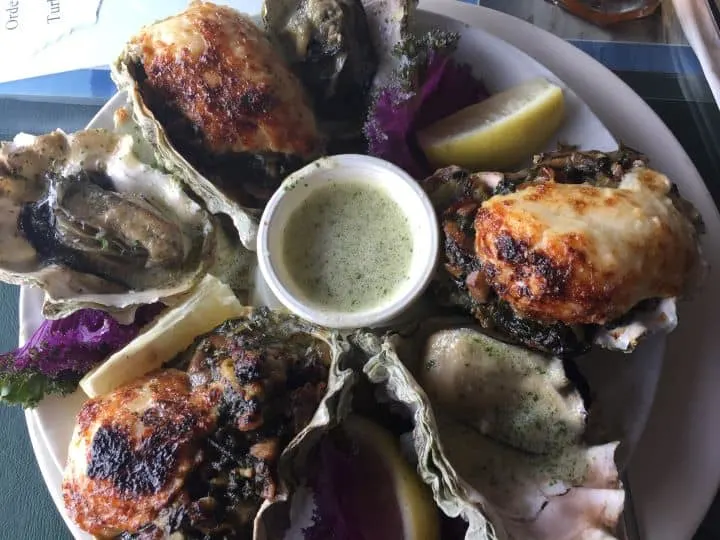 You can't go wrong with seafood when dining out in Morro Bay! This is a fishing town which means tonight's special is fresh! It also seems that every eatery has its own spin on Clam Chowder.
The recipe at Dutchman's Seafood House includes real butter and bacon. The chowder at Dorn's Original Breakers Café is based on an award-winning 70-year-old family recipe. The Bayside Café in Morro Bay State Park serves California Chowder which includes green chili peppers.
Clam chowder is also on the menu at Tognazzini's Dockside but oysters are their specialty. Served fried, Casino, Rockefeller, or raw with cocktail sauce and horseradish — it's impossible to choose just one type!
Where to Stay in Morro Bay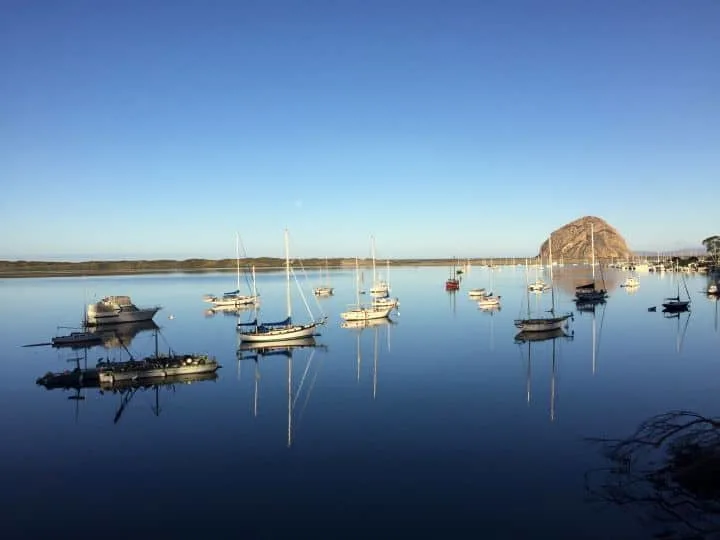 Located inside Morro Bay State Park, the Inn at Morro Bay is a peaceful and tranquil spot that is very hard to leave. It's tucked away from the town's main drag which means you're in for a quiet stay contending mainly with dog lovers, golf players, and those headed to the marina for some fun on the water.
Day Trips from Morro Bay
Cambria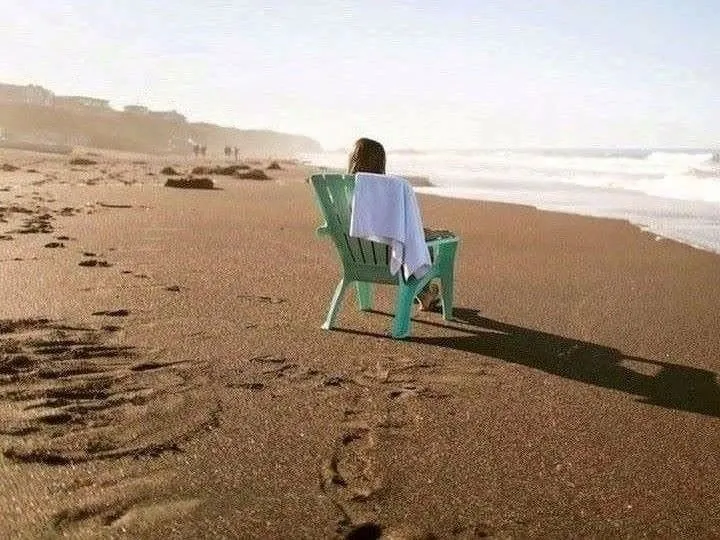 Look for sea otters, whales and other sea life while hiking the Moonstone Beach Boardwalk. Go tide pooling. Take in Nitt Witt Ridge, the kitschy landmark often referred to as, "the Poor Man's Hearst Castle." Once you've worked up an appetite with all this outdoor fun, stop by Linn's for a slice of their famous Olallieberry Pie.
Hearst Castle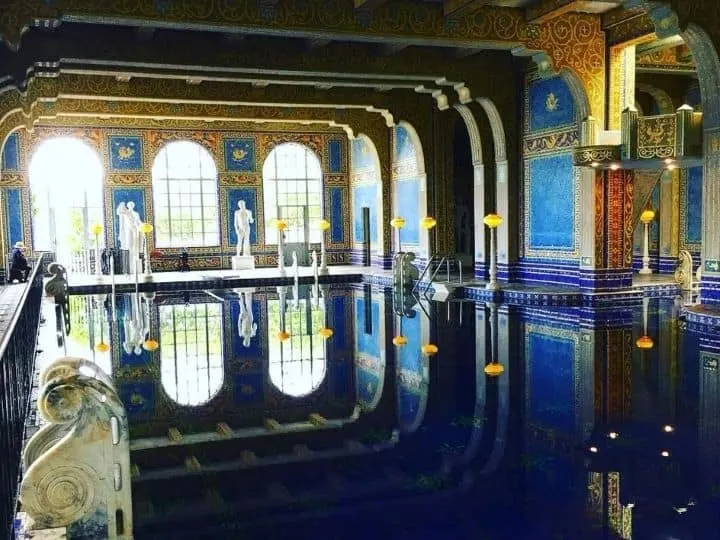 Perched above the tiny village of San Simeon, Hearst Castle is the fabulous hilltop estate that was once home to publishing magnate William Randolph Hearst.
Architecture and art lovers, history buffs, and fans of Hollywood lore will all find something to love here. Kids will love that the dining room was used as the model for the one in Harry Potter.
Piedras Blancas Elephant Seal Rookery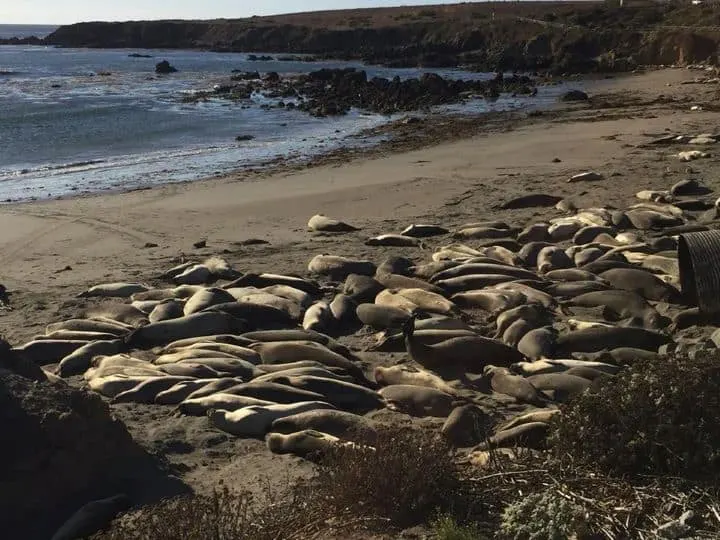 At first blush, it will seem that you stumbled onto something that appears to be an Elephant Seal slumber party. The observation platform at Piedras Blancas Elephant Seal Rookery actually provides the closest and safest free-of-charge peek into the habits and hierarchy of the area's Elephant Seal population. They are endlessly entertaining to watch.
Special thanks to Michelle McCoy who wrote the original version of this article.
Feature image by Kristine Dworkin