A Hawaii vacation is always one of my favorite vacations. Oahu is the most visited of all the Hawaiian Islands and families will be thrilled to discover there are so many fun things to do in Oahu with kids!
I was born on Oahu and my dad grew up on the island, so it will always have a special place in my heart. I love that the island has something for everyone, from urban adventures to lush, lonely beaches. Learn to surf at Waikiki, visit Pearl Harbor, and fall in love with the aloha spirit as you explore this beautiful place.
Here are my favorite things to do in Oahu on a family vacation, along with some dining recommendations and tips on where to stay.
30+ Fun Things to do in Oahu with Kids
Pay Your Respects Pearl Harbor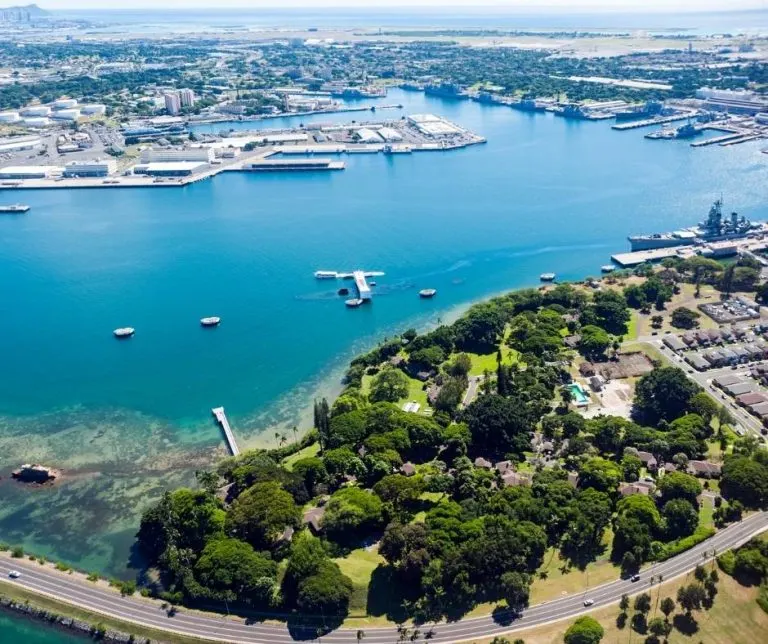 Of all the things to do in Oahu with kids, I think visiting Pearl Harbor is the most important. Pearl Harbor is the sight of the surprise aerial attack by the Japanese army which killed 2,403 people and led to the United States joining the fight in World War II.
Pearl Harbor National Memorial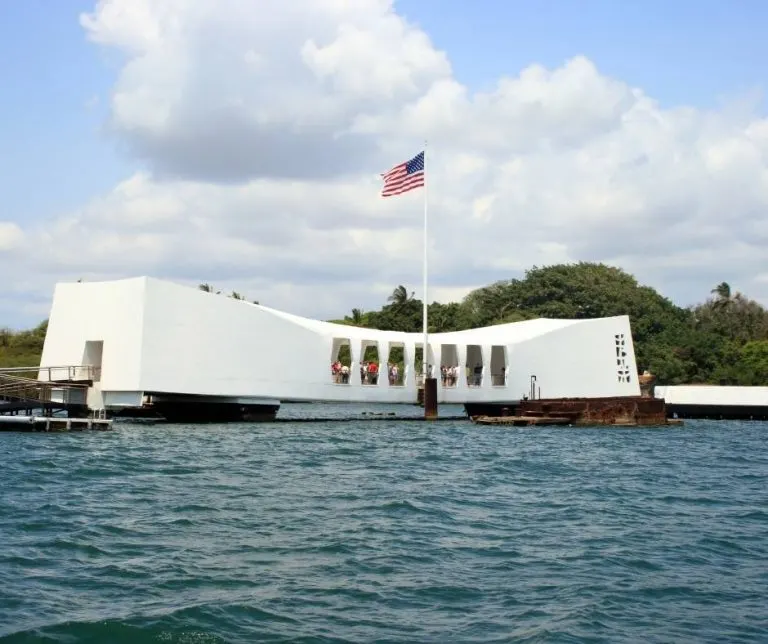 There are a few different spots at Pearl Harbor that you won't want to miss. The first is the Pearl Harbor National Memorial, home to the USS Arizona which sits sunken in the harbor, entombing fallen soldiers and still leaking oil from that attack 80 years ago.
You do need a reservation to take the short boat ride out to the USS Arizona, but it is only $1 per ticket. The ride to and from the dock to the memorial, as well as time allowed at the memorial, will take about 45 minutes.
The Pearl Harbor Memorial also has a nice museum which does a good job of explaining the history leading up to the bombing, what happened that day, and the ramificiations of the aerial attack. The museum and grounds are free to enter.
Trekaroo Tip: Only clear plastic stadium bags are allowed at Pearl Harbor. If you do have a regular purse or backpack, you will have to store it in a provided locker for a fee. None of the other Pearl Harbor sites allow bags due to security reasons.
USS Battleship Missouri Memorial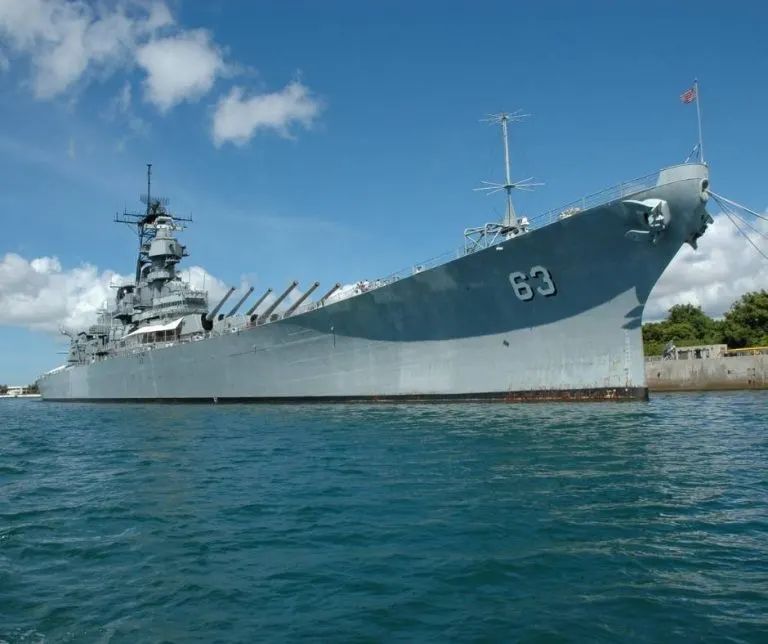 What better way to immerse your family in our nation's military history than to set foot on a ship that was deployed in multiple wars in the 20th century?
Admission to the Battleship Missouri includes a 35-minute guided tour, or simply explore the ship at your own pace. There are informational signs around the ship to help you learn about its history.
Pacific Fleet Submarine Museum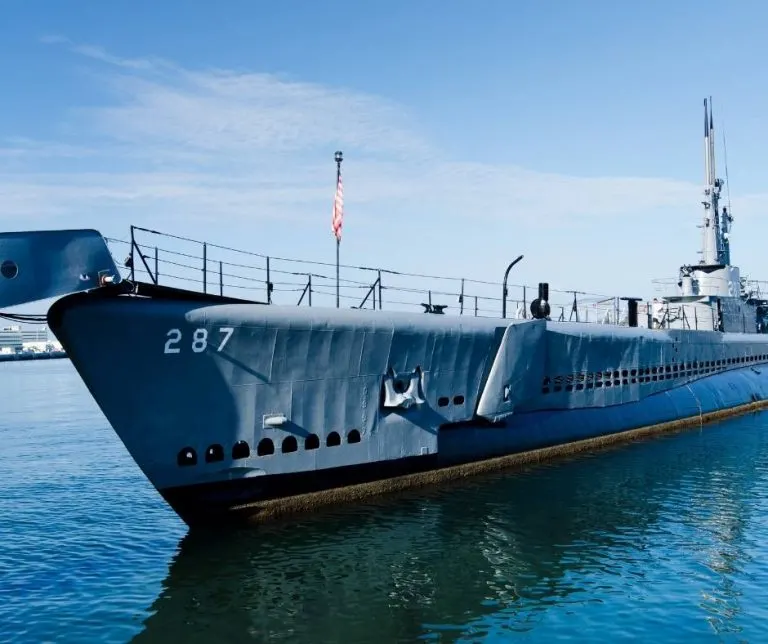 If you have never been aboard a submarine, you definitely won't want to miss the Pacific Fleet Submarine Museum. This museum is home to the USS Bowfin, a World War II submarine, as well as some outdoor exhibits.
To appreciate the true sacrifices that our Navy sailors have made for our country, explore the submarine and try to imagine living in these tight quarters for months at a time! Audio guides are included with your museum admission.
Take time to walk the outdoor memorial which highlights several submarines and the circumstances surrounding their demise. The stories are heartbreaking and fascinating at the same time.
Pearl Harbor Aviation Museum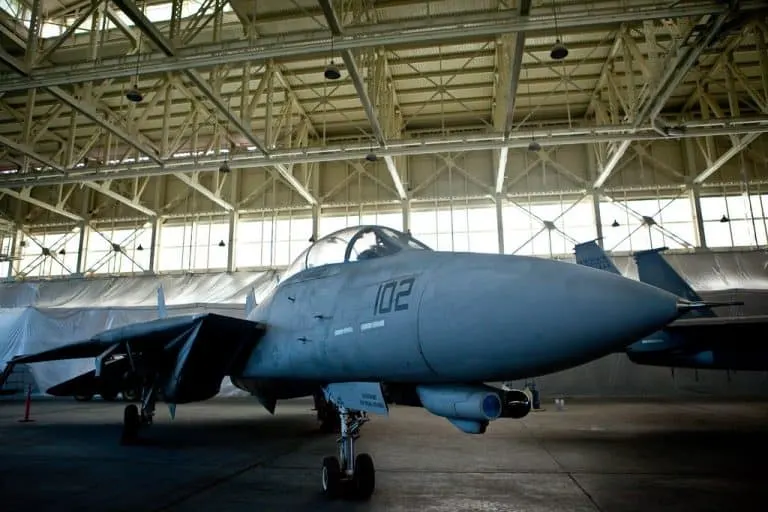 If you have airplane enthusiasts in your group then you won't want to end your time at Pearl Harbor without a stop at the Pearl Harbor Aviation Museum.
This museum has two hangars filled with dozens of aircraft from World War II. Your visit begins with a short movie about December 7, 1941 and includes several exhibits which show what life was like in Hawaii at the time and events that transpired that day.
In between the two hangars is the Raytheon Pavilion which is home to STEM exhibits geared towards children as well as lots of hands on activities.
Take Surf Lessons at the Most Famous Beach in the World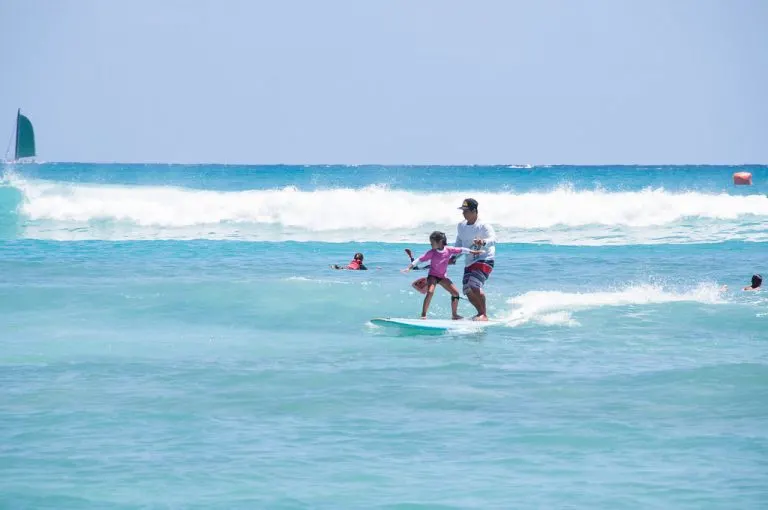 Is there anything more "bucket list Hawaii" than learning to surf at Waikiki Beach?
Surfing originated in Hawaii, and the most famous surfer of all time who is largely credited with bringing surfing to the mainstream, Duke Kahanamoku, is memorialized with a famous sculpture right next to the most popular stretch of water for learning to surf in all of Waikiki.
There are several outfitters with stands right next to the beach that will guarantee your kiddos will be standing on that longboard before their lesson is over. If they can swim, they can surf. And the gentle-but-long break in Waikiki is truly the perfect place to learn.
Once you have figured out how to stand up on the board, there are plenty of places that will rent boards so you can keep practicing. These stands also have stand-up paddleboards which are lots of fun and easy to use. Hourly and daily rates are available.
See Where Your Favorite Movies Were Made & Have an Adventure at Kualoa Ranch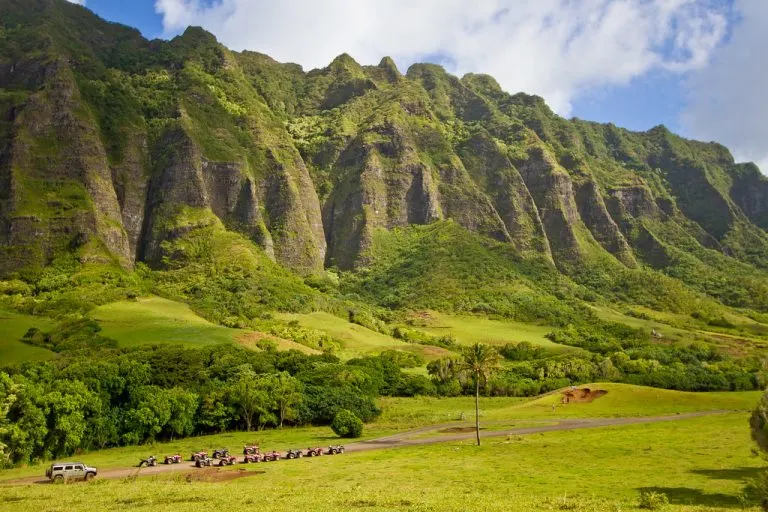 If you are a fan of movies or adventure, then spending a day at Kualoa Ranch will surely be one of your favorite things you do in Oahu. There are several different tours and activities available, so it possible to spend a couple different days tackling all the adventures.
The Kualoa Ranch Movie Sites Tour takes guests to the filming locations of classics such a Pearl Harbor, 50 First Dates, and Jurassic Park. Over 70 movies and tv shows – from LOST to Elvis classics- have been filmed at the Ranch.
The Jurassic Valley Zipline Tour (must be 4'8″ and at least 70lbs) takes thrill seekers on a 14-cable adventure, with the stunning scenery you will remember from the Jurassic Park movies all around you.
There are also e-bike tours, ATV tours, horseback riding tours, and even a Secret Beach tour which leads you to a beach where kayaks, paddle boards, canoes, catamarans, and a glass bottom boat are awaiting.
Basically there is a tour for nearly every ability and adventure-seeking level out there. Many tours can be combined into packages well.
Here is everything you need to know about spending the day on Kualoa Ranch on Oahu.
Book your Kualoa Ranch tour on TripAdvisor.
Visit the Byodo-In Temple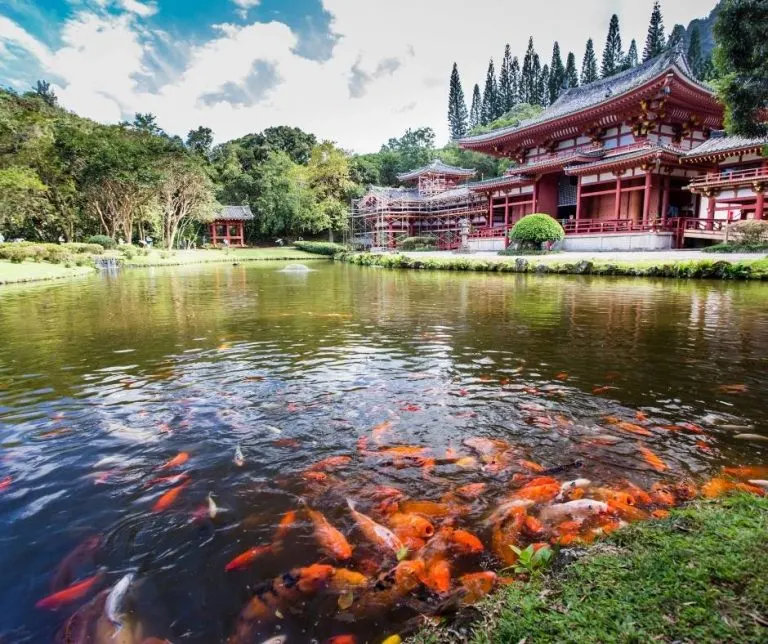 Japanese culture has been an important part on Oahu life since the first Japanese immigrants arrived in the kingdom of Hawaii to work on sugar cane plantations in the 1800s..
In 1968, to celebrate the 100th anniversary of Japanese immgrants living on the island, the Byodo-In Temple was built. It is a smaller version of the 950-year-old United Nations World Heritage Site in Uji, Japan.
The scenery is spectacular, making this a wonderful place to take family photos. Kids will love the hundreds of koi in the temple's ponds and the wild peacocks that like to strut their stuff in the area.
Capture incredible memories of your Hawaiian family vacation with Flytographer. Flytographer has a network of incredible professional photographers ready to come to you and help your family create the ultimate souvenir of your special trip. Trekaroo is proud to be a Flytographer customer and affiliate.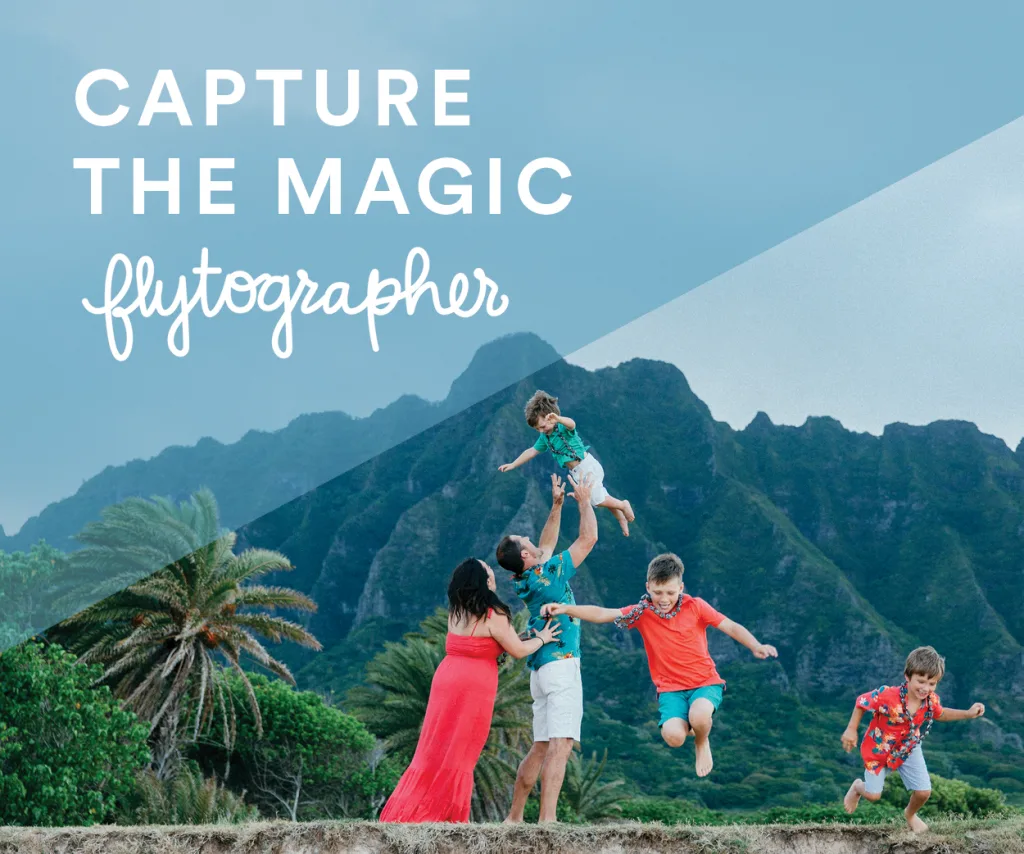 Learn About Hawaii's History at the Bishop Museum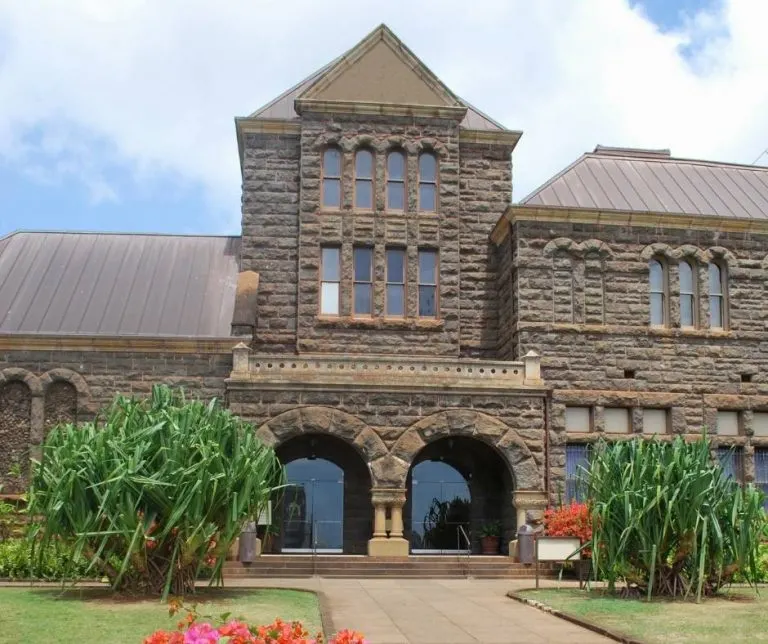 On one of my solo trips to Oahu, I spent hours exploring every nook and cranny of the Bishop Museum. While most kids won't put up with four hours of reading museum displays, they will still get quite a bit out of a short visit to this special place.
Kids will especially enjoy the Planetarium, checking out the Hot Spot Rock Children's Lava Show, making their way through the glow-in-the-dark Hawaiian Origins Tunnel, watching the museum's erupting volcano, and learning about Hawaiian culture with hands-on activities in Pacific Hall.
Check Out the Views from Atop Diamond Head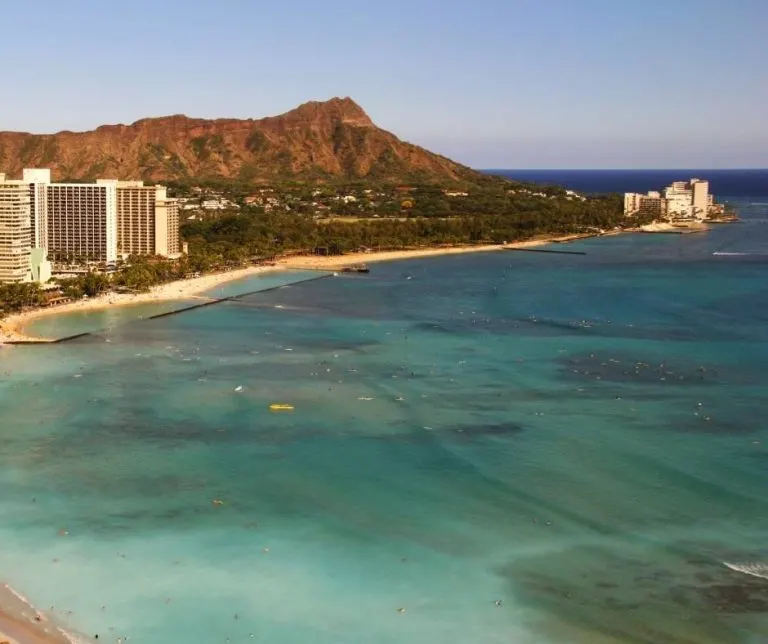 Those staying in Waikiki can't help but notice Diamond Head, a 300,000-year-old remnant of an ancient volcano that hugs the island's southeastern coast just beyond the resort area.
The hike to the top of Diamond Head is easily the most popular hike in Oahu. The 0.8 mile trail to the top involves some switchbacks up the side of the mountain, 170 steep stairs, a tunnel, and some of the best views of Waikiki around from the lookouts and bunkers at the top.
This is a very hot and dry portion of the island, so we suggest trying to do this hike in the morning. The state park does close by 4pm, so sunset hikes are not possible.
After all that huffing and puffing you can reward the kids with ice cream, a smoothie, or even a drink served in a pineapple from the Honolulu Pineapple Company truck near the trailhead.
Beginning May 12, 2022, out-of-state visitors must make advanced reservations online in order to visit Diamon Head State Monument. Reservations can be made 14 days in advance and will surely sell out.
You will be given a one hour entry window if you are paying for your reservation only. If you are parking, you will be given a two-hour time slot. If parking, you must arrive within the first 30 minutes of your time slot. Entry time slots begin with the 6-8am time slot and end with the 4-6pm time slot.
Hike to Manoa Falls and Visit the Lyon Arboretum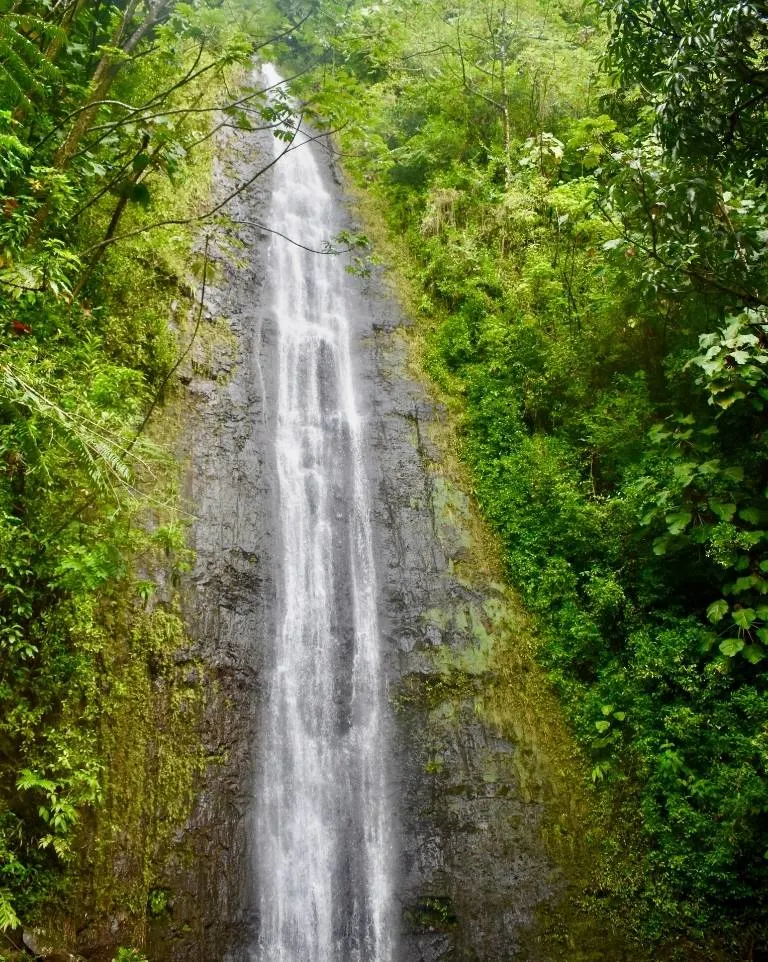 Oahu is such an interesting place to visit because the climate can vary so widely on such a relatively small island. While Waikiki is almost always sunny, just six miles down the road in Manoa, things are lush and often rainy.
The hike to Manoa Falls is one of my favorites on the island. It is easy to reach the 150-foot waterfall via a 1.6-mile (round trip) trail through the rainforest to the falls.
The trail is typically wet and and can be muddy in some spots, but recent trail improvements have reduced the mud factor by quite a bit. The scenery along the way is just as special as the waterfall. Expect to see lots of guava, ginger, sprawling banyan trees, and plenty of towering bamboo stalks.
Before or after your hike to Manoa Falls, make time to visit the Lyon Arboretum which is a 200-acre arboretum and botanical garden managed by the University of Hawaii. Admission is free but donations are encouraged.
There are several trails winding through the arboretum, which is home to 6,000 varieties of tropical and sub-tropical plants. It is a lush and beautiful place to enjoy.
Admire the Views at the Makapuu Lighthouse Trail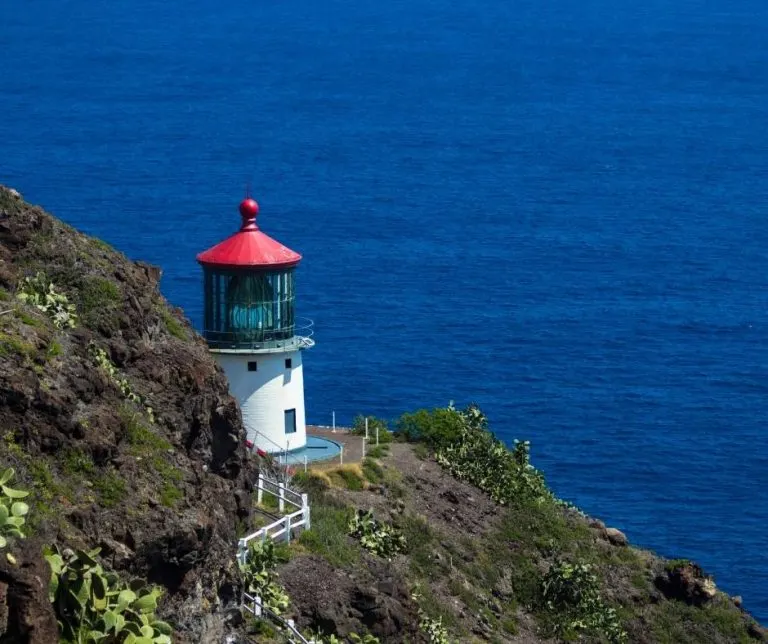 Just outside of Hawaii Kai is a wonderful hike for families to a viewpoint where you can see the Makapuu Lighthouse, the Windward Oahu Coast, Koko Head, and even whales!
The paved Makapuu Lighthouse Trail gains 500 feet in 1.25 miles and has 360-degree views from the top. In addition to great views of the historic, red-roofed Makapuu Lighthouse which was built in 1909, you often can spot hang gliders soaring in the currents, especially close to sunset.
There is a viewpoint with whale placards, and this is a great place to see whales out in the water during the winter. You can also see the islands of Maui, Lanai, and Molokai on clear days.
If you are feeling adventurous, take the spur trail from this viewpoint down a steep trail to some tide pools below.
This should only be attempted by active families with proper footwear, as the trail is steep and has loose rocks in spots. Never enter the tide pool area if waves are crashing into the tide pools or atop the surrounding rocks.
Check Out What's Below the Surface and Go Snorkeling
Oahu's warm ocean waters are irresistable, whether you are splashing in the waves or floating in an inner tube by the shore. But there is so much to see just below the surface!
Hanauma Bay State Park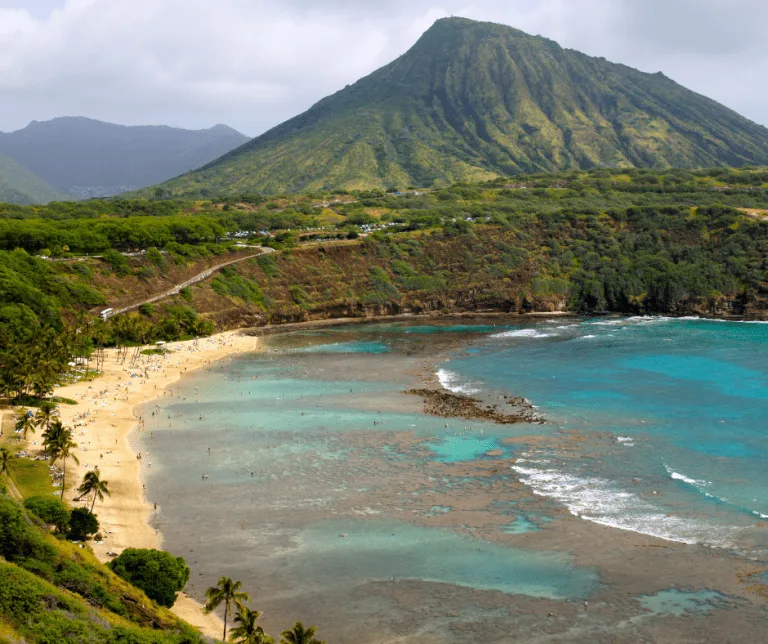 Families who want to go snorkeling close to Waikiki should head to Hanauma Bay State Park. This spot is so well known for its great snorkeling, that many protections have been put in place to protect the reef and limit usage.
Hanauma Bay is closed Mondays and Tuesdays so that the fish and reef have two full days of rest each week. You must make reservations to enter Hanauma Bay and watch an orientation video before heading down the hill to the bay. Only 1400 guests per day may enter the park.
Adults pay $25 to enter the park while children under 12, active duty military, and locals are free. There is a place to rent snorkels if you don't have your own, as well as a snack bar where you can purchase food. You are also welcome to bring in your own food and drinks in a small cooler.
Turtle Canyon
Another popoular place to go snorkeling is Turtle Canyon. Catamarans depart from the Waikiki area and take snorkelers out to a spot where turtles are known to hang out. As a matter of fact, turtle sightings are guaranteed!
You are also going to see a variety of tropical fish as you snorkel, and maybe even dolphins! Drinks and snorkel gear are included are your catamaran cruise to see the turtles.
There are also tours where you can kayak to Turtle Canyon and snorkel from right off your kayak!
Sharks Cove and Kuilima Cove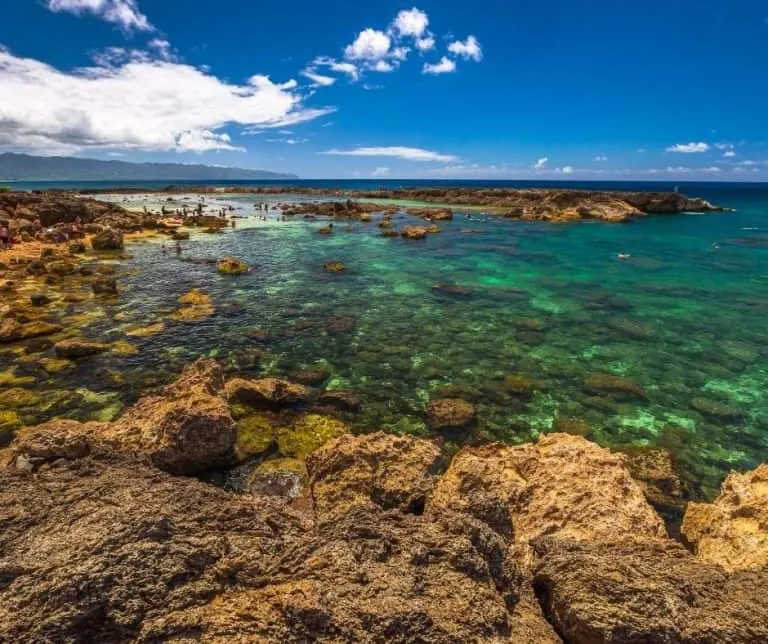 Over on the North Shore, Sharks Cove and Kuilima Cove are two great spots for snorkeling.
Sharks Cove is only good for snorkeling in the summer because during the winter, the North Shore is known for its big surf. But during the warm season, it is one of my favorite places for snorkeling on the island, especially with older kids who want to venture into some of the deeper water to see bigger fish.
Kuilima Cove is basically the beach that Turtle Bay Resort uses, but all beaches are open to the public in Hawaii. There is great year-round snorkeling close to shore, and a nice beach to enjoy as welll.
Have a Beach Day on the Windward Coast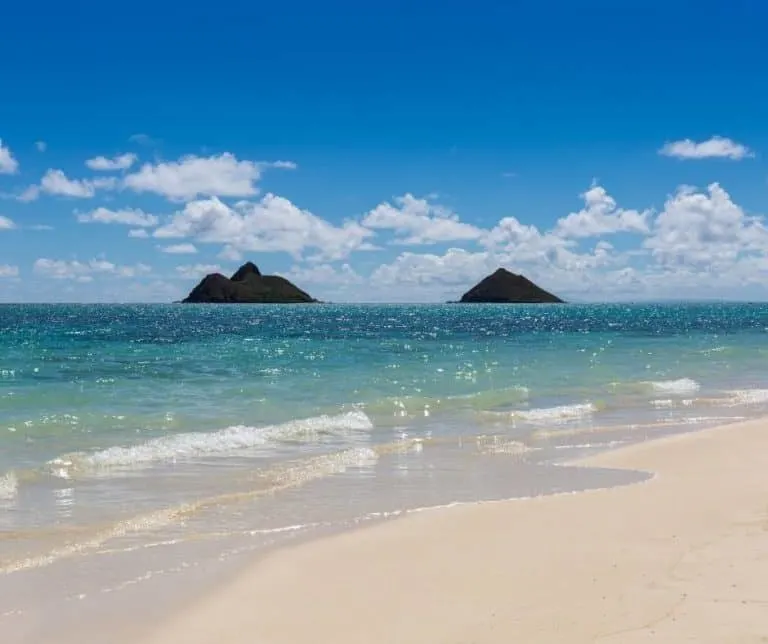 If you want to have a beach day at some of the most beautiful and family-friendly beaches on the planet, head to Kailua Town and spend the afternoon at either Kailua Beach or Lanikai Beach.
My dad and his siblings had the privilege of growing up in Kailua, and spent most of their Sunday afternoons picnicking on Kailua Beach after church. I can't imagine a better place for a picnic.
Kailua Beach Park is 2.5 miles of white sand and turquoise waters. There is lots of parking available, bathrooms, showers, and even shade trees in spots. Stop in at Kalapawai Market, which is a block from the water, and grab food and drinks for your perfect afternoon on the sand.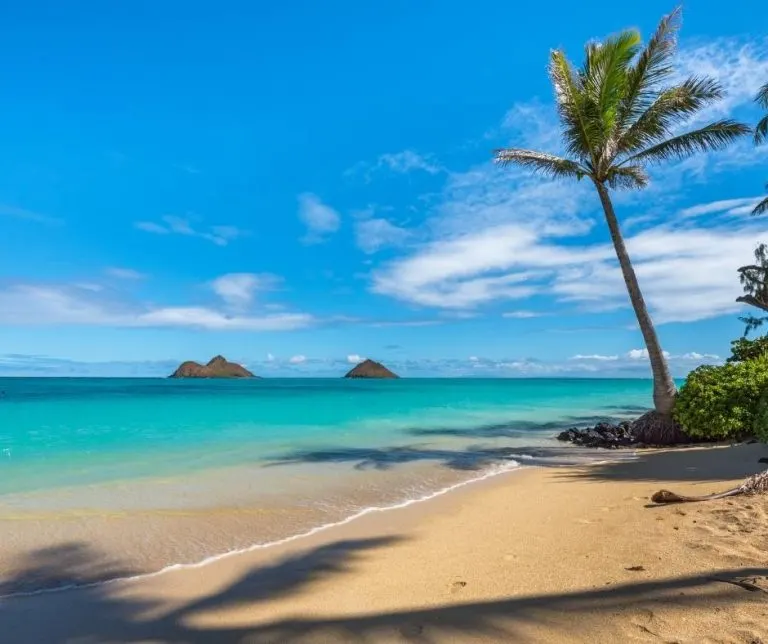 Though it is hard to imagine, Lanikai Beach may be even more beautiful than Kailua Beach. It doesn't have all the amenities that Kailua Beach has, not does it have as much actual beach, but it is simply stunning.
The water at Lanikai is almost always calm and quite shallow, making it a great option for families with young children. Older kids might want to rent kayaks and paddle out to the Mokulua Islands off the shore. In my dreams, I live in one of the houses on Lanikai Beach.
Note: you will need a rental car to visit this portion of the island. Avoid a vacation nightmare and first read this guide to renting a car in Hawaii before you book.
Here are our picks for the best beaches in Oahu for families.
Visit a Blowhole and Watch the Experts Body Surf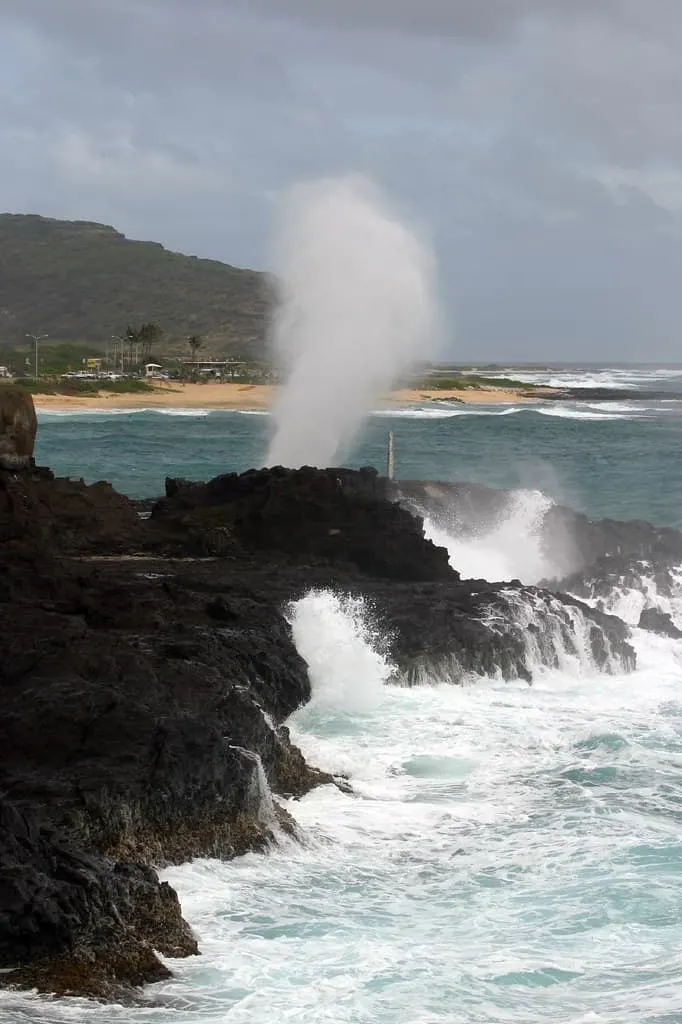 The Halona Blowhole is a good place to stop and enjoy the scenery while on your way to Kailua, the Makapuu Lighthouse, Sea Life Park, or some of the other attractions on the southeastern side of the island.
This is not a place to go swimming. The waters here are quite rough, which is part of the reason that the blowhole exists. The blowhole is created by water rushing through lava tubes with great force.
The stronger the current, which typically happens during the winter months, the bigger the waves and the higher the blowhole shoots water into the air.
After spending a few minutes watching the blowhole, stop by Halona Beach Cove which sits below the blow hole. It was made famous by the 1953 film, From Here to Eternity, starring Burt Lancaster and Deborah Kerr.
Then, head to Sandy Beach Park next door. It is popular place for local body boarder and boogey boarders to do their thing.
I highly suggest that you watch the show instead of attempting to go out into the water yourself. The current is very strong and you will notice that most of the swimmers are wearing fins to combat the strong pull.
Pack sand toys to keep the kids occupied if they aren't interested in the body surfers. Or simply stay a few minutes and then continue on your way along the coast. There is usually plenty of parking.
Hang Out with the Dolphins at Sea Life Park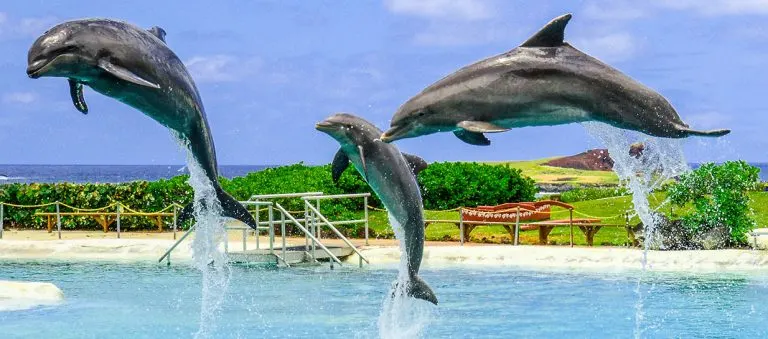 Sea Life Park is basically the Oahu version of SeaWorld. There are sea mammals such as sea lions, seals, dolphins, and even wolphins, as well as lots of fish, sea turtles, and even penguins.
There are also a couple different encounters that families might be interested. One of them is the Hawaiian Reef Encounter where visitors can snorkel alongside sharks and rays. Kids as young as four can join in on the fun.
Another is a new Sea Lion Encounter which allows kids to get face to face with these hysterical puppies of the sea.
The most popular encounter is the Dolphin Encounter where kids (and adults) can get in the water with the dolphins. They get to touch and interact with the dolphins, and even work on a little animal training. Encounters are avaiable for kids as young as three, and deep water enounters are available for kids as young as eight.
Attend a Luau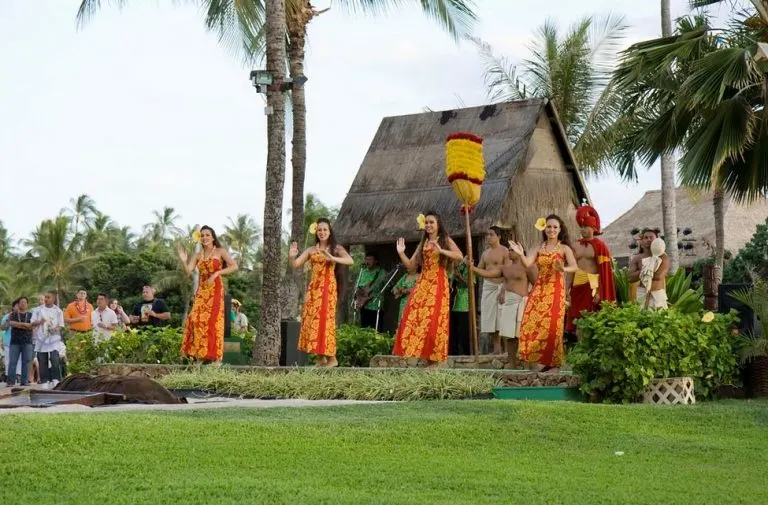 One of the classic experiences when visiting Hawaii, especially for the first time, is attending a luau. While it is true that luau's are more geared towards tourists, they are still really fun.
Families can sample a variety of traditional luau foods like Kalua pig, macaroni salad, haupia, and poi, plus there are plenty of fun drinks like mai tais or pina coladas for mom and dad. And, there is always a great show with music and dancing.
Paradise Cove Luau in Ko'Olina is widely regarded as the best luau on the island. It is conveniently located near several resort hotels.
The Alii Luau at the Polynesian Cultural Center is another highlly regarded luau with plenty of great food and lots of wonderful performances.
If you are looking for a luau in Waikiki, head to the famed Royal Hawaiian Hotel. This pink hotel has been a fixture of Waikiki for decades and has the only beachfront luau on the Waikiki strip.
Spend Some Time at Honolulu Zoo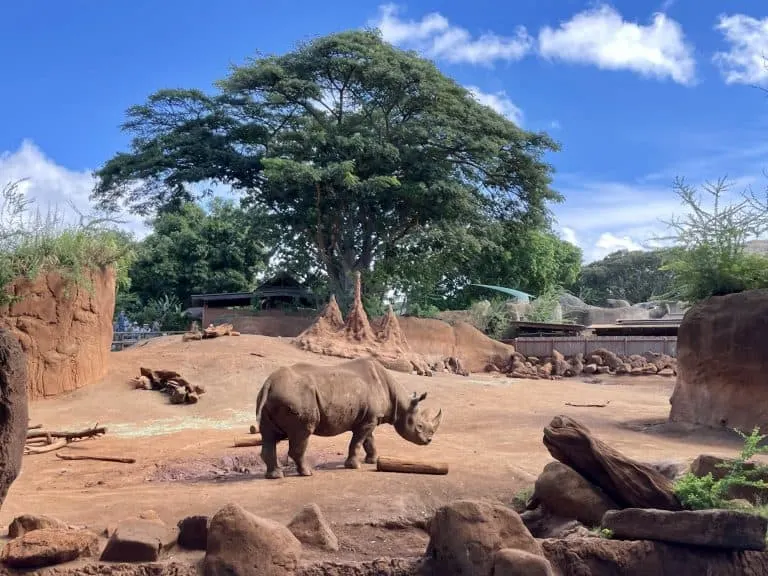 If you want to take a break from the hustle and bustle of Waikiki, walk towards Diamond Head until you reach the Honolulu Zoo near the end of Waikiki in Queen Kapiolani Park.
This small zoo is home to a variety of animals including Galapagos tortoises, cheetahs, golden lion tamarins, tigers, rhinos, and more! It is the right size to enjoy a couple hours of fun learning about wildlife in between stints at the beach.
The zoo is open from 10-3pm daily. There is also a great playground for kids right next to the zoo that is perfect for getting the wiggles out.
Have Authentic Hawaiian Shave Ice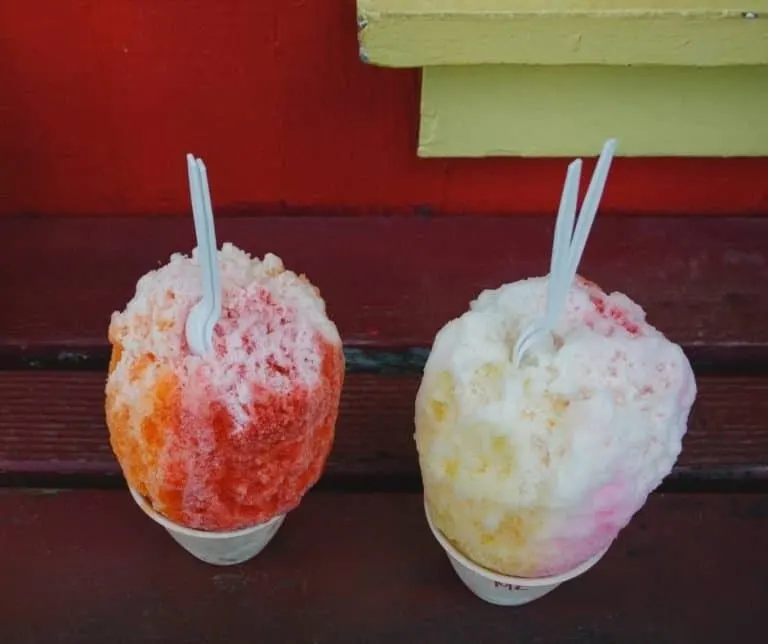 Don't confuse Hawaiian shave ice with those lousy snow cones you get on the Mainland. The ice is so much more fluffy and the topping options are out of this world! Shave ice is to Hawaii what gelato is to Italy, and it is important to try all the stands to find your favorite.
Matsumoto Shave Ice on the North Shore has been the gold standard since 1951. This little shop in Haleiwa is no secret, so lines can be long- but so worth it! I highly recommend getting the scoop of vanillas ice cream at the bottom and going for a tropical combo on top.
Of course, my kids and husband defile their shave ice with flavors like cotton candy and bubble gum, but I guess the good news is that there is truly something for everyone.
In Waikiki, Island Vintage Shave Ice in front of the Royal Hawaiian Center, is an awesome place to go if you are looking for handmade fruit syrups, house-created mochi balls, and plenty of fresh tropical flavors.
If you have people in your group who wants more options than fruity flavors, head to Lahaina Shave Ice which is about a five-minute walk from Island Vintage. Both spots are excellent, just different. The best way to decide which one is your favorite is to try them both.
See What Lives in the Sea at the Waikiki Aquarium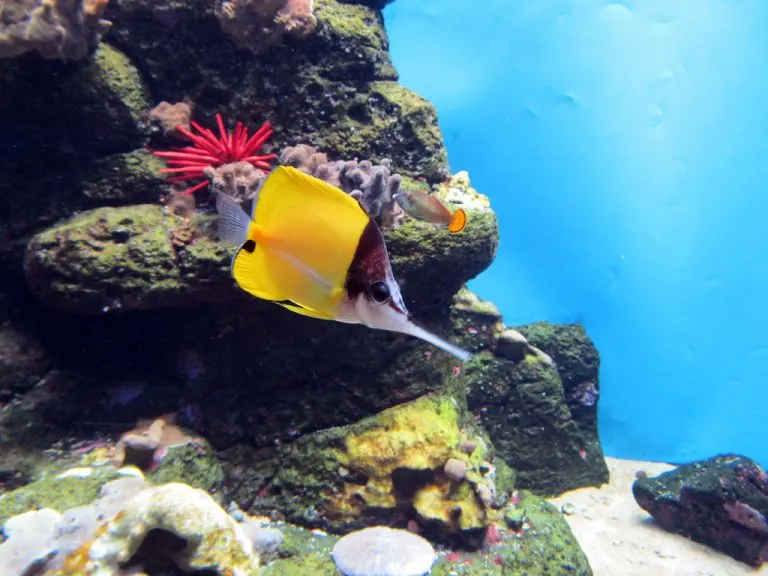 If you have little ones that aren't quite old enough to snorkel or scuba and want to see lots of colorful creatures that live in the waters off Hawaii, head over to the Waikiki Aquarium.
This special spot is the second oldest aquarium in the country and has great displays of corals, sea horses, tropical fish, and the endangered Hawaiian monk seal. There are also coral and clam farms, as well as a touch pool.
Swim with Sharks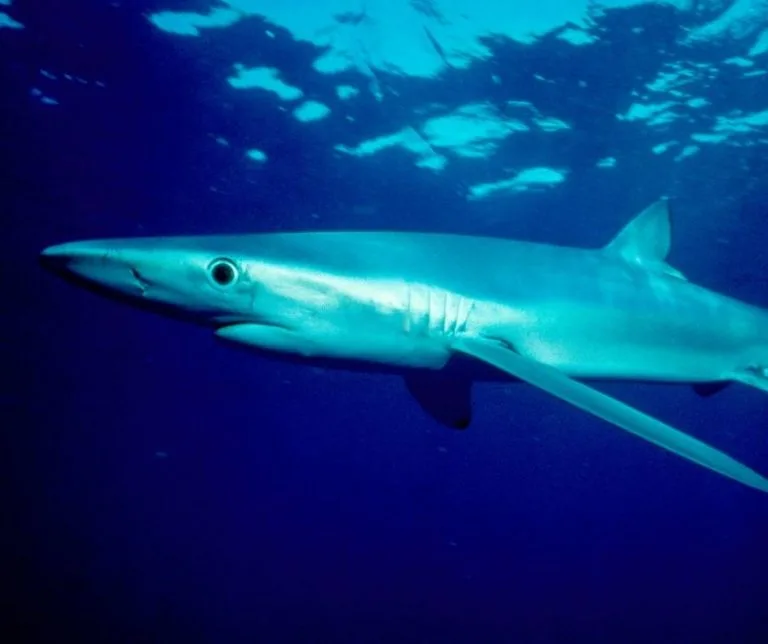 Do you like to have big adventures while you travel? If so, swimming with sharks should be adding to your list of things to do in Oahu with kids on our family vacation.
This swim with sharks tour welcomes guests as young as five years old. If they are at least four feet tall and can use a snorkel, they are welcome on this tour. The crew will take photos for you so you can focus on the sharks. Many adventurers also see whales (in season) and some even hear the whales singing under the water!
If you would rather have a cage between you and the sharks, that is an option as well. It is also open to guests as young as five.
Get Lost in a Pineapple Maze at the Dole Plantation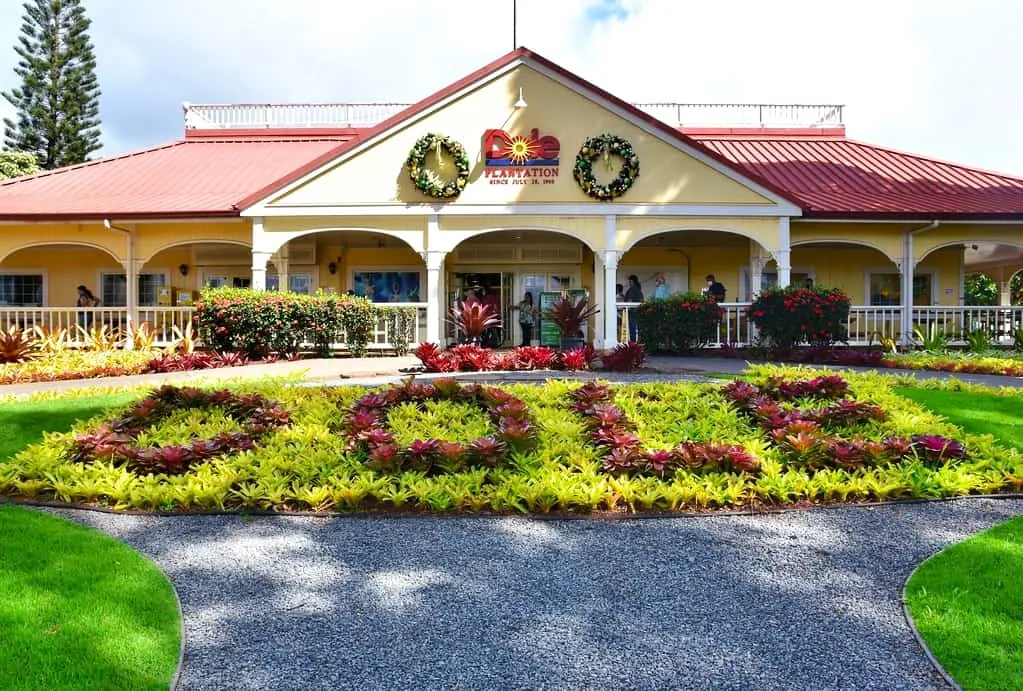 Once upon a time, Oahu was an agricultural island filled with endless acres of sugar cane and pineapple fields. These days, some pineapples do still grow on Oahu, but a good chunk of them go to tourists looking to bring home authentic Hawaiian pineapple to their friends and family.
The Dole Plantation celebrates Hawaii's pineapple growing history with a variety of family-friendly activities. Highlights include the narrated, open-air train tour which is always a hit with the little ones.
Families also love Pineapple Garden Maze which is three acres in size and fun to explore. There is also a restaurant onsite and a stand that sells the famed pineapple Dole Whip ice cream, my favorite!
Explore the North Shore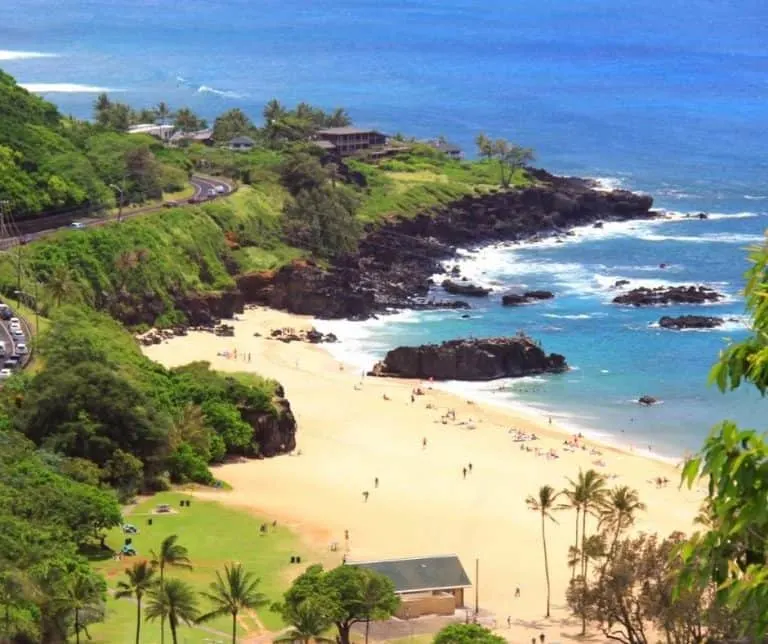 If you have had enough of the hustle and bustle of Honolulu, head to the North Shore where the pace is slower and the biggest attractions are scenery, surfing, and shrimp trucks.
Winter is big surf season on the North Shore and surfers flock from all over the world to catch some of the biggest waves on the planet. If you times things right, you can even watch a big surf competition where surfers are towed out by jet skis to catch waves taller than your house!
If you visit during the summer, many of the beaches that had those same big waves will seem more like lakes with gentle waves that are perfect for families. Some of our favorite beaches on the North Shore include Waimea Bay, Ali'i Haleiwa Beach Park, Sunset Beach, and Sharks Cove for snorkeling.
If you are looking for a great, easy hike on the North Shore, check out Ka'Ena Point Trail which follows the coast and is good for spotting wildlife and enjoying wild ocean views.
Shrimp trucks have become quite iconic on the North Shore, and there are several to choose from these days. However, I am still partial to Giovanni's, one of the originals, which has locations in both Haleiwa and Kahuku on the North Shore.
When I first started going to the the Kahuku truck a couple decades ago, it was just a shrimp truck next to a small town with nothing else around. These days, there is a whole little food truck village with craft stands as well. It has definitely become a big deal! Keep in mind that Giovanni's is cash only.
Looking for more to do on the North Shore? Then keep reading!
Swim Under a Waterfall in Waimea Valley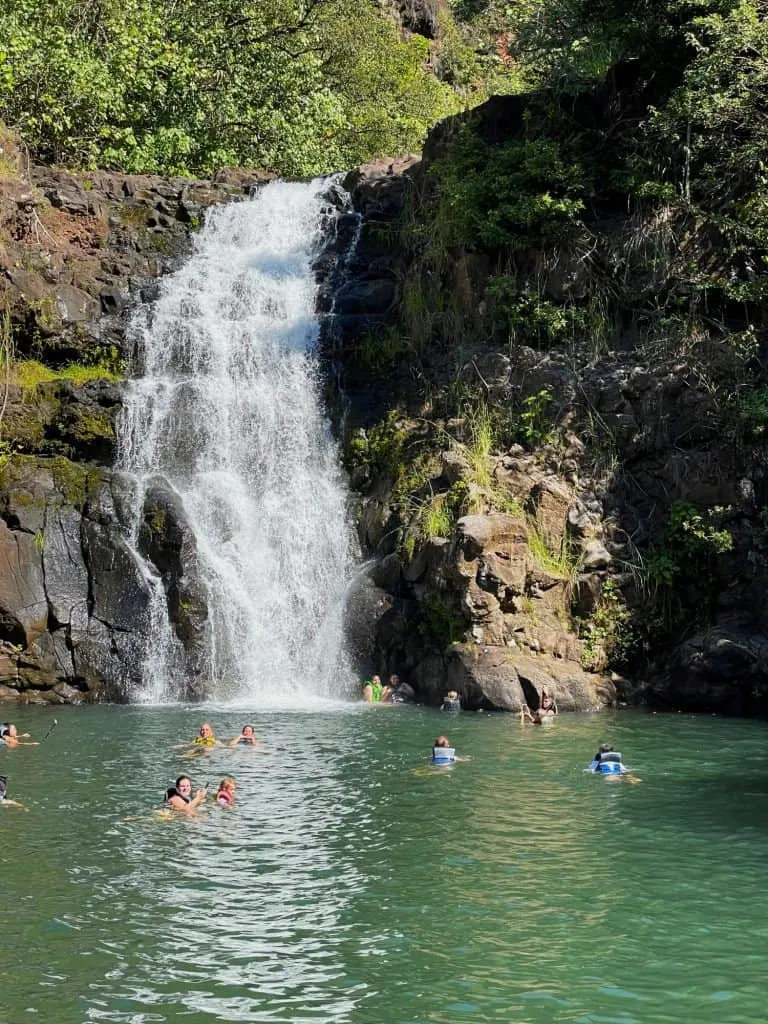 Have you ever wanted to swim under a waterfall? Then a trip to Waimea Valley should definitely be near the top of your list of things to do in Oahu with kids.
Waimea Valley is a lush and gorgeous botanical garden located on Oahu's North Shore, just inland from famed Waimea Bay Beach Park.
If you have little ones, you will be happy to learn that Waimea Valley is very stroller friendly. The trail to Waimea Falls is paved and about 1.5 miles round trip.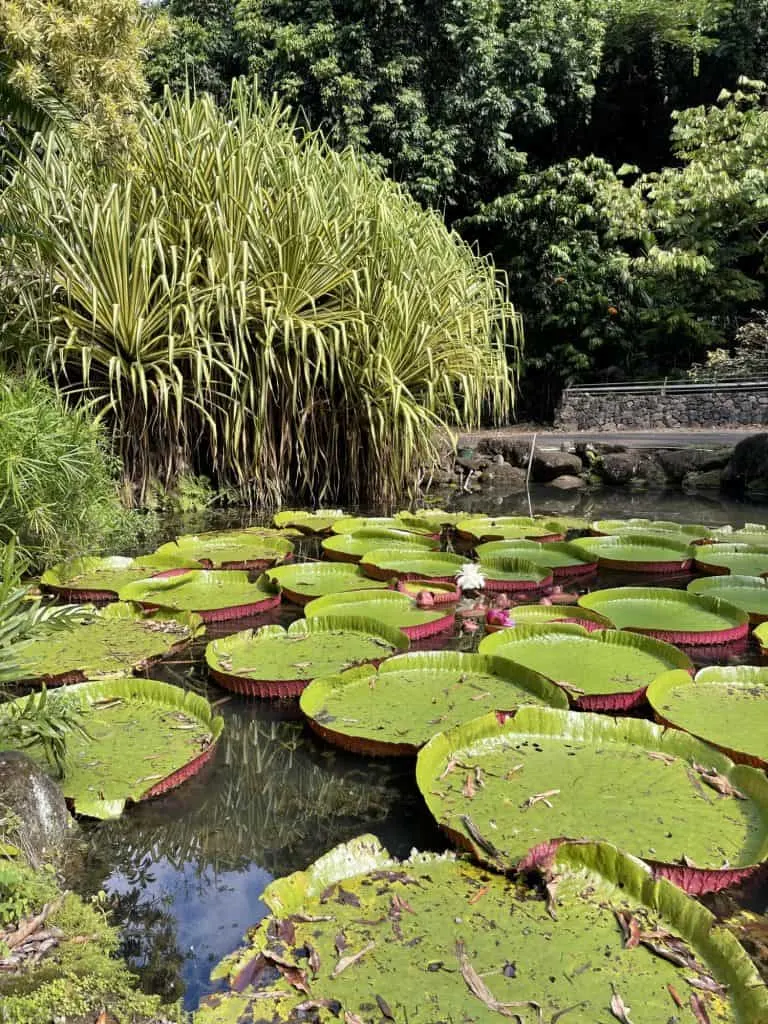 Along the way, take time to see the massive Victoria Amazonica water lilies in the pond just past the ticket booth that can grow up to a 1/2 meter a day. The park's impressive and lush tropical gardens are filled with plants from all over the world. You don't have to be a "plant person" to be impressed by the scenery.
Take time to play traditional Hawaiian games at the Kauhale cultural site. Staff are happy to demonstrate the games and help you learn to play them. There is also a traditional Hawaiian living site for a high-ranking chief in the same area which is interesting to explore.
There are often local craftspeople doing weaving demonstrations. They use palm leaves to weave wonderful crowns, bowls, and baskets for guests to purchase for a small donation. They also provide little flowers that visitors can use to decorate their crowns.
Swimming at Waimea Falls is a big highlight for kids and adults alike. Life jackets are required to swim in the large, deep pool at base of the falls and lifeguards are on duty to keep everyone safe.
The 45-foot waterfall flows continuously, but the rate of flow is dependent on rainfall. It is possible that swimming at the falls could temporarily close after a big storm, so be sure to check the waterfall's status before heading out by calling (808) 638-7766 on the day of our visit.
Have a Blast Learning about Polynesia at the Polynesian Cultural Center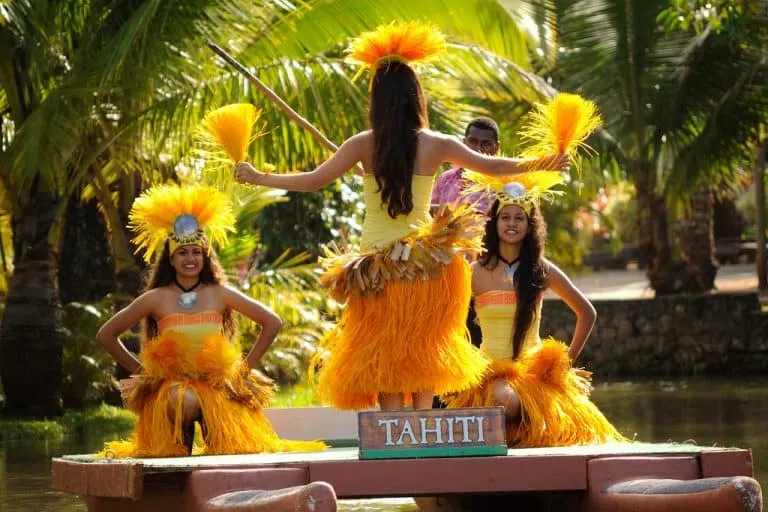 Visiting the Polynesian Cultural Center is definitely one of the best things on Oahu with kids on the North Shore. Not only is it fun, but it is extremely educational!
The Polynesian Cultural Center is broken into different "villages," each representing a different region of Polynesia including Samoa, Tahiti, Tonga, Fiji, Aotearoa (New Zealand), and Hawaii.
At each of these villages you get to learn about these distinct cultures via performances, food samples, games, crafts, and plenty of hands-on fun!
There are also canoe rides in the center's lagoon and an awesome daily parade of the islands on large platform canoes where performers put on a show related to the island they are representing.
If you stick around into the evening you can purchase a package which includes a luau buffet dinner and the "HA: Breath of Life" Show which features dancers from different regions of Polynesia and the famed Samoan fire dancers. Trekaroo families rank this show as one of the favorite experiences on all of Oahu.
Where to Stay on Oahu with Kids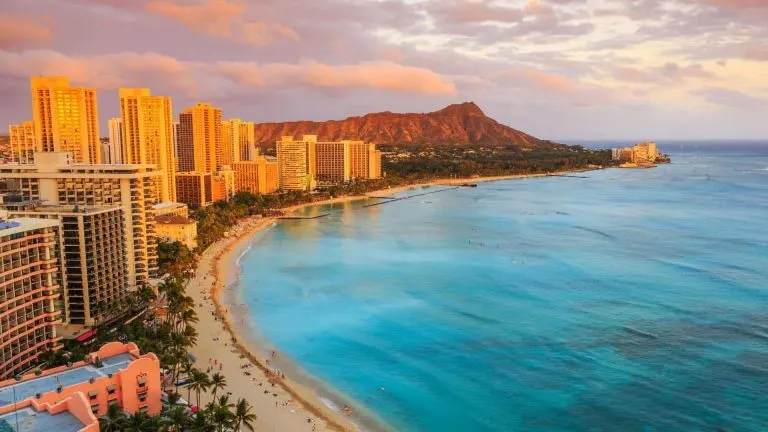 There are lots of great resort hotels on Oahu, mainly clustered in Waikiki and Ko'Olina. We have an article highlighting our picks for the best hotels in Oahu for families and what makes each of them special. Take a look and find the hotel that is right for your family.
Where to Eat on Oahu with Kids
One of my favorite things about traveling is eating my way through a destination. Oahu is a very multicultural place so the food offerings are endless. Here are a few spots that we love to visit when vacationing on Oahu.
Waikiki Restaurants for Families
If you are looking for consistently good food in with beachfront views, head to Duke's Waikiki inside the Outrigger Waikiki Beach Resort. This is one of my favorite spots for a Waikiki date night, but don't be afraid to being the kids either.
There is a more formal (but it is Hawaii so not really formal) dining room as well as the casual Barefoot Bar area. Both are family friendly and both have great fish dishes, burgers, salads, and nachos. Definitely make room for a decadent slice of Hula Pie which big enough to share.
Another more casual option for great fish is Paia Fish Market Waikiki. This is a restaurant where you order at the counter and then either dine-in or take your meal to go. The fish here is incredibly fresh and reasonably priced.
There are a variety of fish plates with sides, fish burgers, fish salads, fish and chips, and more. They also have burgers and chicken for those who love to stick to land-based meals.
My kids and I were looking for a casual spot to enjoy breakfast with an ocean view and were thrilled to discover Hula Grill which is also inside the Outrigger and owned by the same restaurant group that owns Duke's.
We can speak highly of their banana mac pancakes, smoothies, eggs and Portuguese sausage, and bao bun benedicts. They also serve up lunch and dinner.
Momosan Ramen Waikiki is another one of our favorites for sushi and ramen. I take both my sushi and my ramen very seriously and Chef Morimoto delivers some of the best I have ever had without charging astronomical celebrity chef prices. This casual spot also has poke bowls and a variety of tasty appetizers.
Spam Musubi is an iconic dish in Hawaii and nobody does is better than Musubi Cafe Iyasume. This little spot is typically packed with locals and an easy spot to pick up a couple different varieties of musubi to snack on by the beach.
Have a couple bacon, egg, Spam musubis for breakfast and then return for teriyaki Spam and rice at lunch. Prices are low and there are lots of varieties to choose from.
Plate lunches are a key part of any local's diet and Rainbow Drive-In is one of the original counter service plate lunch stands that is still serving up favorites like Loco Moco and mixed plates where you choose beef, chicken, or mahi mahi served with two scoops of rice and a scoop of macroni salad.
They also serve up a variety of sandwiches, bowls, chili dishes, and saimin, This spot is not technically in Wiakiki but is very close by.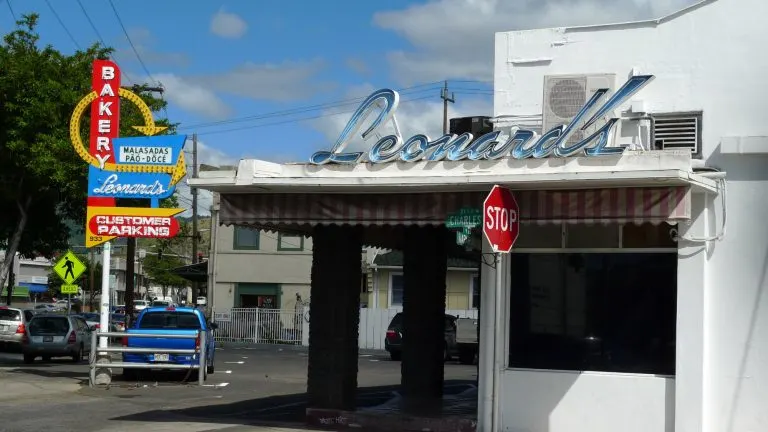 Close to Rainbow Drive-In is Leonard's Bakery, another Honolulu institution. You will often see long lines of people outside this hot spot patiently waiting to purchase the bakery's legendary malasadas (Portuguese- style filled donuts) and pao doce (sweet bread like Kings Hawaiian rolls).
There are also a variety of other pastries and cookies, but trust me a guava malasada should be at the top of your list.
North Shore Restaurants for Families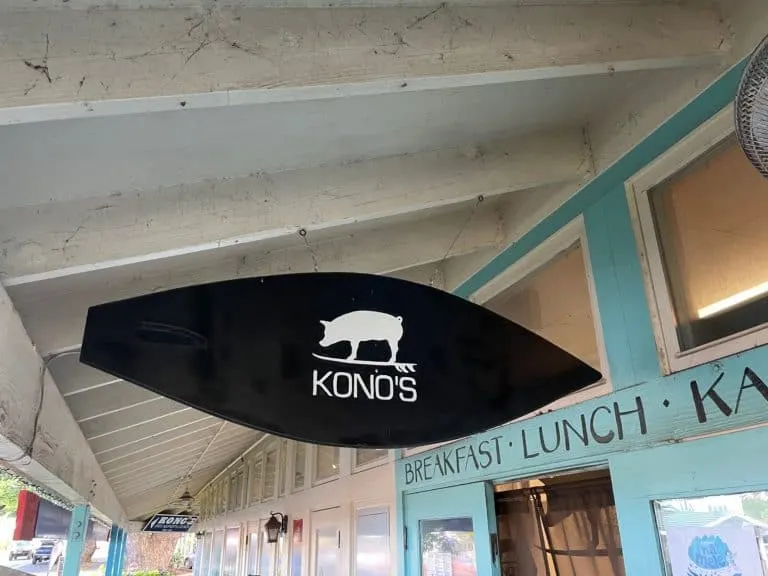 If you are traveling from Waikiki or the Ko'Olina resort area and looking for a good place to grab breakfast before a full day of exploring the North SHore, Head to Kono's North Shore in Haleiwa.
First of all, their coffee is some of the best I have ever had (and I drink a lot fo coffee). And if you ask, they will seel you some beans to take home.
Their breakfast bombers (their version of a breakfast burrito) are fantastic and come in a wide variety of options. I suggest getting one with Portuguese sausage or slow-roasted Kalua pork. They also have tasty sandwiches and bowls available for lunch and locations in Waikiki, Kailua, and Honolulu.
I spoke of Giovani's Shrimp Truck earlier but I wanted to reiterate just how good this food truck is. The shrimp scampi is easily the most popular and never disappoints, but if you like things hot and spicy I also recommend the "no refunds" hot and spicy shrimp. And napkins. Lots of napkins.
They have trucks in Haleiwa and Kahuku, as well as a spot in Honolulu. Remember- it's cash only.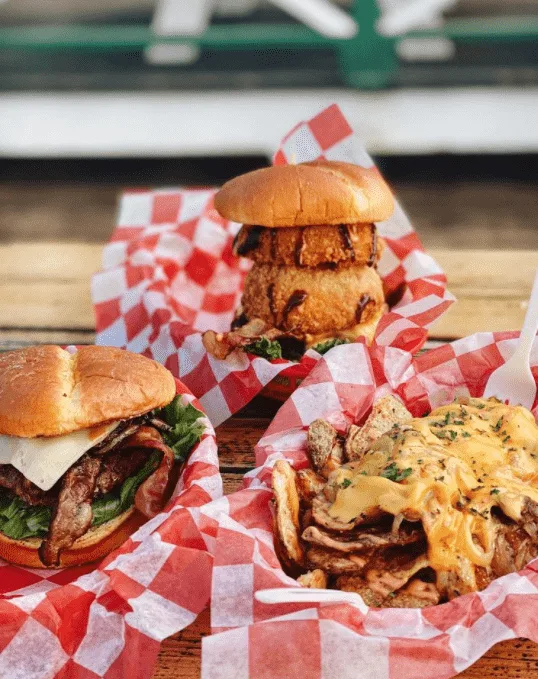 Seven Brothers has a few different North Shore locations and some of the best fries on the planet. I know, it's a bold claim but everyone in my family stands by it. They also have killer burgers, salads, and shakes. It is a great spot for a casual lunch.
Discover More Things to do in Hawaii with Kids: