In 1885, Banff National Park was established as Canada's first national park. Since that day, national parks in Canada have grown to cover more than 126,718 square miles of the country. But where are the best national parks in Canada?
Each of Canada's national parks features incredible landscapes, the opportunity to see native plants and animals, and the chance to get lost in the true beauty of this large and diverse country. Our guide spans the world's second largest country from coast to coast, showcasing the best national parks in Canada to explore year round.
The Best National Parks in Canada
1. Banff National Park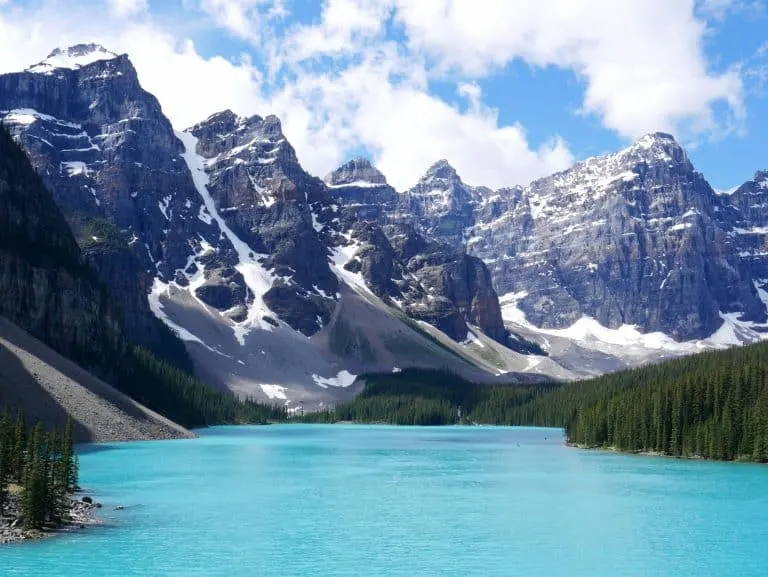 Easily the most famous of Canada's national parks, there is a reason Banff National Park in Alberta is the most visited national park in Canada and at the top of our list of the best national parks in Canada.
To put it simply, every inch of this park provides stunning views and the opportunity to see grizzly bears, elk, and even wolves.
The town of Banff is extremely welcoming and family-friendly, with plenty of activities for families looking to shop, eat or participate in any level of wilderness exploring.
Book your lodging in Banff. As a Booking.com affiliate Trekaroo is proud to offer its readers the lowest rates guaranteed.
In summer, you can see the park by hiking, on horseback, or even from above by rock climbing the Via Ferrata at Mt. Norquay. In winter, both cross-country and downhill skiing opportunities abound or you can explore the park by dog sled.
Here are the top 10 things to do in Banff with kids and 8 incredible things to do in Banff in Winter.
2. Jasper National Park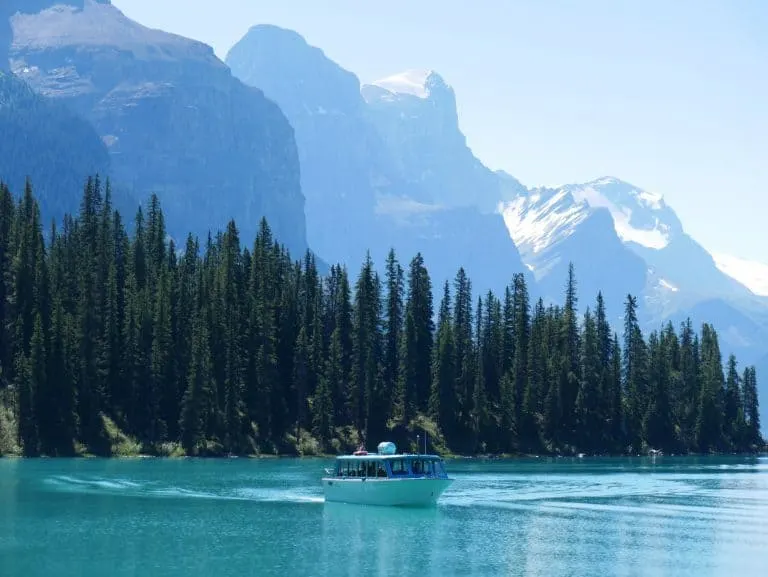 Not far from Banff National Park and also in Alberta, Jasper National Park can sometimes be overlooked.
While the Banff to Jasper drive will add 181 miles to your trip, there are many reasons why it is known as the ultimate Canadian road trip. The journey is filled with epic mountain views, abundant wildlife, and the opportunity to step foot on the Athabasca Glacier.
Once you arrive in Jasper, you will find family-friendly hikes, incredible cycling routes, local restaurants, and some great places to stay.
In summer, do not miss the Maligne Lake Cruise to Spirit Island. The journey is full of photo opportunities and wonderful tales of how Jasper National Park was developed.
3. Yoho National Park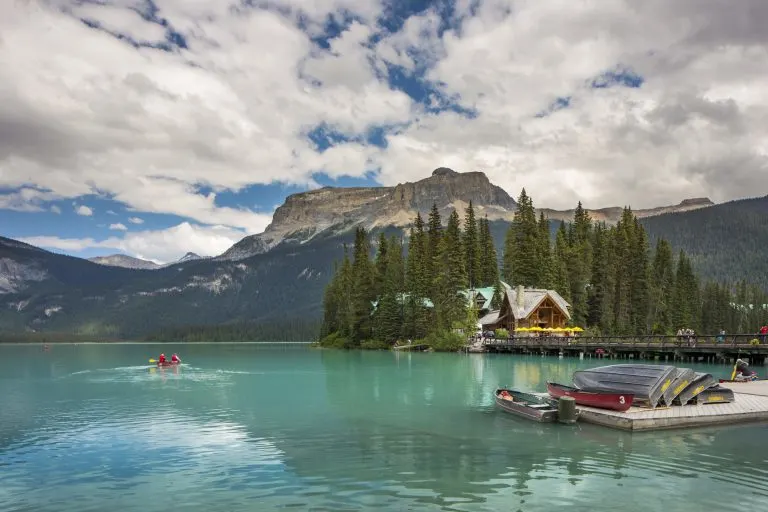 Bordering Banff National Park in the province of British Columbia lies Yoho National Park. Yoho is very similar to Banff, boasting similar sweeping mountain views, towering waterfalls and fantastic hiking opportunities.
But there's one main difference between Yoho and Banff: crowds. Tour buses brake in Banff, but they cruise by Yoho, making it an ideal stop for a laid-back mountain adventure with your family.
Not to miss activities include hiking to Lake O'Hara, viewing Takakkaw Falls – one of the highest and most impressive falls in North America, and paddling across the aptly named Emerald Lake.
Families who want to get back to nature without having to rough it, can unplug at Emerald Lake Lodge, a lovely resort with wood burning fireplaces and top notch cuisine.
Visiting Yoho National Park? Check out fun with kids in British Columbia's National Parks for tips on where to eat and stay before you go.
4. Grose Morne National Park
Home to land-locked fjords and stunning coastline, Gros Morne National Park is one of the most beautiful and unique national parks in Canada, not to mention a UNESCO World Heritage Site.
It's also part of Newfoundland's Viking Trail, making it one of the best Canada road trips you can take.
You can also make a stop at Gros Morne National Park part of a larger Eastern Canada road trip.
Those into hiking can easily spend weeks in this Atlantic Canada gem. There are 20 beautiful hikes, including Gros Morne Mountain, which takes you to the highest point in the park; Green Gardens, which brings you to the stunning rugged coastline; and Tablelands, where you can walk on the Earth's mantle, one of the few places in the world where you can do such a thing.
Other not-to-miss activities include taking a cruise on Western Brook Pond to see the absolutely incredible landlocked fjords, taking a whale watching tour, and trying your best to spot some wildlife such as caribou, moose, bald eagles, and more.
Check out our guide to exploring Gros Morne National Park with kids for activity suggestions and more!
5. Kluane National Park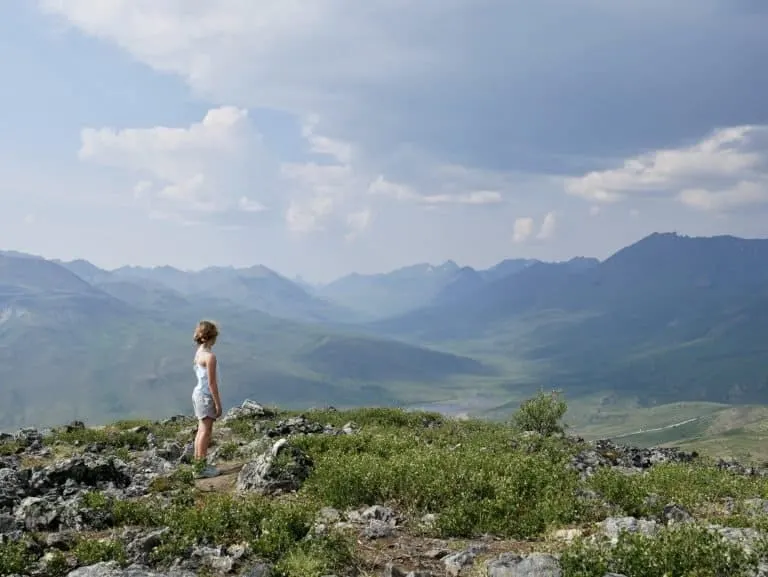 Located in the Yukon, Kluane National Park is home to Mt. Logan which is Canada's highest peak, Canada's largest icefield, and a dense grizzly population.
The easiest way to access Kluane National Park is to fly to Whitehorse, Yukon. From the city of Whitehorse, the drive to Kluane National Park takes about two and a half hours. Once you reach the park, you will find a national park unlike any other in Canada.
Explore family-friendly hikes like Sheep Creek which is located close to the visitor centre at Haines Junction. Or spend time camping on the shores of Kathleen Lake in a Parks Canada oTENTik.
Adventurous families will want to plan ahead and check out the flightseeing tours that take you over Canada's highest peaks and largest icefields and the incredible collection of mountain bike trails.
While Kluane National Park is harder to reach than most of the best national parks in Canada, it is truly worth the extra effort to explore this beautiful park and the Yukon Territory.
6. Pacific Rim National Park Reserve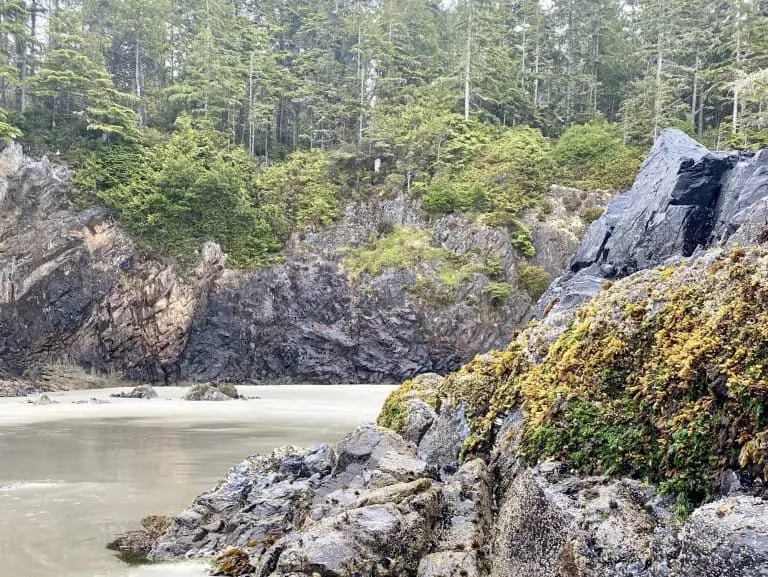 Located on Vancouver Island, Pacific Rim National Park Reserve is one of the best national parks in Canada for families looking to surf and explore the rainforest.
The easiest way to reach Pacific Rim is to fly into Vancouver, British Columbia and take a ferry to Vancouver Island. Several landing points bring you close to Highway 4 which takes you to the surf mecca of Tofino and Pacific Rim National Park Reserve.
The park is divided into the Long Beach Unit, Broken Group Islands (only accessible by boat) and the West Coast Trail, an iconic 47 mile trail with over 100 ladders, deep mud and mountain fed rivers.
Pacific Rim National Park is easily explored from the town of Tofino which offers plenty of lodging options from camping to luxury hotels.
The park itself features a 15-mile, multi-use pathway which makes most of the park accessible by bike or on foot.
There are also several short trails that wind through lush, green rainforests and some of Canada's largest trees.
Families will love exploring at low tide as star fish and crabs lead to caves usually hidden in the water. Families hoping to catch a wave should pack or rent wet suits as even in summer because the Pacific Ocean is quite cold.
Visiting Vancouver Island with kids? Add these adventures on Vancouver Island with kids to your itinerary!
7. Waterton Lakes National Park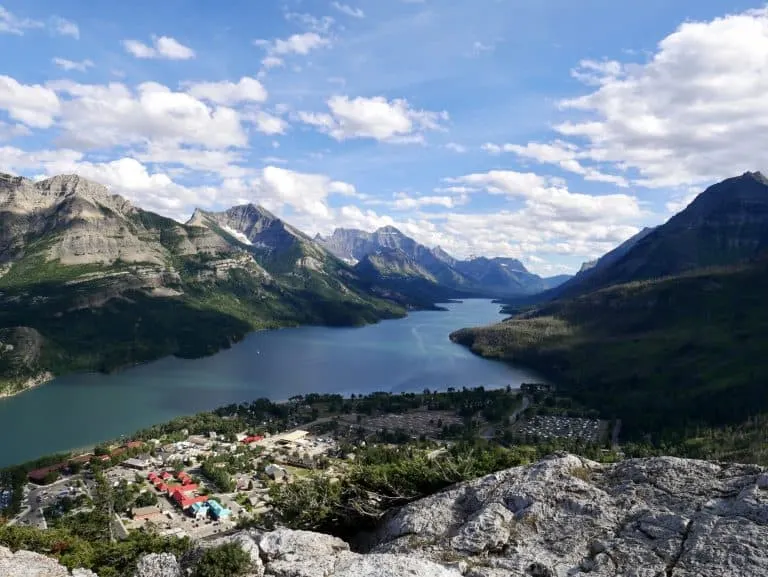 Devastated by fire in 2017, Waterton Lakes National Park located in Alberta, is truly a sight to see. As you approach the park, dark burnt trees are the first you thing you notice. Once you enter the park, new growth and countless wildflowers show the true beauty of this park.
Some of the best features of Waterton Lakes National Park are the countless activities available for families. From horseback riding to stargazing and endless hiking, families can easily spend a week getting to know every nook and cranny of Waterton Lakes National Park.
Families wanting to know more about the unique biodiversity of the park should check out the Waterton Wildflower Walks offered by Uplift Adventures. Here are 7 adventurous things to do in Waterton Lakes National Park with kids.
Another truly unique feature of Waterton Lakes National Park in Canada is that it, along with Glacier National Park in Montana, make up the first International Peace Park in the world.
This designation helps to protect the nature of the wilderness on both sides of the border. It also means that from either park you can cross over the border by foot and boat.
Find lodging near Waterton Lakes National Park.
8. Cape Breton Highlands National Park
The province of Nova Scotia is home to one of the best road trips in Canada. Its crown jewel is Cape Breton Highlands National Park where visitors drive the famed Cabot Trail, with mountains on one side and the Atlantic Ocean on the other.
It takes five hours to travel the entire circuit, but this isn't a trip you'll want to rush. Go for a swim with the family at Ingonish Beach or a leisurely bike ride on one of the several cycling trails like Salmon Pools.
Teach your little ones how to fish and spend the night at a campsite where you may spot a moose. Hiking opportunities also abound – don't miss the breathtaking Skyline Trail. In true East Coast style, be sure to enjoy all the incredible seafood that Cape Breton has to offer!
9. Fundy National Park of Canada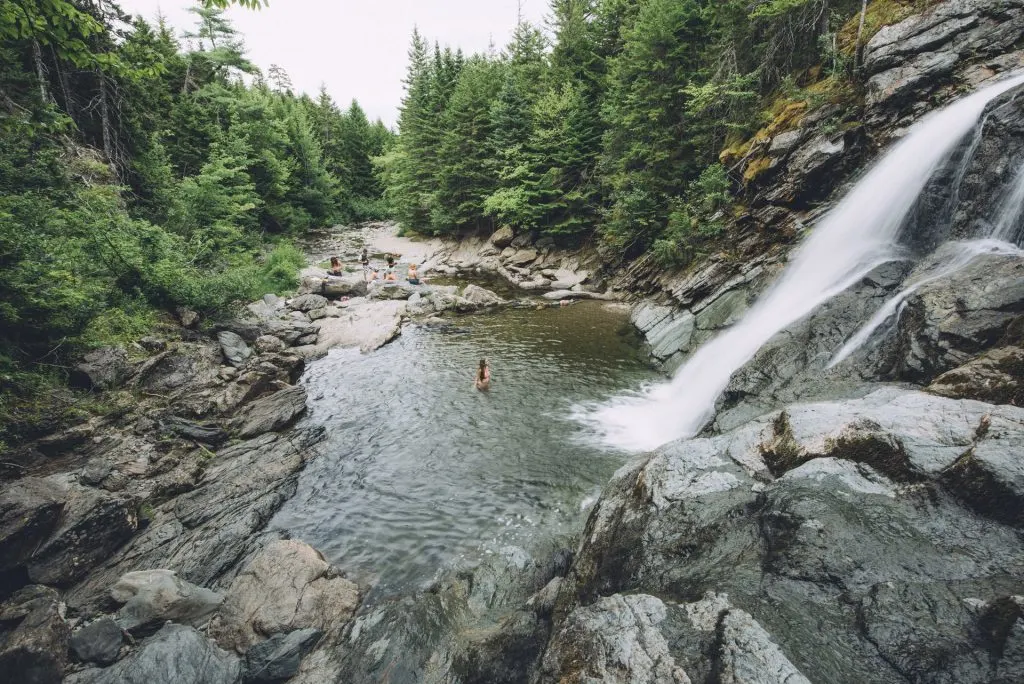 Fundy National Park, home to the world's highest tides, is located on the Bay of Fundy near the town of Alma in southern New Brunswick.
Enjoy a diverse assortment of experiences in the park on a year-round basis. If an overnight stay is in the works choose to camp, or stay in an oTENTik, yurt or rustic cabin.
Hike on over 100 kilometers of trails including one called the Fundy Circuit that connects 48 km of trails which showcase the best of the park.
Kayak the waters as the tides rise or walk the ocean floor at low tide exploring what's living in the mud flats. Visit a beach, go for a swim, check out one of the 25 waterfalls in the park or stop to admire a covered bridge.
You can also play a round or two of golf and listen to music performances. For a complete list of activities, check out things to do in Fundy National Park.
Heading on a road trip? Get tips on exploring Southern New Brunswick and the Bay of Fundy with kids.
10. Prince Edward Island National Park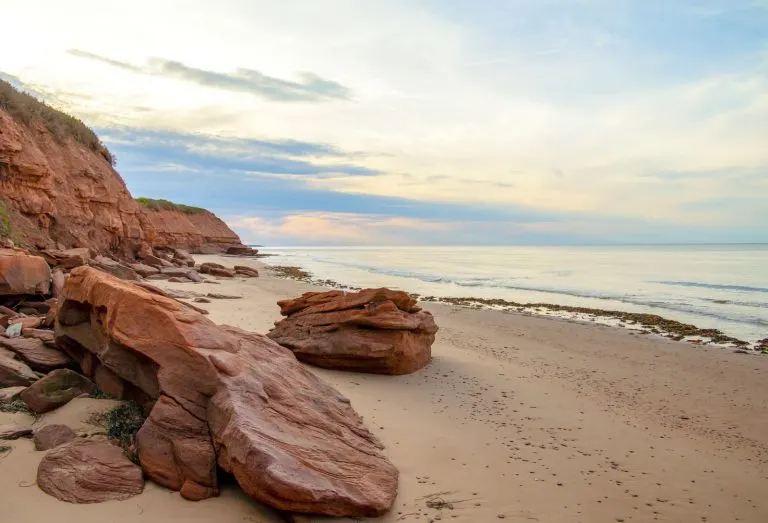 One of Canada's true gems, Prince Edward Island is a destination not to be missed. Famous for its church-hosted lobster suppers and as the home of Anne of Green Gables, this small island is home to an incredible shoreline that serves as a nesting ground for endangered birds.
Prince Edward Island National Park is unique as it is one of the smallest national parks on our list of the best national parks in Canada, but still features three distinct regions of the island.
Red foxes can often be seen on the extensive walking paths that wind through coastal terrain, saltwater marsh, and sections of the Acadian forest.
Camping in Prince Edward Island National Park is particularly family-friendly with access to supervised beaches and plenty of wide open trails like the Homestead Trail in the town of Cavendish.
While the national park is open-year round, families will find many restaurants and activities are only open during the busy summer months.
Find the perfect place to stay in Prince Edward Island.
Thank you to Jody Robbins (Travel with Baggage), Matthew Bailey (Must Do Canada), Helen Suk (Not Without My Passport) and Leigh McAdam (Hike Bike Travel) for contributing to our list of the best national parks in Canada.