Did you know there are 20 national park units within six hours of Las Vegas? With so many national parks near Las Vegas, it makes sense to use this major vacation destination as a hub for exploring all these incredible places.
Fly into Las Vegas and then take several day or weekend trips to explore these national parks. Or better yet, rent a vehicle and embark on an epic road trip to see them all! Here is your guide to national parks near Las Vegas, with details regarding driving distance and plenty of things to do once you arrive in the parks.
20 National Parks Near Las Vegas
Zion National Park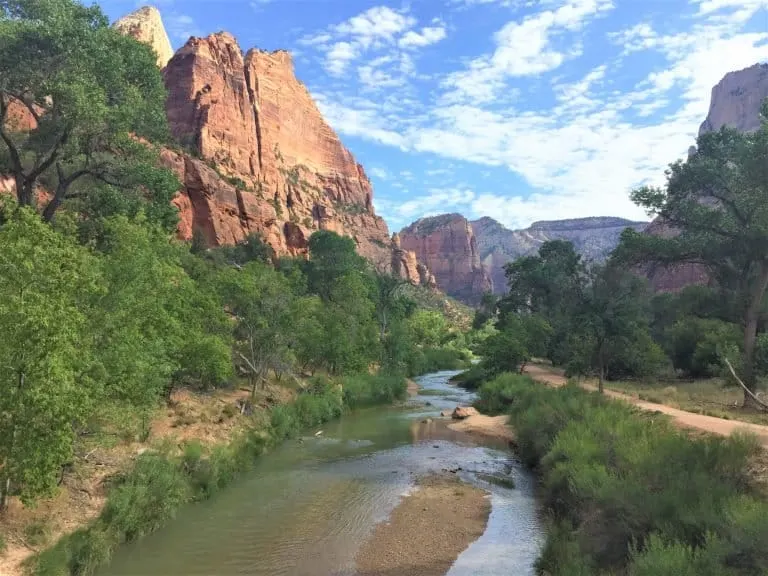 Distance from Las Vegas: 2 hours, 40 minutes (160 miles)
Zion is one of our country's most visited national parks, in part because it is within a day's drive of several metropolitan areas, including Las Vegas (which also happens to be the closest). It is also an all-season destination, with the heaviest visitation coming during the scorching summer months.
For most of the year, visitors park in the town of Springdale or at the Zion Visitor Center and then take a free shuttle into Zion Canyon where the bulk of the major attractions are located.
Highlights include the Emerald Pools (which when combined with the Kayenta Trail make for a great day hike), Weeping Rock, Angels Landing (permit required), and the iconic Zion Narrows.
Hiking in the Zion Narrows involves walking (and sometimes even swimming) in the Virgin River as it winds through a dramatic canyon. Proper gear can be rented in town and weather conditions should always be confirmed with park rangers before heading out. Never hike in the Narrows when flash floods are a possibility.
Biking in Zion Canyon is a great option if you don't want to deal with the often-crowded park shuttle. Zion Outfitters rents E-bikes, regular adult bikes, and children's bikes.
Tubing the Virgin River in the town of Springdale is an especially popular May through July. Canyoneering is another great thing to experience in Zion. Zion Outfitter has a special Family Adventure program designed for groups with kids younger than 12 .
Here are 15 epic things to do in Zion with kids and our guide to visiting Zion in the winter.
Spend the night: Cable Mountain Lodge rooms feature full kitchens, large living areas, and plenty of space for large families in their suites.
Death Valley National Park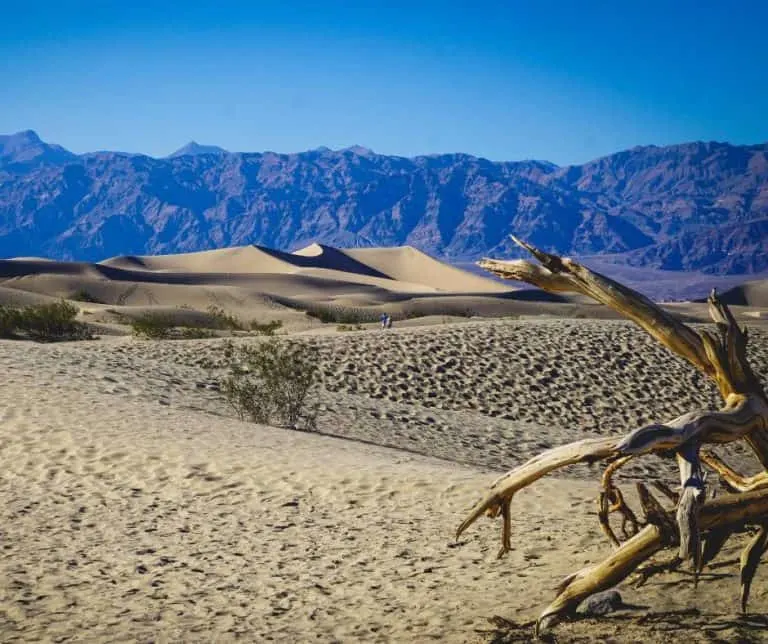 Distance from Las Vegas: Two hours (125 miles)
Death Valley is the closest of the 63 National Parks Service units with the official "national park" designation. Most of the park is located in California, but Las Vegas is the closest major city and many people visit Death Valley as a day trip.
What you need to know is that Death Valley is massive. It is 3,422,024 acres in size, making it the largest national park outside of Alaska. So if you want to truly explore the park, you are going to need it a multi-day trip.
The other thing you need to consider is the weather. In the summer, temperatures can reach over 120 degrees, so travel to this incredible national park is much more ideal in the winter and early spring when temperatures are much more pleasant.
Places you definitely don't want to miss include Badwater Basin (the lowest point in North America at 282 feet below sea level), Zabriski Point, Artist's Drive, and the Devil's Golf Course.
If you are looking to stretch your legs and go on a hike, Golden Canyon, Mosaic Canyon, and Sidewinder Canyon are all great options for families.
Definitely make time for the Mesquite Sand Dunes which are an absolute blast to explore. Bring a snowboard and you can ride down the dunes with ease! It also fun to roll down them, run down them, and make sand angels. Or simply just wander and enjoy their beauty.
Read our complete guide to visiting Death Valley with is filled with great tips for your adventure.
Spend the night: The Ranch at Death Valley is located in Furnace Creek near the park visitor center. It has recently undergone a massive, multi-million dollar renovation and has a spring-fed pool that is a constant 87 degrees, tennis courts, basketball courts, volleyball courts, a playground, restaurant, and much more.
Tule Springs Fossil Beds National Monument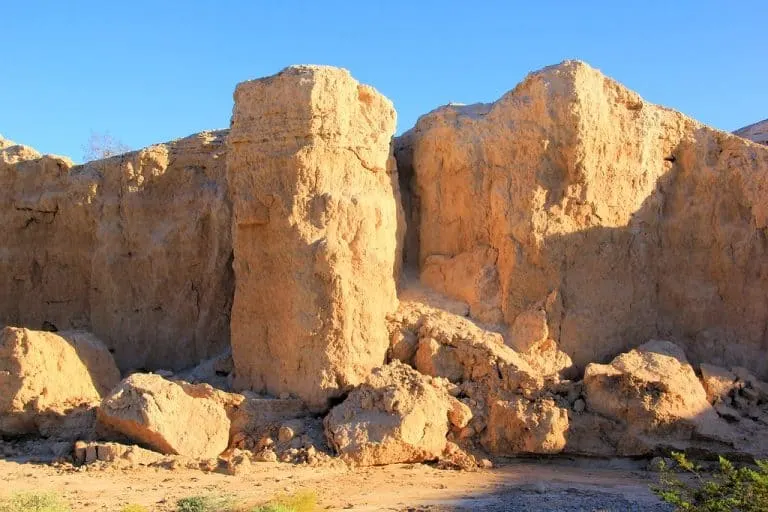 Distance from Las Vegas: 18 miles (20 minutes)
Tule Springs Fossil Beds National Monument joined the National Park System in 2014, and since it is within the Las Vegas City limits, it is considered to be an urban park.
This national monument preserves thousands of Pleistocene (Ice Age) fossils that were preserved by wetlands that were expanding and contracting in this location thousands of years ago. Much of this monument is located in the Upper Las Vegas Wash, a rather dry and unremarkable looking locale most of the year.
But what is remarkable is the number of fossils that have been found here- mammoths, bison, lions, horses, camels and sloths, all of whom lived in a wooded, riparian environment.
The best way to enjoy this monument is to sign up for a ranger-led hike which is typically 1.5 – 3 miles in length and a fun way to learn about the natural history of the park. They even offer dog-friendly Ranger-led hikes on select days!
Red Rock Canyon National Conservation Area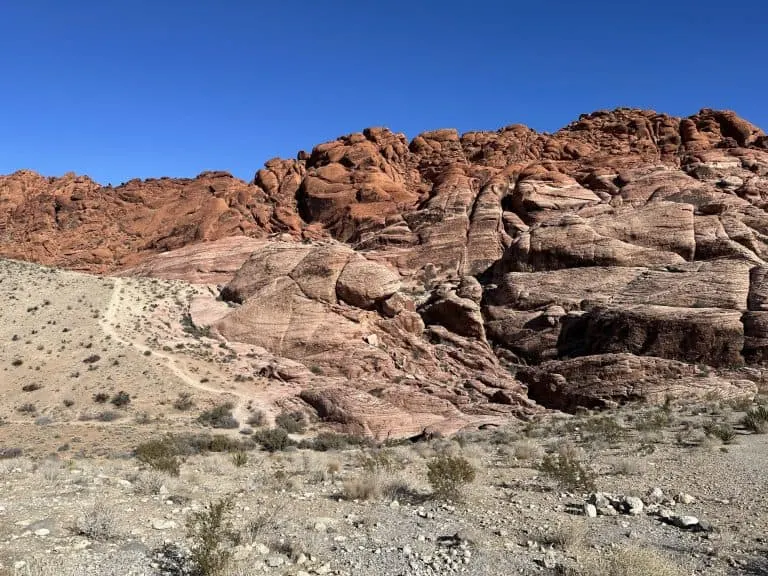 Distance from Las Vegas: 20 minutes (16 miles0
A mere 20 minutes west of the Las Vegas Strip, visitors can be swept into a world of hiking, rock climbing, and outdoor adventure at Red Rock National Conservation Area.
If you are visiting Red Rocks during the peak hiking season, October through May, you will need a timed reservation which must be booked in advance on the website. If you don't have a reservation, you can still enter the park but it will need to be before 8am or after 5pm.
Take the 13-mile, one-way scenic drive from the visitor's center and pull over at any spot that looks appealing. Just remember that if you decide you want to go back to someplace you passed, you will have to do the full loop around again to reach it.
Believe it or not, there is actually quite a bit of diversity packed into that 13-mile loop. There are areas that had towering red rock hillsides and sparse vegetation as well as canyons that are lush thanks to underground springs.
Calico Tanks is a popular, 2.2-mile trail near the beginning of the one-way loop that explores the red rock sandstone formations of the Calico Hills and leads to a hidden water pocket.
The Willow Springs and Lost Creek area offers a mix of ecosystems, taking hikers from a creek bed up through red rocks and back down through the springs and a riparian area with a small waterfall. This area also has a large stone wall with pictographs.
The Willow Springs picnic area is a popular spot for rock climbing and bouldering. You will see amateurs learning to climb as well as more experienced climbers honing their skills.
Pine Creek Canyon is the place to head if you want hike among Ponderosa pines and towering canyon walls. This 2.4-mile trail is especially nice after a rain as it follows a creek.
Visiting Red Rock Canyon is one of our favorite outdoor activities in Las Vegas.
Lake Mead National Recreation Area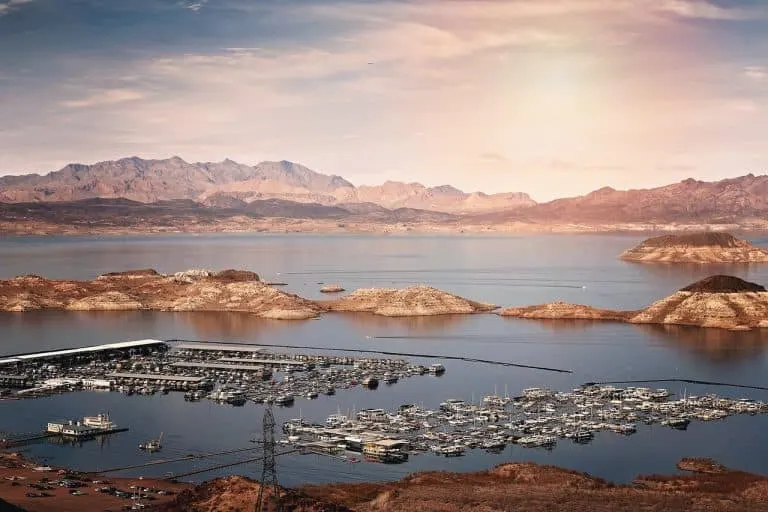 Distance from Las Vegas: 40 minutes (31 miles)
Lake Mead, the largest reservoir in the country, is a haven for boating enthusiasts and hikers, It is a truly great place to recreate just 30 minutes southeast of Las Vegas.
The lake has been in the news quite a bit lately, thanks to declining lake levels and the sudden appearance of sunken boats and even bodies dumped by the mob! But this lake, created by the construction of Hoover Dam on the Colorado River, still has over 290 square miles of water surface to explore and enjoy.
During the warm months, Lake Mead is a very popular place to enjoy boating, houseboating, jet skis, water skiing, tubing, swimming, and fishing.
One thing you might not known is that a B-29 Superfortress plane crashed into Lake Mead in 1948 and it has been at the bottom of the lake ever since. Dive companies do offer guided scuba diving trips to wreckage site.
Lake Mojave is also part of the Lake Mead National Recreation Area. It is located south of the Hoover Dam and has great boating, water sports, and swimming opportunities as well.
Mojave National Preserve
Distance from Las Vegas: One hour (67 miles)
If you have ever made the drive from Los Angeles to Las Vegas on Interstate 15 then you have driven along the northern edge of Mojave National Preserve in between Zzyzx Road and the state line. Lots of people look out at this seemingly never-ending expanse of desert and think it is a whole lot of nothing, but they wouldn't be more wrong!
This national park preserve is home to Kelso Dunes, some of the largest sand dunes in the country which rise 600 feet above the desert floor. They are so fun to explore and it is easy to have a spot all to yourself while you hike the three-mile trail around the dunes.
These dunes are known to "sing", making a deep sound that happens when your group heads to the top of the dunes and pushes as much sand off the top as possible. This mostly occurs during the summer, so you must be prepared for a very hot hike in order to experience it. Or, just watch the video below.
Another one of the big attractions at Mojave National Preserve is the lava tube. It was created by molten lava 27,000 years ago. There is a beam of light that shines into the lava tube at certain times of day (usually early afternoon in the summer) making it a beautiful spot for photos.
Here are 25 awesome caves in California to explore.
If you are looking for a fun hike, try the 1.5-mile Hole-in-the-Wall Rings Trail. This trail takes you through Banshee Canyon and its swiss-cheese like holes in towering rock formations. The real fun is when you use rock-mounted ringbolts to climb into the rocky amphitheater at the bottom of Banshee Canyon.
Finally, if you love wildflowers as much as I do, you may want to add Mojave National Preserve to your flower-hunting list during a good rain year. The National Park Service has a great page highlighting what types of flowers you will see in different areas and the best time to see them (mostly March and April)
Spend the night: You are probably better off heading back to Las Vegas and making this a day trip since unless you are camping since there really isn't anything close by.
Castle Mountains National Monument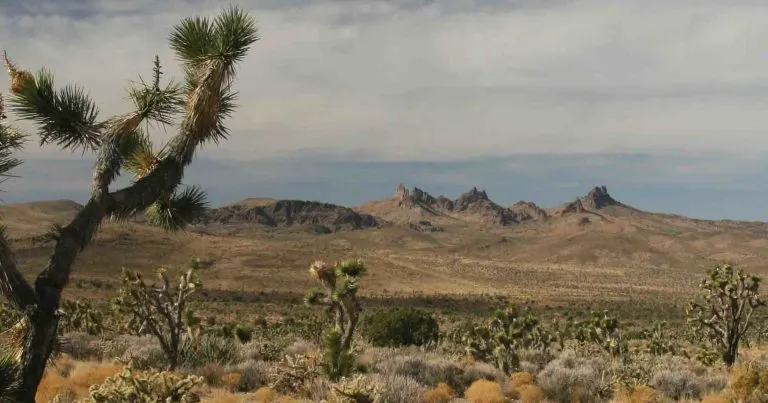 Distance from Las Vegas: One hour, 45 minutes (85 miles)
Castle Mountains National Monument was established in 2016, making it one of the newer parks in the system. It protects 21,000 acres of desert northwest of the Colorado River in between Interstates 15 and 40. This is a landscape filled with Joshua trees, rare desert grasslands, and precious desert wildflowers. There is even pinyon-juniper forest at the higher elevations!
The Castle Mountains are protected habitat for a variety of wildife including for desert bighorn sheep, golden eagles, desert tortoise, gila monsters, and wild cats like bobcats and mountain lions.
This park is only accessible by dirt roads, so a four-wheel-drive, high clearance vehicle is recommended. There are no maintained trails; simply drive in and hike where you want. Here is a good article on visiting this remote national monument.
Spend the night: There is no lodging nearby. Las Vegas is your best bet.
Bryce Canyon National Park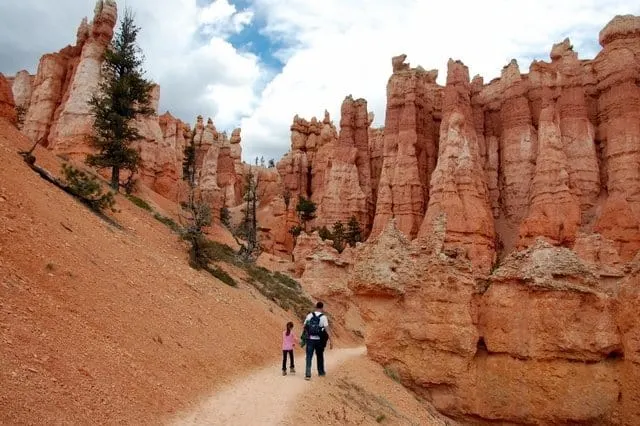 Distance from Las Vegas: Four hours, 15 minutes (260 miles)
Bryce Canyon National Park is known for its incredible hoodoos- tall sandstone spires that have been carved by erosion resulting in scenery that looks like it is from another planet.
The Bryce Canyon Scenic Drive is 18 miles in length and has several great spots to pull off and enjoy different views of the canyon with names like Inspiration Point, Sunset Point, and Sunrise Point. The road ends at Rainbow Point, the highest portion of the park at over 9,000 feet in elevation.
The Bristlecone Loop begins near Rainbow Point and this one-mile loop trail takes you past ancient bristlecone pines, some of which are over 2,000 years old! The views from this trail allow you to see eastward for over 100 miles.
Of course you will want to make your way down into the canyon to stand next to the mighty hoodoos and get a true feel for this special space.
Our favorite hike in Bryce Canyon is the 2.9-mile loop created by combining the Navajo Trail with the Queens Garden Trail. This loop allows families to walk down into the canyon and experience the narrow sandstone walls of "Wall Street".
Bryce Canyon one of the best star viewing locations in the United States. The clear, dry air and remote location make for ideal conditions and the parks hosts around 100 night sky programs each year.
Read our full guide to visiting Bryce Canyon National Park.
Spend the night: Three miles from the Bryce Canyon National Park visitor center is Ruby's Inn and Bryce Canyon Grand Hotel. Both are under the Best Western Plus branding and great options for families.
Cedar Breaks National Monument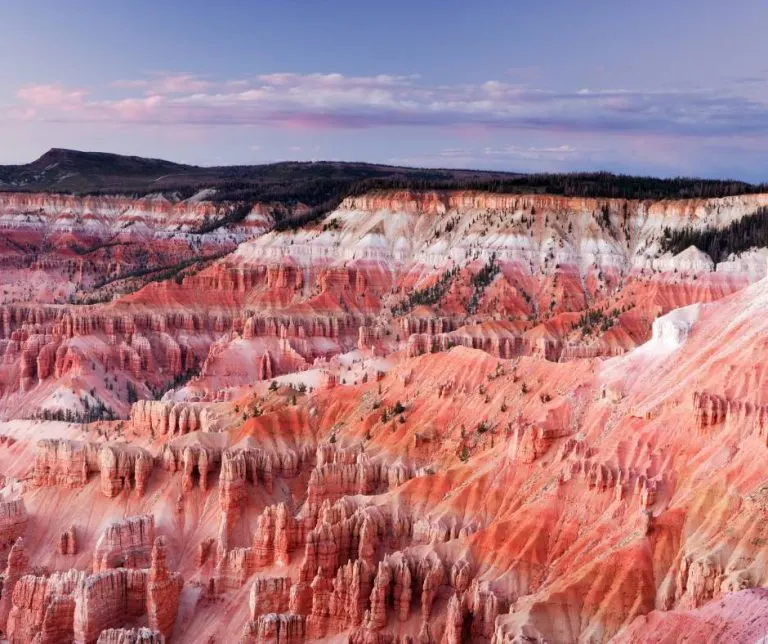 Distance from Las Vegas: Three hours, 15 minutes (205 miles)
Cedar Breaks is a high elevation park, sitting at over 10,000 feet and protecting the hoodoo-filled Cedar Breaks amphitheater which looks much like a mini-Bryce Canyon. This amphitheater is much steeper than Bryce Canyon, so hiking down into the amphitheater is not allowed.
You can also enjoy ancient bristlecone pines, summer wildflowers, and crystal-clear night skies at Cedar Breaks. Since the park is largely covered in snow for half the year, it is mainly open from Memorial Day to mid-October, but we have visited the overlook during a ski trip to Brianhead and found the views of snow-covered Cedar Breaks quite magical.
The Sunset Trail is a great hike for enjoying the views of Cedar Breaks. It is two miles in length and takes you from the Point Supreme Overlook and Sunset View Overlook.
Spend the night: We love the Brainhead Lodge which has a fun indoor pool with a waterfall, nice rooms, and a great location for skiing or exploring the national monument.
Glen Canyon National Recreation Area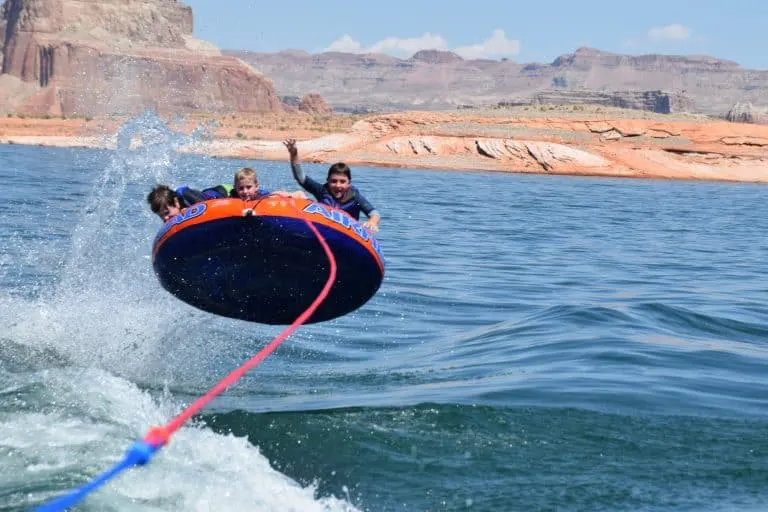 Distance from Las Vegas: Four hours, 30 minutes (270 miles)
Glen Canyon National Recreation Area is home to Lake Powell, 24 million acre-feet of water resulting from the Glen Canyon Dam holding back the waters of the mighty Colorado River. I like to describe it as the Grand Canyon if it was flooded with water. It truly is that scenic.
When full, this lake that straddles the Utah/Arizona border and stretches for over 175 miles, with dozens of coves and inlets to explore. The typically hot, dry summer weather make it ideal for houseboats and water sports. Three million people visit Lake Powell each year but the lake is so vast, you will often feel like you have the entire lake to yourself.
Read our article on houseboating in Lake Powell.
Boat tours of Lake Powell are operated out of Waheap Marina that go to various locations within the lake. There is even a dinner cruise which allows you to enjoy the colors of the pastel sandstone bluffs as the sun goes down.
Float trips of the Colorado River below the Glen Canyon Dam to Lees Ferry are also available. The float trip allows you to cruise around the famed Horseshoe Bend with sandstone walls towering around you. Children as young as four can enjoy these half-day trips.
Spend the night: Lake Powell Resort is located right at Waheap Marina, where all your boat tours will depart. You can also rent powerboats from this location and explore on your own.
Rainbow Bridge National Monument
Distance from Las Vegas: Four hours, 30 minutes (270 miles) plus boat ride to Rainbow Bridge.
If you are already planning at visit to Lake Powell, then you will want to make time to visit Rainbow Bridge National Monument which is located next to Lake Powell. It is the world's largest natural bridge that towers 42 feet high and 234 feet wide. It is an impressive sight for sure!
Unfortunately, due to low lake levels, accessing the bridge is much more difficult than it was in years past. The water level is lower than where the boat docks and restroom were placed, so the only way to reach it now is by taking a small boat that can be beached. Then you must hike 1.5 miles to the bridge. Portions of the trail are very mucky because until recently, they were under water.
Read about current conditions on the National Park Service website before heading out.
Joshua Tree National Park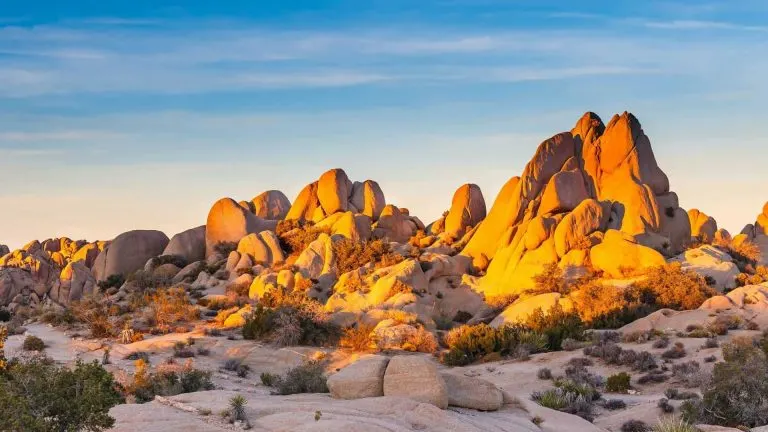 Distance from Las Vegas: Three hours (187 miles)
With its towering boulders, diverse desert life, and Dr. Seuss trees, Joshua Tree is one of the national parks near Las Vegas you most certainly won't want to miss. Here, the high desert (Mojave) and low desert (Colorado) meet, allowing visitors to see two enjoy desert environments.
Climbing around on the massive boulders that look like they have been left in piles by lumbering giants is definitely one of the park's main attractions. You will see professional climbers scaling the boulders with their equipment, but amateurs will have just as much fun climbing around in spots like Hidden Valley and Jumbo Rocks.
Since the rocks (and everything else) can get very hot in the summer, we suggest visiting this park October through May. You may even get lucky enough to see the Joshua trees covered in a dusting of snow during the winter!
If you are looking for 360-degree views of the park, check out the hike to Ryan Mountain. It gains 1,000 feet in just 1.5 miles, but the views from the 5,461′ summit are worth all that huffing and puffing.
If you prefer a tamer hike, the trail to Barker Dam is for you! It is a 1.1-mile loop trail and there are plenty of boulders to climb around on along the way. Look but don't touch the prehistoric rock art by the trail and keep your eyes open for bighorn sheep. They are most often spotted grabbing a drink of water around dawn or dusk.
Here is our complete guide to visiting Joshua Tree National Park.
Spend the night: There is no lodging inside the national park except for camping. Try the Joshua Tree Inn or rent a funky VRBO in the artsy little hamlet of Joshua Tree.
Here are 15 of the best national parks in California.
Pipe Spring National Monument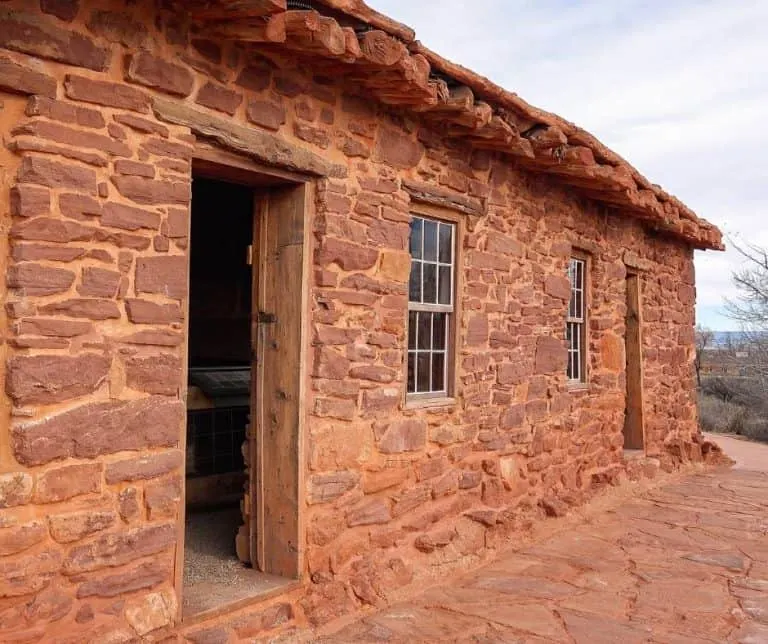 Distance from Las Vegas: Two hours, 50 minutes, (178 miles)
Pipe Spring National Monument protects a desert oasis where water has helped support life for generations. It has was originally an important water source for Native Americans, and then became a vital resource for Mormon pioneers in the 1860s as they set up a large cattle ranching operation in the area.
Today, this park serves as a living history museum with a nice visitor center, museum, and demonstrations of pioneer and Indian crafts as well as everyday life in the cooler hours of the summer months. There are also gardens and orchards, as well corrals with horses and longhorn cattle.
You will also want to take the 25-minute, ranger-led tour of Winsor Castle, a Mormon fort that served as protection from raiding parties in the area. It was built over the mainspring, creating a serious issue between Native American and Mormon pioneers who both wanted use of the water.
If you want to enjoy a nice view of the Arizona Strip, the piece of Arizona north of the Grand Canyon that is separated from the rest of the state, take the 1/2-mile Ridge Trail.
Spend the night: Kanab is the closest town with a choice of lodging in the area.
Grand Staircase-Escalante National Monument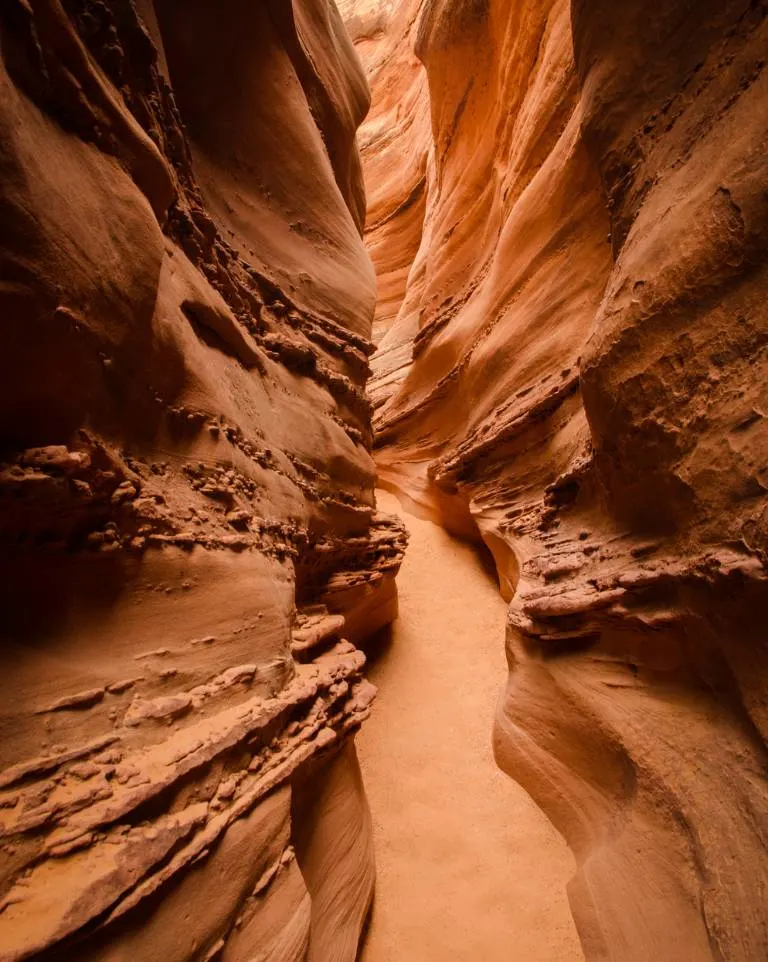 Distance from Las Vegas: Three hours, 20 minutes (215 miles)
If you love slot canyons, arches, and lots of open space to yourself then you will love Grand Staircase-Escalante National Monument. This 1.7-million acre park has been the subject of some controversy over the past several years as President Trump signed legislation to shrink the monument and President Biden signed legislation to restore it to its former size.
Why is protecting these lands so important? Well, it acts as an important outdoor laboratory for several different types of scientific discovery. Many new species of dinosaur have been discovered on this land, as well as the oldest known marsupial fossils and 600 different types of bees!
The monument has also been used to better understand the hydrology on Mars and protects archaeological sites that are sacred to Native American tribes.
Take a scenic drive along Utah's Highway 12 to enjoy the beauty of this national monument. The drive along Highway 12 is amazing any time of year but is especially colorful in the fall. Here are 10 Great Places to See Utah Fall Colors.
Hike Peek-a-boo Gulch combined with Spooky Gulch for a fun, 3.5-mile loop through two slot canyons that get very narrow at points. At some points Spooky Gulch is only 12 inches wide and the start of Peek-a-boo Gulch includes a 12-foot climb up sandstone but once you are inside the slot canyon-wow!
Hole In The Rock Road to the trailhead is gravel but rough in spots. A higher clearance vehicle like and SUV or truck is recommended (though people take cars out here all the time) and this road should not be attempted after recent rains. But if you are up for the adventure this is a hike you will never forget!
Devils Garden is another fun place to stop on Hole in the Rock Road to enjoy hoodoos and unique rock formations. Zebra Canyon is another slot canyon hike to enjoy in the area as well.
If discovering a waterfall in the desert sounds like fun, take the six-mile (round trip) hike to Lower Calf Creek Falls, where a 130-foot waterfall tumbles into an inviting swimming hole. This trail does get sun so it is best to attempt it in cooler weather or early in the morning. It is definitely one of the most popular trails in the monument.
The 4.4-mile trail to Escalante Natural Bridge crosses the river multiple times but it is easy (minus during spring runoff) and great fun for families. There are petroglyphs to enjoy alog the way as well.
Spend the night: Escalante Yurts are great place to glamp. Some units have kitchens and private bathrooms and up to five beds!
Grand Canyon National Park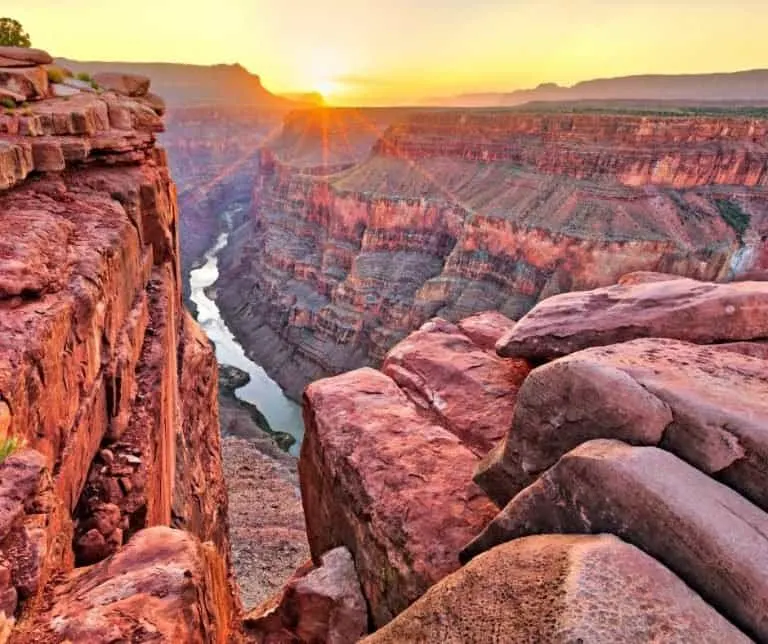 Distance from Las Vegas: North Rim is three hours, 30 minutes (225 miles) and South Rim is four hours, 15 minutes (280 miles).
There are few destinations in the USA more iconic than the Grand Canyon. Visiting this vast product of millions of years of tectonic uplift and water erosion is an American right of passage.
The national park is divided into two areas-the South Rim and the North Rim. The Grand Canyon South Rim is open for business 365 days a year. It is by far the most visited rim of the Grand Canyon. There are full services, lots of lodging options, restaurants, museums, stores, and more.
The Rim Trail runs for 13 miles along the canyon's edge. It is a great way to take in views of the canyon. Instead of walking the entire route, take advantage of the park's shuttle bus which will drop you off at various viewpoints along the route.
The other major trail in the South Rim is the Bright Angel Trail. This trail is 10 miles long and descends 4,380 feet into the Grand Canyon. Most people hike it for a mile or two before huffing and puffing their way back up to the top. It is a strenuous trail and the weather only gets warmer the lower you go, so pack plenty of water with you!
Other ways to explore the Grand Canyon include mule trips (which must be booking way in advance), rafting trips on the Colorado River (which also book up way in advance), and helicopter tours.
Read our complete, comprehensive guide to visiting the Grand Canyon South Rim.
On the other hand, five million people visit the Grand Canyon every year but only 10% of those visitors come to the North Rim. The North Rim is higher in elevation and forested while the South Rim has more of a high desert vibe. The full-service season when lodging, restaurants, and other services are open on the North Rim is May 15 through October 15 each year.
The Bright Angel Point Trail begins at the Grand Canyon Lodge and leads you 0.7 miles to a lookout point where the views are breathtaking. There are drop offs on either side of the trail but the trail is wide.
The scenic drive at the Grand Canyon North Rim is filled with viewpoints to stop and enjoy. Some of these viewpoints include short hikes like Cape Royal and Point Imperial. There is also the trail to Cape Final which is forested until it reaches what feels like the end of the Earth, with the ground dropping several thousand feet into the canyon below.
Here is our full guide to visiting the Grand Canyon North Rim.
Spend the night: On the South Rim I recommend staying in the Bright Angel Lodge area which is the hub of activity. On the North Rim, you will want to stay in the lodging surrounding the Grand Canyon Lodge.
Grand Canyon-Parashant National Monument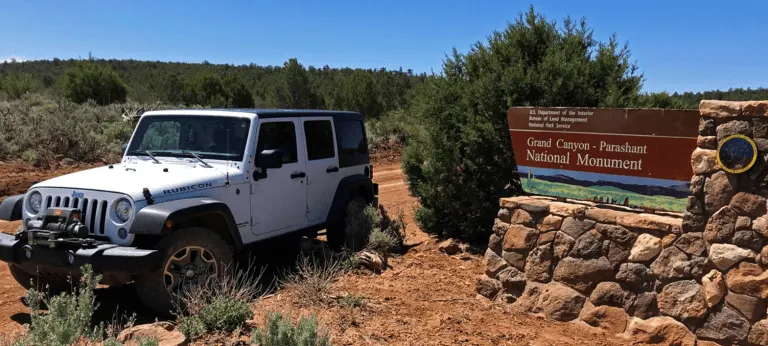 Distance from Las Vegas: Four hours (137 miles)
If you truly want to enjoy Grand Canyon views without another soul around, head to Grand Canyon-Parashant National Monument. Located in northwest Arizona along the Arizona Strip, this is a park where a high clearance, 4WD vehicle is a must.
Those who come properly prepared with extra water, gas, and a spare tire will be rewarded with plenty of adventure on miles of scenic off-road adventures. None of the road here are paved.
Mt. Trumbull Scenic Loop Drive is the most popular scenic drive in the monument. You will see the Grand Canyon, Native American petroglyphs, a historic schoolhouse, and lots of Wild West land.
Other places to visit include the ruins of the Grand Gulch copper mine, Twin Point Grand Canyon Scenic Overlook, Tweeds Point on the rim of the northern Grand Wash Cliffs.
Spend the night: Camping in the monument is probably the easiest option but you can make this a day trip from St. Geroge, Utah and stay at one of the many hotels in town. We have always been happy at the Staybridge Suites.
Great Basin National Park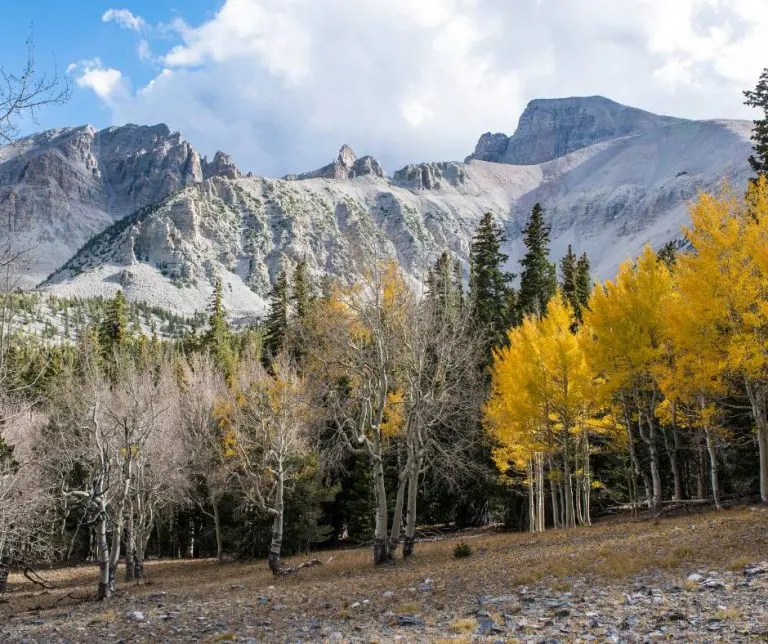 Distance from Las Vegas: Four hours, 30 minutes (296 miles)
Located on near the Utah/Nevada border about 300 miles north of Las Vegas (and basically out in the middle of nowhere) is Great Basin National Park.
The only official national park within the state of Nevada, Great Basin is a place to enjoy 100-mile views, ornately decorated caves, wondrous alpine scenery, trees older than Jesus, and some of the most magnificent night skies in the Lower 48. And best of all, you won't be sharing it with the crowds.
Great Basin National Park originally began as Lehman Caves National Monument in 1922. This marble and limestone cavern system is filled with stalactites, stalagmites, flowstone, and even cave bacon. These caves can only be seen by booking a tour online. The Grand Palace Tour is the most popular and perfect for first-time visitors.
The other major destination within the park is Wheeler Peak Scenic Drive. The mountains of the Snake Range, which include Wheeler Peak, are like alpine islands in a sea of sagebrush. At road's end which is about 10,000 feet in elevation, several different hikes await.
The Alpine Lakes Loop is a 2.7-mile, round-trip hike that winds through an alpine forest as well two little lakes with lovely views of Wheeler Peak. The other trail you don't want to miss is the Bristlecone Trail which leads to a grove of ancient Bristlecone pines that can live for 5,000 years.
If you continue on up the mountain one mile past the Bristlecone grove, you will reach a rock glacier; the only glacier in Nevada and one of the most southernmost glaciers in the northern hemisphere.
Due to its remote location, high elevation, and dry desert air, Great Basin National Park has some of the darkest skies in the United States. This is a premier destination for stargazing and many evening ranger programs are offered.
Read our full guide to Great Basin National Park.
Spend the night: The closest lodging can be found in the tiny town of Baker, Nevada at the Border Inn. Rooms are very simple. There is also camping inside the park.
Capitol Reef National Park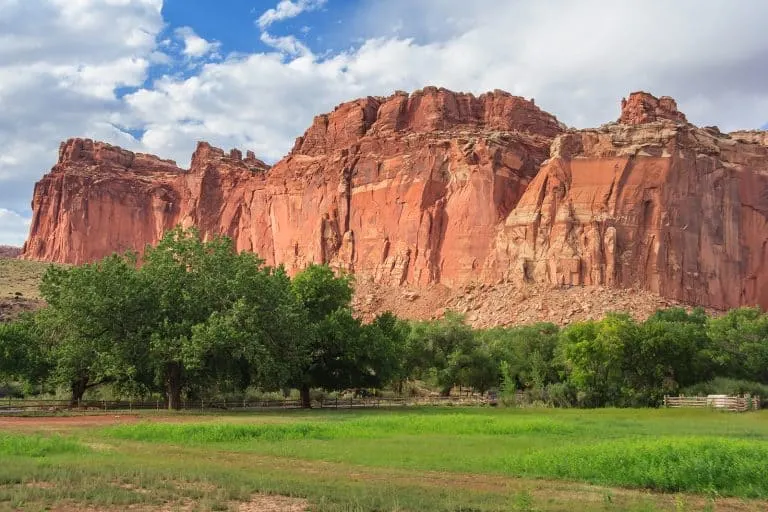 Distance from Las Vegas: five hours (327 miles)
With less than a million visitors per year (compared to nearby Zion's 3.6 million visitors), Capitol Reef National Park is the least visited of Utah's "Might 5" national parks.
The rewards for your drive from Las Vegas to Capitole Reef come in the form of striking red rock vistas, uncrowded trails, and orchards ripe for the picking.
Start your visit in the Fruita district where you can pick and eat in-season fruit from the historic orchards for free. Then, take the Capitol Reef Scenic Drive, stopping at the Grand Wash Trail which will lead you into a narrowing canyon with fun sandstone cliffs to climb.
If you are ready for a hike, take the 1.7 mile trail (one way) to Cassidy Arch. The trail begins about a quarter mile from the entrance to Grand Wash and winds its way up the side of the mountain, rising 950 feet until you reach the arch named for Butch Cassidy.
The scenic drive ends at the Capitol Gorge Trail, where petroglyphs and pioneer graffiti line canyon walls.
Another great trail inside the park is two-mile round trip trail that gradually climbs in elevation until it reaches the 133-foot arch known as Hickman Bridge. The bridge is impressive and the area around the bridge offers lovely shade from the often-relentless desert heat.
Read our full guide to visiting Capitol Reef National Park.
Spend the night: Capitol Reef Resort is a delightful surprise in the middle of the Utah high desert. Choose to stay in spacious traditional rooms with private patios, large teepees framed by the dramatic red rock of the Waterpocket Fold, and covered wagons circling a shared fire pit.
Navajo National Monument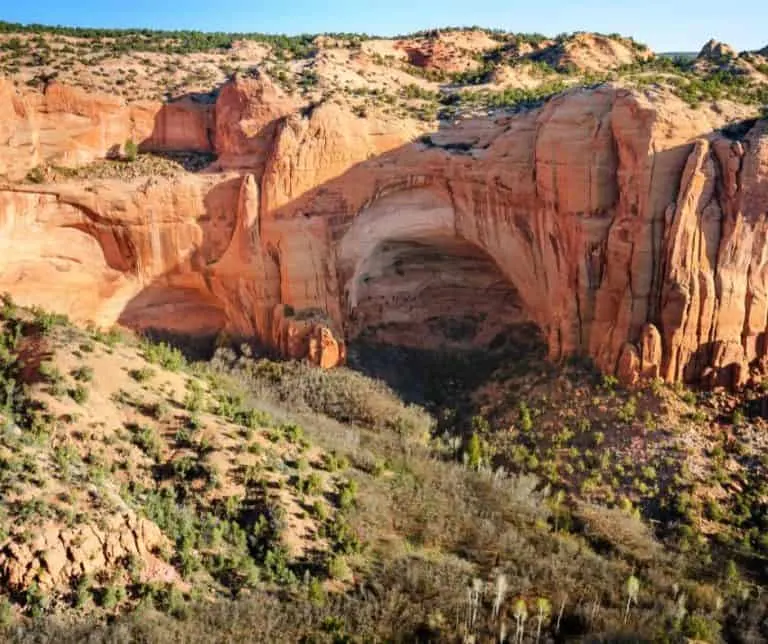 Distance from Las Vegas: Six hours (360 miles)
Navajo National Monument is located about 10 miles off Hwy 160, the main highway crossing the Navajo Nation in Arizona. It protects three Ancestral Pueblo cliff dwellings in the Tsegi Canyon area.
The cliff dwellings can only toured with a ranger on Saturdays and Sundays from Memorial Day through Labor Day at 7am. The most popular is the Betatakin dwelling which is reached via a fairly strenuous, five-mile round-trip hike. These dwellings were last occupied in 1300AD.
Those with less time can visit the park museum and watch the park video before heading outside and looking at the dinosaur tracks imprinted in sandstone that are on display. Then stretch your legs but taking the 1.3-mile (round trip) Sandal Trail to an overlook with nice view of the Betatakin dwelling framed by a sandstone arch.
Spend the night: The town of Kayenta on the Navajo Nation is the closest option for lodging. There is also a campground inside the park.
Petrified Forest National Park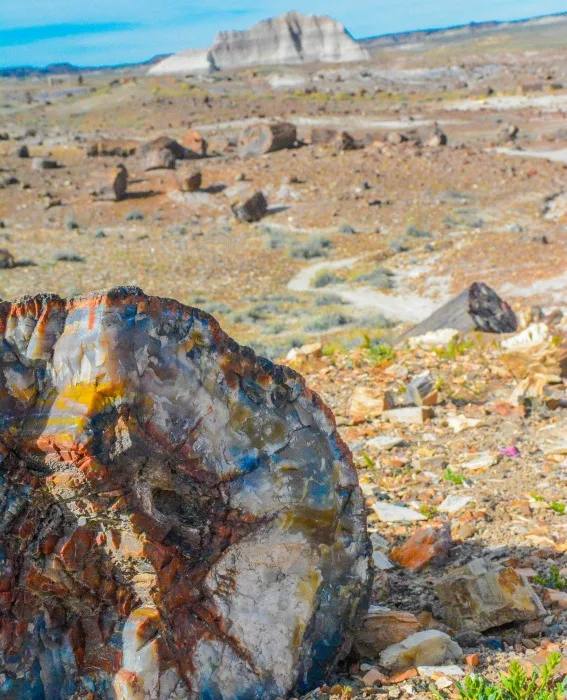 Distance from Las Vegas: Five hours, 35 minutes (370 miles)
Petrified Forest National Park is known for its color. The hues of color found in the petrified wood and sedimentary hillsides at this eastern Arizona park are truly unique. 200 million-year-old logs become sparkling rainbow rocks. The striated canyons of the Painted Desert and Blue Mesa testify of the beauty of the desert.
There are several short trails which are perfect introductions to the park's highlights. There are two basic types of trails to experience within the park- those featuring the most colorful and extraordinary petrified wood logs and the other showcasing spectacular landscape views.
Walking on the short, 0.75-mile Crystal Forest Trail, expect to see lizards, birds and a small rabbits among the colorful petrified rock logs. On the one-mile Blue Mesa Trail loop you will descend into a canyon highlighted by deep shades of blue.
Spend the night: Stay in La Quinta Inn in Holbrook, Arizona which is close to the national park and has an indoor pool .
Check out this awesome Southwest National Parks road trip itinerary which includes a stop at Petrified Forest National Park.