Nothing beats the icy thrill of zooming down a snow covered slope. Snow tubing in Utah is the perfect winter activity for families of all ages and abilities.
Whether you relish the invigoration of hiking snowy slopes or prefer to be carried up the mountain by conveyor belt, Utah has a tubing run for you. Check out our guide to find your favorite place for snow tubing in Utah.
Looking for ski coverage? Check out our guide to the best ski resorts in Utah.
Best Places for Snow Tubing in Utah- Salt Lake City and Central Utah
Woodward Park City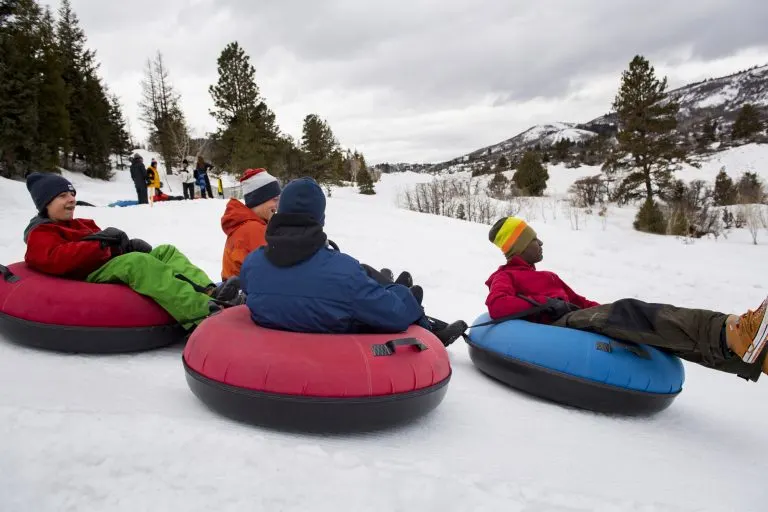 Bring the family for some snowy thrills mixed with some indoor sports at Woodward Park City, formerly known as Gorgoza Park. They offer a variety of action sports and some awesome snow tubing.
Seven tubing lanes offer a variety of runs, including shorter runs for kids under six. There is also 1,200 feet of track, making this one of the longest tubing lanes in Utah.
Two conveyor lifts shuttle families up the hill, meaning less time waiting to get to the top. And lighted lanes make tubing available into the night. Tubing starts at 9am and continues until 7pm.
The best part of tubing at Woodward Park City with little kids is the Micro Clubhouse. For kids ages 3-5, their "Micro Tickets" include all-day tubing and unlimited access to the indoor play area. So they can tube until they get too cold, warm up inside, then get back to the snow all day long.
Adults and older kids can also enjoy indoor fun with an All-Access ticket. In addition to unlimited time on the tubing lanes, families get access to the indoor Action Sports Hub. Between snow tubing runs, come inside for skating, parkour, trampolines, and more.
Minimum Age: Riders between the ages of three and five must be able to ride on their own tube and use only lower lanes. Anyone six and older can use the upper tubing lanes.
Pricing: Book your tickets online. Micro Tickets cost $20-$35 for ages one to five. Two-hour tubing sessions cost $40-$70 for ages six and up, and All-Access Tickets range from $99-$159 depending on the day.
Address: 3863 Kilby Rd, Park City
Sugarhouse Park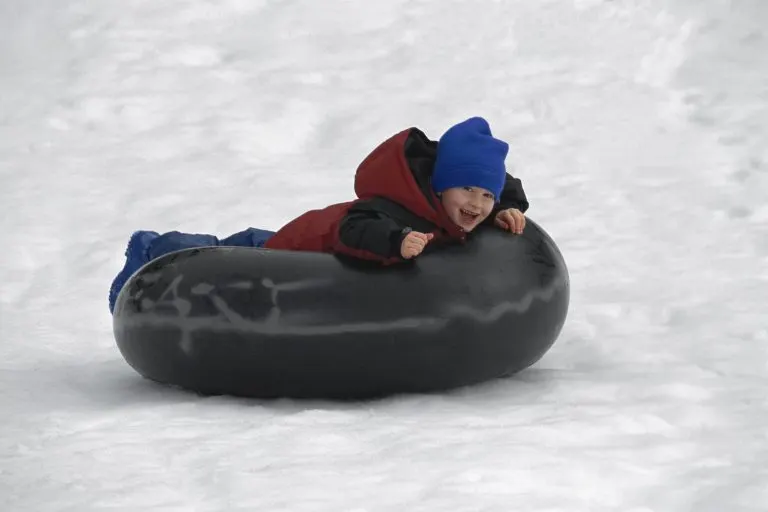 One of the most popular places for sledding in Salt Lake City is Sugarhouse Park. Grab your own tube or sled and join the locals for some free fun.
There are two main sledding hills. The first is located on 1700 East, the other closer to 1300 East. Both are great, so choose the one that's less crowded at the time.
Sugarhouse Park sprawls across 110 acres, featuring a large pond, pavilions, and ball fields. There is plenty of space for building a snowman or engaging in a snowball fight.
The park is just across the street from a shopping center with plenty of family-friendly dining options. You can snow tube until your get hungry, take a break to eat, then come back for more.
Pricing: Free
Address: 1330 2100 S, Salt Lake City
Here are more of our favorite things to do in Salt Lake City with kids.
Mountain Dell Golf Course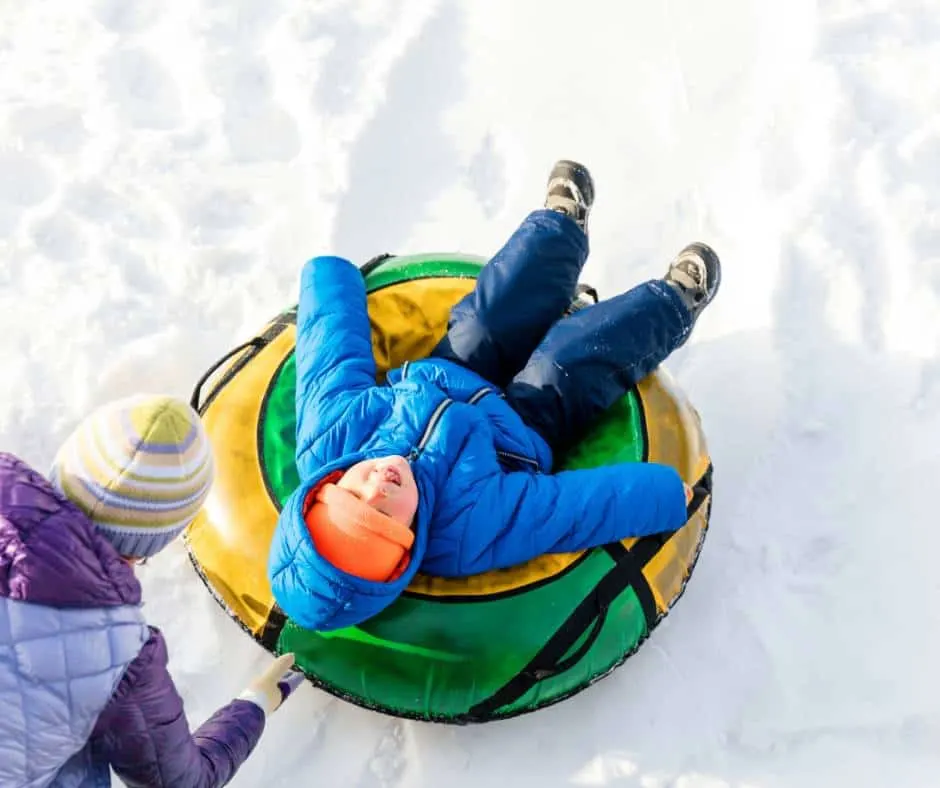 Another popular place to bring your own tube is the hill behind the clubhouse at Mountain Dell Golf Course in Salt Lake City. The golf course provides a perfect place for snow tubing, sledding, and even cross-country skiing.
There are a few long runs to slide down that are lots of fun. You do have to hike back up afterward, though. It's a great way to tire out the kids.
Due to popularity, parking can be difficult. Plan to avoid weekends and holidays to beat the crowds.
Pricing: Free
Address: Parleys Canyon, I-80, Exit #134, Salt Lake City,
Rock Canyon Park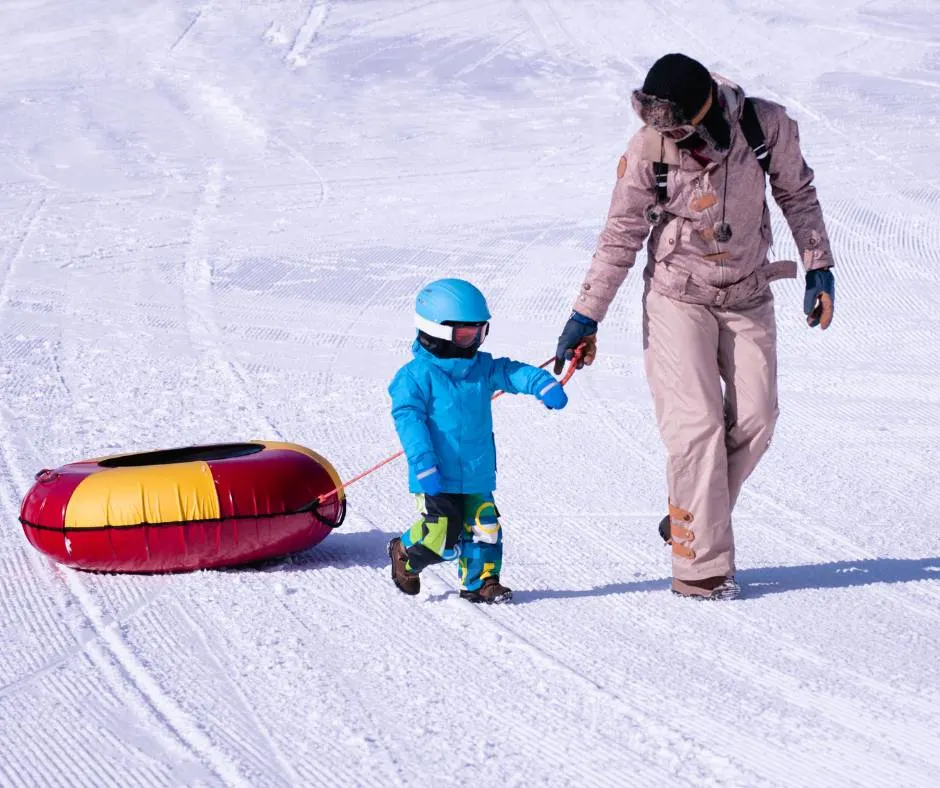 The base of the Wasatch Mountains located at Rock Canyon Park in Provo creates perfect, natural sledding hills for all ages and abilities. Little ones enjoy the gently sloping sides, while thrill seekers can hike up higher for a steeper descent.
Bring your own tubes or sleds, and take your time enjoying the magnificent views of Mount Timpanogos.
If it isn't buried in snow, children might enjoy the playgrounds at this park. There is also plenty of room for snow play.
Pricing: Free
Address: 2620 N 1200 E, Provo
Flat Iron Mesa Park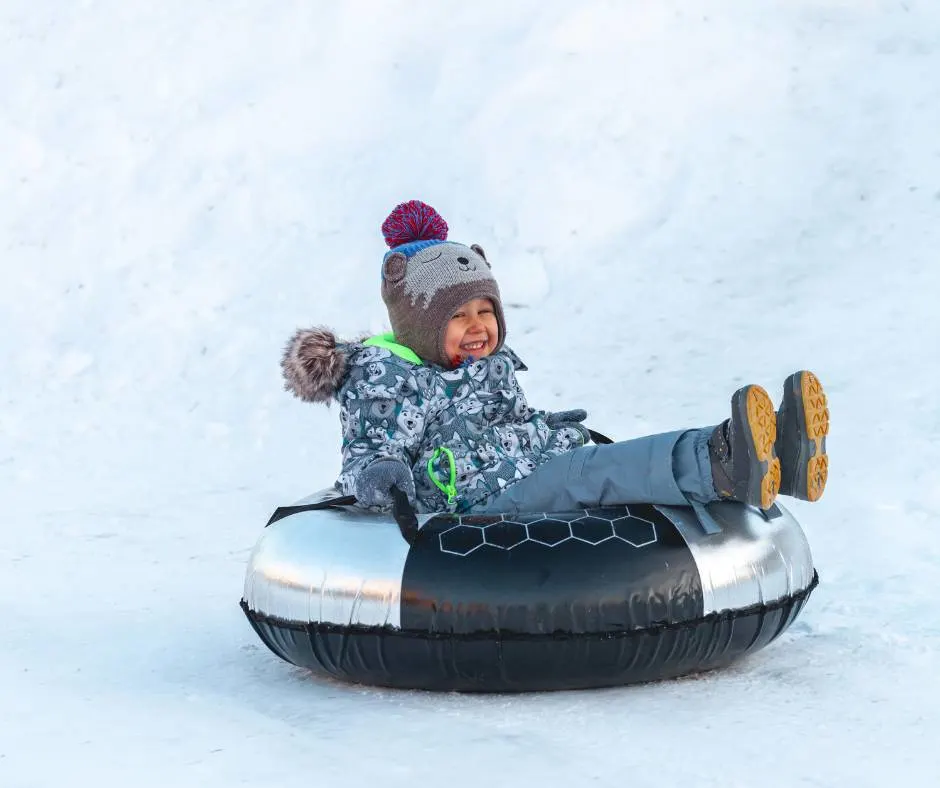 Locals flock to the beautiful Flat Iron Mesa Park in Sandy, Utah when the snow starts. The 3.18 acres of sparkling landscape attract walkers and joggers, but most of all, snow tubers.
The park's name came from the large, flat area above a steep hill that happens to be perfect for sledding. The slope allows you to pick up some speed before safely slowing to a stop in the spacious field below.
If you aren't quite ready for a fast run (or don't want to climb all the way to the top again) the end of the hill at Flat Iron Mesa Park has some easier, smaller slopes.
Pricing: Free
Address: 1765 E 8600 S, Sandy
Fun Snow Tubing Locations in Northern Utah
Cherry Peak Resort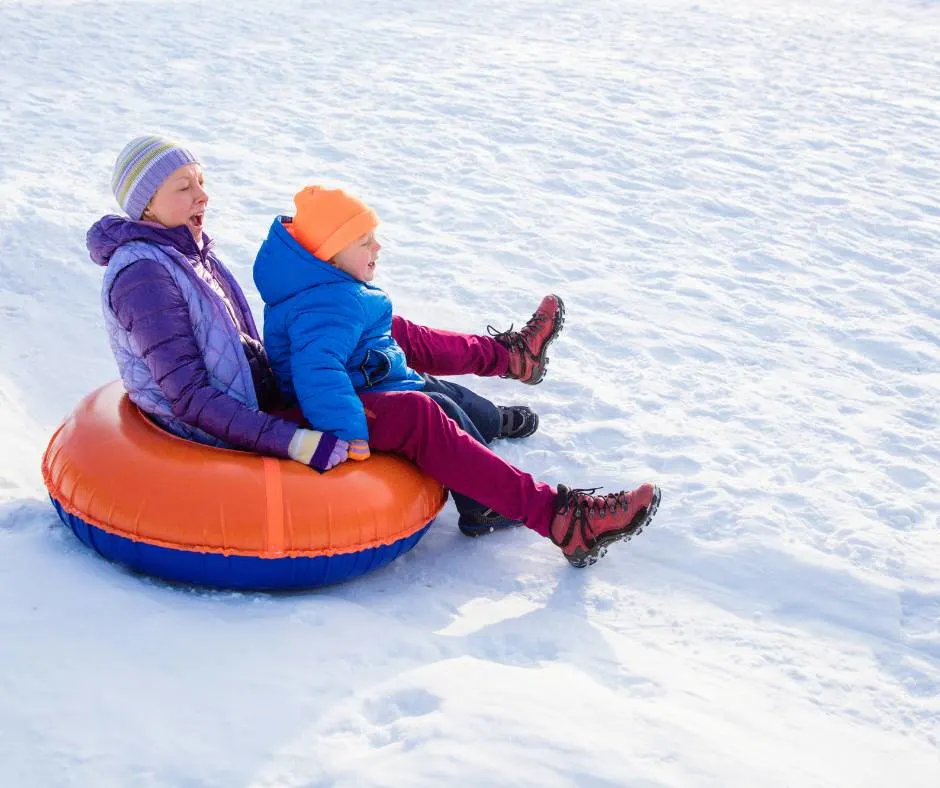 Head up north to Richmond, Utah for an exciting snow tubing experience at Cherry Peak Resort. In addition to speedy straightaways, the unique tubing run at Cherry Peak curves and dips for a rollercoaster-style experience.
Admission includes tube rentals and magic carpet access. After zooming down the hill, hop aboard the magic carpet for an easy ride back up to the top.
Tubing is open throughout the ski season. Call for current hours and conditions.
Cherry Peak Resort also offers skiing, snowboarding, and lessons for both. The onsite restaurant, The Peak Grill, serves up burgers, snacks, and sodas, so you can keep tubing all day long.
Pricing: $11 for one person, $20 for two, or $35 for a family of 4 ($5 per extra person) for two hours.
Address: 3200 E 11000 N, Richmond
Soldier Hollow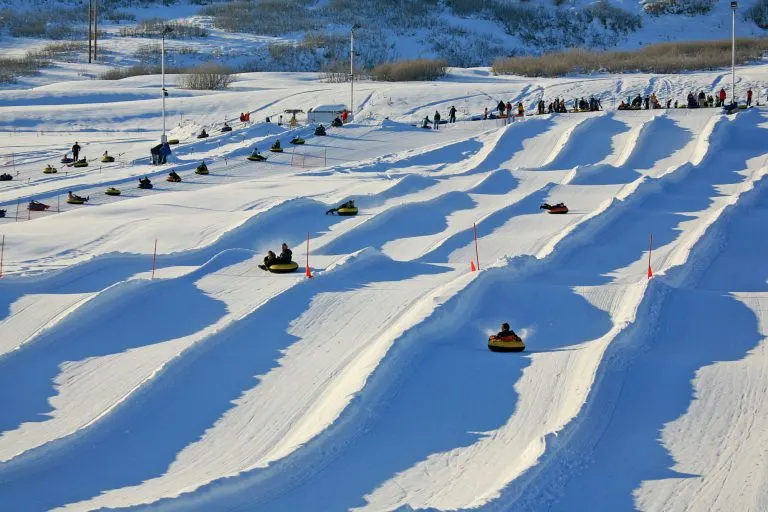 Speed down some of the longest tubing lanes in Utah on the Toyota Tubing Hill at Soldier Hollow. 1,200 feet of sledding bliss wait to be enjoyed by families in Midway, Utah.
After paying admission, take the magic carpet up the hill. Then slide down and repeat. Admission includes tube rentals, magic carpet rides, and two hours of sledding.
Winter tubing season typically begins mid-December and continues through March.
The former Olympic venue of Soldier Hollow Nordic Center can be found in Wasatch Mountain State Park. Throughout the year they host activities including horseback tours, cross-country skiing, and snowshoeing with all needed equipment available to rent.
Minimum Age: Must be at least three years old to participate.
Pricing: Varies based on season but ranges from $15-$21 for children 3-5, $20-$30 for youth ages 6-12, and $22-$32 for anyone over 13. You can book your tickets in advance online.
Address: 2002 Soldier Hollow Ln, Midway
Wasatch Parc Snow Tubing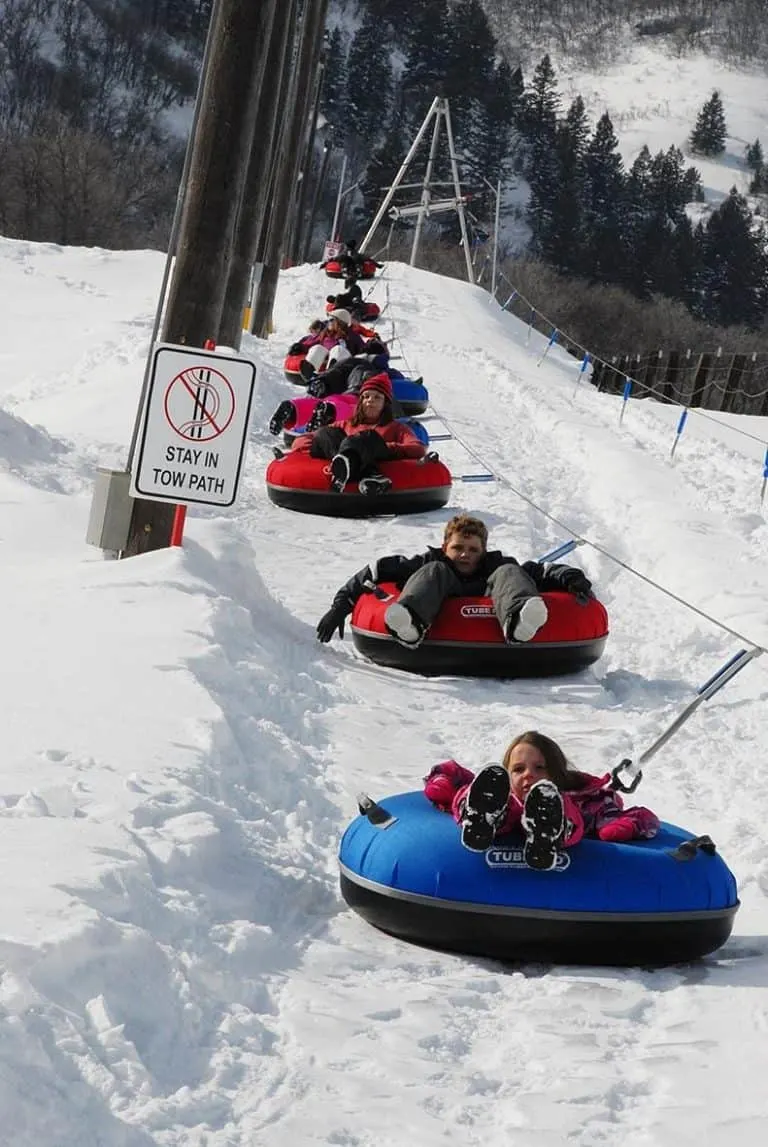 Get your adrenaline pumping at Wasatch Park Snow Tubing beside Nordic Valley in Eden, Utah. The owners have used years of international resort experience to create the steepest, fastest tubing hill possible-while still being family-friendly and safe.
Tubes and riders are pulled by a cable to the top of the hill. From there, slide down runs with zig-zags and banked turns for extra excitement. Dual lanes allow family members to race each other to the bottom.
Wasatch Parc snow tubing season opens mid-December and runs throughout the ski season.
Nordic Valley Ski Resort, right next door, is a great place to try skiing. You can also stop by the Nordic Valley Grill for something to eat.
Minimum Height: Must be at least 42 inches tall.
Pricing: $12 for a single ride, $30 for two hours, or $45 for four hours. Families of six get one person free. You can book your snow tubing sessions online.
Address: 3567 Nordic Valley Way, Eden
Lomond View Park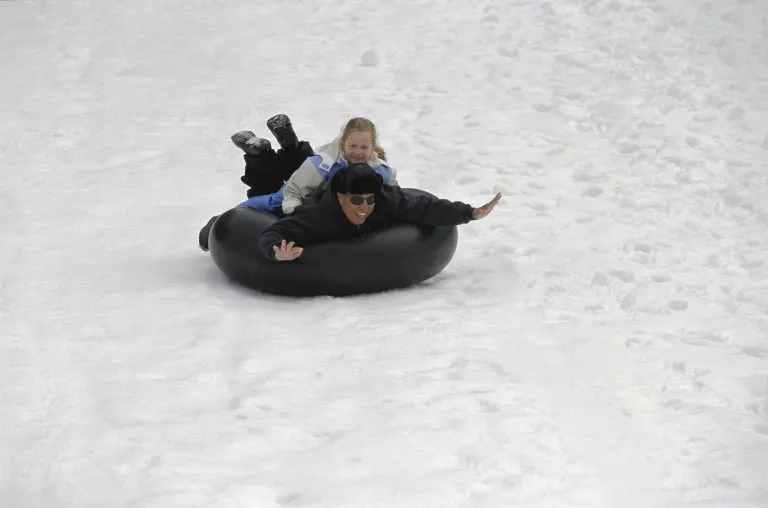 This neighborhood park was my go-to place for sledding with the kids when they were little. Small hills and a playground keep the younger ones entertained, while braver kids hike up the big hill for speedy thrills.
Bring your own tubes or sleds, and be prepared for lots of hiking. The spacious field provides lots of room for snowplay.
There is plenty of parking in the parking lot. You can also park in the neighborhood directly above the hill.
Pricing: Free
Address: 220 E Elberta Dr North Ogden
El Monte Golf Course
Golf courses make great locations for snow tubing in Utah. At El Monte Golf Course, there are hills for all abilities.
Park by the clubhouse, bring your own equipment, and have fun. The steeper hills are great for an adrenaline rush, and tamer, gentle hills excite little ones.
Bring snacks and drinks, because you will be getting plenty of exercise on these hills.
Pricing: Free
Address: 1300 Valley Dr, Ogden
Rohmer Park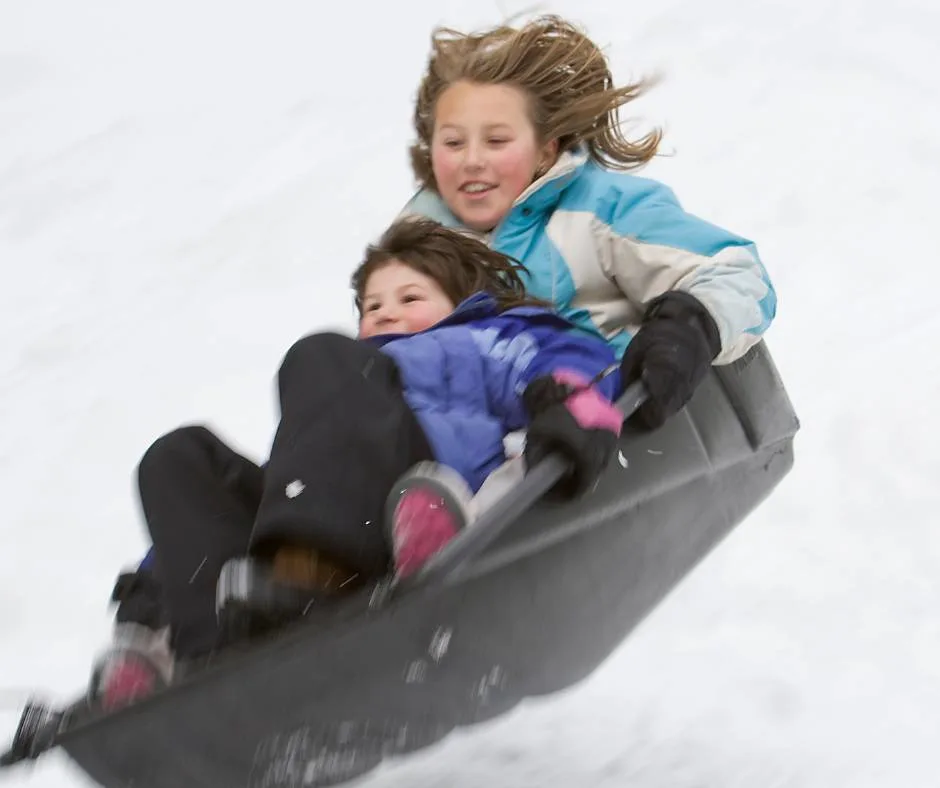 The hills of Rohmer Park in Washington Terrace make ideal tubing runs. Grab a tube or a sled, then choose your slope. Runs range from steep and speedy, to gentle and slow.
The multi-use fields provide space for snowplay between runs. And there is also a playground for added fun.
Pricing: Free
Address: 5100 S 650 W. Rohmer Park, Washington Terrace
Snow Tubing in Eastern Utah
Buckskin Hills Recreation Complex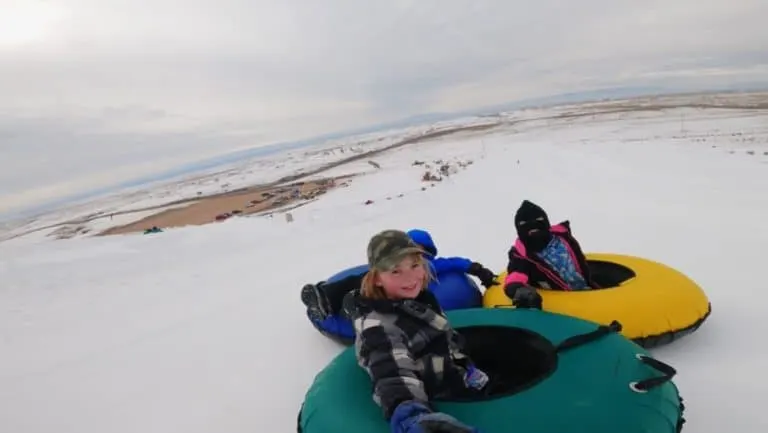 Enjoy some family-friendly winter activities at Buckskin Hills Recreation Complex in Vernal, Utah. The main attraction on the snowhill is tubing. Simply rent a tube, hitch it up to the tow cable, and relax as you ascend the hill. Once at the top, zip down solo or hold onto each other's tubes to fly down together.
In addition to tubing, families are welcome to bring their own equipment for some gentle skiing or snowboarding. The lack of steep cliffs and crowds makes it the perfect place for little skiers to gain confidence before heading to a big resort.
Buckskin Hills Ski and Snow Tubing dates of operation vary per season, but typical runs mid-December through March. Check their facebook page for current hours and events.
Pricing: $10 per person or $25 for a family of four, plus $5 for additional family members. To just use the bunny hill with your own equipment is free.
Address: 4796 East Diamond Mountain Highway, Vernal
Best Snow Tubing in Southern Utah
Brian Head Ski Resort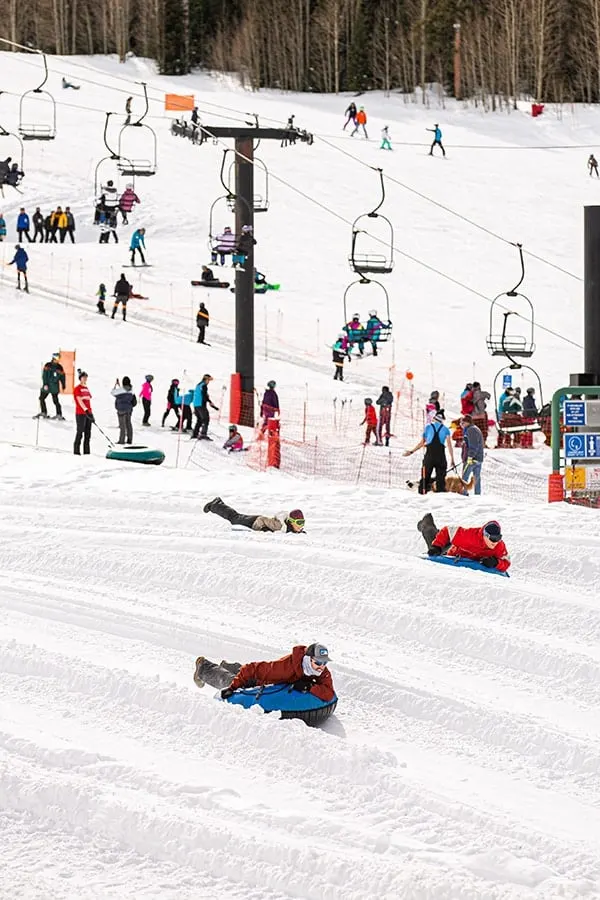 The best place to experience snow tubing in southern Utah is at Brian Head Ski Resort. Multiple exciting runs, serviced by tow cables, provide family fun.
There are two snow tubing hills at Brian Head Resort. Giant Steps starts with a 100 foot vertical drop, then speeds visitors down the 600 foot long run. Six lanes allow family members to race down the hill together. The Navajo tubing hill is slightly shorter, with only a 75 foot drop on the 550 long run.
Navajo Tubing Hill is open daily, and Giant Steps Tubing Hill is only open weekends and weekdays during peak periods.
Brian Head Ski Resort offers multiple restaurants in each lodge, so you can grab a warm meal before or after your tubing session. They also offer a variety of other winter activities and lodging.
Minimum Age: Children ages three and under are not permitted. Children under 50 pounds must be accompanied by a ticketed adult and able to ride in their own tube.
Pricing: $25-$30 per 90-minute session. Tickets can be purchase online.
Address: 329 South Highway 143, Brian Head
Woods Ranch Recreation Park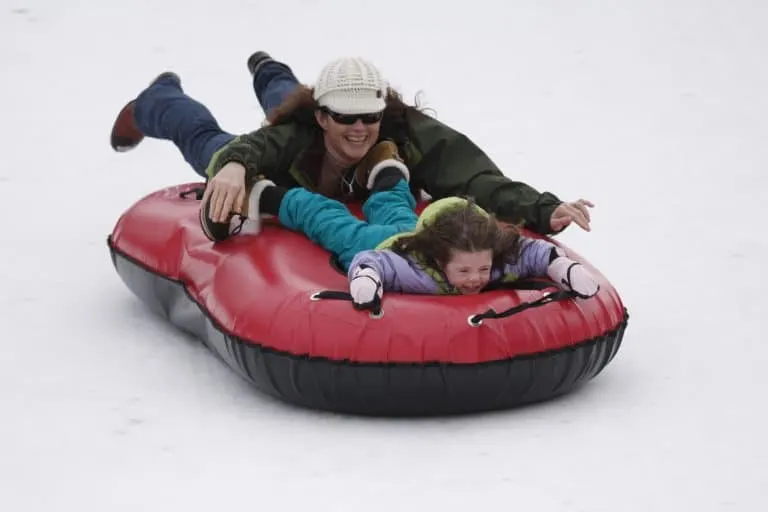 Located about 30 minutes up the canyon from Cedar City is the winter wonderland called Wood's Ranch Recreation Park. Head to the southern part of the ranch to find a hill just right for snow tubing.
The mountainside in this area of the park has been cleared, so you won't have to worry about dodging trees. There is also a pretty decent slope to get some speed, and lots of room to slow down at the end.
Take some time to hike around the park while you're here. A small, picturesque lake hides on top on a short slope. Take a break on one of the benches and enjoy the view.
Pricing: Free
Address: UT-14, Cedar City
Tips for Snow Tubing in Utah
Dress warm and waterproof. Nothing ends a snow day quicker than frozen fingers and toes.
If the snow is fresh, wear goggles or sunglasses. The tubes sometimes send snow flying into your face while rushing down the hillside.
To avoid crowds at snow tubing parks, always aim for weekdays. Not only will you be able to get in more runs, slower days are cheaper at some resorts.
When snow tubing at a local park, make sure the area is clear of hazards, including people, before starting down the hill. You need a big enough flat area at the bottom to slow down after your run. Once you stop, quickly move out of the way so you don't get run down. Also, consider wearing a helmet. Once you get going fast it is hard to stop.
Find Snow Tubing Near You!