In the cold season, Northern Arizona becomes a winter wonderland. Snow frosts the alpine and conifer forests and cascades down the mountainsides. Sledding in Flagstaff is fantastic. In fact, Flagstaff boasts the distinction of being one of the snowiest cities in the United States with an average annual snowfall of over 100 inches.
If you can't wait to build a snowman, play in the snow, or sled down snowy slopes, we've got you covered. Here are 12 great spots for sledding in Flagstaff and the rest of Arizona.
Sledding in Flagstaff Area
Flagstaff Snow Park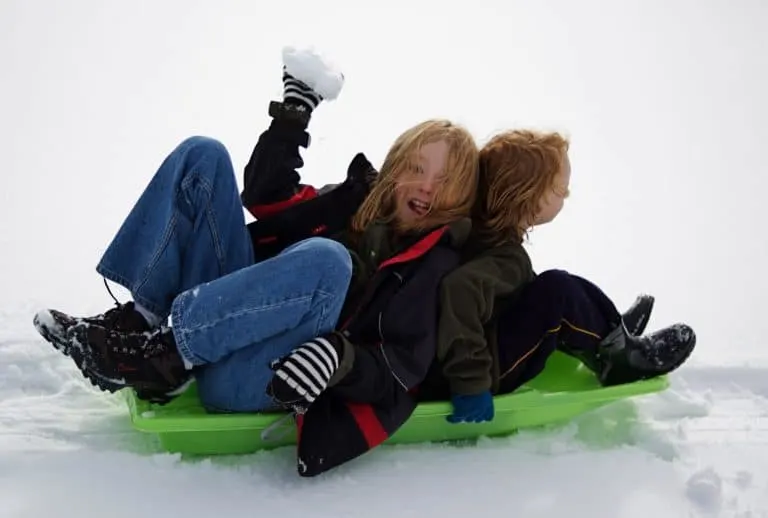 One of the best spots for sledding in Flagstaff, Arizona is the Flagstaff Snow Park. Here you'll find everything you need to spend a day making snowy memories.
Multiple groomed snow tubing runs, including one designated as a kiddie hill, provide hours of sledding fun. Unlimited tube usage is included in your ticket price, so no need to bring your own sled. It also includes access to picnic tables, outdoor fire pits, and restrooms.
No need to leave when you get hungry. Flagstaff Snow Park hosts multiple food trucks. You can also bring marshmallows to make your own s'mores over the fire pits. And if you are getting cold, stop by the merchandise truck to buy extra hats, gloves, hand warmers, or neck gaiters.
Everyone who enters Flagstaff Snow Park needs a ticket, which must be purchased online. Non-tubers receive discounted admission but can still enjoy park amenities, build a snowman, or relax and watch their family members zip down the hill.
The park typically opens mid-December. Snow is manufactured for the tubing runs, but snow play areas rely on mother nature.
Flagstaff Snow Park resides at Fort Tuthill County Park, just 15 minutes south of downtown Flagstaff.
Happy Jack Lodge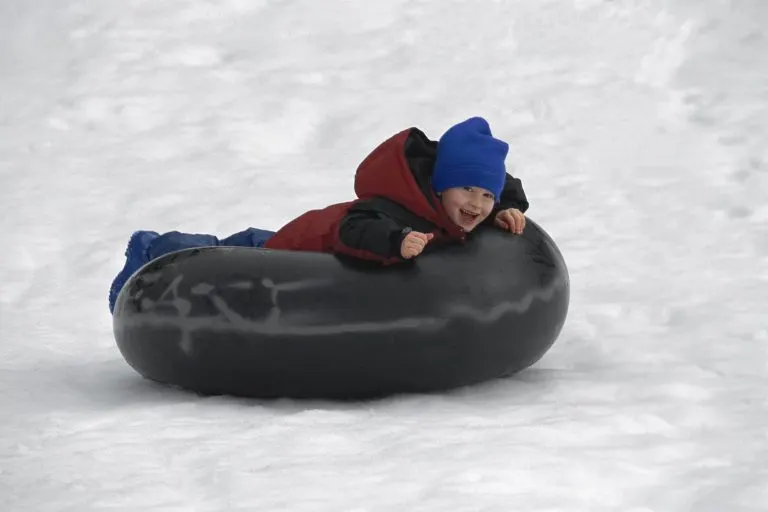 Hidden away along 100 acres of Arizona's Mogollon Rim is Happy Jack Lodge & RV full service resort. Their spacious, forested grounds boast plenty of sledding hills and areas for playing in the snow.
For a small fee, non-guests are welcome to use the property for their own winter playground. Bring your own sled, or rent one from the resort. A waiver is required, but how you spend the day is up to you. Call for current snow conditions.
On weekends, Happy Jack Lodge serves up breakfast, lunch, and dinner at its onsite restaurant, Jack's Place. This BBQ Grill offers unique Arizonan blends of burritos, tacos, and smoked meats, along with classic barbeque sides.
Happy Jack Lodge is located about an hour southeast of Flagstaff off of Lake Mary Road, or two and a half hours north of Phoenix via I-17.
Finding lodging at cabins in Happy Jack and make a weekend of it!
Flagstaff City Parks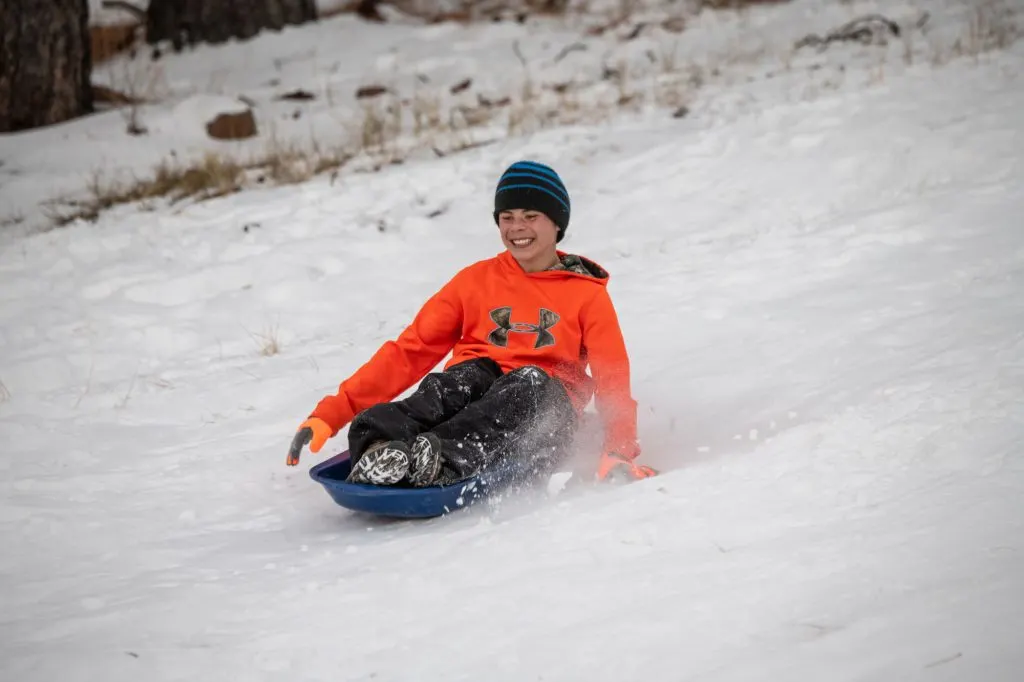 When the snow falls, why not just head over to one of Flagstaff's great city parks? In addition to playgrounds and picnic tables, you'll find some great areas for snow play. The best parks for easy sledding in Flagstaff are Buffalo Park, Foxglenn Park, and Thorpe Park. Be sure to bring your own sleds.
Buffalo Park
Come to Buffalo Park for their small sledding hills and spacious grounds. There is lots of room to have a snowball fight or make snow angels together. Here you'll also find permanent restrooms and a picnic ramada.
Foxglenn Park
Another park for top-notch sledding is Foxglenn Park. The more gradually sloped hills are away from the steep ones, keeping beginners safe and providing sledding opportunities for the whole family.
There is plenty of space to build a snowman or have a snowball fight as well. Amenities include permanent restrooms, covered picnic tables, sports fields, a skate track, and a playground.
Thorpe Park
At Thorpe Park, the gently-sloped hills make the perfect sledding runs for young families to enjoy together. And kids love exploring the two playgrounds between runs. There are also onsite restrooms.
Canyon Coaster Adventure Park in Williams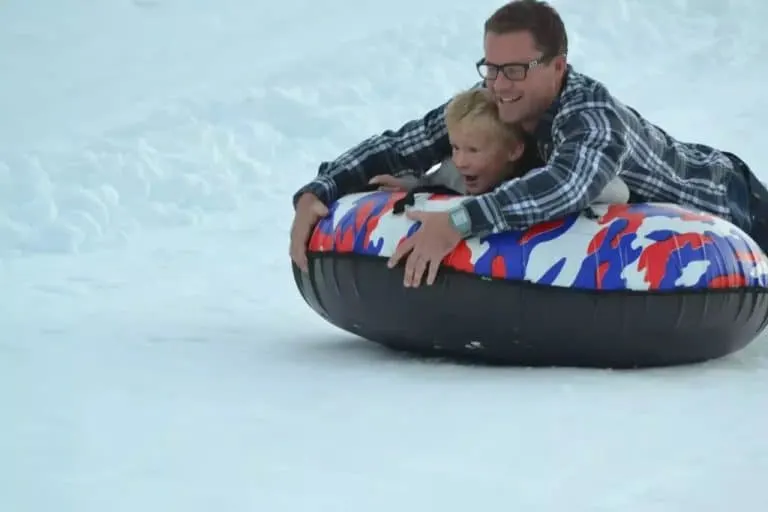 There's nothing worse than planning a sledding trip and not having snow. Luckily, Canyon Coaster Adventure Park guarantees snow from mid-November until Easter. Four, state-of-the-art snowmakers blast the slopes with fresh powder all season long.
Families can spend the day zipping down groomed sledding runs, then riding back up the hill on one of the two conveyor belts. Ticket options include two hours or full day admission and range in price from $25-$59 depending on age.
Small children between 36 and 42 inches must ride on the same tube as an adult over the age of 18. Anyone under 36 inches and pregnant women are prohibited from entering the sledding area.
Don't worry about packing a lunch. The Canyon Coaster Bar and Grill is a perfect place to grab a sandwich, snack, or some steaming hot cocoa. They even have TVs inside the restaurant with dedicated live feeds of the tubing hill.
Canyon Coaster Adventure Park is easy to access, right in the heart of Williams, Arizona off Route 66.
Oak Hill Snow Play Area in Williams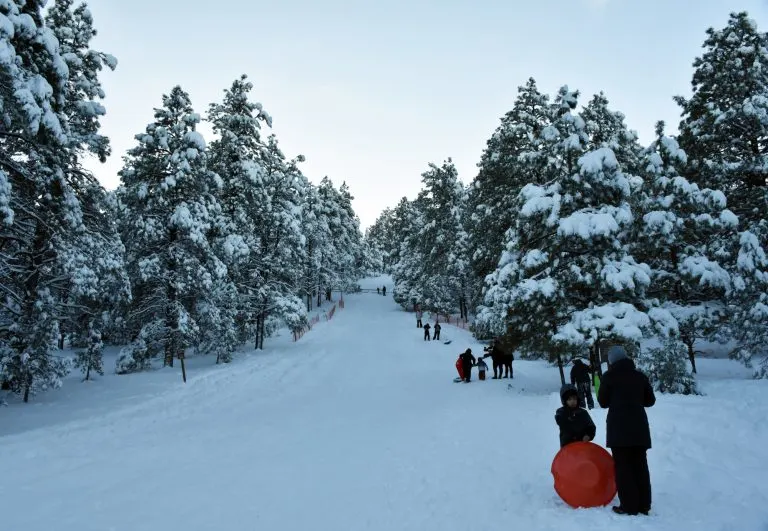 Back in the 1950's, a small alpine ski area covered this site. After it closed, the Forest Service transformed the area into Oak Hill Snow Play Area, a perfect place for sledders to enjoy the freshly fallen snow.
Two sledding runs entertain families here; a shorter, easier one for beginners, and a long, steep one for the pros. Bring your own sled or tube, just make sure it is made of flexible material. Wood, metal, and hard rigid sleds aren't allowed.
Amenities are scarce, but there is one vault toilet. Bring your own water because none is available onsite. However, at the bottom of the hill you can find a warming shelter with picnic tables and an outdoor fire pit.
Since this is in a National Forest, it's free to sled here. But it's also up to you to make sure conditions are safe and that the area stays clean. Whatever you bring with you, please pack out.
You can find the Oak Hill Snow Play Area in the Kaibab National Forest, about 10 miles east of Williams on Historic Route 66. A parking lot holds about 15 cars and parking is prohibited along historic Route 66.
Kendrick Park Watchable Wildlife Trail (or Walker Lake Recreation Area)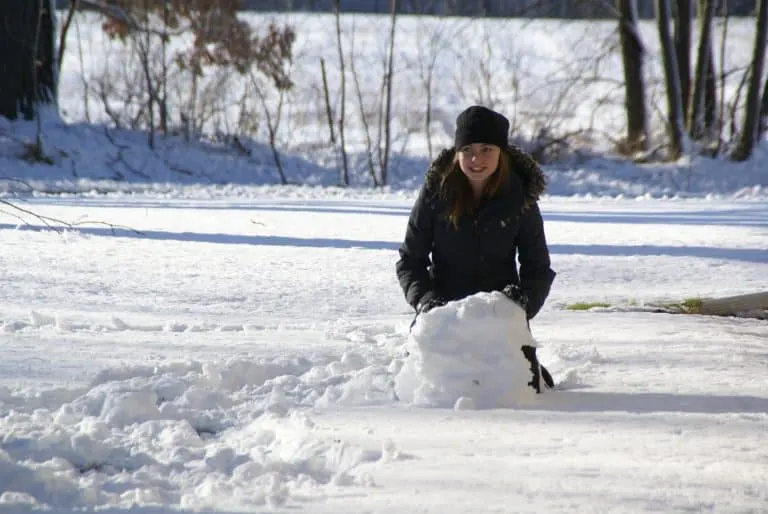 A fun place for more secluded, toddler-friendly sledding in Flagstaff is Kendrick Park Watchable Wildlife Area. The open area provides the perfect battle field for a snowball fight. And you may have to hike in a bit to find them, but there are several small hills to sled down.
Unlike some of the other locations for playing in the snow, Kendrick Park offers plenty of parking spots and restrooms. There are no other facilities, so make sure to bring everything else you might need.
Curious about the title, "watchable wildlife trail"? An interpretive trail leads around a loop, describing the animals in the area. There are two hiking loop options. The forest is an easy quarter-mile, the second a mile and a half. Bring your snowshoes or cross-country skis for a snowy hike and keep an eye-out for deer, squirrels, and elk.
To get here, head north of Flagstaff on Highway 180 for about 12 miles. Turn left around mile marker 235 into the Kendrick Watchable Wildlife Area parking lot.
Forest Roads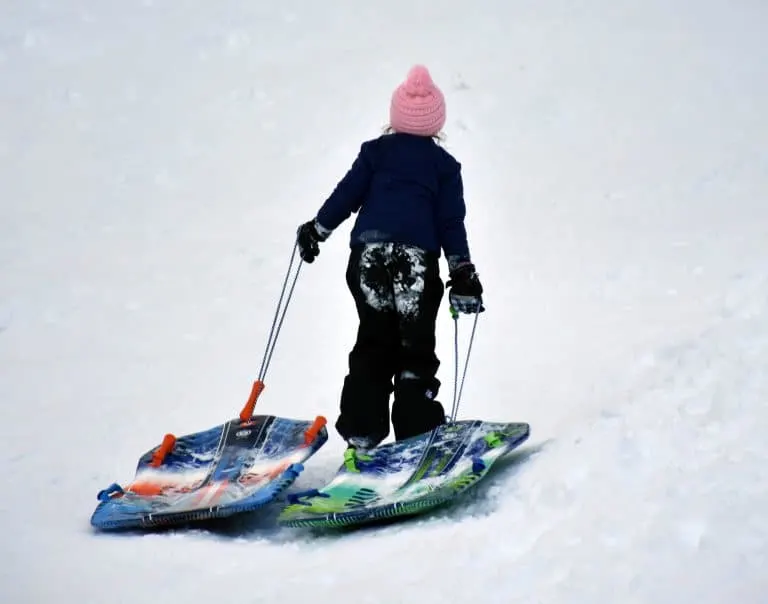 If you want to go the old-fashioned route, take one of Flagstaff's many Forest Roads, find a snowy hill, and go to town. Just make sure you have a safe place to park off of the road and don't sled anywhere where you might end up in traffic.
Occasionally the forest roads close for various reasons, including weather. You can check the current status of each road on the forest service website. If the roads are closed, you can park at the entrance near the gate, as long as you don't block it.
Sledding in the White Mountains
Sunrise Park Resort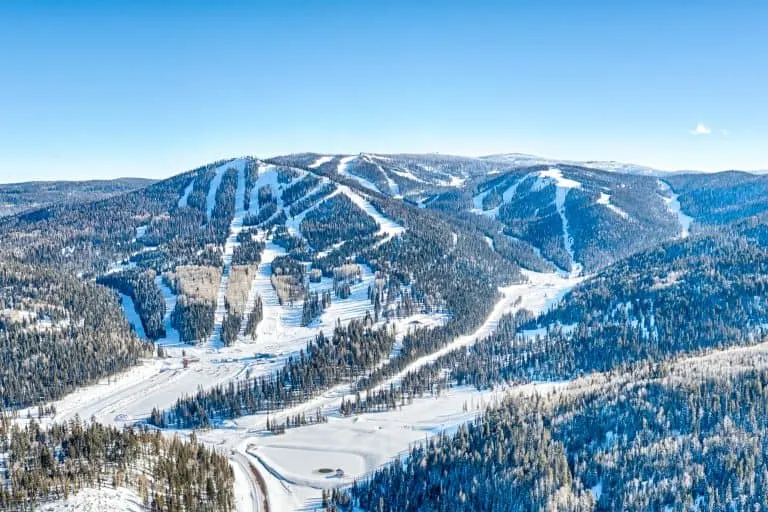 Why carry your tube up the hill like a schmuck when your tube can carry you! The tubing hill at Sunrise Park Resort tows tubes, complete with riders sitting atop, up the mountain by cable. Families can enjoy flying down the groomed runs again and again, without getting exhausted by the climb.
For just $7, guests get unlimited runs down the tubing hill for a 30-minute block. Tickets for snow tubing can only be purchased at the Sunrise Ticket Office on a first-come, first served basis and are available Friday through Sunday. Anyone over six years old is allowed on the hills, but everyone has to be on their own tube, which is included in your ticket price.
One of the perks of sledding at a ski resort is, of course, the skiing and snowboarding options. If some members of your family find sledding a little too mild, they can enjoy the many trails and terrain offered to downhill skiers and snowboarders. Your family could also explore the trails dedicated to cross country skiing, or try your hand at ski biking.
When you get hungry from your day in the snow, head over to Mountain Grill, located at the base of Sunrise beside the ticket booth. They offer delicious options for breakfast and lunch, as well as an assortment of snacks and drinks.
Sunrise is located in the White Mountains of eastern Arizona, about four hours from Phoenix.
Like to ski? Here are four Arizona ski resorts to visit with your family.
William Valley Recreation Area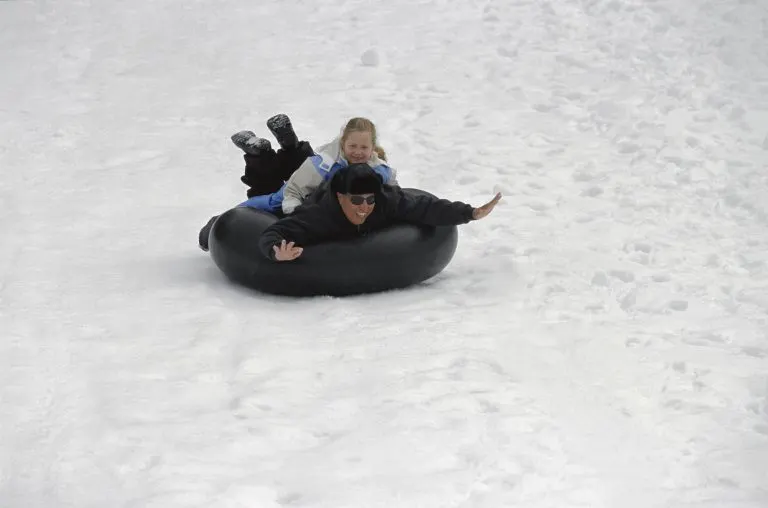 One of the best recreation areas of the White Mountains is the Williams Valley Recreation Area. The Forest Service manages the area and maintains winter trails for cross-country skiing and snowshoeing, but best of all, sledding.
In the winter sports area of Toboggan Hill, visitors are encouraged to slide down the frosty slopes on tubes, sleds, or toboggans. You are most likely to find great snow between December and February, but you can always call the Alpine Ranger District to check current conditions. Picnic tables and toilets are available, but be sure to pack your own sled, food, and water.
To reach the Williams Valley Recreation Area, follow Highway 180 north west from Alpine for one and a half miles before heading onto Forest Road 249. After about four and a half miles you'll reach the parking lot for Toboggan Hill Trailhead.
Hannagan Meadow Recreation Area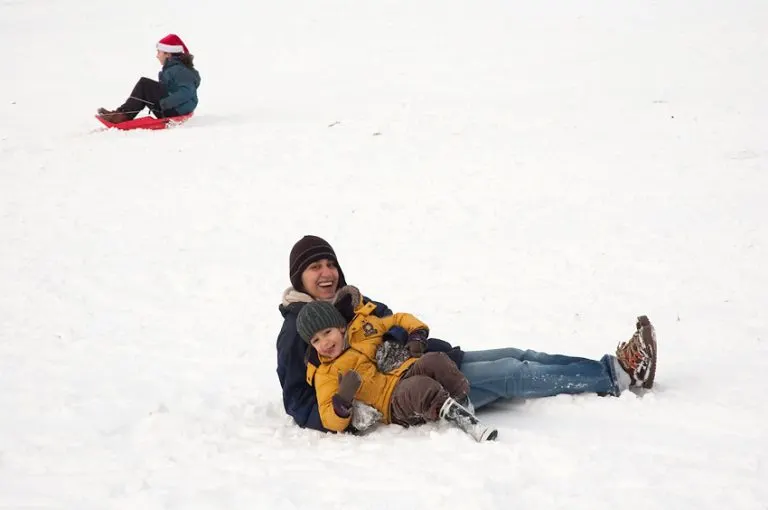 Several snow covered hills fill the Hannagan Meadow Recreation Area in the winter. Bring your sled for some casual sledding among alpine trees.
If you enjoy some back-country skiing, this is also a great place for that. The groomed trails are generally more challenging, but with over eight miles of trails, there is suitable skiing for all levels.
Very adventurous families might even enjoy snow camping here. At the Hannagan Campground you can find restrooms, picnic tables, and drinking water. There are no fees but donations are accepted.
For those of us who like to be warm, check out Hannagan Meadow Lodge. In addition to lodging, they offer outdoor recreational activities like snowmobile tours and boast the "best tubing hill on the mountain." They also have a restaurant that serves up breakfast, lunch, and dinner, seven days week.
Located in one of the most remote areas of the White Mountains, Hannagan Meadow Recreation Area can be reached by driving about 22 miles south of Alpine, Arizona.
Important Information about Sledding in Flagstaff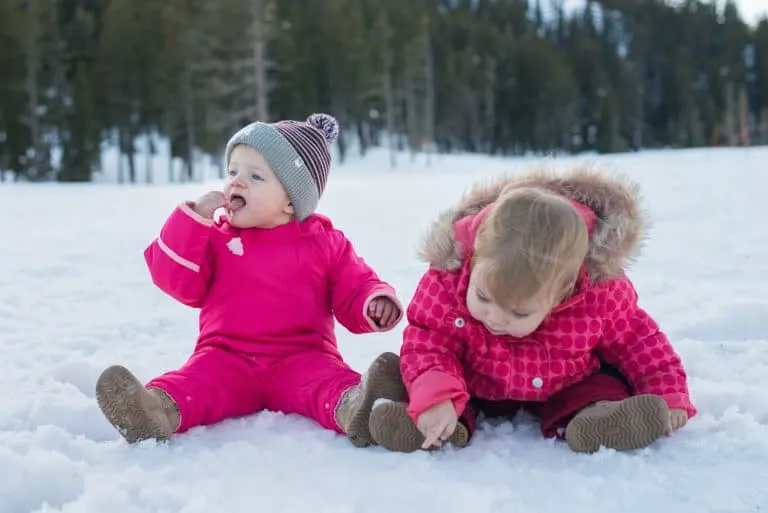 The historic town of Flagstaff welcomes visitors from all over for the winter season. Most shops in town are stocked with sleds, snow clothes, or any other equipment you might need. And check out the downtown Flagstaff area for some unique and delicious dining options before or after sledding.
These are our favorite things to do in Flagstaff.
These Spots are Closed For Sledding/Snowplay
Many local snow play options that you will find via internet searches have closed in the last few years. I have contacted the following resorts and appropriate forest services to confirm the following are closed to snowplay:
-Mormon Lake Lodge
-Crowley Pit Snowplay Area
-Wing Mountain Snowplay Area
-Arizona Snowbowl (offers skiing, snowboarding, and ski bikes)
-Arizona Nordic Village (a good place for cross-country skiing and snowshoeing)
General Rules and Safety Guidelines
It is also important to know that there is no parking allowed on Highway 180. Parking here will result in a heavy fine. Sledding is also prohibited anywhere along Interstate 17 or off the side of main roads.
Please remember to pack out what you pack in. Many of the places that have closed did so because visitors were disrespecting the area, leaving broken plastic sleds and other trash behind.
And of course, be safe. Watch for stumps and rocks that may be hidden under snow and stay away from trees and fences. Also, make sure there is enough flat space at the bottom of your hill for you to glide to a safe stop.
Explore more of the state! Here are our favorite things to do in Arizona with kids.
Find Snow Tubing Near You!