Where else but in Salt Lake City can visitors access 10 world-class ski resorts within an hour's drive of the airport? So many of the best ski resorts in Utah are ridiculously easy to access, and it will take multiple winters to ski them all!
When it comes to searching for a family-friendly ski destination, Utah has it all – incredible snow, family-friendly ski resorts, charming ski towns, and incredible dining. Local skiers and snowboarders, as well as thousands of visitors, have a full menu of resort offerings to fit any budget, skill, or skiing style.
With so many ski resorts in Utah, it might be hard to know where to start. Luckily we have done the research on the perfect Utah powder and are excited to share our findings with you!
Best Ski Resorts in Utah for 2022-23
Utah Ski Regions
Since Utah is a large state with several ski regions, we decided to break it all down for you. There are a total of 15 ski resorts in Utah. Ski Utah has a great map showing driving times from Salt Lake City to each of Utah's ski resorts. Here are the six regions and the resorts you will find in each one.
Trekaroo Tip: If you have a 4th, 5th, or 6th-grader, you can apply for $49 Utah Ski Passport, which is good for 45 days and can be used at any of Utah's ski resorts.
Salt Lake City Area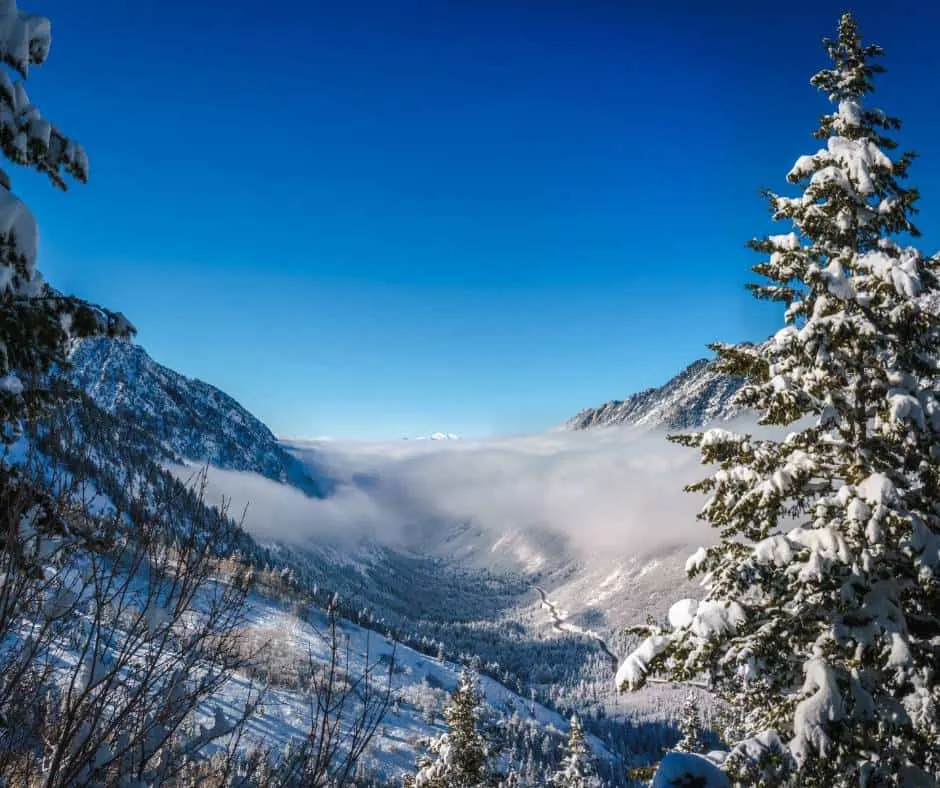 This region is on the eastern side of Salt Lake City in Little and Big Cottonwood Canyon. This is one of the best places to see fall colors in Utah, but in the winter, it's the ski resorts Solitude, Snowbird, Brighton, and Alta that draw visitors.
Park City Area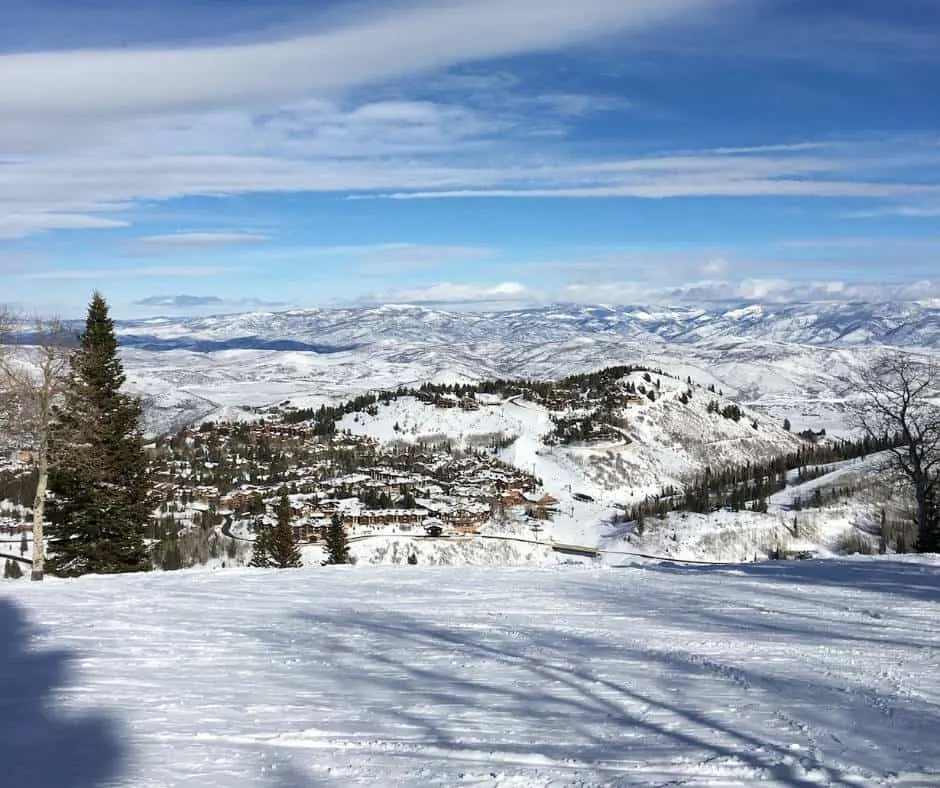 The Wasatch Mountains northeast of Salt Lake City and the town of Park City rose to international fame when they hosted the 2002 Winter Olympic Games. This region is home to Park City Mountain Resort, Deer Valley Resort, and Woodward.
Park City is an exciting and varied destination with world-class dining along Mainstreet and unique experiences like yoga paddleboarding in a geothermal crater. To learn more about what there is to do in Park City, hop on over to Over 20 Things to do in Park City During the Winter.
Provo Area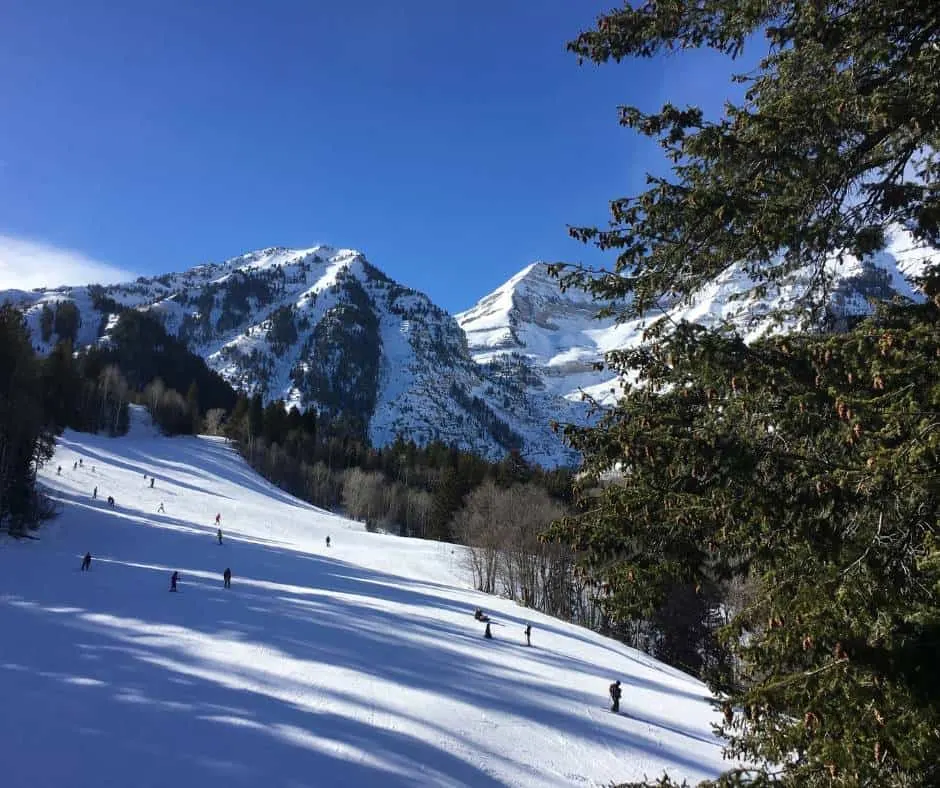 This region is in the mountains to the east of Provo and includes the famed Sundance Resort.
Ogden Valley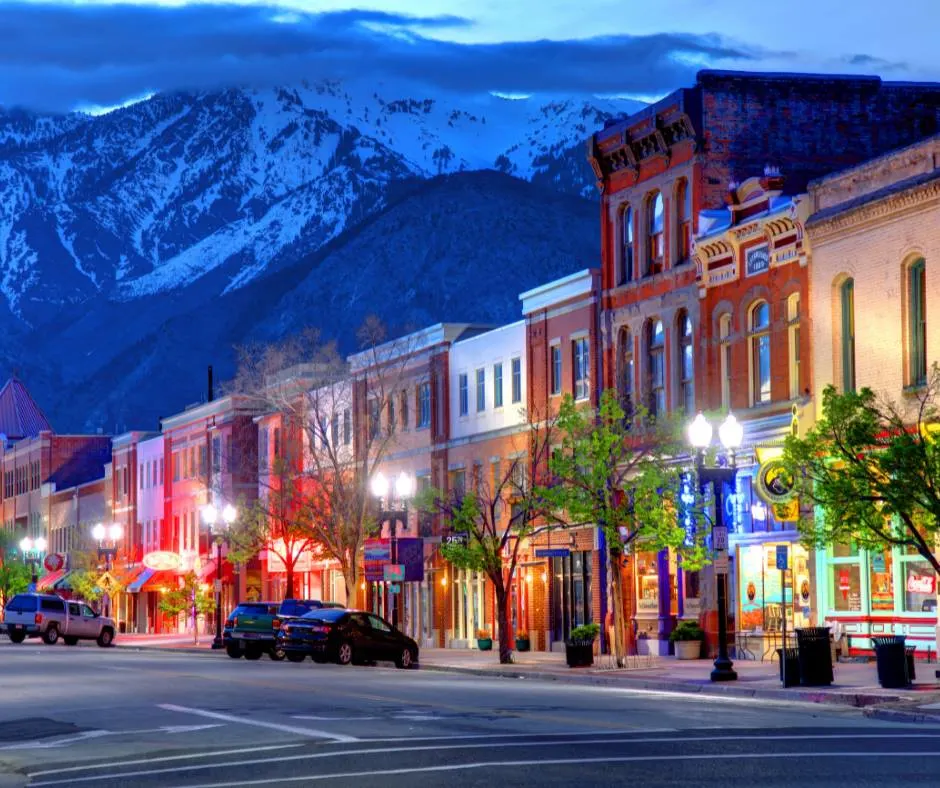 This region is about an hour northwest of Salt Lake City. It includes the ski resort with the most skiable acreage (8,464 acres) in North America, Powder Mountain, as well as Snowbasin and Nordic Valley.
North Utah
Northern Utah is home to the Bear River Mountains, where you will find both Beaver Mountain and Cherry Peak.
Southern Utah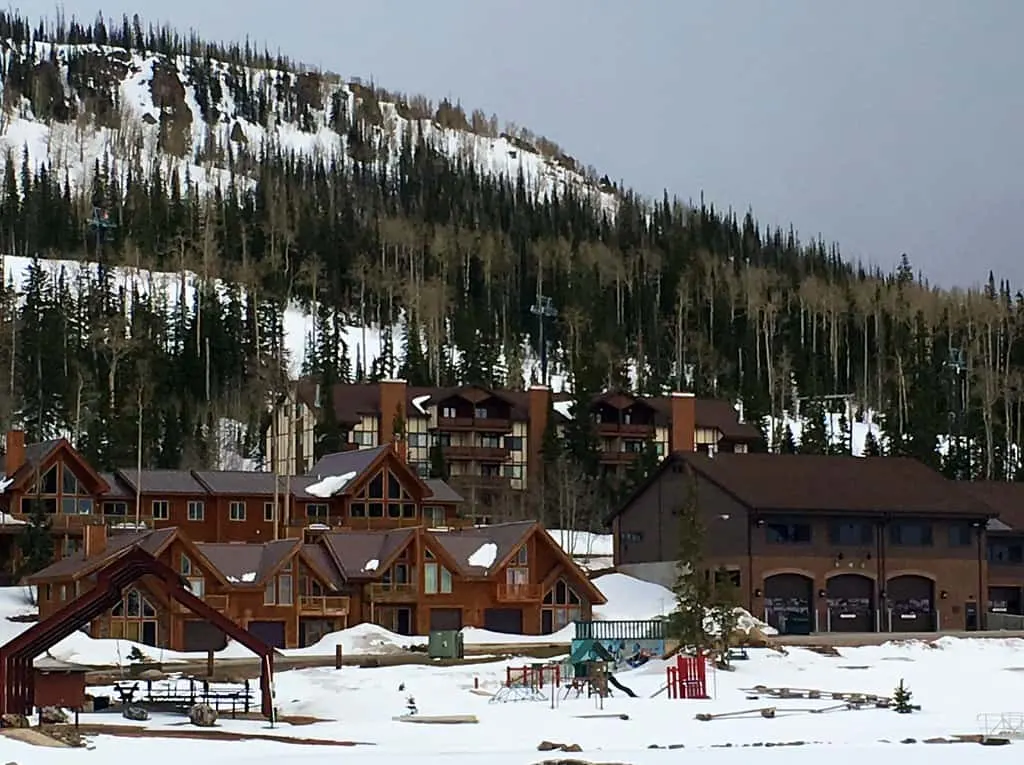 Southern Utah is home to several national parks, like Zion and Bryce. It is also home to Brian Head and Eagle Point, two smaller ski resorts that cater to families.
Visiting Utah's national parks are definitely on our list of the Top 10 Things to Do Utah with Kids on a vacation.
Best Ski Resort in Utah for Family Skiing – Park City Mountain Resort
Ski and Snowboard Resort
Season Pass Offered – Epic Pass
Why we love this Utah ski resort:
World-class mountain town destination with award-winning dining
Massive mountain with many intermediate ski runs for families to enjoy together
Great terrain parks and expert runs
Wide variety of lodging options
Located 40 minutes from the Salt Lake City Airport, Park City is a quaint mountain village that's a charming mashup between a Swiss ski village and a western town. Park City Mountain merged with Canyons in 2015 to become one of the largest ski resorts in the United States.
We love Park City for families for several reasons. Even though the resort is massive, we found it incredibly easy getting on and off the slopes at both bases.
If you're a parent who has to lug a ton of gear and little feet to the ski lifts, you'll appreciate the free parking and stress-free ride on the Orange Bubble Express at the Park City Mountain base. Getting from our car to the ski lesson check-in and the ski rental shop was a breeze.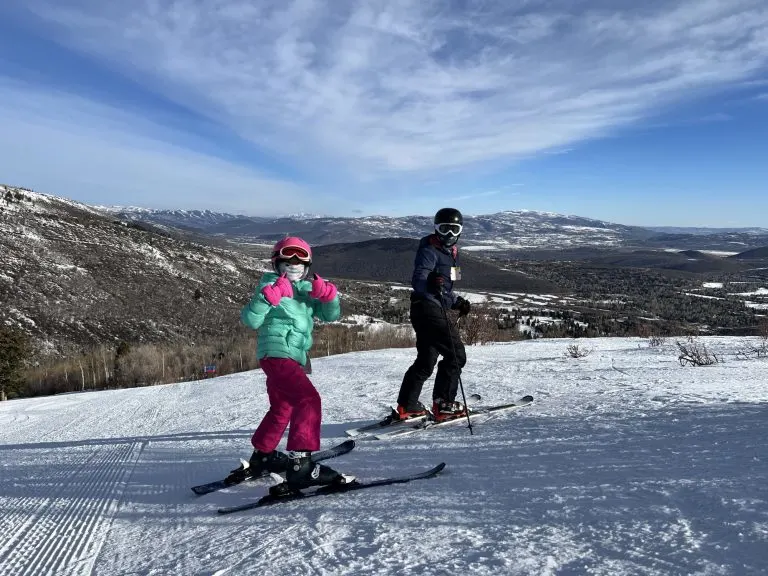 Park City Mountain offers many green, blue, and black runs. The lifts are fast, and families can easily find places to escape crowds. Our ski instructors introduced us to our favorite runs near the Tombstone Express lift – Serenity and Sanctuary really lived up to their names.
Besides an excellent ski school that you'd expect at any Vail Resorts property, Park City Mountain also offers an adaptive skiing program in partnership with the National Ability Center.
This resort has specialized equipment and instructors trained to teach people with various physical and cognitive differences. If you have a member of your family who is autistic or has Down Syndrome, they too can enjoy a ski vacation as much as anyone else at Park City.
Teens who want to catch some air will also love Park City Mountain Resort. There are six terrain parks plus a half pipe and a mini pipe. Both skiers and riders will find a terrain park to match their abilities.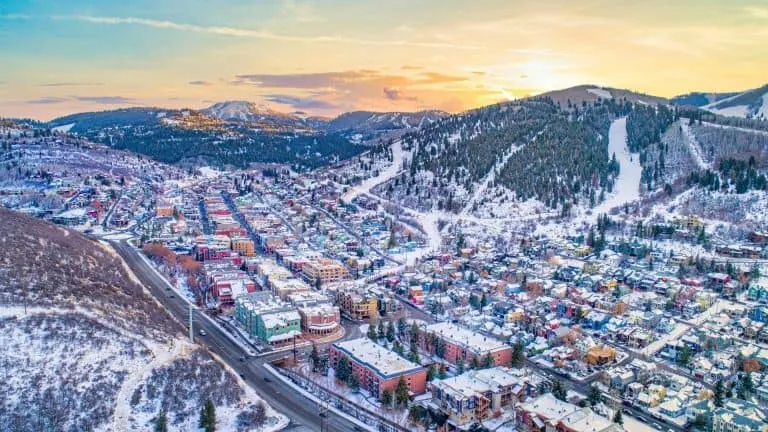 There are many different lodging options right by the Park City Mountain base, from luxury mountain homes to bunk bed-style family rooms at Yotel. Hyatt Centric Park City is a good option for families.
Kimball Junction is a 10-minute drive from the Park City Mountain base, with even more affordable lodging options. With a free shuttle and free parking at both mountain bases, staying further away is not an issue.
Park City Mountain is a destination-worthy ski resort because thereis so much to do both off and on the mountain.
Best Luxury Ski Resort in Utah – Deer Valley Resort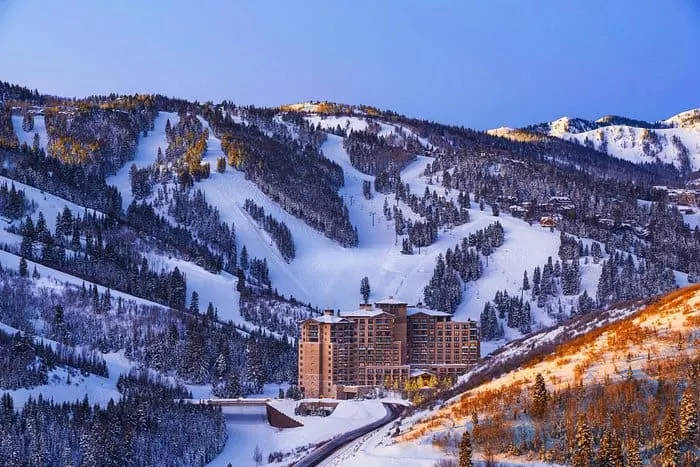 Ski Only Resort
Season Passes Offered: Ikon Pass, Deer Valley Season Pass
Why we love this Utah ski resort:
Perfectly groomed runs for skiers only
Luxury lodging and concierge service
Truly memorable dining experiences
Deer Valley Resort is also located in Park City, so you can enjoy the excellent dining and off-mountain activities the destination offers. However, if your whole crew skis, you definitely want to consider Deer Valley for your family ski vacation.
There are three great reasons, Deer Valley earns our book's best luxury ski resort title. First, the lodging options at Deer Valley include the two phenomenal luxury properties- St. Regis Deer Valley and Montage Deer Valley. There are also more affordable lodging options at Deer Valley, including self-catering condos.
Second, you'll find picturesque and impeccably groomed trails throughout Deer Valley Resort. While there are black runs at Deer Valley, the emphasis here is on easy and pleasant skiing with extra amenities like ski valets.
"Even towards the end of the ski day, you'll find a lot of glades that hide stashes of powder after the bowls are skied out," notes Trekaroo contributor Amy Hagstrom. Best of all, variable pricing and limiting ticket sales manage crowds at the lifts and trails.
Third, Deer Valley offers a few brag-worthy dining experiences. One is the Fireside Dining at Empire Canyon Lodge features four courses served from the stone fireplace, European Alps-style. At one fireplace, you might enjoy Swiss raclette; at another, hearty soups and stews, grilled meats and vegetables, and of course, dessert. You can even opt for a sleigh ride at this experience!
Best Expert and Off-Piste Terrain – Solitude Mountain Resort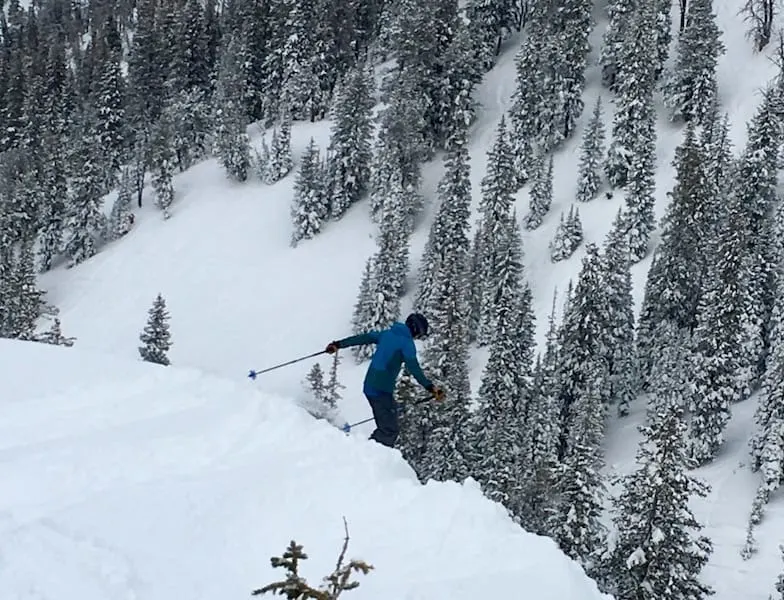 Ski and Snowboard Resort
Season Pass Offered: Ikon Pass
Why we love this Utah ski resort:
Serenity and crowd-free ski experience
Spectacluar off-piste and expert terrain
Affordable lift tickets
Located in Big Cottonwood Canyon on the eastern side of Salt Lake City, Solitude Mountain Resort attracts locals and visitors seeking expert ski terrain and backcountry skiing. In fact, 90% of the trails are designated intermediate/advanced levels.
There are few crowds here at Solitude, just peace, and tranquility. And lift tickets are incredibly affordable at $75 midweek and on $85 weekends.
"At 1200 acres, Solitude is not considered a very large resort, but if you include all the glade skiing, powder bowls, and off-piste options, which exist depending on snow conditions, it's very large indeed." says Amy Hagstrom.
Although the village is small and cozy, the Inn at Solitude offers lodging overlooking the Apex lift and a few dining options. Solitude Mountain Resort is also just five minutes from Brighton Resort which lacks accommodations. If you're coming from out of town, you can easily hop over to Brighton for a couple of days.
Epic Powder for Skiers Only – Alta Ski Area
Ski Only Resort
Season Passes Offered: Ikon Base Pass, Alta Pass, Alta Family Pass, and Alta-Bird Pass
Why we love this Utah ski resort:
Great powder runs for serious skiers
No snowboarders
Alta Ski Area has an ardent fan base among skiers who return year after year. All are serious about powder and undaunted by steep blacks. "Words that come to mind while I ski Alta include 'authentic,' 'old-school,' and 'no joke,'" remarks expert skier Amy Hagstrom. In other words, unlike at Deer Valley, don't expect perfectly groomed runs here at Alta.
The average snowfall in Little Cottonwood Canyon, home of Alta, is a whopping 551 inches per season, and Alta uses it to the max, with 2,200 lift-served acres and over 115 runs.
You'll enjoy Alta best if you can negotiate expert-level terrain and deep powder in big bowls, powdery slopes, and tree stashes. The Alta ski school provides a welcoming, genuine experience for beginner skiers, and there are plenty of green runs to get you going at the Sunnyside base. What Alta lacks are intermediate runs.
Being a skier-only resort, if you're snowboarding or have snowboarders in your party, you will want to ski at Snowbird, which is just next door and has similar excellent powder.
There are five intimate and rustic lodges (the largest has only 90 rooms) and a collection of mountain homes nestled into the canyon at Alta, where you can eat, sleep, and dream of another epic powder day.
Closest Ski Resort to Salt Lake City Airport – Snowbird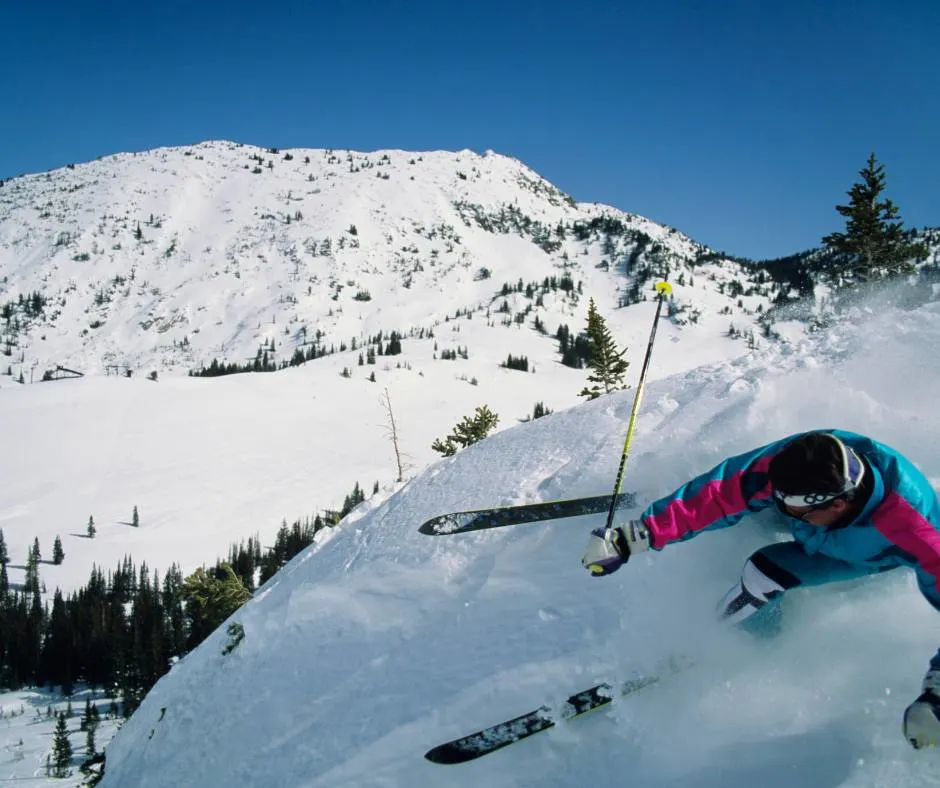 Ski and Snowboard Resort
Seasons Passes Offered: Ikon Pass, Mountain Collective, Snowbird Pass, Alta-Bird Pass
Why we love this Utah ski resort:
Proximity to Salt Lake City
Reliable snow
The closest ski area to downtown Salt Lake City is the Little Cottonwood Canyon. Here, you'll find Snowbird, Alta (ski only), and Brighton ski resorts. Because of its proximity to Salt Lake City, epic levels of snowfall, and more variety of season passes, Snowbird Resort resort is popular with locals, giving it lots of personality and an authentic old-school flare.
Snowbird welcomes both skiers and snowboarders, unlike its neighbor Alta. It also has a variety of terrain for all levels of skiing. Their 1.6-mile aerial tram is also great for grabbing a hot chocolate and enjoying the sunset.
Most Romantic Ski Vacation – Sundance Ski Resort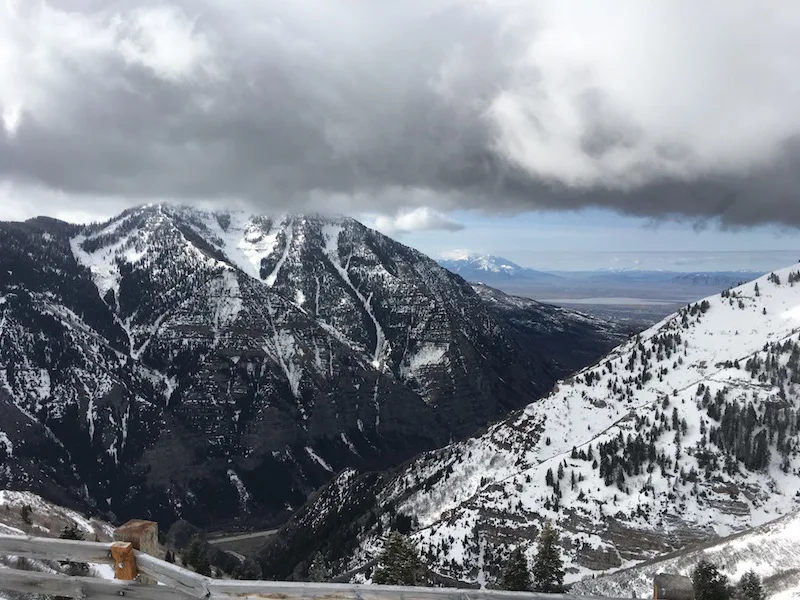 Ski and Snowboard Resort
Season Pass Offered: Sundance Season Pass
Why we love this Utah ski resort:
Dramatic scenery
Serene spa-like experience
Affordable lift season pass with reciprocal benefits Nordic Valley and Brian Head
Located near Provo, UT, an hour from Salt Lake City, is Sundance Ski Resort. This resort owes its fame and beauty to its founder-actor Robert Redford (swoon…) and the dramatic Mt. Timpanogos. The intimate and serene vibes beg you to unwind from parenting and work responsibilities.
"Sundance Resort is equipped to accommodate kids. It has refreshingly low lift ticket rates, which appeal to families, and the woodsy setting will certainly make kids feel at home. The thing is, you may not want them there. Sundance's vibe is decidedly serene, with an emphasis on self-reflection, revitalization, and pampering. Imagine yourself sliding into your private jacuzzi tub or chilling on your deck in an Adirondack chair, cocktail in hand…without kids to supervise," says Amy.
Sundance is known for boutique shopping, high dining, and outdoors-pursuits. In the central area at the base of the hill (by the reception area) is Sundance's main shop, with everything you'd find in the Sundance catalogue, from jewelry to boutique clothing to logo items.
Across the street, the small art studio offers classes as well as fine art. In fact, Sundance hires two glassblowers to be on staff seasonally, who make all of the resort's glassware.
At Sundance's signature restaurant, Tree Room, You can enjoy a meal surrounded by the private art and native artifact collections of Robert Redford. The dining experience here is exquisite, with impeccable service and a deep wine list.
Ultimately, Sundance is about the overall experience: no lift lines, great service, wonderful food, a relaxed atmosphere.
Best Winter Action Sports Terrain Park – Woodward Tahoe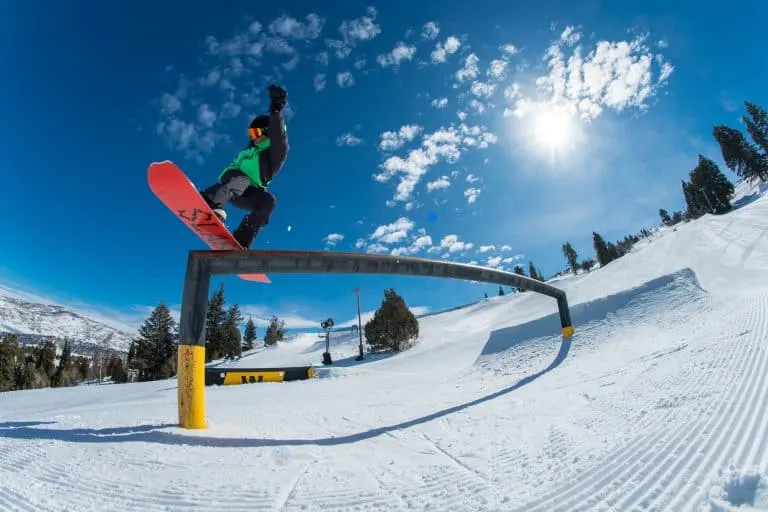 Ski and Snowboard Resort
Season Pass Offered: Monthly Membership
Why we love this Utah ski resort:
One-of-a-kind action sports training facilities
Woodward Park City is also located in, you guessed it, Park City, and is more of a winter action sports center than a ski resort. There is nothing like their kid and adult training facilities and camps offering indoor and outdoor action sports training.
Their indoor training facility has wall-to-wall trampolines and ramps for athletes to learn new skills step-by-step. Woodward's terrain park includes a half pipe and progressive ski jumps.
Crowd Free World Class Ski Resort – Powder Mountain
Ski and Snowboard Resort
Season Pass Offered: Powder Mountain Pass
Why we love this Utah ski resort:
Huge mountain without crowds
Beautiful scenery
Powder Mountain is located in the idyllic Ogden Valley, an hour north of Salt Lake City. Powder Mountain boasts 8,000+ skiable acres, rivaling Park City Mountain in size. But unlike Park City, you'll find crowd-free skiing and a relaxed hipster vibe.
Their ski and snowboard school offers a wide variety of programs, including women-only lessons, programs for locals, multi-week camps, and adaptive skiing for skiers with disabilities.
There is a variety of lodging at the base of Powder Mountain, including four and five-bedroom vacation homes that are great for a large family or multi-family ski vacation. Dining options aren't as varied in Ogden Valley as in Park City and tend to be more casual- think pizza and pub food.
Best Ski Resort Near Utah National Parks – Eagle Point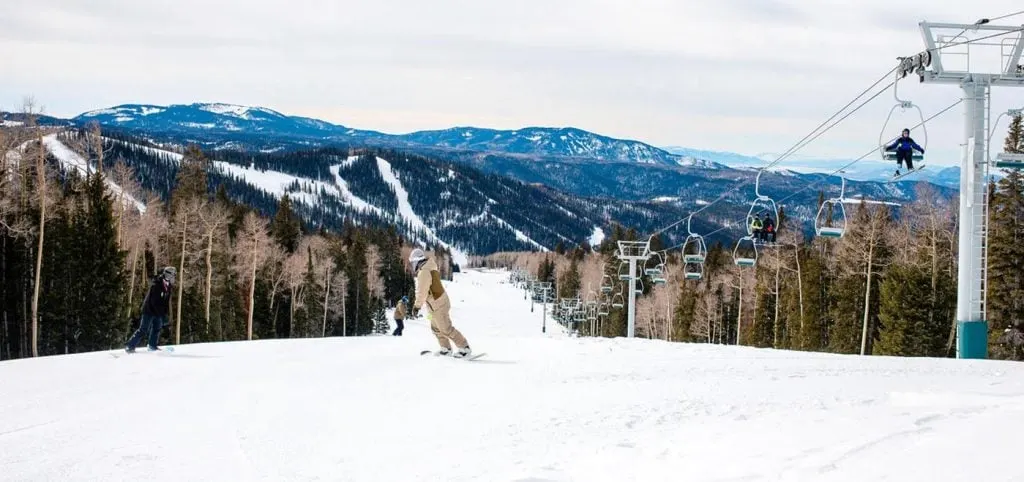 Ski and Snowbird Resort
Season Pass Offered: Eagle Point Pass
Why we love this Utah ski resort:
Proximity to Las Vegas and Utah's National Parks
Off the beaten path
Most affordable skiing in Utah
Located in Southern Utah near Zion and Bryce National Parks are two ski resorts – Eagle Point and Brian Head. Brian Head is located minutes literally from Cedar Breaks National Monument just uphill from Cedar City. Eagle Point is a friendly boutique ski resort three hours from both Salt Lake City and Las Vegas.
Eagle Point offers some of the most affordable skiing in Utah. Even the resort ski-in and ski-out condos are affordable. Everyone knows everyone here, so expect warm hospitality.
The base area by Canyonside Lodge has more expert terrain, while the base at Skyline Lodge offers more beginner or intermediate terrain, lessons, and rentals. The two sites are connected by a ski tunnel.
Brian Head has a friendly, relaxed, small resort vibe. Even with its isolated location, Brian Head offers a packed events calendar with apres ski dining options, live bands, and special programming, including a weekly Kansas City Style BBQ.
With a base elevation of 10,000 feet, Brian Head offers stunning views from both sides – the red rock of southern Utah and glimpses of nearby Cedar Breaks National Monument.
Important Details on Season Passes for Utah Ski Resorts
The way that season passes work at the Utah ski resorts changes from year to year and the options can be dizzying. The information provided below will simplify your considerations for which season pass to purchase. Generally speaking, the single resort season passes are the most expensive and are only the best deal if you live there and plan to ski at the same mountain every week.
Here's what you need to know for the 2022-23 ski season:
Epic Pass
The Epic Pass gives you access to the collection of over 30 Vail Resorts. This collection of ski resorts includes some of the best resorts in the country. Surprisingly, the unrestricted Epic Pass (~$949) and the Epic Local Pass (~$735) are Utah's most affordable season passes. Buy your Epic Pass early for the lowest prices.
The downside is the only Utah ski resort that accepts the Epic Pass is Park City. The Epic Pass is excellent, however, if you also want access to Northern California, Colorado, or Pennsylvania ski resorts. There are several resorts you can ski in these states with the Epic Pass.
Generally, if you plan on skiing for eight days or less at Vail Resorts during the ski season, including Park City, purchase the Epic Day Pass (opt for all resort access). For more than eight days, select the Epic Local Pass (holiday blackout dates apply) or the Epic Pass (unlimited access). There are also student and youth Epic Passes.
Ikon Pass
The Ikon Pass is about $200 more expensive than the Epic Pass. Still, if you're planning to ski in Utah and want to ski a few different resorts, the Ikon Base Pass gives you unlimited access to Solitude Mountain and 5 days each at Snowbird and Brighton. For an additional $200, you can gain 5 days each to Alta, Deer Valley, and Snowbasin.
Even the most expensive Ikon Pass is comparable in price to most single resort season passes in Utah. The Ikon Pass also makes sense if you want access to various Montana and British Columbia ski resorts.
Mountain Collective Pass
The Mountain Collective Pass is an exciting option, with two new Utah ski resorts being added to the pass this year. If you're planning to ski for around six days in the Utah area and want to try three different resorts (Alta, Snowbird, and Snowbasin), it only costs $579. This also gives you two days at 22 ski resorts in the Mountain Collective. Additional days at any resort are 50% off single-day lift tickets.
Ski Utah Passport for 4th, 5th, or 6th graders
Local Utah families should definitely take advantage of the Ski Utah Passport. For just $49, your kid could have up to 45 days of skiing/riding at all 15 of Utah's ski resorts (3 days at each resort). This is a tremendous deal and a great way to keep your child active all winter.