Banff National Park in Alberta, Canada offers plenty of winter fun for families. Perhaps most by loved by kids are the epic family-friendly snow tubing hills with spectacular views of the mountains. Looking for the best snow tubing in Banff? Read on for everything you need to know from locations to pricing and height requirements.
Best Snow Tubing in Banff
Winsport Servus Tube Park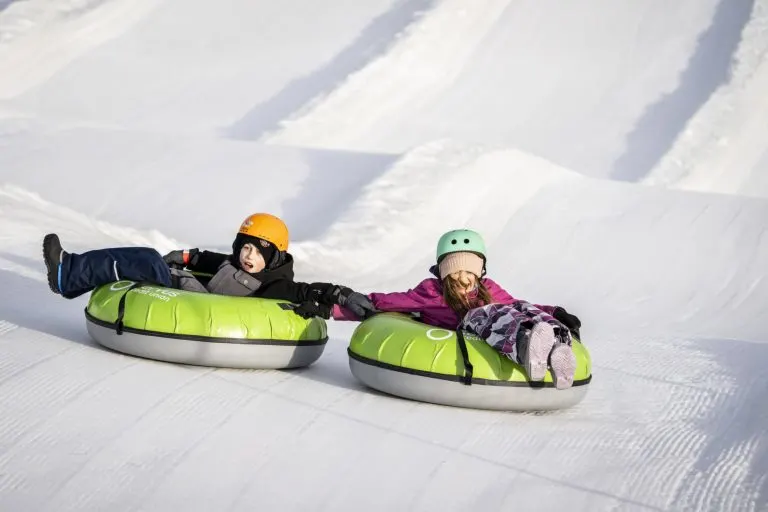 Visitors to Banff National Park primarily arrive via the Calgary International Airport. Families can partake in some fun tubing in Calgary before even starting the drive to Banff National Park. The Winsport Servus Tube Park is located at Canada Olympic Park, the home to the 1988 Winter Olympics.
Spending time in Calgary? Hear are our favorite things to do in Calgary with kids.
The tube park is located next to the ski hill and features eight tubing lanes and a Magic Carpet to take you to the top of the hill. Families can choose to ride solo or join individual tubes together for even more fun.
Kids must be at least 36 inches tall and four years old in order to tube at Winsport. Children between 36 inches and 42 inches can tube with an accompanying adult in a separate tube. The adult must hold the child's tube during the descent. Children over 42 inches tall may tube on their own.
Tubing sessions last for two hours. Typically there are two sessions on Friday nights and three sessions daily on Saturdays and Sundays. Sessions run daily between December 24, 2022 and January 8, 2023. There are no sessions on Christmas Day.
Minimum Height/Age: 36 inches and four years old.
Pricing: Friday evening sessions are priced at $16 per rider. Weekend sessions are priced at $27 per rider.
Ready to take the scenic route? Check out these 3 amazing stops on the Calgary to Banff drive.
Norquay Tube Park at Mt. Norquay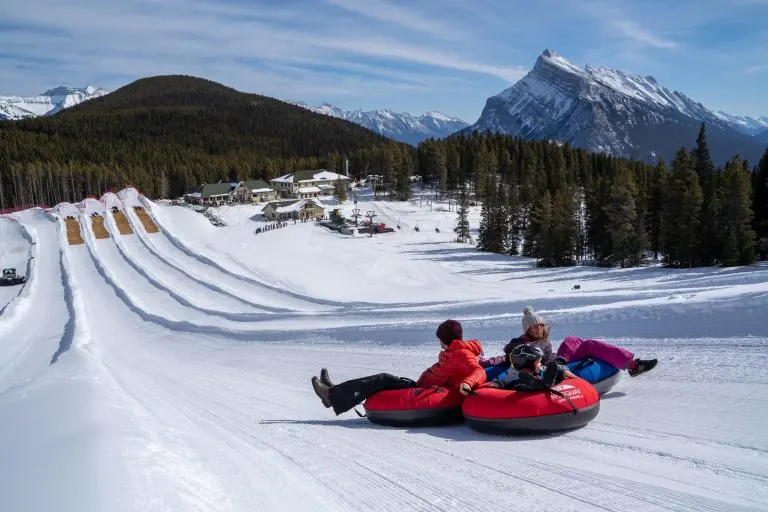 Located just minutes from downtown Banff, Mt. Norquay is a favorite stop for locals and visitors alike. Featuring a ski hill, tubing park with Magic Carpet, and fantastic après-ski dining, Mt. Norquay is definitely worth adding to your Banff itinerary.
The Norquay Tube Park is located next to the ski hill and has an individual parking lot giving you easy access to the tube park. The tube park features eight fast lanes and the longest tubing lanes in all of Alberta. This is definitely a hot spot for tubing in Banff.
Kids must be four years old and a minimum of 42 inches tall to tube. All tubing sessions must be booked in advance and last 2.5 hours. Sessions are held daily from 10:00 am – 12:30 pm and 1:30 pm – 4:00. pm. Evening sessions are offered on Friday and Saturday nights from 5:00 pm – 7:30 pm.
Minimum Height/Age: 42 inches and four years old.
Pricing: Tubing prices are based on the age of the rider. Adults 18+ are priced at $42. Teens 13-17 are priced at $36 and children 4-12 are priced at $28.00.
Book your stay in Banff. As a trusted affiliate of Booking.com, Trekaroo is thrilled to offer our readers the lowest rates.
Sunny Tube Park at Lake Louise Ski Resort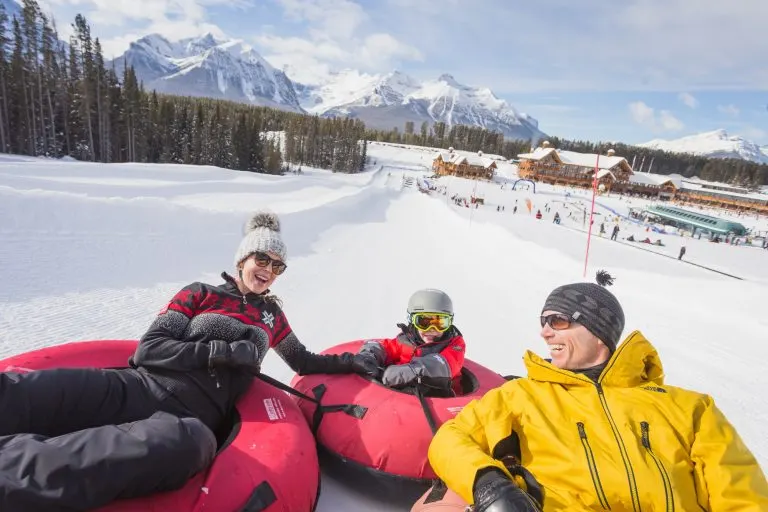 Recently voted as Canada's Best Ski Resort, Lake Louise is an iconic stop when visiting Banff. With winter sightseeing, 164 ski runs and a tube park, you can definitely spend an entire day or week at Lake Louise.
The Sunny Tube Park is located at the base of the hill in the beginner ski area. While smaller than the tubing parks at Mt. Norquay and Winsport, the Sunny Tube Park features a magic carpet and is far less busy than the other hills.
Lake Louise is a great location if you would like to add skiing or a winter sightseeing gondola to your day of tubing in Banff.
The tubing park is open daily 10:30 am to 4 pm.
Minimum Height/Age: Three years old.
Pricing: Tubing prices are based on the age of the rider. Adults 18+ are priced at $35. Teens 13-17 are priced at $30 and children 6-12 are priced at $20.00. Children ages 3-5 tube for free. Tubing tickets can be added to a daily ski pass for $5 per child and $10 per adult.
Visiting Lake Louise? Make sure to try these 8 incredible things to do in Banff and Lake Louise in Winter.
Wanidu Tube Park at Nakiska Ski Hill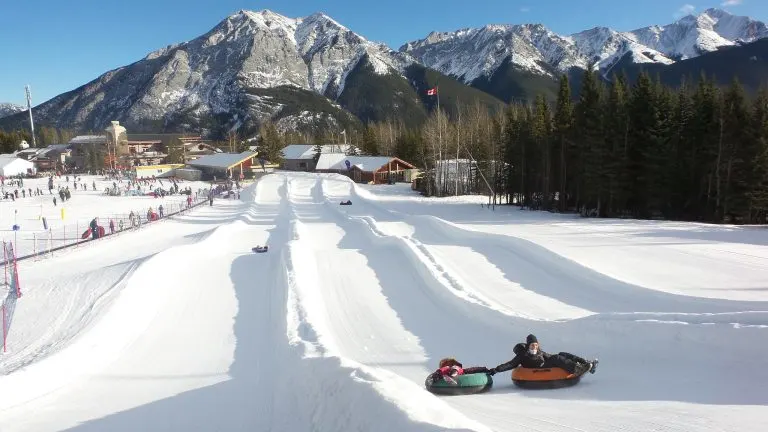 Located in the stunning area of Kananaskis, the Nakiska Ski Hill offers plenty of fun for families. Nakiska is between Banff and Calgary and is about an hours drive from either location. In addition to tubing, Nakiska offers ample snowshoeing and skiing for families.
The Wanidu Tube Park is easily accessible and located at the base of the hill. The park features three wide tubing chutes with different snow tracks and a magic carpet.
The tubing park is open Saturday and Sunday from 10:30 am to 4 pm and tubing sessions last for two hours. Parents can accompany younger kids by going side-by-side and holding their tube.
Minimum Height/Age: Three years old and 42 inches tall.
Pricing: Tubing prices are based on the age of the rider. Adults 18+ are priced at $35. Teens 13-17 are priced at $30 and children 6-12 are priced at $27. Children ages 3-5 tube for free with a paying adult.
Ready to add some skiing to your winter adventure? Here is our guide to skiing in Banff and Alberta.
Sledding in Banff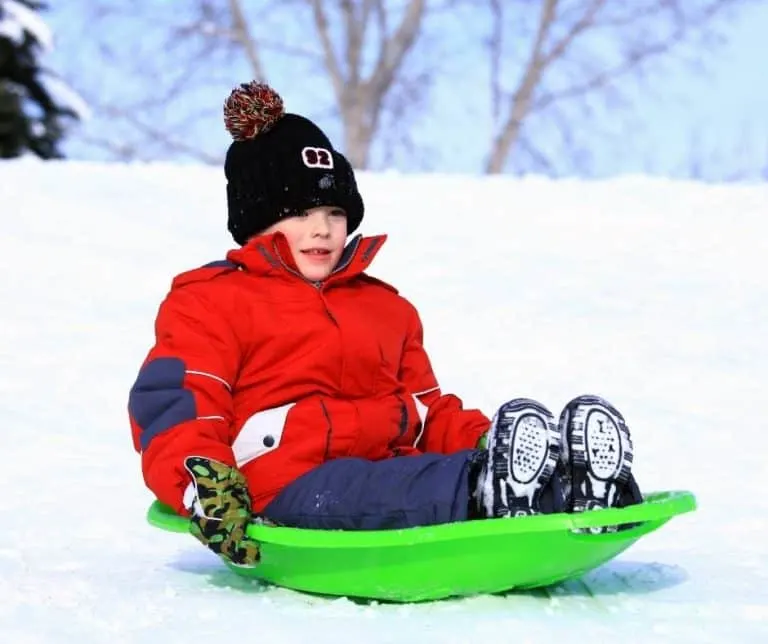 While tubing in Banff is a hit with many visitors, some families prefer to sled the old fashion way. Here are some excellent locations to grab a sled and hit the hills.
Families looking for sledding other than tubing in Banff will find options somewhat limited. Parents of younger kids should head to Cascade Ponds.
This smaller hill that can be seen from the highway is perfect for young kids who do not require too much height or steepness to their hill. Cascade Ponds also offers fire pits and bathroom facilities. Exit the Trans Canada Highway towards Lake Minnewanka and follow the signs to Cascade Ponds.
Families with older kids will find that perfect hill by heading towards Bow Falls and the Fairmont Banff Springs Hotel. Located behind the hotel adjacent to the golf course is a hill wide enough for multiple families to enjoy.
Sledding in Canmore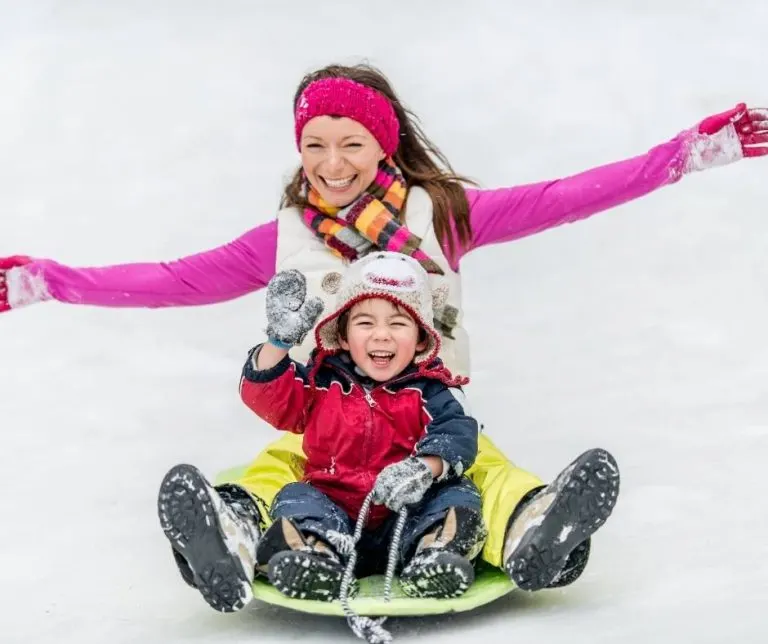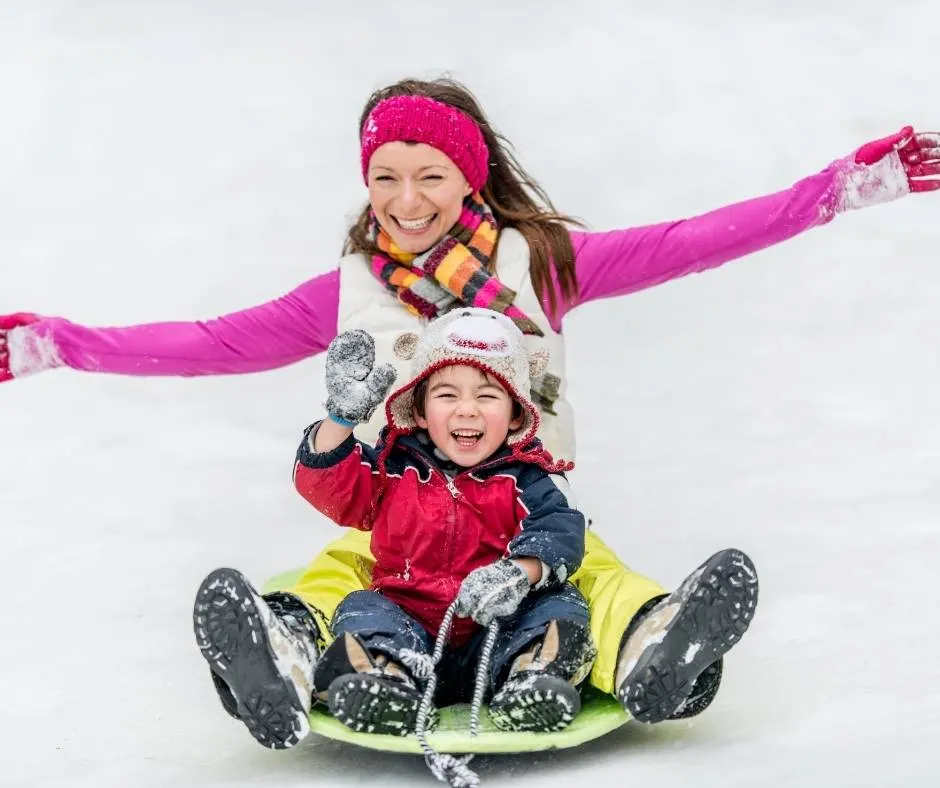 Located a quick drive from Banff National Park, the town of Canmore is home to shopping, restaurants and outdoor fun. Canmore is also home to many sledding hills.
Locals and visitors alike head to the Canmore Nordic Center, a provincial park located a few minutes from Main Street. Here, you will find cross-country skiing, an ice rink, and a free sledding hill with amenities like a café and indoor restrooms.
Two other popular sledding hills can be found by crossing the Trans Canada Highway to what locals refer to as "the sunny side of town". This area receives more sunlight in the winter and can feel quite a bit warmer on winter days.
A smaller hill is located in the neighborhood of Eagle Terrace at Eagle Terrace Park. There is a small parking lot and plenty of street parking as well as a playground.
For older more adventurous kids, sledding next to the Canmore Cemetery provides a day of excitement. This steep hill is easily seen from the road and can be accessed by parking at the cemetery or the adjacent Benchlands Trail Bike Skills Park.
Tips for Snow Tubing in Banff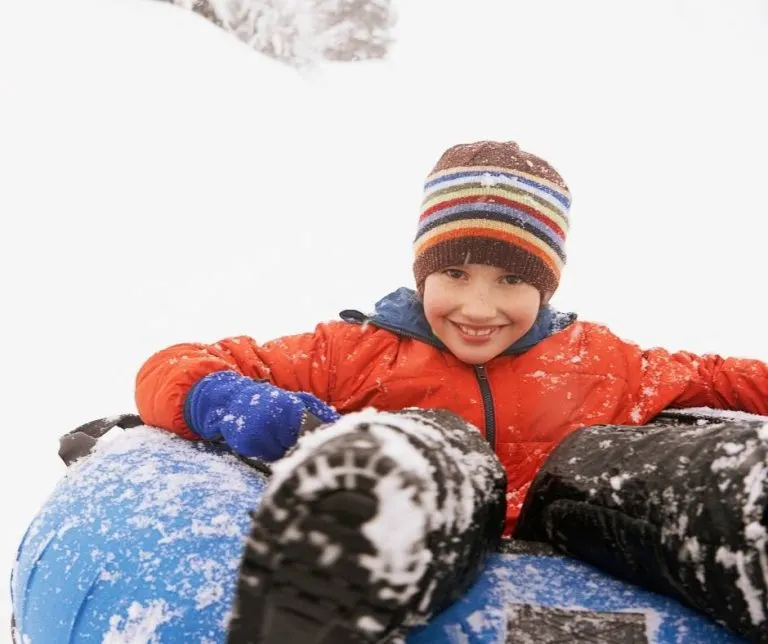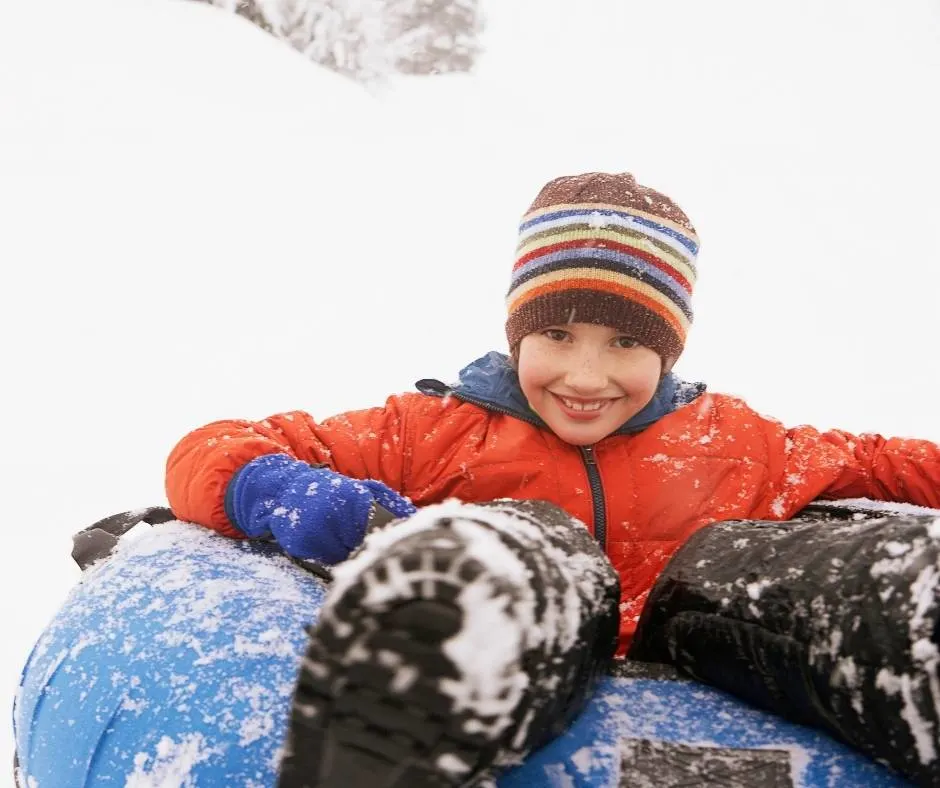 The weather in Banff National Park can be unpredictable. To get the most out of your winter adventure, you will want to be prepared. Here are some of our best tips for tubing in Banff.
Wear waterproof gloves, pants, jackets, and snow boots. Waterproof and windproof gear will ensure you can last the entire tubing session. Proper socks and boots will also make the day more enjoyable.
Bring a change of clothes. Waterproof clothing can still get very wet (and sometimes even muddy) when snow tubing. Always pack an extra bag with dry socks, pants, gloves and jackets.
Book ahead. Ski hills in the Banff area can get quite busy. Avoid disappointment and book your tubing in Banff tickets ahead of time.
Don't wear ski boots. Pack proper boots for tubing. Ski hills do not permit guests to tube in ski boots.
Don't forget the sunscreen! Don't be fooled by the temperature. Kids and adults alike can quickly burn on a sunny day in Banff.