Despite its typically mild weather, Southern California offers quite a few snow play destinations, all within a short trek from the Los Angeles area. So if you are looking for the best sledding in Big Bear or snow tubing in Southern California beyond Big Bear, we've got you covered!
In this article, we mostly point you to designated, fee-based, tubing spots. These are often the safest options (away from the roads!) and typically provide restrooms, parking, and other facilities. In each section, we also detail some of the best local spots for free sledding.
Best Sledding and Snow Tubing in Southern California
Snow tubing in Southern California is a major treat for kids who grow up in the land of 70-degree winter days and ample sunshine. Many kids in Southern California grow up never seeing snow in person which is a shame because there are several great spots just a day trip away.
After a big snow storm, thousands of people will flock to our local mountains, eager to play in the snow they see covering the mountains in the distance. This can create large traffic jams so it is always best to try to arrive early in the day to secure a parking spot.
Best Sledding in Big Bear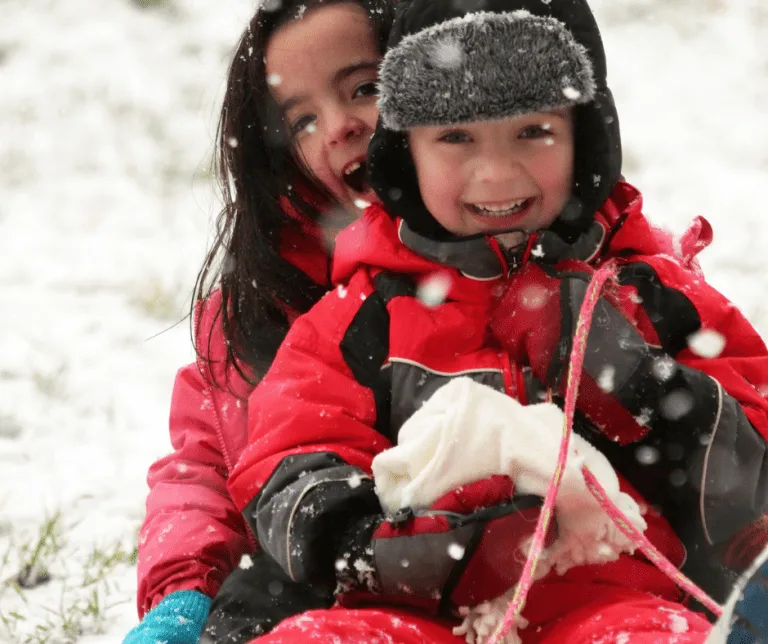 Location: 95 miles from LA – Take 210 East to 330, then 18 East
Although furthest away from Los Angeles and accessed via the expected curvy and steep mountain roads, Big Bear is the largest and most comprehensive winter resort destination in Southern California. It is no surprise that sledding in Big Bear is extremely popular.
The city boasts a beautiful lake, inns, resorts, two ski resorts, and two tubing parks in addition to plenty of snow play opportunities in numerous "side locations."
The Alpine Slide at Magic Mountain features tubing lanes, a toboggan run known as the Alipine Slide, and more. There is a handy lift to the top. There is also mini golf, go karts, a few other rides to enjoy, weather permitting.
Night tubing is a great highlight, especially if you are arriving in town after battling the Friday traffic. Night sessions run on Fridays, Saturdays, and holidays.
Minimum Height: Kids must be at least 36″ tall. Children 36″ – 42″ must ride on the same inner tube with an adult.
Pricing: $40 for those above 42″. $25 for kids 36″- 42″.
Big Bear Snow Play features both day and night tubing, a fun treat for families with older kids willing to brave the cold. Since they make their own snow and groom their runs, the snow is typically in good condition event when the rest of the mountain is lacking the white stuff.
One Friday, Saturday,and holiday evenings they offer glow tubing, when the dark mountian is lit up with red, blue, green, and black lights. The snwo tubing season tends to run mid-November through Easter.
Minimum Height: 36″
Pricing: General Admission is $40. Kids 36′ – 42″ are $25.
There's a lot more to do in Big Bear than just tubing and sledding. Check out our guide to a Things to do in Big Bear with kids in winter. You'll find restaurant recommendations, lodging tips, and fun surprises like a winter visit to an alpine zoo!
The Big Bear Visitor Center, located by the lake across from in the Village on Pine Knott Avenue, can help your family plan a sledding adventure or find great spots to sled if you are looking for a free option.
Best Sledding and Snow Tubing in the Mount Baldy Area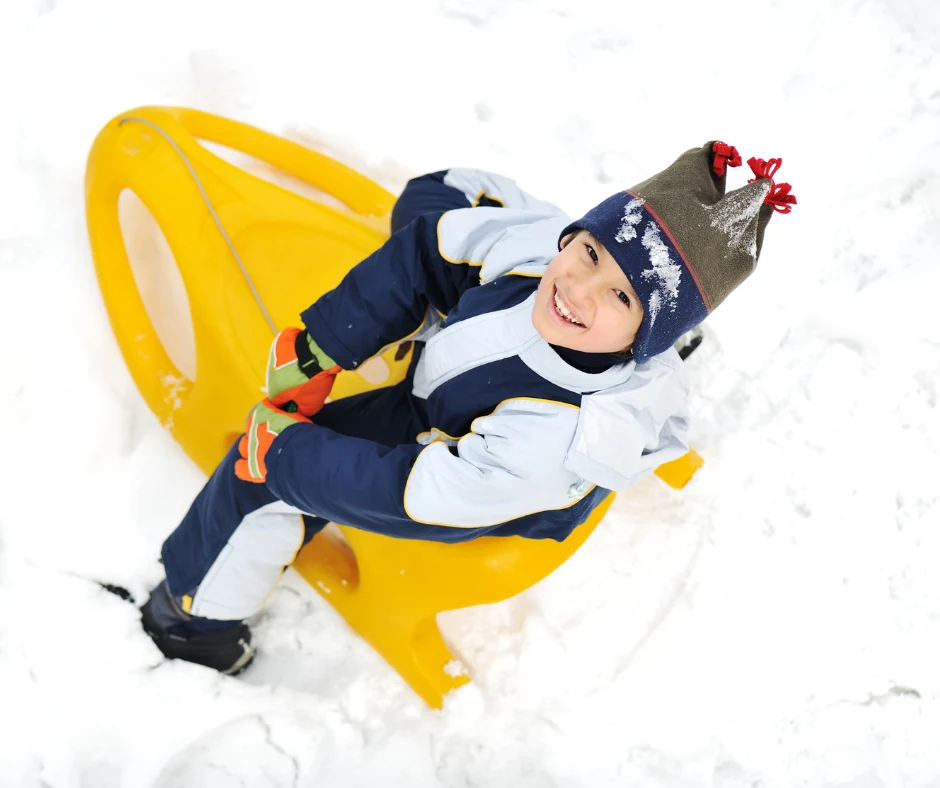 Location: 45 miles from Los Angeles – Take the 210, North on Baseline, Right on Padua, Right on Mt. Baldy Road
The closest official snow tubing park to Los Angeles is located at the tiny mountain village of Mt. Baldy, just north of the city of Upland.
The Mount Baldy Ski Resort offers daily tubing during the winter months. The adventure starts with a 20-minute chair lift ride to the the Top of the Notch Recreation Area, which sits at 7,800 feet.
Families can spend up to two hours at the top enjoying the tubing lanes, Top of the Notch restaurant, and snow play. Note: there is a minimum height of 40″ tall for the entire experience.
Outside of the ski resort, there is little "civilization" in the Mt. Baldy area. The small town is home to less than 500 people, so services are limited. There are no gas stations nearby.
There is, however, an adorable visitor center, operated by the Angeles National Forest, housed in a 1920's schoolhouse. The visitor center is open seasonally.
Minimum Height/Age: No minimum age but participants must be at least 40″ tall.
Pricing: Varies by day but is generally in the $55 range when you book online. Price includes chairlift ride.
Best Sledding & Snow Tubing in Wrightwood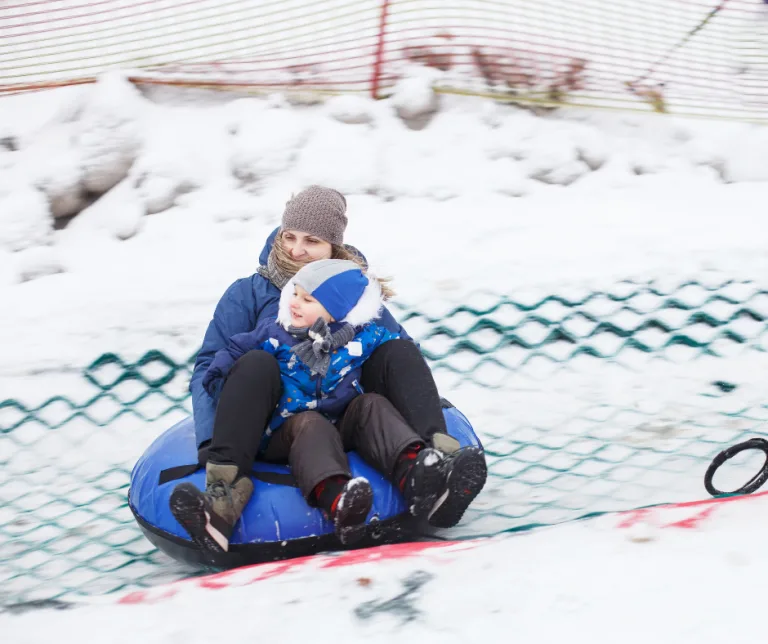 Location: 75 miles from Los Angeles – Take 15 North, 138 North, 2 West
With almost no curvy mountain driving, Wrightwood is a must visit for kids who get motion sickness or anyone looking for an easy ride to snow.
There are plenty of non-official sledding spots just past the town of Wrightwood in addition to the Yeti Snow Play area at Mountain High Resort. The Yeti Snow Play tubing park features multiple lanes and is adjacent to the ski resort's full amenities including a restaurant, lounge, shops, and restrooms.
Families can choose from a variety of admission options including tubing, snow play, and the scenic chair lift taking you to 8,200 feet with clear-day views all the way to Catalina Island!
Minimum Height: 32 inches.
Pricing: All-day tubing, sledding, snow play & one Scenic Sky Chair ride is $79 for those 36″ and taller. Kids 32-36″ tall can purchase a pass for $59 that does not include the chair lift.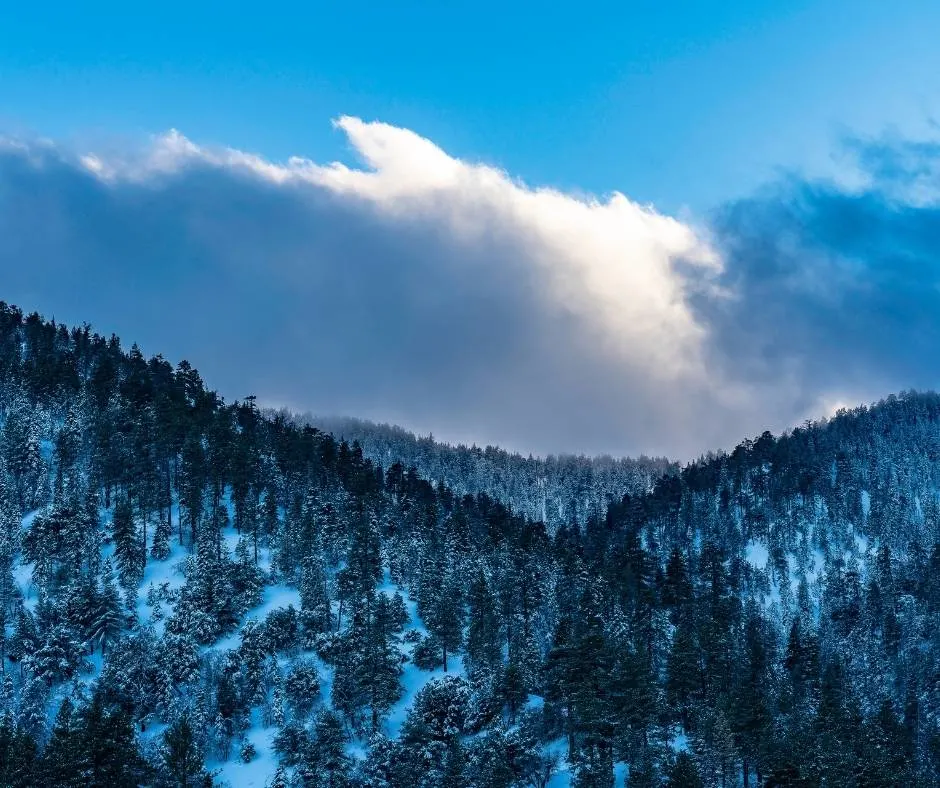 The town of Wrightwood boasts numerous restaurants, a family-friendly brewery, coffee shops, outdoor adventure companies, and more. Stop by the Hardware Store or Pharmacy Board Rentals along Highway 2 for details on the best local, free sledding spots.
Even when the snow has melted in the town of Wrightwood, snow remains plentiful just beyond Mountain High Ski Resort along Big Pines Highway, which remains in the shade for most of the day. Camping and picnic spots along Big Pines Highway provide plenty of safety and space for sledding families.
Just south of these spots, consider a visit to Grassy Hollow Visitor Center. The Angeles National Forest stop can give you great options for sledding, snow hiking, and exploring. Don't miss the view at "Inspiration Point."
Note: Take caution if sledding near Jackson Lake; the lake does freeze but is often not stable enough to walk across.
Lake Arrowhead Sledding and Snow Tubing in Running Springs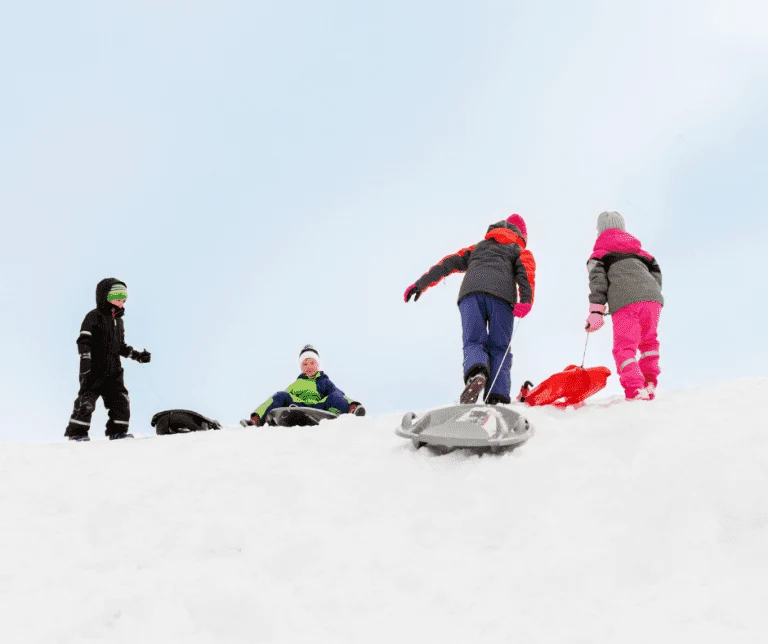 Location: 80 miles from Los Angeles- Take 210 East to 330 North
Lake Arrowhead sledding is another popular option for LA Metro families with cabins in the area. Running Springs, located in the San Bernardino mountain range near Lake Arrowhead, is a smaller mountain town but boasts both a dedicated tubing park & a ski-resort tubing combo.
Snow Drift Snow Tubing Park is California's biggest and oldest dedicated tubing park. It features beginning, intermediate, and advanced slopes.
Minimum Age/Height: No minimums but those under 36″ ride for free with an adult.
Pricing: $20 per person per hour. Cash only but there is an ATM on site. Parking is $10.
Snow Valley Mountain Resort offers lift-serviced sledding runs on weekends, with non-lift serviced play during the week. They provide the sleds and make snow, the runs are quite nice.
Minimum Height: None listed.
Pricing: Ages 7+ can sled all day for $23 Monday through Thursday and $39 on the weekends. Ages 6 and under sled for $18 during the week and $26 on weekends. Prices do increase on holiday weekends.
Nearby Running Springs and Lake Arrowhead offer a full assortment of activities, dining, recreation, and lodging. Lake Arrowhead Village, situated over the namesake lake, is home to some great views and dining options.
The Lake Arrowhead Visitor Center, located in "The Village," is a great starting point for local adventures.
Tips & Tricks for the Best Sledding & Snow Tubing in Southern California Experience
Make sure your car is fueled up and winter ready. It is a good idea to carry chains if there is a chance of precipitation in the forecast.
Check your tire air pressure before you go. Elevation change can cause a sudden loss in air pressure on a slow leaking tire.
Check road conditions on the CalTrans website or app. Feeling old fashioned? Call 800.427.7623 for road conditions.
Pack your car with extra clothes and blankets.
Pack snacks and plenty of water, plus a few games, to keep your kiddos at bay if traffic is bad.
Bring an extra bag for trash. The local mountains often get littered with trash during heavy snow weekends. Be considerate and pack everything out that you bring with you.
Important safety note: Numerous "non-official" free spots for tubing are all around these spots in the Southland Mountains. Use extreme caution when "going it alone" as numerous severe injuries and even childhood deaths are associated with sledding and tubing accidents each year.
Find Snow Tubing Near You!