Colorado is a state that has no shortage of snow and hills for winter fun. But where are the best spots for sledding and snow tubing in Colorado?
We have done the research and uncovered the best of the best. We share details about pricing, minimum height, and everything else you need to know before you head out on your winter adventure. From free spots to snow tubing experiences where to pay to play, we have you covered.
30 Places to Enjoy Sledding and Snow Tubing in Colorado
Hideaway Park in Winter Park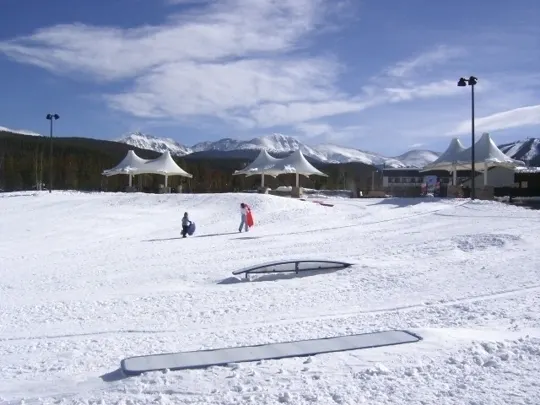 If you are visiting Winter Park and looking for a free sledding hill, Hideaway Park Sledding Hill at the Rendezvous Event Center is the place to be.
Bring your own tubes and sleds or borrow one of the free sleds and snow discs on site. If you forgot to bring a sled to town, you can also purchase one at the Safeway or City Market in town.
Minimum height/age: None
Cost: FREE!
The Coca-Cola Tube Park at Winter Park Resort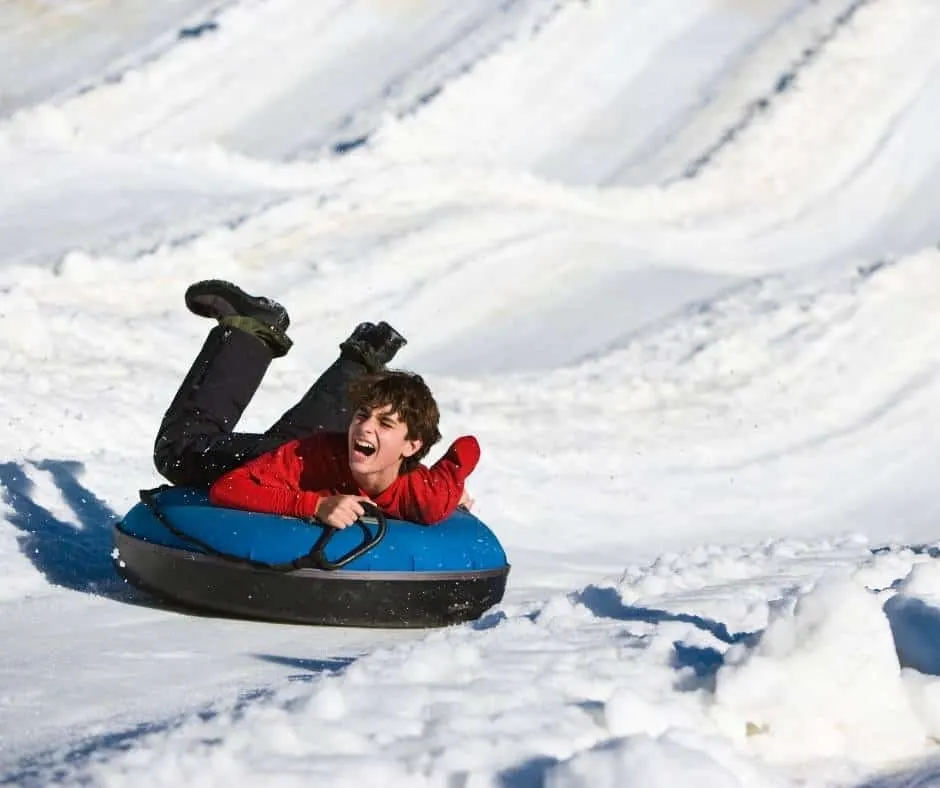 If tubing down a groomed hill is more your thing, check out the Coca-Cola Tube Park at the base of Winter Park Resort near Vintage Hotel.
Discover why Winter Park is the best kept secret in Colorado.
This park has three lanes and the ride even includes banked curves down the hill! A covered Magic Carpet will take you and your tube back to the top of the hill to ride again.
Advance purchase is recommended and sessions are one hour in length. Everyone participating is required to ride in their own rented tube.
This park is open November 22, 2022 through April 16, 2023, seven days a week.
Minimum height/age: Riders must be at least 36″ tall.
Cost: $34 during off-peak days, $39 on peak days. Peak pricing days apply to all Saturdays and Sundays and select holiday periods
Fraser Snow Tubing Hill in Fraser
If you have younger kids who want to ride down with mom and dad, the Fraser Snow Tubing Hill is a great place to visit. The historic hill has been in operation since the 1970s, and is big but not too scary.
There are single and double tubes available for rent. Children between the ages of three and six must ride with an adult. The hill is serviced by a lift which draggers tubers back up the hill inside of the their tubes.
Tubers can choose from 60 or 90 minute sessions. This hill operates seven days a week from 10am to 10pm. It is always fun to go snow tubing under the lights!
Minimum height/age: Children must be at least three years old. to tube.
Cost: $27 for 60 minutes or $32 for 90 minutes. The second consecutive hour can be purchased for half price. If you visit Tuesday, Wednesday, or Thursday you can receive $4 off a 90-minute rental.
Explore more of the state! Here are the best things to do in Colorado with kids.
Snow Mountain Ranch in Granby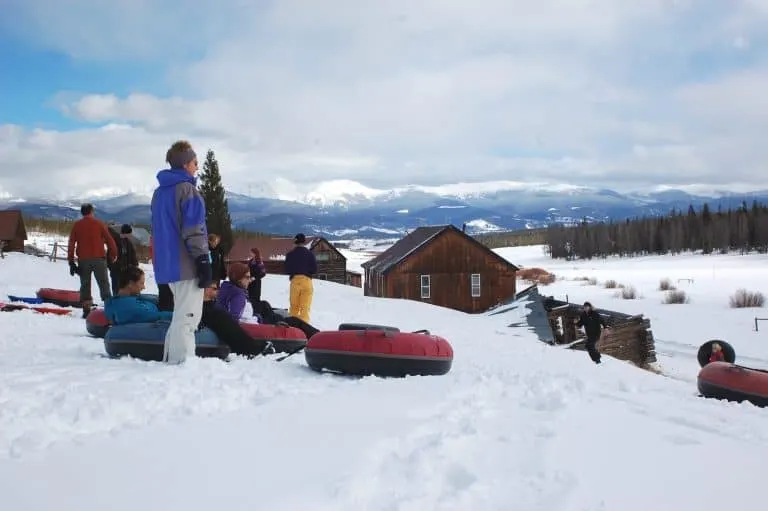 Snow Mountain Ranch is a special place for families looking for an adventurous winter getaway. Stay and play at this resort in Granby that is owned by the YMCA of the Rockies. If you are staying elsewhere you can also purchase a day pass.
In addition to snow tubing, guests can enjoy a wide variety of winter activities like ice-skating, snow shoeing, dog sledding, and cross country skiing.
Guests can pick up tubes at the Winter Pavilion (only their tubes are permitted on the hill) and enjoy some old fashioned snow tubing.
There is no tow rope or Magic Carpet at this hill so expect to be doing some huffing and puffing to get to the top.
Snow Mountain Ranch is also one of the few places that offers summer tubing on its special Snowflex tubing slope.
Minimum height/age: Ages three and up.
Cost: Snow tubing is included in the price of your stay or day pass. Day passes for visitors not staying in YMCA lodging can be purchased for $29 for adults and $14 for children 6-12.
Colorado Adventure Park in Fraser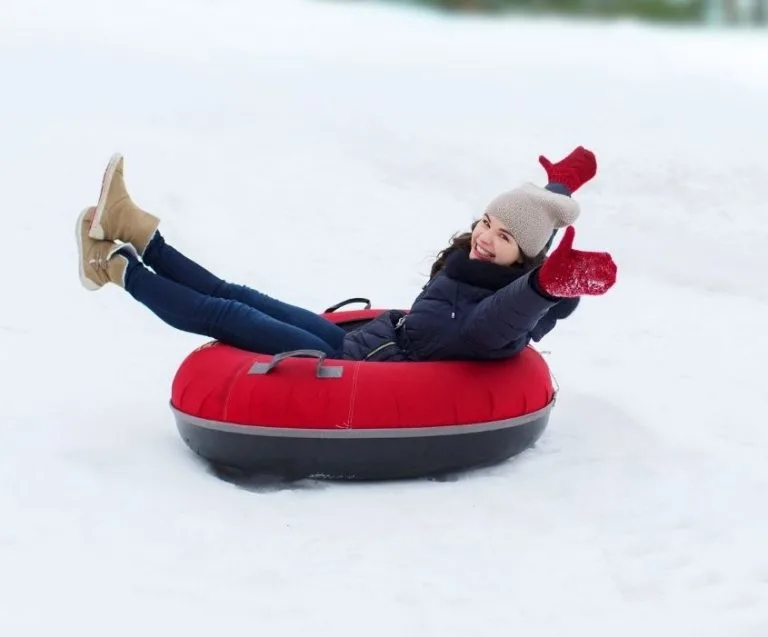 If you are looking for the fastest snow tubing hill in Grand County, head to the Colorado Adventure Park in Fraser. This tubing hill has a focus on safety, so helmets are required for anyone under 18.
Double and single tubes are available to rent by the hour. Children ages 3-5 must ride in a double tube with an adult. Reservations for tubing can be made in advance.
In addition to snow tubing, visitors can also rent snow shoes and fat tire bikes. There are also snow scoots, which are little snowmobiles for kids under 130lbs and between ages 6-13.
The park is open seven days a week. It is open until 7pm Monday through Friday and 9pm on weekends.
Minimum height/age: Must be at least three years old to tube.
Cost: 1 hour with a single tube is $35 and two hours are $55. 1 hour with a double tubes is $55 and two hours are $100.
Rocky Mountain National Park in Estes Park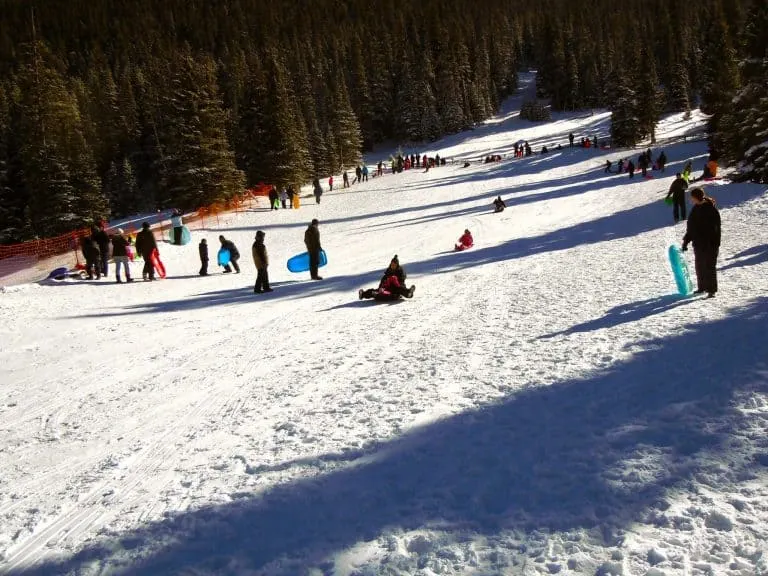 Rocky Mountain National Park is a great place to visit no matter the season. In the winter, you can go sledding near the Hidden Valley Picnic Area.
The sledding hill is the former bunny slope of a now defunct Hidden Valley Ski Area. The hill isn't very steep but it is still fun and great for little kids. There is a warming hut that is open on weekends, as well as restrooms that are open daily.
Since this is not an organizaed tubing location, you must bring your own sleds or tubes. You can rent them in Estes Park at the Estes Park Mountain Shop, or simply bring yours from home.
Note: This is the only place in Rocky Mountain National Park where sledding and snow tubing is allowed.
Minimum height/age: None.
Cost: FREE with National Park admission.
Beaver Meadows Resort Ranch in Red Feather Lakes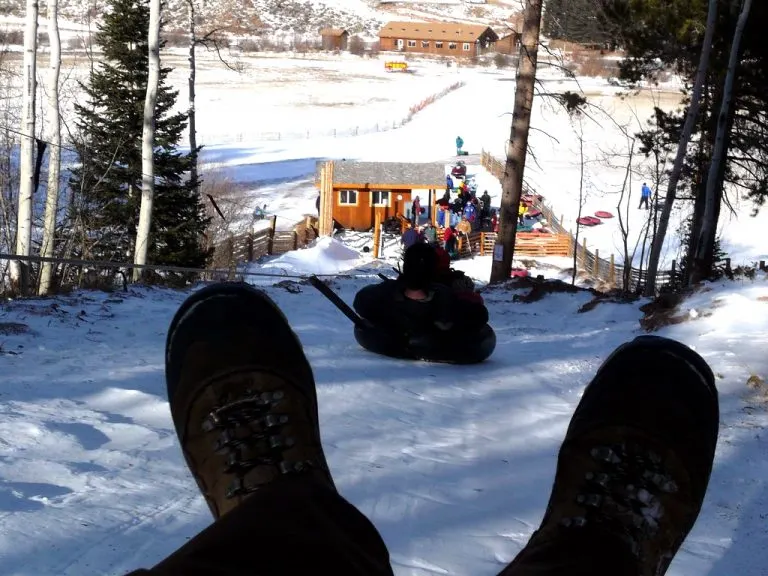 If you are looking for a family vacation destination that also includes a great tubing hill, check out Beaver Meadows Resort Ranch. There are a variety of lodging options onsite, including cabins, and condos.
There are 12 runs to choose from, from beginner to advanced, and they have fun names like "Thunder" and "Dead Man's Drop". There is a lift which will drag tubers in their tubes back up the hill after their ride.
Day activity passes gives access to the tubing hill, cross country skiing, and ice skating. There is also ice fishing on site.
The tubing hill is usually open on weekends, but it does open daily during holiday periods like Christmas and Spring Break. It is typically open late November through the beginning of April. Single and double tubes are available.
Kids under 36″ that can't ride the big runs can enjoy our free bring-your-own-sled kiddie hill. There is also sled rental for $5 for this hill.
Minimum height/age: Kids must be 36″ to ride on the tubing hill.
Cost: Two-hour winter activity passes begin at $35. There are also half day and full day passes available.
Howelsen Sledding Hill in Steamboat Springs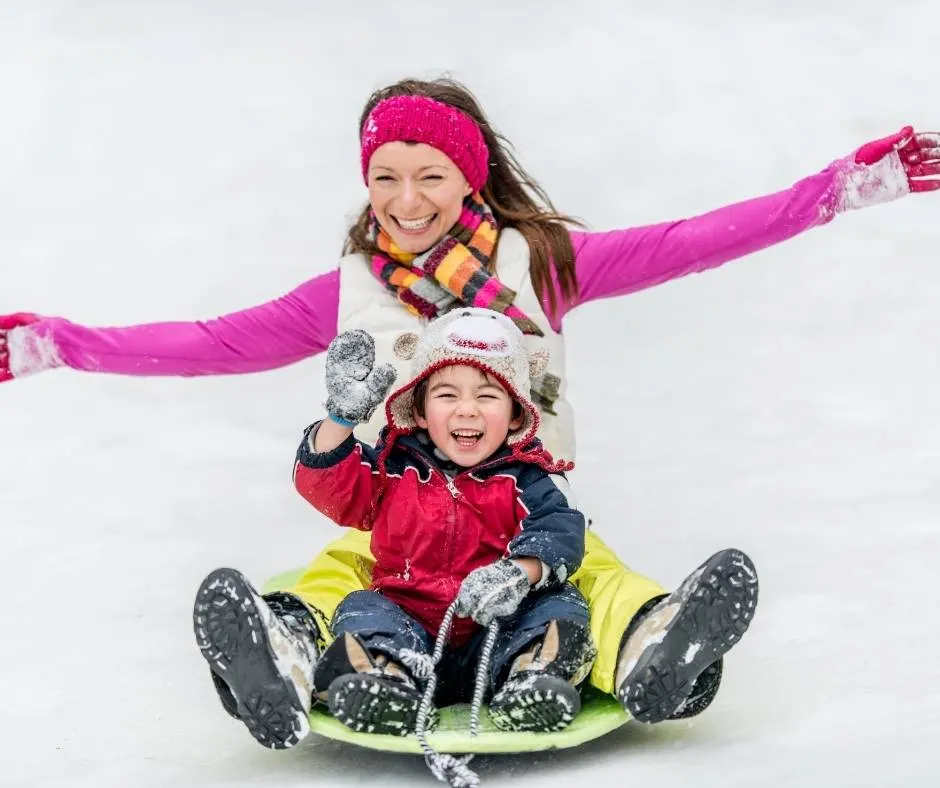 If you are looking for a small sledding hill that is great for young kids, the Howelsen Sledding Hill is a great option. This slope is fun but not too high, perfect for those bring-your-own-sled days.
The hill is at Howelesen Park in the heart of downtown Steamboat Springs. It is free to use and open daily from 8am to 10pm.
The sledding hill was built by the Parks and Recreation department. They ask that sledders enter via the 5th Street entrance to the Rodeo Arena and park there.
Minimum height/age: None
Cost: FREE!
Find lodging in Steamboat Springs.
Yee-Haw Tubing Hill at Saddleback Ranch in Steamboat Springs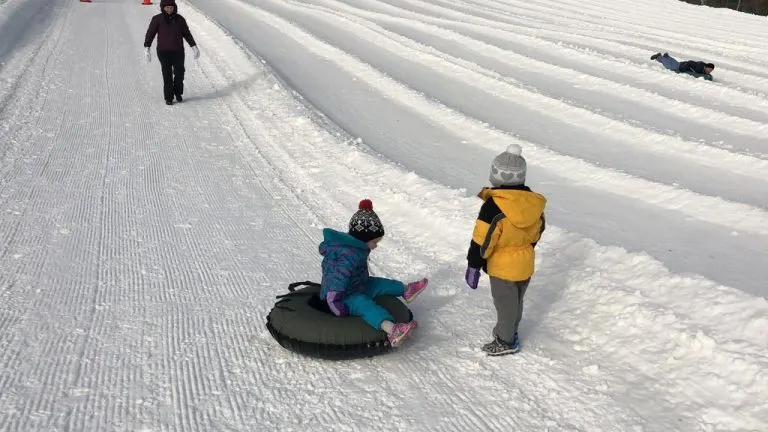 Yee-Haw Tubing is located 15 miles from downtown Steamboat Springs at Saddleback Ranch. Saddleback Ranch has great family activities year round. In the winter, besides snow tubing they also offer snowmobiling and even winter horseback rides.
This big tubing hill is great fun and they have tube tow-lift system brings you and your tube back to the top to slide again. Kids under four can tube for free when they ride with a paid adult.
There is a warming hut that sells food and drinks at the bottom of the hill.
There is a shuttle which will take you from the Mt. Werner Transit Center in town to Saddleback Ranch at 12:30 and 4pm.
Reservations are required for shuttle transportation provided by Saddleback Ranch but tubing is first come, first served for those who arrive in their own car.
The hill is open from 10am – 6:30pm Monday, Wednesday, and Friday- Sunday, but it is open daily during peak holiday periods as well. The snow tubing season runs December 21, 2022 through March 10, 2023.
Minimum height/age: None
Cost: $45 per person for a two hour session, including the shuttle ride. If you arrive via your own car the cost is $28.00 for one hour, $35.00 for 1½ hours, and $45.00 for two hours. Children under four are free
Snowmass Tubing Hill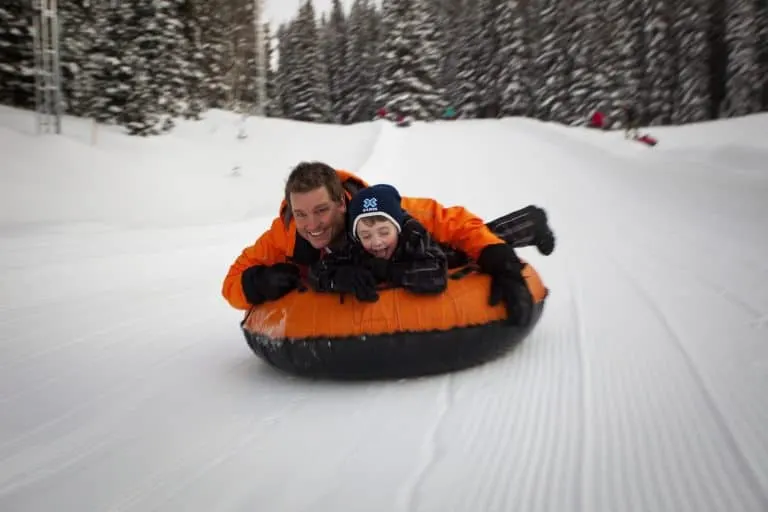 Snowmass is a popular ski resort near Aspen. It is a great family vacation destination because it is part of a group of four ski mountains spread out among two ski towns. If you are looking for a break from skiing and snowboarding, check out the Snowmass Tubing Hill.
There are multiple lanes of tubing served by a covered Magic Carpet available at the tubing hill at the resort's Elk Camp area. You pay one flat fee and can tube the entire session. There are no reservations but tubing can sell out, so they suggest arriving by 1pm to secure your spot.
There is also an alpine coaster in the same location and you can purchase tickets which combine access to the tubing hill and coaster.
This hill is open daily from 11:00 AM – 3:30 PM. There is evening tubing available on select nights. The tubing season typically opens near Christmas and runs thorugh early April.
Minimum height/age: Riders must be 38″ tall.
Price: Unlimited tubing all day is $46. Unlimited tubing and up to three rides on the Breathtaker Alpine Coaster is $69 and includes gondola access.
Purgatory Resort Tubing Hill in Durango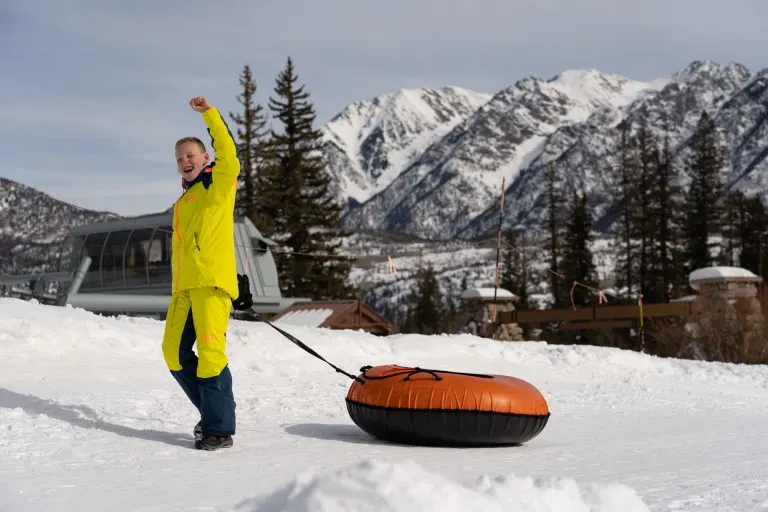 Durango is a small mountain town in Southwestern Colorado that is home to Purgatory Resort. It is a great value resort for families where kids under 12 can ski for free!
The Purgatory Resort Tubing Hill, also known as the Snow Coaster Tubing Hill, is a three-lane hill that is big on fun! There is no Magic Carpet or lift, so you are going to get some exercise while you tube.
Children ages three to five must ride with a parents, but kids ages six and up can go at it alone. You must use the resort's tubes on this hill. Tickets can be purchase at the Columbine ticket office.
Book your lodging near Purgatory Resort in Durango. As a Booking.com affiliate Trekaroo is thrilled to offer its readers the lowest rates.
Minimum height/age: Children must be three years old.
Cost: $15 for one hour of tubing.
Marmot Tubing Hill in Hesperus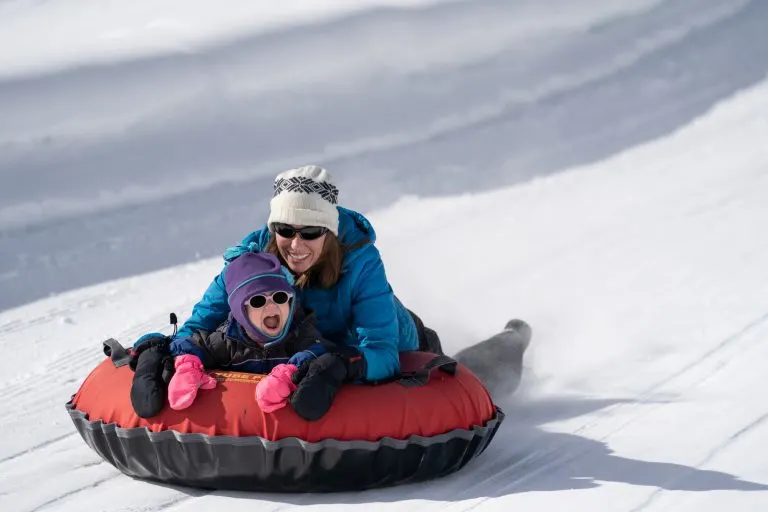 Also near Durango is Hesperus, a small ski slope with a tubing hill. It is a fun tubing hill with multiple lanes so you can race your family members. Marmot Hill is on the west side of the lower mountain and a great value.
Like Purgatory, there is no lift or Magic Carpet, so you will be hauling your tube back up the hill the old-fashioned way.
As long as the ski hill is open, the tubing hill will be open as well. It is closed Monday through Wednesday, but the hill is open until 9pm Thursday through Saturday so night tubing is possible.
You can rent your tubes from the Base Lodge where there is also a snack bar and restrooms.
Minimum height/age: Participants must be three years old and 36″ tall.
Cost: $15 for the first tuber and just $10 for each additional family member.
Cottonwood Creek Park in Colorado Springs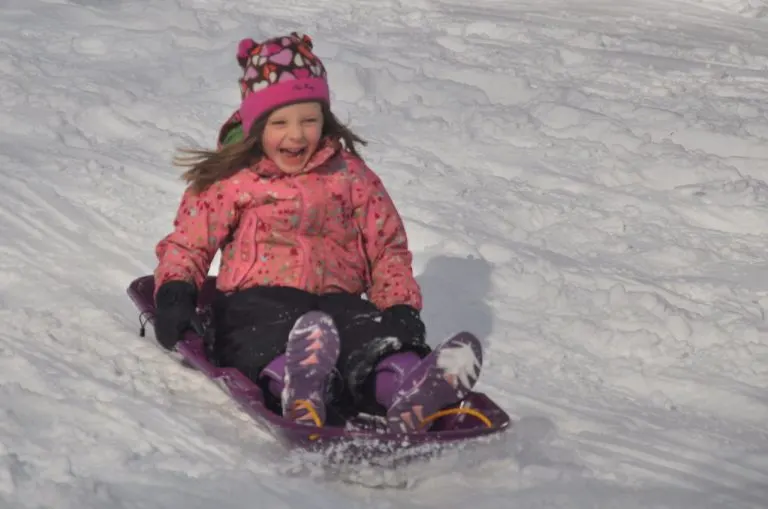 If you are looking for a fun and free place to go sledding in Colorado Springs, look no further than Cottonwood Creek Park. This park is known for its numerous playgrounds, sports courts, hockey rink, and even a disc golf course, but after a good snow, it is also a great sledding spot.
There are a couple hills to sled on as well as pavilions that offer shelter and a place to eat lunch in between rides down the hill. There is no Magic Carpet or lift at this park. This is sledding the way we all remember doing it when we were little.
There are no rentals here, so be sure to bring your own sled, disc, or tube.
Minimum height/age: None
Cost: Free
Firecracker Hill in Telluride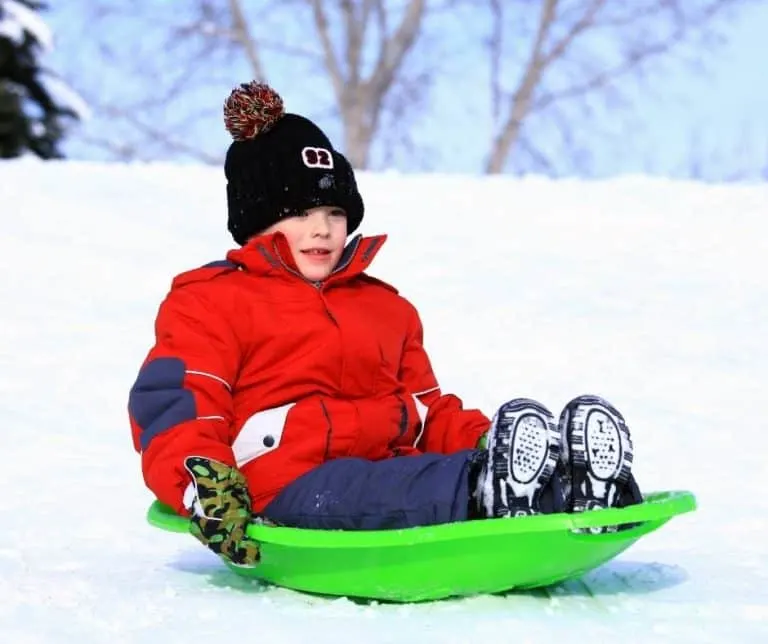 If you are planning on spending a couple days on a winter vacation in Telluride, be sure to carve out some time to go sledding at Firecracker Hill.
First of all, is there a better name for a sledding hill than Firecracker Hill? I think not! The hill is on the south end of Telluride Town Park. An orange cone-lined path will lead you to the hill.
There tends to be enough snow on the ground for sledding by late November, and the sledding lasts as long as the snow does. There are no lights, so sledding is only open during daylight hours. No Magic Carpets or lifts here; slide down and then climb back up!
Sledding is free but you must bring your own gear. You can rent a sled from the town's Nordic Center or purchase one at the local Ace Hardware.
Trekaroo Tip: There are also two ice skating rinks and a Nordic Skiing track in the park as well.
Minimum height/age: None
Cost: Free
Ruby Hill Park in Denver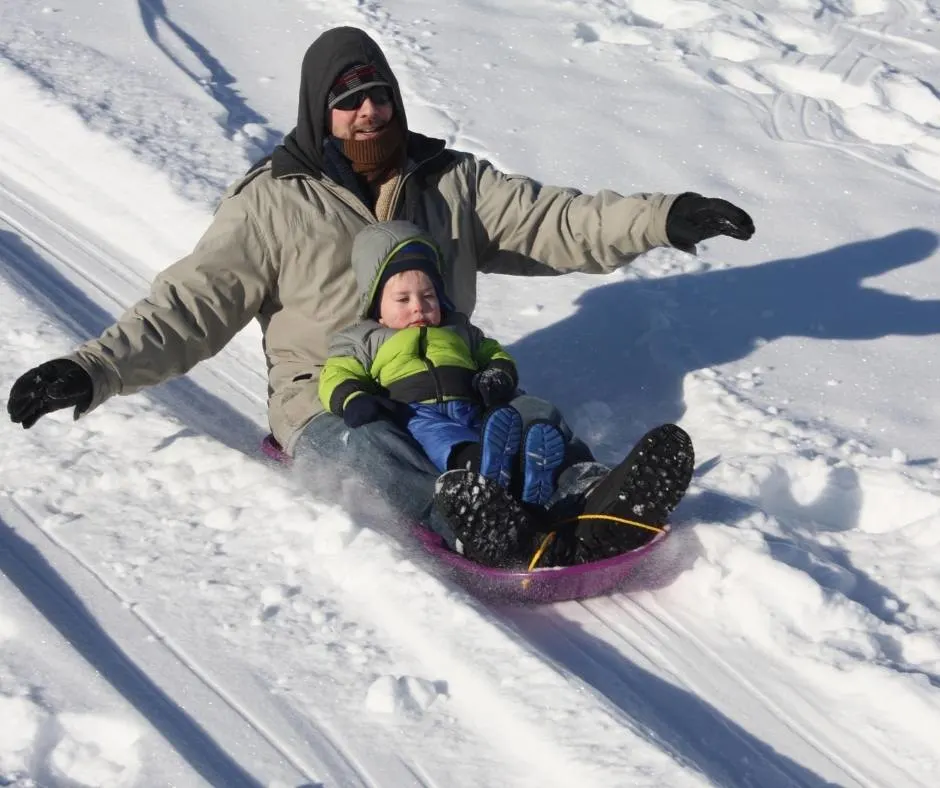 Ruby Hill Park is home to the Ruby Hill Rail Yard, a special and FREE urban terrain park for skiers and snowboarders in the heart of Denver. In addition to providing a place for kids to work on their skiing and snowboarindg tricks, there is also a really nice sledding hill.
Though snow is not always on the ground in Denver during the winter, snow is usually on the ground at Ruby Hill Park because they have snow making equipment. It usually opens in early January and is open for a couple months.
The sledding hill is open daily from sunrise to sunset. There is also a playground, restrooms, and picnic tables on site. Like most traditional sled hills, you bring your own equipment, walk up, and then slide down. Locals agree this is best place to sled in Denver.
Minimum height/age: None
Cost: Free
Here are 10 fun things to do in Denver with kids.
Sledding Hill Park in Littleton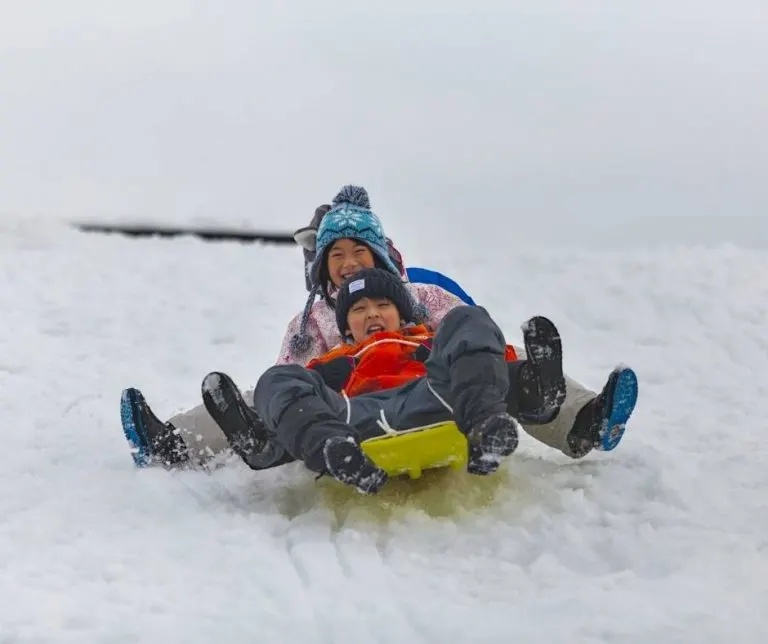 I mean, the name says it all, doesn't it? Sledding Hill Park is an undeveloped hill that has been used as a local sledding hill for years. It is a good-size hill, but it can get busy, especially on the weekend after a snowstorm.
Parking can be a challenge, so park at nearby Eagle Meadows Park or Sanctuary Park and walk over. Bring your own sleds and prepare to down the trudging up the hill withouth the help of a conyeor belt.
Minimum height/age: None
Cost: Free
Scott Carpenter Park in Boulder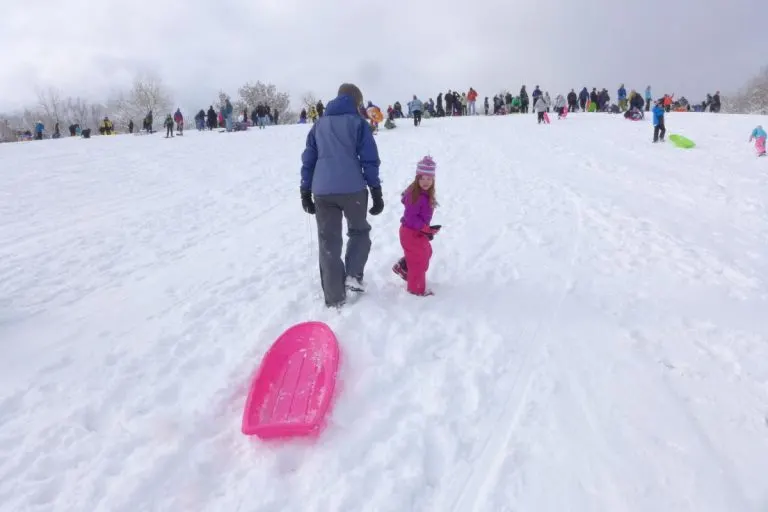 If you are looking for a free, local sledding spot in Boulder, head to head to Scott Carpenter Park, named after astronaut (and former Boulder resident) Scott Carpenter.
Thanks to the large hill at this park, there are plenty of sledding opportunities. Little ones can sled down the less steep sections while older kids climb to the top and sled down. There is no snow making so the sledding is only happening when there is snow on the ground.
There are also restrooms, picnic tables, and a playground with a rocket ship in the center!
Minimum height/age: None
Cost: Free
Echo Mountain Tubing Hill in Idaho Springs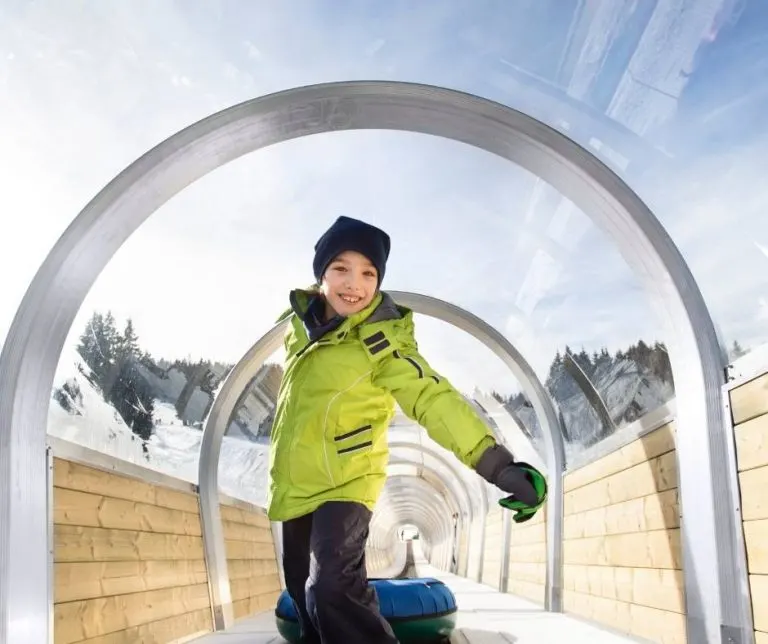 As you head up the I-70 corridor towards all the ski resorts, the first tubing hill you will come to is Echo Mountain Tubing Hill in Idaho Springs.
Echo Mountain has six lanes to tube down and a covered conveyor lift to take you and your tube back up the hill.
There is only one tuber allowed per tube, but there are leashes on the tubes so that you can connect them.
There is night tubing available Wednesday thorugh Saturday when the tubing hill is open until 8pm. The rest of the week it closes at 5pm.
Reservations are available and suggested.
Minimum height/age: There is no age minimum but the minimum height is 36″.
Cost: Monday through Thursday is $29 for an hour of tubing. Weekends and holidays are $37. A discounted rate of $10 for the second hour might be available. Just ask at the ticket window.
Copper Mountain Ski Resort in Copper Mountain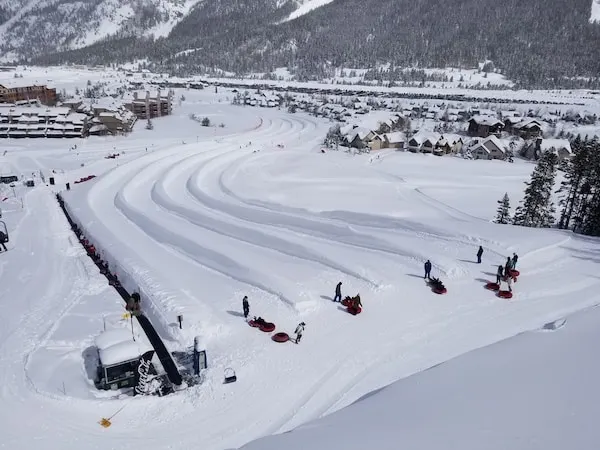 Copper Mountain is a great ski resort, but sometimes you need to take a break from the slopes and just lay in a tube and fly down a hill. Luckily, there are four groomed runs here to ride down.
You must to ride in your own tube, but you can link up and ride down together. There is a Magic Carpet to take you and your tube up the hill.
The tubing season typically runs January through April. The tubing hill is located in East Village behind Copper Station. Reservations are required. The hill is typically open from 10am – 7pm.
Minimum height/age: Riders must be at least 36″ tall.
Cost: Cost for one hour during the regular season is $59. It is $79 during the holiday season. Pre-book at least one day in advance and save 10% off daily rates!
Carter Park in Breckenridge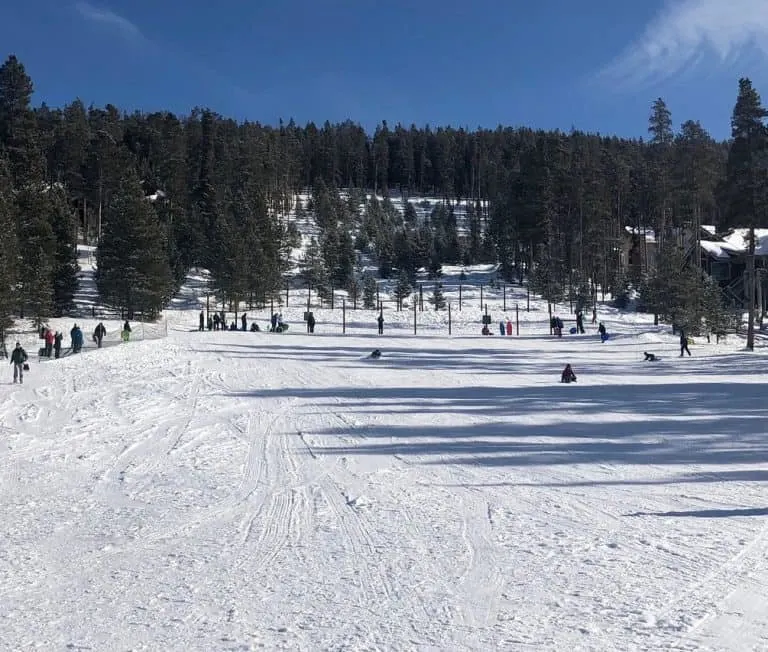 Carter Park in Breckenridge has its own sledding hill that is popular with locals. It is a located next to a former ski slope and is plenty wide, but can also get plenty crowded during peak times given its central location.
There is no Magic Carpet at this sledding hill but there are heated restrooms and picnic tables. This is a BYOS (bring your own sled) spot and sleds can be purchase in town at the grocery stores.
Minimum height/age: None
Cost: Free
Runaway Sledding Hill in Breckenridge
Another free place to sled in Breckenridge is Runaway Sledding Hill. This hill is regularly groomed and maintained, and there is even a spot to borrow snow discs (but don't count on availability).
It is an easy hill to walk up and sled down over and over again. Bring your own sled or tube and stay within the fenced sledding area.
This spot is located along Airport Road on the Breckenridge Free Ride bus loop so take the bus if you are coming from town. There is also a parking lot with lots of space.
Minimum height/age: None
Cost: Free
Find more winter fun in Breckenridge including skiing and dog sledding.
Country Boy Mine Extreme Sledding in Breckenridge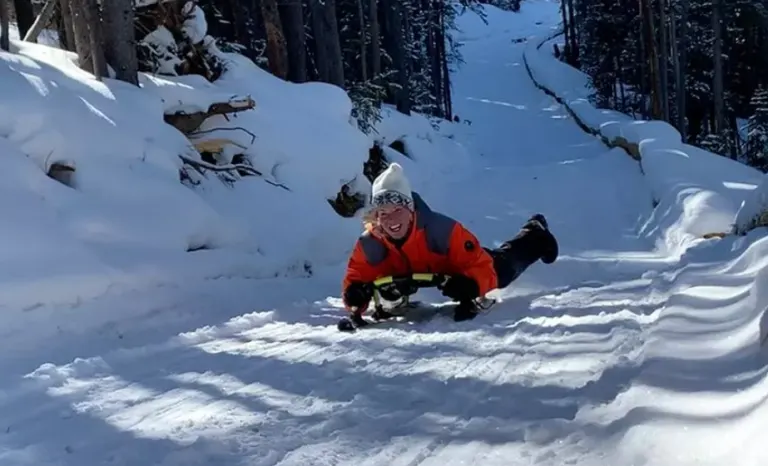 There is sledding and then there is extreme sledding. Country Boy Mine, known for its gold panning and mine tours, but it decided to get involved in the winter adventure scene as well.
This sledding course begins with a snowcat trip up to the mine's orignal entrance where sledders can choose from four different runs that are almost a full kilometer in length!
Speeds can be quite fast, and helmets are encouraged as you makes your way down the mountain on a racing sled.
This activity is best suited for kids ages seven and up given its length, speed, and the fact that you must ride the sled alone. Country Boy Mine does have a small, free sledding hill for the little ones.
Book your Country Boy Mine Extreme Sledding Adventure.
In addition to extreme sledding there are also snowshow tours and even Monster Truck Sleigh Rides!
Minimum height/age: None listed but given the nature of this activity it can be assumed that kids should be at least seven.
Cost: Three rides are $34 and will take about an hour to complete. Helmets are $3 to rent if you don't bring your own.
Frisco Adventure Park Snow Tubing in Frisco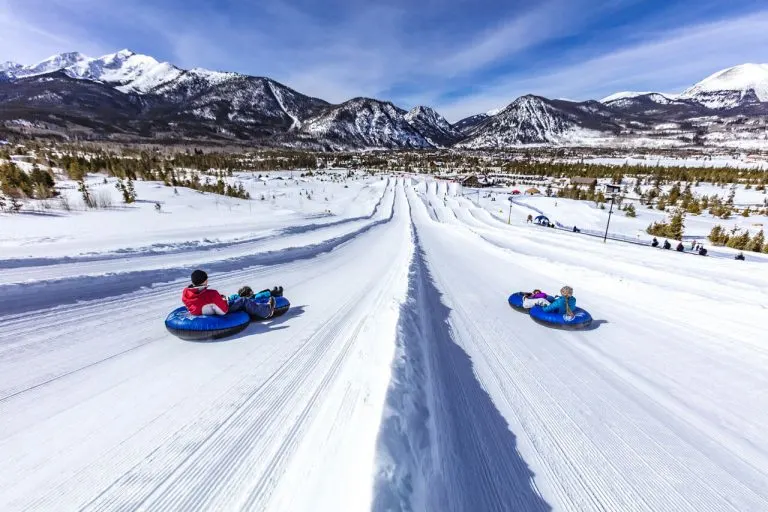 The Frisco Adventure Park is home to a beginner ski hill, horse-drawn sleigh rides, snowshoeing, Nordic skiing, and a great tubing hill. They even have zorbs which are like human hamster balls.
The tubing hill has several different lanes, and each one is a little different. They have a Magic Carpet take rides back up to the top of the hill. Only allow one rider is allowed per tube, but you can ride down in separate tubes together.
Reservations are required at this tubing hill. The park is open from 10am -5pm. It is closed Tuesdays and Wednesdays.
Note: There is a small, free hill for sleds but you do need to bring your own.
Minimum height/age: Tubers must be 36″ tall.
Cost: The regular tubing price is $32 per hour but it does go up to $36 per hour during holiday periods. Check the calendar on the reservation website for pricing for the specific day you are visiting. There are discounts available for locals.
Mountaintop Tubing Hill at Keystone Resort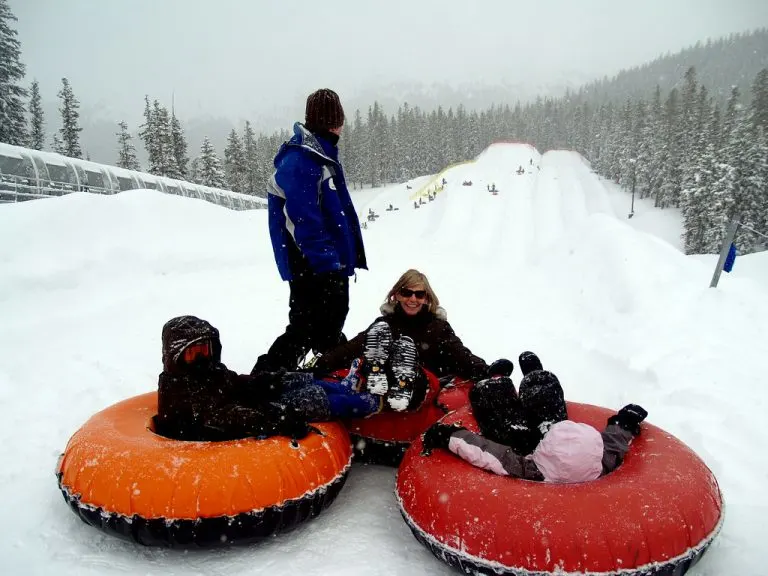 Keystone's tubing hill is one of the best tubing hills around because it is steep, fast, and fun! There are several lanes and a covered Magic Carpet will get you back up to the top with little effort.
It sits high atop the mountain at 11,500 feet in elevation, and is the highest elevation tubing hill in the state of Colorado. Given the elevation, the snow can often last until July 4th, so summer tubing is a real possibility!
Tubing check-in is at the River Run Village Express Lift Ticket line. You should check in one hour prior to your reservation time since you will have to ride the gondola up to snowtubing after you check in. Advanced reservations are highly recommended.
Minimum height/age: Riders must be four years old and 42″ tall, which is taller than most spot that offer snow tubing in Colorado.
Cost: $19 for one run, $45 for three runs, and $65 for five runs.
Read all about a vacation at Keystone Resort with kids.
Adventure Ridge in Vail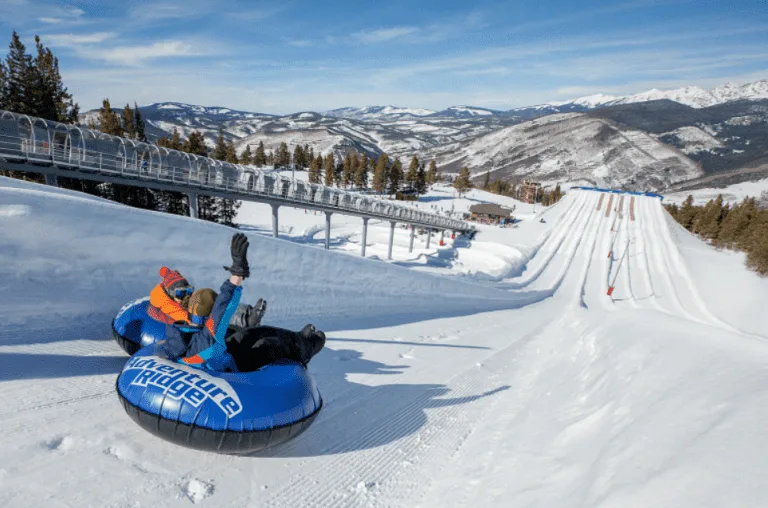 CLOSED FOR THE 2022-23 SEASON
Adventure Ridge is a playground for families with something it offer in all seasons. The Adventure Ridge Tubing Hill is accessed via the gondola at Vail's Lionhead Village.
During the winter there are ski bikes, snowmobiles for kids, a bungee trampoline, and a great, 900-foot tubing hill.
This tubing hill has several lanes and a lift to bring back up to the top of the hill with ease. If you visit during the summer they even have summer tubing available!
Tubing is open Wednesday through Saturday. Scenic Gondola Lift Access is required for tubing tickets purchased before 3:30 pm, and are not required for tubing sessions after 3:30 pm. Children under five must be accompanied by an adult.
Tubing is only open mid-February through early April. Reservations are highly suggested.
Minimum height/age: Riders must be 42″ tall.
Cost: $50 for three runs for an adult, $35 for three runs for children 5-12. Unlimited tubing is $80.
Find Snow Tubing Near You!