There is an almost endless number of opportunities for snow tubing in Michigan. The state boasts an average annual snowfall of 60 inches per year, placing it within the top 10 throughout the United States. This means residents and visitors alike slide their way to fun from the far north of the Upper Peninsula to as far down near the border of Indiana.
There are several ski resorts and recreational parks that offer tubing hills, and many of them also have sledding as an alternative…or do both! So here is a go-to guide for the best spots no matter where in Michigan you decide to visit.
Explore more of the state! Here are the best things to do in Michigan with kids.
Snow Tubing in Michigan – Best Spots in Western Michigan
West Michigan is situated along Lake Michigan placing it in the perfect location for winter sports fun. With a mid-sized airport centrally located near the city of Grand Rapids, visitors can easily access a number of popular snow tubing locations within 1-2 hour drive.
Cannonsburg Ski Area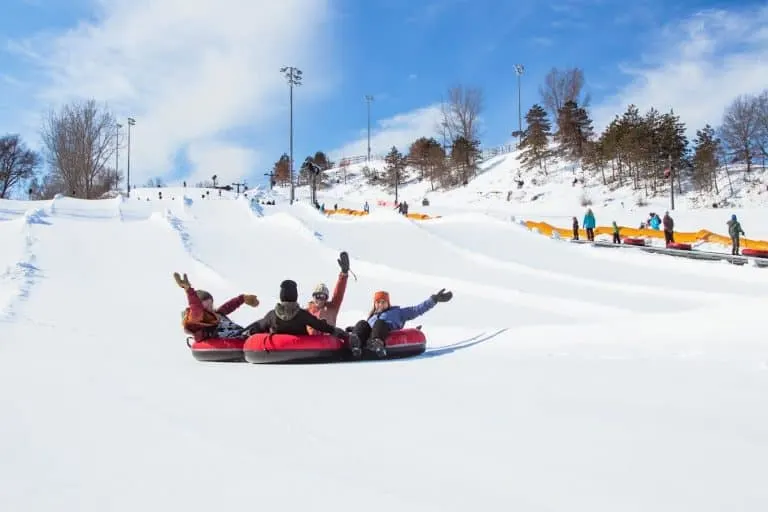 About 10 miles from the area's main city of Grand Rapids is the local favorite of Cannonsburg Ski Area. With eight tubing lanes to choose from, you, your family, and friends can enjoy multiple runs with a magic carpet (serves the same function as a ski lift) pulling you up the hill to your hearts' content.
Tubers are required to reserve tickets online for two-hour sessions per rider Wednesday through Sunday. As you can imagine, the weekends are usually busy so wait times are often longer. However, there is a full bar and restaurant available between runs or after sessions. Make sure to call two weeks ahead if you are bringing a crew of 20 or more.
Minimum Height: 42 inches.
Pricing: $18 Wednesday through Friday, $23 on weekends and holidays. Tickets can be purchased online.
Address: 6800 Cannonsburg Rd NE, Belmont
Echo Valley Winter Sports Park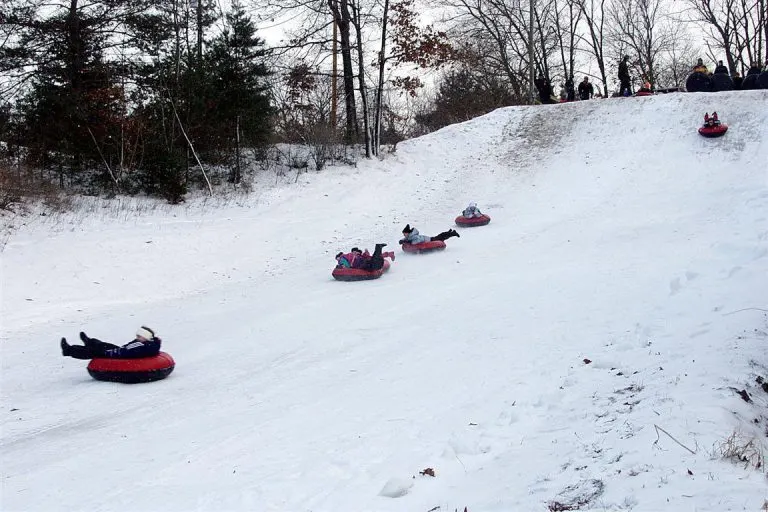 Although better known for tobogganing, Echo Valley does have one 500-foot tubing hill which was recently heightened and extended to enhance the experience. They provide two different sizes of tubes as well as a tow rope with paved, heated surface to ease the return up the hill.
Echo Valley also has a 2,100 square feet warming lodge to help you break the chill at the end of the day. For those who choose not to partake or end a little early, there is an observation deck available to watch tubers and tobogganers as you sip on a nice hot chocolate. Tubing is available only on Saturday and Sunday, but per person admission covers for the entire day.
Minimum Height: None
Pricing: $20
Address: 8495 East H Avenue, Kalamazoo
Timber Ridge Ski Area
Timber Ridge is only about an hour's drive north of the Indiana border in the small town of Gobles, MI. This family owned ski spot recently upped its snow tubing game with nine lanes and moving sidewalk lift.
There is a large inventory of tubes to rent, but they are provided on a first-come, first-serve basis so they don't offer passes ahead of time. You can purchase two-hour sessions on Wednesday through Saturday with helmet rentals available as well. Only one rider is allowed per tube, but groups of four tubes can be linked together.
Minimum Height/Age: 42 inches, 5 years olds
Pricing: $25 for tubing session, $15 for helmet rental (optional)
Address: 07500 23 1/2 St, Gobles
Snow Tubing in Central Michigan
While the area is flatter than the western and northern parts of the state, Central Michigan still has sledding hills for locals to enjoy. However, there is one tubing spot to check out if you happen to be in the area.
Hawk Island Park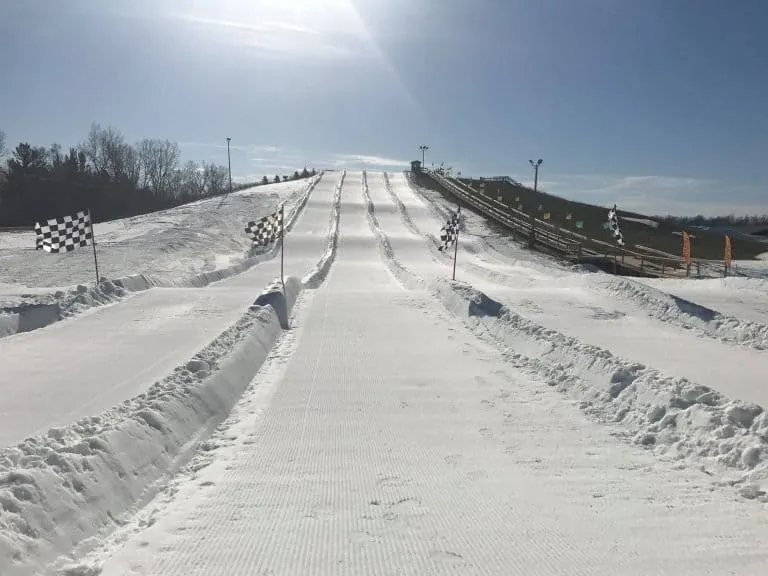 Located in the state's capital, Hawk Island is a 100-acre county park created out of a former gravel pit. The county administrators had snow tubing on the brain when contouring the hill for winter recreation.
The hill has multiple 16-foot wide snow lanes taking 500-600 feet of sliding fun. Snow-making machines were even installed to make up for when Mother Nature doesn't provide enough cover.
A magic carpet conveyor lift is waiting at the bottom to take tubers back up the hill. Warm up afterwards with some hot chocolate and outdoor fires near the ticketing area.
Tickets are time-entry restricted so make sure to purchase them ahead of time online.
Minimum Height/Age: None
Pricing: $11 for two-hour sessions Monday through Sunday
Address: 1601 E Cavanaugh Rd, Lansing
Snow Tubing in Michigan- 5 Top Spots in Northern Michigan
Northern Michigan is revered for its variety of resorts that offer visitors an endless amount of winter activities from downhill skiing to snowshoeing and everything in between. This all offers the perfect conditions for some great snow tubing as well.
Boyne Mountain Resort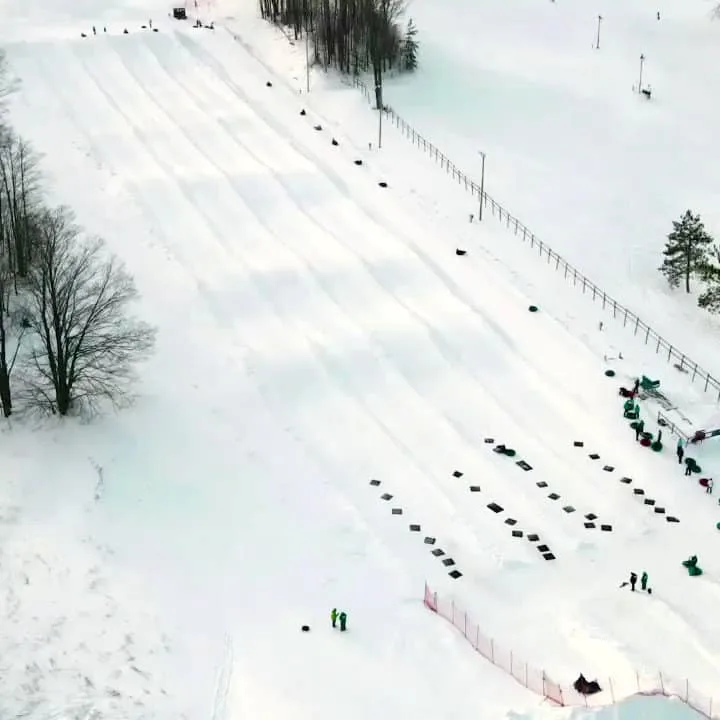 Situated a little over an hour north of Traverse City and an hour south of Mackinac Bridge, Boyne Mountain Resort has a history of firsts within the ski resort industry. This includes the world's first four-person chairlift and America's first six-seat high speed chairlift.
While the resort can't claim to be the first in snow tubing, this doesn't tarnish the thrills to be had down their four lanes at their Top Notch Tube Park. Boyne provides one hour sessions throughout the entire week and holidays.
Minimum Height/Age: 5 years old
Pricing: $32 on weekdays/$36 on weekends and holidays. You can book your tubing online.
Address: 1 Boyne Mountain Road, Boyne Falls
Shanty Creek Resort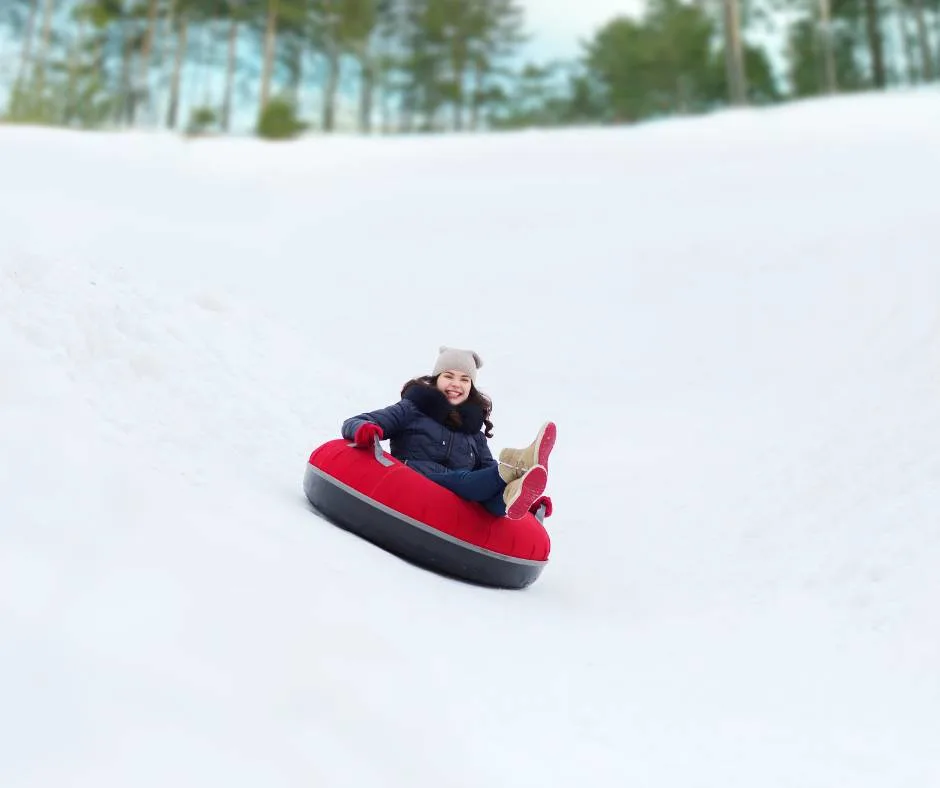 Shanty Creek draws its beginnings from a retired steel magnate who needed a beautiful location to entertain guests.
Built on the grounds of an old trapper's shanty, this resort (originally named Summit Mountain) opened in 1962 as a private club for skiers. However, the owner soon realized its potential as a four seasons resort, opening a hotel the next year named the Lodge at Shanty Creek. Now, in addition to cutting the powder on skis, visitors can enjoy zooming down eight lanes of what they call Alpine Tubing.
Shanty Creek opens their tubing lanes for one hour sessions from Friday evening to Sunday. They make a special mention that the final two hours on Friday and Saturday evenings are recommended for adults only.
Trekaroo tip: Shany Creek has dog sledding as well! Check out our guide to dog sledding in Michigan.
Minimum Height: 36"
Pricing: $20. Sessions can be booked online.
Address: 2400 Troon S, Bellaire
Treetops Resort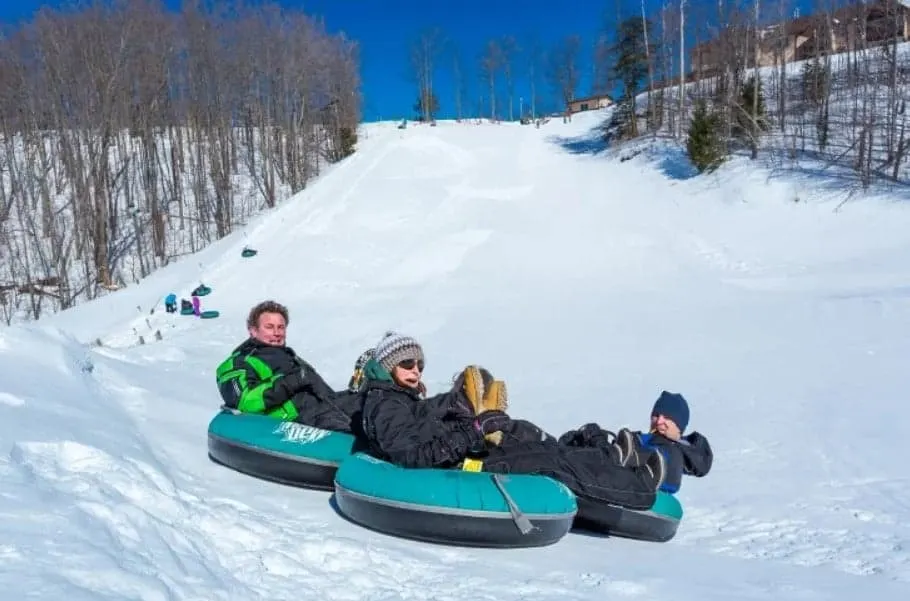 While extreme sport lovers may find tubing a bit docile, Treetops Resort promises to give you a thrill with its Extreme Tubing experience.
There are two runs to choose from called the Thunderstruck and Sidewinder. The Thunderstruck is shaped like a bowl built to propel you from one side to the other at a brisk pace. The Sidewinder is the newer run with two banked turns for a different, but equally exciting ride.
It is strongly recommended that you reserve your one-hour session in advance and arrive 15-20 minutes before your scheduled time. Runs are open open Thursday through Sunday.
Minimum Height: 42"
Pricing: $25 for Thunderstruck, $28 for Sidewinder. Advance reservations are highly recommended.
Address: 3962 Wilkinson Road, Gaylord
Hanson Hills Recreation Area
Although not as well known, the Hanson Hills Recreation Area became Michigan's first downhill ski area and the second to open in the Midwest back in 1929. It was a main ski attraction for decades with 21 ski runs, 66 foot ski jump and a host of other winter activities.
Due to legal disputes, much of the businesses on the property were forced to shut down along with some winter sports, but volunteers swooped in to preserve most of it for the community to enjoy.
Thanks to them, you can enjoy a fun ride down one of Hanson Hills slopes. There is a tow rope available to pull back up for as many runs you handle within your one-hour session on Friday through Sunday.
Minimum Age: 4 years old
Pricing: $14. Online reservations are available.
Address: 7601 Old Lake Rd, Grayling
Timberlee Hills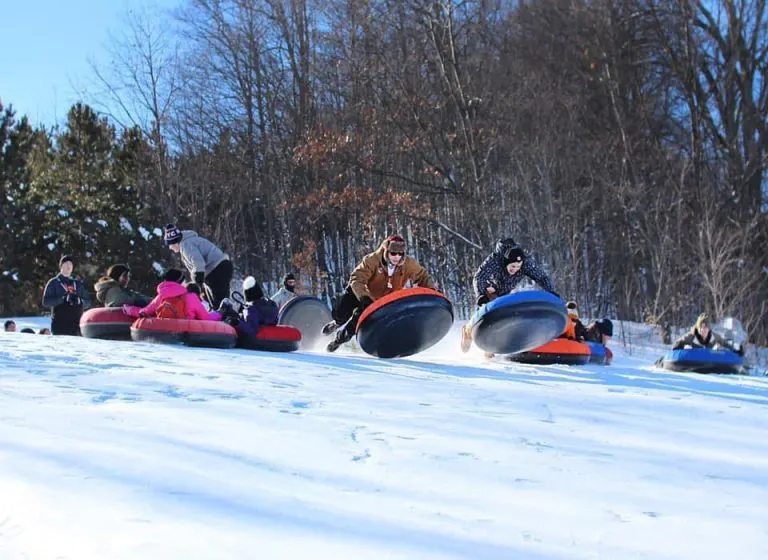 Many refer to Paris as the City of Love. In the same respect, Timberlee Hills has a origin story that is equally as romantic. In 2017, the owners were searching for the perfect wedding venue for their own upcoming ceremony. They not only fell in love with the place to host the event, but ultimately decided to purchase it ensuring the same beautiful venue was available for others soon to tie the knot.
With a former ski hill located on the property, the owners revived it into a "no lane" snow tubing experience. Imagine bringing loved ones together to celebrate a couple's time-honored sharing of the vows and then slushing down the hill for a thrilling reception!
Located just 20 minutes north of Traverse City, take your family for an hour of tubing and then head over to the lodge for a late lunch or quick snack.
Minimum Age: 4 years old
Pricing: $16 for Friday through Sunday. Tickets can be purchased in advance online.
Address: 10484 S Timberlee Dr, Traverse City
Snowing Tubing in Michigan's Upper Peninsula
The Upper Peninsula (also called the UP for short) is the northernmost region of Michigan with plenty of winter activities to dive into.
The trek to get there is a little more involved as air travel options are limited where key arrival points in Traverse City, MI or Green Bay, WI are still a few hours drive from key destinations. However, it's well worth planning an extended weekend to enjoy all the snow tubing and sledding fun the UP has to offer.
Ski Brule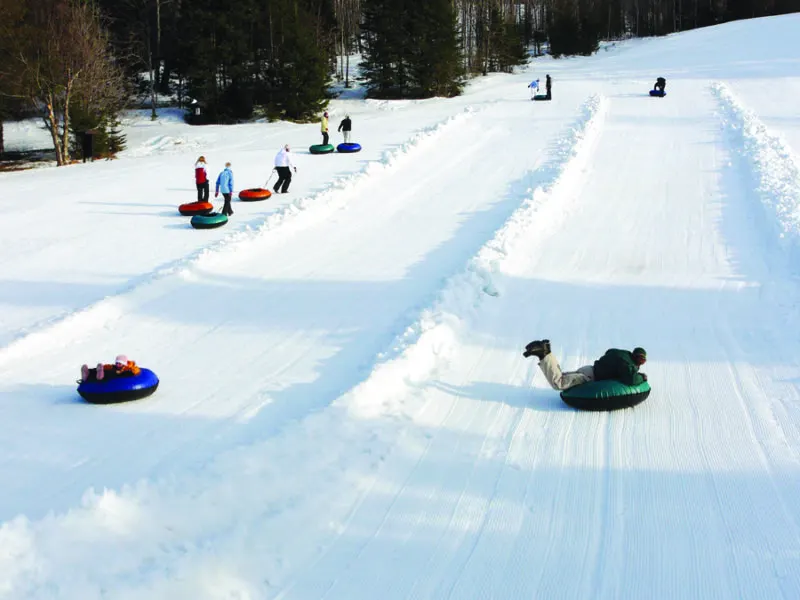 Just seven miles from the Wisconsin border, Ski Brule offers two fun runs: Whitewater Snow Tubing Park and Homestead Snow Tubing Park.
Whitewater is open on Saturdays and Sundays and has a tow available to pull you up the hill. Homestead is only open on Saturday evenings, but doesn't offer a tow so tubers get a workout having to walk back up after each run. However, it does host a BBQ dinner with live entertainment during the three-hour session as a nice reward for treks up the hill.
Minimum Height/Age: None
Pricing: $10 for 5 runs
Address: 397 Brule Mountain Rd, Iron River
Mt. Zion Ski Hill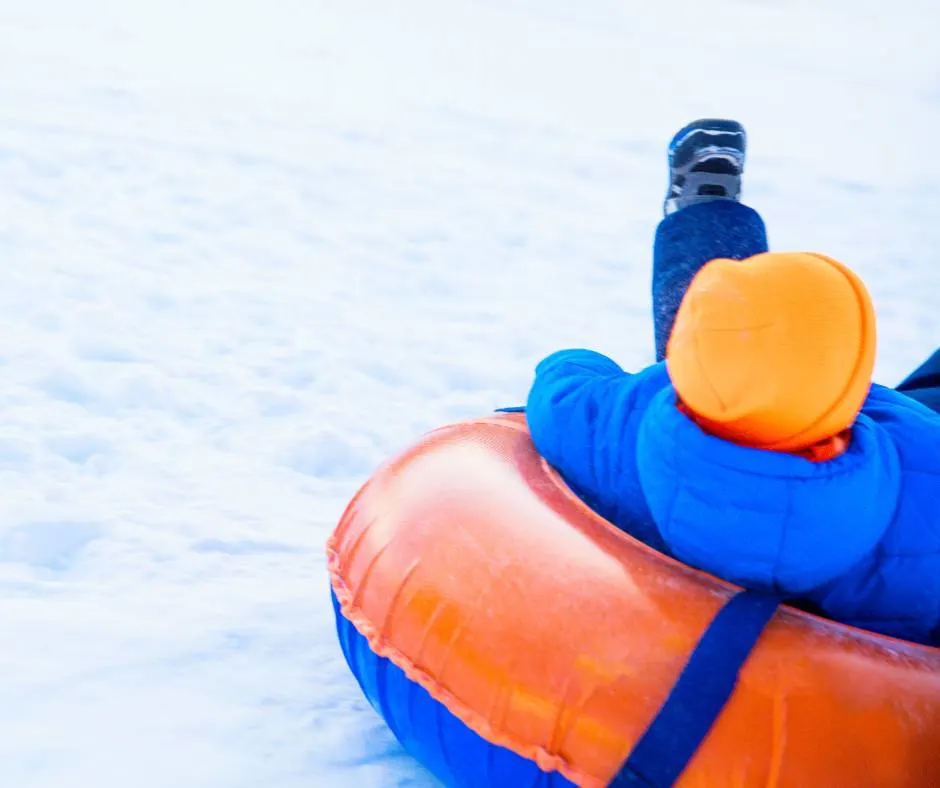 If you think attending college in a ski town is awesome, imagine having your very own ski hill on campus! That's the everyday winter reality for Gogebic Community College students where Mt. Zion Ski Hill resides. The campus isn't stingy with this amenity allowing the general public to enjoy the slopes for skiing or tubing.
Tubers can enjoy the hill on Friday evenings and during the afternoons on Saturday and Sunday. However, it doesn't offer the same services as traditional resorts so you will need to bring your own tubes and there are no tow ropes available.
Minimum Height/Age: None
Pricing: $10
Address: E4946 Jackson Road, Ironwood
Mont Ripley Ski Area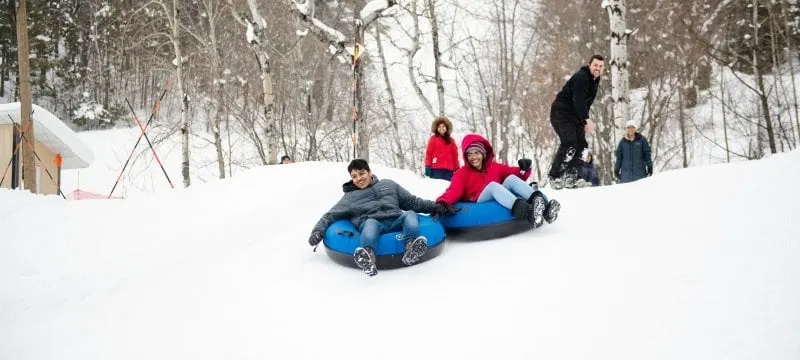 While not right on campus, Michigan Technological University owns and operates Mont Ripley Ski Area located just one mile from campus in Hancock, MI. Once recognized as the 3rd snowiest city in America, Mont Ripley provides great powder over 112 acres of ski runs, terrain parks and a 3 lane tubing park.
Check out their tubing park page to confirm schedules as they aren't always open at the same time as the ski runs.
Minimum Height/Age: None
Pricing: $20
Address: 49051 Ski Hill Rd., Hancock
John & Melissa Besse Sports Park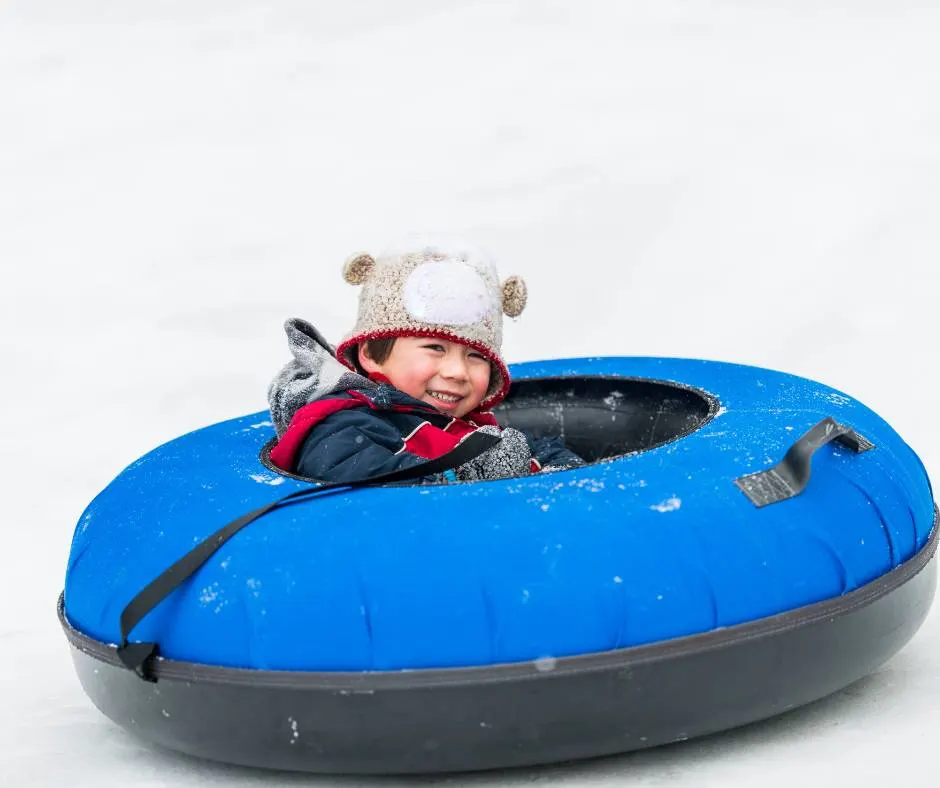 Gladstone Hill is the main venue for snow tubing at the John & Melissa Besse Sports Park. It is a popular attraction being the only tubing hill in the U.P. with a return lift.
Admission is good for three hour sessions on Saturdays and Sundays. Their Ski Chalet provides concessions throughout the day to help warm you up during a chilly day on the slopes. Unfortunately, it doesn't have tubes available, but call the Park's main office at 906-428-9130 for guidance on local businesses that provide rentals.
Minimum Height/Age: None
Pricing: $10
Address: 900 North Bluff Drive, Gladstone
Find Snow Tubing Near You!