Last Updated on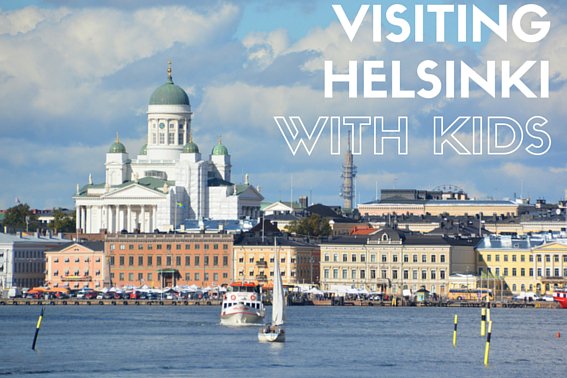 Photo by: Bigstock/meuniard
Have you every thought about visiting Helsinki with kids? If not, you should! Finland's capital city (and the entire country for that matter) is largely off the average North American's family travel radar which is a shame, because this charming city has plenty to offer. Scandinavia is a small place by our standards but I was pleased to discover that each country has its own distinct identity. My family recently spent a week exploring Finland and we were delighted by the country's natural beauty, reserved yet yet friendly locals, and distinctive culture. While Finnish and Swedish are the primary languages in Finland, we found that nearly everyone we encountered in Helsinki spoke English which made it very easy to communicate and navigate the city. One of the many perks of visiting Helsinki in the summer is being able to take advantage of that glorious midnight sun. It was so nice to enjoy late night (but still sunny!) walks along the waterfront. Here is Trekaroo's guide to visiting Helsinki with kids.
Good to know: Finland is in the Euro Zone. Check sites such as XE.com for current exchange rates.
Getting There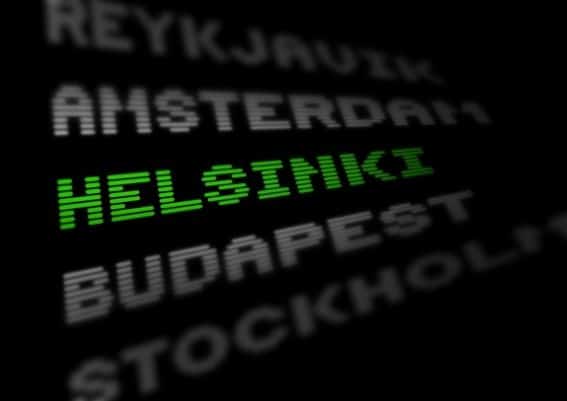 Photo by: Bigstock/Robin Lund
Finnair operates direct flights to Helsinki out of Miami year round and Chicago during the summer months. There are no direct flights from Helsinki to Los Angeles, so my family flew through Copenhagen on our way back to The States. Copenhagen's airport acts as the hub for Scandinavian travel, with several major carriers offering direct flights to major US cities.
The Helsinki airport is a 30 minute taxi ride from the city center. Taxis are about 50 euro. A less expensive option is the Finnair City Bus which departs every 20 minutes. The cost at publication is 6,30 Euro for adults and 3,20 Euro for children.
Helsinki's Historic Center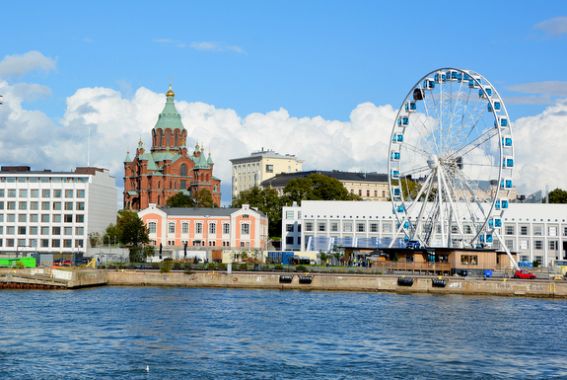 Photo by: Bigstock/Meunierd
Market Square, or Kauppatori, is the center of the tourist action in Helsinki. Located on the harborfront, this open-air market serves up fresh Finnish food such as coffee and sweet buns, open-faced salmon sandwiches, warm seafood soups, salted licorice, and cloudberry jam. All sorts of souvenirs such as fur hats, scarves, reindeer products, and handicrafts are waiting to be discovered as well.
Across the street from Market Square sits the Presidential Palace, a quiet yet stately neo-classical building that served as the presidential residence in the past and is now used for presidential functions. Not far from the palace is Uspenski Cathedral, a magnificent Russian Orthodox cathedral built on a hillside. Also steps away from Market Square is Old Market Hall, a 120-year old indoor marketplace filled with stalls serving up all sorts of specialty food items. Cafe Story, inside Old Market Hall, offers up sandwiches and such with some top notch views of the harbor including the Finnair Skywheel, Helsinki's version of the London Eye.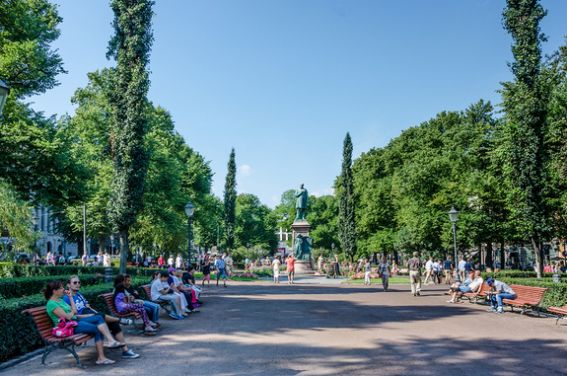 Photo by: Bigstock/Maie
Esplanadi, a promenade and park, is one of the primary hubs of activity in Helsinki, especially during a pleasant summer day. This the place to stroll, people watch, or let the kids run around on the grass. Great shopping and cafes can be found in the shops surrounding the Esplanadi. Just off the Esplanadi on the pedestrian street Kluuvikatu, is Karl Fazer Café. Karl Fazer is a world famous chocolatier and the cafe sells a nice assortment of lunch items, coffee, and delectable chocolate treats in all sorts of sizes and varieties. I highly recommend the dark chocolate.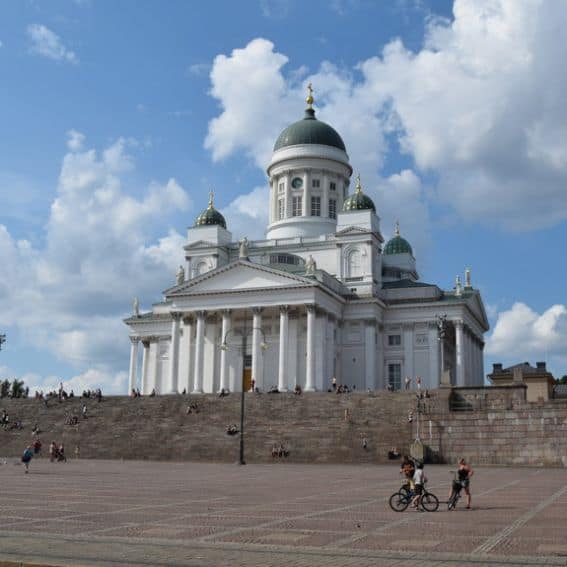 Senate Square is another highlight of Helsinki's historical core. The square is surrounded by some of Helsinki's most famous buildings- the Government Palace, University of Helsinki, and the remarkable Helsinki Cathedral. A statue of Alexander II stands in the center of the square, a reminder of Finland's era of Russian rule (roughly 1809-1917). While adults will find the architecture and history of the square interesting, kids will probably be more entertained by races across the square and up the Cathedral steps.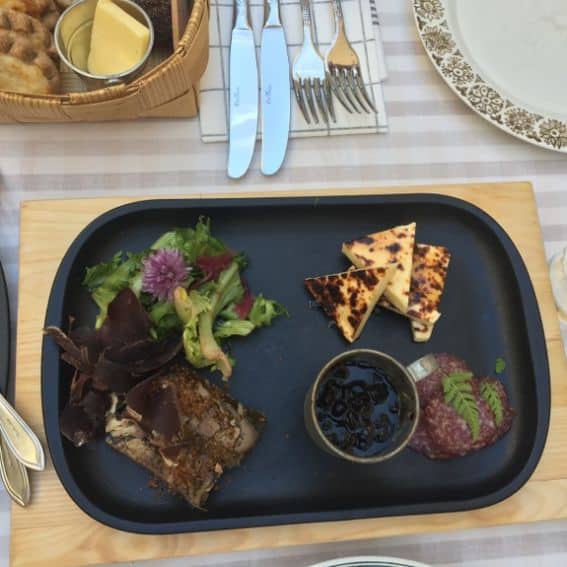 Just across from Senate Square is Savotta, a restaurant which specializes in traditional Finnish food. The atmosphere is charming and a reminiscent of the old cabins of Finnish forest country. There is also a pleasant, outdoor patio which is perfect for enjoying those endless Finnish summer days. I highly suggest the Classic Menu, a three-course offering which includes a fun appetizer tray filled with all sorts of Finnish nibbles, a reindeer roast with potatoes, and Finnish Sisu (a distinctive type of licorice) ice cream with berry compote and birch syrup. A wine package which includes three win pairings is also available (and recommended). A children's menu is also available. Our meal at Savotta was among the best we had in all of Finland and the staff could not have been more friendly and welcoming. I will never forget how eager everyone was to "congratulate" on our Independence Day since we were visiting on July 4th.
Helsinki's Maritime Attractions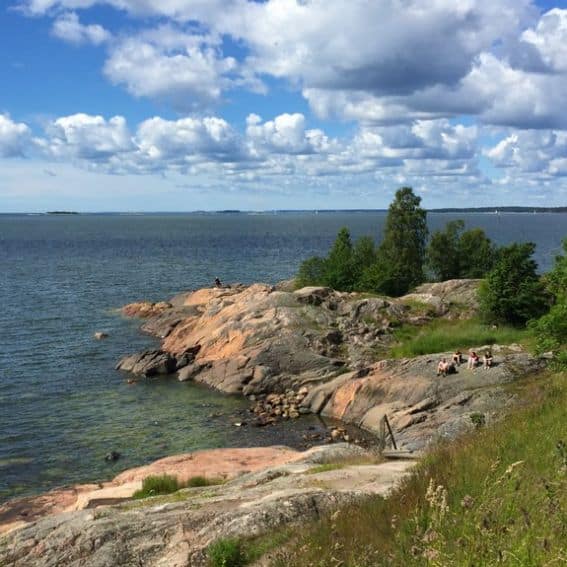 Helsinki is a city surrounded by the Baltic on three sides, with 100km of shoreline and approximately 300 islands making up the Helsinki Archipelago. Sightseeing cruises are great ways to tour the waters surrounding Helsinki and get a taste for what you might like to further explore. Several of the islands are used for recreational purposes while others house a UNESCO World Heritage Site and even a zoo!
Suomenlinna Sea Fortress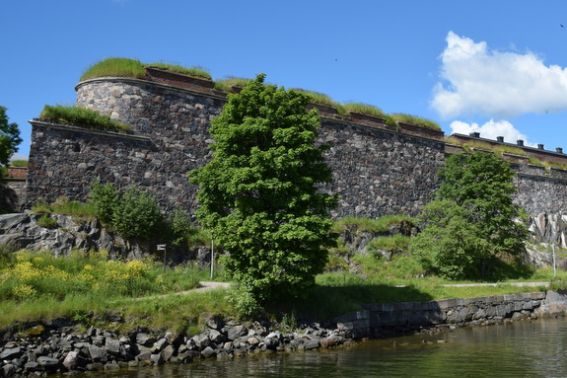 It is easy to spend a day at this UNESCO World Heritage Site, one of Finland's most popular attractions. Your day begins with a lovely, 25-minute ride on a water bus from Market Square to the six connected islands where the sea fortress resides. There are a couple different options for transport. My family took the JT-Line waterbus and found it suited us perfectly. Suomenlinna was originally constructed by the Swedish Crown in 1748 to protect Sweden (Finland was a part of Sweden at the time) from Russia's expansion. Kids will love exploring the bastion walls, discovering tunnels, and counting the dozens of canons found about the fortress. These days, the fortress is a popular place for picnics on the beach, meals the islands' restaurants, and visits to one of Suomenlinna's museums such as the Toy Museum which houses an interesting private collection of toys dating back to the 19th Century. There is a charming little cafe, Cafe Samovarbar, inside the Toy Museum which is a nice place to grab a cup of coffee and homemade treats.
Helsinki Zoo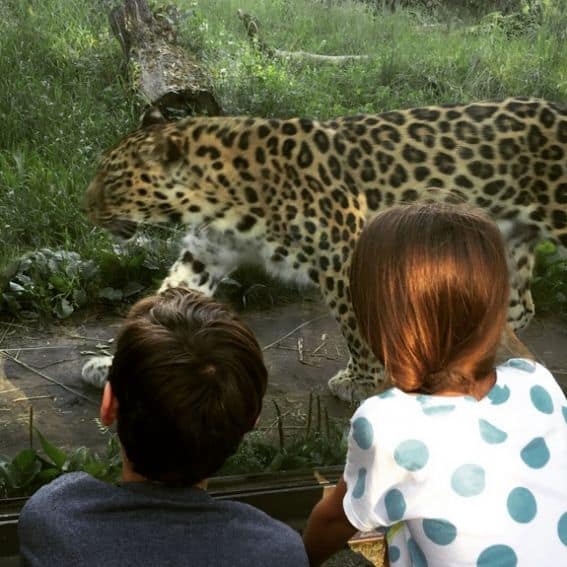 Helsinki's Zoo is located on an island and can be reached via a short ferry ride departing from Market Square. The kiosk where zoo/ferry tickets can be purchased is well labeled and easy to spot. Established in 1889, the zoo is one of the oldest in the world, and home to an impressive wild cat collection. Children will enjoy playing on a fun playground near the center of the zoo in between visits to bears, reindeer, and wisent- Europe's version of a buffalo.
Amusements Outside the City Center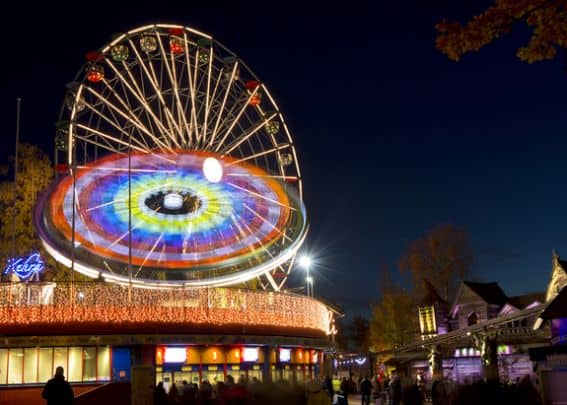 Photo by: Bigstock/AjaBig
Linnanmaki Amusement Park– Located north of the city center, Linnanmaki has been delighting the children of Finland for over 50 years. The park features rides for all ages and thrill levels, including a classic wooden roller coaster which has been the park favorite for 50 years. Arcade games, stage performances, and several dining options can be found inside the park as well.
Zippy– If your family loves active adventure, then a trip to Zippy is sure to create some fun memories. This high tree rope park has nine different courses with zip lines, ladders, swings, and trapezes to keep you entertained for hours. There is even a Kid's Land built for little ones who want to get in on the action. Zippy is outside of the city center and while it can be reached via public transportation, I recommend visiting this park with your rental car before you head out to explore more of this remarkable country.
Sleep in a Prison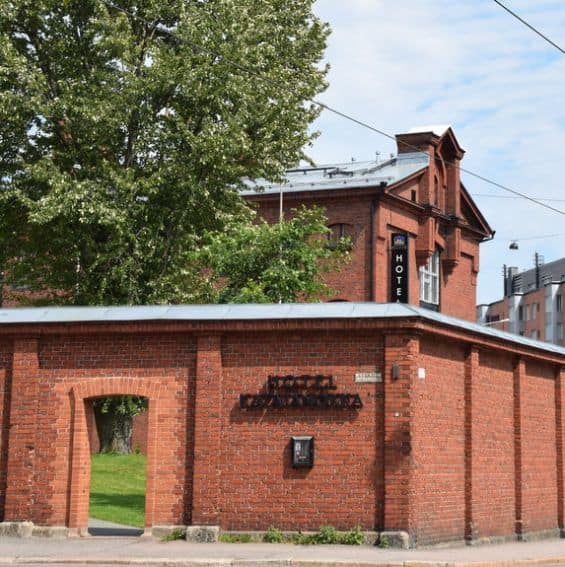 A short walk from Helsinki's central hub of activity, Best Western Karajanokka is most definitely not the typical roadside Best Western that we are used to in the States! The historic redbrick building that houses the hotel served as a prison from the 1800s until 2002. The building has been completely transformed into a modern hotel complete with a complimentary breakfast buffet, fitness center, sauna, business center, restaurant, pub, 24-hour lobby bar, and outdoor terrace. My family stayed in one of the property's suites which included an in-room sauna- very Finnish indeed! No doubt,the Best Western Karanjanokka is the nicest Best Western I have ever stayed in. With all of this modernization, the hotel took care to leave some fun reminders of its prison past. A brick wall still surrounds the property, staff wear prison-striped uniforms, tin plates can be found in the breakfast area, and a couple of cells have been left intact to remind visitors what sleeping quarters used to look like.
Good to know: The tram which runs around Helsinki has a stop right outside the hotel door, great for little ones with tired legs or a rainy day.
A Home Base for Baltic Exploration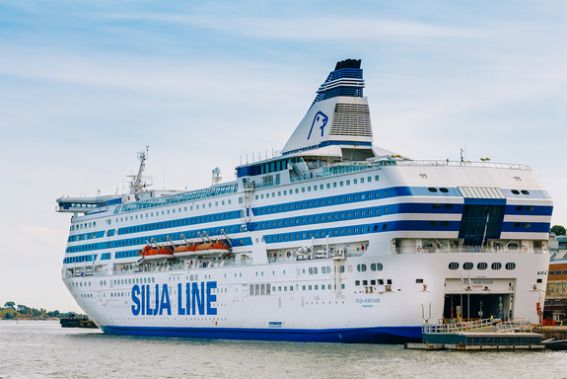 Photo by: Bigstock/Grisha Bruev
Visitors to Helsinki will find it to be a great jumping off point for visiting some other cities in the Baltic, such as Tallinn, the capital of Estonia. The short commute and convenient ferry departure times make a day-trip to Tallinn a no-brainer. This charming, medieval city is easily reached via a 2.5 hour ferry ride across the Baltic Sea and the former Soviet Republic has plenty of vibrant culture and UNESCO World Heritage Old Town worthy of a fairy tale. Passenger ferries also take travelers to and from Stockholm, Sweden, a common route for tourists interested in exploring Scandinavia.
Normally, visiting Russia involves the complicated visa process but if you take a special tourist cruise or ferry to St. Petersburg from Helsinki, you can visit visa-free for 72 hours. The journey is about 15 hours long. The ferry is less expensive but if you opt for the cruise, the benefit of on-ship sleeping quarters is quite nice.
Disclosure: My family was hosted by Visit Finland for the purposes of covering this beautiful country on Trekaroo. The Finnish hospitality was wonderful but all opinions are my own.