Have you ever thought about visiting Helsinki? If not, you should! Finland's capital city is largely off the average American's family travel radar which is a shame, because there are many great things to do in Helsinki.
One of the many perks of visiting Helsinki in the summer is being able to take advantage of that glorious midnight sun. It was so nice to enjoy late night (but still sunny!) walks along the waterfront.
While Finnish and Swedish are the primary languages in Finland, we found that nearly everyone we encountered in Helsinki spoke English, which made it very easy to communicate and navigate the city.
One of the many perks of visiting Helsinki in the summer is being able to take advantage of that glorious midnight sun. It was so nice to enjoy late night (but still sunny!) walks along the waterfront. Here is are favorite things to do in Helsinki on a family vacation.
Looking to explore beyond Helsinki? Here's our Ultimate Guide to Finland with 20+ Things to Do in Finland.
Know Before You Go
Scandinavia is a small place by US standards, but my family was pleased to discover that each country has its own distinct identity. While exploring Finland, I was delighted by the country's natural beauty, reserved yet friendly locals, and distinctive culture.
Helsinki is the gateway to visiting the rest of Finland. You may choose to fly north to Lapland, and visit the Arctic region. Or travel by car, train or bus to the Lakeland region and the rest of the Fnnish Archipelago. Charming inland cities such as Hämeenlinna or Tampere are also easily accessed via car.
Helsinki is also a fantastic hub for exploring other Baltic cities like Stockholm, Sweden; Tallinn Estonia; and St. Petersburg, Russia. There is a ferry service to all these locations from Helsinki which is easy to use.
The Helsinki airport is a 30-minute taxi ride from the city center. A less expensive option is the Finnair City Bus which departs every 20 minutes. Train service on the I and P trains departs right from the Helsinki Airport.
Good to know: Finland is in the Euro Zone. Check sites such as XE.com for current exchange rates.
Great Things to do in Helsinki on a Family Vacation
Visit Market Square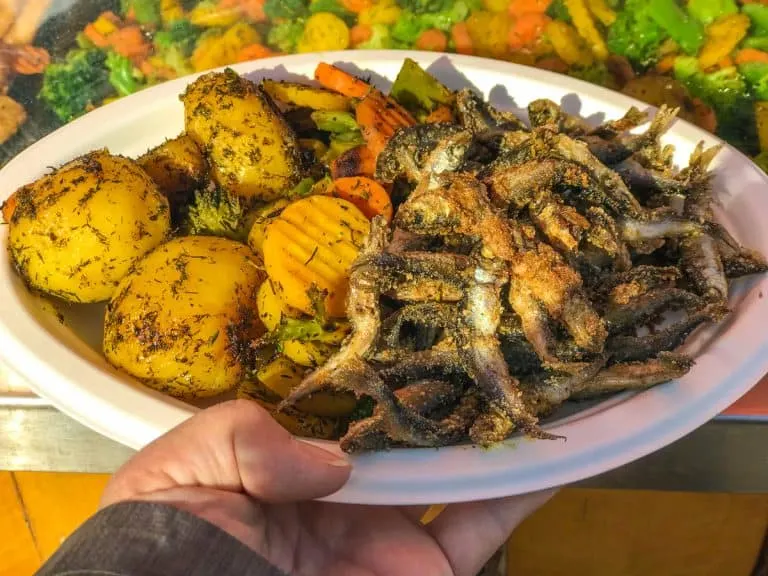 Market Square, or Kauppatori, is the center of the tourist action in Helsinki. Located on the harborfront, this open-air market serves up fresh Finnish food such as coffee and sweet buns, open-faced salmon sandwiches, warm seafood soups, salted licorice, and cloudberry jam.
All sorts of souvenirs such as fur hats, scarves, reindeer products, and handicrafts are waiting to be discovered as well.
During the summer and fall, Market Square is also a great place to pick up a basket of famous Finnish strawberries, which grow on islands in the Finnish Archipelago. Because the strawberries receive so much sun in the summer months, they are extra flavorful and packed with vitamins.
Fishermen also bring their daily catch to the market. If you're looking for some Finnish comfort food like Lohikeitto (Salmon Soup), deep fried Vandace (white bait or smelt), or grilled salmon, you'll find plenty of options.
See the Presidential Palace and the Uspenski Cathedral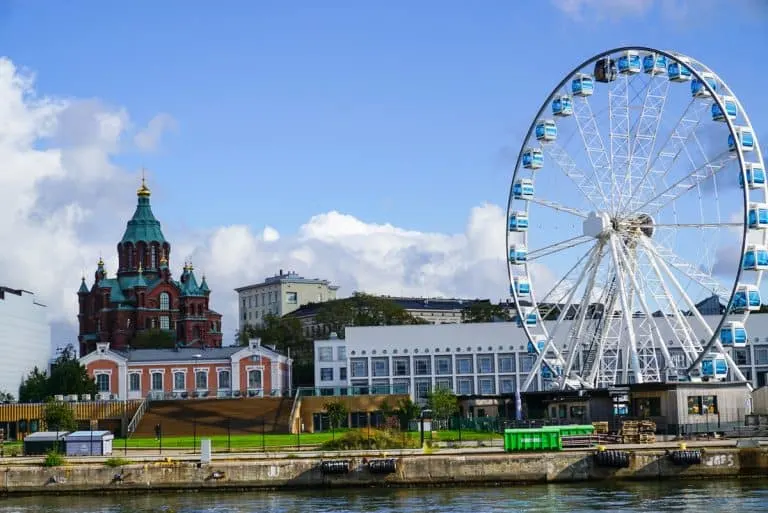 Across the street from Market Square sits the Presidential Palace, a quiet yet stately neo-classical building that served as the presidential residence in the past and is now used for presidential functions.
Not far from the palace is Uspenski Cathedral, a magnificent Russian Orthodox cathedral built on a hillside. Uspenski Cathedral is the largest Russian Orthodox Cathedral in Western Europe.
Eat at Old Market Hall and Ride the Skywheel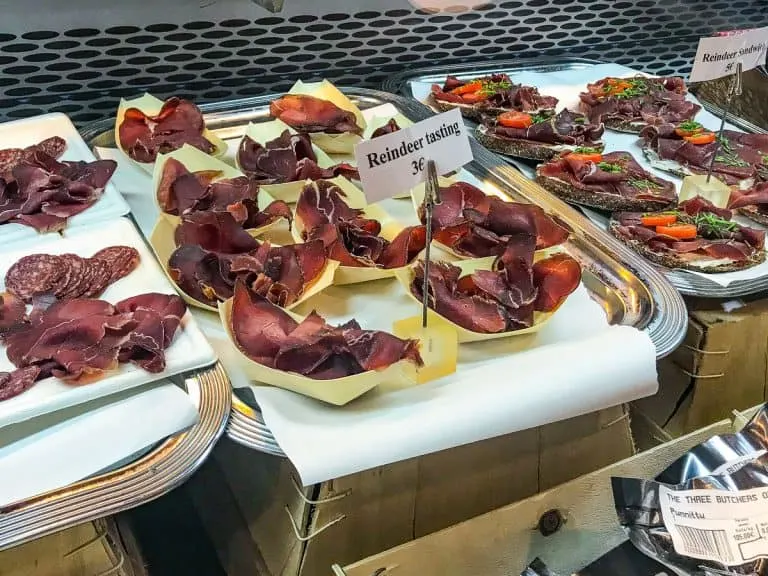 Also steps away from Market Square is Old Market Hall, a 120-year old indoor marketplace filled with stalls serving up all sorts of specialty food items like dried reindeer.
Cafe Story, inside Old Market Hall, offers up sandwiches and such with some top notch views of the harbor including the SkyWheel Helsinki, the city's version of the London Eye.
Enjoy a Meal at Salutorget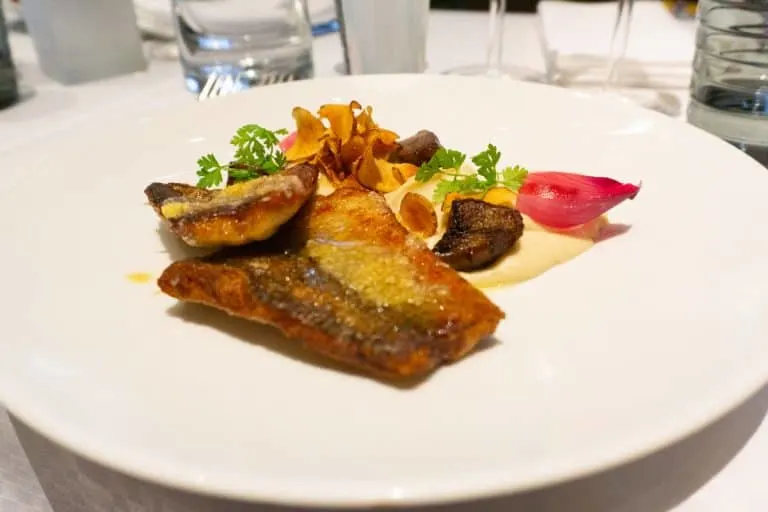 One of our most memorable dinners in Helsinki was at Salutorget. The restaurant is housed in a beautifully preserved Art Nouveau banking hall built in an old merchant's house.
The restaurant brings a modern freshness to Scandivian cuisine. The chef takes the freshest local ingredients and traditional recipes, elevating familiar flavors.
Stroll the Esplandi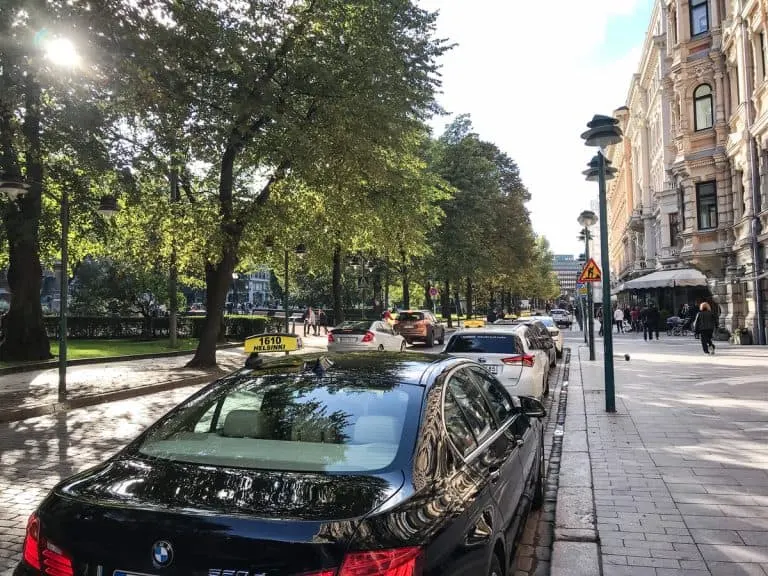 Esplanadi, a promenade and park, is one of the primary hubs of activity in Helsinki, especially during a pleasant summer day. This is the place to stroll, people watch, or let the kids run around on the grass. Great shopping and cafes can be found in the shops surrounding the Esplanadi.
If you like the Scandinavian design aesthetic, you'll find some fun designer stores to pop in this neighborhood. Iittlala is famous for their glassware. Artek carries Scandinavian furniture. Marimekko stores are everywhere in Helsinki. Their bold graphic prints are hard to miss.
Visit the Ittala factory near Hämeenlinna, a charming town one hour north of Helsinki, and watch master craftsmen blow glass into treasures..
Sample Chocolates at Karl Fazer Cafe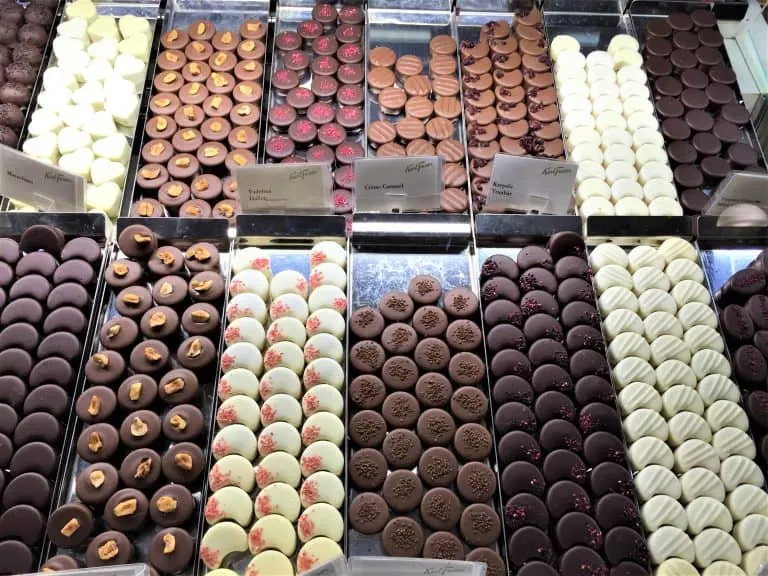 Just off the Esplanadi on the pedestrian street Kluuvikatu, is Karl Fazer Café. Karl Fazer is a world famous chocolatier and the cafe sells a nice assortment of lunch items, coffee, and delectable chocolate treats in all sorts of sizes and varieties. I highly recommend the dark chocolate.
Visit Senate Square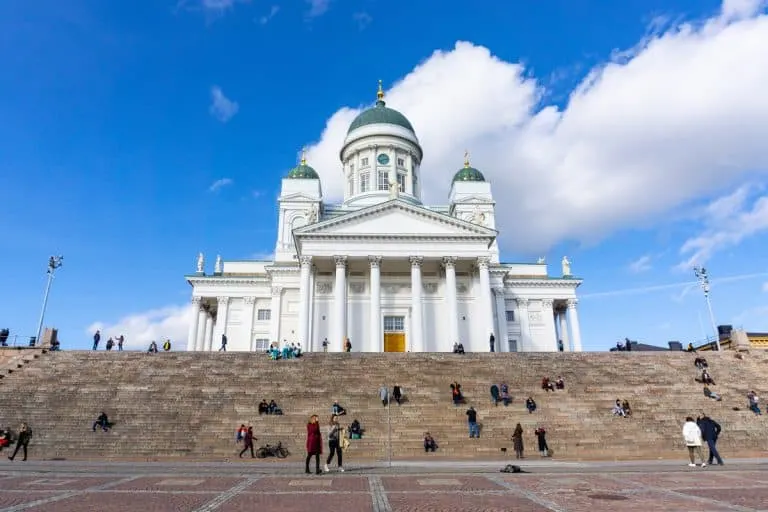 Senate Square is another highlight of Helsinki's historic core. The square is surrounded by some of Helsinki's most famous buildings- the Government Palace, University of Helsinki, and the remarkable Helsinki Cathedral.
A statue of Alexander II stands in the center of the square, a reminder of Finland's era of Russian rule (roughly 1809-1917). While adults will find the architecture and history of the square interesting, kids will probably be more entertained by races across the square and up the Cathedral steps.
Explore the City Museum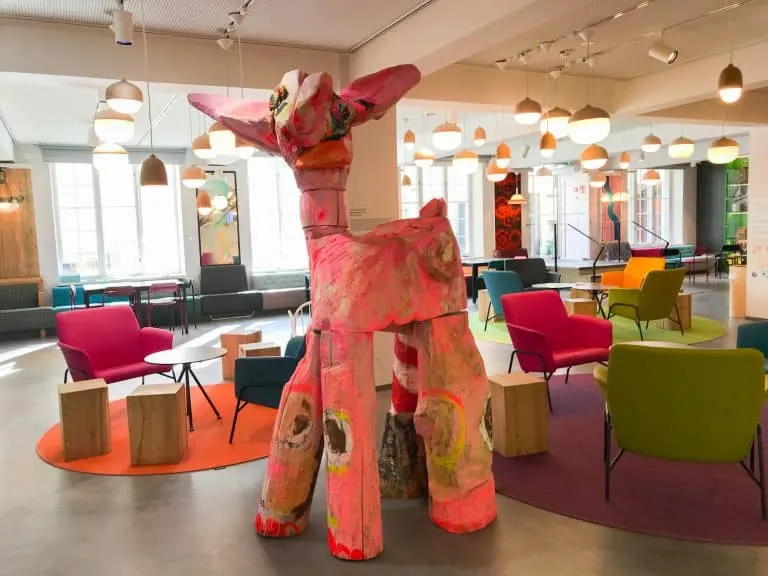 The free City Museum is located on the southwest corner of Senate Square. This cheerful space is a good place to rest tired feet. You'll also find knowledgeable people who can help you with any questions about Helsinki. The Made In Helsinki store is also a good spot to purchase stylish gifts.
Eat at Savotta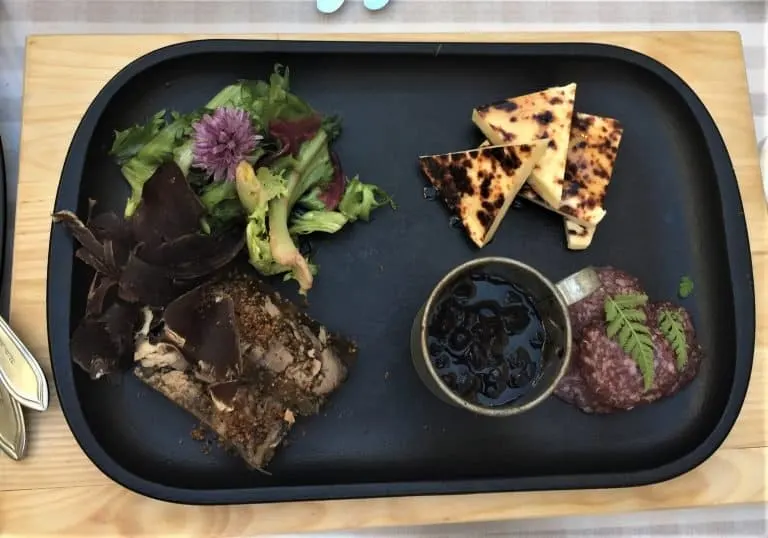 Just across from Senate Square is Savotta, a restaurant which specializes in traditional Finnish food. The atmosphere is charming and reminiscent of the old cabins of Finnish forest country. There is also a pleasant, outdoor patio which is perfect for enjoying those endless Finnish summer days.
I highly suggest the Classic Menu, a three-course offering which includes a fun appetizer tray filled with all sorts of Finnish nibbles, a reindeer roast with potatoes, and Finnish Sisu (a distinctive type of licorice) ice cream with berry compote and birch syrup. A wine package which includes three wine pairings is also available (and recommended).
A children's menu is also available. Our meal at Savotta was among the best we had in all of Finland and the staff could not have been more friendly and welcoming. I will never forget how eager everyone was to "congratulate" us on our Independence Day since we were visiting on July 4th.
Things to do in Helsinki to Appreciate Distinct Finnish Architecture
Finland known around the world for it's functional and simple approach to architecture and city planning. Those with teens who enjoy modern architecture must visit a few remarkable buildings in Helsinki.
Temppeliaukio Church (aka: Rock Church)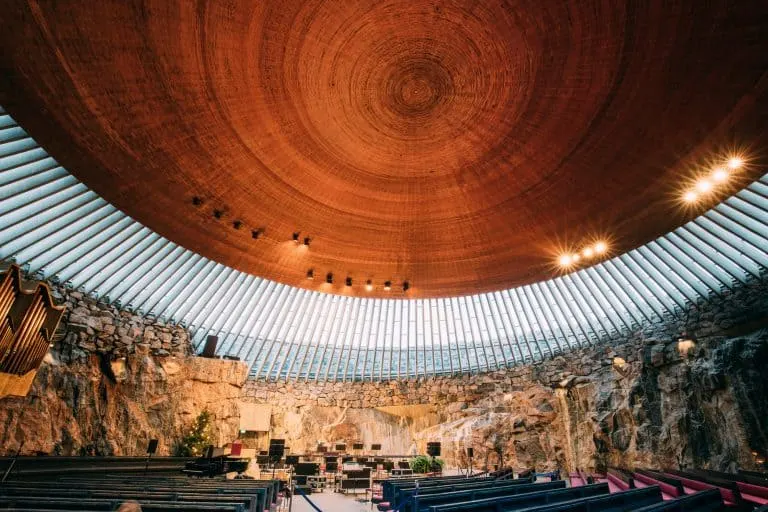 Temppeliaukio Church, also nicknamed The Rock Church, is unlike any other church you've ever been to. Instead of building a church atop the large granite rock, the cavernous church was built into the rock.
On top of the church, is a city park that is worth walking around so you can see the top of the church and the views of the neighborhood.
Helsinki Oodi Central Library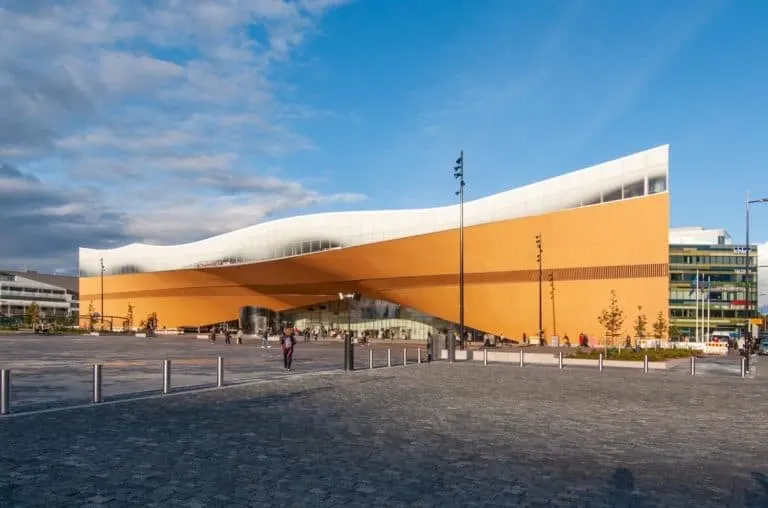 Another building that would impress both parents and kids is the Helsinki Oodi Central Library. This impressive modern building will blow your mind about what a library brings to the life of a city.
Local teens find a home at Oodi library that not only fosters a lifelong pursuit of learning through access to books, but also has state of the art recording studios and maker spaces for public use.
The Museum of Finnish Architecture and Design Museum Helsinki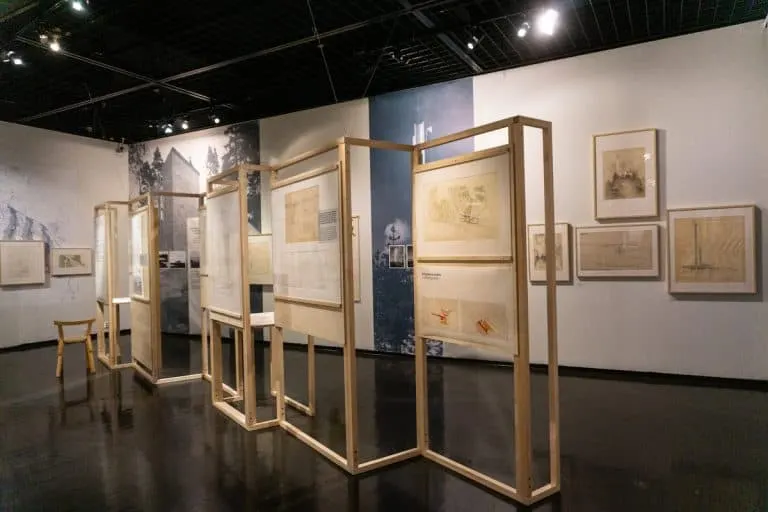 If you want to learn more about the architectural and design heritage of Finland, one of the best things to do in Helsinki is visit the Museum of Finnish Architecture and Design Museum Helsinki.
Although the exhibits are mostly geared towards teens and adults who are truly interested in these topics, both have a kid's area where younger ones can engage with design and architecture in a hands-on way.
Things to do in Helsinki's Islands and Waterways
Helsinki is a city surrounded by the Baltic on three sides, with 100km of shoreline and approximately 300 islands making up the Helsinki Archipelago.
Sightseeing cruises are great ways to tour the waters surrounding Helsinki and get a taste for what you might like to further explore. Several of the islands are used for recreational purposes while others house a UNESCO World Heritage Site and even a zoo!
Spend the Day at the Suomenlinna Sea Fortress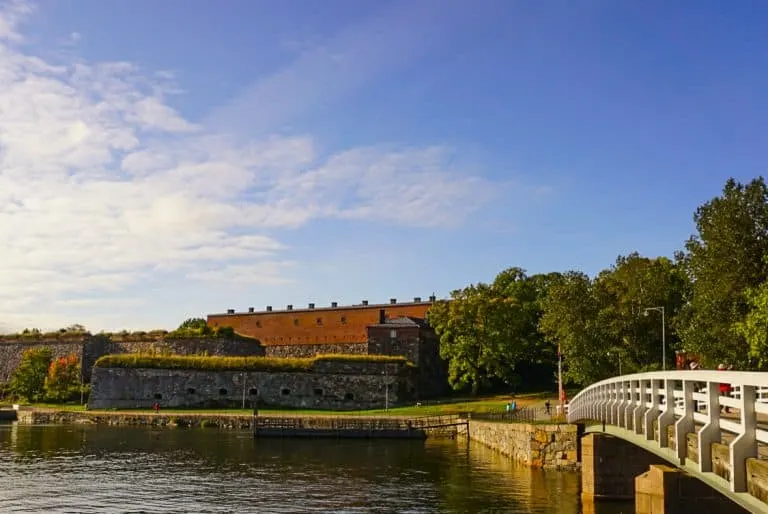 It is easy to spend all day at Suomenlinna, a UNESCO World Heritage Site and one of Finland's most popular attractions.
Your day begins with a lovely, 25-minute ride on a water bus from Market Square to the six connected islands where the sea fortress resides. There are a couple different options for transport. My family took the JT-Line waterbus and found it suited us perfectly.
Suomenlinna was originally constructed by the Swedish Crown in 1748 to protect Sweden (Finland was a part of Sweden at the time) from Russia's expansion. Kids will love exploring the bastion walls, discovering tunnels, and counting the dozens of canons found about the fortress.
These days, the fortress is a popular place for picnics on the beach, meals the islands' restaurants, and visits to one of Suomenlinna's museums such as the Toy Museum. This small museum houses an interesting private collection of toys dating back to the 19th Century.
There is a charming little cafe, Cafe Samovarbar, inside the Toy Museum which is a nice place to grab a cup of coffee and homemade treats. Do not miss their cinnamon rolls called Korvapuusti.
Suomenlinna is also a great place to get away at night in the autumn and winter (September to April) for a chance for seeing the northern lights near Helsinki. There's little light pollution on the island.
Here are our tips for the best chance of viewing the northern lights in Finland.
Come Face to Face with Animals at the Helsinki Zoo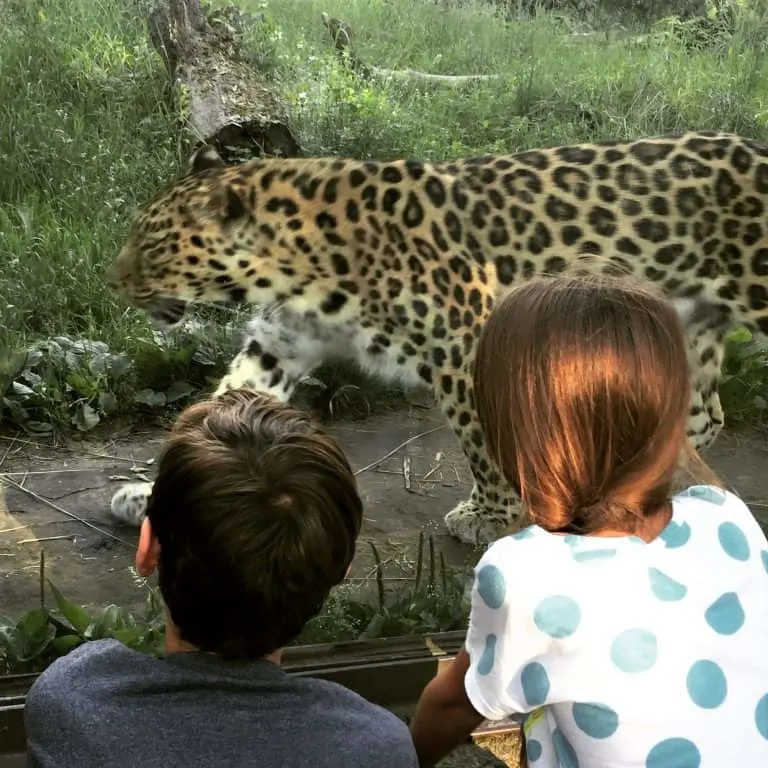 Helsinki's Korkessari Zoo is located on its own island in the Baltic Sea. It can be reached via a short ferry ride departing from Market Square from May to September.
You can also reach the zoo by bus no. 16 from the Central Railway station year-round. The kiosk where zoo/ferry tickets can be purchased is well labeled and easy to spot.
Established in 1889, the zoo is one of the oldest in the world and home to an impressive wild cat collection. The zoo's bears, reindeer, and wisent, Europe's version of a buffalo, should not be missed.
Children will also enjoy the playground which has trampolines, wooden climbing structures, a giant sandpit, and a water play area.
Things to do in Helsinki Revolving Around Sauna Culture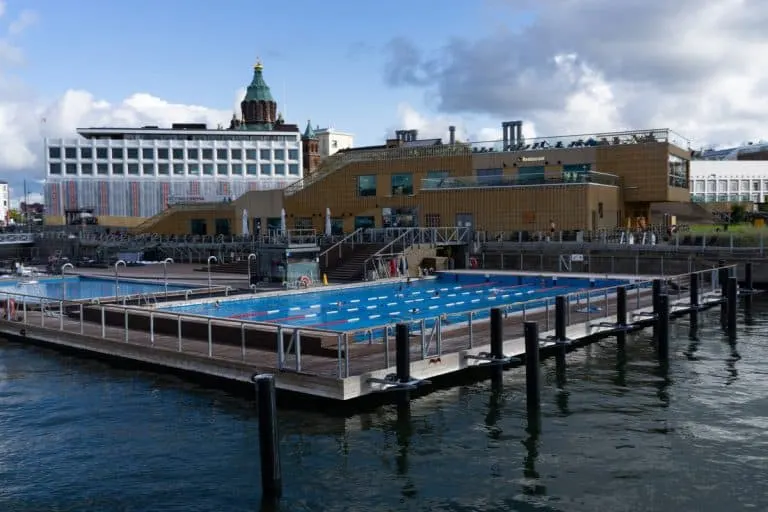 A visit to Finland would not be complete without a visit to a sauna. Every hotel will undoubtedly have a sauna. Some will also have a private sauna in each room!
You might also be interested in visiting one of the public saunas in Helsinki. Here are a few public saunas with a nice local vibe. Kids are welcome but bear in mind, it's typical for Finns to sauna without a bathing suit. Check the schedule for men and women sauna times.
Allas Sea Pool
No matter the season, you'll find locals swimming at the outdoor Allas Sea Pool, where you can swim to views of the Helsinki Harbor. The pools are heated year-round and, of course, there are three saunas. One for men, one for women, and private sauna you can reserve for a private group.
Kotiharjun Sauna and Loyly Sauna
Kotiharjun Sauna is a traditional wood-fired sauna. It's a true Helsinki tradition.
Loyly Sauna is the opposite. It's housed in an ultra-modern building and has a popular restaurant on-site as well. It's located on the waterfront and sauna goers often jump into the freezing Baltic sea to cool down.
Unique Sauna Experiences
Helsinki also offers a few novel sauna experiences like one a sauna in the sky which you can enjoy on SkyWheel Helsinki. Don't worry, it's in a wooden ferris wheel car. If you'd like a guided experience, you might also try a sunset sauna cycle.
Things to do in Helsinki Outside the City Center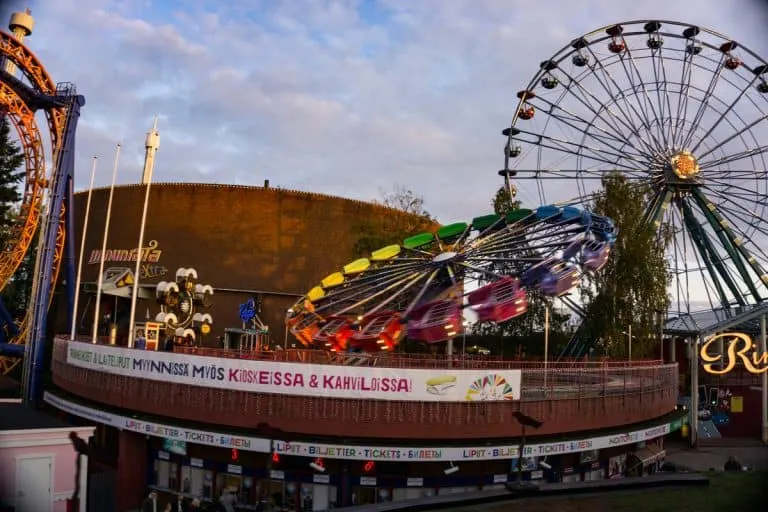 Linnanmaki Amusement Park
Located north of the city center, Linnanmaki has been delighting the children of Finland for over 50 years. The amusement park features rides for all ages and thrill levels, including a classic wooden roller coaster which has been the park favorite for 50 years. Arcade games, stage performances, and several dining options can be found inside the park as well.
Adventure Park Zippy
If your family loves active adventure, then a trip to Adventure Park Zippy is sure to create some fun memories. This high tree rope park has nine different courses with zip lines, ladders, swings, and trapezes to keep you entertained for hours.
There is even a Kid's Land built for little ones who want to get in on the action. Zippy is outside of the city center and while it can be reached via public transportation, I recommend visiting this park with your rental car before you head out to explore more of this remarkable country.
Where to Stay in Helsinki
Sleep in a Prison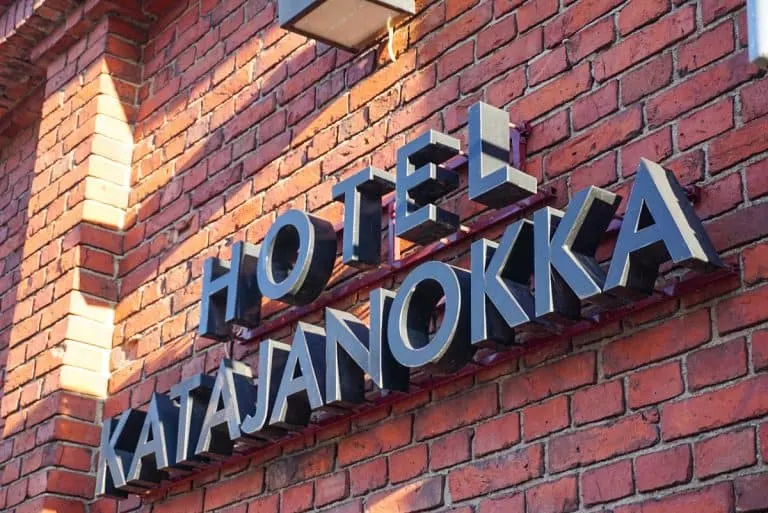 A short walk from Helsinki's central hub of activity, Hotel Katajanokka is most definitely not the typical hotel in Helsinki. The historic redbrick building that houses the hotel served as a prison from the 1800s until 2002.
The building has been completely transformed into a modern hotel complete with a complimentary breakfast buffet, fitness center, sauna, business center, restaurant, pub, 24-hour lobby bar, and outdoor terrace. My family stayed in one of the property's suites which included an in-room sauna, very Finnish indeed!
With all of this modernization, the hotel took care to leave some fun reminders of its prison past. A brick wall still surrounds the property, staff wears prison-striped uniforms, tin plates can be found in the breakfast area, and a couple of cells have been left intact to remind visitors what sleeping quarters used to look like.
Good to know: The tram which runs around Helsinki has a stop right outside the hotel door, great for little ones with tired legs or a rainy day.
Hotel F6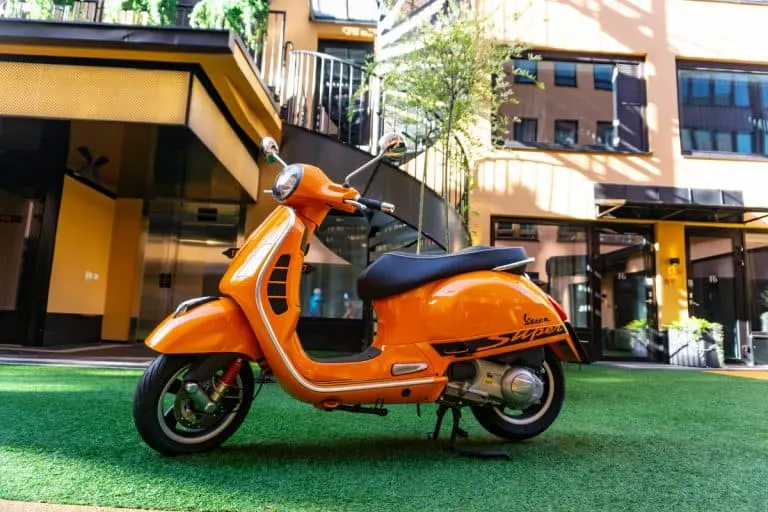 Helsinki's love of design means that there is no shortage of interesting boutique hotels. Hotel F6 is a modern hip property with a fantastic location in Helsinki's design district. It's also an easy walking distance from Helsinki Harbor and Esplanadi.
Surrounded by small design shops and hip restaurants, the modern Hotel F6 has a playful retro aesthetic. The two queen rooms sleep 4 comfortably.
Finns take their free hotel breakfast very seriously. At Hotel F6, a family who appreciates a healthy, fresh breakfast will be in heaven.
You'll enjoy the local and organic ingredients, and breakfast prepared in front of you. Highlights include freshly baked breads, smoked salmon, fresh fruit and yogurt. You will barely need to have lunch!
Day Trips from Helsinki
Nuuksio National Park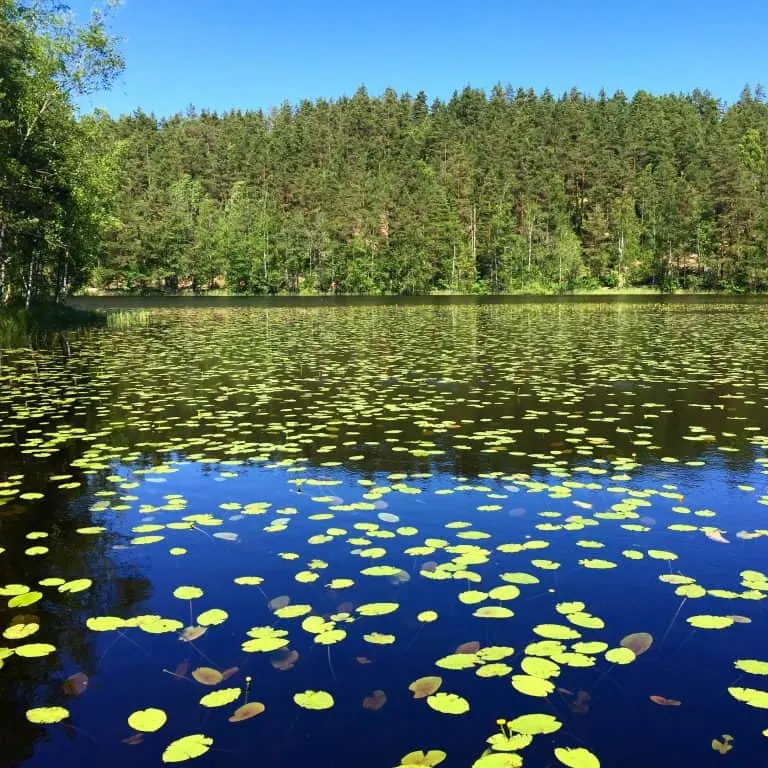 70% of the country is covered in forest, so no visit to Finland would not be complete without visiting one of the 40 national parks where you can hike in a forest or row a boat on a lake. Fortunately, Nuuksio National Park is only 45 minutes from the center of Helsinki and is accessible by car or public transportation.
It's a beautiful place to spend a couple of days, but even if you only spend the day in Nuuksio, you'll fall in love with the natural beauty of the area.
Hammelinna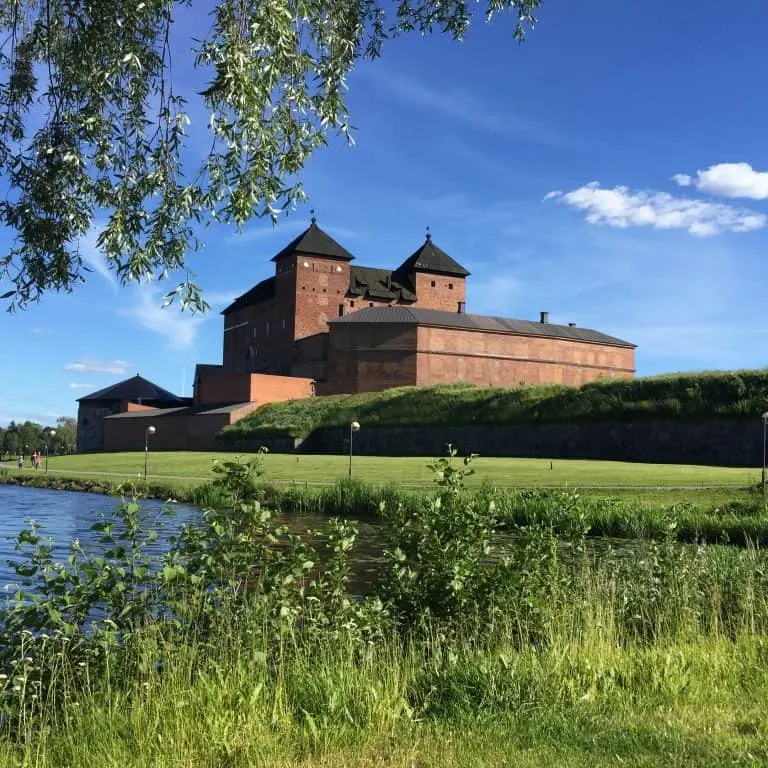 There is so much more to Finland than a 24-hour cruise stopover in Helsinki! Finland is a country of rich history and great natural beauty, and little Hämeenlinna, an hour's drive north of Helsinki, is a great place to experience a bit of what makes this Scandinavian country so lovely.
Visitors will find a castle, wonderful nature preserve, balloon flights, and even a world-famous glass museum nearby! Read our article on things to do in Hammenlinna learn more.
Tampere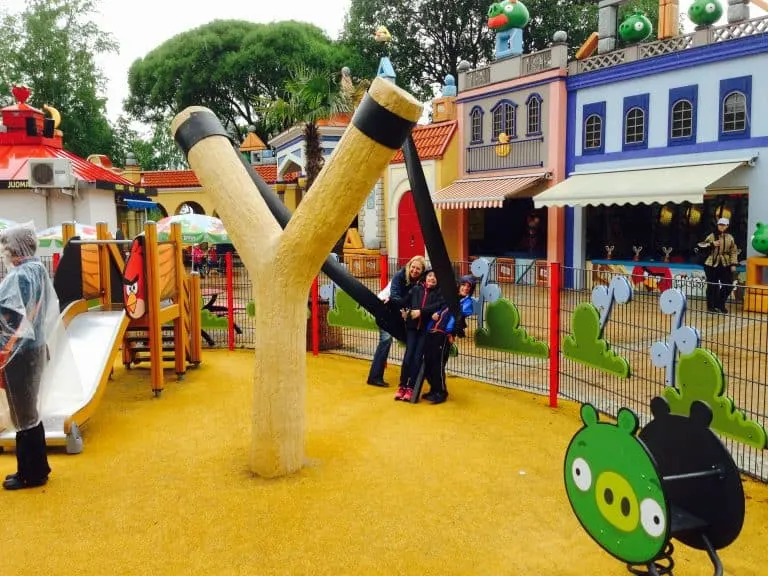 Finland's second largest city celebrates two of the nation's most beloved exports (if you ask kids, anyhow) Moomins and Angry Birds. There is a fun, Angry Birds Land at Sarkanniemi Theme Park. In between rides on the coasters, make time to enjoy a meal atop the tower in the center of the amusement park.
The world' only Moomin Museum can also be found in Tampere. It is a must-visit for any family who grew up reading these beloved children's books.
Use Helsinki as a Home Base for Baltic Exploration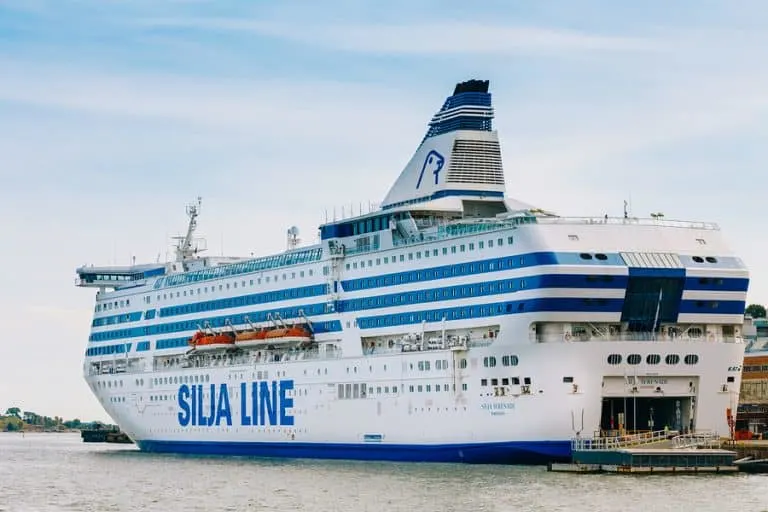 Visitors to Helsinki will find it to be a great jumping off point for visiting some other cities in the Baltic, such as Tallinn, the capital of Estonia. The short commute and convenient ferry departure times make a day trip to Tallinn a "no brainer".
This charming, medieval city is easily reached via a 2.5 hour ferry ride across the Baltic Sea. The former Soviet republic has plenty of vibrant culture and a UNESCO World Heritage Old Town worthy of a fairy tale.
Passenger ferries also take travelers to and from Stockholm, Sweden, a common route for tourists interested in exploring Scandinavia.
Normally, visiting Russia involves the complicated visa process but if you take a special tourist cruise or ferry to St. Petersburg from Helsinki, you can visit visa-free for 72 hours.
The journey is about 15 hours long. The ferry is less expensive but if you opt for the cruise, the benefit of on-ship sleeping quarters is quite nice.
Special thanks to Liling Pang who helped update this article after her 2019 visit to Finland.
Lead Image by: LiLing Pang
Disclosure: My family was hosted by Visit Finland for the purposes of covering this beautiful country on Trekaroo. LiLing Pang was hosted in 2019 for the purposes of an update to this article and further exploration of the destination. The Finnish hospitality was wonderful but all opinions are our own.