A visit to London with teens can be an incredible experience for everyone in the family. As one of the most visited cities in the world and the capital of England, it is no surprise that there are lots of cool things to do in London with teens.
It's important to keep teens entertained, happy, and engaged while traveling. London is deeply rooted in history, culture, architecture, and shopping. There are also a lot of opportunities to eat yummy British and non-British food. Here are 25 activities that keep our teens happy when visiting London.
The Best Things to do in London with Teens
1. Check Out Historic London Royal Palaces
Teenage royalists will love visiting London's royal palaces to soak up the history and a bit of opulence.
At the Tower of London, you can introduce your teens to 1,000 years of history and experience the Crown Jewels, the most powerful symbols of the British Monarchy.
Tell them the story of Henry VIII at Hampton Court Palace. Then explore the birthplace of Queen Victoria at Kensington Palace. Other London royal palaces to visit include Kew Palace, Banqueting House, and Hillsborough Castle.
How much does a trip to London cost? Use this guide to find out!
2. Do Everything Double-Decker
Riding a double decker bus is a quintessential London experience. Nearly the entire city fleet of city buses are double deckers, so riding one is as easy as a tap of your credit card.
If you want to loop through the city, consider a Hop On, Hop Off tour. These buses provide narration and open-air views (plus ponchos!) of the city's best sites. (The London Pass, from Go City, includes the hop on hop off tour as well as 80+ experiences in London!)
England is also known for its high tea, and no visit to London with teens would be complete without experiencing one. One unique way to try it is aboard a double-decker bus riding through the streets of London on B Bakery Afternoon Tea Bus London Tour.
While sipping on tea and munching on scones, the bus rides through Central London, past city sights that include Big Ben, The Houses of Parliament, Westminster Abbey, St James's Park, Hyde Park, The Royal Albert Hall, Marble Arch, Nelson's Column, Downing Street, and more.
3.Visit London Museums That Appeal to Teens
Many London museums offer free admission and plenty of them will appeal to your teens. Any creative teen into photography and fashion will get excited about the Victoria and Albert Museum. It's dedicated to the history of decorative art, and design.
The British Museum is home to some of the most famous artifacts in the world, including mummies, the Rosetta Stone, and sculptures from the Pantheon.
Teenage art fans will love spending time at the National Gallery, observing famous pieces of work such as Monet's Water Lilies. The Tate offers modern art, sculpture, photography, film, and installations.
Get out of the city for a bit. Check out these amazing day trips from London by train.
4. Explore the Best Markets in London
Ranging from street food to fashion to antiques, London has a plethora of markets for teens to choose from. Teenagers will love Borough Market for sublime food, Spitalfields for vintage clothing, Portobello Road for antiques, and Camden Market for everything from jewelry to trinkets.
Give your teens time to roam around, bargain, sample, and discover. Other London markets worth a visit with teens include Brixton, Brick Lane, and Covent Garden.
5. Go Shopping on Carnaby Street or Oxford Circus
Teens love to shop, and their eyes will glisten at the sight of shopping in a world capital such as London. In Oxford Circus, you'll find every shop under the sun, including Selfridge, Topshop, and Next. Be prepared to spend a few hours at a minimum, allowing them to shop until they drop.
Carnaby Street, located near Oxford Circus in Soho, also has a great mix of shops including Adidas and Doc Martens and is closed off to traffic.
After all that shopping, give your wallets a rest and check out these free things to do in London.
6. Ride on the London Eye and London Eye River Cruise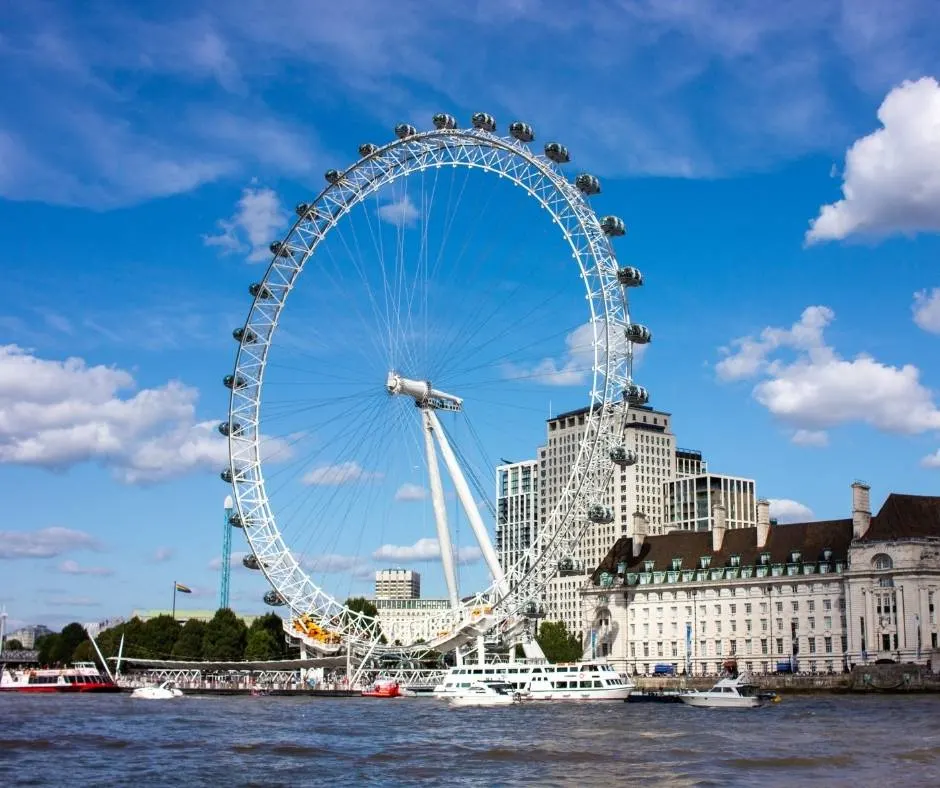 Teens will love the combined experience of the London Eye and London Eye River Cruise. Each is a very close up and personal view of the city.
On the London Eye, you feel as though you are on top of the world. It's a 30-minute rotation that takes you above the city, giving your teens ample time to Instagram and Snapchat London to their hearts out.
The London Eye River Cruise is equally as exciting but it comes with a bonafide tour guide. From each ride, your teens will spot world famous London attractions such as Big Ben, The Houses of Parliament, The London Eye, St Paul's Cathedral, The Shard, and Tower Bridge.
7. Take Your Teens to A Show in the West End
It's really fun to catch a show in the West End. It's Broadway but not quite Broadway, and the plays and musicals are as impressive as it gets. Often shows go to London before Broadway, so it's a good way for your teens to get in on the action.
Show range from world-famous musicals like Wicked and Matilda to plays starring well-known actors and actresses.
"During our most recent trip to London, we watched Agatha Christie's Mouse Trap, the longest running show, of any kind, in the world. Tickets in this intimate theatre are pretty reasonable due to its long run; there isn't a bad seat in the house." – Katie Bodell, Blog Editor
8. Dress Up for a Special Dinner at TING at the Shard
For a real treat make a dinner reservation at TING at the Shard. Located in Britain's tallest building, the views of London are spectacular. Your teens should dress up and prepare for a memorable night, this venue is a special occasion experience.
The name TING derives from the Chinese word for "living room," TING offers amazing 360-degree views of the city. Get their afternoon tea, featuring delicious finger sandwiches and scones, or dinner which is a three-course culinary flavorful feast.
9. Take a Walk Through Hampstead Heath
Hampstead Heath is a large, ancient London park, covering 320 hectares. Running from Hampstead to Highgate, it's one of the highest points in London, and it makes for a great afternoon stroll with your teens. The park is accessible by Tube and offers beautiful views of the city that you won't get anywhere else.
10. Explore the Neighborhood of Shoreditch
Shoreditch is a wonderful trendy neighborhood in East London. It's artsy and is full of many lovely restaurants and shops.
Teens will love exploring the neighborhood's markets, such as Brick Lane Market on Sundays, and eateries offering Indian, Burmese, Chinese, and other exotic cuisines.
11. Take in a Production at Shakespeare's Globe Theatre
Shakespeare's Globe Theatre is located in Southwark. It's a modern reconstruction of the original Globe that was built in 1599. You can get tickets to see a Shakespeare production practically every day. So go ahead and introduce your teens to Hamlet, A Midsummer Night's Dream or Romeo and Juliet. Tickets start at just $5!!
Recommendation from Katie Bodell:
"We booked a tour of the Globe Theatre instead of seeing a show this visit. We learned a ton of the history of the globe, both its original location and current one, were able to tour and take pictures inside (a big no when productions are taking place- cell phones aren't even allowed inside!), and even watched a rehearsal. It was one of the highlights in London for my three teens."
12. Roam Through Trafalgar Square
Trafalgar Square commemorates the Battle of Trafalgar, a British naval victory that took place in 1805. Teens will love exploring this historic London sight, which includes Nelson's Column, The National Gallery, and St. Martin-in-the-Fields.
13. See Big Ben, Westminster Abbey, and the House of Parliament
Teens will enjoy Instagramming and posing in front of the Clock Tower at the Palace of Westminster, which is probably the most famous clock in the world. Westminster Abbey, formally titled the Collegiate Church of Saint Peter at Westminster, is a large mainly Gothic abbey church just to the west of the Palace of Westminster.
Better known today as the Houses of Parliament, the Palace of Westminster is the oldest royal palace in London. It is also a UNESCO World Heritage Site, as well as one of the most recognized buildings in the world.

14. Discover the Magic of Abbey Road Studios
Abbey Road Studios is where the Beatles recorded their albums. It is still being used as a recording studio today.
Music-loving teens will appreciate taking photos outside the studio and walking across the famous Abbey Road zebra crosswalk.
15. Wander Through Chinatown
From bubble tea to red bean rolls, dumplings, and more, teens will find delicious food in London's Chinatown by just wandering the streets. There are more than 70 restaurants packed into a tiny collection of streets, with cuisines ranging from Malaysian to Middle Eastern, but most are Chinese.
16. Go Shopping on Oxford Street
Teen girls love shopping on Oxford Street in the middle of London. Its stores have a tremendous range, and your kids will be sure to find their favorite shops along the road.
Many of the stores are flagship locations, such as Topshop, so they are big and well-stocked. Other girl teen faves include Uniqlo, Urban Outfitters, Primark, Lush, and H&M.
Teen boys will gravitate toward the new Microsoft store and sporty stores such as Nike Town and Adidas. There are also souvenir stores and department stores, such as Selfridges, John Lewis, House of Fraser, Debenhams, and Marks & Spencer. In addition, most of these stores have food halls with whole floors dedicated to specialty foods and sweets.
17. Spend Time at Madame Tussauds London
Teens will love a visit to Madame Tussauds London where they can scout out lifelike replicas of 250 famous Brits made out of wax. The London location is the original location of Madame Tussauds, so it is a special place.
Which Brits will your teens be able to identify? There's Elton John, David Beckham, Sir Lawrence Olivier, and, of course, the Royals. There is also a movie, Alien: Escape, Marvel Superheroes 4D. Be sure to book online in advance to save money on the cost of admission.
18. Explore Queen Elizabeth Olympic Park
Queen Elizabeth Olympic Park is dedicated to the memory of the London 2012 Olympics, one of the most exciting events ever to take place in the history of London.
Teens will enjoy reliving the popular event with its adventure playground, Timber Lodge, and the amazing ArcelorMittal Orbit with views of the park and the rest of London. Your teens can even swim in the London Aquatics Centre.
19. Take Time Out in Hyde Park
Hyde Park covers over 600 acres in central London. Active teens will like taking a break and taking in a bike ride, stroll, or renting bikes on the lakes. Or they may want to chill and spend some time lying on the grass after a day of touring, checking out their phones.
If you're at Hyde Park on a Sunday, be sure to go to Speaker's Corner for public speeches and debates by random British citizens taking on random subjects. It will surely be an experience your teens won't forget anytime soon.
20. Have a Fright at London Dungeon
Horror-loving teens will love reliving the city's past at the London Dungeon, located on the South Bank. London Dungeon features 19 different live shows and two thrilling rides that recreate historical events and is one of the best things to do in London with teens.
21. Tour Warner Bros. Studio Tour London
If your teen is (or once was) a fan of the Harry Potter series, then the Warner Bros. Studio Tour London is an absolute must! The tour is located just 20 minutes outside of London in Leavesden. Buses are available from the city center.
The tour offers an inside look at at all of the Harry Potter films in the franchise. Your teens will be able to tour the sets of Hogwarts, Dumbledore's office, the Great Hall, Diagon Alley, and more!
22. Have High Tea at the Dukes Hotel or The Sanderson
The Dukes Hotel is a quiet, unassuming, and completely traditional hotel that's close to Piccadilly and West End. It's also the perfect place to indulge in your family's tea and cake obsession.
High tea includes various English teas, chocolate cupcakes, plain scones, cheese & jelly sandwiches, and other English delicacies.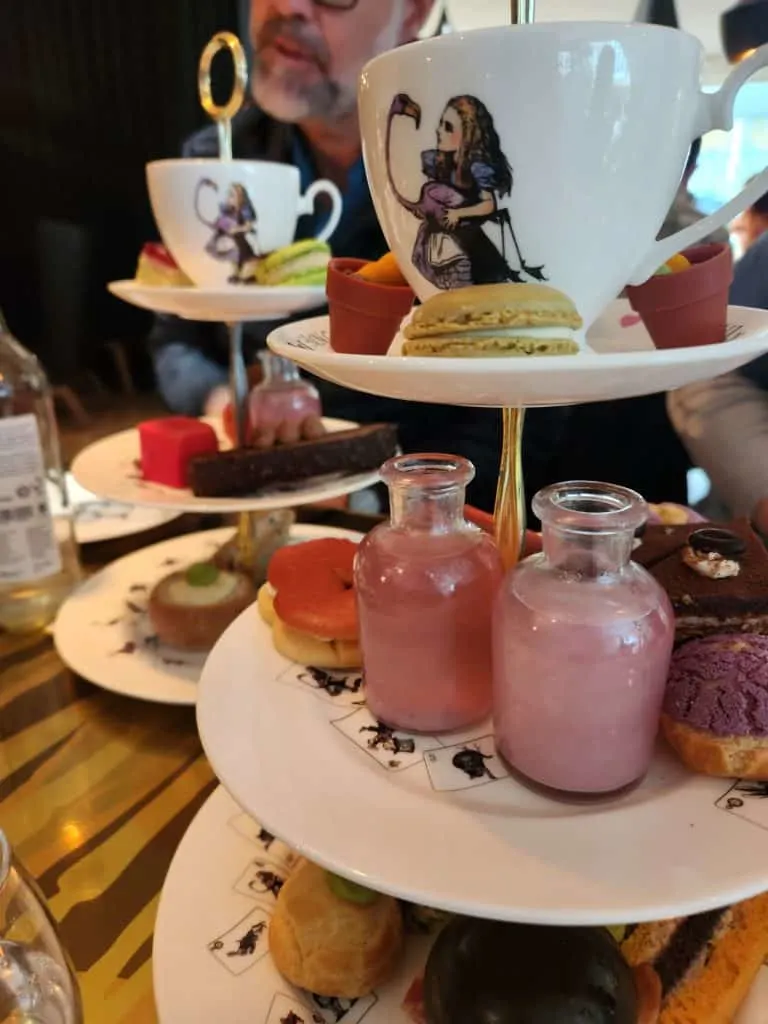 Looking for something more whimsical?
"If you want the fun of high tea with all the deliciousness and a bit less stuffiness, consider the Mad Hatter's Afternoon Tea at the posh Sanderson Hotel.
The theming is on point, making it totally Instagram-worthy. The savory offerings are unlimited, unique, and very filling while the sweet treats are ever-so-tasty and fun. Bonus: give them a head's up and they can accommodate almost all food allergies!" – Katie Bodell, Blog Editor
23. Hit the Tate Modern for a Dose of Art and Take a Stroll Down Southbank
The Tate Modern is located in the heart of Southbank. This modern art museum is free (as are most of the museums in London, a definite perk of visiting the city!) and offers peeks at modern artists such as Pablo Picasso and Salvador Dali.
Located right on the River Thames, Southbank is a cultural center that houses the Royal Festival Hall, Hayward Gallery, Queen Elizabeth Hall and more.
It's also a beautiful walkway on the river with restaurants, buskers and a lot to see on a stroll. The views of London across the way are stunning and it also holds much in the way of Instagram possibilities for your teens.
24. See the Changing of the Guard
Watching the changing of the guard is about as "touristy in London" as it gets, but it still is fun to watch! This event will be a true highlight for any teen visiting the city. It typically takes place in front of Buckingham Palace at 11:30am, every other day.
Check the palace website for up to date information. Arrive 30 minutes early to secure prime viewing.
25. Ride the Canals in Camden & Have Launch at Waterside Cafe
After a stroll through Camden Market's unique stalls full of interesting fashion items and collectibles, jump on a boat operated by Regent's Canal Waterbus which takes you for a ride through Camden Lock, Little Venice, and the London Zoo. For about an hour, your can ride through the canals past interesting architecture, industrial history, wildlife, and scenery.
Then have lunch at the quaint Waterside Café, a restaurant that sits on the water in a converted houseboat in nearby Little Venice. They serve traditional British cuisine.