Tenerife is the largest and most visited of the seven Canary Islands. Located off the coast of Morocco, Tenerife is a Spanish island in the Atlantic Ocean, and a great vacation destination.
Sunseekers embrace Tenerife for its warm climate with abundant sunshine. Black and golden sand beaches, exotic flora and fauna, the top-rated water park in the world, UNESCO World Heritage Sites, fresh seafood, and friendly people make for a supremely memorable vacation.
There are lots of great things to do in Tenerife but first, here is some practical information about the island for those who aren't familiar with this wonderful destination.
Things to Know About Tenerife Before You Go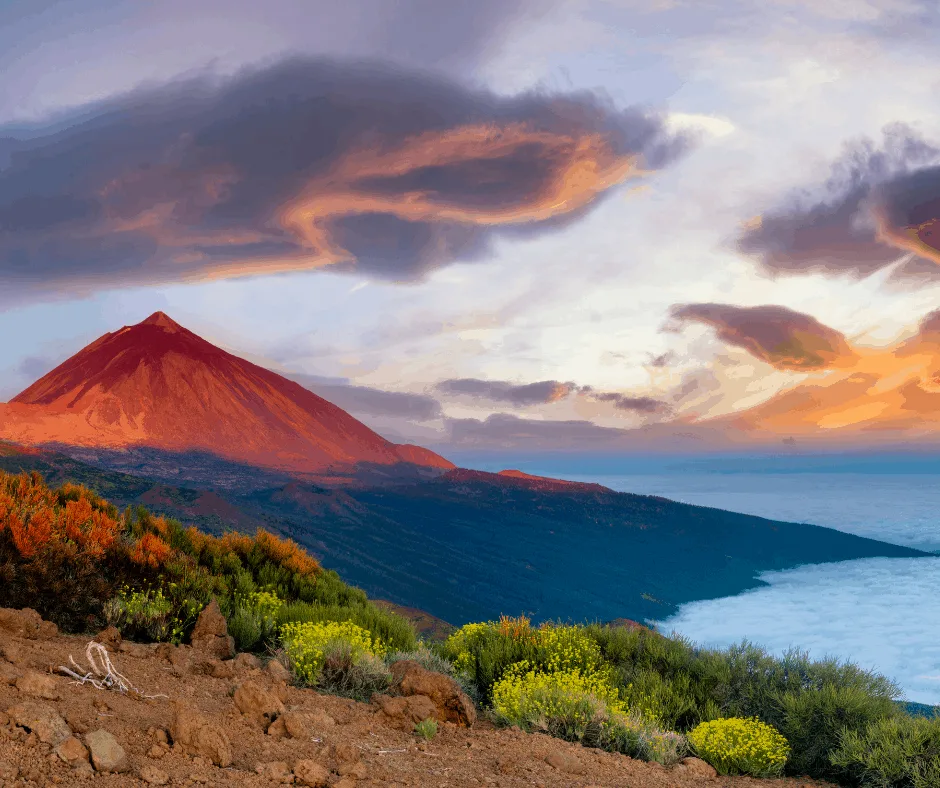 Tenerife is over 1,000 miles southwest of Spain, but because it is owned by Spain, Spanish is the primary language. However, most locals can converse in English and German as well.
The island 785 square miles in size and has a population of nearly one million. It is just 200 miles from the country of Western Sahara off the coast of Africa. The Euro is the currency of the Canary Islands. It is considered to be an extremely safe destination.
There are two airports, one on the north side of the island and the other on the south side of Tenerife. Flying there, you'll most likely stop in a major European destination, like we did in Madrid, and connect to Tenerife.
While we did experience some jetlag, all family members agree that it was totally worth it to visit Tenerife. The lure of black sand beaches and exotic adventures in foreign lands will always make my heart beat faster.
The best vacations are those that cause you to look at life from a different perspective; and our trip to Tenerife definitely opened our children's eyes to the vast, colorful, warm and enticing world out there.
My family of four loved our first big trip to Tenerife and we believe your family will love it too. Here are our recommended things to do in Tenerife with kids in tow.
9 Things to do in Tenerife with Kids
1. Take a Cable Car to the Top of Teide National Park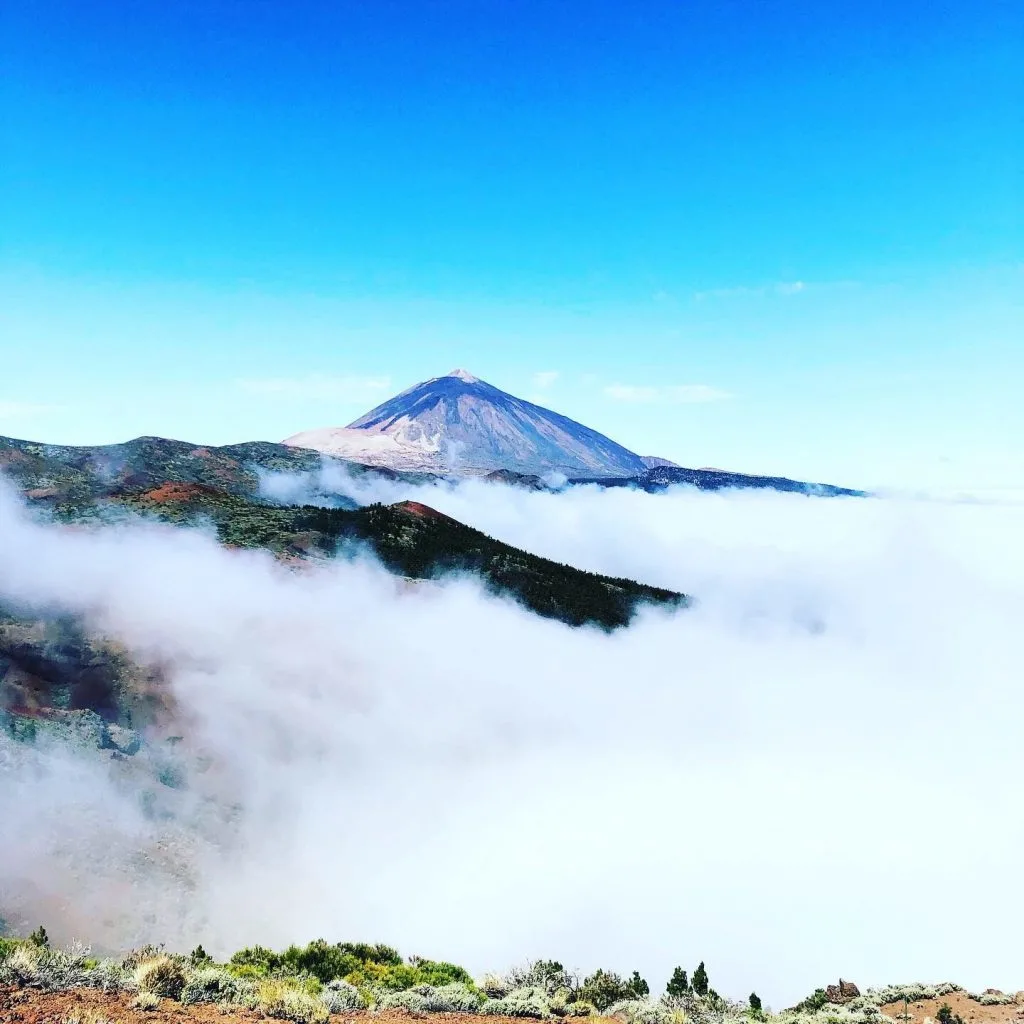 Mount Teide is an active volcano with its summit surmounting 12,198 feet, making it the tallest peak in Spain. Gliding up to the top of the mountain via cable car in Teide National Park reveals striking volcanic landscapes encompassed by white, puffy clouds.
Book a tour of Mount Tiede via Trip Advisor.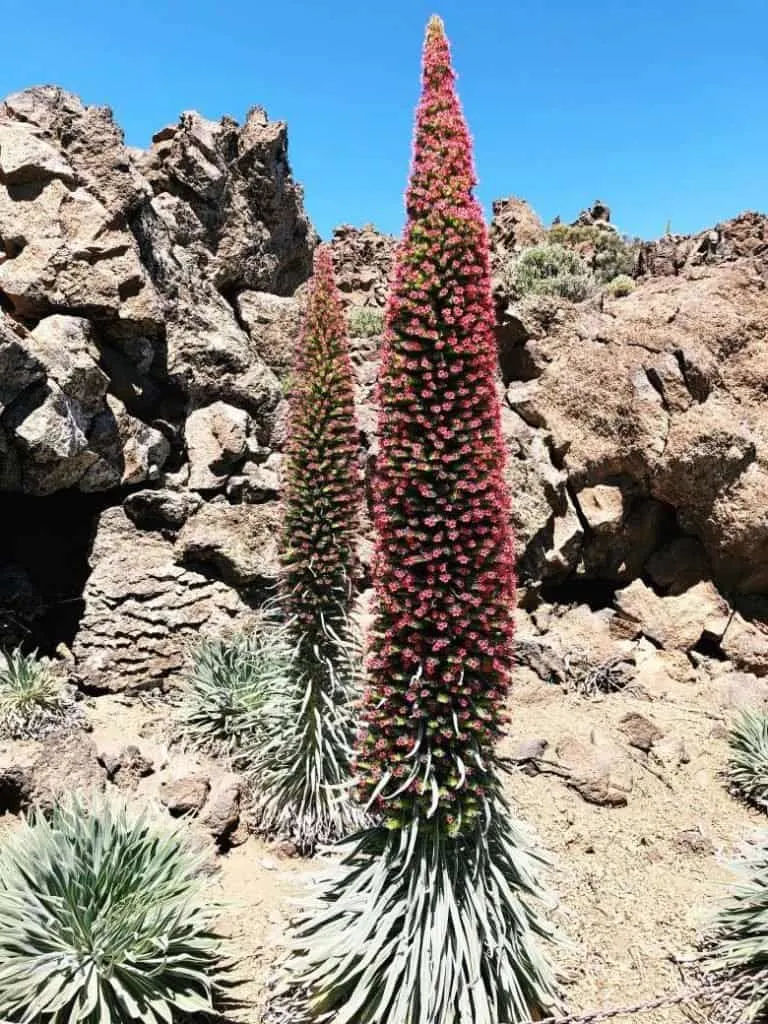 The national park is a UNESCO World Heritage Site in La Orotava, with so many incredible areas to explore. You'll encounter remarkable plants, like the red bugloss with its tower of crimson flowers, and rocky expanses you can climb and hike on that literally look like Mars.
Once you've worked up an appetite, visit a restaurant or Parador Las Canadas del Teide right inside the national park.
Near Teide National Park, you can also zipline through the pines at Forestal Park.
Trekaroo Tip: Take it slow as the elevation on Teide can make some people dizzy, and hold hands with little children on rocky pathways.
2. Sunbathe on Black and Golden Sand Beaches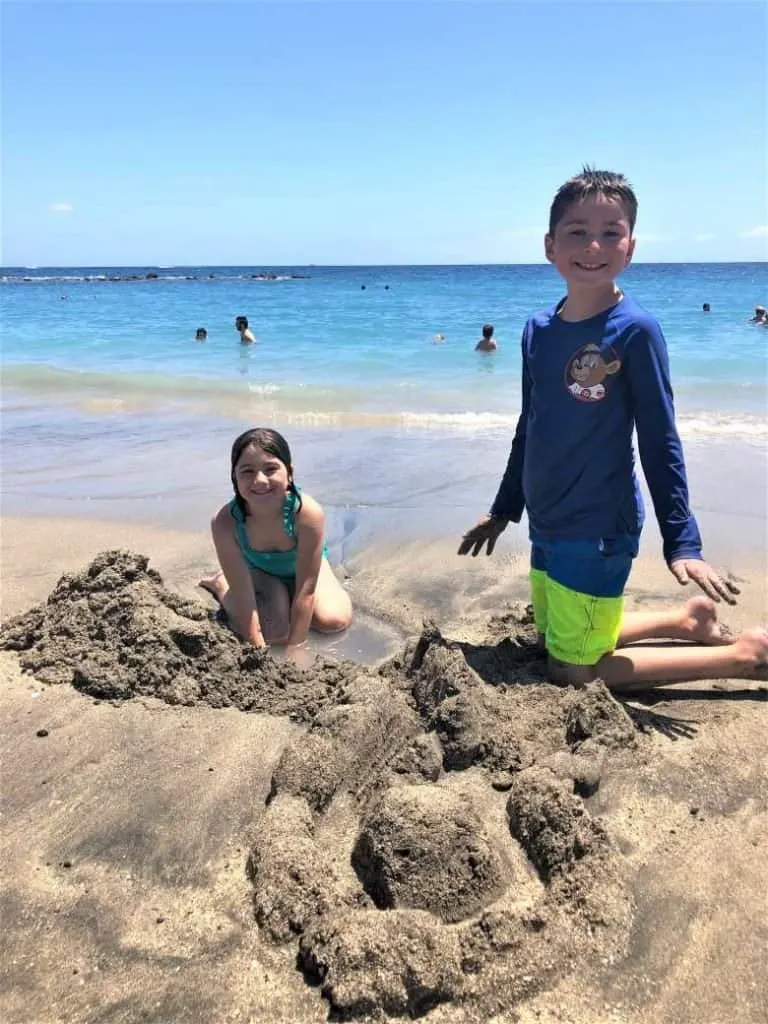 Tenerife boasts both black volcanic sand and glorious, golden sand beaches. With an annual average temperature of 74 degrees and 3,000 hours of sunlight per year, almost every day is a great day to catch some rays.
Relax on the warm sand or indulge in some water sports. Windsurfing and kitesurfing are big on Tenerife.
The most popular beaches include Play Jardin in Puerto de la Cruz, El Socorro in Los Realejos, and San Marcos in Icod de los Vinos.
Playa de Las Teresitas is a short drive from the capital, Santa Cruz de Tenerife. Playa de Las Americas is near the popular resort area of Los Cristianos.
We spent most of our beach time at Playa del Duque, since our hotel on the south side of the island. GF Victoria in Costa Adeje was just a short stroll down the elegant promenade.
As with many European beaches, you're likely to encounter some topless sunbathing. We embraced it as an opportunity to explain to our children how cultures can vary.
3. Splash the Day Away at the Top-Rated Water Park in the World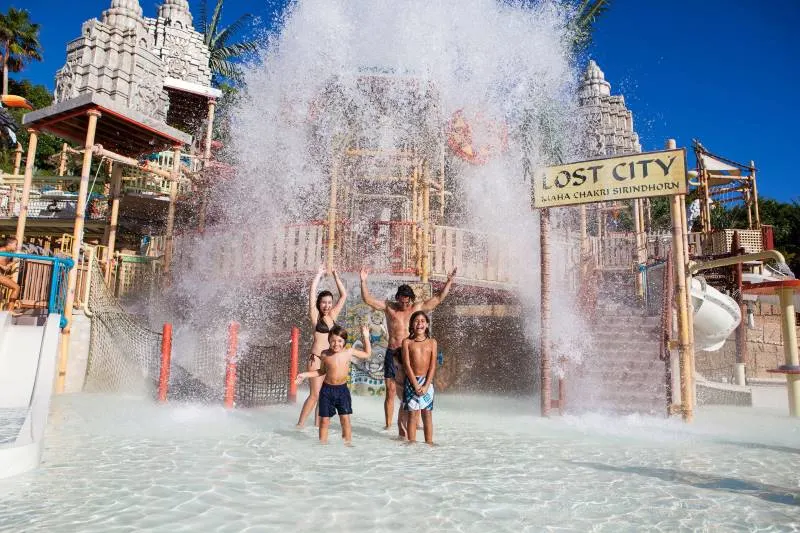 Thai-themed Siam Park has been voted the best water park in the world for six years in a row in the Tripadvisor Travelers' Choice Awards.
What makes this water park so fantastic? This large park features lush, tropical plants and includes three distinct ways to enjoy the day.
For families, you'll find a wave pool with the largest artificial waves in the world, four-person raft rides, a sandy beach and The Lost City water play area.
Those looking to relax will love the floating Thai market and champagne club, with Balinese beds and bottles of bubbly.
Looking to kick it up a notch? Adrenaline-seekers will shriek for the Tower of Power, where you drop down more than 90 feet at speeds up to 50 mph! As if that isn't heart-pounding enough, you might zoom past a shark in the aquarium at the end.
Trekaroo Tip: Fast passes are worth every penny to pack in more rides.
Also make time to visit Loro Parque, a lavish zoo, and Siam Mall, an excellent indoor-outdoor mall, owned by the same family that operates Siam Park.
4. Kayak and Swim by the Stunning Los Gigantes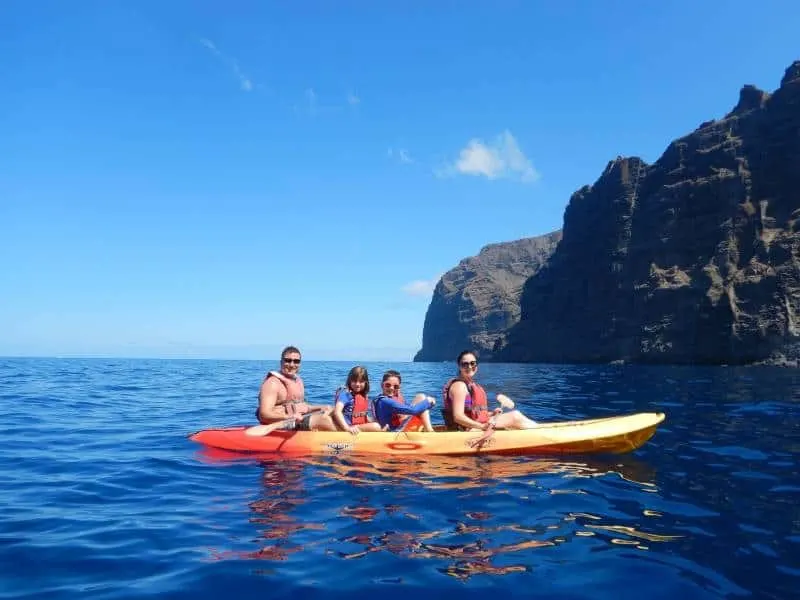 Los Gigantes means "The Giants" in Spanish, and refers to the 2,000 foot towering, ancient cliffs that surround the sparkling blue sea on the west side of the island.
Los Gigantes create dramatic scenery in sunshine and at sunset. The setting sun creates a dream-like vision of spectacular colors above neighboring La Gomera island.
My family paddled a four-person kayak alongside friendly Teno Activo guides. It was gorgeous and rejuvenating to be out on the bluest of blue waters.
The best part was when our guides gently encouraged everyone to jump into the cool agua. After a refreshing dip, beer and soda was distributed to the group.
Trekaroo Tip: You can also go dolphin and whale watching in Los Gigantes. There are also kayaking tours in Tenerife which include dolphin viewing and snorkeling alongside sea turtles!
5. Enjoy Exceptional Stargazing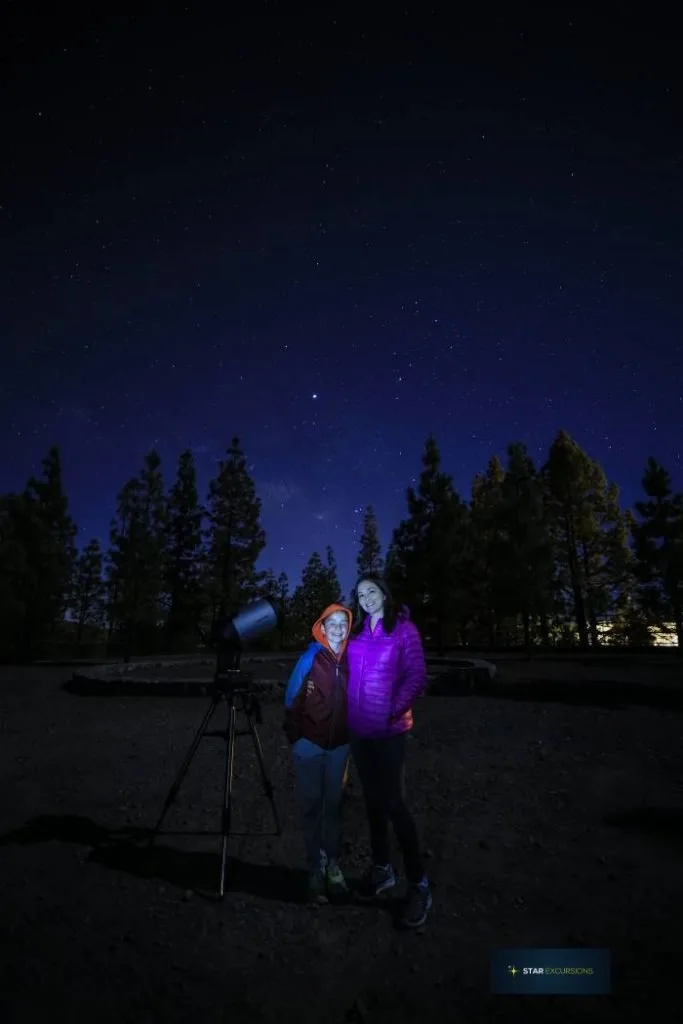 Due to its clear skies and favorable climate, Tenerife is one of the best places in the world for stargazing.
My son and I went on a special, late night excursion with Starlight Guide Jose Antonio of Star Excursions. We were able to see Jupiter with our naked eyes. Jose brought a telescope, hot cocoa and talked about astronomy at length with my 10-year-old.
Book your Tenerife stargazing tour.
Trekaroo Tip: It can get chilly at night on Tenerife, so dress in layers.
6. Taste Authentic, Canary Island Flavors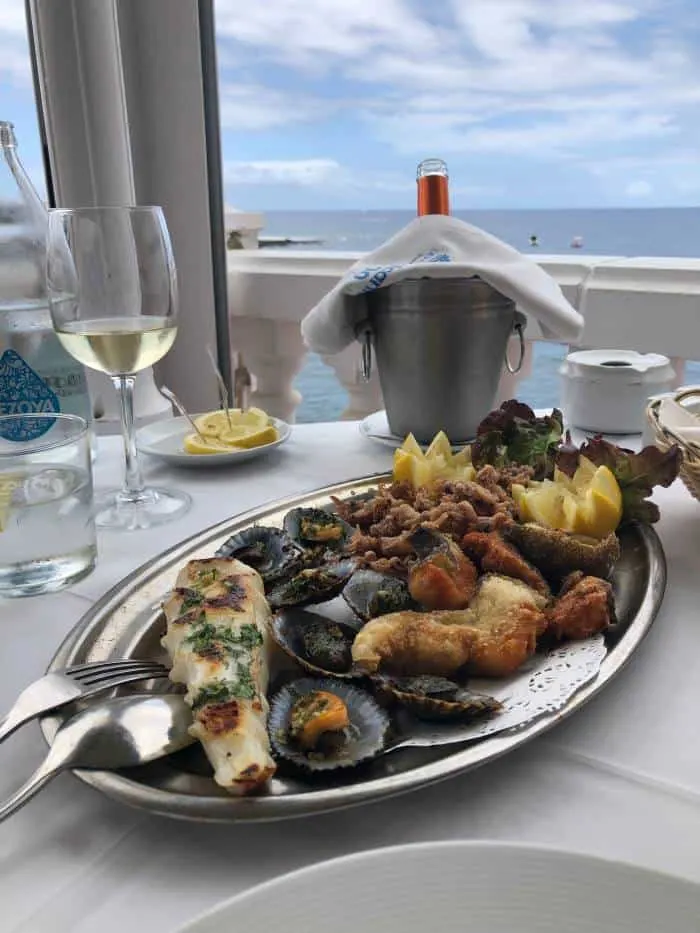 Almost everywhere you go in Tenerife, you'll be served papas arrugadas which are wrinkled potatoes, encrusted with salt and served alongside mojo sauce.
Green mojo is made with coriander and red mojo is comprised of paprika. Both are excellent to dip potatoes or warm, crusty bread into. You'll definitely want to bring some mojo home with you because these mouthwatering sauces are unique to the Canary Islands.
Fresh fish and Canary bananas are abundant in Tenerife. Barraquito is a Tenerife layered coffee drink that's sweet and includes alcohol. Many people on holiday enjoy it after a long lunch.
Learn how to make a barraquito at home in our article highlighting 40 Cocktails That will Make you Feel Like You Are on Vacation.
Our favorite area to eat in was La Caleta de Adeje, where you can walk along the water with the sun setting on a peaceful day, then indulge in fresh seafood in a tasty paella.
Masia del Mar is a lovely local restaurant with cases of fresh fish and outdoor seating that allows you to gaze off into the cove while you enjoy your meal.
7. Soak in a Natural Lava Pool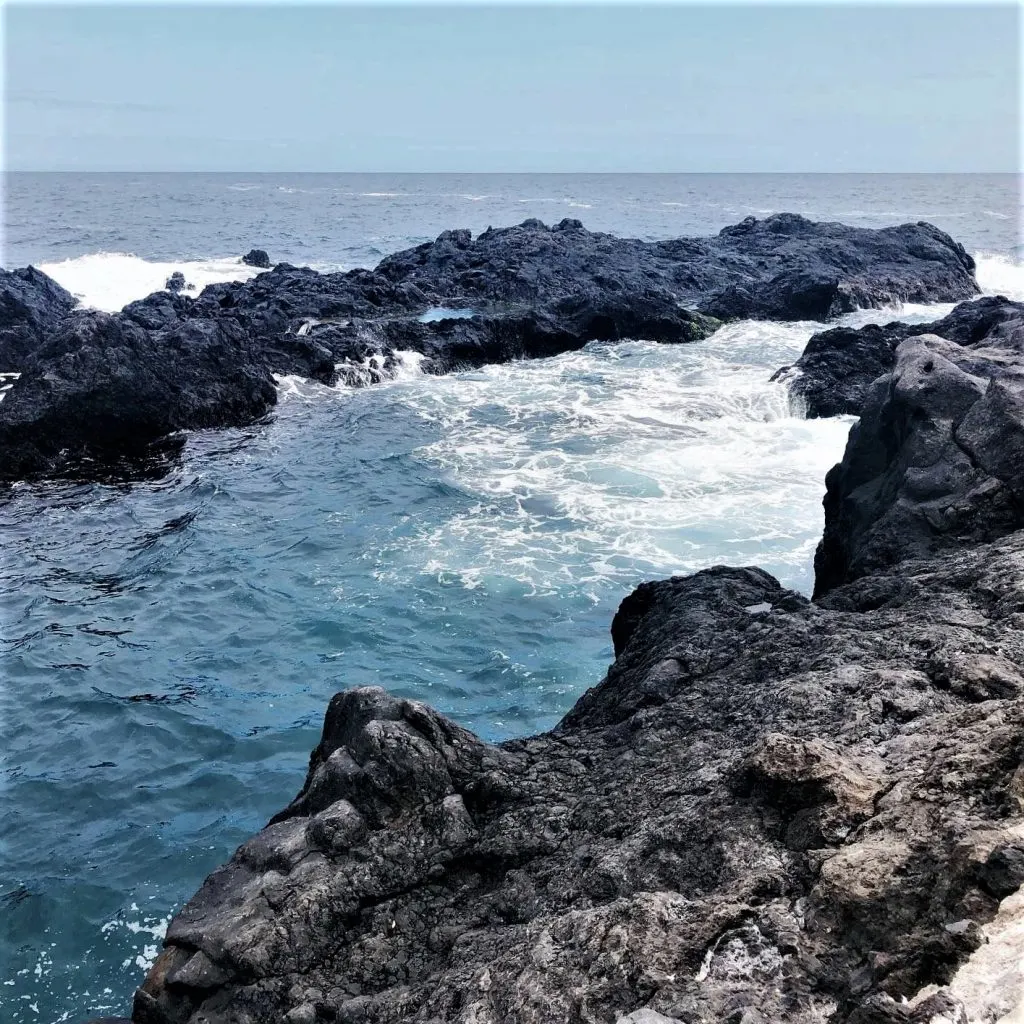 Garachico, on the northern coast of Tenerife, features an old quarter that is interesting to stroll around, but what captured my fascination most was the natural lava pools that people can swim in.
Created by a volcanic eruption over 200 years ago, lava pools at the edge of the Atlantic Ocean allow families a refreshing dip in the saltwater alongside small fish and crabs. Recline in the soothing, shallow waters or experience the wind and waves in deeper areas when the tides change.
8. Spelunk in Europe's Largest Lava Tunnel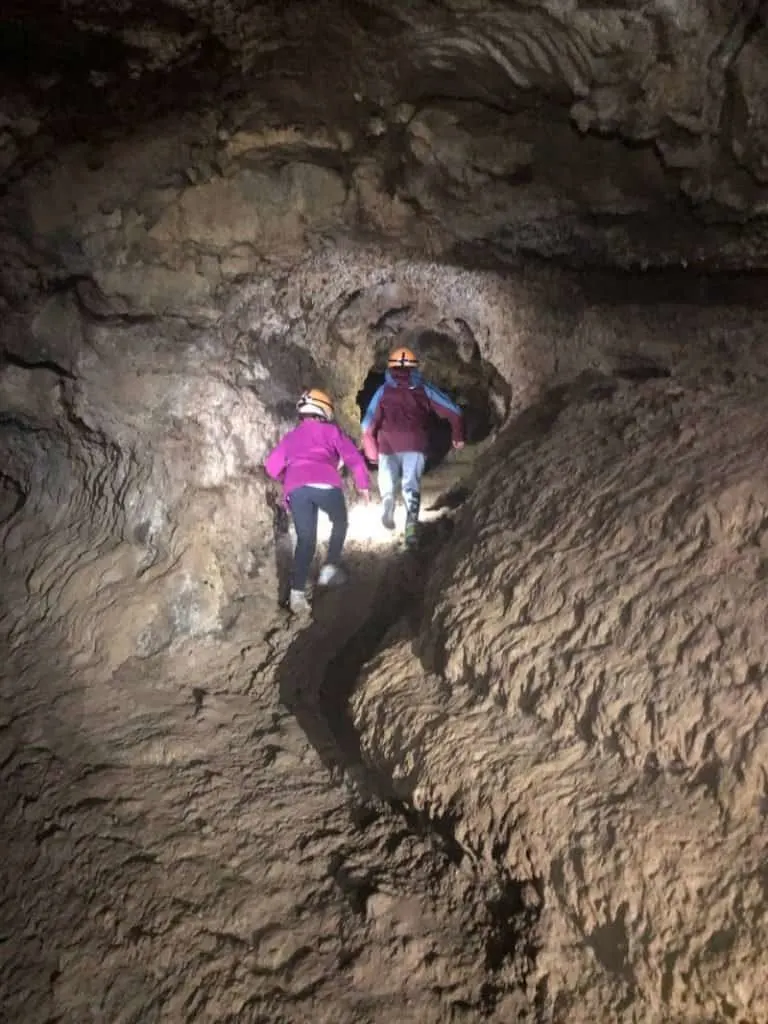 Cueva del Viento is the longest lava tunnel in all of Europe. It's an incredible underground volcanic world to explore with knowledgeable and interesting guides.
After getting geared up and learning about Teide and lava flows, we descended underground. It's interesting to learn how species that live in these dark caves evolve, including cockroaches born without eyes.
9. Stroll Around Soaking Up History and Culture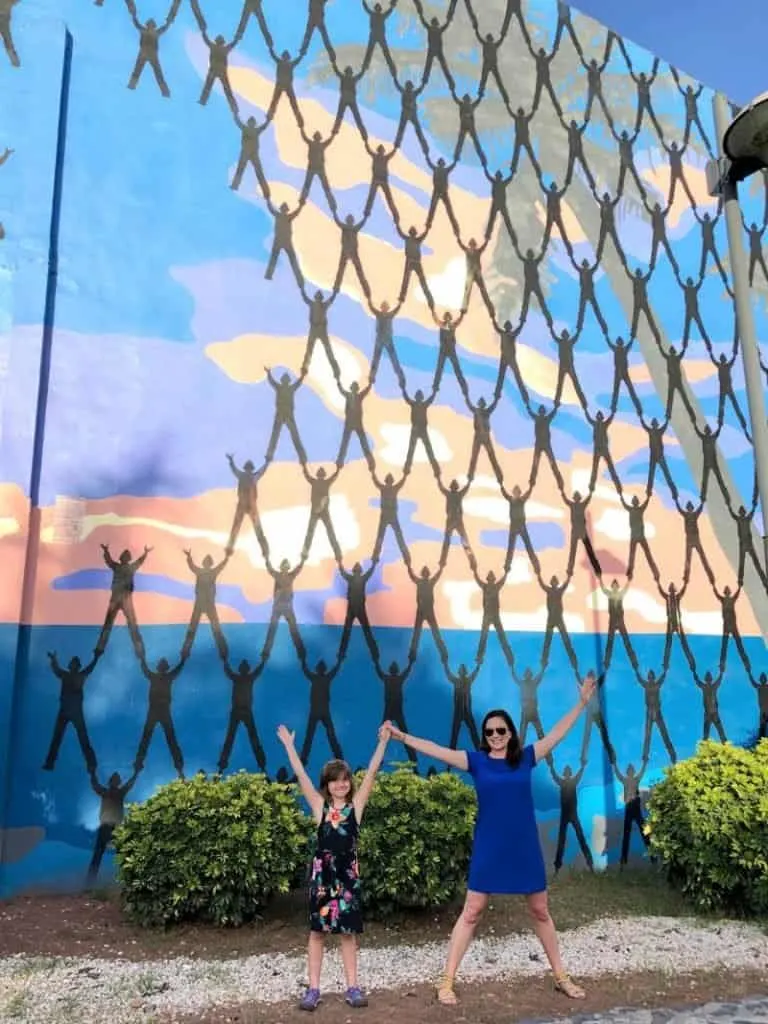 There's so much culture and history to absorb as you explore the island of Tenerife. Find lovely town squares with playgrounds, old churches, and local markets.
Restaurants serving tapas on patios with soft guitar music strumming and ice cream shops the kids are sure to swoon over. Soak up the slow pace and indulge in the simple pleasures of life. See what kind of street art you stumble upon in Puerto de La Cruz.
San Cristobal de La Laguna, a UNESCO World Heritage Site, has a town square called Plaza del Adelantado with a fountain that's a joy to visit and watch the world go by. Tenerife is an idyllic paradise with diverse scenery and microclimates that range from beachy to lush with misty laurel forests.
Where to Stay in Tenerife | Family-Friendly Hotels
GF Victoria Hotel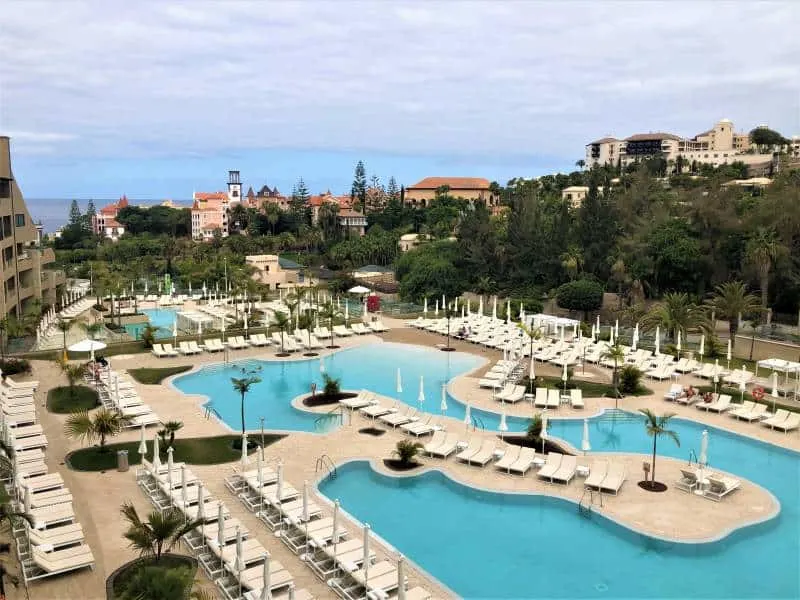 On the north side of Tenerife, we stayed at the GF Victoria Hotel in Costa Adeje. It is a beautiful, modern hotel with amenities to satisfy all family members.
The coolest part had to be the floating pool on the rooftop, which creates crazy optical illusions with body parts above and below the water.
Book your stay at the GF Victoria Hotel. As a Booking.com affiliate, Trekaroo guarantees the lowest rates!
The floating pool is in the adults-only section, but there are plenty of family-friendly features throughout the property. Highlights include the children's climbing park, simulated surfing, water slides, and free nightly entertainment including acrobats and live music.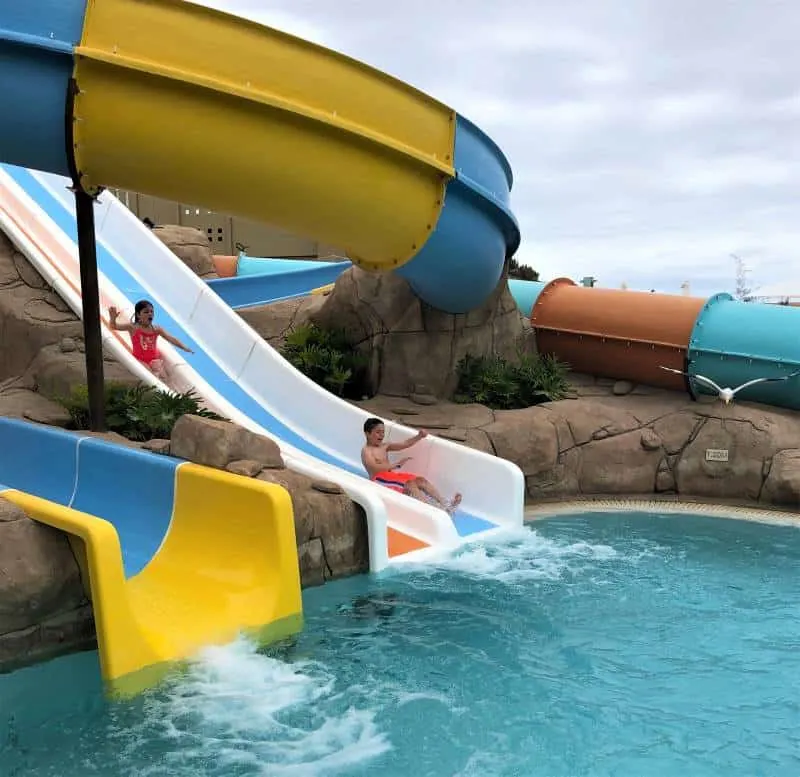 One of the restaurants even has a glass-enclosed play area where children can cut loose while adults enjoy their coffee or remaining courses of their meal in peace!
There are kids' clubs, family and adult spa spaces, multiple pools, beautiful views of the ocean, and it's just a short walk to the beach, shopping and dining.
Hotel Botanico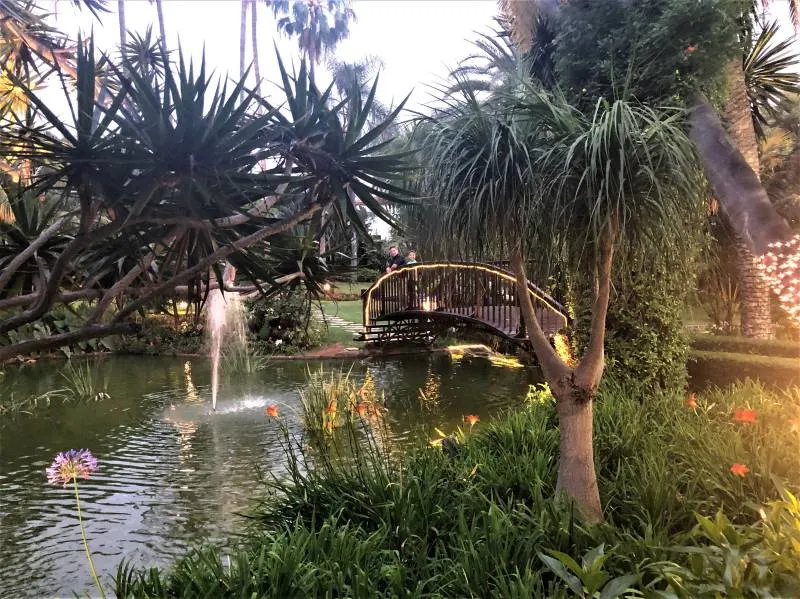 On the south of Tenerife, we stayed at the luxury, five-star Hotel Botanico. The spa there is fantastic, with a wonderful water circuit that's include in your stay.
The Oriental gardens and pool provide a beautiful sanctuary where you can view Mount Teide in the distance. The friendly groundskeepers handed my daughter bags of food to feed the fish in the meticulously manicured gardens.
Book your stay at the Hotel Botanico.
The on-site restaurants are fabulous, and our servers were like the most patient mothers trying to please our super-picky daughter.
Adjoining rooms made my children so happy that they could have some space all to themselves. Hotel Botanico boasts a gorgeous suite that Sylvester Stallone stayed in when filming a Rambo movie in Tenerife.
For more information and suggestions, please visit www.webtenerife.com
Disclosure: The author and her family partnered with Tenerife Tourism Corporation on this trip. While some tours, meals and accommodations were provided, all opinions are the writer's own.