What are the best day trips from London by train? From British castles to Harry Potter, there are so many great day trips that are simply an easy train ride away.
Taking day trips from London by train is a great way to explore the region. Train service in England is easy to use and will take you to all the major destinations in the region. Here are some of our favorite day trips from London by train for families.
10 Day Trips from London by Train
1. Explore Oxford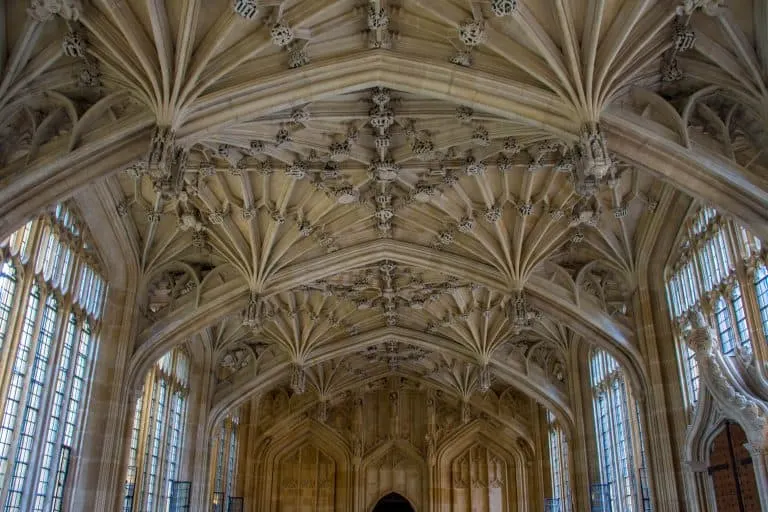 It's difficult to spend just one day in the city of Oxford. The city is home to the University of Oxford, which encompasses 36 colleges. Dating back to 1096, Oxford is generally noted as the oldest university in the English-speaking world. Plus Oxford is one of the most beautiful cities in England.
The historic architecture of the school and fascinating history behind each of Oxford's colleges makes it a fun destination for people of all ages to tour. Families will especially enjoy seeing the lamppost that inspired CS Lewis' tales in Narnia and the Bodleian Library location where the final scenes of the first Harry Potter movie were filmed in the Hogwarts' Infirmary (pictured above.)
Our family's short visit made it clear that Oxford is much more than a popular London day trip destination. In a one day visit from London by train, our family squeezed in a Harry Potter and Alice in Wonderland themed tour with Visit Oxford Tours, an experience punting on the river, and a quick visit to the Museum of the History of Science.
It takes just over an hour to get from London to Oxford on the train leaving from London's Paddington Station. From the train station, it is about a 15-minute walk to the center of Oxford where tours depart. Oxford is a popular day trip from London, especially in August. Thus, it was easiest for our family to grab some food for a meal and snack at the M&S (Mark & Spencer) just inside the train station.
A day trip from London by train to Oxford won't leave much time to explore Oxford's wealth of museums. As a science teacher, I simply couldn't pass up a chance to check out the Museum of the History of Science.
We had only minutes to explore the models used by the likes of Galileo. However, since the museum is free, even a short visit is worthwhile. At the entryway, there are scavenger hunts for the kids. In addition to materials for the museum itself, there are also materials and a checklist encouraging families to stop by Oxford's other world-class museums.
Read our tips on visiting London on a budget with kids.
Punting on the River Cherwell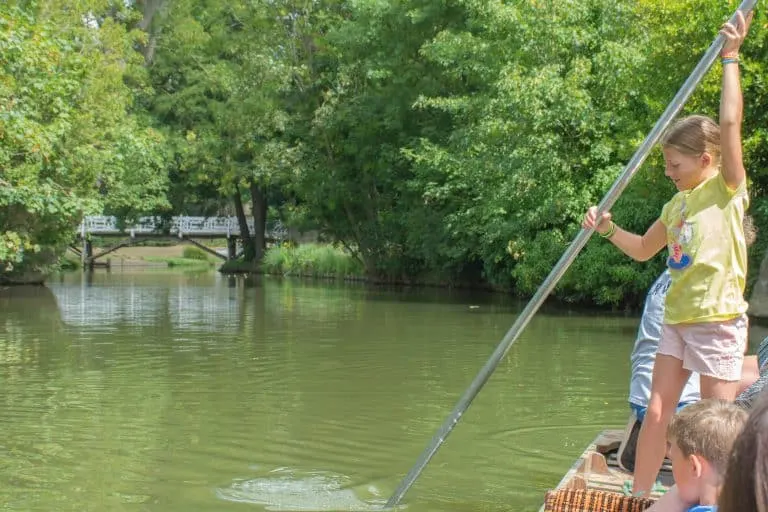 Being a touristy sort of American family, one of the first stops in Oxford was the Magdalen Bridge Boathouse. There we hired a boat to have an experience punting on the river. Our family quickly agreed to also hire a chauffeur. My mother and sister were afraid that I might accidentally knock everyone overboard if I tried punting myself.
Many British families were out on the river expertly punting their rented boats around the loop in the river. However, watching the foreign tourists trying to punt was absolutely hysterical. I'm glad I didn't attempt it.
Most families that are not experienced will want to simply pay a university student to chauffeur their boat for a half hour. The student will likely to be happy to give newbies a lesson if you're interested in learning the art of punting yourself.
Tours in Oxford with Kids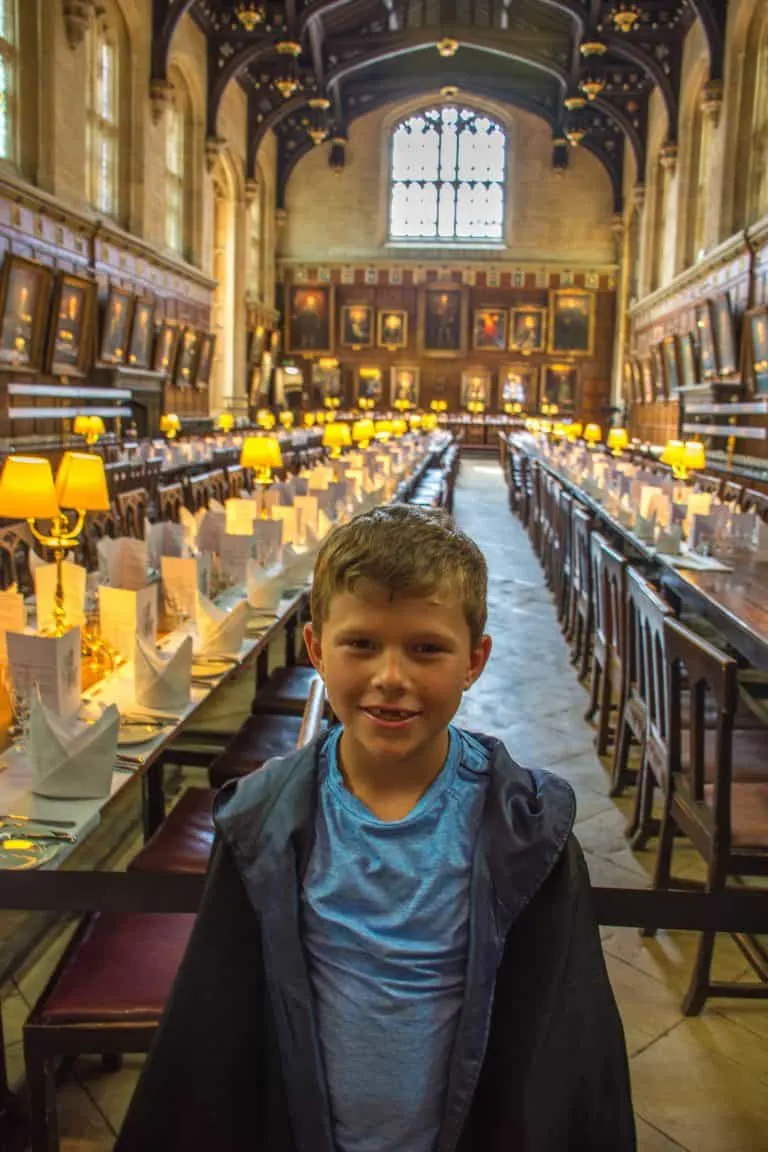 If your time in Oxford is limited to just one day, I do highly recommend taking a tour to get the most out of your visit. We enjoyed our Christchurch College (skip the queue) Harry Potter Alice Tour with Visit Oxford Tours.
The tour struck the perfect balance of entertaining our young Harry Potter fans while still providing a full introduction to the city's wealth of literary history from J.R.R. Tolkien and CS Lewis to Lewis Carroll, author of Alice in Wonderland.
On many Harry Potter themed tours, kids get to put on Hogwarts robes and pose on the steps of Christ Church College where Harry and Hermione stood in one of the films. A fast-paced tour catering to both children and adults is certainly the way to go in Oxford where there is so much history hidden behind every door.
2. A Day Trip to the White Cliffs of Dover by Train from London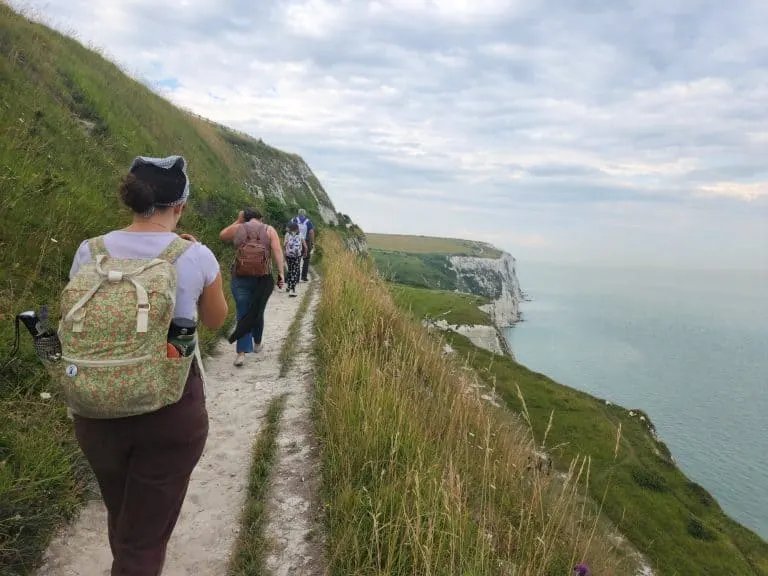 Recommendation from Trekaroo Team Member Katie Bodell:
My husband teaches AP Literature and reads his students Matthew Arnold's Dover Beach poem every year. Visiting these cliffs were a must on our most recent trip to London.
A variety of tours are available that include bus and train transportation, but we honestly found the route to and from London a simple one: a regular, high speed train takes you from Kings Cross Station to the quaint town of Dover in just over an hour. From the Dover station, I recommend taking a taxi or uber out to the cliffs or to Dover Castle; you can walk it, but it is a big uphill climb.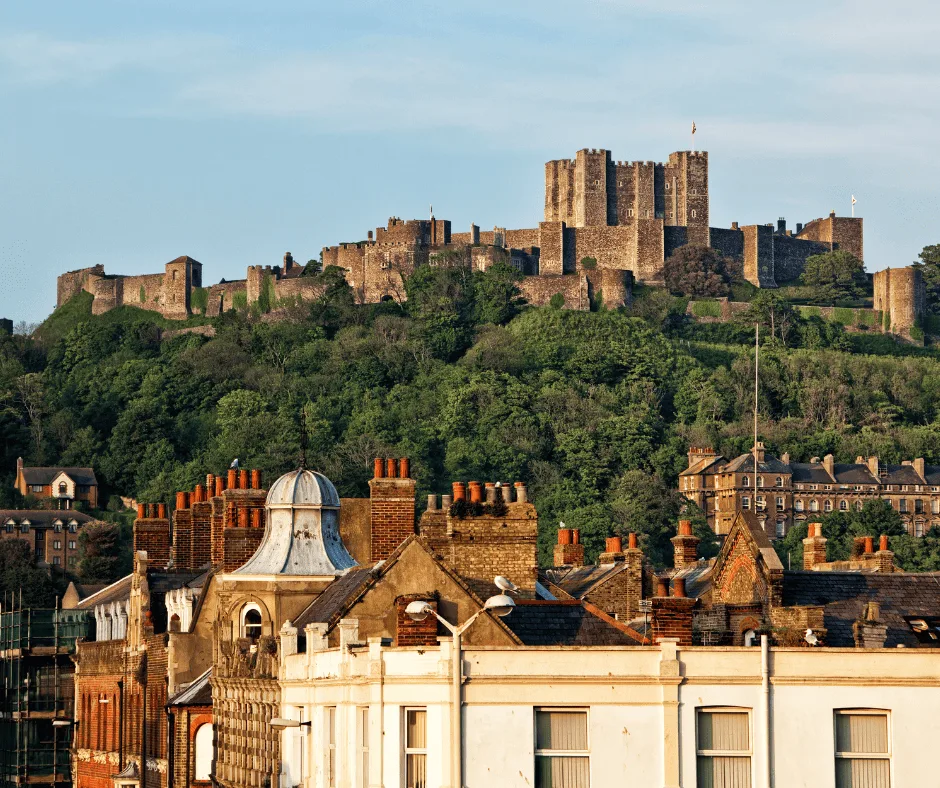 One of the oldest castles in England, Dover Castle, built just after 1066, has played an important part of British history for over a thousand years. The castle sits atop 80 acres of grounds to explore including a Saxon church, a Roman lighthouse, underground tunnels and hospital used in WW2, historic reenactments, and even an escape room (recommended for kids 12 and up).
After exploring the Castle, continue to the White Cliffs of Dover to hike the stunning, historic trails. Begin your hike at the Visitor Centre and continue along the coastal view as far as your family can go; you can turn around to return to the visitor centre at any point.
The hike to the lighthouse is about 2.5 miles, and well worth it, although it does have a lot of ascents and descents making it a moderate hike. Along the way you pass stunning vistas, beautiful wildflowers, views of the English Channel and even France on a clear day, and of course, the famous white cliffs.
If you do make it to the lighthouse, you can enjoy a spot of tea (or ice cream!) as a reward for your efforts before you begin your return journey.
3. Take the Train from London to Warwick Castle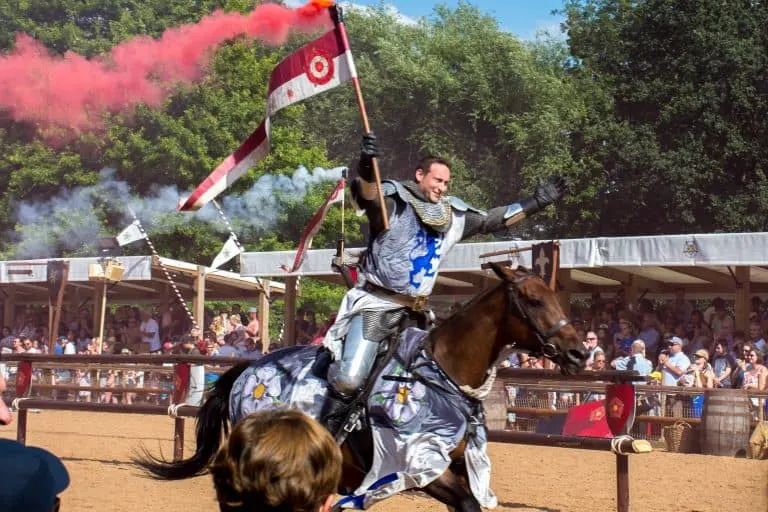 The history of Warwick Castle can be traced back to fortifications made by William the Conqueror in 1068 on a sandstone bluff above the River Avon. It was in use as a military stronghold until the 17th century so there are hundreds of years of stories to tell at Warwick Castle.
A summertime visit to Warwick Castle feels a bit more like a trip to Disney than a true British history lesson. Kids are sure to love the interactive history lessons including the Horrible Histories Maze, the mighty trebuchet, and princess tower experience.
Most British families do drive to Warwick Castle but it is certainly possible to take a day trip from London by train. Trains leave regularly during the summer months from London Marylebone station stopping at Warwick station. The trip is just under two hours so it is a full day excursion. You'll appreciate being able to take a seat and rest on the long ride back after a day at Warwick Castle.
Things to do at Warwick Castle with Kids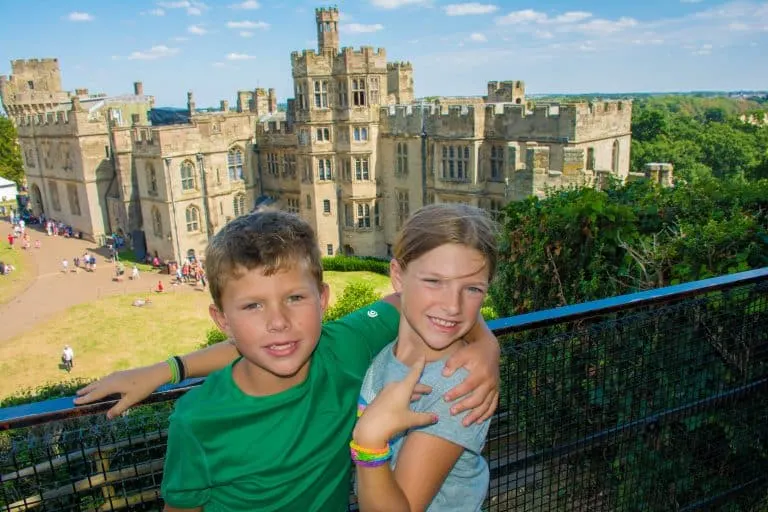 Like most castles in the United Kingdom, Warwick Castle has historic rooms to walk through on a self-guided tour, ramparts with lots of stairs to climb to get a good view of the surrounding countryside, and beautiful gardens. This castle also has many great family activities as well including a garden maze, a falconry show, and interactive games for children.
The dramatic shows, including the War of the Roses jousting experience, are what really sets Warwick Castle apart from the dozens of other castles that dot the British countryside. Out of the castles our family visited in the United Kingdom, Warwick Castle had the most activities especially for children. It is really one of the best day trips from London by train for families with children!
4. Harry Potter Studio Tour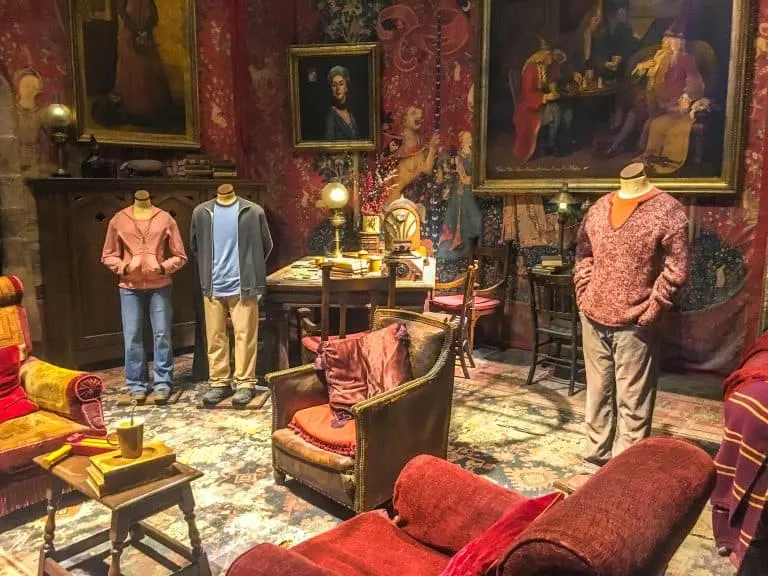 If there are Harry Potter fans in your family, you have likely already reserved your tickets for the Harry Potter Studio Tour. And, if you haven't reserved them yet, you should go do that right now.
The Harry Potter Studio Tour is one of the easiest possible day trips from London. Just read the directions on the website where you purchase tickets and follow the crowds from the train to the bus. Allow a half day for your experience.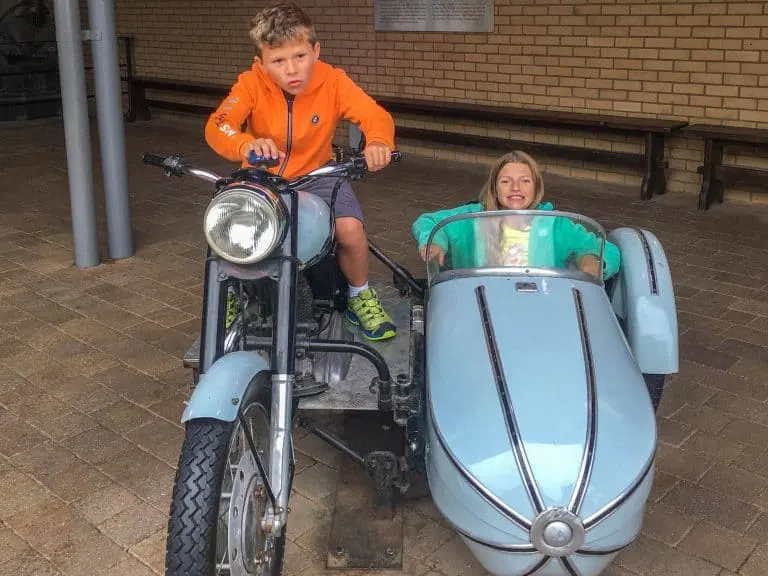 The Harry Potter Studio Tour is a unique experience totally different from the theme parks at Universal Studios. A walk through the studio tour allows families to appreciate every little detail that was put into the production of the Harry Potter movies from the costumes to the sets.
Visitors can view sets like the Potions classroom, board the Hogwarts' Express, and walk through the Dursley's house. We loved the passport stamping sections along the route and the interactive activities scattered throughout.
Looking for more Harry Potter fun with the family? Check out Trekaroo's Top Spots to Visit for the Ultimate Harry Potter Fan.
Visit Leeds Castle by Train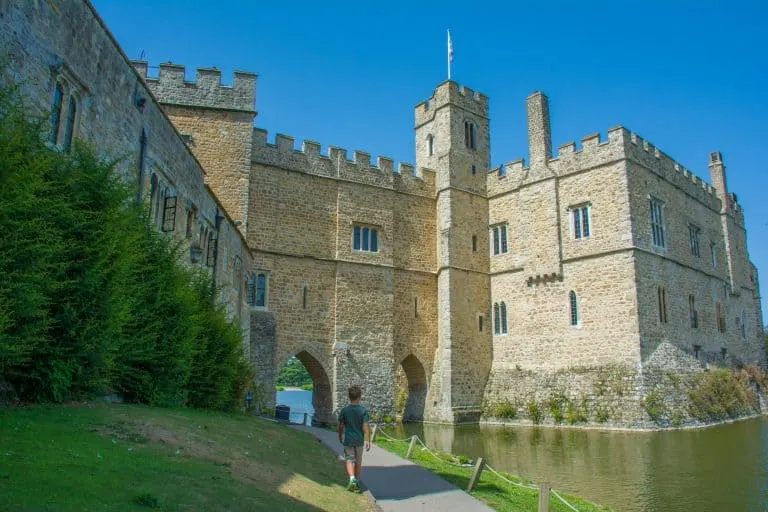 Leeds Castle is arguably one of the most beautiful castles in all the United Kingdom. The history of Leeds Castle dates back to the 11th Century. It was the private property of six of Britain's medieval queens. Most notably, it was home to Henry VIII and his first wife, Catherine of Aragon.
Now the castle is surrounded by a moat and lush gardens making it a relaxing and peaceful place for visitors of all ages to spend the day. Like Warwick Castle, the Leeds Castle itself is open for self-guided tours, and there are kid-friendly falconry shows.
Leeds Castle also has a beautiful hedge maze. This maze has a surprise at the center that will appeal to all ages, not just children looking for a place to play. Leeds Castle also has an expansive playground for the kiddos too. One part of the playground is set aside for tots while the other will even inspire tweens in an epic game of hide-and-seek.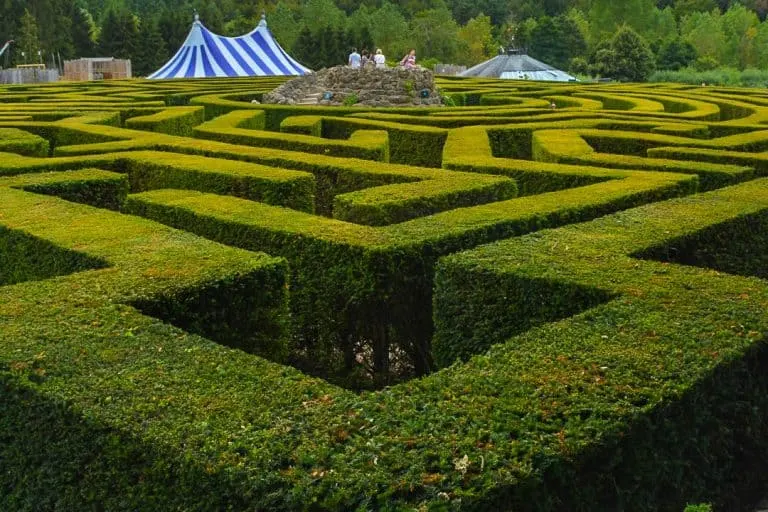 The restaurant at Leeds Castle has a great view of the castle and moat in addition to yummy treats and a convenient kids' menu. Families are certainly able to eat a tasty, relaxed meal during their day trip to Leeds Castle.
Many British families drive to Leeds Castle, however it is possible to reach Leeds Castle via train from London Victoria station. The train ride from London Victoria station to Bearsted is only about an hour and leaves regularly throughout the day.
During the summer season, a shuttle bus is available to transport visitors from the Bearsted station to Leeds Castle. If you plan to use the shuttle bus, check the schedule on the Leeds Castle website.
5. Head to Windsor Castle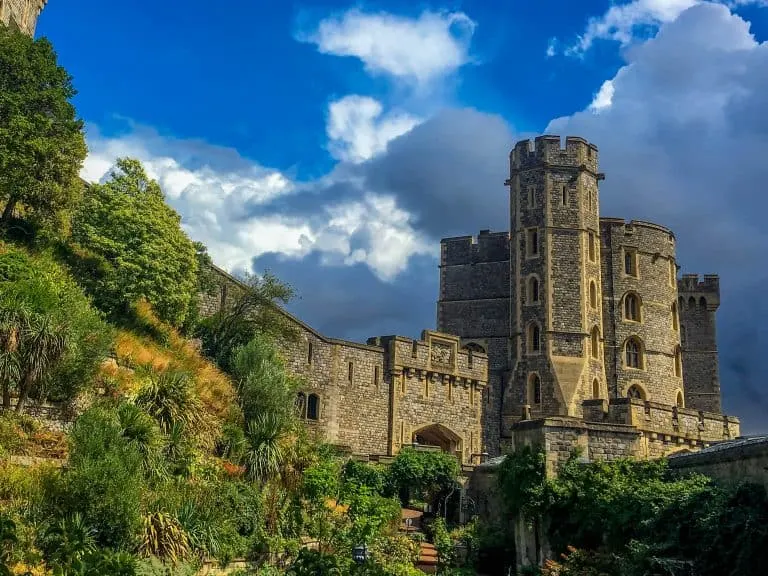 One of the most popular day trips from London is to Windsor Castle. It is especially popular now, due to the recent royal wedding. Stepping off the train in Windsor, you'll quickly see that it there's much more than just a castle to tour. There's also a lot of shopping and restaurants in the area.
While the journey to Windsor from Paddington Station is about 45 minutes by train, it does require a change of trains in Slough. Don't be concerned, just follow the crowds.
Windsor Castle is used by the current British royal family. This makes it the longest-occupied palace in Europe. Since the 11th Century, it has been the home of 39 monarchs. A visit to Windsor Castle includes both the State Apartments and St George's Chapel. Ten monarchs are buried at the chapel including Henry VIII. In the 21st century, St George's Chapel is most notable for being the location of the wedding of Prince Harry and Meghan Markle.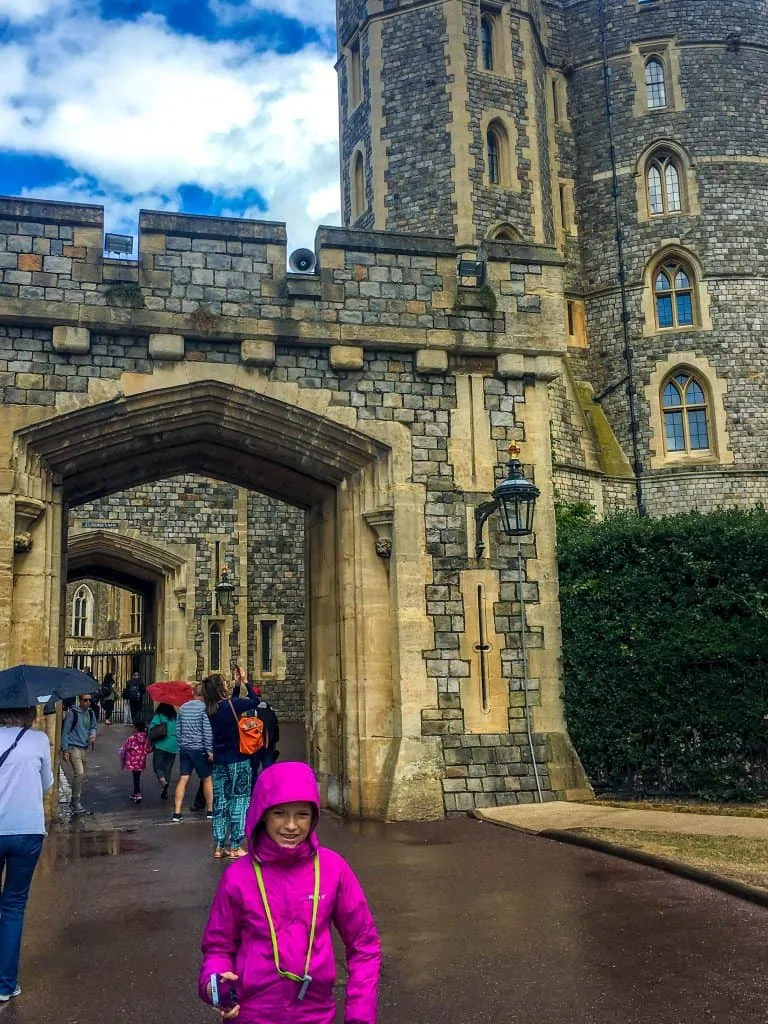 On a rainy day in August, we were relieved that we had already purchased tickets for Windsor Castle and printed them out ahead of time. We walked past a long line of tourists holding umbrellas and straight into security. Within minutes, we had our audio tour and were walking through the castle gates towards the lavish 19th century State Apartments. There is a kids' audio tour available as well as an activity trail for little ones.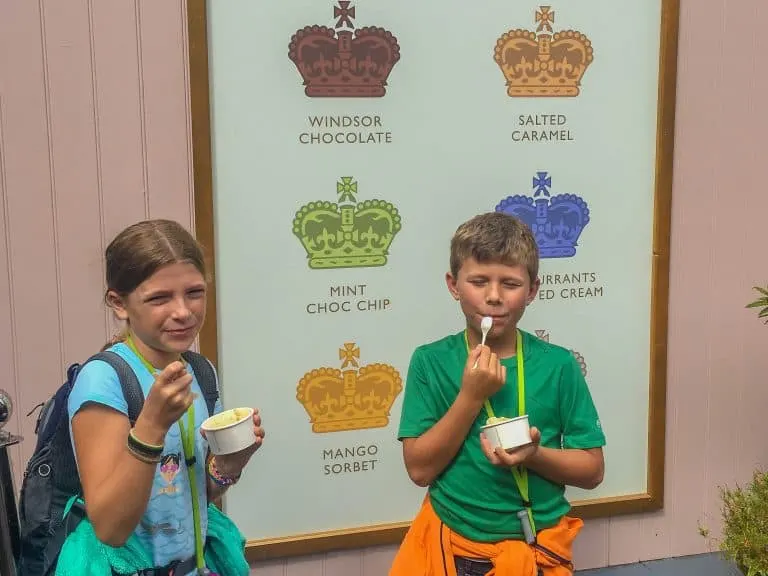 Occasionally, there are other children's activities available that feature crafts, coloring, and dress-up. If you have some flexibility in your schedule and are planning a trip with younger children under the age of 7 or 8, I recommend checking the calendar to see if you can time your visit for a day with special activities.
A visit to the State Apartments might be a bit dull for small children. In the summer months, parents will be happy to know that there is a place to get an ice cream cone centrally located in the castle complex.
6. Hampton Court Palace Gardens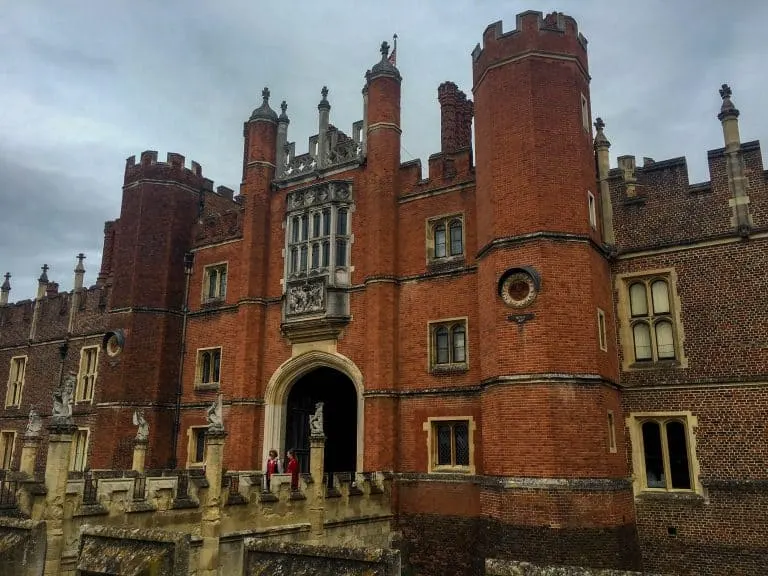 Our family found ourselves with an extra day in the London Heathrow area so we took a trip via bus to Hampton Court Palace. Hampton Course Palace is only about a dozen miles upstream of central London on the River Thames.
It can also be reached by train from London Waterloo Station on the South Western Railway in about 40 minutes, making it one of the quickest possible day trips from London by train for families.
On the day of our visit, we decided not to even go inside the palace itself, best known as one of Tudor king Henry VIII's residences, but instead to explore the gardens. We had visited Windsor Castle the previous day, and the weather was perfect for exploring Hampton Court Palace's outdoors gardens, maze, and playground.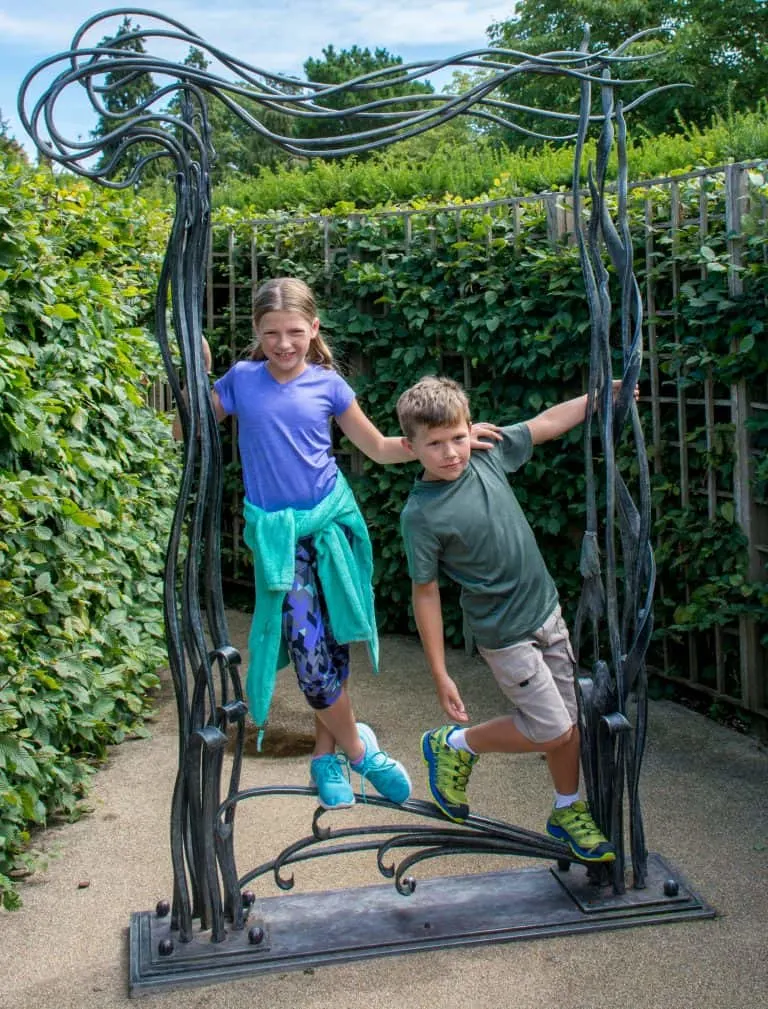 Henry VIII's Hampton Court Palace was first opened to the public by Queen Victoria. Now is it a favorite outdoor destination for local families, especially families with young children. Like Windsor Castle and the Tower of London, there are often special activities for kids.
The outdoor highlights for children include a historic hedge maze and an amazing playground. Both of these required an extra ticket at the time of our visit. The hedge maze dates to the late 17th century and is a bit challenging to navigate.
The Magic Garden is Hampton Court Palace Garden's playground. Yes, it is quite magical and worth the entrance fee. The playground features towering, colorful play structures, a dragon long enough for dozens of children to climb upon, and a crown-shaped gazebo. Due to the amazing playground, this is really one of the best day trips from London for families with little ones.
7. Spend a Day at the Cotswolds
It is a bit difficult to figure out how to make a day trip to the Cotswolds entertaining for children. Strolling among thatched roofed houses that seemingly belong on the set of Downton Abbey, isn't inherently fun for most children.
I do have lovely pictures of my children walking together in the evening on the streets of Chipping Camden ,and manyolder children will enjoy the arcitecture quite a bit. If you are looking to include the Cotswolds in your London vacation, our entire family was entertained by our time in Bourton-on-the-Water.
Driving through the town of Bourton-on-the-Water during British school holiday, we could immediately see that it was overrun with families. Fortunately, there is a huge parking lot just on the outskirts of this quaint touristy town. Charming Bourton-on-the-Water certainly isn't a secret among British families. It is quite the local getaway destination.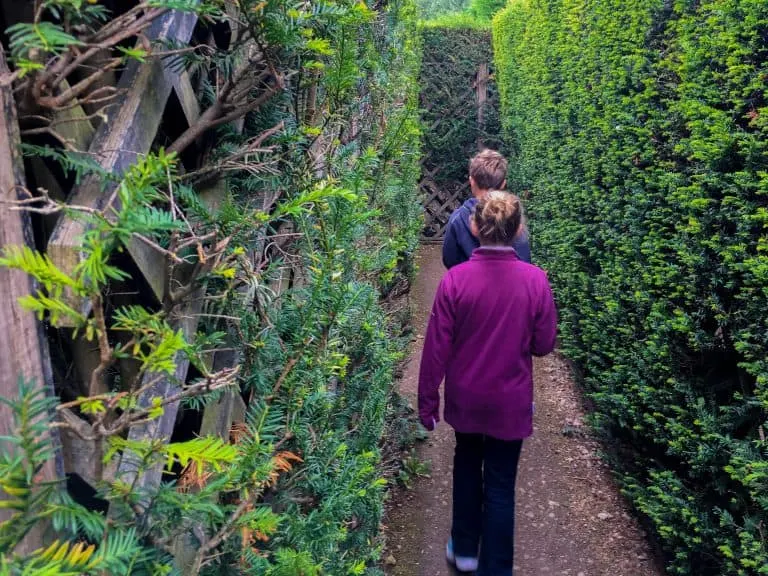 We came to Bourton-on-the-Water to give the Dragonfly Maze a try. Dragonfly Maze is a fun puzzle. It was our most intriguing hedge maze experience in England. And, we certainly enjoyed our fair share of mazes during our time in the United Kingdom.
Visitors to the Dragonfly Maze solve a rebus-like puzzle. Clues to the puzzle are hidden throughout the maze. It only takes about a half hour to complete the puzzle, but it is quite fun for all ages.
While there are lots of other family-friendly attractions in Bourton-on-the-Water, the town itself is quite a destination. There's a stream and pathways to wander. Ice cream shops are plentiful featuring local favorites. Bourton-on-the-water also seems to be a lovely place to stop for afternoon tea though we arrived at the wrong time of day for that.
Spending time in London? Check out 20 FREE Things to do in London with kids.
Find amazing deals on family-friendly hotels in London.
8. Visit the Ancient Roman Architecture of Bath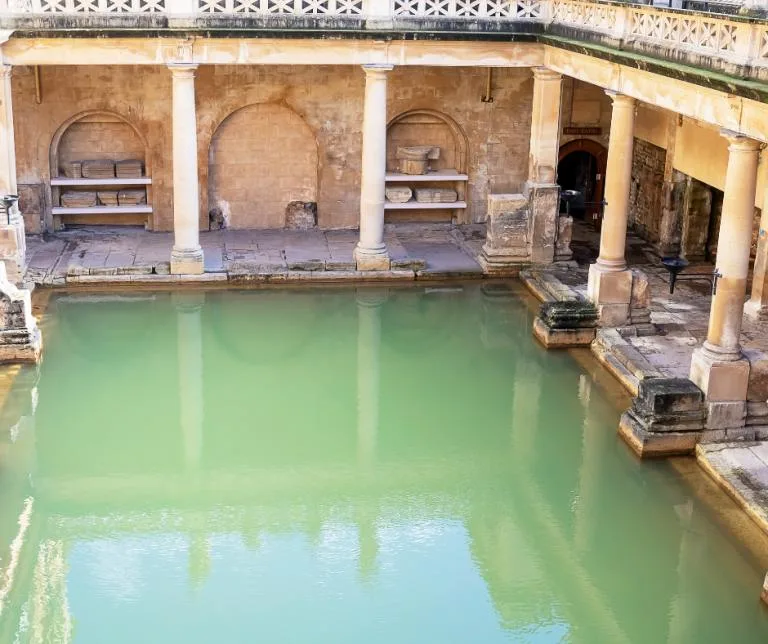 Getting from London to Bath is easy as there are frequent direct trains throughout the day. The journey typically takes around 1 hour and 30 minutes to 2 hours, and you can leave from either London Paddington or London Waterloo.
Start your day by visiting the Roman Baths, one of the most famous sites in Bath. You can explore the well-preserved ancient bathing and socializing complex, see the hot spring, and learn about the city's Roman history through informative exhibits.
Located right next to the Roman Baths, Bath Abbey is an impressive example of Gothic architecture. You can take a guided tour or simply admire the stunning interior and stained glass windows. Don't forget to check out the Abbey's tower for panoramic views of the city.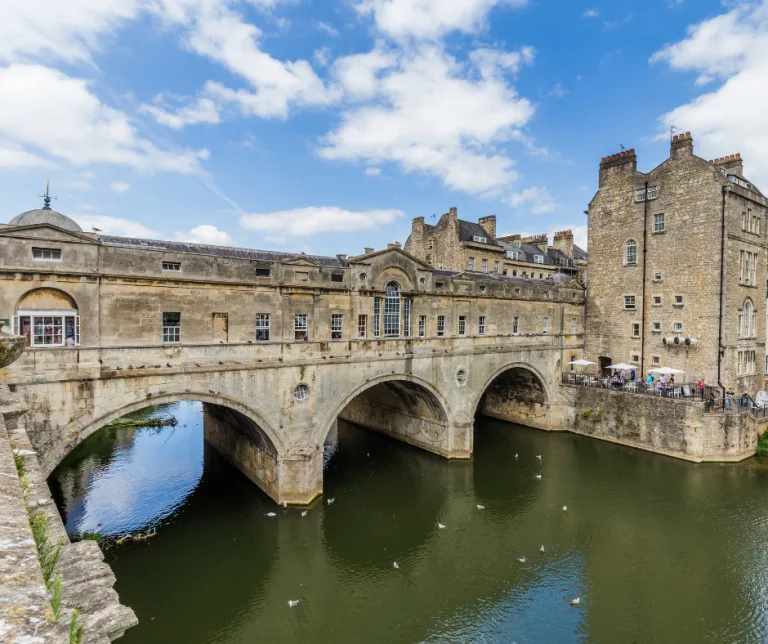 Your family will want to make time to stroll over Pulteney Bridge, one of only a few historic bridges in the world lined with shops. It offers beautiful views of the River Avon and is a great spot for photographs. There are alsoboat tours on the river which are fun for all ages.
Bath also has strong connections to novelist, Jane Austen. The Jane Austen Centre allows you to learn about her life and the time she spent in Bath. There's also a Regency tearoom where you can enjoy a traditional English tea. This is a "must do" for any Jane Austen fans in your family.
Let the younger kids burn off some energy in Victoria Park. It has a fantastic playground, a boating pond, and lovely green spaces for picnics or games. This park is also home to the Bath Maze; it's a fun challenge for the kids to see how can make it to the center first.
9. Head to Shakespeare's Birthplace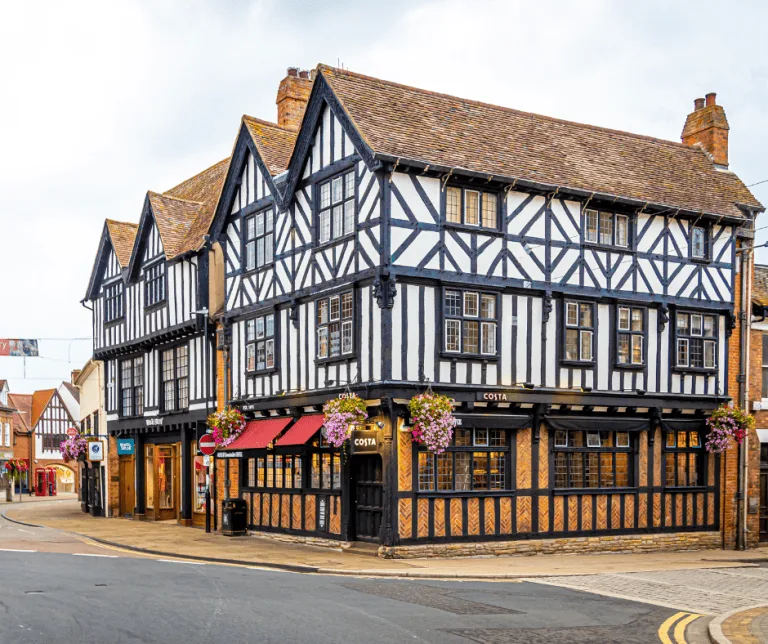 A day trip to Stratford-upon-Avon is a delightful journey into the heart of England's history and literary heritage. This charming town is famous for being the birthplace of William Shakespeare and has several attractions to visit.
Stratford-upon-Avon is easily accessible by train from London Marylebone Station, and the journey takes approximately two hours. The town is compact, so most of the attractions are within walking distance of each other.
Start your day by exploring Shakespeare's Birthplace, where the world's most famous playwright was born and spent his childhood. You can wander through the rooms where he lived and see exhibits related to his life and works.
After visiting Shakespeare's Birthplace, walk to Hall's Croft, the former home of Shakespeare's daughter, Susanna. The house and its beautiful gardens offer insights into the life of a Tudor-era physician's family. You can also visit Anne Hathaway's Cottage, the childhood home of Shakespeare's wife. The picturesque thatched cottage and its gardens provide a glimpse into rural life in the 16th century.
If you're a fan of the Bard, consider catching a play or taking a backstage tour at the Royal Shakespeare Theatre. Check the schedule for performances and events. The town is also home to several quaint restaurants or pubs. After grabbing a bite to eat, explore the town's boutique shops, which offer everything from antiques to local crafts.
If you are looking for a non-Shakespeare activity for the kids, visit the Stratford Butterfly Farm. There you can walk through a tropical rainforest environment and observe a variety of exotic butterflies.
10. Enjoy a Seaside Day in Brighton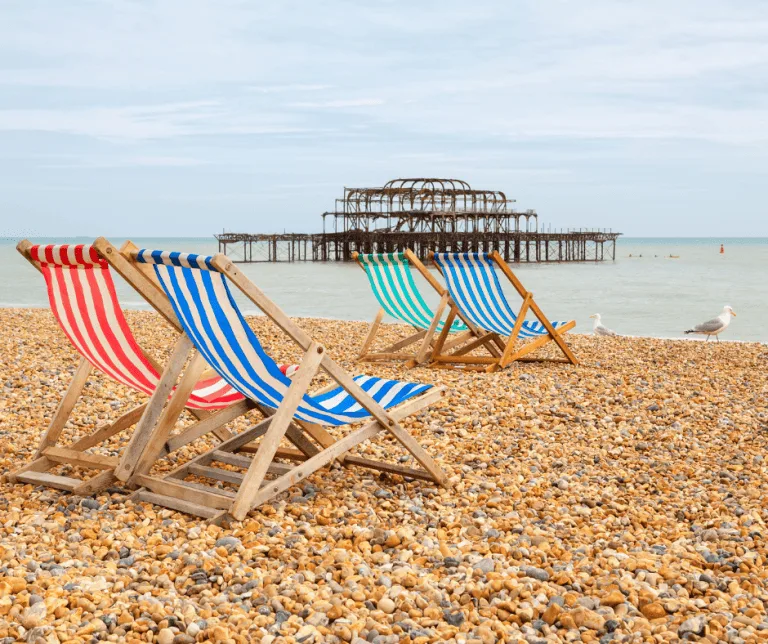 Brighton is a vibrant seaside city on the south coast of England A day trip here is an excellent way to experience a mix of culture, history, and the seaside fun. A train trip from London Bridge or London Victoria stations only takes about an hour.
Begin your day at the iconic Brighton Palace Pier. Stroll along the pier, enjoy the fresh sea breeze, and take in the views of the English Channel. You'll find an array of amusements, arcades, and food stalls here to enjoy. You can also rent a deck chair and enjoy the views of the sea from Brighton Beach's pebbly shores.
From the pier, it's a short walk to the Royal Pavilion, one of Brighton's most famous landmarks. This opulent and exotic palace was once a royal residence and is known for its unique architecture and beautiful gardens. You can take a tour of the interior (admission fee applies) or simply admire the exterior and gardens.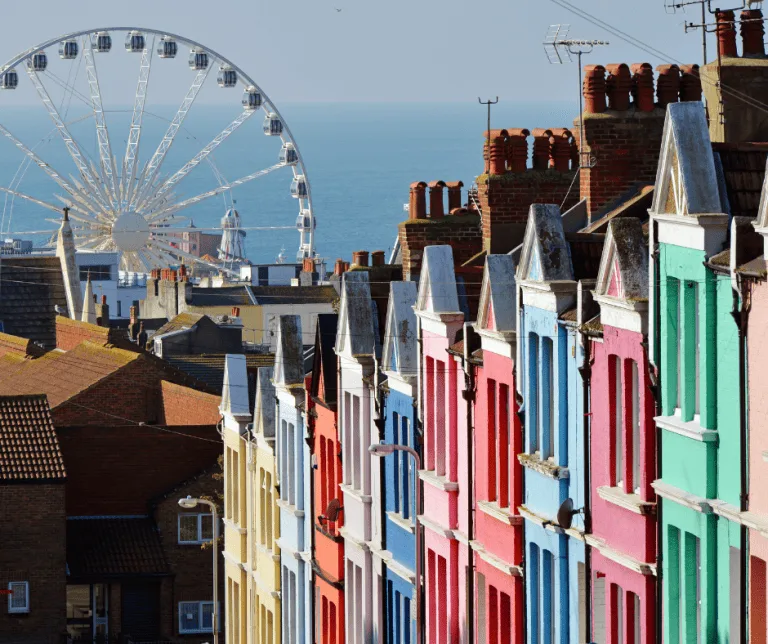 When you get hungry, head to The Lanes, a historic part of Brighton known for its narrow, winding streets filled with quirky shops, boutiques, and restaurants.
To see the region from above, take a ride on the British Airways i360 observation tower. It slowly ascends to 450 feet, providing panoramic views of the city and the coastline. You can enjoy a drink or snack at the onboard Sky Bar.
Lead image by Melissa Moore.