Do the stomping grounds of kings and queens and the beloved Harry Potter have you longing for a visit to London? If the answer is yes, prepare yourself for sticker shock. Prices look deceptively reasonable until you factor in an exchange rate that almost doubles the value in dollars. With a few tips and tricks you can visit London with kids without breaking the piggy bank.
Must-Read Tips for Visiting London on a Budget (with Kids)
Budget Saving Tip: Book Accommodations First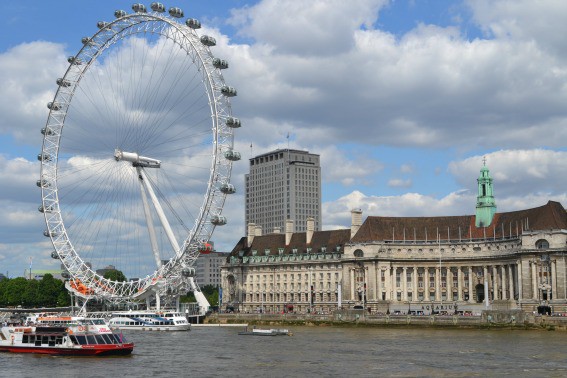 When I first started searching for a hotel room in central London for our family of four, I began to panic, truly panic. Why? Because many hotels in London, and Europe in general, do not accommodate more than two people in a room (especially in the historic hotels I was considering). Room rates easily topped $500 a night in the mid-range (not upscale or luxury) hotels I was finding just four months before our arrival.
I finally decided on the budget hotel Premier Inn County Hall. Premier Inn has a chain of over 650 hotels across the UK and Ireland. They are known for having flash sales and deals where rooms are $50 or $60 a night. However, I never saw these deals offered at their central London properties.
Tip: Consider booking a family room at one of the 31 best hostels in London.
Book your stay at the Premier Inn London County Hall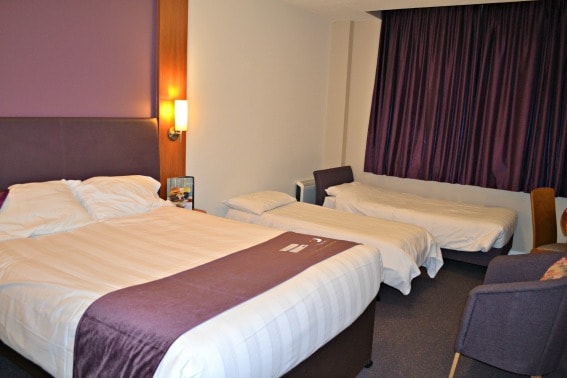 Premier Inn is a safe bet with kids. You know what to expect – clean, modern, functional, spacious rooms that sleep four people. Family rooms have a double bed, a single sofa chair that pulls out and is very comfortable, and a cot that's better for a younger child. The trade-off is that the room could be in any city. There is nothing that screams London.
The location of the Premier Inn County Hall on the Thames River is spectacularly convenient for tourists. The London Eye is next door along with a playground and park, and there are two tube stations within a five-minute walk. Within a 20-minute walk you'll find Westminster Abbey, St. Paul's Cathedral, Buckingham Palace, Covent Garden, and The Churchill War Rooms. Big Ben is just across the river over Westminster Bridge and you can catch a ride to the Tower of London at the dock in front of the hotel.
And the unexpected surprise? The service. Someone always greets guests coming in the door and the staff is pleasant. Our room for four nights ranged from $275 – $350 per night – not what I'd consider a budget hotel at home but it is for that location in London. If you are willing to stay outside of central London, Premier Inn has less expensive options with the same family amenities.
And if you're visiting during the holidays, check our guide on Christmas in London
Budget Saving Tip: Research Public Transportation Options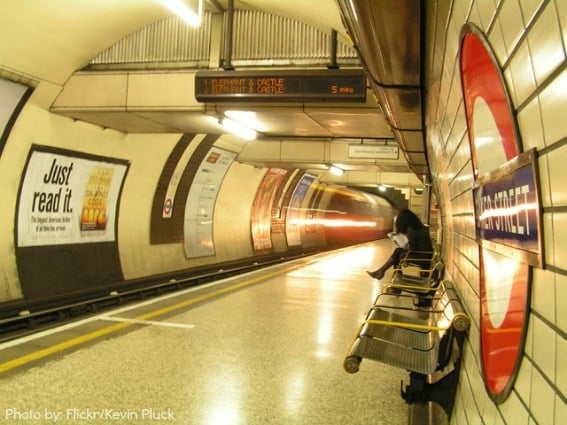 London is well-known for its excellent under and above-ground public transportation. Traffic is a snarl and cabs are expensive. The Tube (subway) is the way to travel and kids under 11 travel free with a parent. I spent time figuring out which London transportation card to buy and it saved hundreds of dollars. Whatever you choose, do not buy tickets with cash – they are almost double the price.
Budget Saving Tip: Saving on London Attractions
Play in London's Parks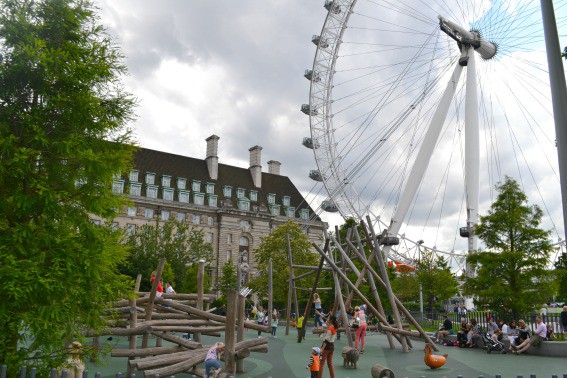 Locals and visitors love London's parks. Access is free and they are usually fenced to deter escaping little ones. The most famous may be the Diana, Princess of Wales' Memorial Playground with a pirate ship, but my kids ages 8 and 11 were thrilled with all of the parks we stopped at, especially the log climbing structure next door to our hotel in Jubilee Gardens.
Family Friendly Hotels nearby, book your stay!
Tour the City with London Walks
If you want a guided tour without the high cost of a private guide, try London Walks. They offer two-hour guided walks around the city for $20 per adult and kids under 15 are free. On the Harry Potter walks, kids are $6 and under 8 is free. They have a list of recommended London walks with kids and you can decide at the last minute, there are no reservations.
Visit Free Museums
You could spend your entire vacation at the world-class, free London museums. Choose a few or several galleries in each museum – the Natural History Museum always gets a thumbs up from young kids. Other highlights include the British Museum, which houses the Rosetta Stone and Parthenon sculptures; Imperial War Museum, great for older kids, with a focus on WW1, WW2, the Holocaust, and the United Nations; Museum of London, the world's largest urban museum; and the Science Museum, among many others.
We share our top 20 Free Things to do in London with Kids– check them out!
Family Friendly Hotels nearby, book your stay!
Experience Royal Pageantry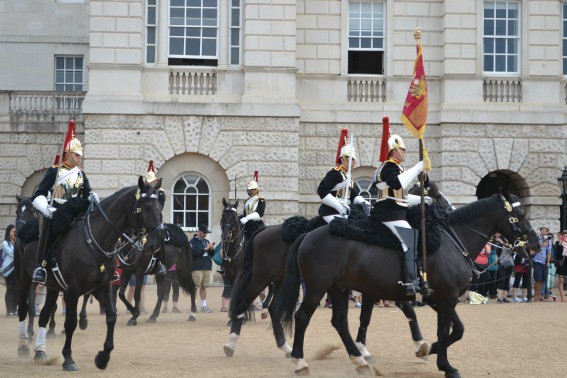 Americans are fascinated with England's royalty and don't underestimate the popularity of seeing royal pageantry for kids. The changing of the guard at Buckingham Palace is an event and unless you prepare for it (read up and get in the right spot an hour ahead of time) you'll find yourself staring at the backsides of the horses and guards. Not fun. The changing of the royal horse guards at Whitehall allows kids to get up close and personal with guards and horses without the huge crowds. It finishes just as the Buckingham Palace changing of the guard parade begins and if you run you can catch some of this "show" as well.
Family Friendly Hotels nearby, book your stay!
Editorial Note: Kristi received two nights complimentary at Premier Inn in order to review the property. She liked it so much, she stayed another two nights on her own.
Lead title image: flickr/namoscato
Considering a stop in Ireland? Check out this Ireland with kids travel guide.