Do the royal family, Downton Abbey, and the beloved Harry Potter have you longing for a London family vacation? If the answer is yes, prepare yourself for sticker shock. Planning a family trip to London can get expensive, but we have lots of ideas on how to keep costs down and still have a great vacation.
Even for those accustomed to the high cost of living in US cities, the price of hotel stays and dining in London will be a bit of a surprise. London is an expensive city. However, with a few tips, you can visit London on a budget with your family without breaking the piggy bank.
Visiting with older kids? Then don't miss our guide to 25 Cool Things to do in London with teens.
London Family Vacation- Budget Tips for a Family Trip to London
Public Transportation Options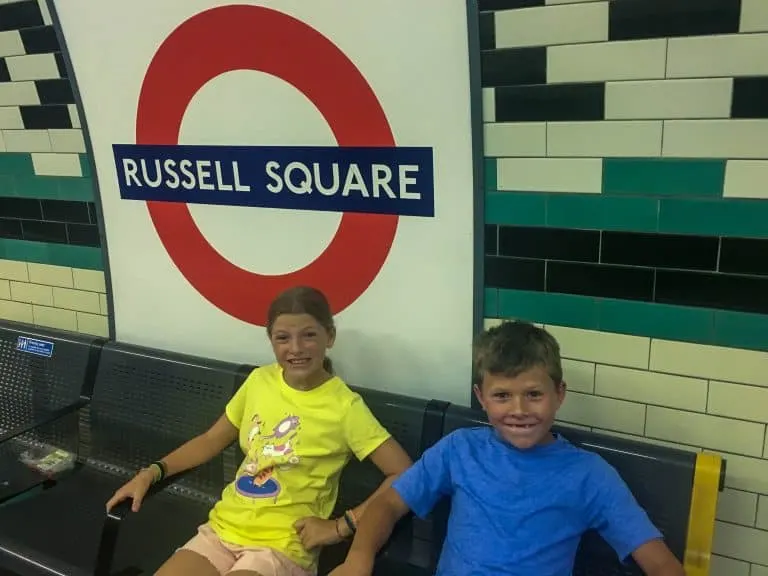 London is well-known for its excellent under and above-ground public transportation.Traffic is a snarl and cabs are expensive. The Tube, London's subway, is the way to travel.
Children under 11 travel free in The Tube with a parent. Kids ages 11-15 can receive discounted rates. London transportation can be cheap for families looking to travel to London on a budget, especially with young children under 11.
If you are traveling with very young children and use a stroller, do be aware that many London Underground stations have lots of stairs. If stairs are a problem, look for accessible stations using a map of the London Underground. Using a baby carrier is generally much easier in London, given the cobblestones and stairs.
Here is a great article on how to get around London.
How to Pay for The Underground with a Family: Tap In Tap Out
London Tube stations feature an easy-to-use "Tap In Tap Out" system. This means no figuring out ticket prices or purchasing multi-day tickets in advance! Hurray!
To enter any Tube station, simply tap in with a tap-enabled credit card, smart watch, or cell phone (using Apple Pay or the like). When you exit at your final destination, tap out with the same card. You will be charged the exact route price. If you hit daily or weekly maximums (typically about $10/day, the system automatically stops charging you.
Kids 11 and under still travel free; you can always ask accommodating staff to open the large gate for your kids (No need to stress about two running through the gate at the same time!)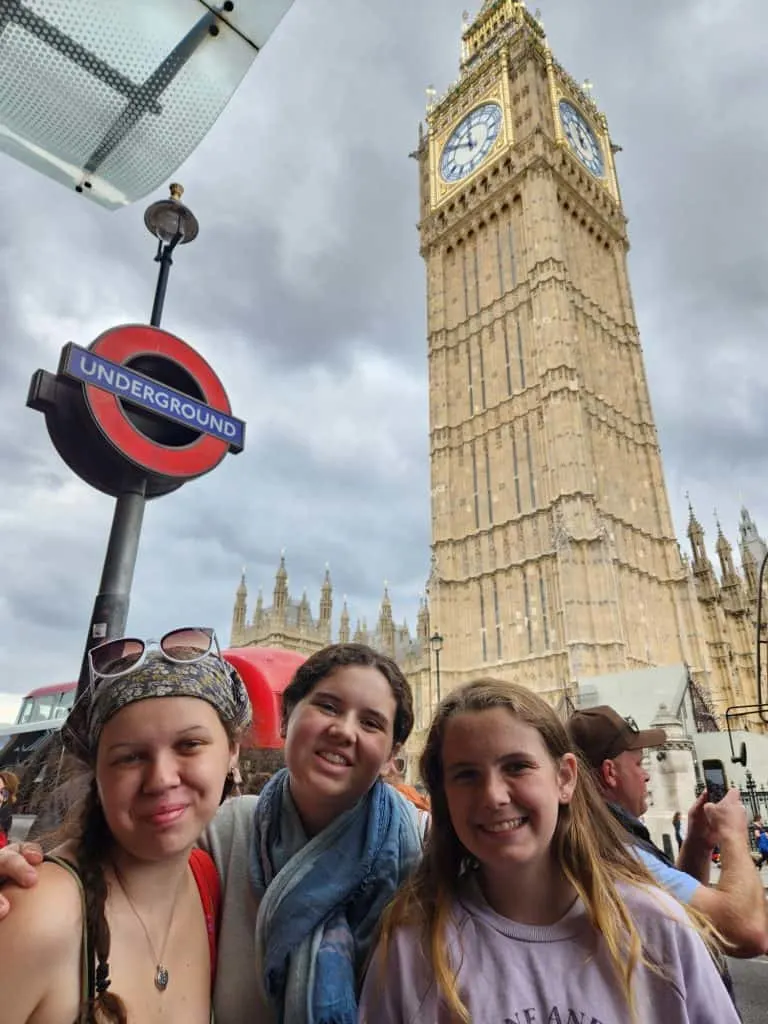 Outside the "Big Ben" Underground Tube Station. Photo by Katie Bodell
"During our summer 2023 trip, we gave each of our teens a credit card to use for the Underground. They kept it in their pockets and used it to tap in and tap out at all Tube stations.
If you don't have enough cards, don't stress. Each device acts as its own tap. One person can use a physical credit card, another person could tap with the same card on Apple Pay on their phone, and another tap the same card with Apple Pay on their Apple Watch. Just be sure you have a credit card with no foreign transaction fees or these little payments can add up." – Katie Bodell, Blog Editor
Note: To take advantage of 11-15 year-old pricing, you must buy pre-paid half-price Oyster cards.
Although being phased out, Oyster Cards are still an option for families, especially if you don't have tap-enabled credit cards. Oyster Cards can be purchased at most train stations and you will have to plan your zones and the number of days you want to use them. There is a £7 fee per card added to your route plan.
If you're looking to save money getting to London from Heathrow Airport, remember to book your tickets on the Heathrow Express well in advance. Alternatively, it is possible to reach central London using your Oyster Card on the London Underground; it just takes about twice as long.
How to Pay for buses for Families: Tap On
Buses are a much slower option in London, but they are included in your daily and weekly public transportation caps. On our recent visit to London, we had hit our Tube/bus weekly max so traveling on either for the rest of the week was free. Score!
In case you do hop aboard a bus, you only need to tap on with a card. For above ground transit like this, it doesn't matter where you get off. Kids will love the double decker bus, so this option can be a fun one.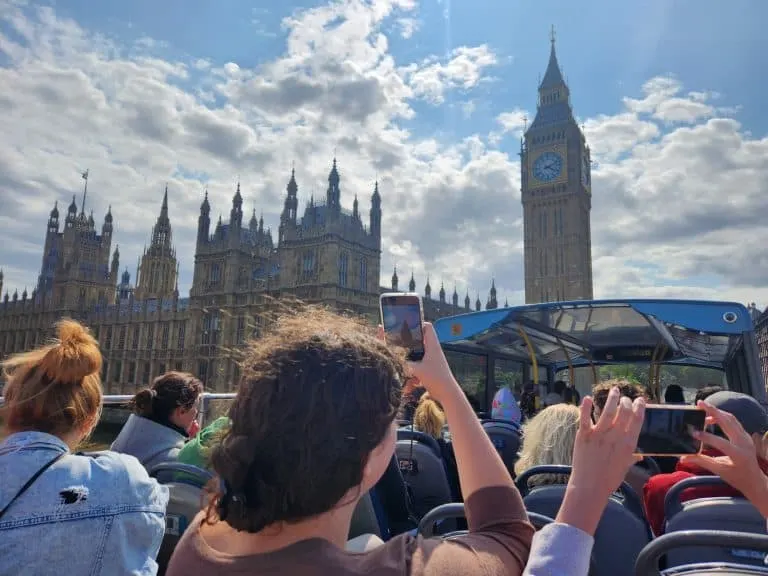 On board a Hop On Hop Off Bus in London. Photo by Katie Bodell
Consider a Hop On Hop Off Bus Tour as a Mode of Transportation
Hop On Hop Off Buses offer a great way to explore the city, decide which sites you want to return to, and even to use as transportation. Our London Pass, by Go City, included a guided Hop On Hop Off Bus Tour, which we used both as an activity and as a way to get from point A to point B. The nice bonus of this mode of transport is that the double decker buses are open air, giving you panoramic views of London as you travel about.
Book your stay at Family Friendly Hotels in London.
And while you're there, why not pop into Ireland? Websites like luxuryirelandtours.com can hook you up with an incredible tour of the Emerald Isle before you get back on your plane.
Saving on Attractions on Your Family Trip to London
Visit Free Museums on Your London Family Vacation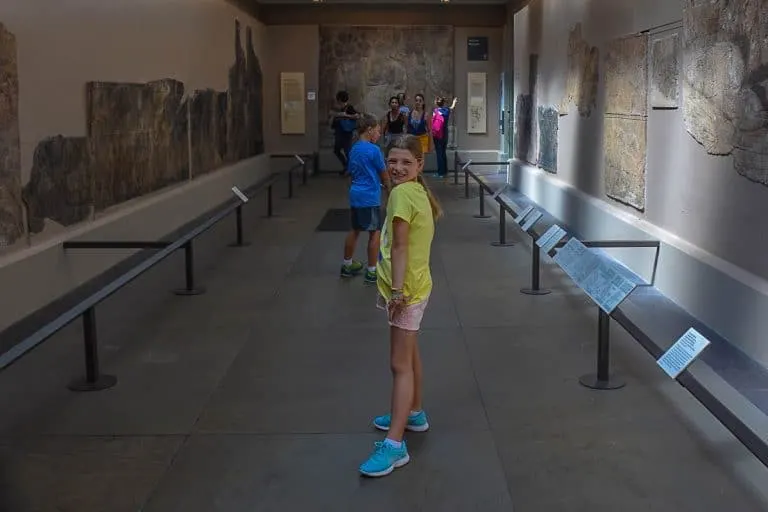 You could spend your entire vacation at London's free, world-class museums. Choose a few or several galleries in each museum. The Natural History Museum always gets a thumbs up from young kids.
Another highlight is the Imperial War Museum, great for older kids, with a focus on WW1, WW2, the Holocaust, and the United Nations. The Museum of London, the world's largest urban museum, is usually a good bet, too.
We have a whole article on free things to do in London. Check them out.
Check out all these incredible day trips to London with kids and don't miss these hidden gems in London.
Family Programs at London's Top Museums
Many of London's free museums offer family programs. Check the schedule at The National Gallery, London, in Trafalgar Square.
If you're visiting London's top sites like Buckingham Palace and Westminster Abbey, you'll likely be passing through this busy area on multiple occasions. The National Gallery is free, so take a walk around.
British Museum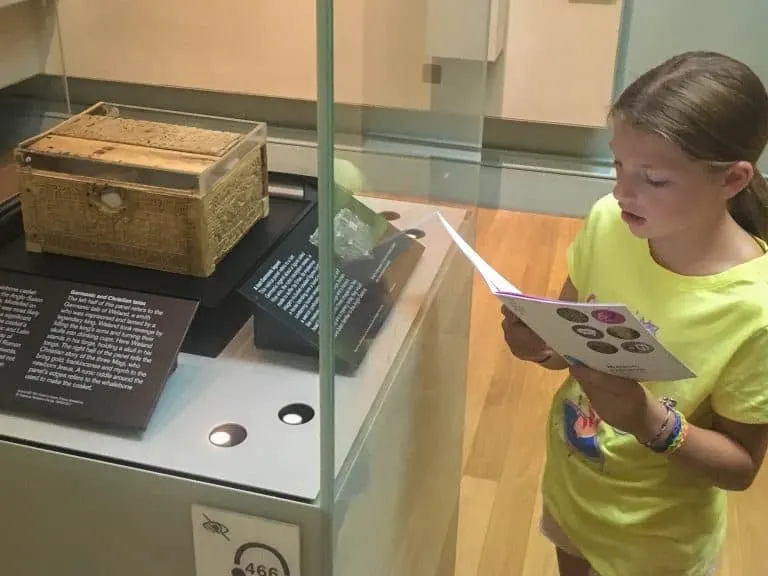 The British Museum is also free to visit. Many families stop in just to see the highlights, like the Rosetta Stone.
However, if you have more time, be sure to stop by the Families Desk in the Great Court and pick up a free family trail. There are several trails from which to choose, including Ancient Greece and Ancient Britain. Our family choose to learn a bit of British history. Family trails take 30-45 minutes to complete.
Victoria and Albert Museum of Childhood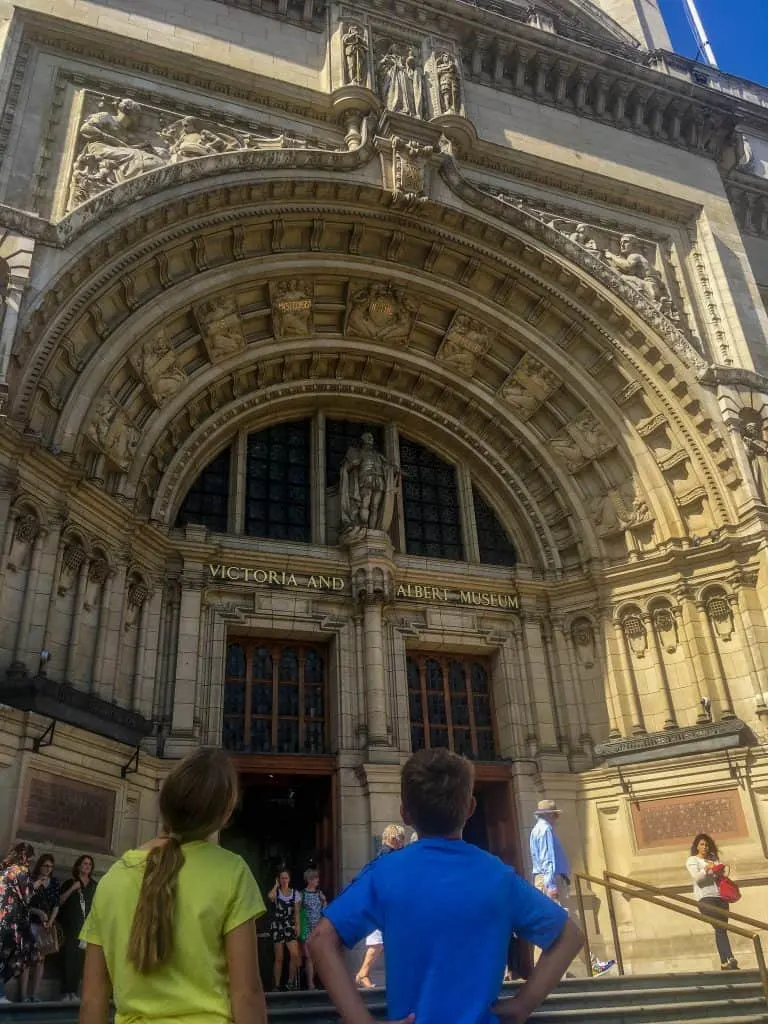 Surprisingly, we found the most family fun at the Victoria and Albert Museum, now known as the V & A Museum of Childhood. From hands-on displays to the addictive V&A Secret Seekers App, the Victoria and Albert Museum was our family's favorite free London museum.
The app directed our family all around the museum to the most historic rooms and displays. After answering questions on the app for hours, we enjoyed a snack in the most ornate museum dining room that I've ever seen. What a great way to spend an afternoon inside during a London heat wave!
London Budget Travel Tip: Looking for things to do on a London family vacation? We share our top 20 Free Things to do in London with Kids– check them out!
Family Trip to London on a Budget: Playgrounds & Fountains to Enjoy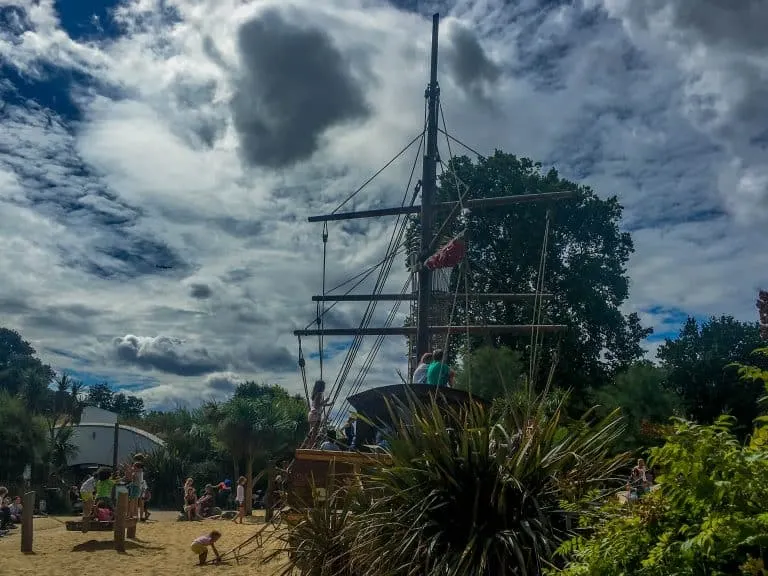 Locals and visitors love London's parks. Access is free, making them perfect for families traveling to London on a budget. Parks are usually fenced to deter escaping little ones. The most famous may be the Diana, Princess of Wales' Memorial Playground with a pirate ship.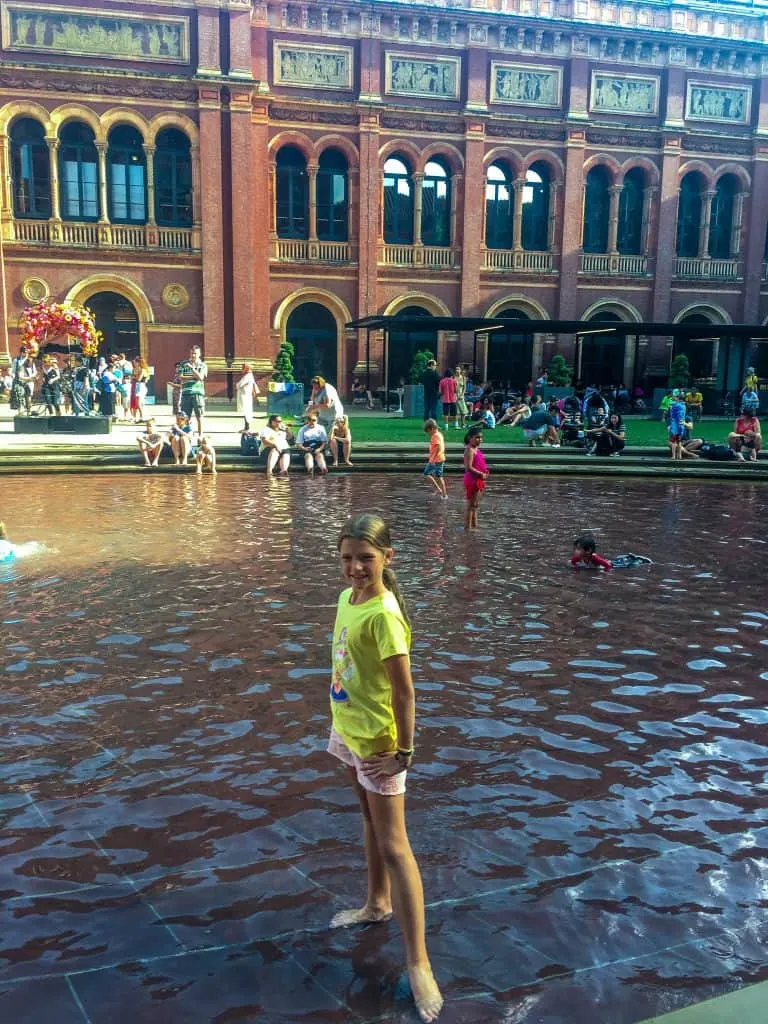 During a summer heat wave, you'll be happy to know that the Diana, Princess of Wales Memorial Fountain, also located in Hyde Park, is a great place for kids to play for free.
Yes, it gets busy, but little ones could spend hours wading through the streams of water. Another free place to cool off in London is the splash pool and fountain in the courtyard of the Victoria and Albert Museum.
Budget Friendly Tour- London Walks
If you want a guided tour without the high cost of a private guide, try London Walks. They offer two-hour guided walks around the city for $20 per adult and kids under 15 are free.
They have a list of recommended London walks with kids and you can decide at the last minute, there are no reservations.
Experience Royal Pageantry on Your London Family Vacation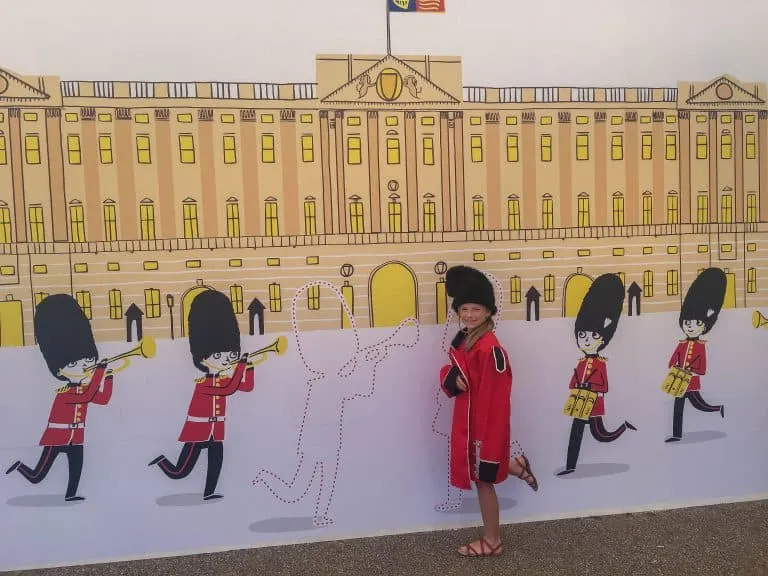 Americans are fascinated with England's royalty and don't underestimate the popularity of seeing royal pageantry for kids. The changing of the guard at Buckingham Palace is an event. Unless you prepare for it, you'll find yourself staring at the backsides of the horses and guards. Not fun.
The changing of the royal horse guards at Whitehall allows kids to get up close and personal with guards and horses without the huge crowds. It finishes just as the Buckingham Palace changing of the guard parade begins and if you run you can catch some of this "show" as well.
If you're visiting London during the summer months, check to see if Buckingham Palace is open for tours. While this isn't one of the cheapest things to do in London, it is a worthwhile splurge for families.
An audio tour for kids in included in the price of admission. Also, there are fun activities for families located outside the palace for families to enjoy after their self-guided audio tour.
Traveling to London on a Budget? Family Friendly Hotels nearby, book your stay!
Get Free Kids Week Tickets to West End Shows in August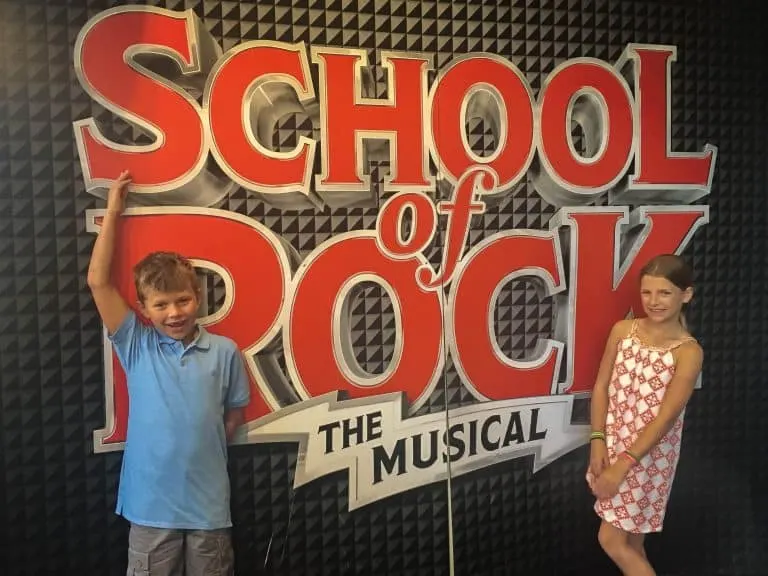 If theater is something that your family enjoys, London is a great place for families to enjoy a show. From Wicked to the Lion King, there are lots of shows for families to choose from in London's West End.
There are discounted tickets available year-round. However, some of the best discounts can be found in August during the special Kids Week promotion.
London Kids Week actually lasts the entire month of August. In 2023, the event runs from July 17 to August 31. Beginning in June, families can purchase special free tickets for kids. For every adult ticket, one free children's ticket can be purchased for certain shows.
Additional children's tickets are half price. My family saw Aladdin, The King and I, 42ndStreet, Wicked, and Mama Mia using this promotion. We only live four hours from New York City, but we found it cheaper to see these shows in London.
Splurge on Afternoon Tea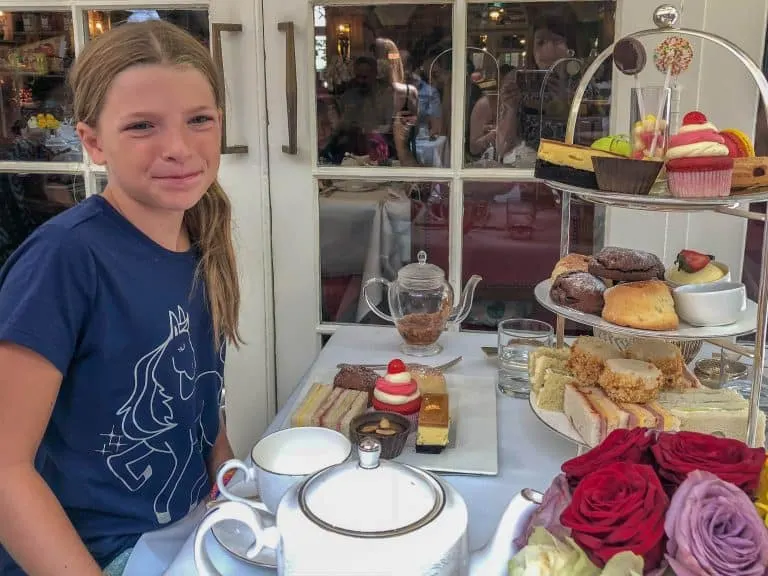 While you may not think of having afternoon tea in London as a budget-friendly experience, it can be a relatively good deal, especially for families.
Food is plentiful at afternoon tea, you'll leave stuffed, having eaten enough for both lunch and dinner. Desserts that go untouched at afternoon tea can often be packed away for a snack later in the day.
If you're enjoying tea with young children, be sure to find a place that has offer's a children's tea. Children's tea is often half the price of an adult tea.
It also offers a selection of sandwiches that are more familiar for children than the adult selections. Furthermore, if a restaurant offers a children's tea on their menu, families can know that well behaved children are welcome for afternoon tea.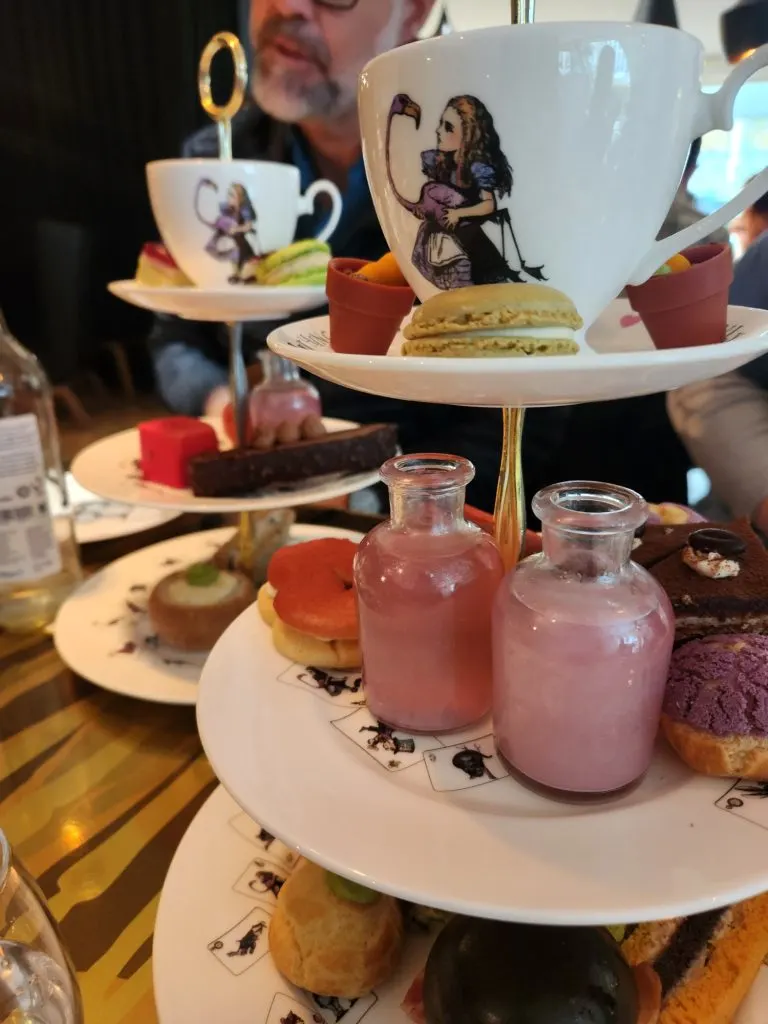 Looking for something a bit more whimsical?
The Mad Hatter Afternoon Tea at the Sanderson Hotel is just £35 for kids and includes all-you-can eat savory sandwiches, a wealth of delicious sweet treats, plenty of tea, and an adorably delightful Mad Hatter theme.
From "drink me" elixirs and Red Knight Army Shortbread Cookies to Hazelnut Caterpillar Èclairs and devine hot chocolate (in case the tea doesn't suit their fancy), your kids will be over the Cheshire-Cat moon. Moms and dads can add champagne to their Afternoon Tea to make the event even more of an adventure.
Disclosure: Trekaroo received a complimentary Afternoon Tea at the Sanderson for this review. All opinions are our own.
Budget for Experiences Your Family Loves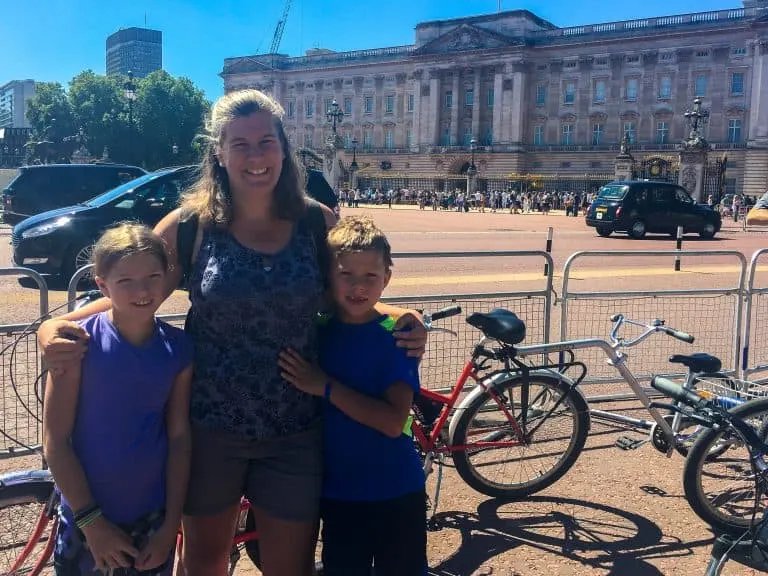 If you're going to travel all the way to London, be sure to make room in your budget for those things that your family loves to do when they travel. My kids love to take bike tours. They typically meet other kids. Also, they burn off some energy while seeing a large part of the city.
Check out these great bike tours in London, including ebike tours.
I have found that bike tour guides tend to be active people that enjoy having kids along for the ride. I enjoy bike tours because we learn a lot about the city and get good ideas for things that we want to return to explore further.
Whatever it is that your family loves, be sure that you budget for it and include it in your itinerary. If you have a Harry Potter fan, it's not worth flying all the way across the Atlantic only to skip the Harry Potter Studio Tour.
Have a teenager studying World War II? Don't skip the Churchill War Rooms. Be sure to prioritize what is most important to your family on your London family vacation.
Unless your family is planning to go to several museums with an entrance fee, it is unlikely that a London Pass will be economical for your family, especially when traveling with younger children.
Popular fee-based attractions like the Tower Bridge, Tower of London, Westminster Abbey, The Globe Theatre, St. Paul's Cathedral, and the London Zoo all have admission prices that can add up for families.
If you know you are going to do a handful of these must-see attractions in London, consider buying a London Pass from Go City. Kids passes start at £39 and include as many attractions as you can see. You can choose the number of days that works for your family and budget accordingly. The passes are stored on an app and often include bonus perks like front of the line access!
Note: Trekaroo received complimentary London Passes from Go City to review their product. We were not required to state any particular view; all opinions are our own.
Where to Stay in London with Kids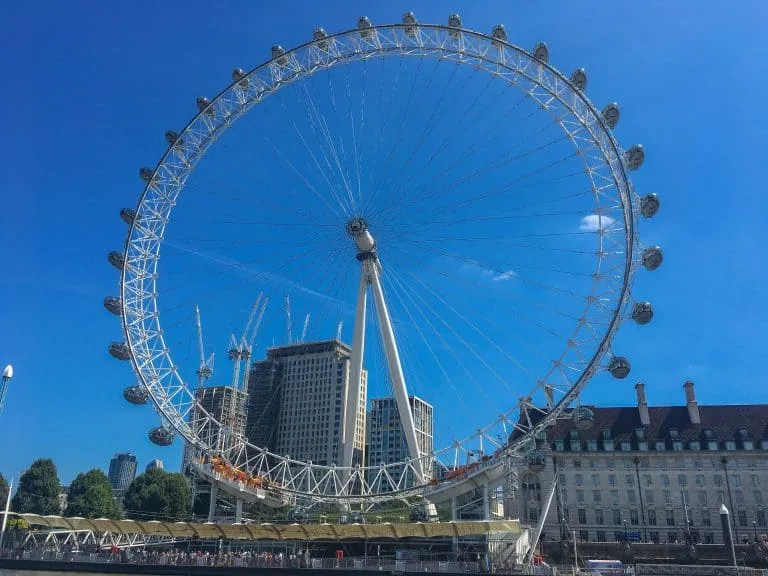 When families first begin to research hotels in London, they might begin to panic. Why? Because many hotels in London, and Europe in general, do not accommodate more than two people in a room. Room rates for a family of four easily top $500 a night in the mid-range (not upscale or luxury) hotels.
London Budget Travel Tip: Consider booking a family room at one of the 31 best hostels in London.
A good option for families is the budget hotel Premier Inn County Hall. Premier Inn has a chain of over 650 hotels across the UK and Ireland. They are known for having flash sales and deals where rooms are $50 or $60 a night. However, these deals are rare at their London properties.
Premier Inn is a safe bet with kids. You know what to expect -clean, modern, functional, spacious rooms that sleep four people. Family rooms have a double bed, a single sofa chair that pulls out and is very comfortable, and a cot that's better for a younger child. The trade-off is that the room could be in any city. There is nothing that screams London.
The location of the Premier Inn County Hall on the Thames River is spectacularly convenient for tourists. The London Eye is next door along with a playground and park, and there are two tube stations within a five-minute walk.
Within a 20-minute walk you'll find Westminster Abbey, St. Paul's Cathedral, Buckingham Palace, Covent Garden, and The Churchill War Rooms. Big Ben is just across the river over Westminster Bridge and you can catch a ride to the Tower of London at the dock in front of the hotel.
Book your stay at the Premier Inn London County Hall
Considering a stop in Ireland? Check out this Ireland with kids travel guide.
Editorial Note: Many thanks to Kristi Marcelle who wrote the first version of this article. Kristi received two nights complimentary at Premier Inn in order to review the property. She liked it so much, she stayed another two nights on her own.
All photos by Melissa Moore unless otherwise noted.