What would you say if I told you that San Francisco cradles a natural oasis in its urban heart? Located at the northern end of the famed Golden Gate Bridge, the Presidio of San Francisco is part of the largest U.S. national park in an urban area. As you can imagine, there are lots of awesome things to do at Presidio Park of San Francisco.
Presidio Park of San Francisco is home to 30 butterfly species, 323 kinds of birds, and 330 types of native plants. Inside its perimeter, there are three watersheds, a tidal marsh, and a freshwater lake.
A variety of hiking experiences reveal the splendor of what makes this San Francisco Bay Area attraction truly special. Bottom line: it's the perfect natural escape in the middle of the city!
You may already know the Presidio as a former U.S. Army post, but it is so much more. Let's explore the best experiences in the San Francisco Presidio!
Here are our favorite things to do in Northern California on a family vacation.
10 Fun Things to do at Presidio Park of San Francisco
1. Stop by the Presidio of San Francisco Visitor Center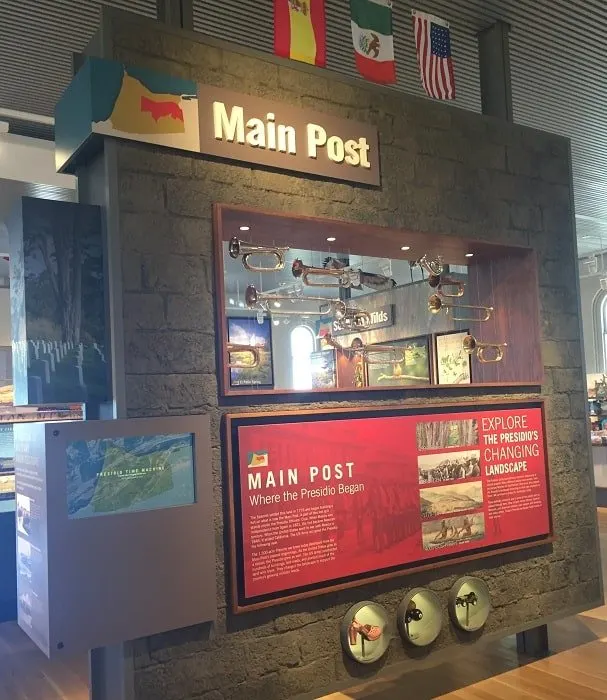 The Presidio Visitor Center is a great resource for perfecting your plans. Ask questions, get directions and pick up maps; the staff is ready to assist with whatever you need.
History is as prevalent throughout the Presidio Park grounds as is the stunning natural beauty of the place. Take some time to absorb the exhibits in the visitor center.
There are so many surprising stories connected to this place. Familiarize yourself with the area. Then set out to enjoy it, knowing you are somewhere truly unique!
2. Find the Best Spots for a Perfect Picture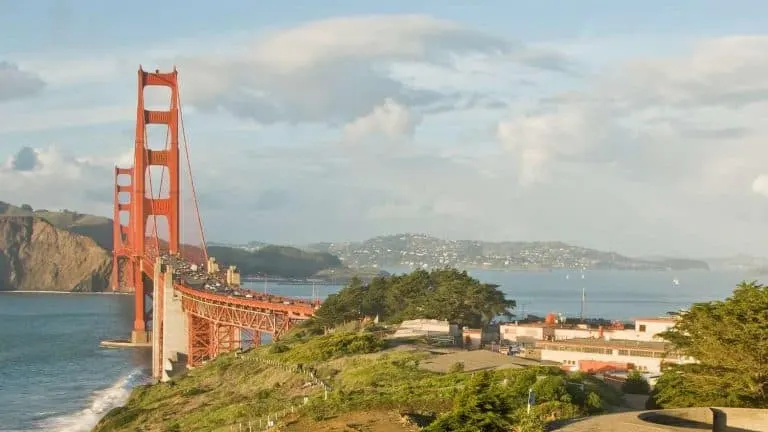 It can be a challenge to get teens off their devices. So why not make the device the way your teens engage with the Presidio? Here are some Instagrammable spots to get your teens hunting for their next great selfies:
The Yoda Fountain: Located outside building B at Letterman Digital Arts Center, there is no Star Wars wisdom imparted by this Yoda, only a fun photo opp.
Star Wars memorabilia at Lucas Arts: Located in the lobby of the Letterman Digital Arts Center, visitors are welcome to peruse the gallery of Lucas film memorabilia during business hours. A must for Star Wars fans!
Andrew Goldsworthy's art installations: There are four; Spire, Wood Line, Tree Fall, and Earth Wall. A three-mile loop along Presidio's trail network allows visitors to enjoy all four works.
The Golden Gate Bridge: There are a few spots in the Presidio where you can get a selfie with the bridge. The first is just outside the Visitor Center.
The Disappearing Gun: a 50-ton rifle at Battery Chamberlin. It is the only battery still containing an operational gun like those that defended San Francisco's coastline in the early 1900s.
Check for hotel availability near the Presidio of San Francisco. As A Booking.com affiliate, Trekaroo is proud to offer our readers the lowest rates guaranteed.
3. Enjoy History and Nature Together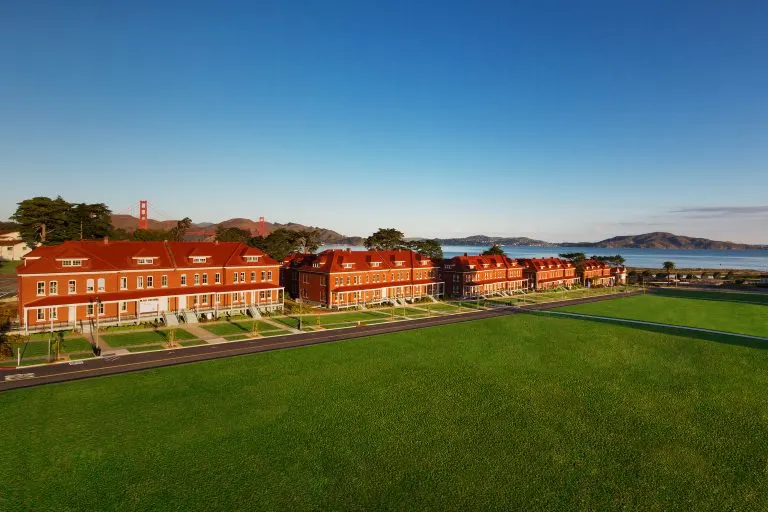 Before there was San Francisco, there was the Presidio. Founded in 1776 as a Spanish military fort, it was briefly under Mexican control before it began a 148-year stretch as a U.S. Army post.
It's easy to see why this spot was so desirable. On a clear day, the open views of the coast made spotting intruders super easy. Today the views reveal the Marin Headlands across the Golden Gate and offer a bird's eye look at the shipping lanes.
The forests of eucalyptus, cypress, and pine trees in this park are lush. You can see stars and may encounter coyotes at night.
Military history is still tangible today as well. Fort Point, tucked into one of the base arches of the Golden Gate Bridge, offers a look back at the Civil War era. Battery Bluff Park, which sits along the Presidio Promenade Trail, offers visitors a good look at the four gun batteries that give the park its name.
Built by the U.S. Army between 1899- 1902 with the mission to defend the San Francisco Bay, the Blarney, Baldwin, Slaughter, and Sherwood batteries are quite a sight! While there are historic buildings throughout Presidio's 1,491 acres, history buffs will want to start with those around the Main Post.
Discover our picks for the best things to do in San Francisco with kids.
4. Explore the Main Post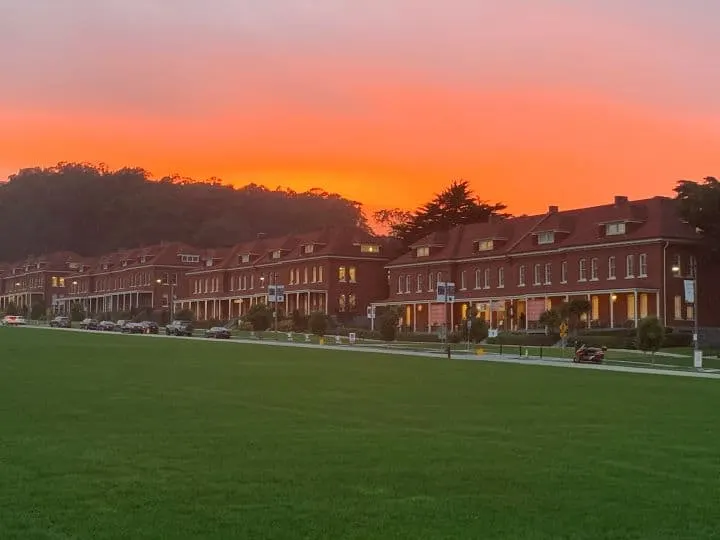 The Presidio Officers' Club is a great starting point for checking out the Main Post. The building's original abode walls, erected in 1776, still stand. There's also a lot of fascinating archaeological activity in the area directly around the building.
The club is free and open to all. While it offers exhibits tracing the Presidio's history, the kids will most enjoy the weekend craft projects.
Just a short walk away is the Parade Ground, a six-acre expanse of land once used for military exercises and ceremonies. Today it's a great place to play with your dog, enjoy time with friends or simply take in the historic and beautiful surroundings.
On days when Karl the Fog (as San Franciscans refer to the famous area weather system) envelopes the view and cools off the area, there's still quite a bit to enjoy.
The Walt Disney Family Museum offers an interesting look into the humble beginnings of Disney. The Presidio Bowling Center is also nearby. This 12-lane alley was once one of the perks enjoyed by those stationed on the base. Its small size makes it a great place to introduce kids to bowling without overwhelming them.
5. Pack a Picnic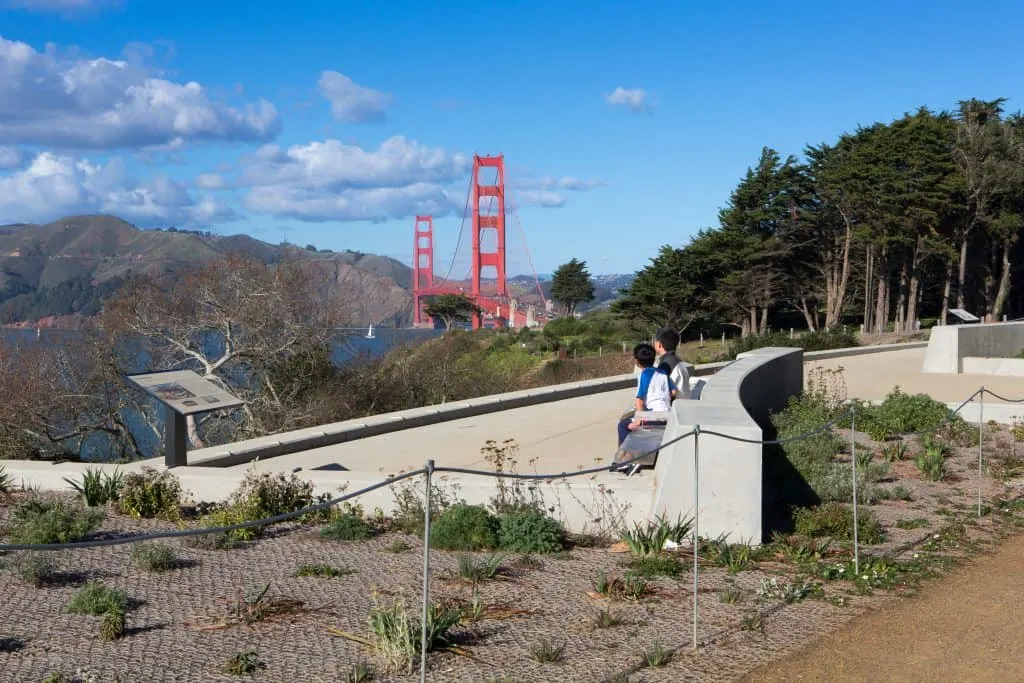 The Presidio has many spectacular spots for a picture-perfect picnic. Enjoy lunch with the Golden Gate Bridge or Alcatraz as your backdrop at West Bluff Picnic Area and East Beach, just off Crissy Field. Restrooms, picnic tables, and grills are available.
It doesn't get more scenic than enjoying a PB&J while perched on a stone wall at Immigrant Point with the Pacific Ocean stretched out in front of you! Pershing Square also has picnic tables, as does the Presidio Wall Playground.
The lawn in the Main Parade Grounds is also a great place to spread out a blanket and dive into a basket. As luck would have it, the picturesque picnicking opportunities have expanded greatly thanks to the opening of Battery Bluff Park and the Presidio Tunnel Tops.
If you didn't pack in your lunch with you, don't worry! Several options are still available to you including the Colibri Mexican Bistro in the historic Officer's Club. There's also the Presidio Social Club. On sunny days, the restaurant deck is often full of kids and dogs enjoying a delicious meal with their grownups.
6. Play Outside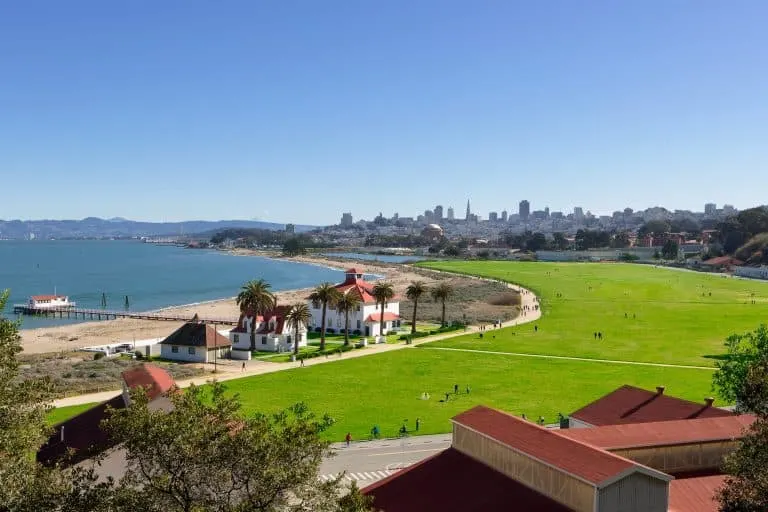 Crissy Field, once an Army airstrip, is now a go-to spot for kite-flying kids and Frisbee-chasing dogs instead of planes and hangars. If your plans include hiking, there are 24 miles of trails in the Presidio.
There's even a 2.7-mile trail that is accessible for all abilities and modes of transportation, including bikes, strollers, and wheelchairs.
Above the Presidio Main Post is a playground with the best view you'll ever get from a climbing structure. The Golden Gate Bridge towers peek over the trees at Presidio Wall Playground.
Located within the Tennessee Hollow Watershed, it is a great starting point for a hiking adventure where you can check out reforestation efforts. There's plenty of open space to run around with nearby playing fields and playground equipment for varying ages and abilities.
7. Play on the Tunnel Tops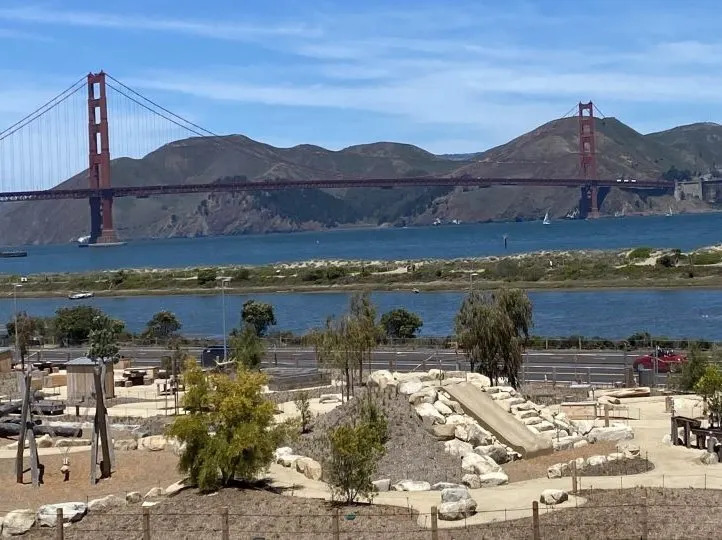 Built on top of the concrete Presidio Parkway Tunnels is one of the most imaginative park spaces ever created. The Presidio Tunnel Tops connect the Presidio's historic center to the Crissy Field waterfront. Although the concept sounds outlandish- a park on top of highway tunnels- rest assured you'll soon forget cars are running beneath your feet.
This 14-acre park offers sweeping views of the Golden Gate Bridge and ample picnic space, including an area with barbecues, a campfire circle, and an outdoor playground called the Outpost, where kids can enjoy self-guided experiences in areas for building as well as exploring art and science.
There are also a lot of opportunities to explore the Presidio's natural and cultural world in the new Field Station and participate in programs in the Crissy Field Center + Learning Labs.
8. Get Adventurous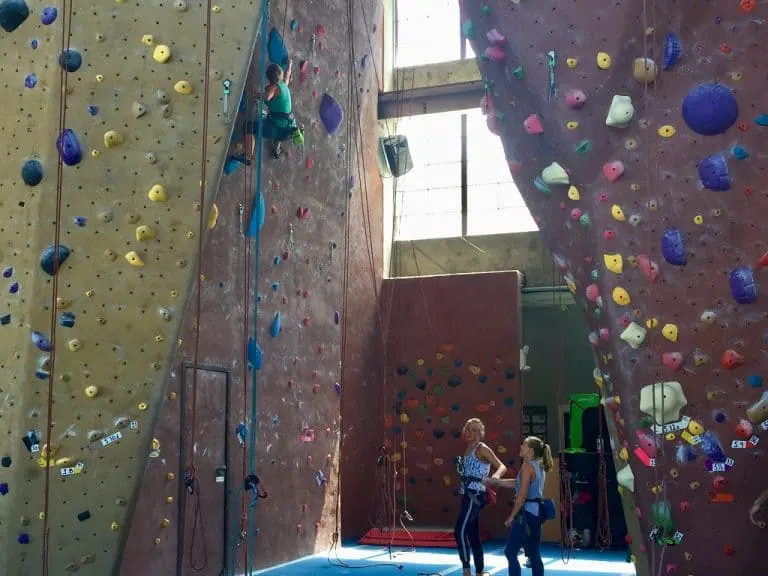 Are there adventurers in your posse? The Presidio offers indoor adventures for them to conquer. House of Air, a trampoline park, doubles as a godsend for weary parents with high-energy children.
This bouncing venue also caters to teen daredevils looking to hone their jumping techniques for snowboarding season in a safe, supervised environment with professional instruction on gymnastic grade trampolines!
Does your favored adventure involve carabiners and rope? Neighboring Movement San Francisco has 25,000 square feet of state-of-the-art climbing terrain and 45-foot high climbing walls.
9. Enjoy a Beach Day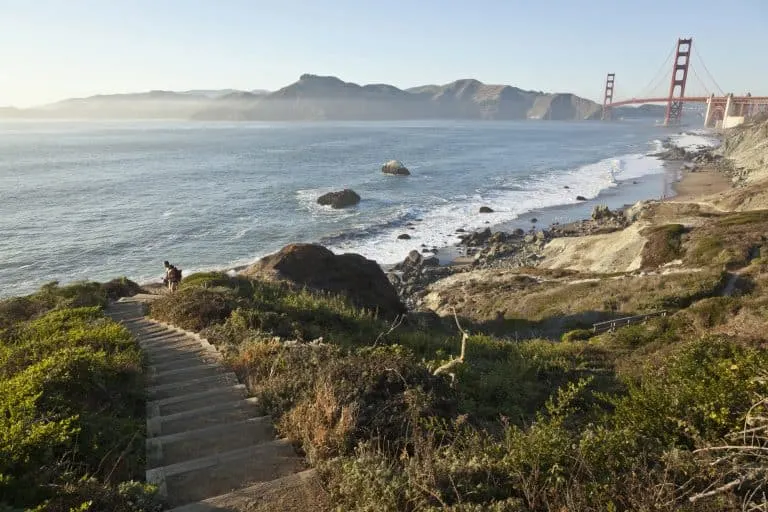 Here's a little secret you may not be aware of, the Presidio is home to some of San Francisco's best beaches! Baker Beach has a fantastic view of the Golden Gate Bridge.
The hike to Marshall Beach is advisable only for the sure-footed. Accessible via the California and Batteries to Bluffs Trails, the reward is a more secluded experience. East Beach at Crissy Field is great for cycling and jogging along the Golden Gate Promenade.
Trekaroo Tip: The Warming Hut Park Store, near Crissy Field, sells hot chocolate, a fabulous reward for a breezy bike ride along the San Francisco Bay.
10. Stay Overnight Inside the Presidio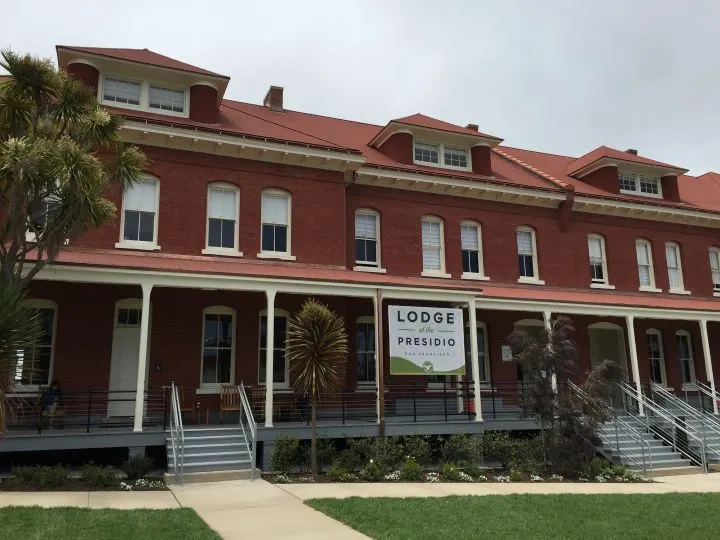 Set in a eucalyptus grove on the highest point above Baker Beach, Robb Hill Campground is the only campground in the city of San Francisco. Its four campsites can each accommodate up to 30 people.
Imagine pitching your tent, enjoying some s'mores, then dining out San Francisco-style if the mood suits you! Camping season at Robb Hill runs from April 1 to October 31.
If camping is not your thing, there are two hotels inside the Presidio. Both are located just off the Parade Grounds of the Presidio Main Post.
The Inn at the Presidio is a cozy 22-unit hotel designed for socializing and reading. There are several gathering points for guests – a living room, mess hall, and spacious porches. Books were everywhere. We had to pick up a copy of "Holes" after my daughter started reading the copy she found on the shelf in our room and had to finish it.
Its sister property, the Lodge at the Presidio, is the closest hotel to the iconic Golden Gate Bridge. The views of the bridge are so spectacular, you'll feel like San Francisco opened its Golden Gate just for you! Both Presidio hotels are not just kid-friendly; they're dog-friendly as well!
Lead image by: Hannah Fassett
Explore more family-friendly fun in San Francisco:
Kid Friendly Restaurants | Hotels | Activities | Best Bets | Alcatraz |