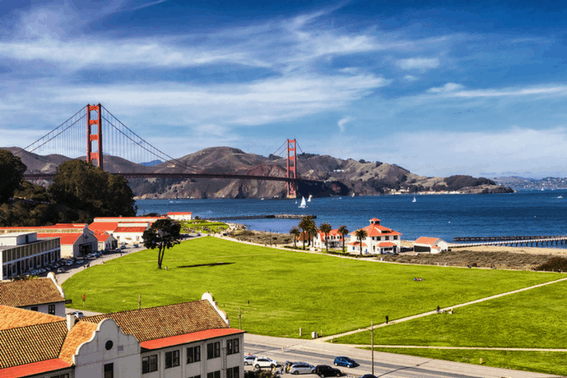 One look around the Presidio of San Francisco and it's apparent why three nations — Spain, Mexico, and the United States — decided that THIS was the spot to establish their outposts. The open views of the coast, where on a clear day the Marin Headlands beckon from across the Golden Gate, made it easy to keep an eye out for intruders and today provide a sweeping view of the shipping lanes.
Although the Presidio transitioned to the Golden Gate National Recreation Area in 1994, nods to its military history intertwine with the area's natural beauty. If it weren't for the views of the iconic Golden Gate Bridge or historic Alcatraz, visitors could quite possibly forget they were in San Francisco. The forests of eucalyptus, cypress, and pine trees in this park are lush. It's possible to see stars and encounter coyotes at night. It's also the easiest parking you'll find in any urban area. Now, if those features haven't already tempted you, get ready to take notes because the list of family-friendly things to do in the Presidio is long and ever-growing!
Featured Image courtesy of Bigstock/kropic
Try Pier Crabbing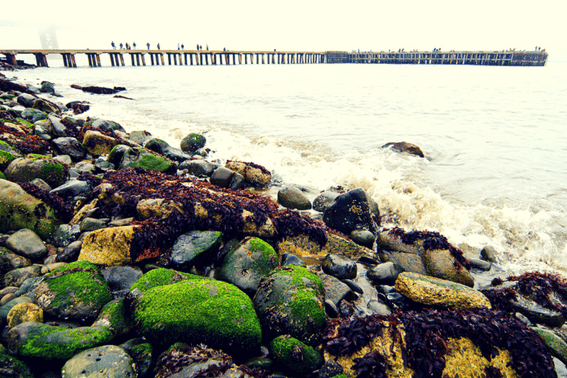 Photo by: Bigstock/robert.bohrer
The Fort Point Pier (also known as Torpedo Wharf) has long been a fishermen's favorite crabbing spot. Now your kids can try out this activity themselves; a park ranger meets groups at the pier and conducts free crabbing lessons. Offered from March through October, participants are outfitted with nets and equipment then given time to catch their own crustaceans to take home. It's a great exercise in patience for young kids as fishing cages need to stay submerged for some time to allow the crabs to crawl into them!
Look for current hotel deals nearby Presidio of San Francisco
Food Tip: Should your excursion occur on one of San Francisco's many infamous foggy mornings, make sure you duck into the nearby Warming Hut Café, to grab hot chocolate for your entire fishing crew.
Take to the Field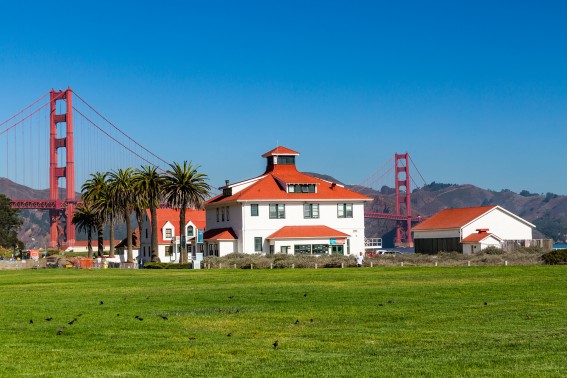 Photo By BigStock/oscity
Crissy Field, the former Army coastal defense station and air strip, and the adjacent West Bluff Picnic Area and Beach are now filled with picnicking families, kite flying kids, and Frisbee chasing dogs instead of planes and hangars. The Golden Gate National Park Conservancy restored the area, installing a trail that cuts from Marina Green to Fort Point and opening the Crissy Field Center, an environmental education hub. Youth programs, windsurfing, amazing views, and biking are only some of the outdoorsy and back to nature offerings to enjoy in Crissy Field.
There are also a few indoor adventures to conquer. Among them is the House of Air, a trampoline park, which doubles as a godsend for weary parents like me who look to wear out their high energy children. This bouncing venue caters to more than just young kids celebrating their birthdays. Teen daredevils looking to hone their jumping techniques before snowboarding season can do so in a safe, supervised environment with professional instruction on gymnastic grade trampolines!
Food Tip: If you're looking for a breakfast or lunch spot on a sunny San Francisco day, something that does occur along the coastline now and then, the deck of the Presidio Social Club is a great way to go. Apparently it is not unusual to find it full off kids and dogs enjoying the sunshine and some delicious food with their grownups.
Get Fired Up at the Presidio of San Francisco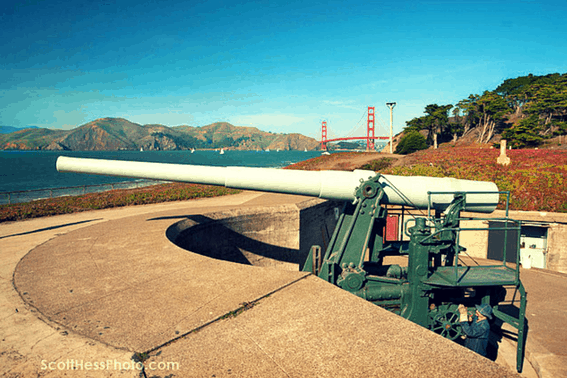 Photo by: Flickr/Scott Hess
The Presidio's coastline is dotted with the remnants of batteries and artilleries constructed into the earth in the name of coastal defense. Fifteen of them mostly located in and around the Presidio's Fort Scott area, can be explored by visitors today. While some of the Presidio's batteries provide the perfect backdrop for hide and seek or spy games, others offer staircases and landings for creative play not executable on standard playground equipment. All offer breathtaking views of the Pacific Ocean.
However, none are quite like the Battery Chamberlin. The only battery housing functional weaponry, Battery Chamberlin is the home of the "disappearing gun," a 50-ton rifle. On the first full weekend of each month, visitors can take part in demonstrations of the gun. Believe me when I tell you, you'll be hearing that shot for a while! Afterwards, visit the small seacoast defense museum in the battery's cartridge room.
Check for hotel availabilities nearby Presidio of San Francisco
Set up Camp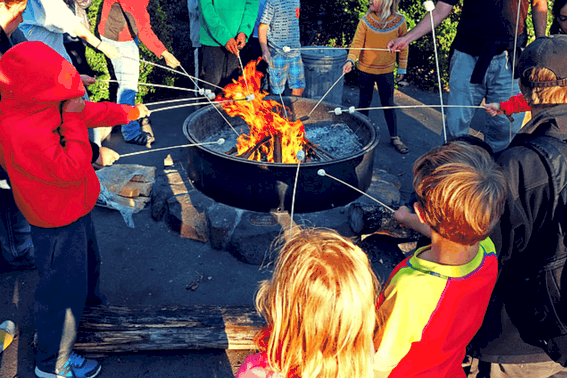 Photo by: Flickr/Anza Trail NPS
From its beginnings as a post to the earthquake survivor camp that once took over the golf course in 1906, the Presidio's history is full of stories of those who set up camp on its property. Now it's possible for families to camp there too! The Robb Hill Campground, set in a eucalyptus grove in the highest point above Baker Beach, is the only campground in the city of San Francisco. Made of four campsites that can accommodate up to 30 people each, camping season at Robb Hill runs from April 1 to October 31. Imagine pitching your tent, enjoying some s'mores, then dining out San Francisco-style if the mood suits you!
If camping is not your thing, I highly recommend booking a room at the Inn at the Presidio. Located just off the Parade Ground on the Presidio's Main Post, this cozy 22-unit hotel is not just kid-friendly, it's dog-friendly as well! Evenings are kicked off with a complimentary wine and cheese reception, a continental breakfast is included in your stay, and there are several opportunities to socialize with the other guests while you are here! The Inn has four roomy porches (upstairs and down) filled with rocking chairs, and an outdoor patio with tables and chairs ringing a welcoming fire pit. This was our favorite spot to enjoy the natural beauty both in the landscape and the guests.
Check out my full review of the Inn at the Presidio.
Explore the Main Post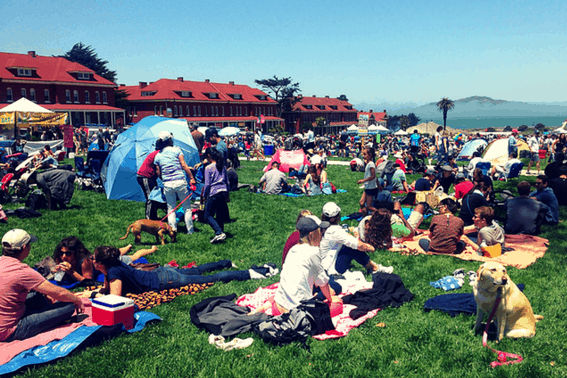 Photo by: Flickr/albedo20
Often referred to as the "heart of the Presidio," the Main Post is also thought of as the birthplace of San Francisco. It was from this area that El Presidio (the original post settled by the Spanish) was founded in 1776.
Fittingly this place is still the central hub of activity in the area as well as the keeper of many historic artifacts, some connected to the former military post, some not. It's in the Main Post where you can often peek into archaeological laboratories located behind the Officer's Club. The building they're working in may look like a row of garages at first glance but if you're lucky, you'll visit on a day when all of those doors are open and a flurry of activity is taking place as scientists study old adobe and other artifacts excavated on the grounds.
If you're looking for a more social activity, head over to Presidio Bowl. This little 12-lane alley was once one of the perks enjoyed by those stationed on the base. Its small size makes it a great place to introduce kids to bowling without overwhelming them. It's also the only bowling alley in San Francisco where parking won't be an issue.
Look for the best hotel prices nearby Presidio of San Francisco
The six-acre expanse of land in the center of the Presidio's heart, known as the Parade Ground, was once used for military exercises, and ceremonies. Today it is occasionally called back into its historic duty for commemorative celebrations and public gatherings. It also serves some purposes that the past commands would have found very "unmilitary." Among them is Film in the Fog, an outdoor movie experience (dress warm, it is San Francisco) and Shakespeare in the Park. What better way is there to introduce youngsters to the works of William Shakespeare than over a picnic?
Enjoy the Playground with the Best View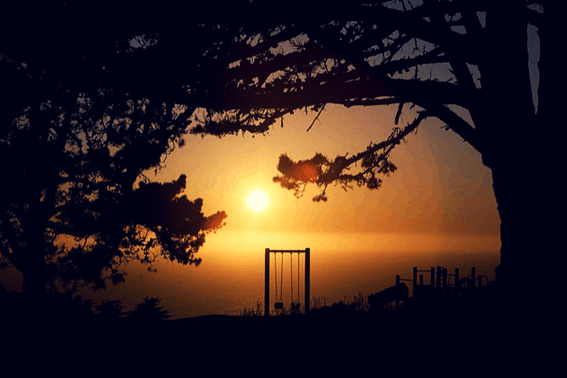 Photo by: Flickr/Andrew Whalley
Just above the Main Post is a playground with the best view you'll ever get from a climbing structure or monkey bars: the Golden Gate Bridge Towers loom over the trees at Julius Kahn Playground. Located within the post's Tennessee Hollow Watershed, it is a great starting point for a hiking adventure where you can check out recent reforestation efforts. There's plenty of open space to run around with nearby playing fields and playground equipment for varying ages and abilities. The clubhouse and picnic area situated alongside the playground can be reserved for functions like kids' birthday parties.
Let the Force Be With You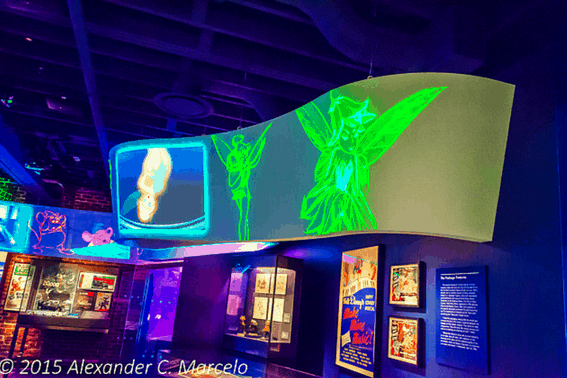 Photo by: Flickr/R. Lex-M
Old and new Disney fans will also love visiting the Presidio. The Walt Disney Family Museum offers an interesting look into the humble beginnings of the Disney Empire as well as an intimate approach to telling the Disney family story. Disney's recent acquisition of Lucasfilm has created another breed of Disney fan; just down the road from the Walt Disney Family Museum, visitors will find LucasArts' Letterman Digital Arts Center. LucasArts opened its Presidio campus in the Letterman Digital Arts Center back in 2005. Home to 1500 employees, the center stands on the footprint of what was once Letterman Army Hospital. My kids enjoy visiting this place because they like the Yoda Fountain outside of Building B. The lobby of the Letterman Digital Arts Center, which is open during regular business hours, welcomes visitors to peruse its gallery of Lucasfilm memorabilia including a life-sized Darth Vader.
For me, this part of the Presidio connects me to a bit of family history my kids aren't able to grasp quite yet. My grandfather was the commandant of Letterman Hospital. I never knew him; he died before I was born. As we explore the places he may have visited as an officer here, I would like to think that he would love how the youngest generation of his family is rediscovering and enjoying the Presidio of San Francisco.
Looking for more activities with kids in San Francisco? Check out these 17 unforgettable things to do.
Explore more family-friendly fun in San Francisco:
Kid Friendly Restaurants | Hotels | Activities | Events | Touristy Tips | Best Bets | Alcatraz | Fun for Top 10 San Francisco | K-5 | Tweens & Teens
Travel with kids to: CA |CO | DC| FL | HI | IL |MA | NC | NJ | NY | OR| PA| TN | TX | UT | VA | WA