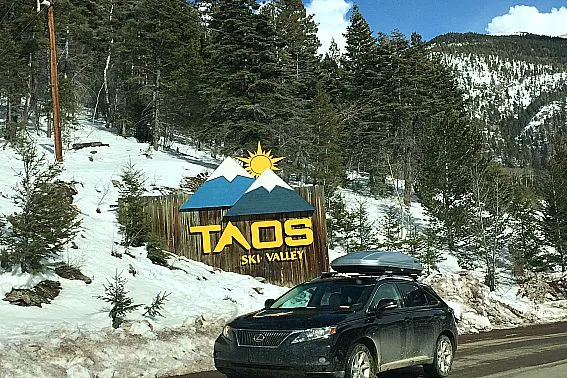 When I stepped out of the minivan, 100 yards from the slopes, it was early evening and the skiers were marching homeward looking like Clonetroopers. In their heavy boots, they marched to the beat of a victory chant, their lined faces speaking, "Don't mess with me, I skied these slopes and survived." I suddenly had an uneasy feeling that I may be in over my head trying this ski thing out. The queasiness was not just on account of adjusting to the high altitude, nor from having driven over 15 hours from Houston with our restless children. This was our very first time skiing for myself, my husband, and our three kiddos. And there I was standing in the way of these ski soldiers in my outdated, blue-and-hot pink CB Sport coat, sticking out like an awkward duckling amid a sea of Northfaces and Patagonias. I was a beginner skier trying out for the first time the notoriously steep Taos Ski Valley slopes.
Mysterious Wonder of the World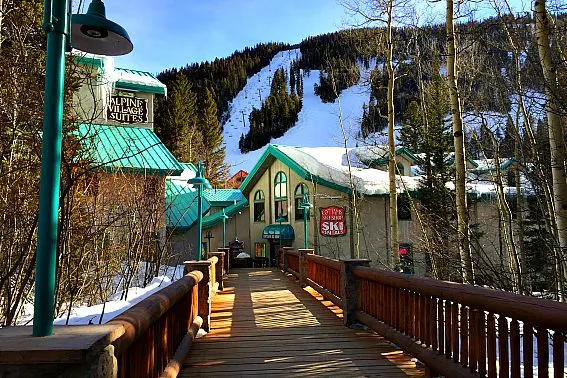 The Sangre de Cristo (Blood of Christ) Mountains of Taos Ski Valley located at the southernmost subrange of the Rockies in Northern New Mexico are legendary for their steep slopes, high altitude of over 9,200 feet, hand-picked by the founder for its close resemblance to the Swiss Alps. The views are stunning, the pine trees majestic. It's a good hour-drive up from the center of town in Taos, snaking along the river, past Taos Pueblo (not open for most of March), past dilapidated houses, abandoned trucks, and a quaint village of shops at Arroyo Seco that sells pottery and art. This is the land of adobe-mud homes, pueblos built from the solid red earth beneath.
History of Taos: This other-world beauty of Taos captured the attention of artists such as Georgia O'Keefe and Ansel Adams in the early 20th century. They aimed their lenses towards the ancient Native American pueblos and painted the red earth caught against the blazing sun surrounding the rocks, trees, and canyons in the desert. Around the time when O'Keefe and Adams brought the mystery of Taos to the limelight of a sophisticated, urbane audience in NYC, a German-born Swiss named Ernie Blake was making his way up beyond Santa Fe into Taos. In 1951, Blake climbed what would later be named Kachina Peak, its breathtaking views resembling the Alps of his roots, and built what would soon become a world-class ski resort rivaling Vail, Aspen, and Sun Valley Ski Resorts. It required skill in learning to handle these mountain and so, Blake's vision centered on the ski school. And learn they did at the hands of instructors trained by the ingenious Jean and Dadou Mayer, who were always two steps ahead of the PSIA (Professional Ski Instruction Association). Three cultures: the Native American, Mexican, and Anglo cultures spun on the axis of this world all unto its own. And at the peak of it was Taos Ski Valley.
Learning to ski as an adult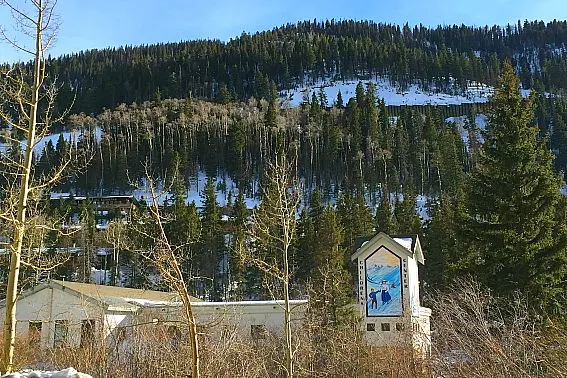 I was having a tough first day. The energy and physical effort just to stand on skis left me perspiring heavily under the helmet, and each cool whip against the wind was a welcome relief. When I tried to stand still to listen to my instructor, I couldn't figure out how to stop my skis from slipping and invariably, my skis would glide down backwards. It was embarrassing that I couldn't stand, poles flailing upward in the air. It took all of my weight and heat-sapped strength to lean on the poles so as not to slip hopelessly farther down. Our group moved onto a slope, but I wasn't ready, so I sat on the bench guzzling down cup after cup of water; I felt winded, tired, and faint with the morning sun beating down on me, and my right ankle felt unusually tight as though it was loosing circulation.
By late morning, I tore off the helmet, peeled away the inner layer pullover, and tossed my gloves onto the snowy floor. I mustered up the strength, despite the excruciating pain I felt through my shins and feet, and made my way down to ski. Towards the end of the session, I was barely able to get the wedge down. My instructor Ray, pulled me aside and guided me one-on-one down the slope as I held onto his poles and as he, incredibly, skied backwards to show me how to do the turns. Again, we took the escalating ribbon called the Magic Carpet up and did it a second time, except midway, he let go of holding me. By the third time, he was merely in front of me skiing backwards as moral support. The individualized attention gave me just enough encouragement to go on because I was feeling pretty demoralized.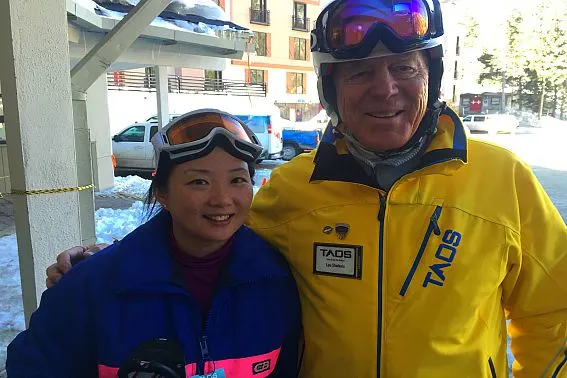 There is something to be said about learning to ski as an adult. It sure takes courage and gumption. It's also a little humbling. Frankly, children have an easier time of it and for this, they are blessed. I saw little ones, half my size, skiing down steep slopes at breakneck speed; their fearlessness and enthusiasm inspired me. On the other extreme, I watched old men twice my age skiing with great agility, probably better than they could run. Nearly all of the ski instructors at Taos Ski Valley were silver-haired. If they at their advanced age could do turns backwards, then by golly, I, in tip-top health, could at the very least ski forward.
During the afternoon session, I was placed in a different group from the rest of the beginners from the morning. It was a remedial group. My new instructor was another grey-haired instructor named Lou and while I wasn't thrilled about being placed in the slow-learning group, I was so glad I had him for a guide. Lou had a special way of encouraging my floundering spirits. I had fallen down a couple of times earlier, but was learning to get back onto my feet swiftly once having fallen down. It's amazing how freeing it feels once the fear of falling has been conquered. Lou was incredibly reassuring and patient. I also started to enjoy the downward ride, wedging just right. After I succeeded down the slope for an "s" shaped turn, he said, "Sarah, that was perfect as usual." There was just four novice skiers in our remedial group, and when he used me as a role model pointing to the other students the perfect arc I had made, I was positively beaming. I hadn't felt empowered like this since back in grade school. My confidence was up and though my feet, legs, and arms were screaming sore, by the end of the first day, I had overcome the earlier discouragements and felt pretty good about myself.
"Little By Little, One Travels Far"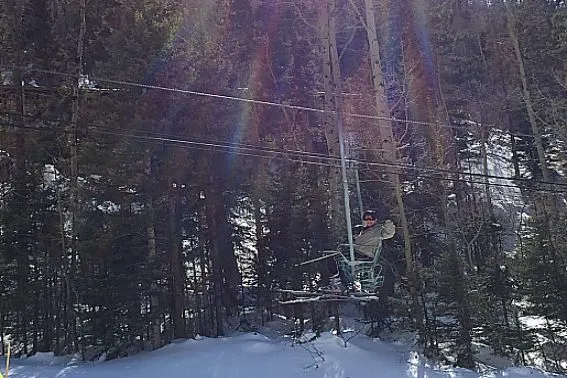 On day two, I was well-rested, though still a little sore. I had my bearings about the place and I was starting to feel the mountain, seeking out its flat spots, avoiding the small mounds so that I could stand with my skis better. My husband and I were the only students during the morning with story-teller-instructor Wolf, a legend in these parts because he worked directly under the founder of TSV, Ernie Blake.
The morning was spent reviewing and when we set out for the afternoon, the slopes were more crowded. Wolf took me up on the new Pioneer lift for beginners. This was my first time on a lift and being hopelessly fearful of heights, I was amazed I didn't suffer a panic attack. It was 9,500 ft high. Before getting on the lift, he explained every detail of what to expect getting on the lift, while on it, and how to get off it. It helped that he had struggled with a fear of heights when he started out. Wolf then placed a pole over my waist like a belt buckle and told me his stories. He sat by my left side nursing me with his ramblings about the little village where he works as an elementary school principal, and I think I conquered my fear of heights right then and there, somewhere between his childhood in Sipapu and his recent summer trip to the Andes skiing on Bariloche.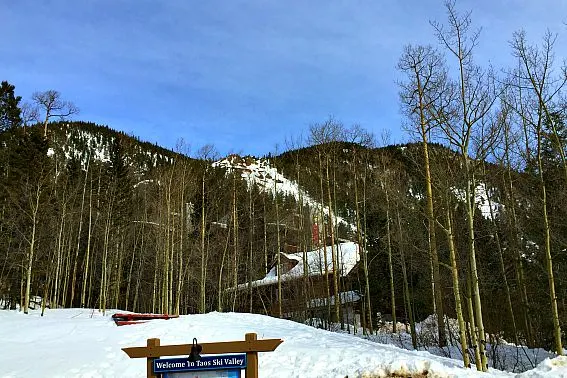 Upon reaching the top of Pioneer run, Wolf coached us before we went down the slopes reminding us to bear our upper body weight tilted forward, keep poles behind with arms out, and make the scissor-stop to slow down. I listened carefully like a good student; I didn't want to tumble-down the big run unnecessarily after all. There were two stops at two points down the steep pitches to catch our breath before reaching the base. Unfortunately, I failed to stop after the first pitch and went flying down in one fell swoop. Thankfully, I did not hurt myself terribly, just a little strain in my leg where I twisted it upon landing on my bum. Wolf was by my side in a few minutes and got me up to where I reached base safely. A few times I skied down Pioneer with the wind beneath my wings, confidently and assuredly. I once flew down uncontrollably, my ponytail riding sky-high as Wolf told me later. This shook me up a bit and I felt a little knot grow big inside my stomach. I swallowed my fears for the second time that day and followed Wolf's direction.
He wanted us to go down a green run next. The guy beside me remarked that there was quite a steep pitch on Rubezahl, the green run where we were heading. As we descended down, I said to the guy in the class (as much to him as to myself), "You can do it!" The run was not too bad, although a little icy along the sides. As we came to a stop, sure enough, there was the steep pitch just ahead of us. In all honesty, I can't say I went down that pitch gracefully. Not even close. I tumbled down twice and needed a lot of coaxing; it wasn't pretty and the knot in my stomach grew bigger.
Once again, Wolf took us down Rubezahl, but this time, the plan was to ski to the Children's School where I needed to pick up the kids. To get there, we needed to traverse across Rubezahl and another green run, White Feather. I took a deep breath, and set off again down Rubezahl avoiding the sides so as not to touch the ice. I felt good on my turns and S's. At the stopping point, I heard Wolf mention a little bump we needed to cross and to watch for other skiers going down in a separate direction. The last thing I wanted was to crash into a skier descending Al's Run, one of the steepest slope at TSV. I said aloud the magical words of Bob the Builder one more time, "You can do it!" and made my way traversing across another run, avoiding any kind of collision, took the bump in stride, and turned my skis to a smooth stop. Wolf said, "That was real good, Sarah. Real good." It was hard to believe I had done it. The knot in my stomach was negligent. I skied easily towards the Children's Ski School .
Back at the Children's School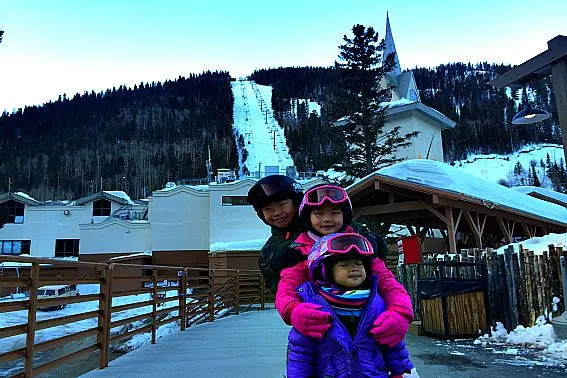 In hindsight, getting the kids was the perfect excuse for me to stop while my confidence level was up. When I caught sight of my 7-year-old daughter skiing down Rueggli, my heart stopped short. She was doing what I had just learned to do– and without poles. I marveled at her effortlessness. This is how learning can be, I thought to myself. We sat on the lift side by side and I fussed over her to make sure she was secure. The lift ascended high above my comfort level and naturally, my shoulders rose, my teeth automatically clenched. When I glanced over at her, she was all ease and smiles. "Isn't this fun, mom?!" When she started waving enthusiastically to daddy and big brother down below, I panicked. "Don't shake the lift, dear!" Under my breath I mumbled, "Have I mentioned I'm a little scared of heights?" She said, "Don't worry, mom. This is fun!"
Once we finally landed, we were standing together, side by side, feet planted on solid white earth; the mountain was ours. She went first, straight down and the little knot that started to grow on the lift subsided. My little daughter was out-skiing me. I went down making my "S" turns to keep things steady and slow. The children's run Rueggli, was none too easy for me, but I slid right by her side to ski the rest of the run together. When we reached the base, she looked up at me with a smile spread wide. I turned to look at her with new eyes. We saw each other as equals, as brave ones. We were beginner skiers intrepid on Taos Ski Valley slopes.
See here for more Trekaroo reviews on Taos Ski Valley!
All Photos by the author, Sarah Kuo
Disclosure: This review is based on complimentary lessons at Taos Ski Valley. I received no other compensation and these opinions are entirely my own.