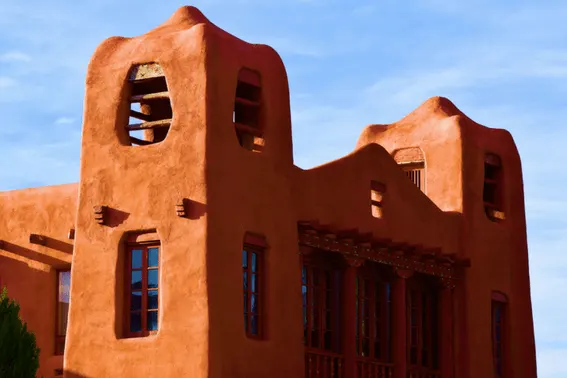 Photo by: Bigstock/photojohn830
There's no place quite like Santa Fe. See how the picturesque, red-orange hue of adobe architecture makes a striking statement against the crystal blue sky. Surrounded by desert fauna and cactuses, this capital city is the perfect spot to experience a sublime, out-of this-world kind of family vacation. In descending order, check out these top five things to do near Santa Fe with kids.
5. Shop & Stroll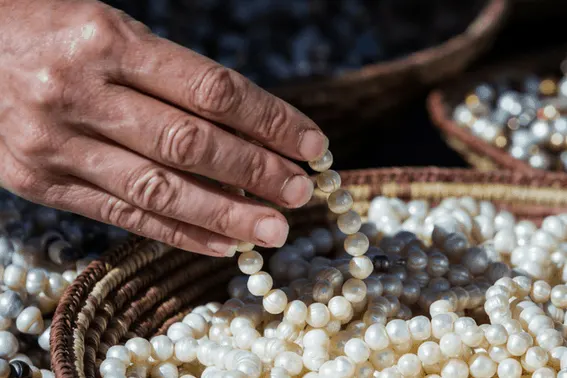 Photo by: Bigstock/wollertz
Our favorite activity after a 14-hour road trip to New Mexico is to stretch our legs and stroll. We love to meander on cobblestone streets through gorgeous, sun-soaked Santa Fe. Stroll through Loretto Chapel, patterned after Sainte Chapelle in Paris, and witness the chapel's mysterious staircase. The open street markets where Native Americans sell handcrafted jewelry and wares are tucked away in back streets, but the Palace of the Governors is most notable. Stop and pick out the perfect combination of turquoise and silver to buy and wear for a special dinner out. Find a special souvenir for a good deal hidden away on a side street. Our little girls picked out hand-made, beaded necklaces with little pouches which they now keep their coins and dollar bills.
Once we heard the saxophone, we returned to the main square. Restaurants, museums, and quaint shops line the Santa Fe Plaza. Grown-ups can sit and relax at the center of the square listening to live jazz while little ones finish off their ice cream and run around in the patch of grass dancing, cartwheeling, and playing tag. Life is good here. It's that simple.
4. Pig Out

Aside from the locally grown and famously known green chile sauce (a hallmark of Southwestern cuisine), there are a few fun places to stop by while strolling Santa Fe. One just can't get enough of the cities many great eats. The Kakawa Choco House has every flavor of hot chocolate and coffee imaginable. The crepes at The French Pastry Shop and Creperie are divine. Need a drink? Unwind at Blue Corn Cafe & Brewery for some beer.
If you want to know where the locals eat and hang, Cowgirl BBQ has been an institution in Santa Fe since 1993. Though the restaurant is bursting at the seams with diners, the indoor space is larger than it appears with several rooms, like chambers, decorated wall to wall with cowgirl memorabilia. Dig into some great BBQ or their green chile burgers, frito pie, and Five Pepper Nachos with diablo sauce. Be sure to try their signature Ice Cream Potato for a unique dessert experience. The kids menu isn't the typical chicken tender and burgers, although they make this, too. Our kids devoured their beef brisket roll and bratwurst on a flour tortilla. They were also intrigued by the sparkling taste of virgin Shirley Temples.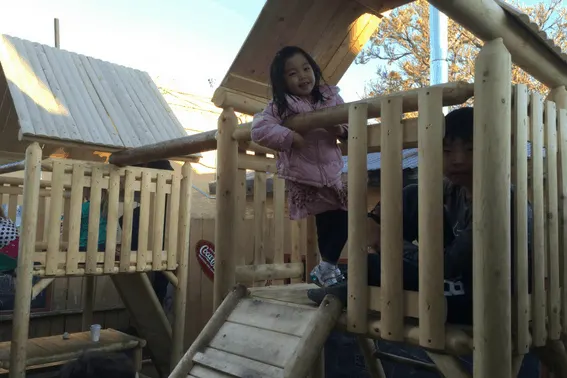 The outdoor playground area called Kids Corral is where our children hung out before and after dinner. They enjoyed swinging on the play set, tossing bean bags, and drawing on chalkboard walls with their new playmates. The rear patio where we sat gave a clear view of the playground. At nightfall when temperatures dropped, the heat lamps kicked in and kept us all toasty. The outdoor lighting was perfect for the kids to continue their playing while grownups could enjoy some private conversation. Check out the Kids Eat Free deal on Wednesdays during the school year.
3. Look Art!

Look out! There's art in every corner. Santa Fe has long been known to attract and inspire artists. Many of these artists reside along Canyon Road in quaint studios where huge, outdoor sculptures are displayed for visitors to peruse. Our family took an art tour with Santa Fe Art Tours and stopped by three studios on Canyon Road. The Bindle Stick Studio houses Jeffery Schweitzer's works, an author and illustrator of children's books. Our kids admired his unusual story books that in my mind resembled something straight out of Edward Scissorhands. The Vivo Contemporary gallery showcases several contemporary artists. Our kids learned firsthand from a local visual artist about her wood and paper inspired art pieces. We even saw one of her pieces on display get sold.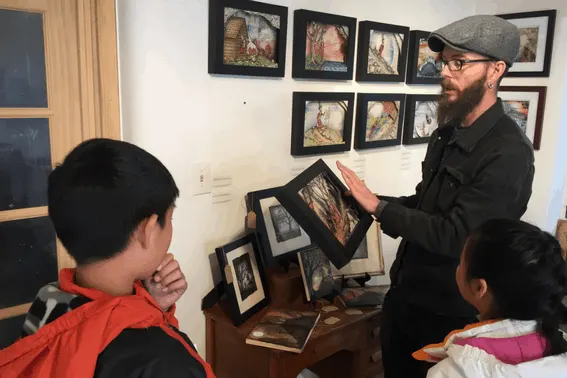 My favorite studio was the Art House. It showcases contemporary digital art inside one of the earliest, original pueblos built in Santa Fe. I've never been a great fan of contemporary art, much less digital art, so it surprised me how much I enjoyed this. Our tour guide explained the materials and meaning behind each of the artworks in such a way that the artist's creativity really resonated with me. My kids, on the other hand, easily gravitated toward this medium of art. Their attraction to digital art was palpable, especially with the Spider Drone.
If looking for a more conventional art experience, visit the Georgia O'Keeffe Museum, the only art museum in the U.S. dedicated to an internationally renown female artist. Children may ask for a discovery book and sketchbook at the front desk. Play a game of "I Spy…something that is blue" to narrow down their focus and see art in a whole new way!
2. ABQ Bio Park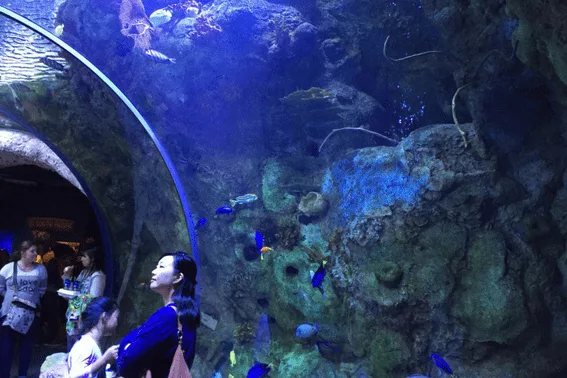 Just an hour away from Santa Fe, stop by Albuquerque to experience the ABQ BioPark. There are four parts to the BioPark: the Zoo, Botanic Garden, Tingley Beach, and the Aquarium. The kids adored the Aquarium, and the Botanic Garden sparked something of the inner child in us all. The creativity of the Children's Fantasy Garden and Bug Bend at the entrance to this park reminded me of Alice in Wonderland. Little caves in maze-like rows took us through the rabbit hole of delightful nooks and crannies. Our 11-year-old and future scientist enjoyed inspecting the live collection of tarantulas, roaches and more at the Bugarium. And don't forget to stroll through the various blooming gardens at the Botanic Garden. We meandered through seasonal gardens designed to bloom during the winter, spring, summer, and fall. My favorite gardens included the Japanese garden, seeing the waterfalls, and the amazing cactus conservatory. It has a park-like atmosphere and is simply the best place for folks young and old to enjoy together.
1. Ski Santa Fe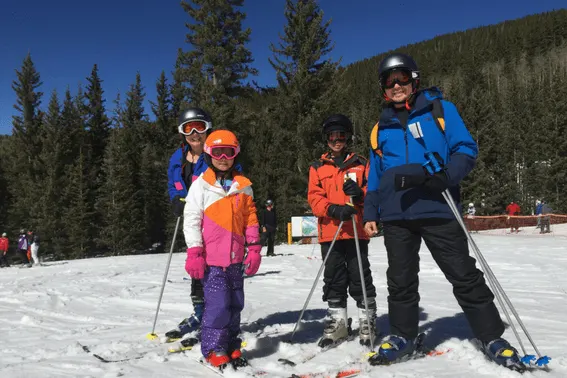 Ski Santa Fe is the go-to ski resort for folks within driving distance. The ski resort has a safe and cozy feel. Surrounded by pine and aspen trees, the Sangre de Cristo Mountains is the back on which we skied. There are essentially only two buildings: the main and the kids ski school. It's an easy walk to and from the rentals and the beginner lifts are close to the base of the main building. This is where my husband, son, and I skied for most of our time. The facilities are well maintained and the cafeteria has a nice view overlooking the lifts. I could spot my daughter in her class from where I lounged with a cup of hot chocolate. I had the excuse of ducking out of class early since by early afternoon, the green runs were getting crowded with kids. Don't worry, I was outside raring to go once I spotted my daughter. I pulled her out of class and we rode Lift 2, a lovely lift intimately flanked by Christmas trees. There's nothing like skiing together as a family for building some fun and fond memories.
Tip: Skiing is a pricey sport, so look for lesson-rental-lift ticket packages such as the Green Slopes Package which includes two lessons, rentals, and lift tickets. Be sure to make reservation for the awesome kids ski school weeks in advance. It's worth it – for the kids and for you!
Food & Lodging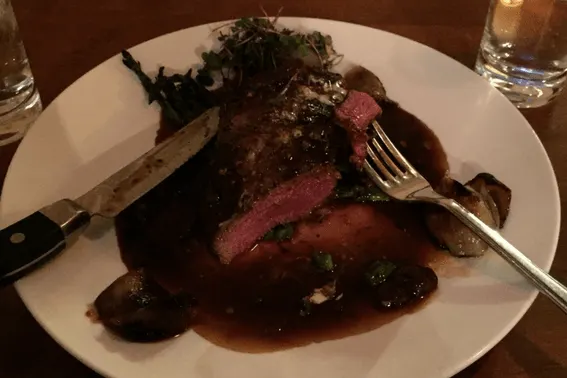 Looking for a romantic night out? Look no further than Georgia. Named after the great artist and nestled right beside the Georgia O'Keeffe Museum itself, this restaurant combines cultured artsy décor with the modern convenience of a large-screen TV in the tavern. It's a classy, but dressed-down ambience. My first order of the night was a Moscow mule. It was that kind of day. After a full day of skiing, the food was immensely satisfying, marrying comfort with style. Just under two years in business and the chef, Leroy Alvarado makes a loud statement at this impeccable restaurant chock full of style, bustling night-life, and great taste.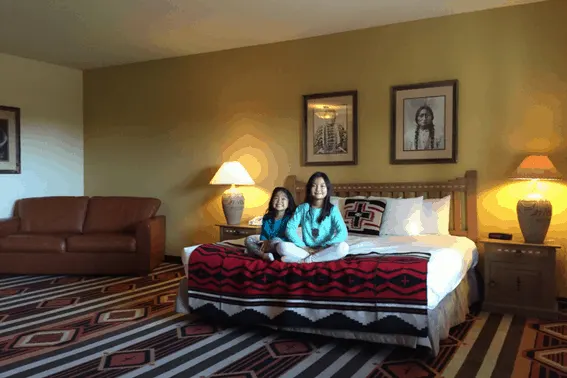 My favorite part of visiting Santa Fe is admiring the pueblo-style adobe architecture. So imagine actually staying inside one. The Lodge at Santa Fe is a locally-owned hotel that fuses the Native-American, Mexican, and American West culture into its interior decor. The grounds are lovely with their stunning view of the Sangre de Cristo Mountains. The hotel is only a five-minutes drive to the main plaza, close enough, but tucked away from the hustle of the square. Our family of five stayed in an expanded one room called a "kiva king-sized bedroom" with king-sized bed, roll-out couch, a bathroom, and a mini-fridge. The staff was helpful and accommodating and our room was conveniently next to the parking lot where we shuttled our ski equipment into and out of easily.
Disclosure: Thanks to Santa Fe CVB for hosting the trip. All opinions are my own. All photos are by Sarah Kuo unless otherwise stated.
Featured photo by: Bigstock/pmphoto