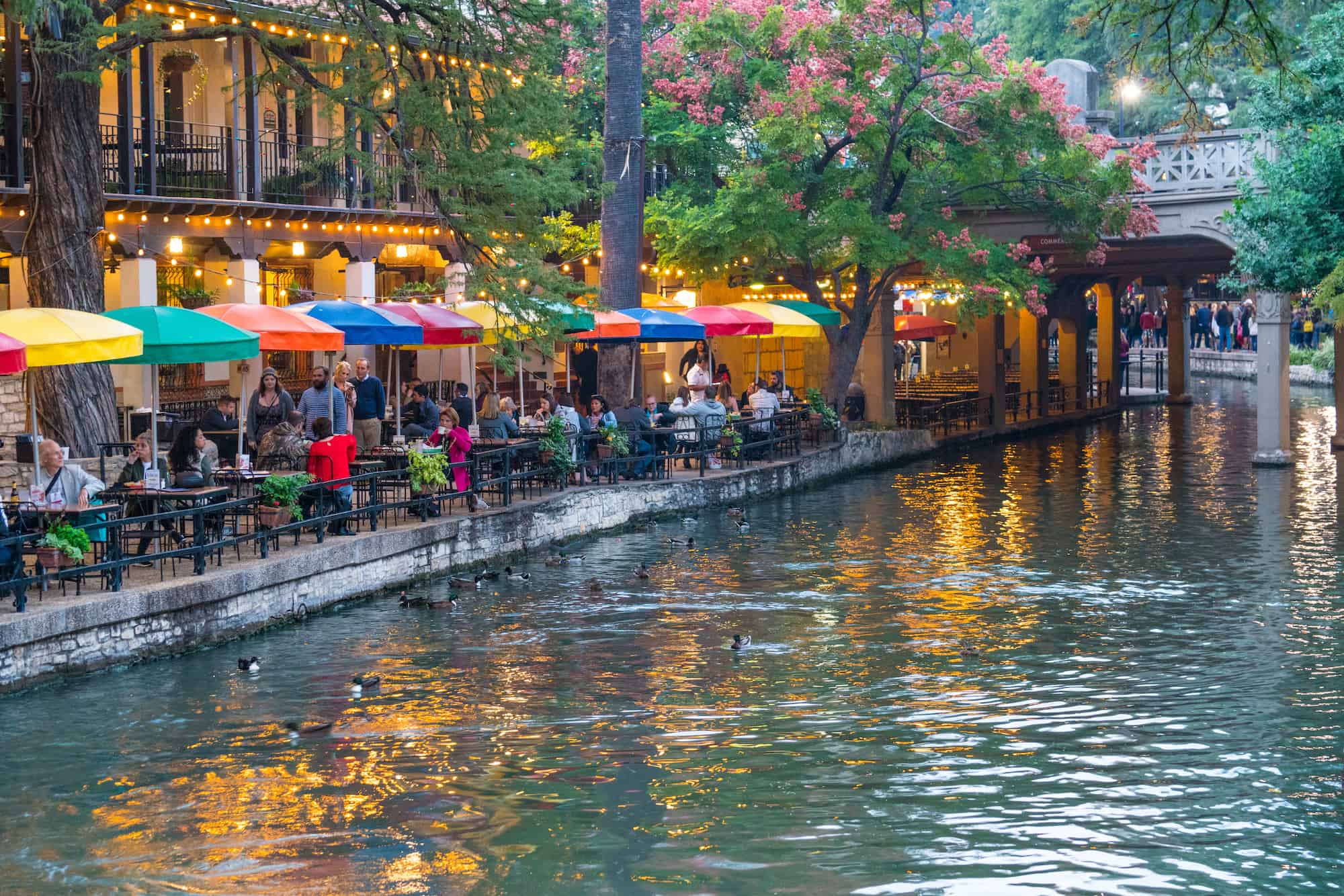 San Antonio is rapidly becoming a favorite vacation destination for families. It's a city filled with unique culture, fabulous food, and plenty of great activities that are sure to entertain kids and parents alike.
From its lively downtown area to a park dedicated to making sure people of all abilities can have fun, San Antonio truly has something for everyone. Here are Trekaroo's top picks for things to do in San Antonio with kids.
Things to do in San Antonio with Kids
10. Stroll along the San Antonio River Walk
A wide variety of shops, restaurants, and attractions line the scenic pathways that flank the river as it meanders through downtown, creating a beautiful urban experience known as the San Antonio River Walk. There always seems to be sort of festival or arts and crafts show going on during the weekends, including children's festivals.
A fun way to experience the river is on a guided boat tour. 35 minute tours take passengers on a 2.5 mile cruise down the San Antonio River while guides share the history of the river and surrounding area.
Dining options range from locally owned eateries such as La Margarita's (the first restaurant to serve fajitas in the US) to boisterous chain restaurants like Dick's Last Resort.
Trekaroo tip: Strollers are best left at the hotel because most access points to the River Walk from the street level involve stairs.
9. Remember the Alamo in San Antonio with Kids
The Alamo is located within walking distance of the River Walk and while younger children may not understand the historical significance, it would be a shame to visit San Antonio without at least taking pictures of the kids out front.
Children over age ten will appreciate the history and significance of the site, especially the tales and relics of the epic battle that occurred on these grounds. Activity books are available in the gift shop which are designed to engage younger children while visiting this, the sacred shrine of Texas.
8. Splash and be splashed at SeaWorld
It can get hot in San Antonio, especially in the summer, so why not visit SeaWorld San Antonio, a place where sea life is celebrated through interesting exhibits, spectacular shows starring a variety of ocean mammals, and water rides that keep visitors cooled off in between?
Older children will love roller coasters with aquatic themed names such as the Steel Eel and the Great White, while little ones will love the Sesame Street Bay of Play which features rides, play areas, and places to meet their favorite Sesame Street characters.
Of course, the true stars of Sea World are the animals. Families will have a blast at a variety of animal encounters where they can feed dolphins, touch juvenile alligators, and watch sharks swim overhead.
Don't miss Aquatica, SeaWorld's water park, which is located next door. It is a great place to cool off during a hot Texas day.
7. Get in touch with your wild side
The San Antonio Zoo is home to 3500 animals representing 600 different species. The zoo has undergone exhibit renovations and reopened its Africa Live 2 exhibit which houses a large aviary, hippos, monkeys, and rhinos.
An enclosed butterfly exhibit is open March through November, offering guests the opportunity to enjoy a variety of butterfly species up close. The zoo's Tiny Tot Nature Spot is geared towards children ages 5 and younger and features an indoor pond, child-sized aquarium, Coati/Sloth Hang and Dig Area, and many more exhibits geared towards the pint sized crowd.
See which zoos made our list of the best zoos in the United States.
6. Enjoy a Picnic at Brackenridge Park
Brackenridge Park, a 343 acre park located near the San Antonio Zoo, is a great place to spend the afternoon. The San Antonio River winds through the park which features tree lined paths, playground, and a miniature train that takes visitors on a 3.5 mile loop around the park.
This park is an ideal place for a picnic or family photos on the scenic bridges. Brackenridge Park is also home to lovely Japanese Tea Gardens. The gardens feature shady walkways, attractive horticultural displays, and a 60-foot waterfall.
5. Visit San Antonio Missions National Historical Park
Pick up a Junior Ranger booklet and take your kids on a mission to score a coveted mission-themed Junior Ranger badge.
San Antonio Missions National Historical Park is actually made up of four different missions- Mission Concepcion, Mission Espada, Mission San Jose, and Mission San Juan Capistrano.
Free tours are offered and each has something unique such as Mission San Juan's grist mill, Mission Espada's dam and aqueduct, and Mission San Juan's new demonstration farm.
4. Explore Indoors at the San Antonio Do-Seum
Escape the extreme temps and have fun at the San Antonio's Do-Seum, a hands-on museum for younger kids. It is the perfect place to head when the Texas heat and humidity become too much to bare.
The air-conditioning is just the beginning of the fun. The museum is geared towards children ages 2 through 10 and features plenty of great hands-on exhibits on three different levels. Favorites include the HEB kid's market, Power Ball Hall, and Science City.
3. Explore El Mercado (Market Square)
San Antonio's Hispanic heritage comes to the forefront at Market Square, a lively village filled with shops, dining, and entertainment. Market Square in downtown San Antonio is full of families enjoying the pleasant walk under fiesta decorated banners, past delicious restaurants and listening to the marimba play music guaranteed to get you moving.
Best of all, the stores are filled with such interesting things like singing bird whistles, singing frogs, mini guitars, dream catchers, slingshots, coonskin caps, and Mexican handicrafts so that even your most resistant little shoppers can be convinced to peruse the shops.
2. Embrace Texas Culture at the Witte Museum
Texas is one state that loves to celebrate itself. Luckily, it has a rich history and has plenty of culture worth celebrating. The Witte Museum is a Texas art and artifact museum and creative outdoor play rolled into one.
From frilly Texas ball gowns to native creepy crawlies in the EcoLab to live demonstrations on how to properly wear cowboy gear, your kids will find this museum irresistible.
The H-E-B science treehouse is a major highlight for young children. It is filled with four stories of interactive, educational play. New to the Witte Museum is the H-E-B Body Adventure exhibit which has plenty of hands-on activities related to health and wellness.
Honorable mention: School aged kids will get quite a bit out of a visit to the Institute of Texan Cultures which highlights the stories of various immigrant groups who settled in Texas, and important part of Texas history. Learning about why various groups settled in the state and how they lived is fascinating.
1. Visit Morgan's Wonderland: The World's First Ultra Accessible Family Fun Park
Designed specifically for children with special needs, Morgan's Wonderland is a place for people of all ages and abilities to enjoy. Specially designed carousels, swings, and playgrounds allow wheelchair bound individuals to be a part of the fun.
The music garden, sand circle, and Sensory Village are designed to give children with special needs all the sensory input they need to thrive and have a great time. Other highlights include the Wonderland Express train and Pirate Island Playground, which sits near the property's eight acre lake.
All family groups visiting Morgan's Wonderland are assigned RFID locator wristbands for safety and security and in order to streamline this process, reservations are highly recommended.
Look for the best hotel prices in San Antonio
Great Places to Eat in San Antonio with Kids
One of my favorite things about traveling is sampling the local cuisine. San Antonio is a Tex Mex haven and Los Barrios is one of the number one places to eat in town. The restaurant is both casual and welcoming to families and the chalupas, sopas, and enchiladas all keep locals coming back more.
Mi Terra Restaurant and Bakery is proof that great food can be found in touristy areas. Located in Market Square, this Mexican restaurant is famous for its vibrant decor, tasty food, and amazing postres (desserts).
For an unusual dining experience, check out the Buckhorn Saloon which is home to multiple exhibit halls filled with taxidermy animals from all over the world, 520 species in all. The food is Texas-style barbecue and the atmosphere is truly one of a kind.
If you are looking for some of the best bbq in San Antonio, head to Rudy's. This place is as no frills as you can get. Big picnic tables are set up inside an old country store and everyone eats family style. The brisket is super tender and the creamed corn is the stuff of legends.
Where to Stay in San Antonio with Kids
If you are looking to stay at the Riverwalk, Hotel Contessa Riverwalk Luxury Suites are a great bet for families. The rooms are large, the atmosphere is boutique, and the margaritas at Happy Hour are just $5.
If your family is looking for a spectacular Hill Country resort experience, Hyatt Regency Hill Country Resort and Spa is the way to go. Kids love the lazy river and daily activities such as crafts, pool games, and Dive in Movies. Parents love the luxury, full service spa, and the 27-hole golf course.
See which San Antonio are hotel made our list of the best hotel pools in the USA.
Day Trips from San Antonio
New Braunfels
Sometimes a water park is just a water park, and then there is Schlitterbahn. This, family-friendly, family-owned mega water park resort is so big that you can take a shuttle from one side to the other!
It features everything from massive toddler play areas, a lazy river with waves, to a water roller coaster, and slides that dump you into the Guadalupe River. Yep. This is the water park you write home about.
Since things certainly do heat up during a Texas summer, tubing down the Guadalupe and Comal Rivers is another popular attraction in this town. The Comal is open to kids ages three and over and the Guadalupe is best for ages six and up. Everyone should know how to swim and always wear life jackets when tubing.
Enchanted Rock
If it is nature that you crave, let Enchanted Rock State Natural Area near Fredericksburg be your destination. Located 90 minutes north of San Antonio, Texas, the park is incredibly scenic, with plenty of great opportunities to hike, climb, and even cave.
The climb up this massive rock is quite exposed and can be as slippery as ice when wet so avoid during the rain. I also suggest avoiding this hike mid-summer when the Texas heat really warms up the rock. Older kids will absolutely love exploring the cave inside the park.
Pack a picnic, enjoy the enchanting scenery, and then stop in Fredericksburg on the way back home for dinner, ice cream, and bit of exploration in this cute Texas Hill Country town settled by German immigrants.
Want more kid-friendly fun in the Lone Star State? Check out our top ten things to do in Texas with kids!

Lead image by: Bigstock/Paul Brady
Where do you want to visit next?
From coast to coast, we're determining the Top 10 Things to do with Kids in each state several major cities across our great nation.
Photo by Becker1999