Last Updated on
Port Aransas is the perfect mix of fishing village locals, wide expanses of sea oat covered sand dunes, cute vacation houses, and touristy shops and restaurants. Known as the "funky little town with a sandy backyard," it is the only established town on Mustang Island, an 18-mile-long barrier island in Texas' Gulf Coast waters. The town is a popular vacation destination for many Texans, especially appealing to beach bunnies, fishermen and birdwatchers. Bright orange, purple, and green houses with names like "Lucky Enough" and "Sandy Toes" reside on streets lined with huge palms, oleanders, bougainvillea, and hibiscus. It is a tiny little town, so nothing is likely to be more than a five minute drive from where you are. Is your family ready for a funky beach escape? Here is what you need to know before you go to Port Aransas with kids.
Port Aransas with Kids: THE BEACH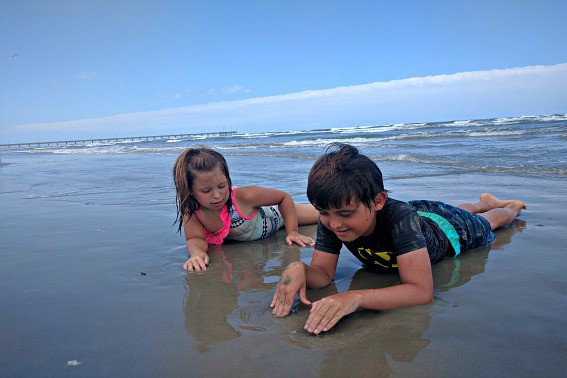 First things first, Port Aransas is definitely a beach with a Texas twist. It doesn't have the natural, rugged beauty of the West Coast or the clear water and white sands of the Florida Panhandle, but what it lacks in beauty it makes up for in unapologetic convenience. You can drive right onto the beach! Just pick up a $12 beach pass (good for one year) at any store in town and you can literally throw all your gear into your car and drive right up to whatever spot in the sand you like. I will admit I was reluctant at first because it seemed like cheating (like car camping to back country campers), but it really does make for the easiest possible method of getting kids and gear to/from the beach. Want to bring five chairs, two coolers, a dog, and three boogey boards – and you are the only person capable of carrying everything – this is the place to do it! Even on Memorial Day weekend we were able to find a spot to park and stake out a roomy place to set up camp. During the weekdays, we had tons of space to ourselves, with not one second of schlepping required.
Just four hours from Austin and Houston, and only 2.5 hours from San Antonio, Port Aransas is ideal for Texans who need to see the ocean quick. The beaches of Port Aransas are really wide with hard-packed, silky-soft, brown sand perfect for running, bike riding and setting up tents and umbrellas. The water does have a brownish tint to it from afar, but is clean and clear as the waves break on the shore. The waves were the perfect size for our kids (ages 7 – 15) when we were there and the water temperature was really warm (it was already in the 80s at the end of May). Oh, and did I mention the entire beach is dog friendly? This was a huge bonus for our family as we love to take our dog as many places with us as possible.
Good to know: There can sometimes be very large amounts of seaweed on shore and in the water. Usually, it is minimal and manageable. However, some years (most recently 2014) it can be enough to ruin the beach (stinky and uncomfortable!). Check predictions before you make plans and don't underestimate the seaweed; if reports are that it is worse than usual, take heed and adjust plans and/or expectations.
Port Aransas with Kids: WHERE TO STAY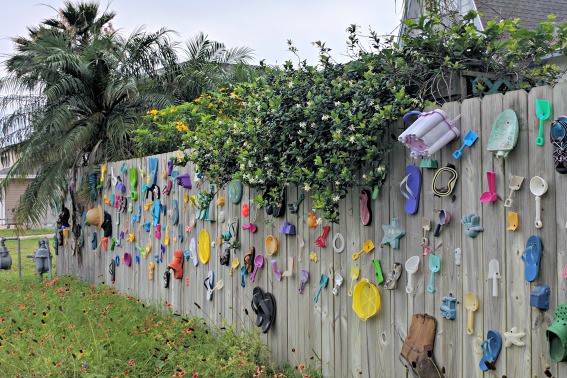 There are tons of options for accommodations, from home rentals to cottage style motels to large family resorts. We rented a private home, the "Orange Flamingo," through Silver Sands Vacation Rentals and had a great experience. The house was new, right in the heart of town, very well equipped, and exactly what we expected from the online profile. I loved that there was a fenced in yard with shade for our dog, an outside shower, sand toys and chairs for us to use, and that I could walk to the cutest coffee shop – Coffee Waves – every morning. As far as hotels go, there is a Best Western, a Holiday Inn Express, and the Sea Shell Village Resort right in town and very close to the beach. If you are looking for more of a destination resort feel, try the Port Royal Ocean Resort, The Palmilla Beach Resort, or Cinnamon Shores. They are all a little bit out of town, but still easy driving distance to a restaurant for the night.
Port Aransas with Kids: WHAT TO DO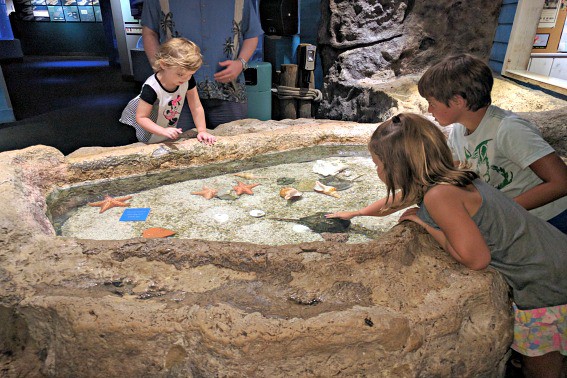 Generally, Port Aransas is a small beach town and the beach is THE main attraction. If your idea of an excellent vacation is day after day of building sand castles, taking long walks on the sand, reading while listening to the waves, collecting sea shells, and diving into waves – you will probably be very happy with a trip to Port Aransas' beaches. A lot of families seem to park their car for the week and do most of their getting around either on foot or in a rented golf cart. However, if you need one or two days off the beach, there are a few options.
The UT Marine Science Institute in Port Aransas has a wetland preserve and a small exhibit space tailored to kids. We attempted to do the free wetland guided tour, but as nice as the guide was and as beautiful as the wetlands were, between the heat and the mosquitoes, we didn't make it very far. This tour is best suited for the cooler months. We did enjoy the indoor exhibit space though and spent about an hour there learning about the local wildlife and habitat.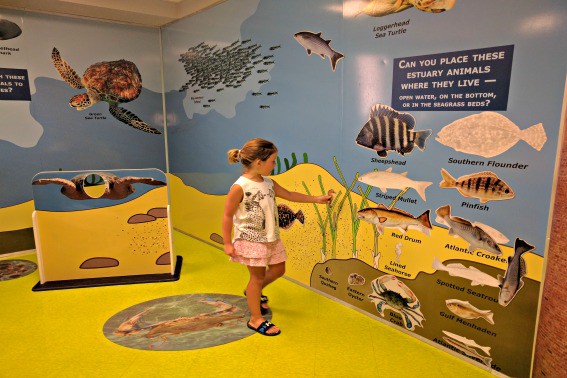 My family had a blast on the "Dolphin and Nature Tour" on The Mustang. During this comfortable hour-and-a-half boat ride we saw TONS of dolphins. While I delighted in the scenery, the kids enjoyed the large touch tank in the middle of the boat. The resident fisherman on the boat drops the shrimping net once on every ride. When he pulls it in he gives a nice lesson on every single thing pulled up in the net and puts anything that can be safely handled by kids into the touch tank. The kids loved it! The most interesting creatures were the one that couldn't stay in the tank like the pregnant blue crab with a huge brood sac and the catfish that had a spine that could poke a hole through an aluminum can – very entertaining for everyone.
The Texas State Aquarium in Corpus Christi is currently undergoing a huge expansion (to be completed in 2017), but as it stands is still a fun, half-day adventure. There are a lot of shows scheduled throughout the day that are definitely worthwhile. We saw the trainer chat at Dolphin Bay and The Wild Flight Show and would definitely recommend them, especially the Wild Flight Show as those animals are not on public display at other times. There is a café serving fast food for lunch and a Starbucks on site for a quick snack. If you have toddlers or preschoolers, you may end up spending half the day at the splash pad that is part of the aquarium.
The USS Lexington is right next to the Texas State Aquarium in Corpus Christi so if you want to make a full day of touring, you could easily head over there on the same day. The ship was a WWII aircraft carrier that was turned into a museum in the early 1990s. It is fully equipped with a flight simulator, an IMAX theater, aircraft, and anti-aircraft guns. Visitors also have full access to tour the living and training quarters of the crew.
Port Aransas with Kids: WHERE TO EAT
Even though it is a small town, there is no shortage of restaurants! We didn't get to them all, but we happily made a valiant effort. They were all fantastic with the exception of The Port A Pizzeria – I would skip that one the next time around.
Seafood and Spaghetti Works, Stingrays, Shells, Kody's and The Phoenix would ALL be on my list to eat at again on our next visit. Seafood and Spaghetti Works had the best mahi-mahi dish I have ever had, topped with almonds, bacon, avocado and tomato. Stingrays is a bar with a party vibe and loud music, but was very kid-friendly for lunch and we loved the bacon wrapped chicken bites with Parmesan sauce and the Maker's Mark sliders. If I was looking for a fun, casual night out at a bar, this is where I would try first. We got takeout from Shells and the kids loved the steak bites with gorgonzola sauce. Kody's is a super casual, order at the counter, dive-bar type place perfect for when all things fried will do and you don't want to wait for a table even on a busy weekend. They will also cook your catch for you if you like. The Phoenix was a little fancy for my kid's taste and expensive for mine, but if you are looking for a nice dinner out the tuna poké was amazing and they had a full sushi menu.
There are plenty of places to buy fresh seafood to cook at home but only one real grocery store on the island. You can get by shopping there, but only if you don't need any specialty items, health food or organic produce. If that doesn't work for you, make sure to budget time to take the ferry over to the HEB (big grocery chain) or plan to do it on your way into town. If it is a busy weekend it can take over an hour to get onto the ferry- yikes!
Bottom Line on Vacay in Port A: We have been to beaches all over the Lower 48, from Massachusetts to Florida to Louisiana to California. Overall, we found the beach at Port Aransas to be a great family beach. As far as "swimability" for all ages, it ranks high up on my list because the water is warm, the waves aren't too big, there is sand to play with, it isn't too crowded, and it stays shallow for a really long way out. As far as scenic beauty goes, I would put it in the middle tier, roughly equal with mid-Atlantic Coast beaches but not as stunning as some of the Florida and California beaches we have seen.
Featured photo by: Bigstock/RKimbrow