Known as the "funky little town with a sandy backyard," Port Aransas is the only established town on Mustang Island in the Gulf of Mexico. There are so many great things to do in Port Aransas that it is no wonder that a Port Aransas family vacation is popular with many Texans, especially appealing to beach bunnies, fishermen, and birdwatchers.
Bright orange, purple, and green houses with names like "Lucky Enough" and "Sandy Toes" line the streets. Palms, oleanders, bougainvillea, and hibiscus are always just around the corner. It is a tiny little town, so restaurants and the beach are a hop, skip, and a jump away from your lodging. Is your family ready for a laid-back beach vacation? Here are our favorite things to do in Port Aransas, Texas with kids.
Things to do in Port Aransas, TX on a Family Vacation
1. First, Hit the Beach on Your Port Aransas Vacation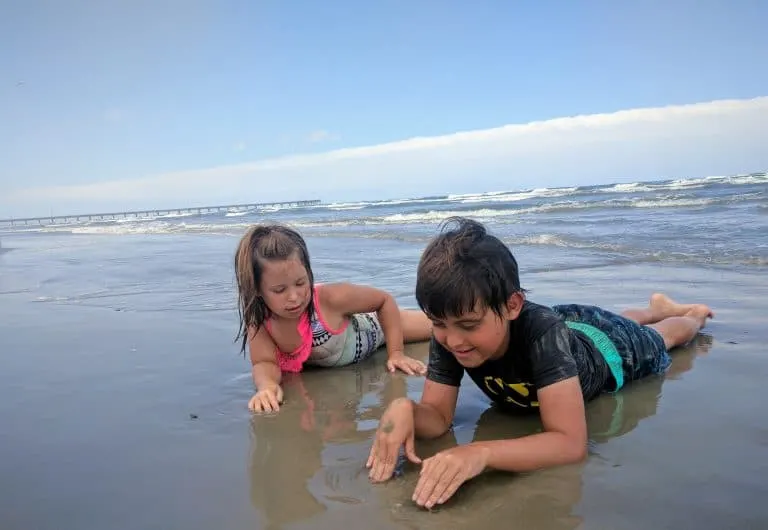 Port Aransas is ideal for Texans who need to see the ocean quick. It's only four hours from Austin and Houston, and 2.5 hours from San Antonio. The beaches of Port Aransas are incredibly wide with hard-packed, silky-soft, brown sand perfect for running and bike riding.
The waves are an ideal size for kids, the water temperature is comfortable for more than half the year, and the entire beach is dog friendly. You can even hire the "Port Aransas Sand Castle Guy" to teach your group how to build a mega sand castle.
Port Aransas doesn't have the rugged cliffs of the West Coast or the white sands of Florida, but it is incredibly accessible for everyone. You can drive right onto the beach! Just pick up a $12 beach pass (good for one year) at any store in town, throw all your gear into the car, and drive right up to the perfect spot.
If your idea of an excellent vacation is building sand castles, taking long walks on the sand, reading while listening to the waves, collecting sea shells, and diving into waves – you will be very happy with a trip to Port Aransas! A lot of families seem to park their car for the week and do most of their getting around either by foot or golf cart.
Trekaroo Tip: There can sometimes be large amounts of seaweed on shore and in the water. Usually, it is minimal and manageable. However, some years (most recently 2014) it can be enough to ruin the beach (stinky and uncomfortable!). Check predictions before you make plans and don't underestimate the seaweed; if reports are that it is worse than usual, take heed and adjust plans and/or expectations.
2. See Dolphins as You Cruise Aransas Pass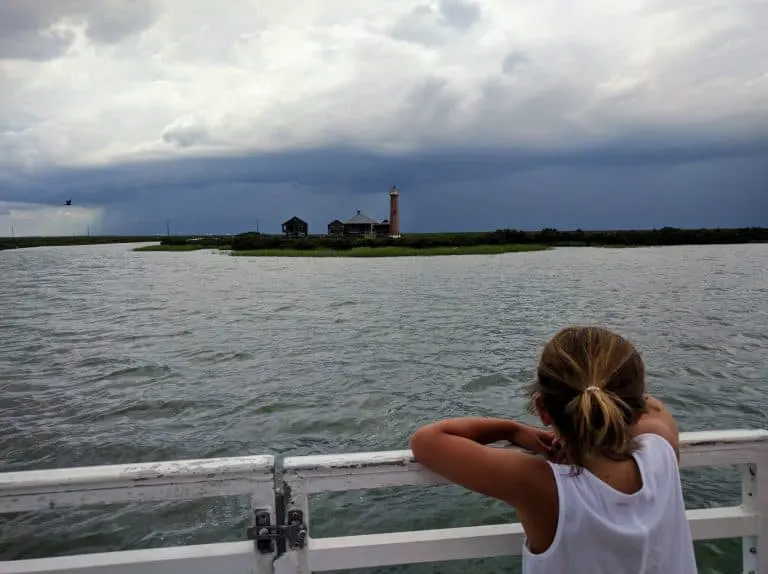 Dolphin Watch Nature Tours offers short, comfortable dolphin watching tours around Mustang Island. You'll see lots of dolphins, plus whatever the resident fisherman pulls into his shrimping net that day. He gives a nice lesson on everything he finds and puts anything that can be safely handled by kids into the touch tank. The company operates out of Woody's Marina.
3. Or Go on a Pirate Ship Adventure!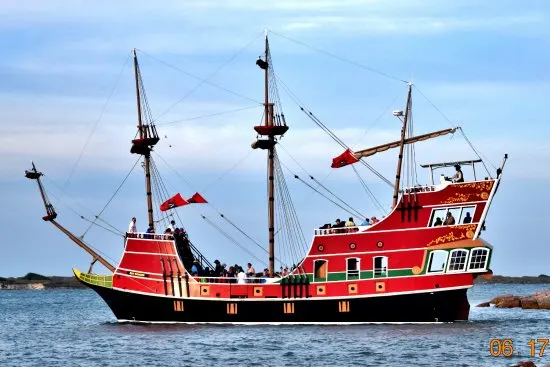 Need something a little more exciting? Canons, sword fights, story telling, and treasure hunting await aboard the Red Dragon Pirate Ship. This is a 2.5 hour entertainment cruise sure to delight any wannabe pirate. There is a full bar with light snacks on board as well.
Explore more of the state. Here are the Top 10 Things to do in Texas with Kids.
4. Go Fishing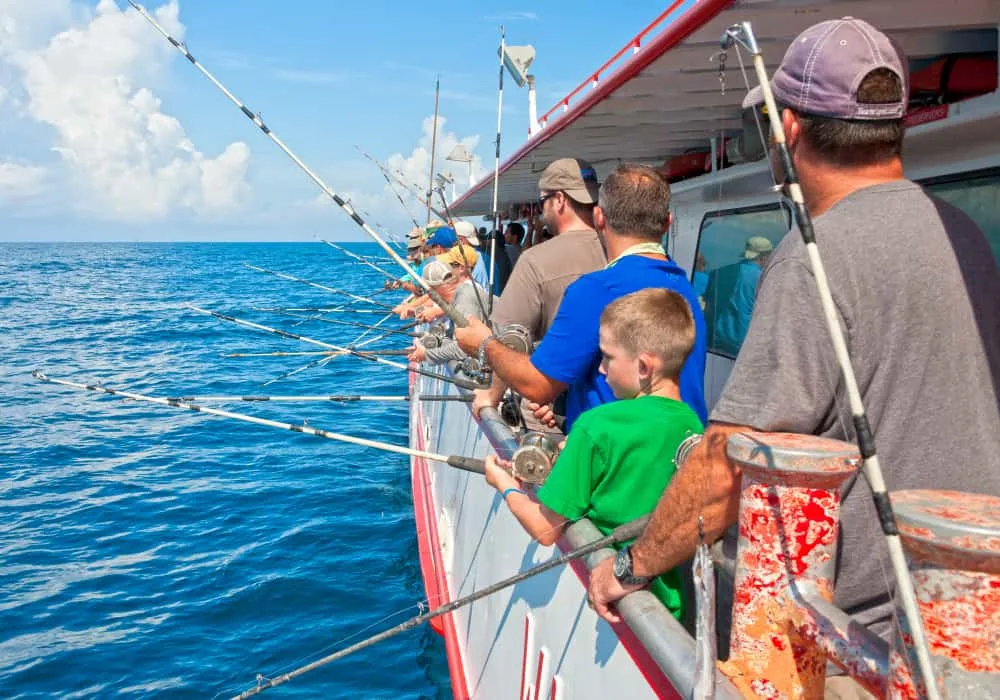 Port Aransas is known as the "Fishing Capital of Texas". Bay and shallow water fishing is great around Mustang Island. Expect to catch redfish, flounder, and shad trout. You can also fish off of one of the area's four fishing piers or along the jetties.
Interested in deep sea fishing instead? Port Aransas has that, too! Tuna, marlin, and sailfish are popular fish to catch out in the Gulf of Mexico.
5. Watch the Sun Rise Over the Gulf of Mexico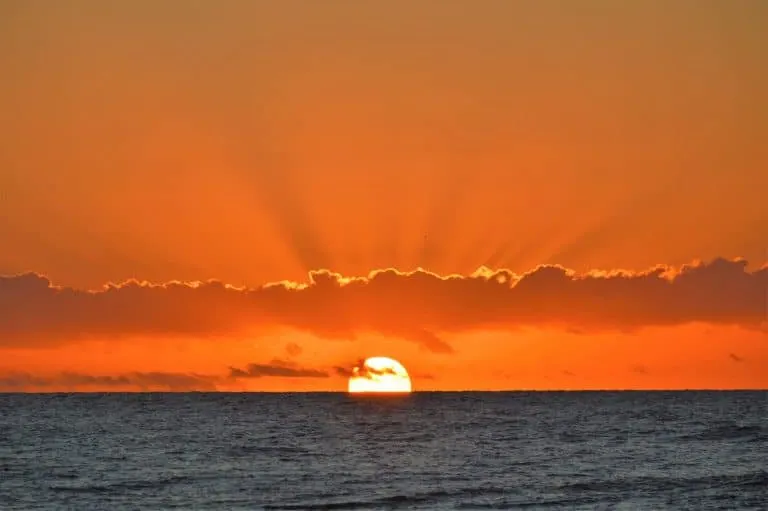 This may be surprising to people that are not well acquainted the area, but if you are standing on the sand of the Port Aransas beaches, you are actually facing east/southeast. For this reason, it is possible to catch an awe-inspiring sunrise over the Gulf of Mexico! You just have to be willing to wake your kids up to make it happen.
Need help motivating? Picture the light changing minute-to-minute, the cool sand in your toes, the birds starting to stir, and the rhythmic sound of the waves crashing. It's an experience that speaks to all of the senses and lasts forever, proving to be well worth the effort.
6. Make Time to Visit the Texas State Aquarium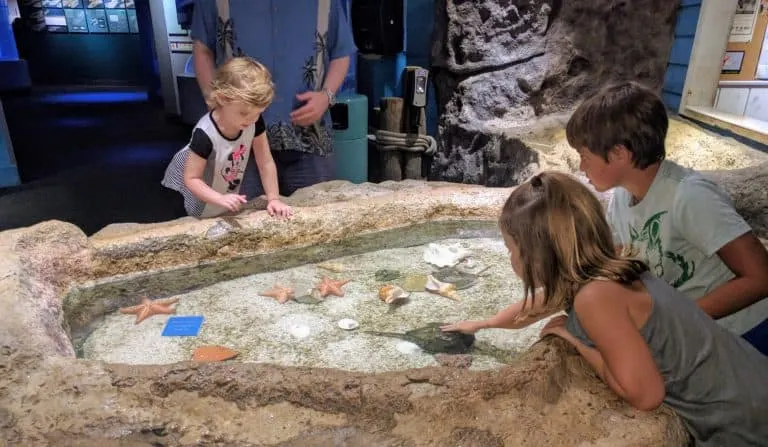 The Texas State Aquarium in Corpus Christi is a fun, educational adventure for the whole family. The aquarium has live animal exhibits, focusing on sea life in the Gulf of Mexico and the Caribbean Sea. Don't miss the trainer chat at Dolphin Bay and The Wild Flight Show, as you can only see those particular animals during that performance.
There is also a 4D theater with daily showings. After viewing the exhibits, plan to let the kids get wet and completely wear themselves out in the giant outdoor splash park.
7. Spend Time at the Padres National Seashore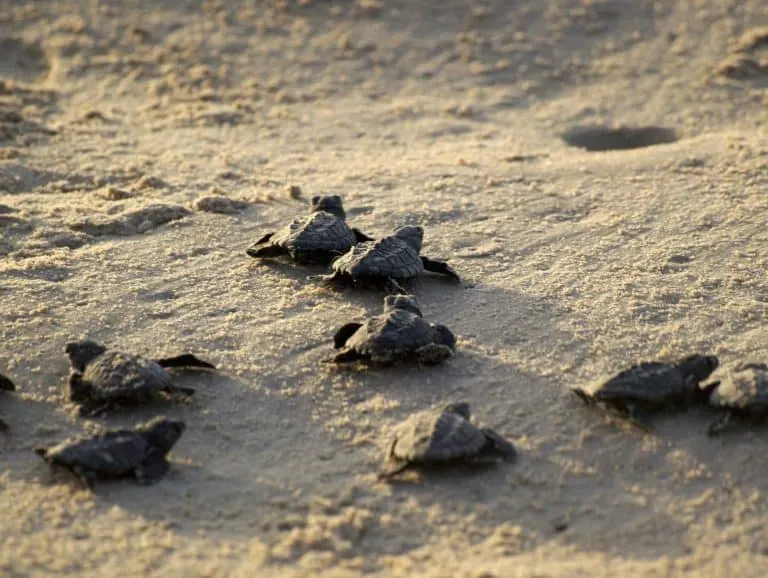 Explore 70 miles of undeveloped coastline, dunes, and tidal flats in Padre Island National Seashore. Kids can learn about this natural treasure through the Junior Ranger program and ranger talks at the visitor center. You are sure to see dozens of bird species, and if your timing is just right, Kemp's Ridley sea turtles.
The Malaquite Visitor Center leads guided birding tours from November through April. The turtles nest between April and mid-July. The chances of you happening upon a nesting turtle are pretty low, but it does happen sometimes. However, you have a much better shot of watching hatchlings being released; public releases take place from mid-June through August.
8. Go Parasailing!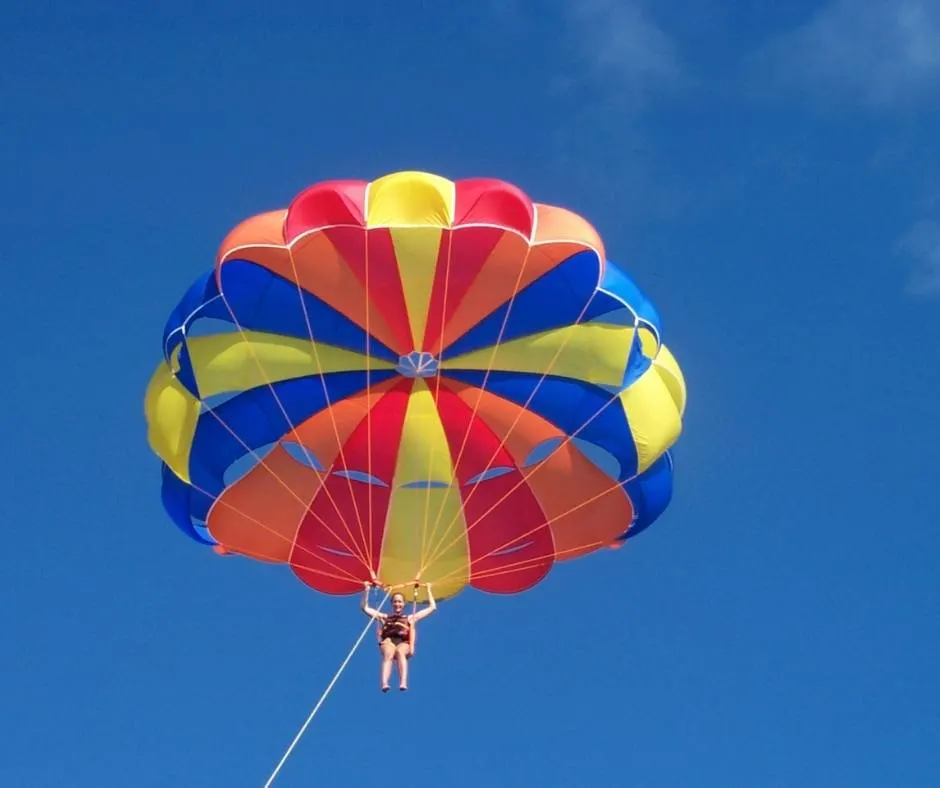 Parasailing is one of the most popular things to do in Port Aransas thanks to the breeze off the Gulf of Mexico and plenty of wide open water to soar above. Kids as young as seven are welcome to get up in the sky and soar.
If your kids want to parasail and you just want to watch from the solid footing of the boat, you can sign up to just be a rider. This is also a good option for the members of the family who might be too young to go up in the air just yet.
Ready to explore another Texas beach town? Check out South Padre Island with kids. Want to explore more of the state? Here are the top things to do in Texas with kids.